Homemade crumpets are a wonderful breakfast, brunch or supper treat and the finest way to increase your butter intake!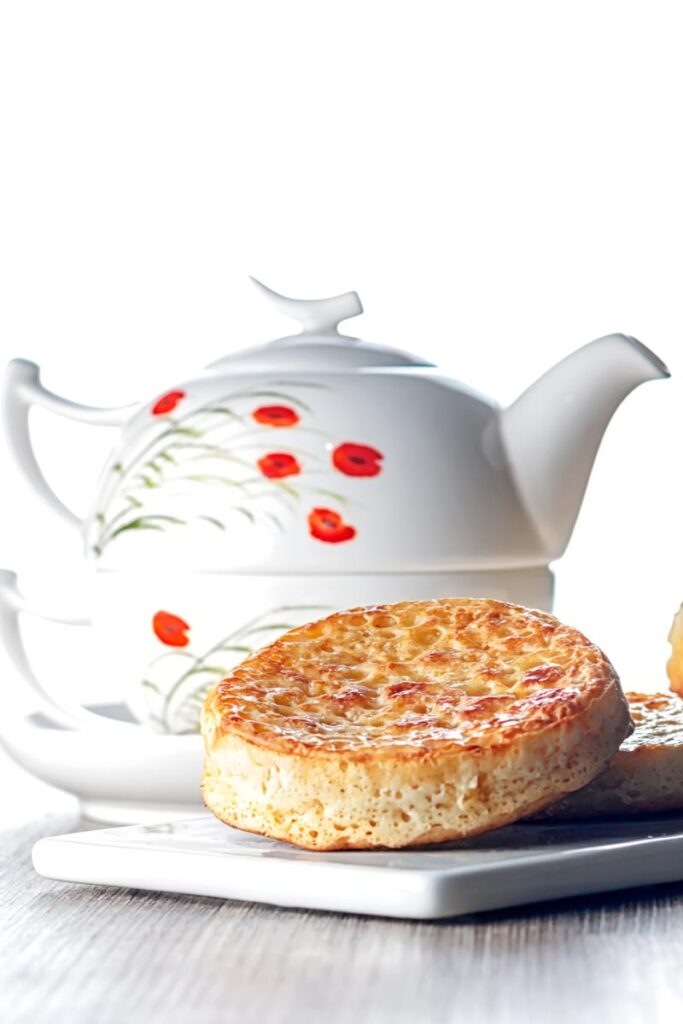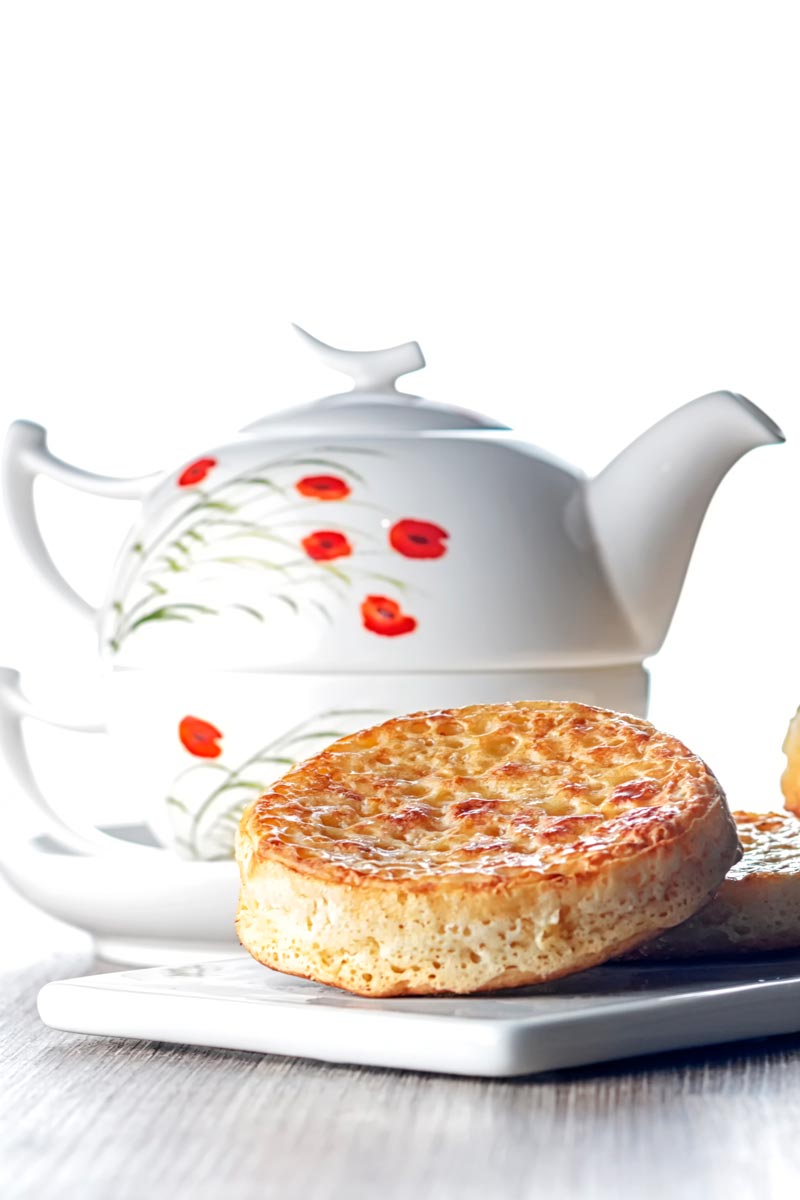 What are Crumpets?
When you leave your homeland there are always some foods that you miss. You either suck it up, rely on care parcels or come up with your own version.
One of those foods for me was crumpets.
I started working on this recipe almost as soon as we arrived in Hungary in 2008.
Crumpets are essentially delicious porous savoury bread sponges designed to deliver melted butter!
And anyone who has seen my old school chicken Kiev recipe will know how I love butter!
Depending where you are in the UK, they are also called pikelets. Although in my neck of the woods pikelets are not yeasted and are much flatter.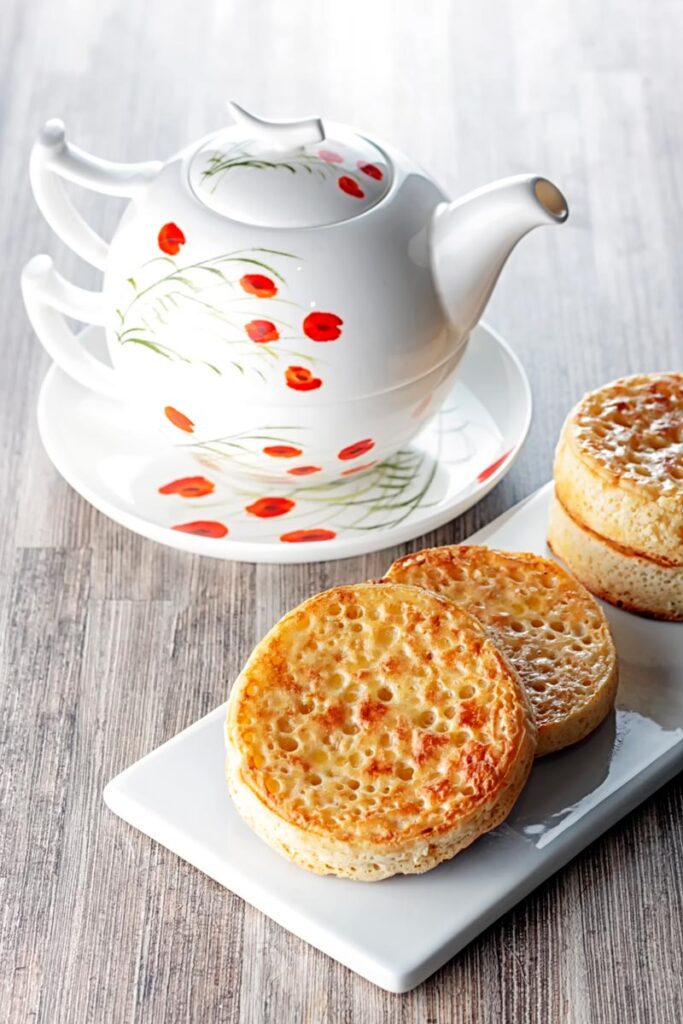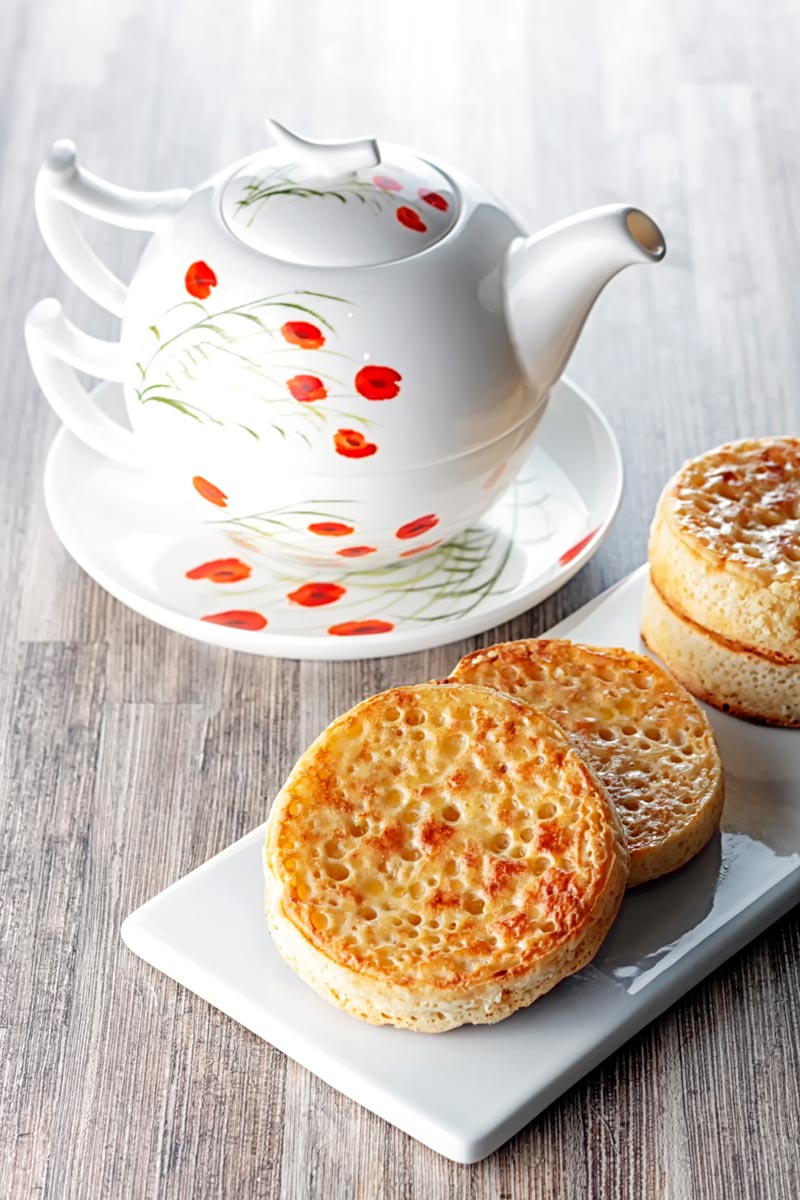 The Secret is in the Temperature!
Aside from letting the batter rise properly the real secret to cooking crumpets is the temperature of your pan.
Just like pancakes be prepared for the first one to not turn out perfectly.
Sadly all pans and all hobs are different so whilst I can hold your hand a little, this stage is all about experimentation.
However once you have your favourite pan and your favourite ring you can knock these out like shelling peas.
For me the sweet spot is one notch below what I consider to be a medium heat on my hob with a fairly heavy pan.
If your pan is too cold the mix will run out under the rings. Too hot and you will burn the base before the bubble structure has chance to form.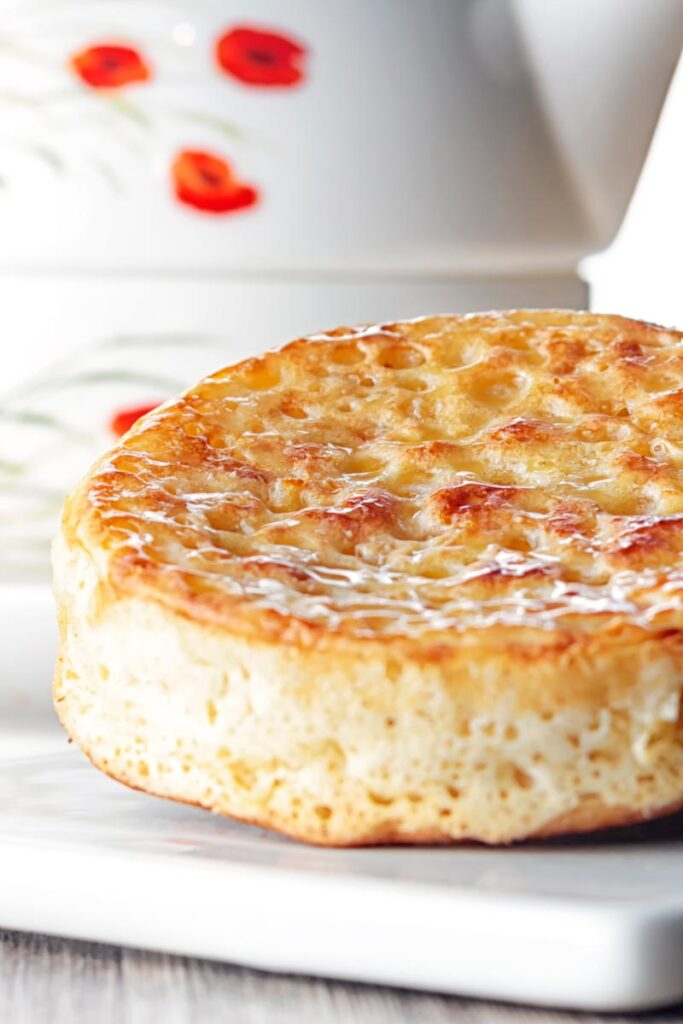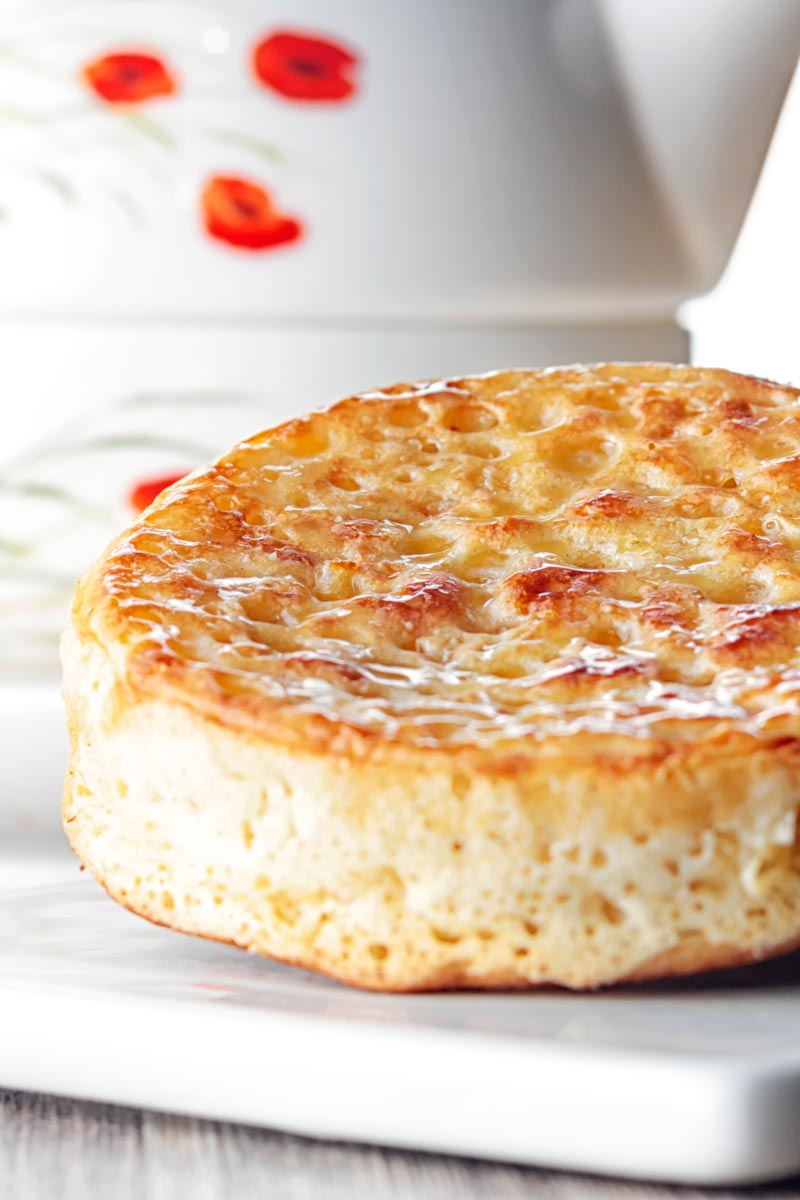 How to Store and Serve Them.
This recipe will make a cool dozen crumpets and like most bread products they will last around 3-4 days.
But they do freeze wonderfully and will last for… I honestly have no idea, the notion that these things last longer than a few days really does not compute!
They need toasting before you serve them, just slide them under a broiler or into a toaster.
If you are using a broiler then you toast the holey side last.
I always serve two per serving.
Then you slather them with butter. Lots and lots of butter, no not that much… MORE BUTTER!
I have heard of people adding jam and even pate to them.
I have no idea who those people are but they are restricting your consumption of butter. Do not listen to them!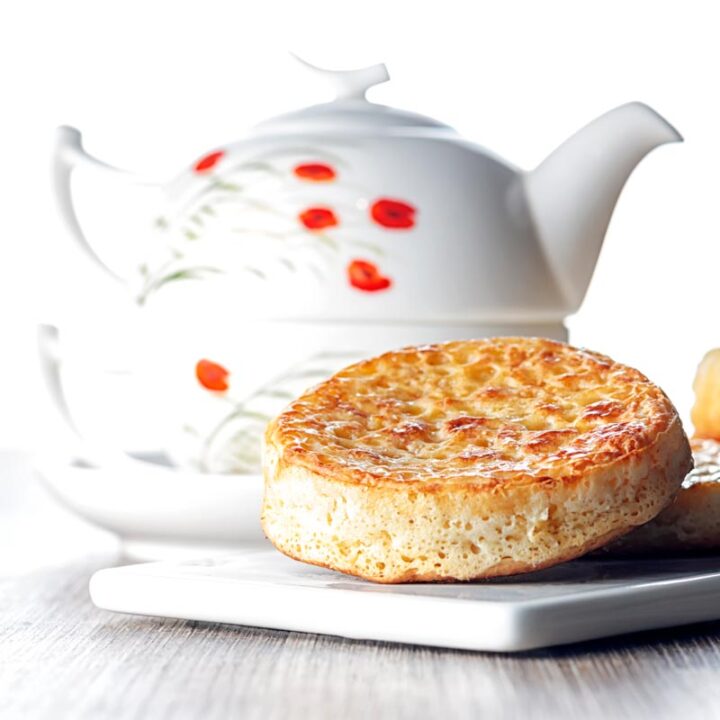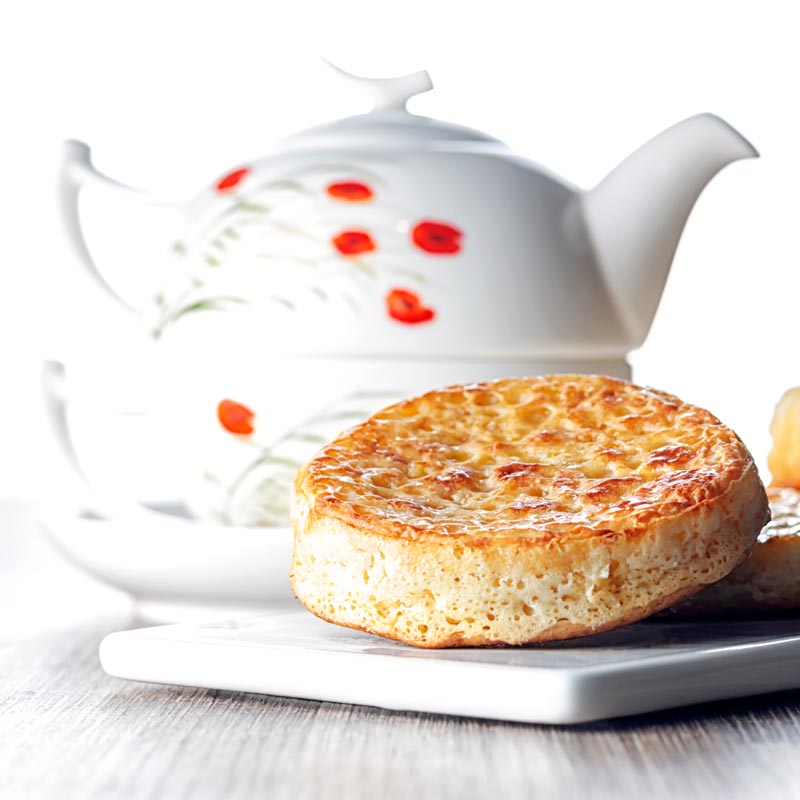 Yield:

6 Servings
Homemade Crumpets Recipe
Total Time:
2 hours
50 minutes
If I am making a list of my favourite recipes then these homemade crumpets sit firmly in the top 1! These things are heavenly!
Ingredients
450 g Plain Flour
1 Tsp Soft Brown Sugar
7 g Dried Yeast
350 ml Milk
350 ml Fizzy bottled water
1 Tsp coarsely ground sea salt
1/2 Tsp Bicarbonate of soda
Cooking Oil
Instructions
Sift the yeast and flour in to a large mixing bowl.
Add the sugar and mix together.
Heat the milk and water in a pan until it reaches around 20°C or 70°F.
Add to the flour mix and beat until it reaches a smooth mix,
It should be halfway between un-whipped single and double cream in texture.
Cover the bowl with cling film and set aside in a warm room until the mix has increased in volume by almost 2 times, this should take around 2 hours.
Stir in the bicarbonate of soda and salt.
Heat a heavy based frying pan over a heat just below medium.
Add a little oil into the pan and then pour in 1.5cm of the mix to the 10cm baking rings.
Allow the crumpets to slowly cook, they will take around 8-10 minutes.
When cooked the top of the crumpet will be dry and pockmarked.
At this point in time, you can flip them over and cook for no more than 60 seconds.
Notes
Adapted from Dan Leppard: Baking with Passion
The calorific value of this recipe does not include the butter you add after, that is all your fault 😀 😉
Nutrition Information:
Yield:
6
Serving Size:
1
Amount Per Serving:
Calories:

331
Total Fat:

4g
Saturated Fat:

1g
Trans Fat:

0g
Unsaturated Fat:

3g
Cholesterol:

5mg
Sodium:

422mg
Carbohydrates:

61g
Fiber:

2g
Sugar:

1g
Protein:

10g
Calorific details are provided by a third-party application and are to be used as indicative figures only.