My spaghetti and meatballs recipe contains juicy pork & beef balls with parmesan & pine nuts and a tomato & Worcestershire sauce, erm sauce!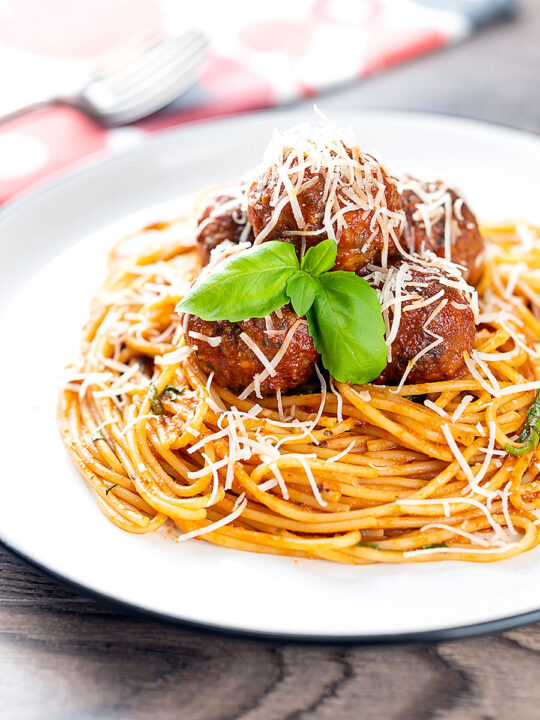 Pork and Beef Meatball Pasta.
Growing up in the UK in the 70's & 80's spaghetti and meatballs was never a thing.
Spaghetti was pretty much always served with a bolognese sauce, unless it was spaghetti hoops from a tin of course!
Fortunately time moves on and my 50+ pasta recipes demonstrate that pasta has become so much more to me than bolognese. I have everything from wild boar ragu with pasta through to smoked mackerel pasta!
This recipe has been with me for a while and has evolved over time to become one of my favourite comfort food dinners.
As far as I am concerned the key to a good, from scratch, spaghetti and meatball recipe is a combination of juicy succulent meatballs with a smooth tomato sauce.
My meatballs are made with a combination of pork and beef. The easy meatball sauce features a big hit of Worcestershire sauce… You know that classic Italian or Italian American ingredient. Me sarcastic, no, never!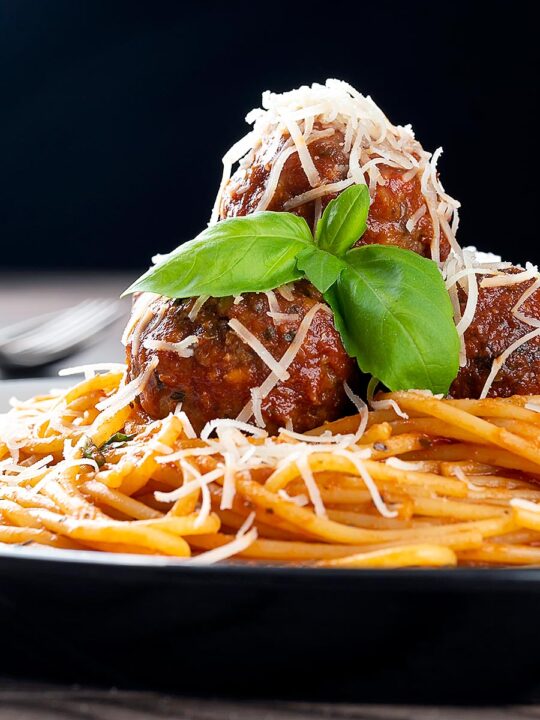 Ingredient Advice.
Pork and beef is a classic combination for a meatball, although it is a combination that stems from cooking tender veal with beef.
I prefer fattier cuts of both types of meat for my meatballs. Usually, I opt for neck of beef and shoulder of pork and usually mince my own mix.
But I know most don't so packets of minced beef are fine, but do not go for lean mince. You will end up with dry meatballs and not amount of tomato sauce can cover up dry balls!
I also use the technique of grating onion for the meatballs that I mention in my chicken meatball recipe. This damages and bruises the onion, allowing it to release more liquid and that helps with both moisture and flavour.
Do not skip the pine nuts! Yes, they are expensive, but they add so much to this spaghetti and meatballs recipe.
I will often make this recipe in larger batches and freeze the meatballs. Drop them in a freezer bag, force out as much air as I can and freeze them for up to 3 months.
I prefer to defrost my meatballs before cooking!
Secondly the tomato sauce and that very un-Italian/American ingredient, Worcestershire sauce. It provides the back bone of the flavour to the sauce and reducing it is a tip I picked up from a Marco Pierre White recipe for peppercorn sauce.
Try and use Lea and Perrins, Worcestershire sauce by other brands tastes very different and in my opinion does not reduce well!
Finally tomato passata, it is nothing more than sieved tomatoes. If all you have is a tin of tomatoes, blend will and pass through a sieve.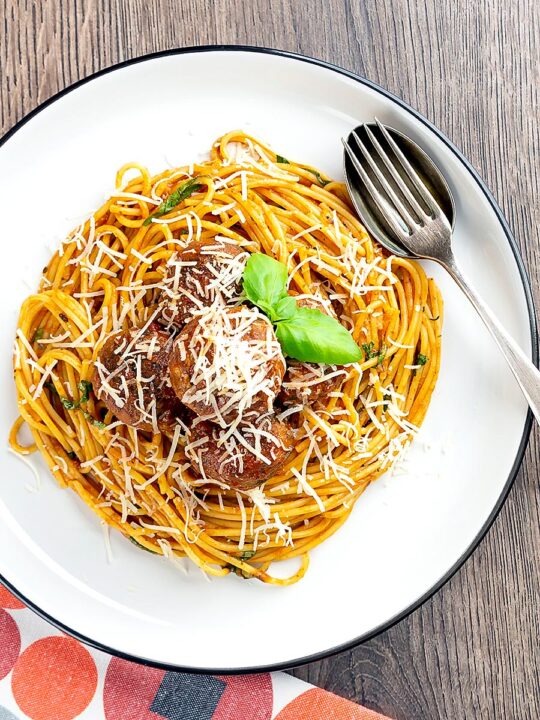 Serving Sugegstions.
As far as I am concerned spaghetti and meatballs is all that is needed here, no sides required!
My wife kind likes to add garlic bread. To be fair that could just be a sentence appended to any of my recipes!
I do however think that the sauce must be stirred through the pasta.
Undressed pasta is not good to eat and pasta needs to be dressed whilst hot. So please, for the love of all that is good, stir your sauce through your pasta before putting it on the plate. Pretty please 😀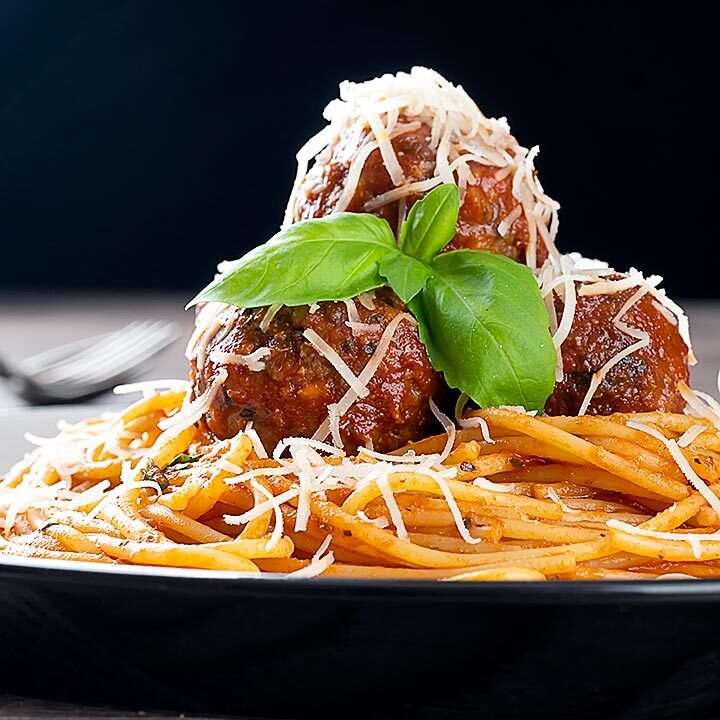 Yield:

2 Servings
Spaghetti and Meatballs Recipe
Spaghetti and meatballs is an all-time comfort food family favourite, mine packs pork and beef meatballs with parmesan cheese, pine nuts and parsley and then cooks them in a tomato sauce featuring a Worcestershire sauce reduction! Simple, delicious and a real break from the norm!
Ingredients
For the Meatballs
150 g Minced Beef
150g Minced Pork
30 g (1/4 Cup) Pine Nuts
50 g (1/4 Cup) Grated Onion
2 Cloves Garlic
10 g (1/4 Cup) Chopped Parsley
1 Egg Yolk
25 g (1/3 Cup) Bread Crumbs
1/2 Tsp Salt
1/2 Tsp Black Pepper
50 g (1/3 Cup) Parmesan Cheese (plus extra for garnish)
For the Sauce
225 g (1 Cup) Tomato Passata
50 ml (3 Tbsp + 1 Tsp ) Worcestershire Sauce
2 Tbsp Cooking Oil
1/2 Tsp Onion Salt
1 Tsp Dried Oregano
1 Tsp Dried Basil
12 Fresh Basil Leaves (plus extra for garnish)
175 g Spaghetti
Instructions
Grate the onion.
Mash the garlic cloves.
Chop the parsley.
Add all of the ingredients for the meatballs into a bowl and just bring them together to form a large ball.
Roll into 10, 45g, ping pong ball sized, meatballs.
Add the oil to a hot heavy based pan and sear the meatballs until coloured on all sides approx 4-5 minutes.
Remove the meatballs from the pan and drain off all but a scant covering of oil before returning to the heat.
Pour in the Worcestershire sauce and then reduce for a minute and a half or so, scraping the base of the pan as you go.
When the Worcestershire sauce has reduced significantly reduce the temperature to medium.
Pour in the tomato puree, add the dried basil, oregano and garlic salt.
Return the meatballs to the pan and toss to coat with the sauce.
Add a lid, reduce to a low simmer and cook for 20 minutes.
Bring a large pan of well-salted water to the boil and cook the pasta as per the instructions on the packet.
Drain the pasta reserving a couple of tablespoons of the pasta water.
Remove the meatballs from the sauce and add the drained pasta and stir adding the cooking water as you go to form a nice coating.
Finely shred the fresh basil leaves and stir them through the sauce.
Serve the spaghetti, topped with your meatballs and then sprinkle with as much freshly grated parmesan as you like.
Nutrition Information:
Yield:
2
Serving Size:
1
Amount Per Serving:
Calories:

894
Total Fat:

48g
Saturated Fat:

15g
Trans Fat:

1g
Unsaturated Fat:

27g
Cholesterol:

246mg
Sodium:

1985mg
Carbohydrates:

56g
Fiber:

5g
Sugar:

10g
Protein:

59g
Calorific details are provided by a third-party application and are to be used as indicative figures only.