Spaghetti and Meatballs, an all time favourite that I am sure every cook has a version of, this is mine complete with pine nuts!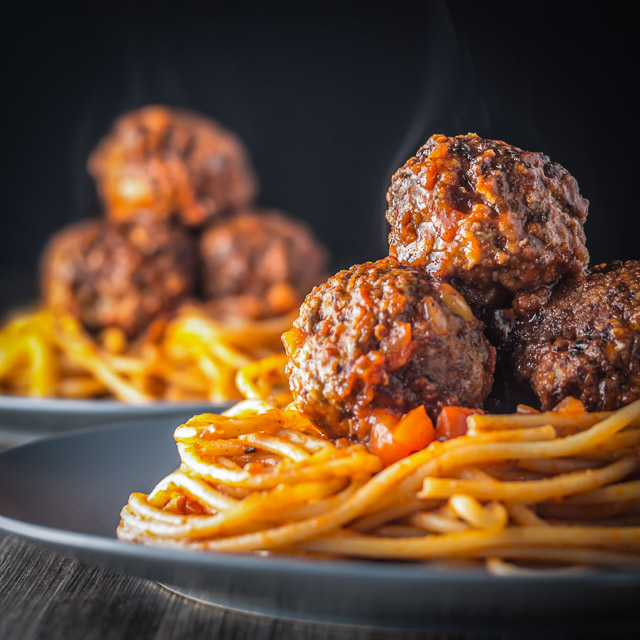 Spaghetti and Meatballs just has something about it that makes it feel like a proper old fashioned winter dish that is just about as smile inducing as it gets… My version uses a somewhat rather indulgent ingredient to make the meatballs in this spaghetti and meatballs just a little bit special. Sure this is an usually an every day dish and pine nuts are terribly expensive but they really do take a great classic to somewhere else all together.
Talking of classics, Spaghetti and Meatballs always reminds me of Lady and the Tramp, a movie that I don't think I have seen since I was a child yet that scene always springs to mind whenever I cook this. Somewhat rather apt as well given the confusion that trying to plate Spaghetti in a manner that is remotely photogenic causes me.
I have a simple rule when I am creating food for my website, I have to go from finished cooking to plated and eating in 5 minutes, I refuse to eat cold food just to take a nice picture.
Pasta makes me cry, I was lucky enough to eat this dish twice in the last week as trying to put it on a plate made nothing more than a mess vaguely reminiscent of of the pasta sharing scene in Lady and the Tramp. Fortunately todays photograph went a little bit better, still not perfect. I have no idea how chefs do it, as far as I am concerned working with pasta for a photograph is about as much fun as herding cats and given we have 5 I have plenty of experience in trying to do that.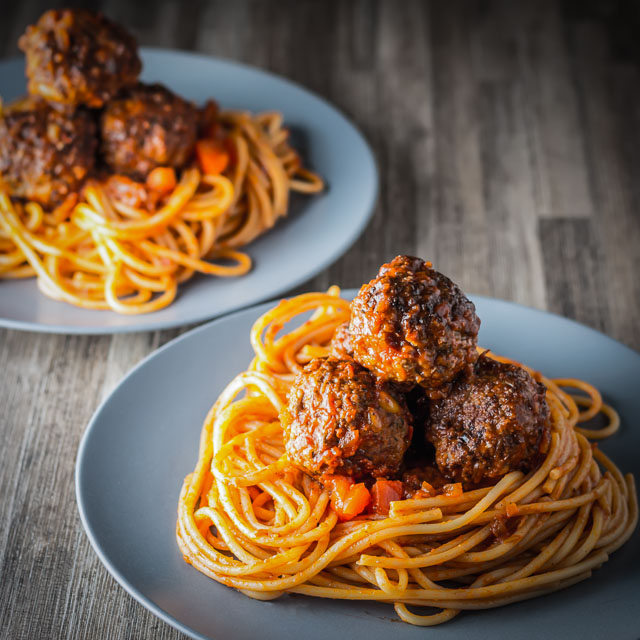 I don't cook with a lot of pasta over winter, I have no idea why it is such a wonderful simple ingredient for a quick dinner as this Spaghetti and Meatball dish shows, but for some reason I use it primarily in summer, probably because I like making pasta from our own duck and chicken eggs, unfortunately our wee brood don't like to cold weather. We will usually get 4-6 eggs a day in summer, over winter we are lucky to get the 2 a day that we will normally eat for breakfast, yes we live a charmed life 😉
As a completely side note we have booked a trip to Budapest next week to take a stroll around the big city and visit the Christmas markets, yes markets, there are more than one!
We don't get to indulge ourselves much in summer, looking after our vegetable plots is pretty much a full time job and when the dry season arrives we need to water constantly. In all fairness I would not feel sorry for me, spending summer in the middle of nowhere, getting up early to water and then nipping to our local lake or thermal spa in the middle of the afternoon is not exactly the hardest of lives to live!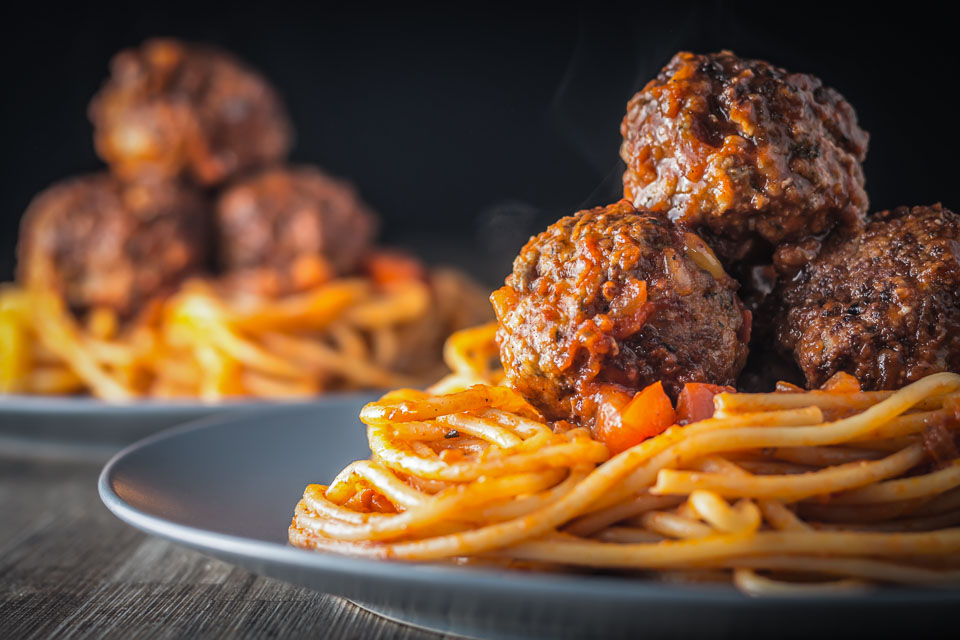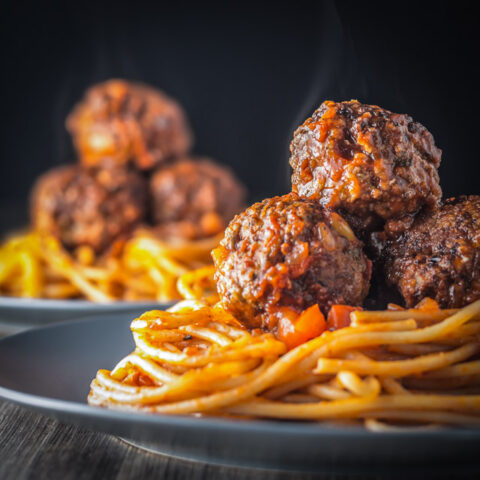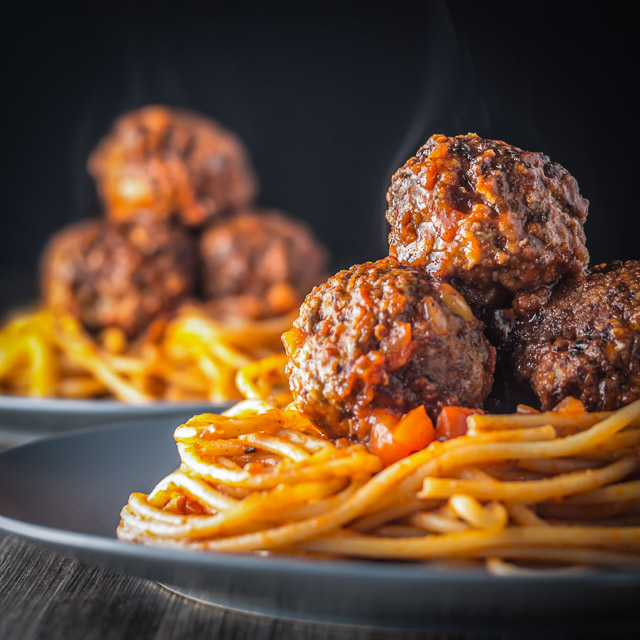 Yield:

2 Servings
Spaghetti and Meatballs My Way
Spaghetti and Meatballs, an all time favourite that I am sure every cook has a version of, this is mine complete with pine nuts!
Ingredients
For the Meatballs
50 g Pine Nuts
100 g Onion, Finely Diced
2 Cloves Garlic, Mashed
1 Tbsp Balsamic Vinegar
200 g Pork Blade, I use blade as it has the perfect fat content, if this is unavailable use pork shoulder and add in some pork fat
200 g Beef, Any type of stewing beef will do, I personally favour a bit of shoulder or rump
1 Tsp Dried Thyme
1/4 Tsp Coarse Sea Salt
Good grind of Black Pepper
1 Egg
50 g Bread Crumbs
For the Sauce
75 g Onion, Finely diced
1 Clove Garlic, Finely Diced
1 Tbsp Balsamic Vinegar
200 ml Tomato Passata, Tomato Sauce in the US
1 Fresh Tomato, Deseeded and finely diced
150 g Spaghetti, Cooked as per instructions
Instructions
In a dry pan toast off the pine nuts over a medium heat for a couple of minutes and set them a side.
Add a splash of oil into the pan and saute off the onion until softened but not coloured about 4-5 minutes then add in the garlic and cook for a further minute.
Add the Balsamic vinegar to the onions and reduce until almost dry and set aside to cool.
When the pine nuts and onions are cool add them to the beef and pork along with the thyme, egg, breadcrumbs, salt and pepper and bring together. Try not to overwork the mix, and in to 10 meatballs about the size of a golf ball.
Preheat the oven to 180°C.
Add a splash of oil to the pan you cooked the onions in and sear the meatballs over a medium high heat until they are evenly coloured, then remove from the pan and set aside.
Add the onion for the sauce to the pan and cook until translucent, then add the garlic and cook on for a further minute.
Deglaze the pan with the balsamic vinegar then add the tomato passata and bring to a simmer, test for seasoning and add salt and pepper are required.Place the meat balls on the sauce and cover with a tight fitting lid and bake in the oven for 20 minutes.
Meanwhile cook your pasta as per the instructions.
To serve remove the meatballs from the sauce and set aside, add the tomato dice if using and then add in your spaghetti.
Add your spaghetti to the plate and top with the meatballs and a generous amount of parmesan cheese
Nutrition Information:
Yield:
2
Serving Size:
1
Amount Per Serving:
Calories:

1425
Total Fat:

85g
Saturated Fat:

26g
Trans Fat:

0g
Unsaturated Fat:

48g
Cholesterol:

372mg
Sodium:

1011mg
Carbohydrates:

67g
Fiber:

7g
Sugar:

16g
Protein:

97g