Cheesy meatball pasta bake designed to please young and old, penne pasta in an easy tomato sauce, beefy meatballs and gruyere cheese.

A simple recipe of 3 elements, pasta, sauce & meatballs that can all be made days in advance before throwing in the oven.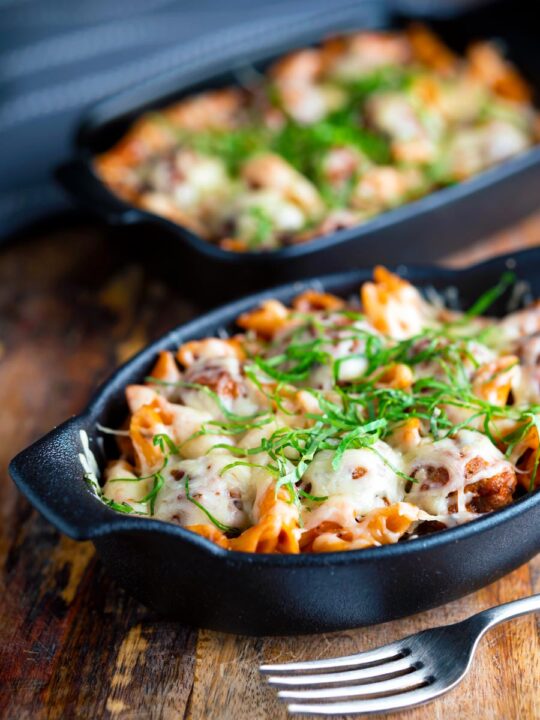 Cheesy Baked Penne with Meatballs.
It's hard to beat a good old-fashioned pasta bake recipe for comfort food goodness. Big bowls of cheesy comforting pasta in a sauce and a bit of protein.
As a student, I'd make massive tuna pasta bakes and eat them for days. This beef meatball pasta bake is scaled back in size and makes two generously portioned individual meals.
The meatballs are a shift away from the meatballs that I use in my spaghetti and meatballs recipe. They use only beef and are super simple but the addition of sundried tomatoes adds a lovely deep flavour to them.
I usually make a double batch of meatballs when I am making this recipe and freeze them up and throw them into a variation of my meatball soup.
You could also use them to stuff my BBQ stuffed onions too!
The sauce is a picture of simplicity. Some oil infused with garlic, beef stock, tomato passata and some herbs, add a pinch of sugar and season with salt and you are good to go.
Finally a cheesy topping, and into the oven… Grab a glass of what you fancy and dinner is served.
If you are cooking for a vegetarian be sure to check out my Gnocchi alla Sorrentina or goats cheese cannelloni recipes for more gooey pasta bake recipes.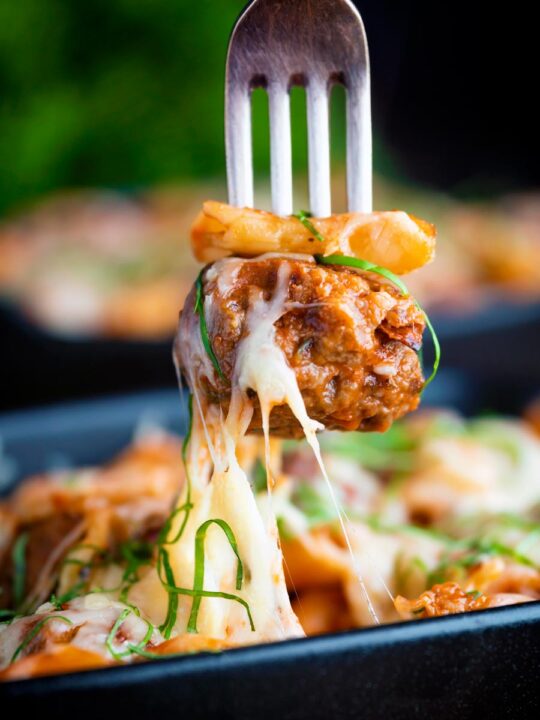 Frequently Asked Questions.
Can I use a different pasta?
Of course, but no one likes slimy, soggy pasta, so go for something with some body and structure. My choice is usually penne or rigatoni, you could also go for something like orecchiette or even fusilli
How much salt should I add to the sauce?
This will really be defined by your stock. We are reducing this by half to increase the beef flavour in our tomato sauce, but this also increases its saltiness. Have a taste and add salt as you see necessary, it is often very little or none at all.
How far can I make this in advance?
The meatballs can be made up to 3 or 4 days in advance and kept in the fridge. They can also be frozen for 3 months and defrosted the night before cooking.

The sauce can also be made 3 to 4 days in advance and stored in an airtight container in the fridge.
Can I use a different cheese?
Yes. I love the almost sweet and nutty flavour of Gruyere cheese, it is my favourite cheese to add to polenta. I also think that it matches really well with pasta dishes.

But you could use something like raclette, comte, or even shredded mozzarella, the latter has the least flavour.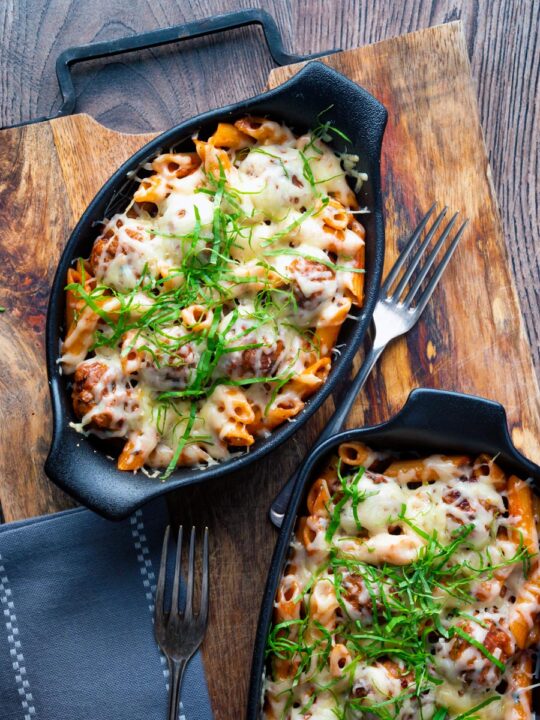 Serving Suggestions.
This easy meatball pasta bake recipe really is the epitome of a complete meal.
It is rare for me to hanker after serving it with anything although my wife always wants to eat this with garlic bread because that's the kinda lass she is!
I do however like to top with either some shredded or chiffonade, to give it a fancy name, of basil.
Simply take 10-12 large basil leaves and roll them up like a cigar, then slice into ribbons 1-2mm thick.
This also works really well with a sprinkling of peppery rocket (arugula for my American readers) or watercress.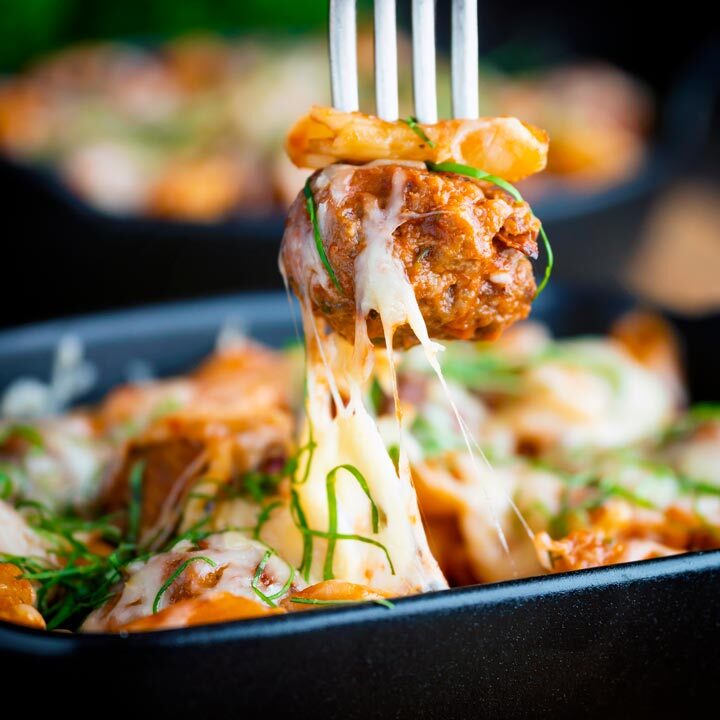 Yield:

2 Servings
Meatball Pasta Bake Recipe
Total Time:
1 hour
5 minutes
A pasta bake is such a comforting recipe and this beef meatball pasta bake is gloriously tasty, cheesy and very comforting!
Ingredients
For The Meatballs:
250g (9oz) Minced Beef
2 Garlic Cloves
1 Egg Yolk
1/2 Tsp Dried Oregano
25g (2 Tbsp) Sun-Dried Tomatoes in Oil
10g (2 Tbsp) Dried Bread Crumbs
1/2 Tsp Salt
1/4 Tsp Pepper
Spray Oil
For The Sauce:
250ml (1 Cup) Tomato Passata
125ml (1/2 Cup) Beef Stock
2 Garlic Cloves
1 Tbsp Olive Oil or Oil form the Sun-Dried Tomatoes
Pinch Sugar
1/2 Tsp Dried Thyme
1/2 Tsp Dried Basil
1/2 Tsp Dried Oregano
1 Tsp Dried Parsley
Salt to taste
And The Rest:
150g (~1 1/3 Cup) Penne Pasta
75g (3/4 Cup) Gruyere Cheese
Instructions
Bring a pan of generously salted water (1 Tbsp for every 4 litres) to the boil.
Chop the sun-dried tomatoes into a 3-4mm dice and place in a bowl.
Mash the garlic cloves and add to the bowl with the sun-dried tomatoes.
Add the remaining ingredients for the meatballs and mix well.
Form this mix into 14 meatballs approximately 25mm (1") in diameter and around 20-25g in weight.
Spray the meatballs and bake in a fan-assisted over at 200°C or 400°F for 10 minutes. 220°C or 450°F in a conventional oven.
By now the water should be boiling add the pasta and cook until al dente, approximately 60-90 seconds less than the packet instructions. This will be around 8-10 minutes.
Heat a wide-based pan over a medium-high heat and when hot add the cooking oil for the sauce.
Crush the garlic cloves with the heel of your hand and add to the oil in the pan and cook for 2-3 minutes.
Pour in the beef stock for the sauce and reduce by half.
Add the tomato passata followed by the dried oregano, basil, thyme, parsley, and a pinch of sugar.
Have a taste and season with salt to your liking (remember we are adding lots of cheese)
Reduce the heat and cook for 5 minutes.
By now all of the elements should be cooked, combine them together into a 1-litre ovenproof bowl to bake them in. I personally prefer two individual 500ml gratin dishes but a 24cm skillet would work just as well.
Grate and sprinkle over the Gruyere cheese and bake in the oven for 20 minutes at 180°C or 350°F.
Add lots of fresh basil if you can get some before serving.
Notes
Using the oil from the sun-dried tomatoes works exceptionally well in this recipe.
Nutrition Information:
Yield:
2
Serving Size:
1
Amount Per Serving:
Calories:

1069
Total Fat:

54g
Saturated Fat:

18g
Trans Fat:

1g
Unsaturated Fat:

31g
Cholesterol:

245mg
Sodium:

1951mg
Carbohydrates:

75g
Fiber:

6g
Sugar:

8g
Protein:

60g
Calorific details are provided by a third-party application and are to be used as indicative figures only.