Chinese Salt and Pepper Chicken is a simple and spicy treat, crispy fried chicken is always a massive crowd pleaser!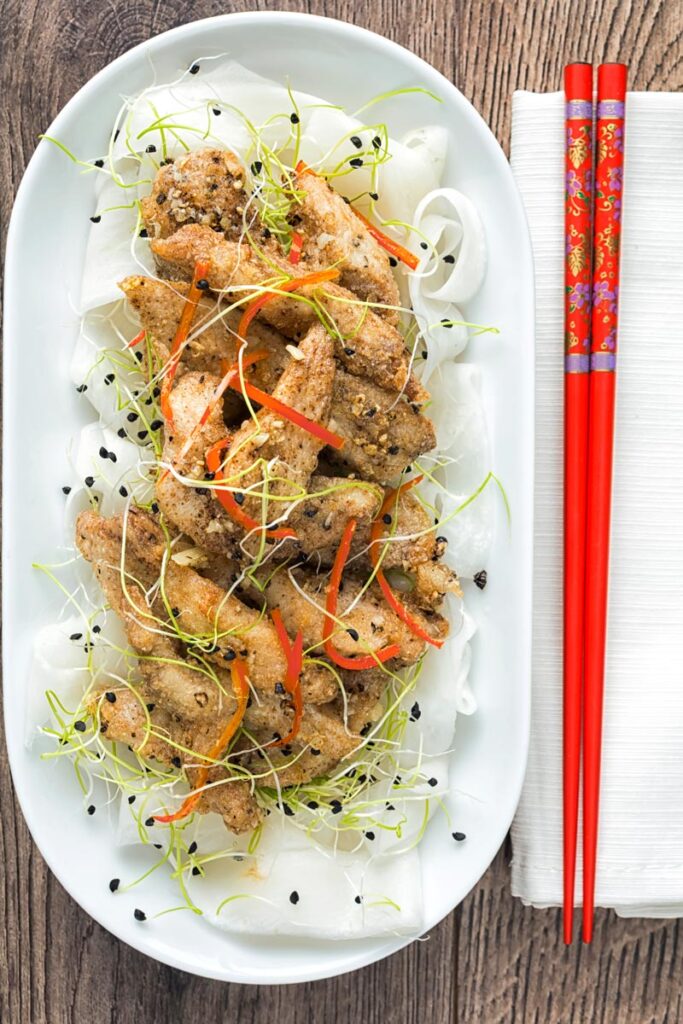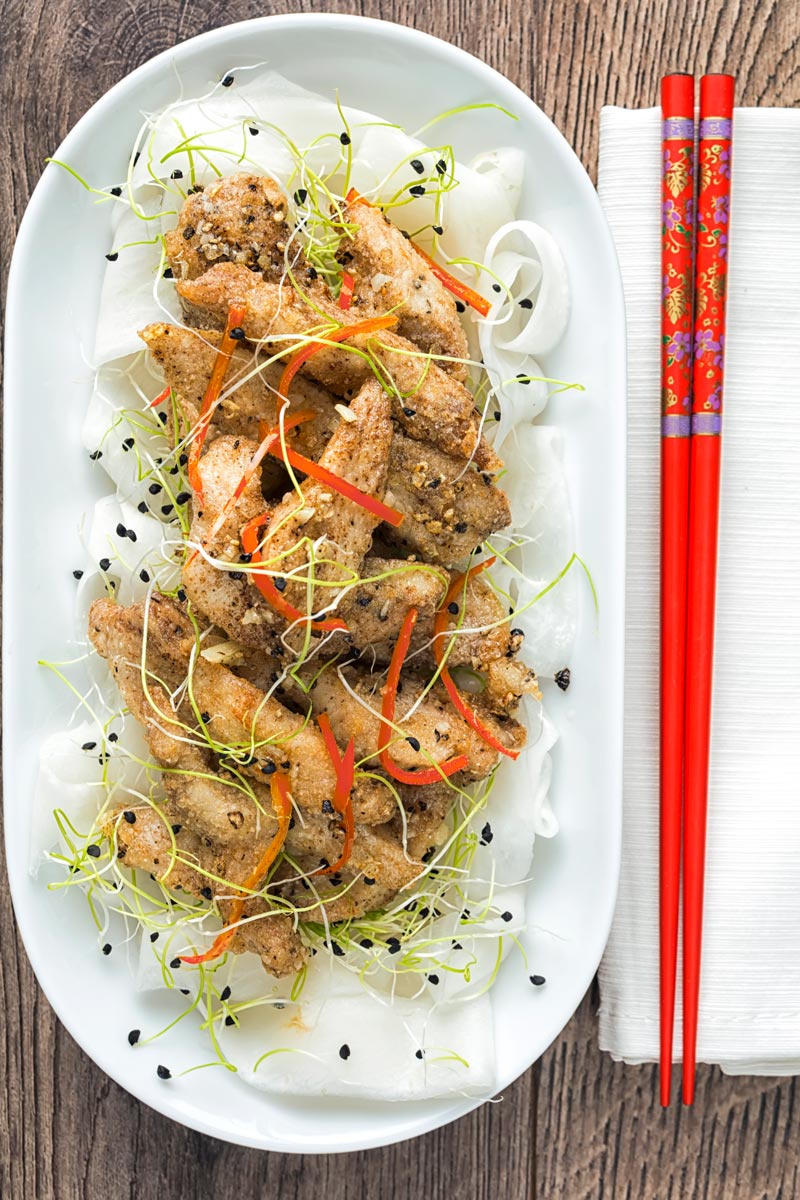 Easy Salt and Pepper Chicken Recipe.
It will come as no surprise to regular visitors to find a new takeaway influenced recipe here. I love cooking fakeaway grub, it saves a fortune and is often a lot healthier than food from less scrupulous takeaway joints.
Whilst it may seem intimidating but all your favourite recipes can be made at home without too much trouble.
This recipe comes on the back of my extremely popular salt and pepper squid recipe.
The techniques are very similar as are many of the ingredients.
Although this recipe adds some Chinese five spice into the mix.
I even serve this recipe with quick pickles too, although this time it is daikon rather than cucumber!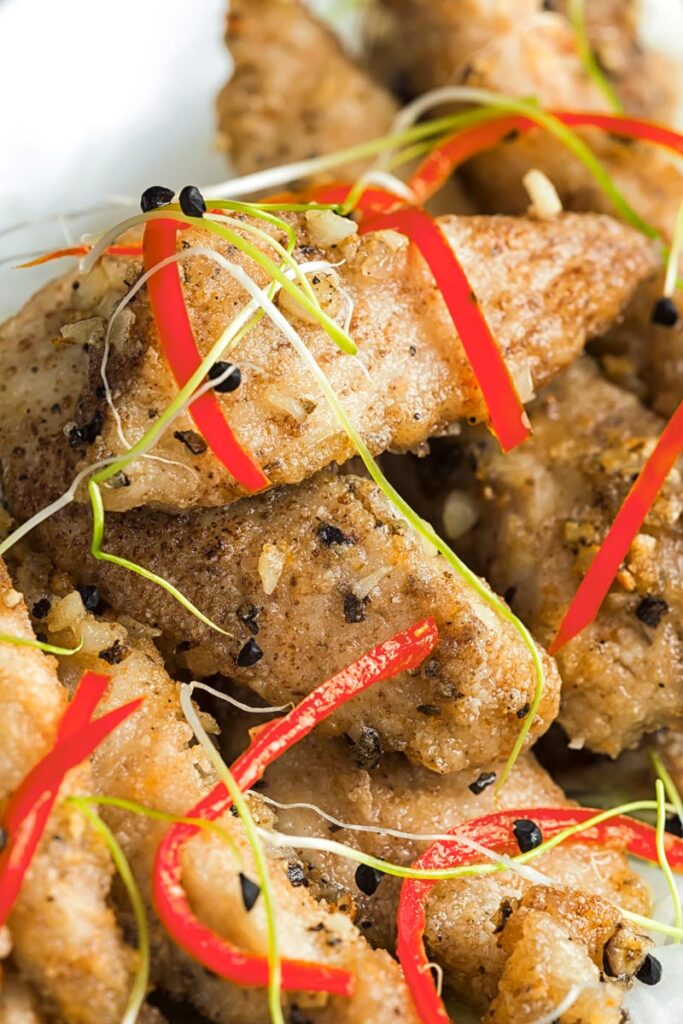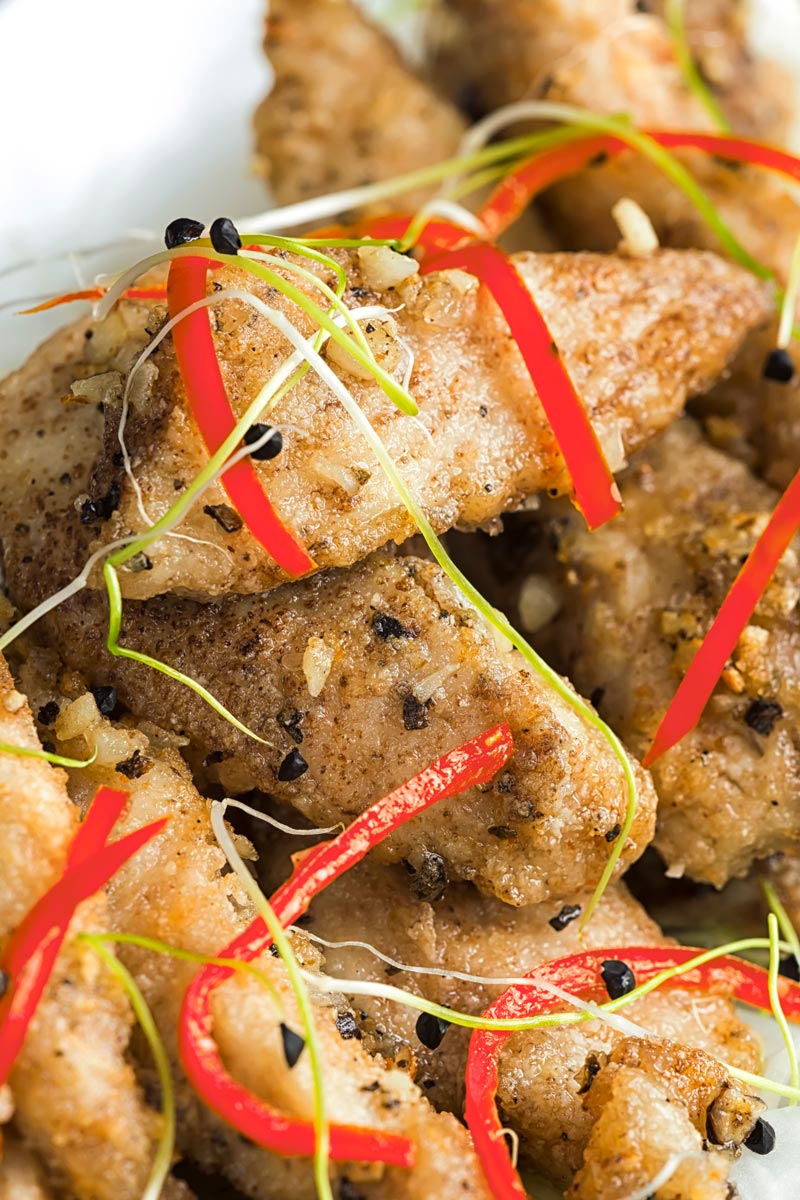 How to Fry in a Wok.
I have covered the topic of fried foods here on my site quite often.
There are groups of people that avoid it for health reasons and other groups of people that avoid it for the fiery inferno "thing"!
Well, I don't avoid it for the first reason, I moderate how much I fry. I also ensure that I fry at the correct temperature.
Soggy and fatty food from frying happens when your oil is not hot enough.
Use a food thermometer to check the oil temperature, you want anything over 160°C or 320°F, Although I usually aim for 180°C or 350°F.
Please note that if you are using a probe-type of digital thermometer on an induction hob you will get funky results.
Remove the wok from the induction section before taking the temperature.
As for the fiery inferno thing, a wok really helps with this!
I often use a wok for frying for this reason, whether that be my crispy fried tofu or crispy chilli beef.
So long as you keep the oil shallow, say 3-4 cm there is a massive amount of expansion available in a wok.
This means that there is little to no chance of the oil overflowing the wok. Most importantly no fiery inferno!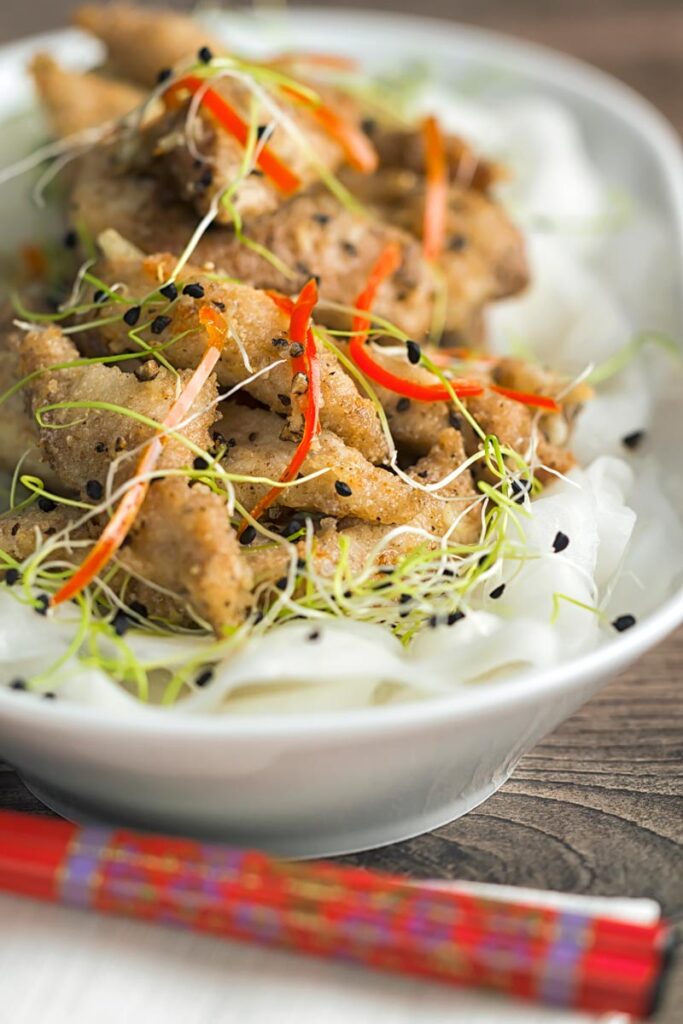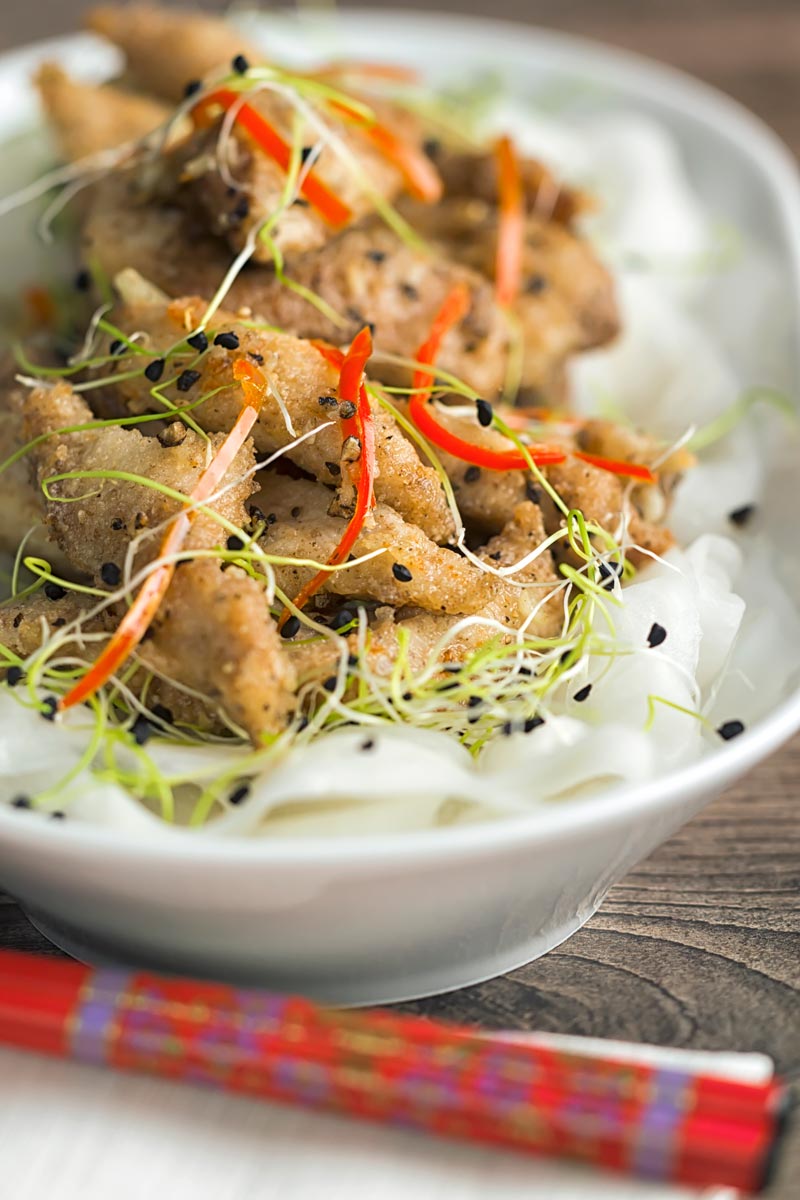 Serving Suggestions and Tips.
I like to serve this dish with pickles, they really help cut through the richness.
I serve this recipe with a quick pickled daikon but it would also work really well with the cabbage salad from my tonkatsu recipe.
As I mentioned in the salt and pepper squid recipe I like to serve this sort of fried food on top of the pickles.
The juices soak in and things at the bottom get all chewy and delicious. If you want to keep your chicken crsipy then keep the two separate.
Whilst I have mentioned the crispiness of this recipe it is down to the cornflour.
The chicken will stay crisp for longer than any egg-based batter.
So if you want to keep this warm preheat and oven to around 120°C or 250°F.
Your chicken should stay crispy in there for 30 minutes, although it will continue to cook a little.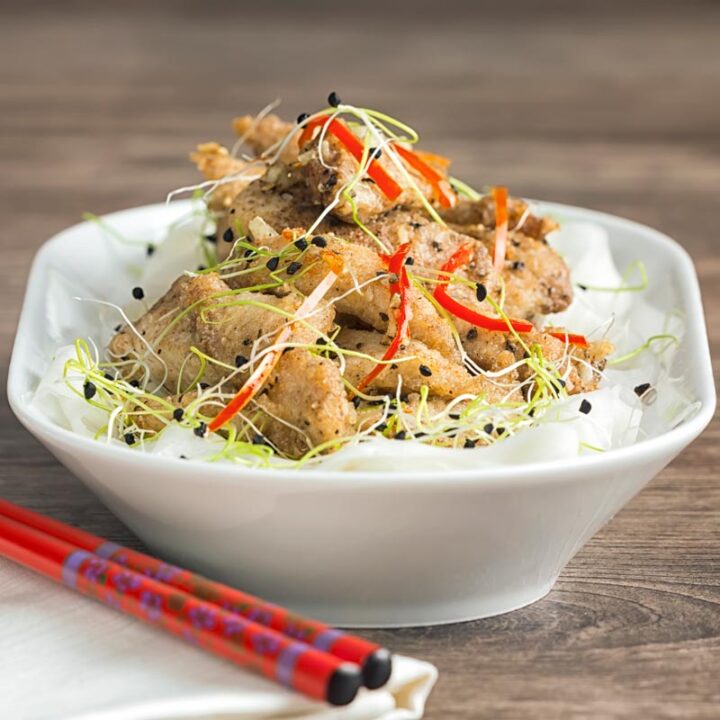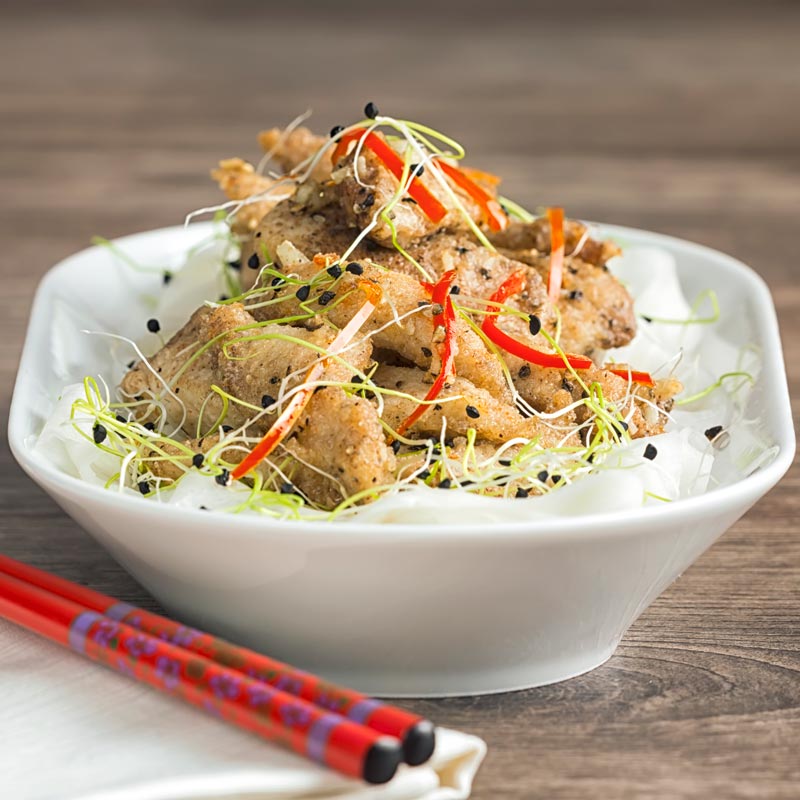 Yield:

2 Servings
Salt and Pepper Chicken Recipe
My Chinese salt and pepper chicken breast is the perfect quick fakeaway dinner treat... And that pickled daikon is the perfect accompaniment!
Ingredients
400 g Chicken Breast
2 Tsp Black Pepper
1 Tsp Chinese Five Spice
1 Tsp Coarse Sea Salt
50 g Cornflour
1 Red Chilli Pepper
2 Cloves Garlic
Oil for Frying
Instructions
Cut the chicken breast in half horizontally, then slice into 5-7mm thick strips diagonally through the slices.
Place the chicken a bowl with the five-spice and half of the black pepper and set aside.
Finely dice the garlic and then deseed and finely slice the chilli pepper.
Add enough oil to a wok to cover it around 3-4cm deep.
Heat the oil to 180C or 350F.
Whilst the oil is heating add half of the salt for the chicken to the chicken along with the cornflour.
Mix to coat.
When the oil is hot batch fry the chicken for 2-3 minutes and drain on kitchen towel.
When all of the chicken is cooked transfer most of the oil to a separate bowl leaving a scant covering on the base of the wok.
Return to the heat and when hot add the remaining salt & pepper, diced chilli and garlic.
Stir fry for 60 seconds.
Add the chicken and toss to coat.
Nutrition Information:
Yield:
2
Serving Size:
1
Amount Per Serving:
Calories:

415
Total Fat:

14g
Saturated Fat:

3g
Trans Fat:

0g
Unsaturated Fat:

10g
Cholesterol:

170mg
Sodium:

1315mg
Carbohydrates:

5g
Fiber:

1g
Sugar:

1g
Protein:

63g
Calorific details are provided by a third-party application and are to be used as indicative figures only.