Salt and Pepper Chicken is a stalwart on Chinese takeaway menus, my version combines Szechuan pepper with black pepper & of course salt.
After being quickly fried the chicken is tossed in a little stir-fried chilli, spring onion and more salt & pepper, a little MSG pushes those flavours right over the top!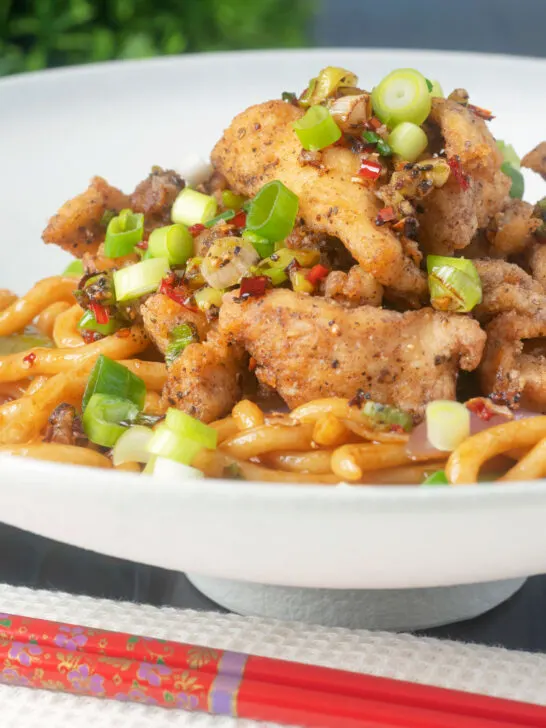 Chinese Salt n Pepper Chicken
It will come as no surprise to regular visitors to find a new takeaway-influenced recipe here!
I love cooking fakeaway grub, it saves a fortune and is often a lot "healthier" than food from less scrupulous takeaway joints.
It may seem intimidating but many of your favourite recipes can be made at home without much difficulty.
This crispy salt and pepper chicken recipe joins a salt and chilli chicken, salt and pepper squid, salt and pepper prawns, salt and pepper chips and a salt and pepper tofu recipe on my site.
It sits alongside other classic Chinese takeaway favourites like chicken in black bean sauce, pork yuk sung, chicken egg foo yung and chicken and sweetcorn soup.
It is exceptionally quick to cook and uses far fewer ingredients than many of my fakeaway recipes.
In fact, with the exception of the Szechuan pepper and Chinese five-spice you probably already have all of them in your cupboard.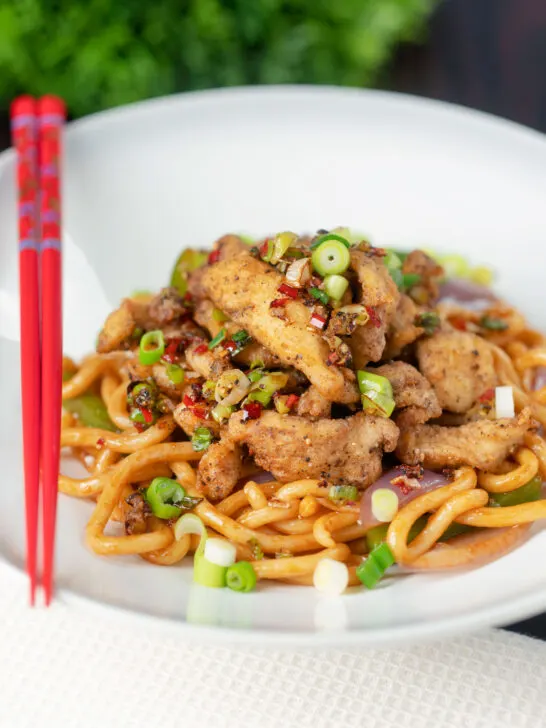 Frequently Asked Questions.
Do I have to use a wok for the fried chicken?
No, you can use either a deep-fat fryer or a saucepan.

Just be careful not to overfill the saucepan with oil, an excellent rule of thumb is not to fill a pan you are planning to fry in by more than a third.

The wide-open top of a wok makes it a much safer option for frying than a saucepan. That is why I use it for dishes like my crispy fried tofu or crispy chilli beef.
Can I make Chinese five spice?
Yes, it is a simple spice blend of Szechuan pepper, Star Anise, Cloves, Cinnamon and Fennel. The balance varies from recipe to recipe but you should keep your use of cloves moderate unless you want numb gums!
What Chilli should you use?
There is no right or wrong answer here, use a chilli that you like the flavour of and is appropriately spiced for you.

I use fresh cayenne peppers more often than any other.
Is there a substitute for Szechuan pepper?
Nope, there is absolutely nothing that compares to Szechuan pepper, yet alone something suitable as a substitution.

It should be relatively easy to find and is on the shelves of many of the major supermarkets.

Don't worry about having a load leftover, I use it in everything from my Szechuan prawns to Chinese spare ribs!
Do I have to use freshly ground pepper?
No, but please do, freshly crushed peppercorns are so much more aromatic than the stuff in a packet.
Do I have to use MSG?
No, you can omit it, but you will be missing out on flavour!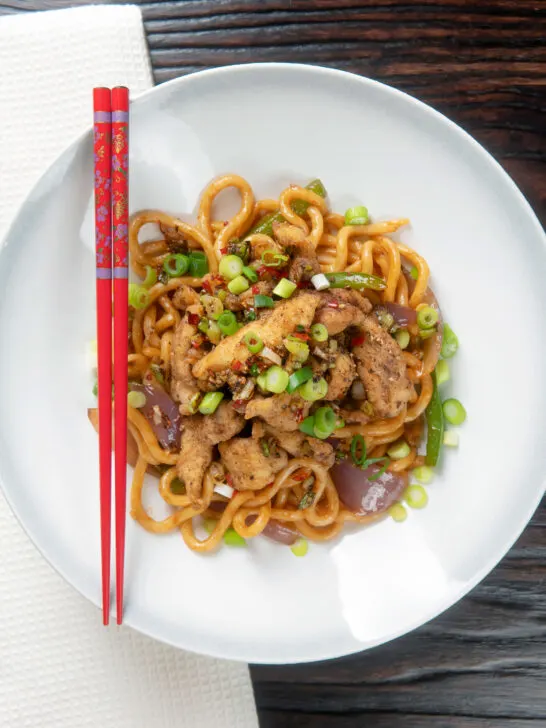 Serving Suggestions.
I like to serve my salt and pepper chicken with some simple stir-fried soy sauce noodles.
It's also particularly good with pickles. Quick pickled daikon works really well but it would also be great with some quick pickled cucumber.
As I mentioned in the salt and pepper squid recipe I like to serve this sort of fried food on top of the pickles. The juices soak into the fried chicken and things at the bottom get all chewy and delicious.
Good vegetable sides include my asparagus stir fry or broccoli stir fry recipes.
Of course, rice is an option, but the lack of a sauce means that things could all become a bit dry. I would probably choose egg fried rice!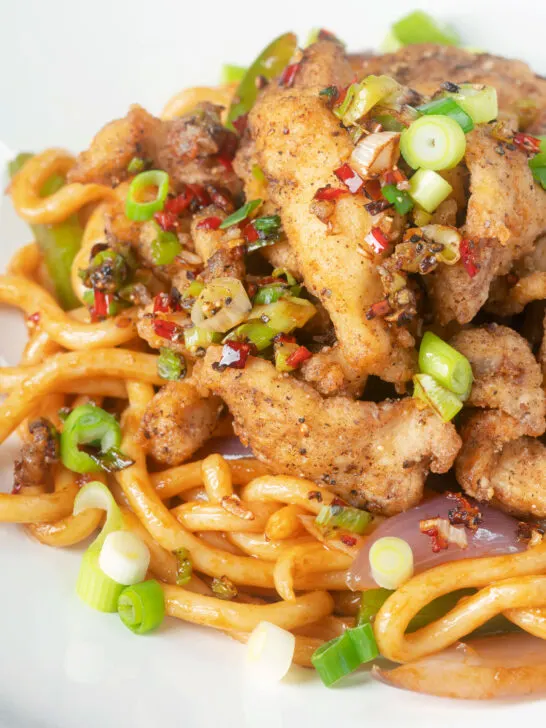 Equipment Used.
I only name-check brands of equipment if I think they make a material difference to a recipe. If you have any questions feel free to ask them in the comments section below the recipe.
Stovetop.
Wok, you could use a large saucepan or a deep-fat fryer.
Chopping board.
Kitchen knife.
Mortar and pestle or spice grinder.
Slotted spoon.
Thermometer for checking the oil temperature. I use a sugar thermometer because it will attach to the side of the wok.
Kitchen paper.
Mixing bowl.
Weighing scales and or measuring spoons.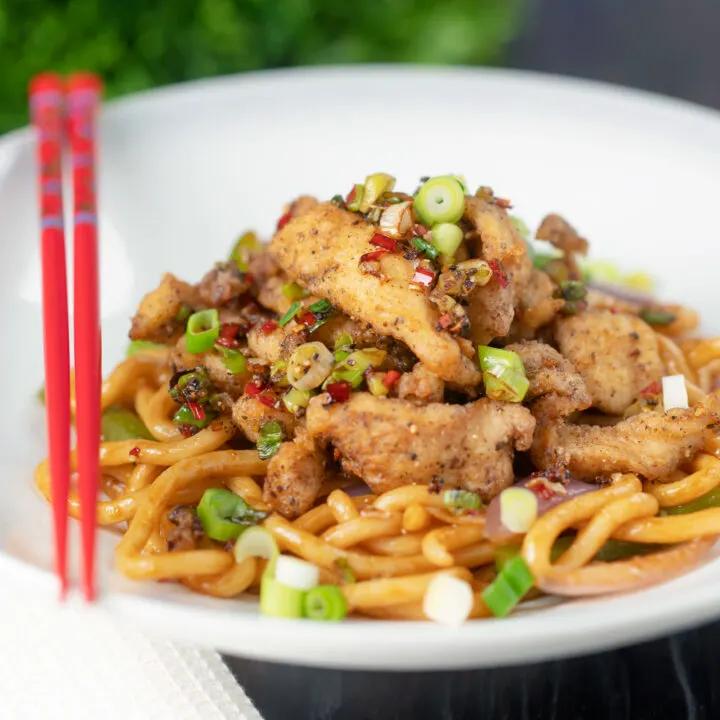 Yield:

2 Servings
Chinese Takeaway Salt and Pepper Chicken Recipe
My Chinese salt and pepper chicken breast is the perfect quick fakeaway dinner treat that cooks in well under 30 minutes.
Ingredients
300g (10z) Chicken Breast
2 Red Chilli Peppers
2 Cloves Garlic
4-5 Spring Onions
2 Tsp Black Peppercorns
1 Tsp Szechuan Pepper
½ Tsp Chinese Five Spice
1 Tsp Coarse Sea Salt
3 Tbsp Cornflour or Cornstarch
¼ Tsp MSG
Oil for Frying
Instructions
Cut the chicken breasts into strips across the breast 4-5mm (¼") thick and place them in a medium bowl.
Chop the chilli peppers into a dice as finely as you can.
Peel the garlic cloves and dice them as finely as you can.
Slice the spring onions into rounds 2-3mm (⅛") thick.
Heat a wok over a high heat and add the black peppercorns and Szechuan pepper and toast them for 1-2 minutes. Then remove and grind them in a pestle and mortar or a spice grinder.
Add half of the ground pepper mix to the chicken along with the Chinese 5 spice and half of the coarse sea salt and mix to coat.
Heat 4-5cm (1½-2") of oil in a wok or deep fat fryer to a temperature of 180°C or 350°F.
Just before the oil reaches the desired temperature toss the cornstarch into the chicken, mix to combine and then fry in the oil (in two batches) for 60-90 seconds per batch. When fried remove from the oil and place on kitchen paper to absorb any excess oil.
When the chicken is cooked carefully pour out the hot oil into a separate saucepan to cool, retaining a little coating in the wok. Then return the wok to a high heat.
Throw in the garlic, chilli, and spring onions then stir fry for 30 seconds.
Add the fried chicken and the remaining pepper mix, the remaining salt and the MSG then toss to combine everything and serve immediately.
Nutrition Information:
Yield:
2
Serving Size:
1
Amount Per Serving:
Calories:

580
Total Fat:

29g
Saturated Fat:

3g
Trans Fat:

1g
Unsaturated Fat:

23g
Cholesterol:

128mg
Sodium:

1282mg
Carbohydrates:

31g
Fiber:

2g
Sugar:

2g
Protein:

48g
Calorific details are provided by a third-party application and are to be used as indicative figures only.