Babgulyas is a Hungarian bean goulash recipe, rich in paprika and featuring beef & bacon this dish is a glorious and easy one-pot wonder.

This recipe is gloriously old school and is influenced by the dish that is served up every year at our village festival. It features instructions for both stovetop and Instant Pot.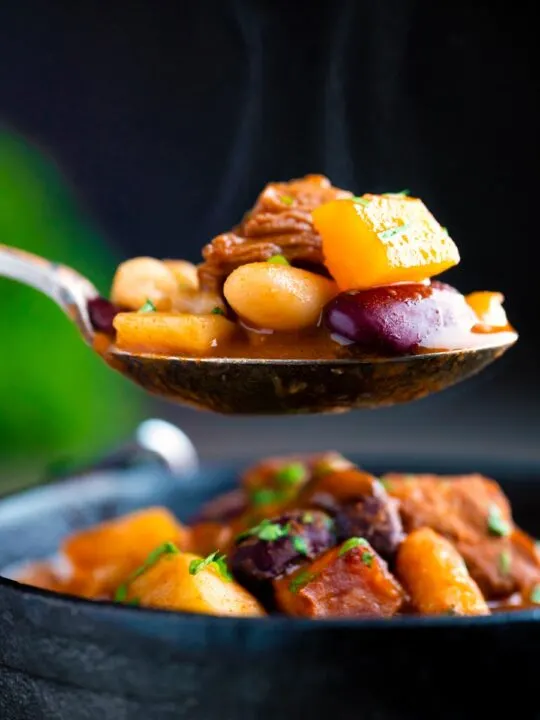 Hungarian Bean Goulash
Hungarian goulash is much misunderstood by those not from this corner of the world. Rather than being a single recipe, it is an idea with as many variations as there are cooks.
My first recipe here on Krumpli was a traditional Hungarian beef goulash recipe and this is another, erm traditional Hungarian beef Goulash. I also have a lamb goulash that is well worth checking out!
The name babgulyás literally translates to bean goulash which may indicate that it is a vegetarian goulash.
Nothing could be further from the truth! Whilst you may find a vegetarian goulash in a couple of spots in major cities you'll find no such thing in most of the country.
This recipe contains both beef shin and smoked streaky bacon.
Whether it be chicken paprika, rakott kaposzta, Brassói aprópecsenye, paprikas krumpli or beef porkolt, traditional Hungarian food is all about simple honest cooking, this Hungarian bean goulash is no different.
I have made a couple of amendments to this babgulyas recipe to make it more accessible to international readers.
Hungarians would rarely use celery or parsnip in this dish, instead opting for celeriac and parsley root. If you can get your hands on them then feel free to use them in the same quantities as the other root vegetables.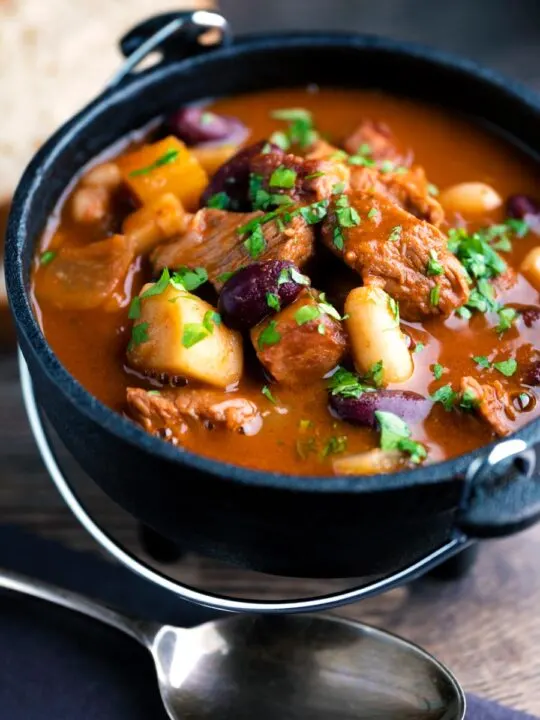 Frequently Asked Questions
Can I use smoked paprika?
I will be deported if I say yes to that question lol! No Hungarians do not use smoked paprika.

It didn't even appear on the shelves here until relatively recently. It also lives on the "speciality food shelves" rather than in the "wall" of Hungarian paprika on offer.
What paprika should I use?
First of all, it should be Hungarian paprika and it should be sweet paprika rather than spicy. You can add in a bit of spicy though, but be sure to have a taste, the heat varies massively.

Sweet paprika is called édes and spicy paprika is called csípős in Hungarian. The good stuff for export likely comes from a town called Szeged, so also look for Szegedi on the packet.
Can this be made in advance?
As with all stews, yes. This babgulyas will taste even better on day two, three or four!

It is one of the rare dishes that I cook in bulk and eat it for lunches all week. Stored in an airtight container it will last in the fridge for 4-5 days.

Just like a traditional Italian ribollita, this dish is often cooked for days in Hungarian homes and added to with vegetables or meats throughout the week.
Can I use dried beans?
Yes, just soak them overnight, then cook them in the stew, you will need to add more liquid and cook for 90 minutes to 2 hours.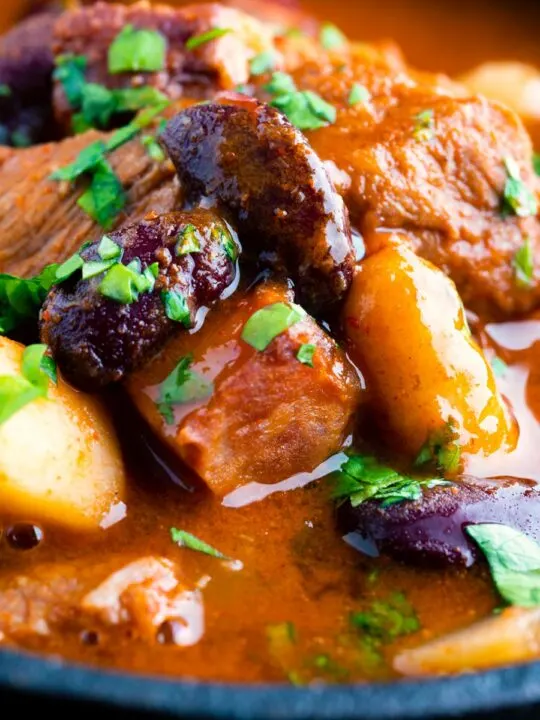 Serving Suggestions
This is the classic one-pot stew, it is often served with a bowl of bread and a plate of pickles.
I personally prefer a ciabatta style bread for dunking into my gulyas, but don't tell my neighbours!
It is also more often than not accompanied by a couple of jars that read Erős Pista and Édes Anna on the label.
These are nothing more than minced pastes of salt and peppers. One is a mix of spicy chillies and the other of sweet peppers.
Making them at home is super simple. Take some peppers or chillies add salt and blend then take a spoonful and stir it through your babgulyas.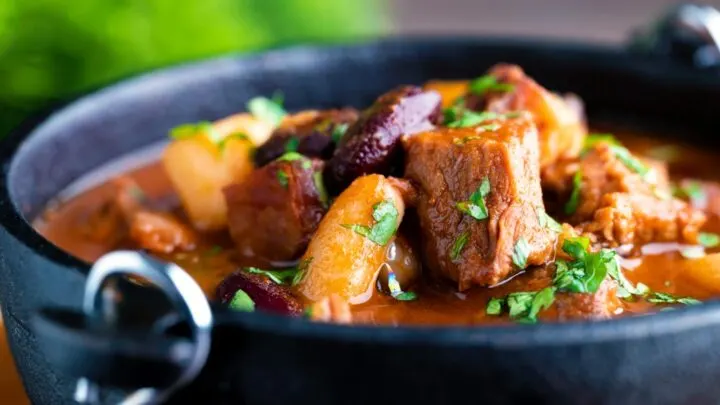 Equipment Used
I only name-check brands of equipment if I think that they make a material difference to a recipe. But if you have any questions feel free to ask them in the comments section below the recipe.
Stovetop or Instant Pot.
20cm or 8″ saucepan (if you are not using an Instant Pot).
Chopping Board.
Kitchen knife.
Weighing scales and or measuring jug, cups and spoons.
Stirring and serving spoons.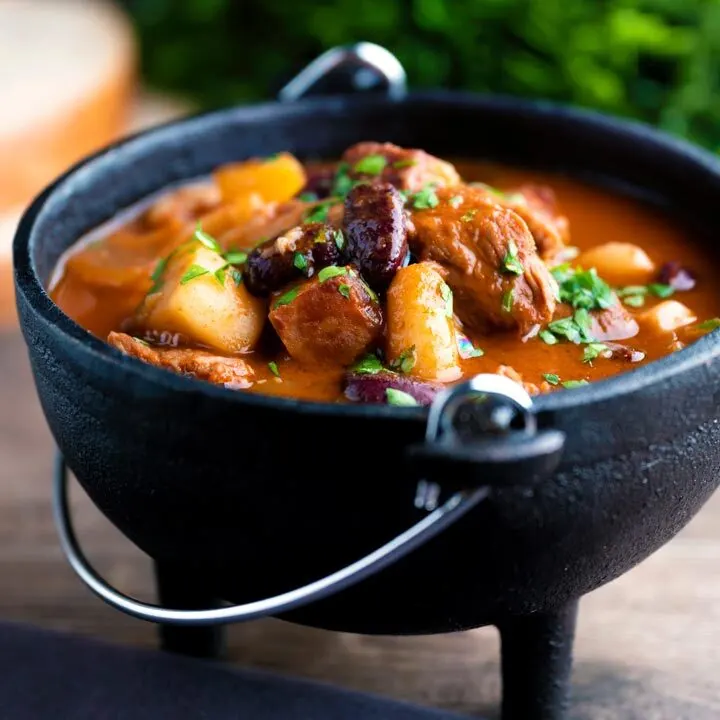 Yield:

4 Servings
Babgulyas Recipe a Hungarian Bean Goulash
Gulyás or goulash is the defining dish of Hungarian cuisine... But it is not a single dish but a 'spectrum' of simple and hearty soups flavoured with lots of paprika. This version is a Hungarian bean goulash and as you would expect it is a real hearty treat!
Ingredients
100g (3½oz) Streaky Bacon
150g (~1 Cup) Onion
50g (~½ Cup) Celery
150g (~1 Cup) Carrot
150g (~1 Cup) Parsnip
6 Garlic Cloves
300g (10oz) Beef Shin
1 Tbsp Caraway Seeds
3 Tbsp Sweet Hungarian Paprika
2 Tbsp Tomato Concentrate
2 Bay Leaves
2 Sprigs Thyme
1 Litre Beef Stock
400g (14oz) Tin Kidney beans
400g (14oz) Tin Cannelini beans
More salt if required
Instructions
Preparation Instructions:
Cut the bacon into a 1-1.5m (½") dice.
Cut the onion, celery, carrot, and parsnip into a 1-1.5m (½").
Peel and slice the garlic cloves into slices as thinly as you can.
Cut the beef into a 1.5cm (½") dice.
Stove Top Instructions:
Heat a 20cm (8") saucepan over a medium heat.
Add the bacon and gently cook for 10 minutes or until the bacon is golden and has released some fat.
Add the carrot, celery, carrot, parsnip, and garlic to the pan and cook for 10 minutes stirring occasionally.
Turn the heat down to low.
Add the beef, sprinkle over the paprika, caraway seeds and add the tomato puree, then stir to combine.
Pour in the beef stock, add the bay leaves and sprigs of thyme.
Finally stir in the beans, taste, and add salt as required, then simmer on low for 2½-3 hours.
Instant Pot Instructions:
Set your Instant Pot to saute mode and when warm add in the bacon stirring continually.
When it has created a nice layer of bacon fat add in the onion and celery and saute for 5 minutes.
Now add in the garlic, caraway seeds and thyme and stir for 1 minute.
Then add in the beef and stir and saute for another 5 minutes before turning off the saute mode.
Now sprinkle over the paprika and stir before adding the tomato puree, beef stock and bay leaves, once all combined have a quick test for seasoning and add salt and pepper as required.
Place on the lid and cook on manual high pressure for 8 minutes.
Then quick release the lid and add in the diced parsnip, carrot and beans, again replace the lid and cook on manual under high pressure for 5 minutes, now is also a good time to check that seasoning again adding salt as required.
Allow a 10 minute natural pressure release and serve steaming hot.
Nutrition Information:
Yield:
4
Serving Size:
1
Amount Per Serving:
Calories:

721
Total Fat:

26g
Saturated Fat:

9g
Trans Fat:

0g
Unsaturated Fat:

14g
Cholesterol:

90mg
Sodium:

1019mg
Carbohydrates:

70g
Fiber:

19g
Sugar:

8g
Protein:

55g
Calorific details are provided by a third-party application and are to be used as indicative figures only.