Rakott kaposzta is a delicious Hungarian layered sauerkraut casserole featuring pickled cabbage, pork & rice with a sour cream topping.
This dish features all of the flavours of a classic Central European stuffed cabbage recipe with a significant reduction in work!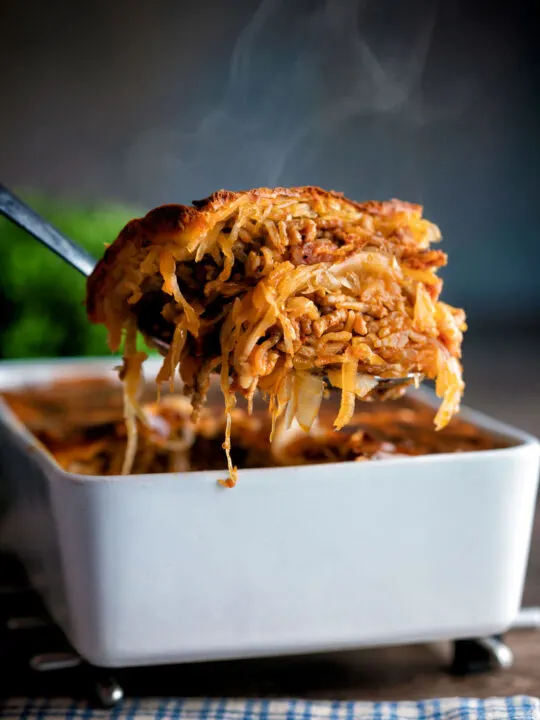 Hungarian Pickled Cabbage Casserole
Every cuisine has recipes that rarely break out into the international ether and many times they are much better than the recipes that nations are best known for.
My site has a small but much-loved collection of Hungarian recipes that are much removed from the Gulyás or Goulash and paprikash that, for many, defines the cuisine.
The rakott kaposzta or káposzta, kelkáposzta (to spell it correctly) recipe joins lesser-known dishes like, rakott krumpli, borsos tokany, Brassói aprópecsenye and langos here on my site. They are the product of living here for 13 years and I love 'em!
Rakott in Krumpli translates as "pleated" in Hungarian, in reality in a food sense it means layered. Kaposzta means cabbage and in this dish, it means pickled cabbage or sauerkraut.
It's a recipe that is often referred to as Transylvanian here in Hungary which indicates it comes from the east of old Hungary or modern-day Romania.
This big old winter warmer cooks rinsed pickled cabbage with smoked sausage. Then minced pork is cooked with paprika and bacon… c'mon it's a Hungarian recipe! Which is then combined with cooked rice.
These two items are then alternately layered up and baked under a paprika lid and it is mind blowingly good! And if you think that the flavours
I think that its plain appearance when it comes out of the oven is rather charming because it really comes alive when you take a spoonful.
Hungarian food does not do subtlety very often but it sure does big old flavours and satisfying plates of majesty.
If you have some leftover sauerkraut be sure to check out my Polish lazanki recipe!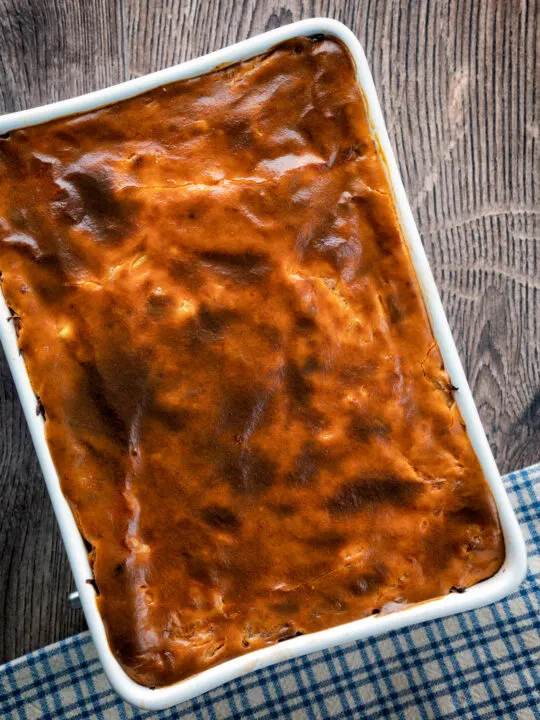 Frequently Asked Questions
What smoked sausage should I use?
In Hungary it means one of the seemingly endless choices of "kolbasz", if you have a Hungarian store locally ask them what is good. You will be surprised how many of these places there are, Google your local area just in case.

If not, no worries, you can also grab your favourite salami or pepperoni and off you go.
Do I have to rinse the pickled cabbage?
It's cooking, you do not have to do anything. Lots of older people that I have spoken to insist on not rinsing the cabbage which is called savanyú káposzta here in Hungary.

I prefer to rinse mine, don't worry you will make the more than once, you can experiment!
This sounds like stuffed cabbage that ain't stuffed?
You would be absolutely right if that is your thought because this recipe contains all of the ingredients in a Hungarian töltött káposzta or stuffed cabbage.

You could think of this Hungarian cabbage casserole as an unstuffed or deconstructed cabbage rolls recipe if you like.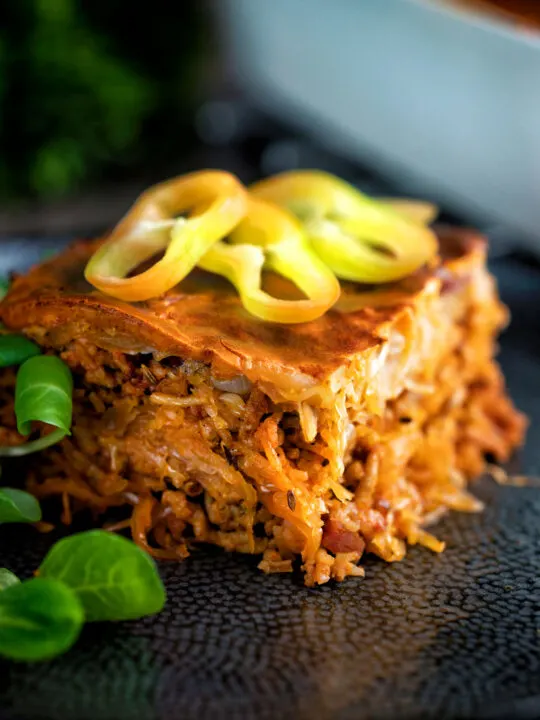 Serving Suggestions
Rakott kaposzta really is a hearty sauerkraut casserole, very much a complete meal in a spoonful.
It is a rare dish that I cook for 4, it really is very difficult to cook for just two. However, the dish saves really well, up to 3-4 days stored well in the fridge and it improves with age.
A small portion baked in the oven or reheated in the microwave makes for an incredible lunch.
It is often dressed with a big dollop of sour cream and some Hungarian hot peppers. I like to add snipped chives, although Hungarians look at me like I am mad, maybe I am, who knows!
I do like to serves this with a salad though, usually it is just some green leaves, maybe rocket (arugula) or lambs lettuce.
It also goes really well with a nice slaw and this kohlrabi slaw would be apt because it is a really popular ingredient here in Hungary.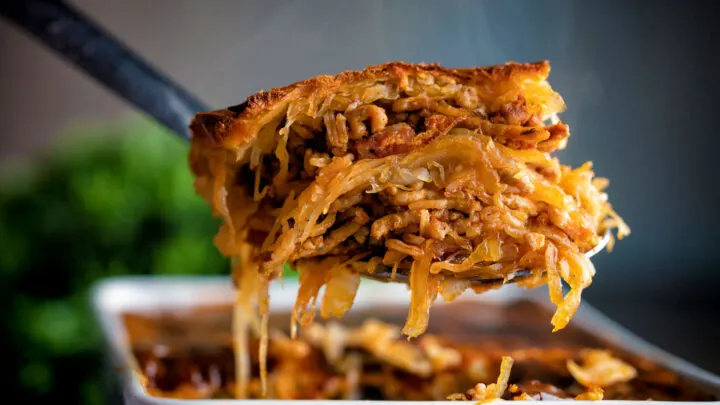 Equipment Used
I only name-check specific brands of equipment if I think they make a material difference to a recipe. But if you have any questions you can ask them in the comments section below the recipe.
Stovetop.
Oven.
Chopping board.
Kitchen knife.
Stirring and serving spoons.
Mixing bowl.
Fine mesh sieve.
15cm or 6″ saucepan.
20cm or 8″ saucepan.
30cm or 12″ frying pan or skillet.
20x15x5cm or 8x6x2″ baking dish.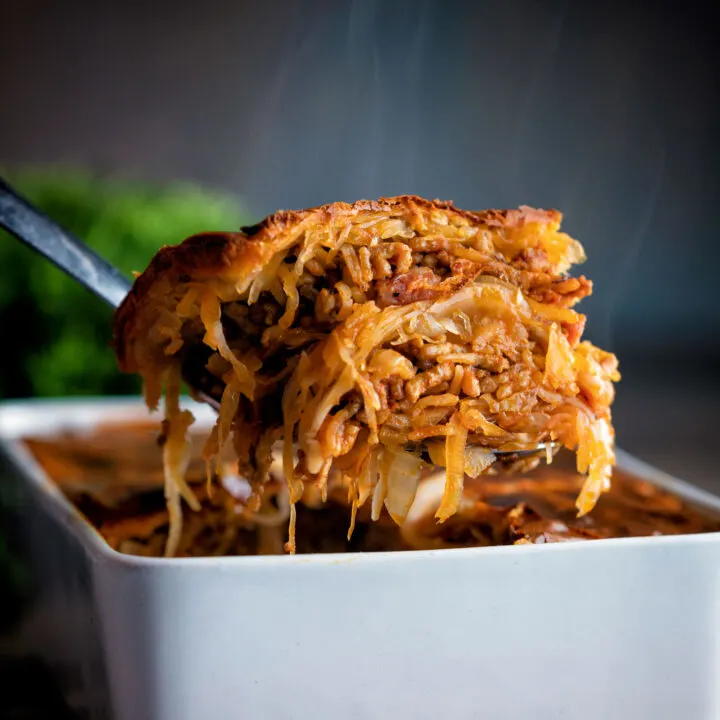 Yield:

4 Servings
Rakott Kaposzta Recipe
Cook Time:
1 hour
30 minutes
Total Time:
1 hour
40 minutes
Rakott kaposzta is a Hungarian sauerkraut or pickled cabbage casserole, it is a homestyle recipe that passes more than a passing resemblence to the flaovurs of stuff cabbage.
Ingredients
For the Sauerkraut Layer:
500g (2¾-3 Cups) Sauerkraut
1 Tbsp Cooking Oil
3 Garlic Cloves
50g (⅓ Cup) Pepperoni or other Dried Sausage
100g (⅔ Cup) Onion
½ Tsp Salt
125ml (½ Cup) Water
For the Pork and Rice Layer:
100g (½ Cup) Basmati Rice
500g (17oz) Minced Pork
1 Tbsp Oil
100g (⅔ Cup) Onion
3 Garlic Cloves
100g (½ Cup) Smoked Bacon Lardons
1½ Tbsp Sweet Paprika
1 Tbsp Caraway Seeds
½-¾ Tsp Salt (Plus extra for boiling the rice)
½ Tsp Black Pepper
For the Sour Cream Topping:
125g (½ Cup) Sour Cream
1 Tbsp Flour
1 Tsp Sweet Paprika
1 Pinch Salt
1 Egg Yolk
Instructions
For The Sauerkraut Layer:
Place the sauerkraut in a sieve and lightly rinse under cold water and set aside.
Slice the pepperoni into rounds approximately 3mm (⅛") thick.
Peel and slice the garlic cloves as finely as you can.
Cut the onion in half lengthways and then peel it and slice it into half-moon shapes approximately 3mm (⅛") thick.
Heat the oil in a medium sized (20cm or 8") saucepan over a medium heat.
When hot add the pepperoni, and onion and cook for 10 minutes.
When the onion has softened and the pepperoni has given off its oil and spices add the garlic and cook for another minute.
Throw in the sauerkraut, salt and water, stir, then add a lid and cook on low for 30 minutes.
For The Pork and Rice Layer:
Bring a 15cm or 6" saucepan of well-salted water to the boil (around ½-¾ tsp), then add the rice and cook until it has just a little bite left, then drain and set aside.
Peel and cut the onion into a 5mm (¼") dice.
Peel and slice the garlic cloves as finely as you can.
Heat the oil in a 30cm or 12" frying pan or skillet over a medium high heat.
When the oil is hot add the bacon lardons and onion, then cook for 5 minutes.
Add the garlic and cook for another minute.
Add in the minced pork, caraway seeds, salt and pepper and cook for 10 minutes stirring occasionally.
Once the pork is coloured through, remove it from the heat and stir through the paprika.
Throw in the cooked rice and mix to combine.
For The Sour Cream Topping:
Place all of the ingredients for the sour cream topping in a bowl and mix well.
Build & Cook The Rakott Kaposzta:
Place a third of the sauerkraut mix in the base of a baking dish (20cm x 15cm x 5cm or 8"x 6" x 2").
The layer in half of the pork followed by another third of the cabbage, the remaining pork and finally the remaining cabbage.
Spread the sour cream mix over the top of the dish.
Bake in the oven at 180°C or 350°F for 30 minutes.
Nutrition Information:
Yield:
4
Serving Size:
1
Amount Per Serving:
Calories:

806
Total Fat:

55g
Saturated Fat:

18g
Trans Fat:

1g
Unsaturated Fat:

31g
Cholesterol:

228mg
Sodium:

2824mg
Carbohydrates:

26g
Fiber:

6g
Sugar:

6g
Protein:

52g
Calorific details are provided by a third-party application and are to be used as indicative figures only.