Lazanki is a delicious & easy Polish cabbage pasta or noodle dish, I cook mine with kielbasa smoked sausage sweetheart cabbage & sauerkraut.
It's a super simple dish that cooks in under 30 minutes and packs a huge punch of flavour from relatively cheap ingredients!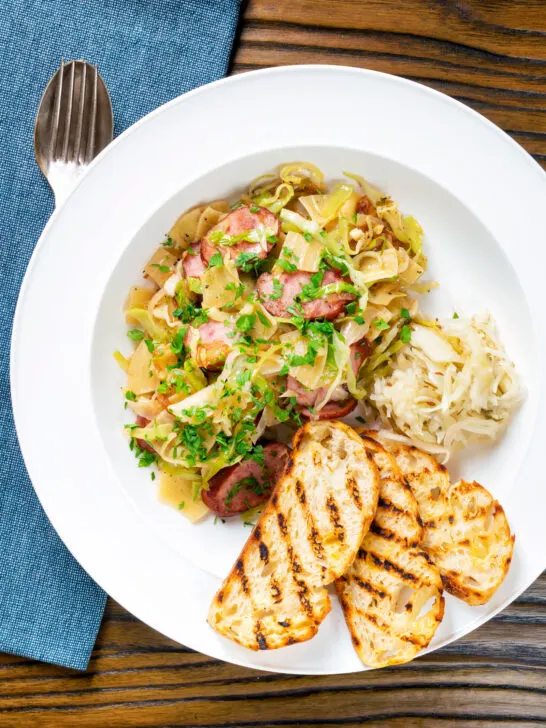 Polish Łazanki with Smoked Sausage and Cabbage
I spent 13 years living in rural Hungary and the whilst the history of this dish is Polish the flavours are evocative of so many Central European cuisines.
I've been playing around with this dish while, in part to get it right, but mainly because I adore it!
It is a curious dish that defies description, so I'll not try too hard but suffice it to say it is quite remarkable how much flaovur you get from so few ingredients.
Lazanki z kapusta is considered a "Christmas dish" in Poland but unlike many trad Western cultures, Christmas food ain't only for Christmas and this pasta with cabbage recipe is eaten all year round.
Cabbage pasta has appeared here before, however there it is loaded with bacon, sour cream and mustard. This recipe is also often made with bacon, either with or without the smoked sausage.
This recipe doesn't really have a sauce, which is how I like many of my pasta dishes. It gets a load of flavour from a smoked Polish sausage called kielbasa and golden sweet onions.
Usually, it is made with either cabbage or sauerkraut, but I like to combine both to turn the flavour dial all the way up!
If you like this dish then you will love my Hungarian rakott kaposzta recipe!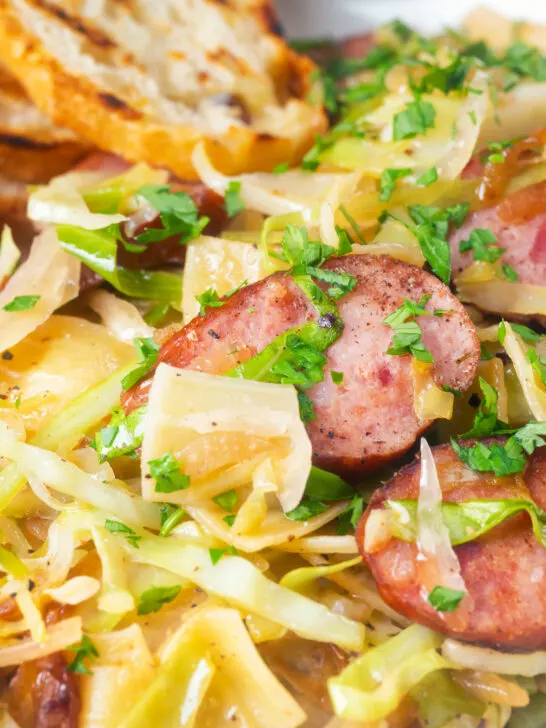 Frequently Asked Questions
What are Lazanki noodles?
They are relatively small squares of pasta that cook really quickly (4-5 minutes).

You will likely have to go to a Polish/Central European store that are certainly common in the UK, or you may find some in the European section of the supermarket.

If you cannot find them get some fresh pappardelle and cut that into squares, or you can just use pappardelle!
What is Kielbasa?
Kielbasa is a smoked Polish sausage and I love the stuff. As a Brit, it is probably most reminiscent of a saveloy, only better, much much better!

Generally speaking, it is fully cooked (please check the packaging) when it is bought an just needs heating through.
Can I eat this cold?
Yes, this is awesome as a lunchbox pasta salad because the flavours develop and things get all sorts of glorious on day 2 or 3.
How long will this save?
This will be fine in the fridge for 2-4 days, I would personally not freeze this dish.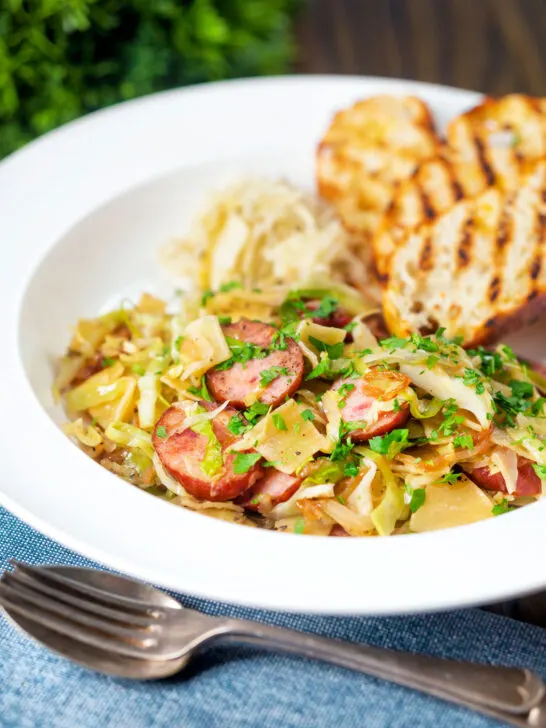 Serving Suggestions
I like to serve my version of Lazanki with some extra sauerkraut on the side and some toasted bread.
I've picked a cheese bread that I stumbled across because I think the cheese works really well with the flavours in this recipe.
You could get a similar vibe with a nice cheesy garlic bread too.
Baking bread isn't my "thing" but if I were to choose to bake bread I would serve this with a simple soda bread.
As a note, I've opted to make this recipe a little more accessible recipe by cooking it in oil, but if you want to turn the flaovur all the way up try frying the onions in lard. It tastes incredible!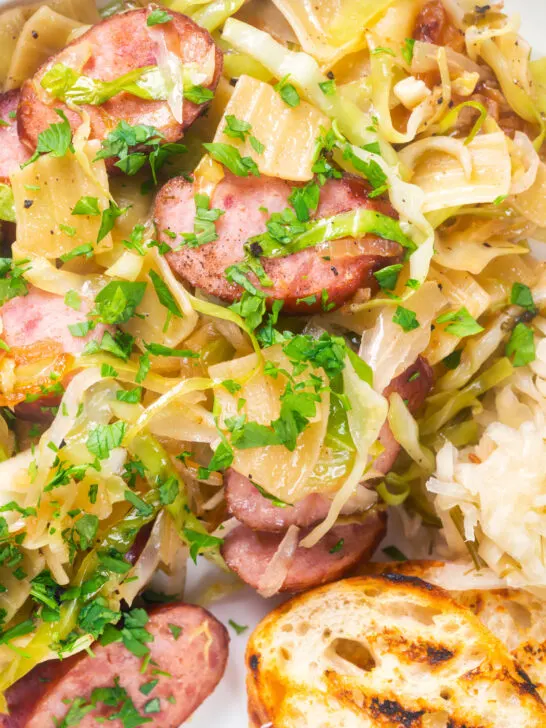 Equipment Used
I only name-check brands of equipment if I think that they make a material difference to a recipe. But if you have any questions feel free to ask them in the comments section of the recipe.
Stovetop.
30cm or 12″ frying pan or skillet with a lid.
20cm or 8″ saucepan.
Chopping board.
Kitchen knife.
Weighing scales and or measuring cups and spoons.
Colander.
Serving and serving spoons.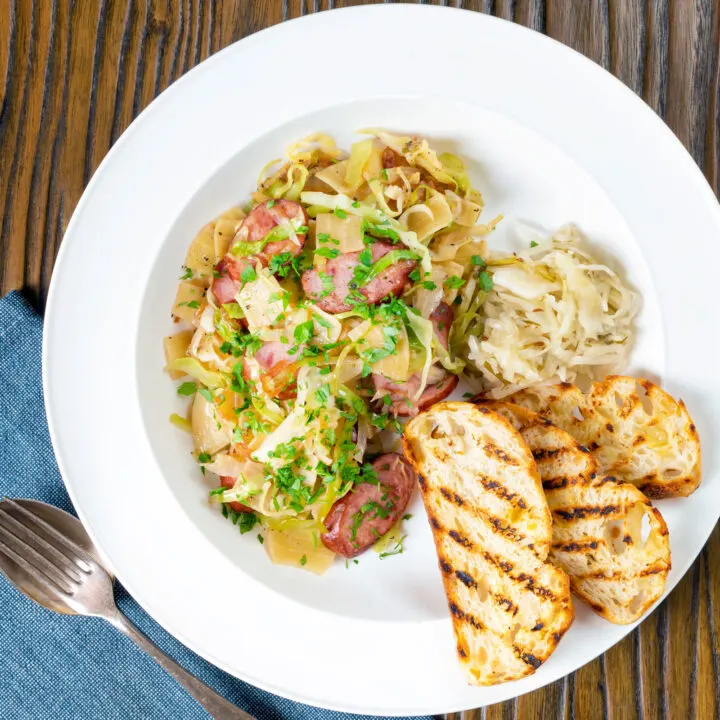 Yield:

2 Servings
Polish Kielbasa and Cabbage Lazanki Recipe
Polish lazanki is a super simple and outrageously tasty pasta or noodle dish, my version features smoked kielbasa sausage, hispi or sweetheart cabbage and sauerkraut!
Ingredients
175g (6oz or 2 Medium Sized) Kielbasa Sausages
250g (1⅔ Cup) Onions
200g (2½-3 Cups) Hispi or Sweetheart Cabbage
75g (½-⅔ Cup) Sauerkraut
2 Tbsp Cooking Oil
150g (1¼ Cups) Lazanki Pasta
½ Tsp (Plus extra for cooking pasta) Salt
½ Tsp Black Pepper
Instructions
Cut the sausages into 5-6mm (¼") thick rounds.
Cut the onions in half, peel them and then cut them into half-moon shapes as thinly as you can.
Cut the cabbage into quarters and remove the tough heart section then shred the rest of the cabbage. Start with the green end cutting it into 5-6mm (¼") strips getting thinner as you move towards the base of the cabbage ending up cutting as thinly as you can.
Heat a 30cm or 12" frying pan over a medium high heat and when it is hot add the cooking oil and onions and cook them for 7-10 minutes or until they begin to go golden brown.
Throw in the sliced kielbasa and cook for another 3-5 minutes, you want the onions to be nice and golden.
Whilst the sausage is cooking bring a 20cm or 8" saucepan of well-salted water to a boil, I use 1-1½ teaspoons of salt in a pan this size.
When the kielbasa has had 5 minutes throw in the sliced cabbage, stir to combine and add a lid and reduce the heat to low.
As soon as the lid goes on the cabbage add the pasta squares to the boiling water and cook until al dente, this will take around 4-5 minutes.
Drain the pasta reserving a little (3-4 tablespoons) of the cooking water and add the pasta and sauerkraut to the pan with the cabbage.
Add the salt and pepper, toss everything to coat and then pour in enough pasta water to get a nice silky coating.
Nutrition Information:
Yield:
2
Serving Size:
1
Amount Per Serving:
Calories:

729
Total Fat:

51g
Saturated Fat:

13g
Trans Fat:

0g
Unsaturated Fat:

34g
Cholesterol:

85mg
Sodium:

2052mg
Carbohydrates:

48g
Fiber:

6g
Sugar:

12g
Protein:

23g
Calorific details are provided by a third-party application and are to be used as indicative figures only.