Vegan mushroom rendang "curry" with whole field shrooms in a rich & thick, spicy hot & sour "sauce" laced with tamarind & coconut milk.
This dish takes a shade under 90 minutes to cook and prepare but for most of that time, you are chilling out waiting for the sauce to cook and reduce!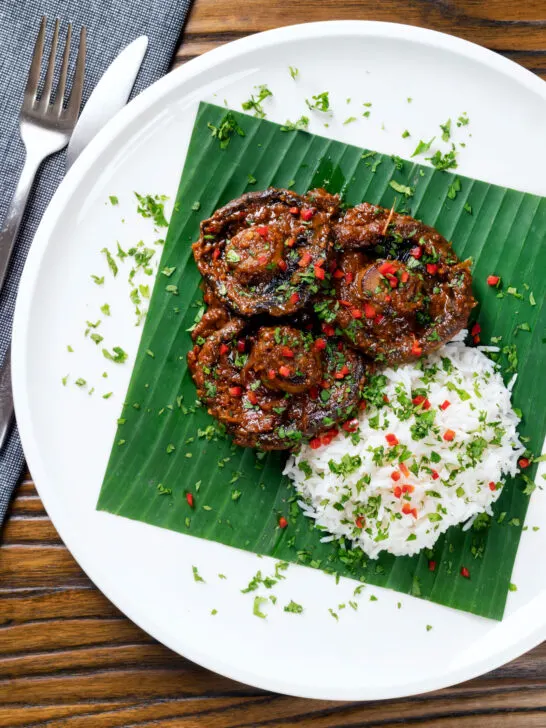 Meat Free Rendang
I recently gave my classic beef rendang recipe a bit of a facelift and my wife said that the sauce would be really good with mushrooms.
So I put my head into gear and she was right the vegan mushroom rendang is properly tasty!
The almost meaty portobello mushrooms are the perfect foil for the thick hot and sour coconut sauce.
I use them a lot in vegan and vegetarian versions of dishes like my mushroom stroganoff and devilled mushrooms on toast. They also star in most of my stuffed mushroom recipes like this goat cheese and onion stuffed mushrooms.
They have a much more pronounced mushroom flavour which gets accentuated here with some very British and old-fashioned mushroom ketchup.
Aside from that, the rendang sauce is pretty classic and features the greatest hits of classic rendang recipes from Malaysia and Indonesia.
The sourness comes from tamarind, lime and lemongrass. The heat comes courtesy of plenty of chillies, and we get plenty of deep flavour from coriander and cumin too.
It's all cooked down with coconut milk and toasted coconut flakes to create classic wonderful flavours.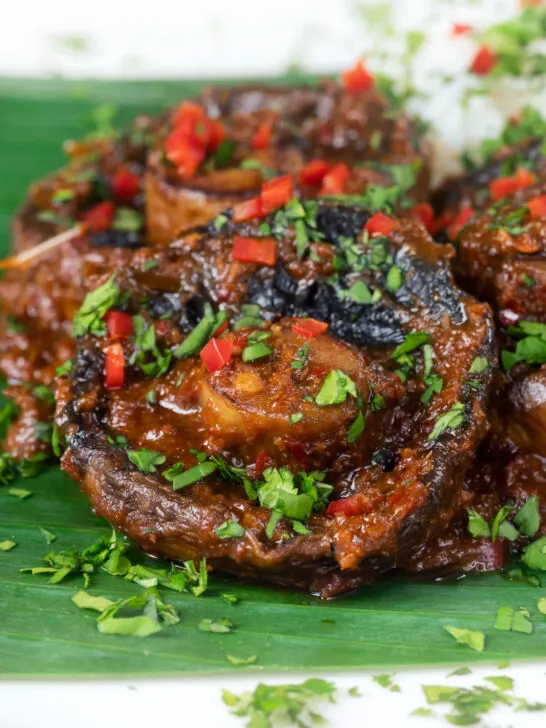 Frequently Asked Questions
Can I use different types of mushrooms?
Yes, this will work with a host of different mushrooms. But it is important that you do not cook them in the sauce because they will break down too quickly.
Why do you use whole mushrooms?
I honestly just like the way that the dish eats when I do not slice the mushrooms. It is also easier to get a nice colour on the mushrooms without overcooking them.
Can I use tamarind concentrate?
Yes, but you will need to use your experience with the brand that you choose because there are different levels of concentration.

I personally prefer to use a block because it lasts forever, it is cheaper and whilst it is a messy job it's not difficult.
Can I use low-fat coconut milk?
Not in this dish, no.

The whole idea is to slowly cook down the sauce and low-fat coconut milk really does not work well for this.
What is mushroom ketchup?
It is an old-school British ingredient from the same school as Worcestershire sauce and Hendersons relish.

Unlike tomato ketchup, it is not a thick sweet and sour sauce, but a thin liquid that lends recipes a deep umami flavour.

It is vegan and vegetarian and I love the stuff, try it, but if not omit it, the recipe still tastes magic.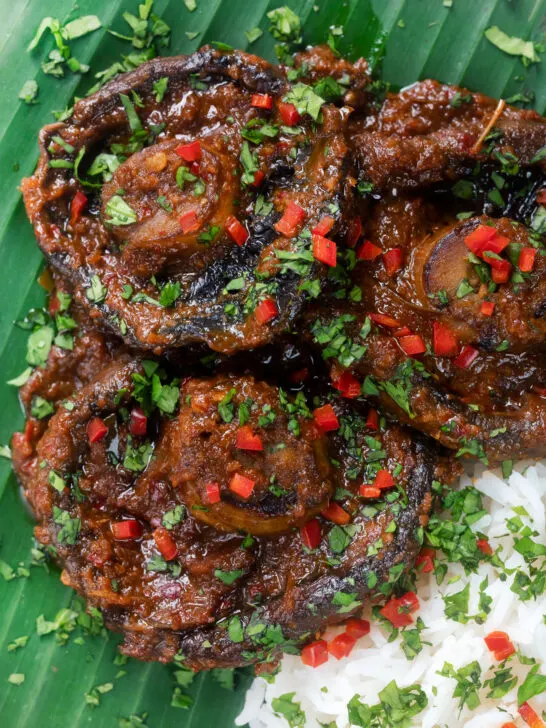 Serving Suggestions
I like to serve my vegan mushroom rendang with some plain steamed or boiled rice, but it would also be superb with coconut rice!
If you wanted a veggie side then something like my asparagus stir fry or broccoli stir fry would work wonderfully.
If you wanted something a little more "salad" like, how about trying this Indonesian urap sayur recipe? It's a mix of veggies with a wonderful coconut topping!
I've even taken to serving this with straw potatoes because the crispy salty "thing" works wonderfully with the hot and sour sauce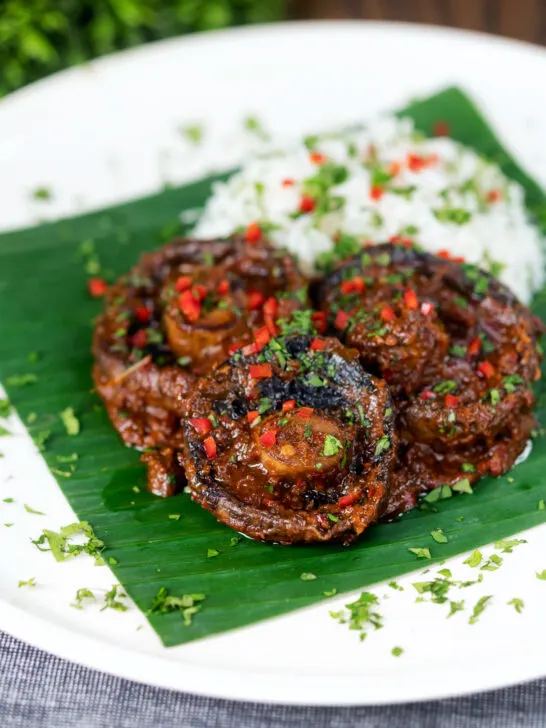 Equipment Used
I only mention specific brands of equipment if I think they make a material difference to a recipe. If you have any questions feel free to ask them in the comments section below the recipe.
Stovetop.
Wok, I use a large carbon steel wok.
30cm or 12″ (minimum) frying pan.
Mixing and prep bowls.
Weighing scales and or measuring cups and spoons.
Kitchen knife.
Chopping board.
Stirring spoons, tongs or a fish slice.
Fine mesh sieve.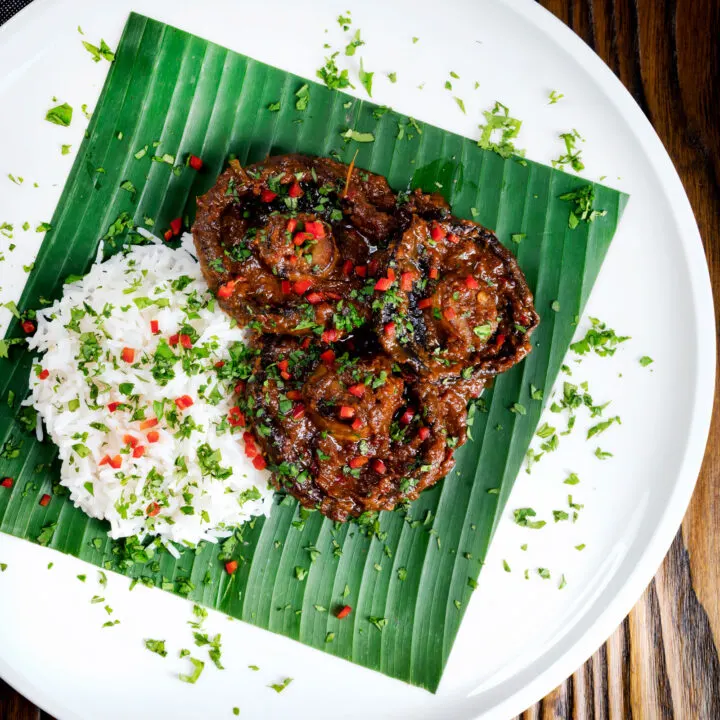 Yield:

2 Servings
Vegan Mushroom Rendang Recipe
Cook Time:
1 hour
10 minutes
Total Time:
1 hour
20 minutes
My take on a vegan mushroom rendang curry is hot with chilli and sour with tamarind, lemongrass and lime juice and it all comes in a wonderfully thick reduced coconut milk coating.
Ingredients
6 (400g total) Large Field or Portobello Mushrooms
25g (Thumb sized piece) Ginger
2 (70g Total) Shallots
3 Red Chilli Peppers
6 Cloves Garlic
35g (35mm or 1½") Cube Tamarind
25g (¼ Cup) Desiccated Coconut
3 Cardamom Pods
1 Cinnamon Stick
2 Star Anise
6 Dried Red Chillies
1 Tsp Ground Cumin
1 Tsp Ground Coriander
1 Stick of Lemongrass
10 Lime Leaves
125ml (½ Cup) Vegetable Stock
200g (7oz) Tin Coconut Milk
1 Tbsp Dark Soy Sauce
1 Tbsp Mushroom Ketchup
½ Tbsp Lime Juice
1 Tbsp Brown Sugar
3 Tbsp Ground Nut Oil
Instructions
Place the tamarind in a bowl and pour over 35ml (2 Tbsp) of boiling water and allow it to sit for 10 minutes. Then mash the pulp and pass it through a fine mesh sieve.
Heat a small 20cm or 8" nonstick frying pan over a medium heat and toast the desiccated coconut until it is golden brown, this will take 3-4 minutes. Then let the coconut cool for 5 minutes.
Roughly chop the red chilli peppers.
Remove the root and tough outer leaves from the lemongrass then bruise it with a back of a knife and roughly chop it.
Peel the shallots and place them in a mini blender with the peeled garlic cloves, peeled ginger, lemongrass, red chilli peppers, dried chilli peppers and toasted coconut and blend with as much water as needed to form a paste. You will need 2-3 tablespoons of water.
Strip the tough stems from the lime leaves and discard them, then shred the leaves as finely as you can.
Heat a wok over a high heat and when it starts to shimmer add 1 tablespoon of the oil followed by the cinnamon stick, cardamom pods and star anise and stir fry for 30 seconds.
Add the onion paste created in step four and cook for 2-3 minutes stirring regularly.
Throw in the lime leaves, cumin and coriander powders and stir for 15 seconds.
Pour in the vegetable stock, coconut milk, tamarind pulp, dark soy sauce, lime juice, mushroom ketchup and brown sugar then stir.
Reduce the heat to medium-low and cook for 45 minutes.
After the sauce has been cooking for 45 minutes heat the remaining oil in a large (30cm or 12") frying pan over a high heat.
Add the mushrooms and cook for 3-5 minutes on each side, then transfer them to the sauce and stir carefully to coat and allow to cook for a final 10 minutes.
Nutrition Information:
Yield:
2
Serving Size:
1
Amount Per Serving:
Calories:

585
Total Fat:

37g
Saturated Fat:

21g
Trans Fat:

0g
Unsaturated Fat:

14g
Cholesterol:

0mg
Sodium:

606mg
Carbohydrates:

61g
Fiber:

12g
Sugar:

26g
Protein:

15g
Calorific details are provided by a third-party application and are to be used as indicative figures only.