My Mushroom Stroganoff recipe is a take on an old school Russian classic recipe. This recipe leans in part on the traditional recipe fused with what we know of as a stroganoff sauce today.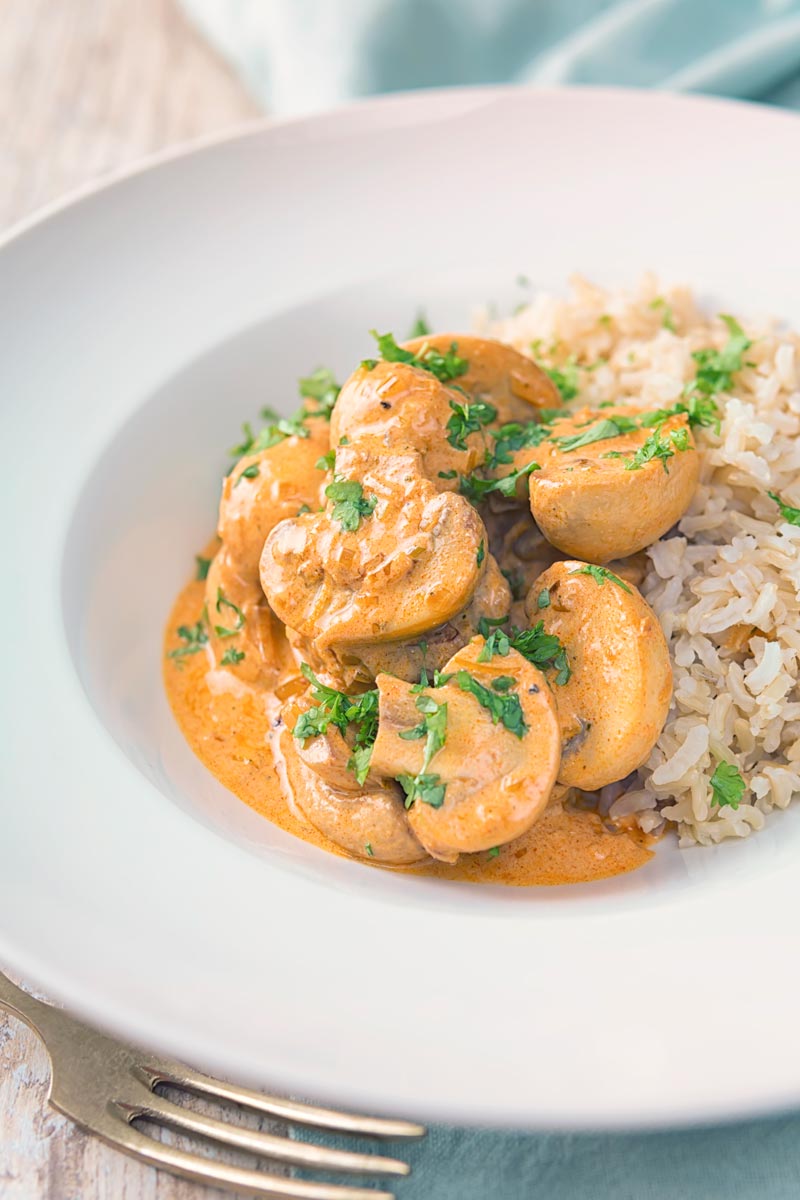 Quick and Easy Vegetarian Mushroom Stroganoff.
A "Stroganov" is a pretty old school creation with thousands of variations. My beef stroganoff recipe leans very much on the traditional Russian origins.
This vegetarian version fuses those traditional elements with what is more we are more familiar with today.
I personally think that shrooms are an essential part of any stroganoff and they are always my favourite part!
So for me, it is not a huge leap to create one that only features whatever shroomy goodness I can get my hands on.
You can really use any type you like, I like chestnut mushrooms. Just cut them up into bite-sized pieces and follow my instructions.
It is also an insanely quick meal, it takes just 25 minutes and that is conservatively speaking!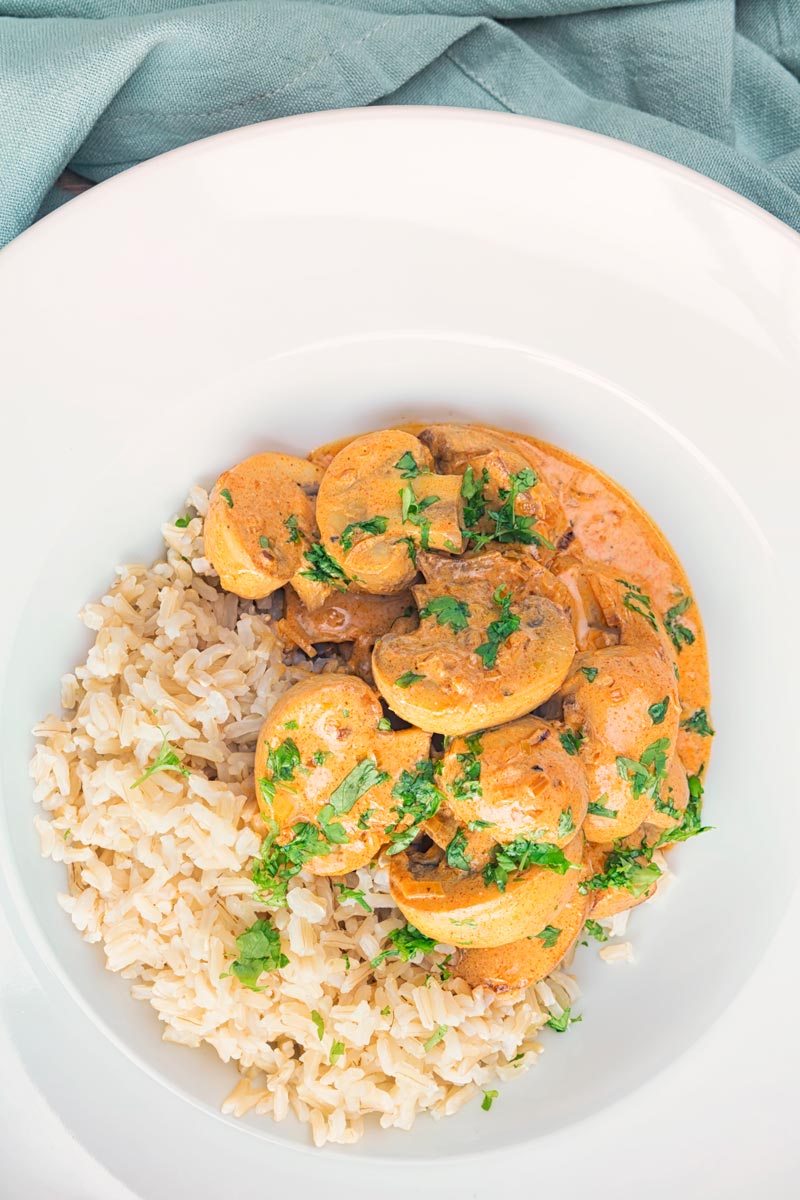 Serving Suggestions and Accompaniments.
As far as I am concerned the perfect accompaniment is wholegrain rice.
It has the perfect texture and nutty flavour to compliment the very mellow sauce.
However there are other options, my recent mushroom ragu recipe was served with a cheesy polenta.
Now I would not suggest a cheesy polenta but a polenta base would work very nicely with this recipe.
It would also be superb served with fried potatoes! Which is incidentally what this recipe would have traditionally been served with and also what I serve my pork stroganoff with.
You could also serve this with pasta although I have to confess that combination doe not work for me.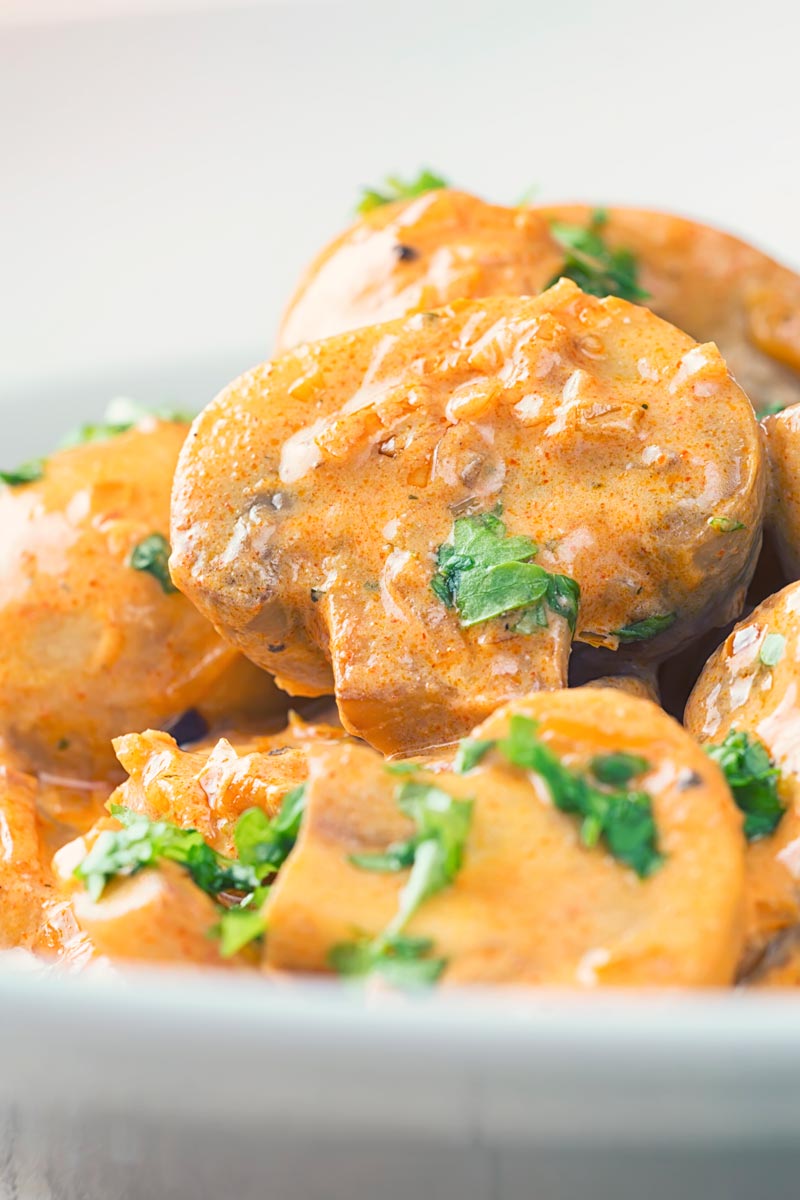 What Paprika to Use?
Use Hungarian Paprika, it really is the best, forget all that smoked Spanish/Portuguese rubbish.
You do understand that I am duty bound to add that last sentence as an adopted Hungarian, right?
Joking aside, your choice of paprika will very much influence the flavour of this recipe. And no, all paprika is not the same!
First of all, I strongly prefer a mild rather than spicy paprika. Yes, take a seat folks, I have just admitted that spicy is not always better!
I also prefer a sweet paprika over a smoked paprika, I find the later too dominant in flavour for this recipe.
There are countless sweet paprika varieties out there, far too many for me to name check. So do some research and find one you like!
One final word on paprika…
It has a short shelf life and loses intensity in both aroma and flavour very quickly once opened.
Try to buy a packet that is appropriate in size for your usage.
Whilst the web is awash with techniques to preserve spices in my experience they are only partially successful.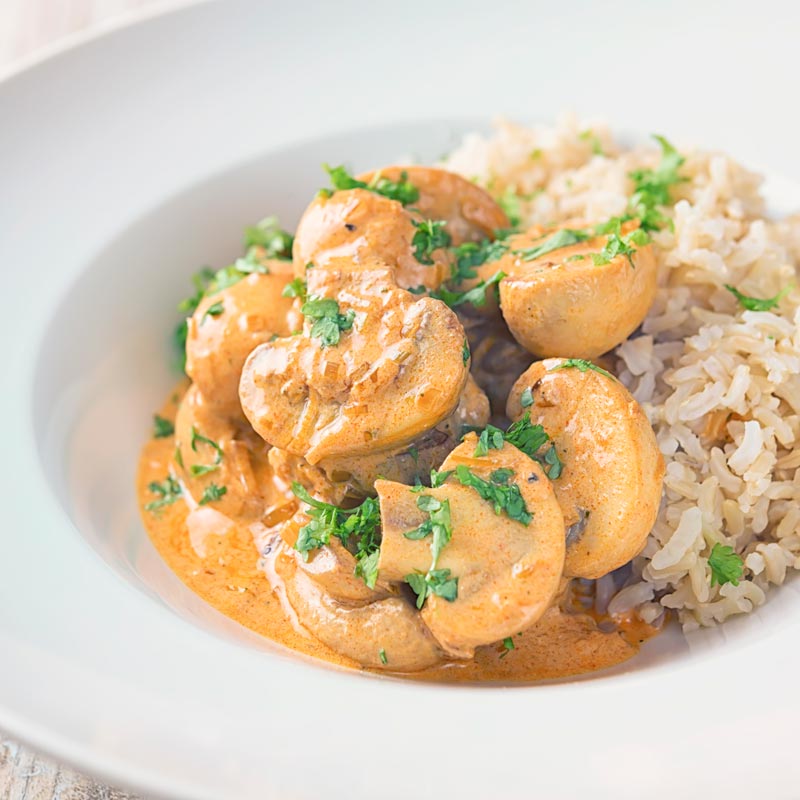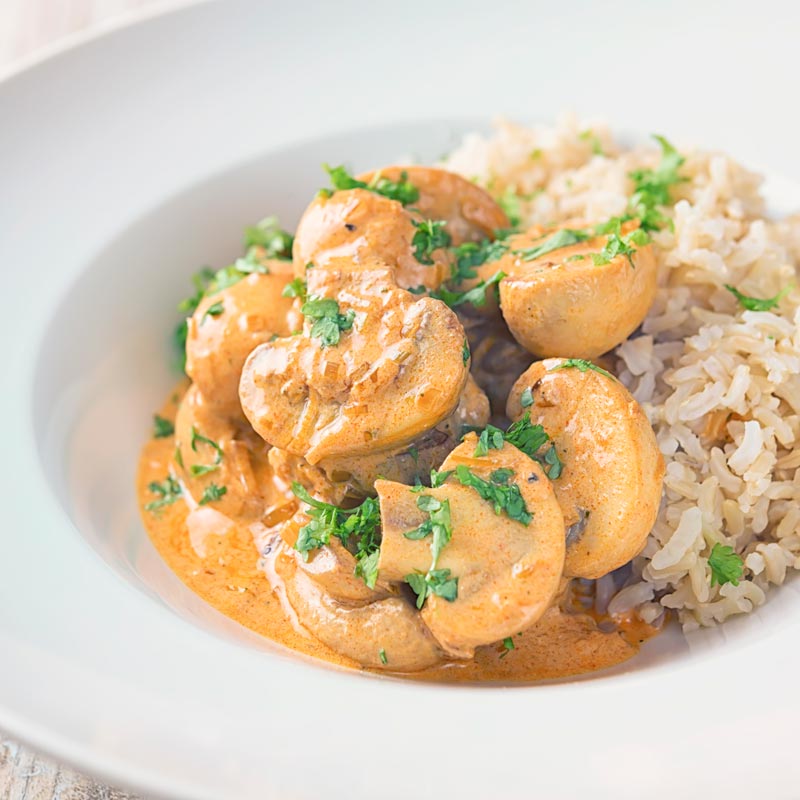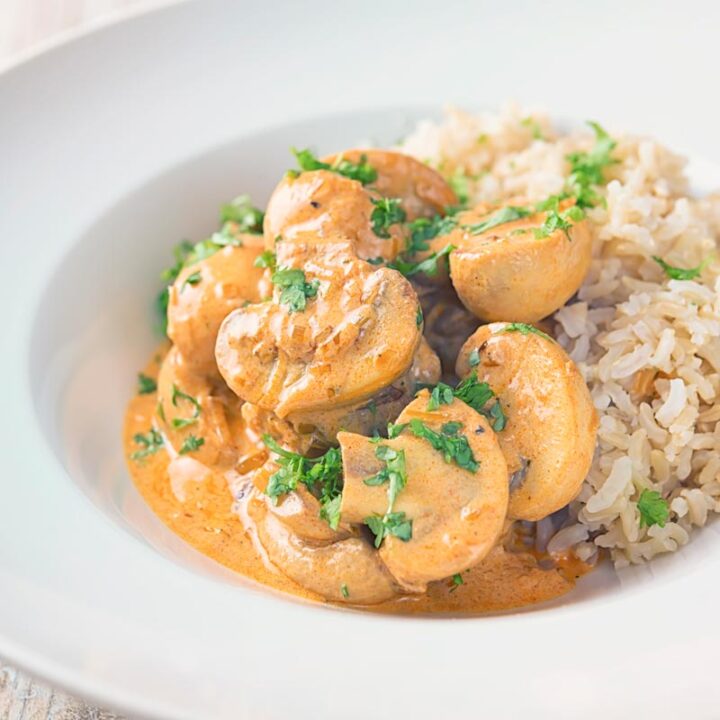 Mushroom Stroganoff
Dinner in served in a hurry with this wonderful mushroom stroganoff... Rich with butter and sour cream and flavoured with sweet paprika and lemon this recipe is guaranteed to raise a smile!
Ingredients
50 g Butter
75 g Shallot
2 Garlic Cloves
500 g Chestnut Mushrooms
1 Tsp Dijon Mustard
2 Tsp Sweet Paprika
125 ml Vegetable Stock
Salt and Pepper to taste
1 Lemon
100 g Sour Cream
Instructions
Finely dice the shallot and finely slice the garlic.
Melt the butter in a large frying pan over a medium heat.
Add the onions and cook until soft but not coloured, should take about 5 mins.
Now is a good time to cut the mushrooms into bit sized pieces. I like to by mushrooms that are perfect when cut in half.
Add the garlic and cook for a further minute or two.
Increase the heat to medium high, add in the mushrooms and cook for 5-6 mins stirring occasionally.
Reduce the heat back to medium/low and then stir in the mustard and paprika until completely combined.
Pour in the vegetable stock and simmer for 5-6 mins checking for seasoning after you add the stock.
Zest the lemon then cut it in half.
Remove from the heat and add in the lemon juice form half a lemon, lemon zest from the whole lemon and sour cream.
Gently bring to serving temperature returning to the heat if required but be sure not to boil or simmer as the sauce could curdle.
Notes
I like to serve this with whole grain rice, this usually takes around 25-30 minutes to cook, so start that just before you start cooking this recipe.
Nutrition Information:
Yield:

2
Serving Size:

1
Amount Per Serving:
Calories:

404
Total Fat:

32g
Saturated Fat:

18g
Trans Fat:

1g
Unsaturated Fat:

10g
Cholesterol:

83mg
Sodium:

580mg
Carbohydrates:

29g
Fiber:

9g
Sugar:

12g
Protein:

9g
Calorific details are provided by a third-party application and are to be used as indicative figures only.