Vegan mushroom stroganoff made with large field or portabello mushrooms in a roux based sauce with mustard and a surprise ingredient!
That surprise ingredient is marmite, a malted yeast spread that adds a great umami edge to the dish, and best of all it is all done in under 30 minutes.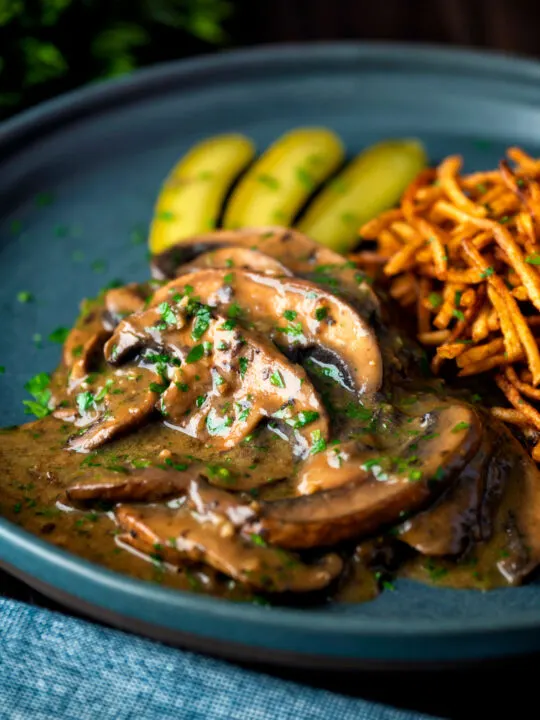 Veggie Stroganoff!
Like many recipes, the classic stroganoff is almost unrecognisable today from its original recipe.
Originally it was a dish that featured cubes of beef in a mustard sauce made with a roux and just the tiniest bite of sour cream.
Now it often features paprika, mustard, mushrooms, loads of sour cream, and thin strips of beef.
Now I'm a pluralist when it comes to food, the idea that there is a "best" anything is anathema to me.
My beef stroganoff has a mustard and sour cream sauce, my pork stroganoff has a paprika and sour cream sauce.
My vegan mushroom stroganoff leans back on the roots of this dish and uses a mustard and roux sauce.
I use vegan butter to make the roux, a product that has improved greatly over the years. But you can use regular butter and make this a veggie mushroom stroganoff if you like.
The addition of marmite may be controversial.
But it is a flavour enhancer rather than a flavour that dominates. I dislike the stuff spread on toast but add it to something like the veggie gravy that I serve with my vegetable toad in the hole and it is pure magic!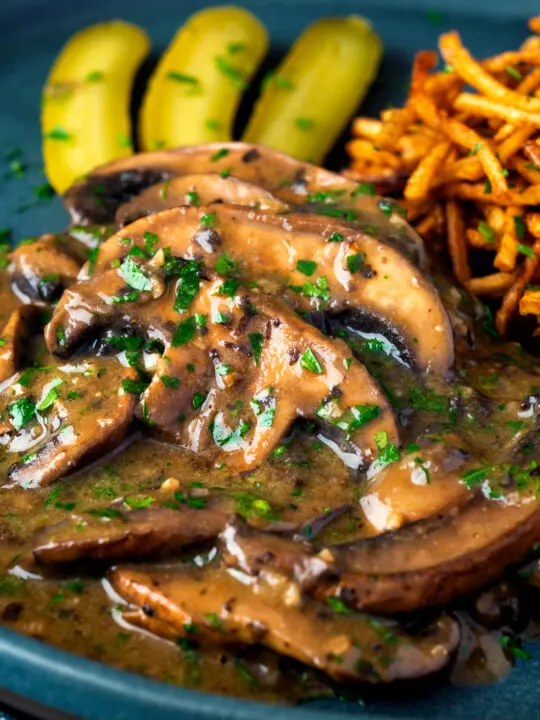 Frequently Asked Questions
What is Marmite?
Marmite is a yeast extract spread from the UK that has a love it or hate it reputation. I'm kinda in the middle, when it comes to eating it neat then it is not for me.

But added to sauces and gravies it adds a wonderful umami flavour that is particularly good with vegan and vegetarian dishes.
Is there an alternative to marmite?
Hardcore fans of marmite will say no, however, Vegemite will do a very similar job in this recipe.
Do I have to use portabello mushrooms?
No, you can use any mushrooms that you like. But portabello mushrooms always seem to have a "meatier" texture and are the mushroom of choice for me in dishes like my vegan mushroom rendang and devilled mushrooms on toast.

If you use button mushrooms, your sauce will be much paler in colour and have less "shroomy" flavour.
Can I use other types of mustard?
Yes, it will change the flavour but play around with your favourite types of mustard, they will all work well. Dijon is just my favourite for this vegan mushroom stroganoff recipe.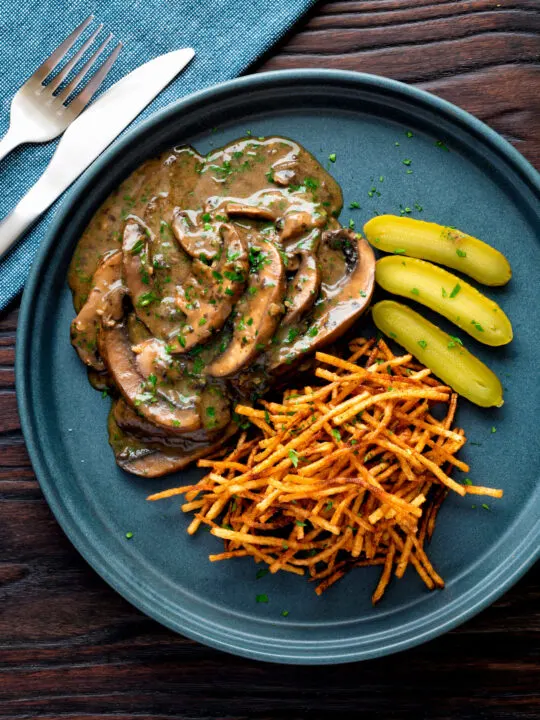 Serving Suggestions and Accompaniments.
As far as I am concerned the perfect accompaniment to this vegan mushroom stroganoff is fried potatoes, I serve it here with straw potatoes!
They are also a pretty traditional accompaniment to a stroganoff.
However there are other options, my recent mushroom ragu recipe was served with a cheesy polenta.
Now I would not suggest a cheesy polenta but a polenta base would work very nicely with this recipe. As would something like polenta chips.
Both rice and pasta are popular sides for stroganoff recipes. I would personally favour a nice nutty whole grain rice, but buttered noodles also make a good addition.
You could even serve this on toast as I do with my garlic mushrooms on toast recipe.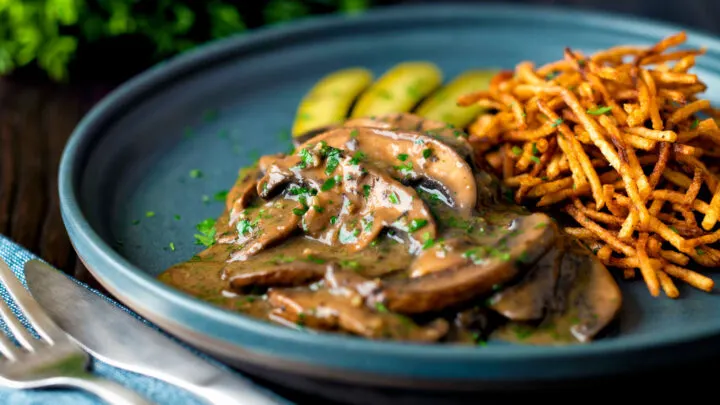 Equipment Used
I only mention specific brands of equipment if I think they make a material difference to a recipe. If you have any questions feel free to ask them in the comments section below the recipe.
Stovetop.
28cm or 11″ frying pan, not nonstick if possible.
Chopping board.
Kitchen knife.
Weighing scales and or measuring cups and spoons.
Stirring and serving spoons.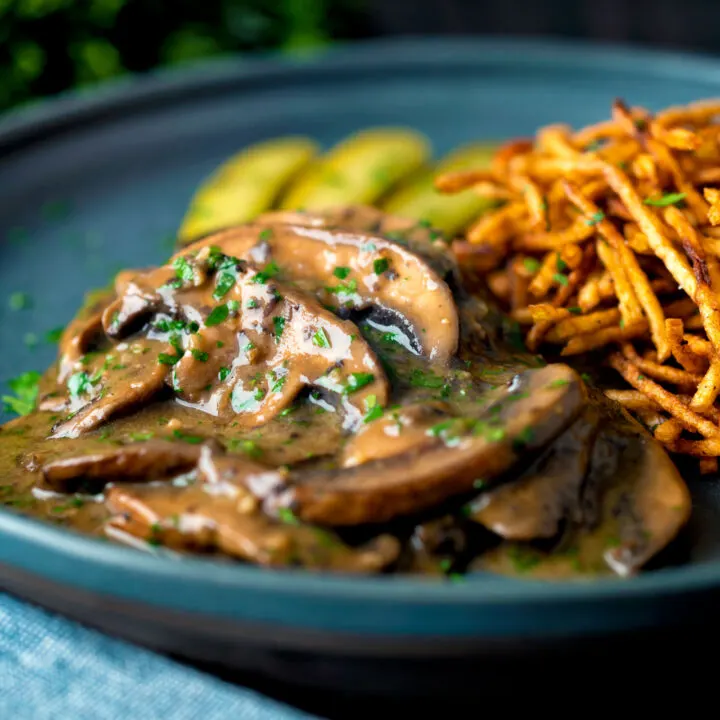 Yield:

2 Servings
Vegan Mushroom Stroganoff Recipe
This easy and quick vegan mushroom stroganoff is a delicious take on a classic recipe, it returns to its traditional roots by featuring a roux based sauce rather than a sour cream sauce.
Ingredients
300g (3-4 Cups) Field or Portabello Mushrooms
1 Medium (35g) Shallot
2 Garlic Cloves
1 Tbsp Cooking Oil
¼-½ Tsp Salt
½ Tsp Black Pepper
30g (2 Tbsp) Vegan Butter
1 Tbsp Flour
250ml (1 Cup) Vegetable Stock
1 Tbsp Dijon Mustard
½ Tsp Marmite
15g (1/4 Cup) Parsley
Instructions
Cut the mushrooms into 5-7mm (¼") thick slices.
Peel the shallots cut them in half lengthways then slice them into 1-2mm thick half-moon shapes.
Peel the garlic cloves and chop them as finely as you can.
Heat the oil in a wide (28cm or 11", not non-stick) pan over a medium-high heat.
When the oil is hot add the sliced mushrooms and shallots and cook for 5-7 minutes stirring regularly.
Add the garlic, salt and pepper and cook for another minute or two.
Push the mushrooms to the side of the pan and then melt the butter in the half without the mushrooms.
Add the flour to the butter, reduce the heat to medium and then stir the flour and butter together (leaving the mushrooms at the side of the pan) and cook for 1-2 minutes stirring constantly.
Pour 2-3 tablespoons of stock into the roux and stir until a smooth paste forms, adding more little by little until you have added half of the stock. Make sure that a smooth paste has formed before you add more stock.
When half of the stock has been added, stir the mushrooms into the roux-based sauce and add the remaining stock and mix well.
Add the mustard and marmite, stir well and allow to simmer over a medium heat for 5-7 minutes stirring occasionally.
Finally, stir through the parsley before serving.
Nutrition Information:
Yield:
2
Serving Size:
1
Amount Per Serving:
Calories:

266
Total Fat:

21g
Saturated Fat:

8g
Trans Fat:

1g
Unsaturated Fat:

11g
Cholesterol:

32mg
Sodium:

1017mg
Carbohydrates:

17g
Fiber:

5g
Sugar:

6g
Protein:

7g
Calorific details are provided by a third-party application and are to be used as indicative figures only.