Vegetable toad in the hole, roasted carrots, swede, parsnip & onions in a Yorkshire pudding batter, complete with a vegetarian onion gravy.
This meat free toad in the hole recipe is the perfect size for two uses my easy foolproof Yorkshire pudding recipe and cooks in around 45 minutes.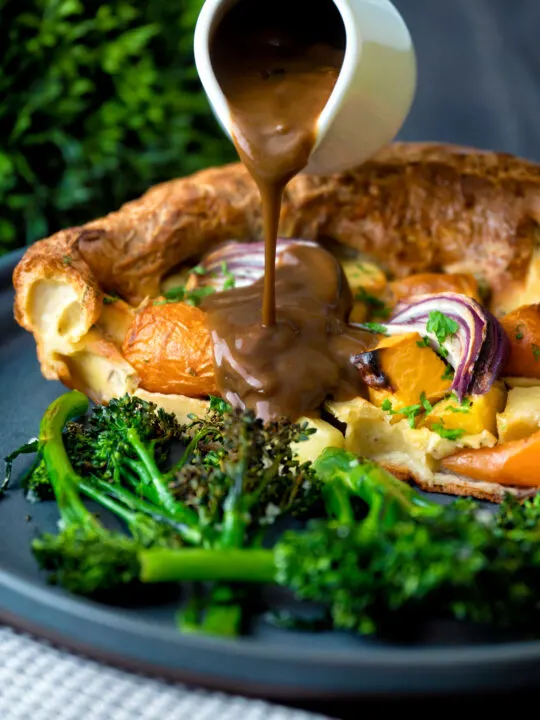 Veggie Toad in the Hole.
There are two foods that I view as quintessentially British, Yorkshire Pudding and Toad in the Hole.
This roasted vegetable toad in the hole is a vegetarian variant of a classic British frugal meal.
Although I'm pretty sure my Grandad, who was a butcher, will be turning in his grave at the thought of veggie Toad in the Hole!
This recipe is not a sacrifice in any way shape or form, it is simply stunning. And that is before you add the swoon-worthy vegetarian onion gravy!
A gravy that gets its flavour from dried porcini mushrooms and then a bit of marmite and black treacle.
It is simply the best veggie gravy I have ever tried!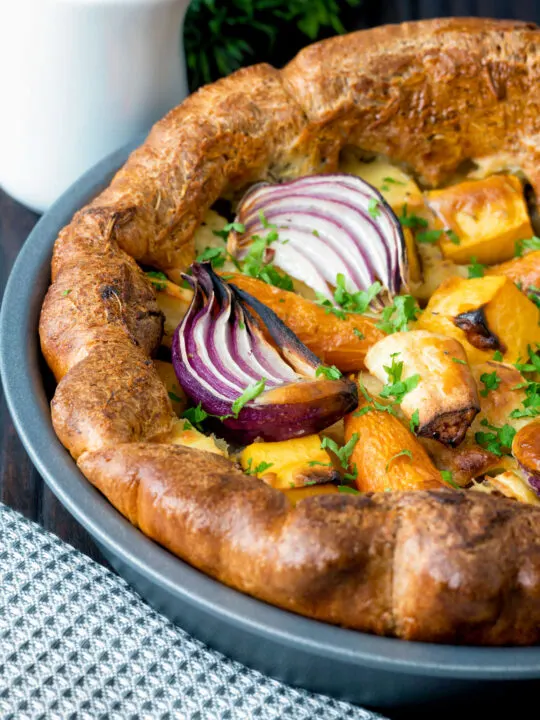 Frequently Asked Questions
Can I use different vegetables?
Yes, in fact, I would urge you not to get too wrapped up in the ingredients I use to stuff my toad in the hole. Experiment and play with what is good in your local market.

Some of my favourites are fennel and leek, roasted pumpkin and onion, cauliflower and broccoli.
Do I have to use Marmite in the onion gravy?
No, but I would urge you to give it a try. I get it, I really do not like marmite, it's horrible on toast, but in this gravy, it is THE magic ingredient!
Can I use other dried mushrooms?
Yes, and they will be cheaper, however, they will not have the same punch of flavour as porcini mushrooms.
What's the secret to perfect Yorkshire pudding batter?
I talk in detail about the perfect Yorkshire pudding batter in my Foolproof Yorkie recipe.

But for me, there are two things that you must do!
Rest your batter before cooking, overnight is best but aim for nothing less than 4 hours.
Meaure by volume, I'm not a fan of cup measures, but for this dish volumetric measures work perfectly. I use three identical bowls and line them up, crack the eggs into one, then fill up the other two bowls with milk and flour.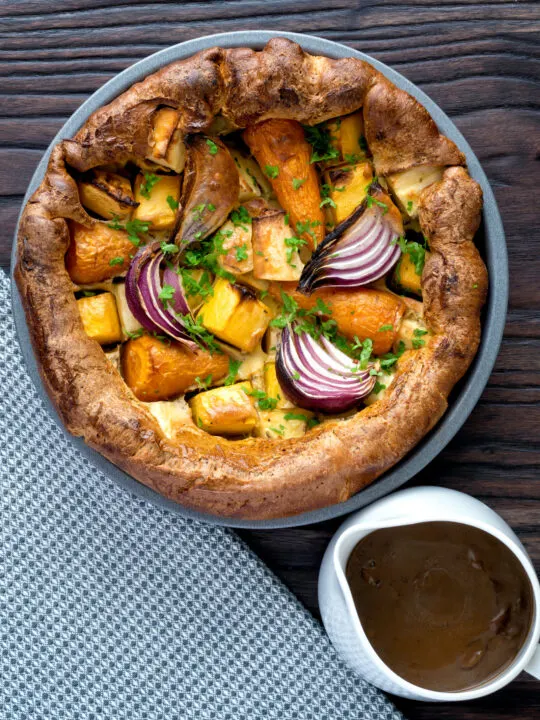 Serving Suggestions
Aside from the rather foxy vegetarian onion gravy, I like to serve this roast vegetable toad in the hole with extra veggies.
Here I have served it with some roasted tender stem broccoli. But it is equally good with some garlic asparagus or this buttered cabbage.
Another option that is a little more work, but equally delicious is petit pois a la Francaise. Just omit the bacon if you are sticking vegetarian.
In a similar vein, it would be equally good with braised cavolo nero kale.
You will have plenty of swede left over when you make this recipe. But fear not, I have a great recipe for swede and carrot mash that will use it up!
Due to many requests, I have created a new recipe for a vegan onion gravy too!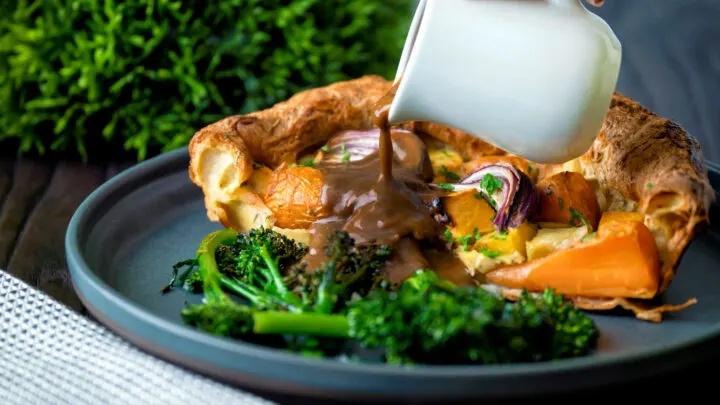 Equipment Used
I only mention brands of equipment if I think that they make a material difference to a recipe. If you have any questions feel free to ask them in the comments section below the recipe.
For the toad in the hole:
Oven.
Mixing bowl.
Whisk.
Weighing scales and or measuring cups and or spoons.
Prep bowls, I prefer to use 3 identically sized bowls to estimate the volumetric measurement for the batter.
20cm or 8″ round baking tin.
Kitchen knife.
Chopping board.
For the vegetarian onion gravy:
Stovetop.
15-16cm or 6″ saucepan, not nonstick if possible
Kitchen knife.
Chopping board.
Weighing scales and or measuring cups and or spoons.
Stirring and serving spoons.
Blender.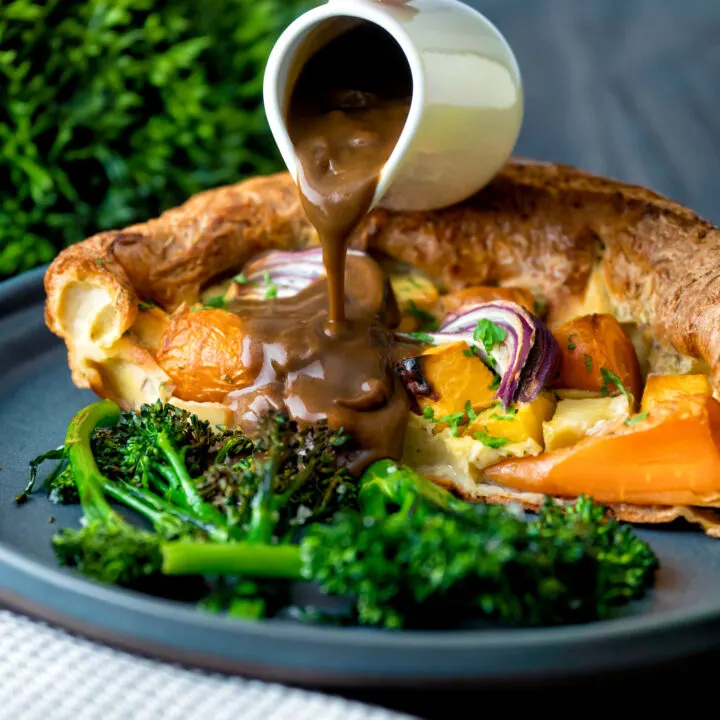 Yield:

2 Servings
Vegetable Toad in the Hole Recipe with Vegetarian Onion Gravy
Total Time:
4 hours
50 minutes
Roasted vegetable toad in the hole, a fantastic veggie version of the classic British comfort food recipe, it even comes with vegetarian onion gravy!
Ingredients
2 large eggs
Flour, The same volume as the eggs ~75g
Milk, The same volume as the eggs ~110ml
½ Tsp Salt
¼ Tsp Black Pepper
½ Tsp Dried Rosemary
½ Tsp Dried Thyme
100g (⅔ Cup) Baby Carrots
100g (⅔ Cup) Parsnip
100g (⅔ Cup) Swede AKA Rutabaga
½ Red Onion
2 Tbsp Flavourless Cooking Oil
For the Vegetarian Onion Gravy
300g (2 Cups) Onions
30g (2 Tbsp) Butter
1 Tbsp Tomato Puree
400ml (1⅔ Cups) Vegetable Stock
15g (⅓-½ Cups) Dried Porcini Mushrooms
1 Tsp Marmite
½ Tsp Black Treacle or Molasses
Instructions
Sift the flour into a large mixing bowl and add the beaten egg and milk and mix to form a batter.
Mix in the thyme, rosemary, salt and pepper and set aside for at least 4 hours in the fridge, overnight is best.
Cut the onions for the gravy in half lengthways, then peel and slice into 3-5mm thick half-moon shapes.
Add the butter for the gravy to a small (15-16cm or 6") saucepan (not non-stick) and melt it over a medium-low heat.
Add the onions and cook over a low-medium heat for 45 minutes stirring every 5 minutes or so, if the onions start to darken too quickly reduce the heat.
Heat the vegetable stock until it is boiling and add the dried mushrooms, then turn off the heat and allow them to soak for 10 minutes.
Preheat your oven to 220°C or 430°F, whilst the oven is heating up place a 20cm (8") shallow baking tin in there with the cooking oil.
Peel the swede and cut it into 1.5-2cm (½¾") cubes.
Peel the parsnip and cut it into 1.5-2cm (½¾") cubes.
Add the diced parsnip, swede and carrots to the baking tin, toss to coat in oil and then return it to the oven for 10 minutes.
Peel the halved red onion and then cut it into quarters taking care not to trim off too much of the root, we want the onion to hold together.
When the vegetables have been roasting for 10 minutes remove the pan from the oven and pile the vegetables up away from the edges of the pan and add the red onion wedges.
Pour over the Yorkshire pudding batter and place the pan in the oven and cook for 30-35 minutes. DO NOT OPEN THE OVEN UNTIL THE TOAD IN THE HOLE IS COOKED!
10 minutes before the toad is cooked blend the stock and dried mushrooms, it will form a nice gravy like texture.
Add the tomato puree to the onions and stir 1-2 minutes.
Pour the mushroom gravy over the onions and turn the heat up to medium.
Stir in the marmite and treacle, feel free to adjust the amounts of these to your liking and then add salt if required, it should not be.
Simmer the gravy until the toad in the hole is ready to serve.
Notes
If you are not vegetarian try cooking this in a hard animal fat like lard, beef dripping or duck fat, it is incredible!
Nutrition Information:
Yield:
2
Serving Size:
1
Amount Per Serving:
Calories:

635
Total Fat:

33g
Saturated Fat:

11g
Trans Fat:

1g
Unsaturated Fat:

20g
Cholesterol:

223mg
Sodium:

1493mg
Carbohydrates:

69g
Fiber:

8g
Sugar:

21g
Protein:

18g
Calorific details are provided by a third-party application and are to be used as indicative figures only.