A roasted vegetable toad in the hole may not be trad but the best seasonal roots baked in balsamic & cooked in Yorkshire pud batter are fab!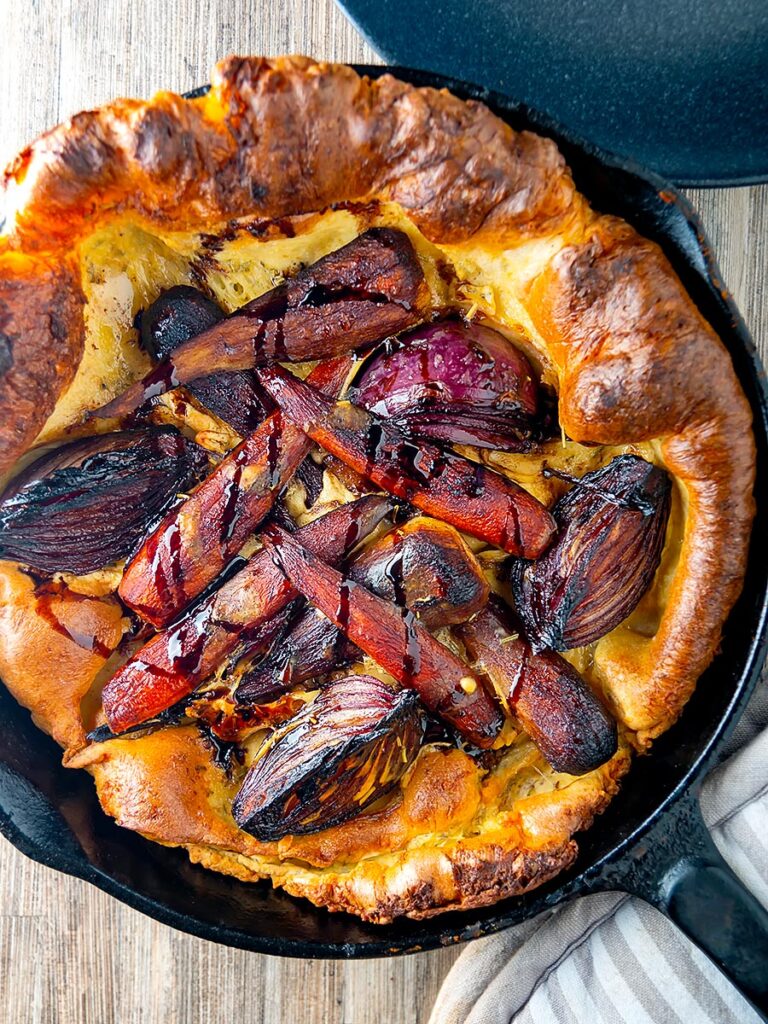 Veggie Toad in the Hole.
There are two foods that I view as quintessentially British, Yorkshire Pudding and Toad in the Hole.
This is another variant of this classic British rustic frugal treat.
Although I'm pretty sure my Grandad who was a butcher will be turning in his grave at the thought of this vegetarian Toad in the Hole!
Not just because he would have no idea what Balsamic Vinegar is, if you catch my drift.
This recipe is not a sacrifice in any way shape or form. I love roasted veggies as much as I love sausages.
So adding them to a Yorkshire pudding batter and turning them into a toad in the hole just makes sense.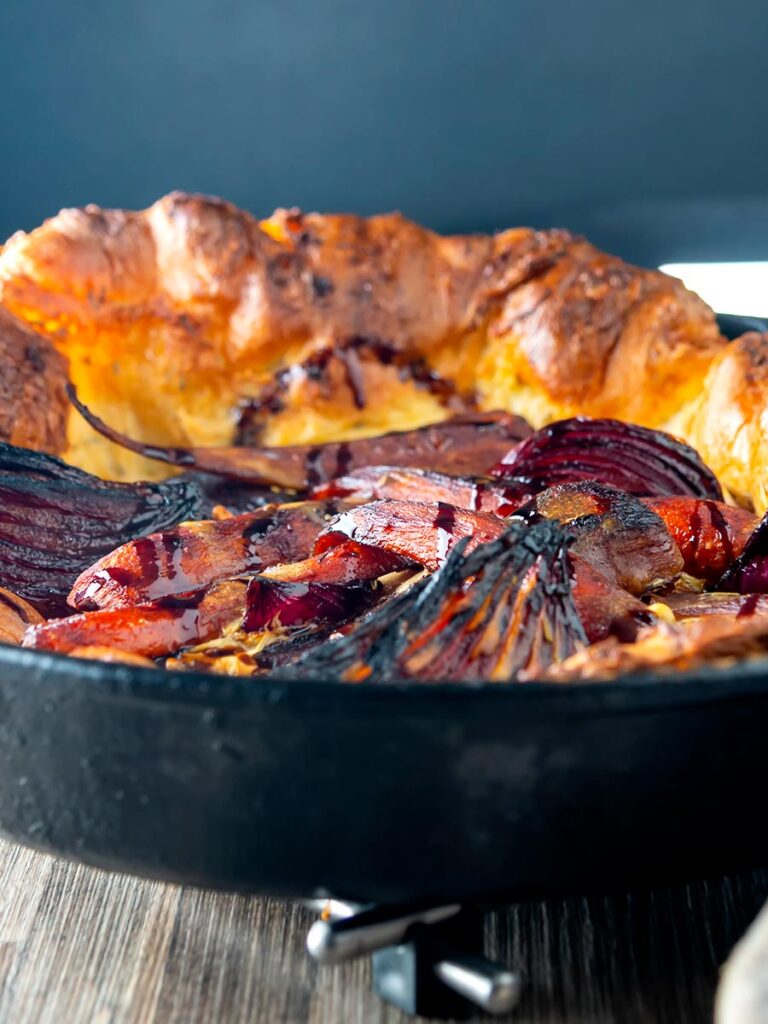 Can I Use Different Vegetables?
This version of my vegetarian toad in the hole uses roots.
Carrots, parsnips and red onions however I would urge you not get too wrapped up in these ingredients.
Experiment and play with what is good in your local market.
Some of my favourites are fennel and leek, roasted pumpkin and onion, cauliflower and broccoli.
Seriously take 2 or 3 things that work really well together and go for it!
If they are not gonna cook in 20 minutes give them a bit of a headstart by either roasting or steaming.
Then just let them finish off in the Yorkshire Pudding batter and serve hot and steaming.
I talk in detail about the perfect Yorkshire pudding batter in my Foolproof Yorkie recipe.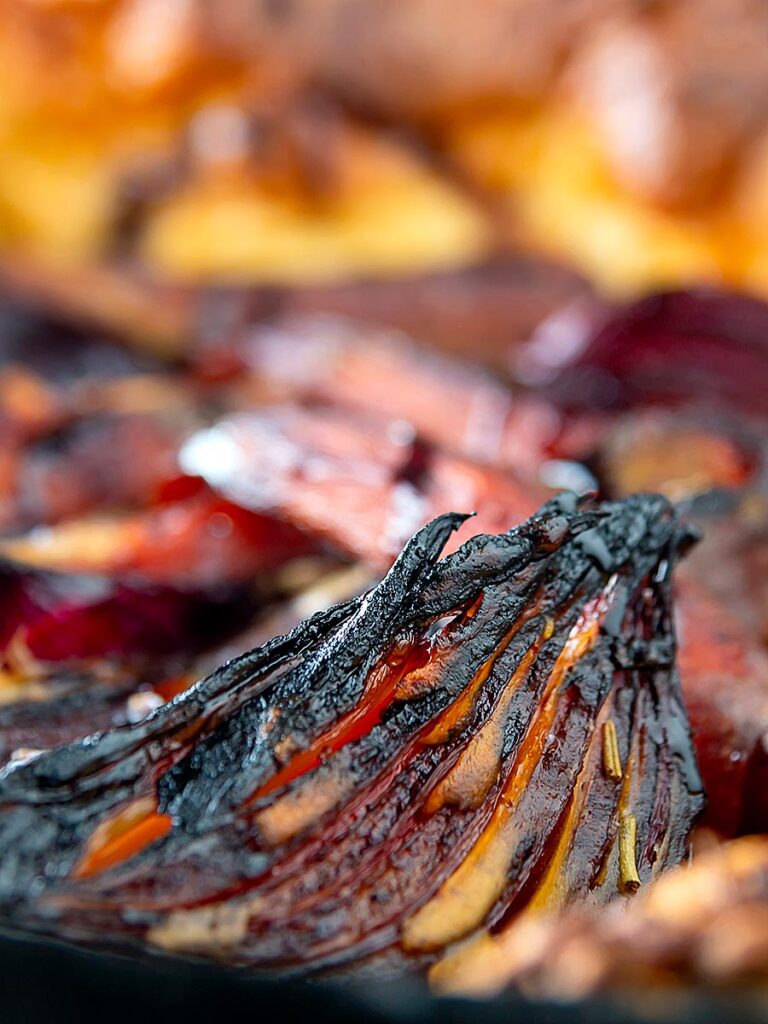 What to Serve with Toad in the Hole.
Whilst a good onion gravy is a traditional and fine accompaniment to a toad I confessed in my traditional recipe that my favourite accompaniment is peas and ketchup. Yes, I am still a child!
However, for this Toad in the Hole with a twist my choice of accompanied is a little more grown up.
A stripped back version of Petits Pois a la Francaise.
Now that might sound all fancy pants, but it is nowt but some braised peas and baby gem lettuce.
I even omit the cream and just cut the baby gem lettuce in half, then brown in an obscene amount of butter.
After that, I just turn them over and add some stock and peas and steam for 5 minutes.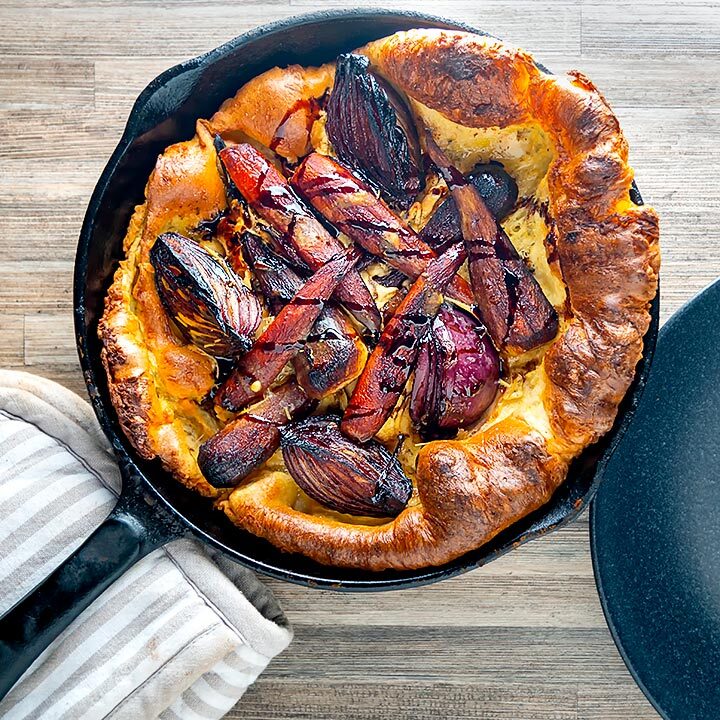 Yield:

2 Servings
Vegetable Toad in the Hole Recipe
Total Time:
4 hours
50 minutes
Thie vegetable toad in the hole recipes features the very best of in-season roots which are roasted in balsamic vinegar before finishing cooking in a foolproof Yorkshire pudding batter.
Ingredients
2 large eggs (1/2 Cup)
1/2 Cup Flour
1/2 Cup Milk
1/4 Tsp Salt
1/4 Tsp Black Pepper
1 Tsp Dried Rosemary
150 g (1 1/3 Cups) Carrot
150 g (1 1/3 Cups) Parsnip
200 g (2 Cups) Red Onion
2 Tbsp Flavourless Cooking Oil
50 ml (3 Tbsp + 1 Tsp) Balsamic Vinegar
50 g (3 Tbsp + 1 Tsp) Butter
Instructions
Sift the flour into a large mixing bowl and add the beaten egg and milk and mix to form a batter.
Mix in the thyme, salt and pepper and set aside for at least 4 hours.
Preheat your oven to 250°C or 475°F, whilst the oven is heating up place a 25cm skillet in there with the cooking oil to heat up.
Peel the vegetables and cut the carrots and parsnips to roughly the same size. I like to keep them long, cut the carrots in half and then match the parsnips to that size.
Cut the red onion into quarters leaving some of the root to hold it together.
Bring a large pan of salted water to the boil and add the carrot and parsnip to the boiling water and cook for 10 minutes until they begin to soften.
Remove the skillet and then roll around the vegetables to get a little colour.
Now add in the balsamic vinegar and transfer to the oven for 10 minutes.
Pour the batter over the vegetables and then close the oven and roast for 20 minutes.
Serve with a sticky balsamic reduction.
Notes
I use three identical bowls to get the same volumetric quantities for the flour, egg and milk. Simply crack the eggs into one and then fill up the other two bowls with flour and milk to the same level.
If you are not vegetarian try cooking this in a hard animal fat like lard, beef dripping or duck fat, it will blow your mind 😉
Nutrition Information:
Yield:
2
Serving Size:
1
Amount Per Serving:
Calories:

633
Total Fat:

41g
Saturated Fat:

16g
Trans Fat:

1g
Unsaturated Fat:

22g
Cholesterol:

244mg
Sodium:

608mg
Carbohydrates:

54g
Fiber:

7g
Sugar:

14g
Protein:

14g
Calorific details are provided by a third-party application and are to be used as indicative figures only.