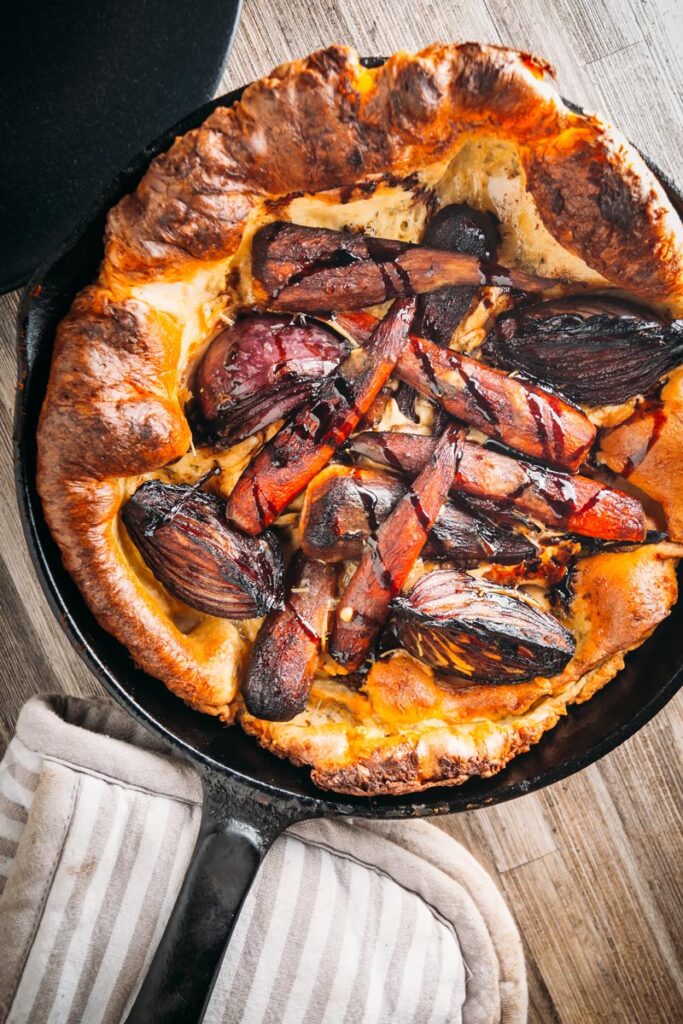 If you have been hanging out here for any period of time you will have heard of 'Yorkshire Pudding' and Toad in the Hole, this is another variant of this classic British rustic treat. I'm pretty sure my Grandad who was a butcher will be turning in his grave at the though of this Roasted Balsamic Vegetable Toad in the Hole, not just because he would have no idea what Balsamic Vinegar is, but also a Vegetable Toad in the Hole would be sacrilege. Now as much as I love my now long passed Grandad, the scorn would be well worth it, this is every bit as good as my traditional Toad in the Hole made with sausages, and *whisper mode on* in many ways better. But there aint no need to get hung up on better and worse, they are both great and if you were to stick either in front of me I would be very grateful indeed.
Now this version of vegetable Toad in the Hole uses roots, carrot, parsnip and red onion however I would not get too wrapped up on these ingredients, experiment and play with what is good in your local market. Some of my favourites are fennel and leek, roasted pumpkin and onion, cauliflower and broccoli… Seriously take 2 or 3 things that work really well together, if they are not gonna cook in 20 minutes give them a bit of a headstart by either roasting or steaming and let them finish off in the Yorkshire Pudding batter and serve hot and steaming. Whilst a good onion gravy is a traditional and fine accompaniment to a toad in the hole I confessed in my traditional recipe that my favourite accompaniment is peas and ketchup, yes I am still a child! However for this Roasted Balsamic Vegetable Toad in the Hole my choice of accompanied is a little more grown up, a stripped back version of Petits Pois a la Francaise, now that might sound all fancy pants, but is is nowt but some braised peas and baby gem lettuce, I even omit the cream and just cut the baby gem lettuce in half, brown in an obscene amount of butter, turn them over and add some stock and peas and steam for 5 minutes.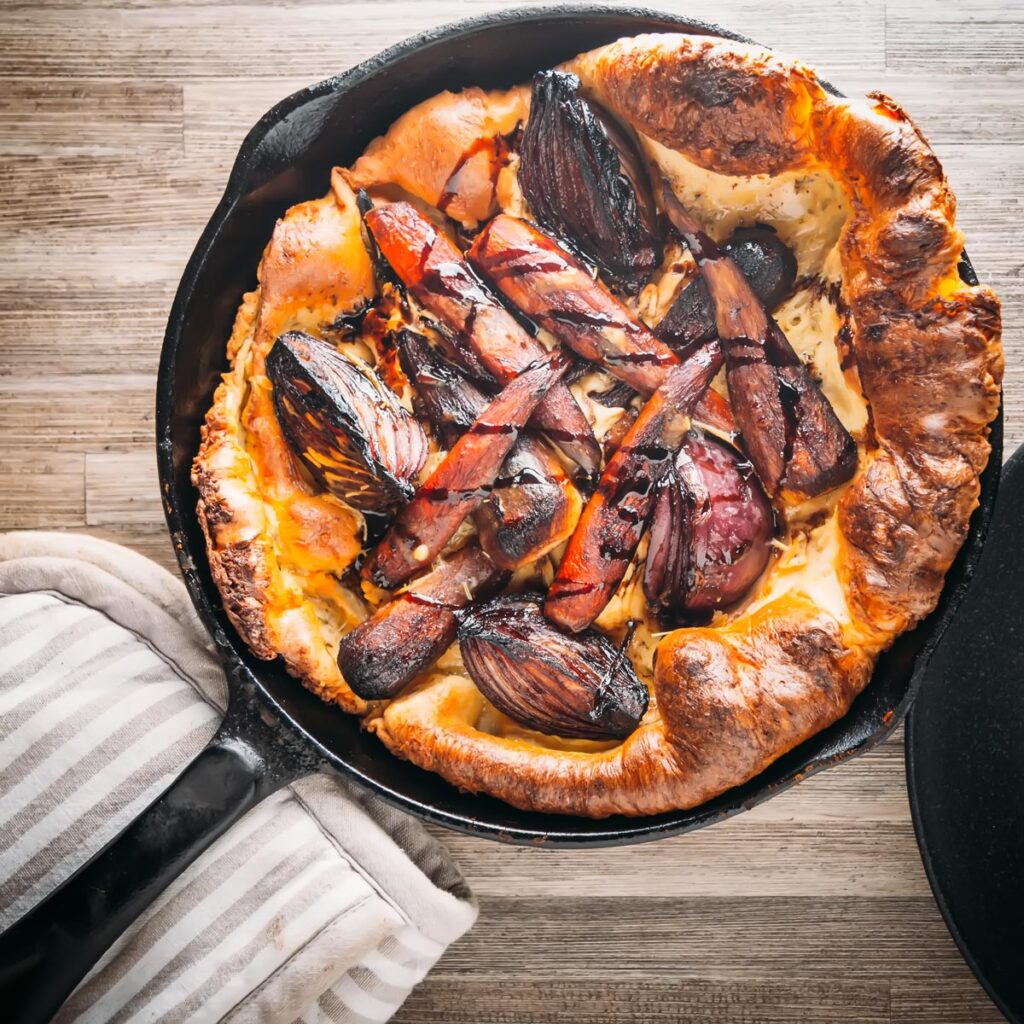 Print
Roasted Balsamic Vegetable Toad in the Hole
This Roasted Vegetable Toad in the Hole takes the roots of the season, roasts in balsamic and finishes off the a rosemary batter, a new take on Brit classic.
Ingredients
2

large eggs.

Beaten

Plain Flour.

The same volume as your eggs.

Milk.

The same volume as your eggs.

1/8

Tsp

Coarse Sea Salt.

Good Grind Of Black Pepper.

1/2

Tsp

Dried Rosemary.

150

g

Carrot.

Peeled, I use 3 whole carrots

100

g

Parsnip.

Peeled and cut to the same size as the carrot.

1

Large Red Onion.

Peeled and cut in to quarters, don't trim too much of the base so the onion holds together, around 200g.

2

Tbsp

Flavourless Cooking Oil.

50

ml

Balsamic Vinegar

50

g

Butter.
Instructions
Sift the flour into a large mixing bowl and add the beaten egg and milk and mix to form a batter.

Mix in the thyme, salt and pepper and set aside for at least 4 hours.

Preheat your oven to 250°C, whilst the oven is heating up place a 25cm skillet in there with the cooking oil to heat up.

Bring a large pan of salted water to the boil and add the carrot and parsnip to the boiling water and cook for 10 minutes until they begin to soften.

When the vegetables have softened, heat a frying pan that can be transferred to the oven and sear off the vegetables in the butter (including the onions) so they get some colour for 2-3 minutes.

Now add in the balsamic vinegar and transfer to the oven for 10 minutes.

Remove the vegetables and set aside for a minute or so.

Now working as quickly as possible to keep the oven hot pour the batter into the cast iron skillet and then add the vegetables to the batter and drizzle with any left over balsamic in the pan the vegetables were roasted in.

Close the oven and roast for 20 minutes.

Serve with a sticky balsamic reduction.
Recipe Notes
If you are not vegetarian like me try cooking this in a hard animal fat like lard, beef dripping or duck fat, it will blow your mind 😉