This foolproof traditional Yorkshire pudding recipe will leave your friends and family green with envy.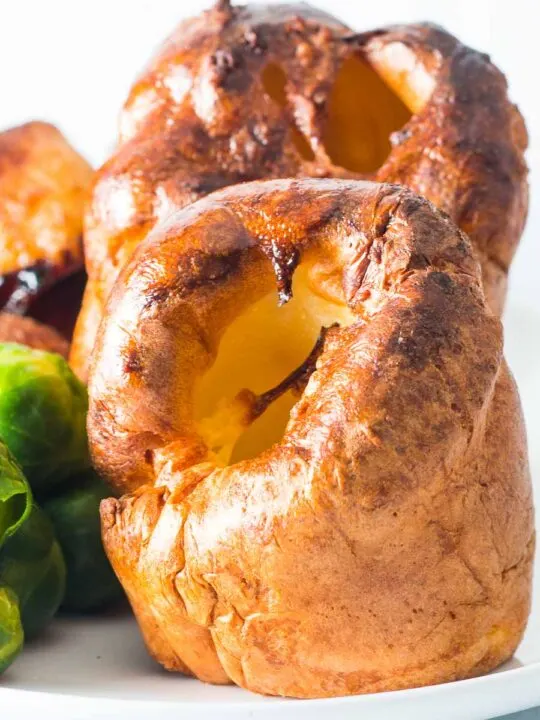 Foolproof Yorkies.
I cannot believe you can buy frozen Yorkshire pudding. They join the likes of frozen baked potatoes and roasted potatoes foods most ridiculous products as far as I am concerned.
I am not averse to taking the odd shortcut but buying frozen Yorkies to save the 90 seconds it takes to mix together 4 ingredients is mental.
Let's face it those 4 ingredients are not exactly exotic either.
Sure these take 25 minutes in the oven whereas frozen ones take 20 minutes but please come, folks, feel the love.
They are not difficult to make and taste divine.
There are millions of recipes and theories written about these simple treats, about what to use and what not to use. This is mine.
It has never failed me, I mean NEVER! The lard or beef dripping also gives amazing flavour and texture.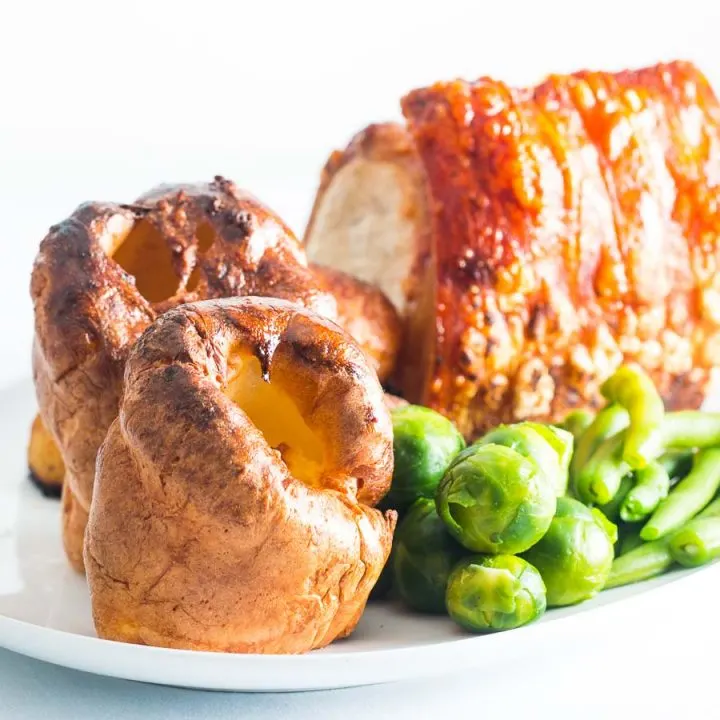 What Is A Yorkshire Pud?
Yorkshire puddings are a favourite Britsh traditional side dish.
Now associated with roast beef they were orignally more closely linked to mutton.
It would originally have been roasted under the meat as the dripping dropped down from above.
The earliest written recipes date back to the mid 1700's… To say they stuck is an understatement, British folk are very protective of this dish.
But it really is no more than a batter cooked in melted hard fat.
So lard, beef dripping although today it is much more common to see them cooked in oil. Which is quite frankly just all sorts of wrong.
In many ways, they are the granddaddy of the American Popover and Dutch Baby Pancakes.
If you want to take your Yorkshire pudding recipe to the next level then think toad in the hole. No there are no toads or frogs involved!
It is genuinely one of my most cherished childhood food memories.
I also do a roasted vegetable toad in the hole too, which may be 'food blasphemy' but I love it!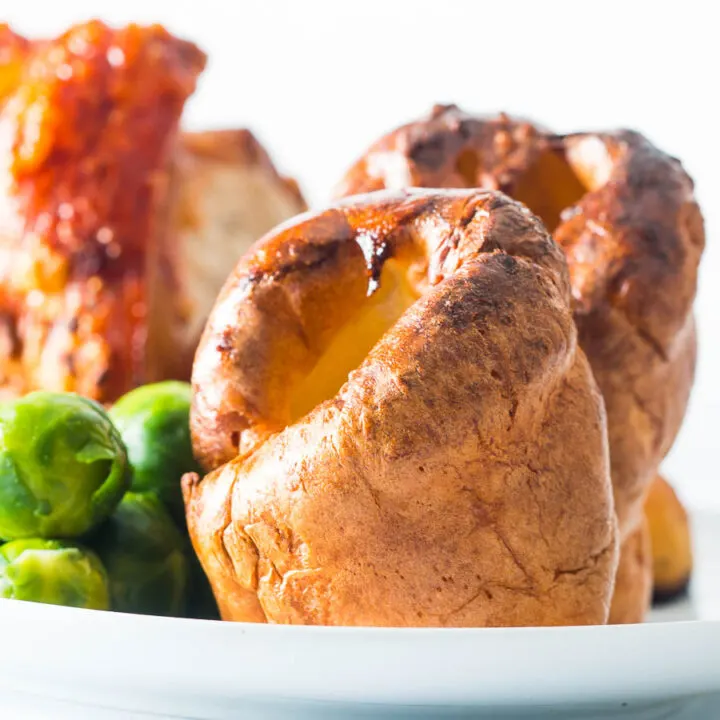 The Secret to Foolproof Yorkshire Pudding.
The main secret is not to weigh anything, seriously, no scales!
I am typically a weights kinda guy and every time I read an American recipe I find myself screaming at my screen to buy a set of bloody scales.
But for this one volumes rule, so just get some transparent jars and off you go.
Do not compress the flour, just line up three jars, fill them up to the same level with flour, egg and milk respectively. Mix them together, season and set aside.
Resting the batter really does make a difference too, go for at least four hours, although overnight is wonderful if you can do it.
Please try and use a hard fat, beef dripping, lard, even duck or goose fat. This gives the puddings much more of a crispt crunch and makes them taste incredible!
But you can use a vegetable or sunflower oil if you must.
This recipe will make two towering Yorkshire puddings which is my favourite way to make them.
But if you prefer the shallower dish type use this same recipe but divide the mix between 4 shallower moulds.
A muffin tin is ideal for this and they cook the same way.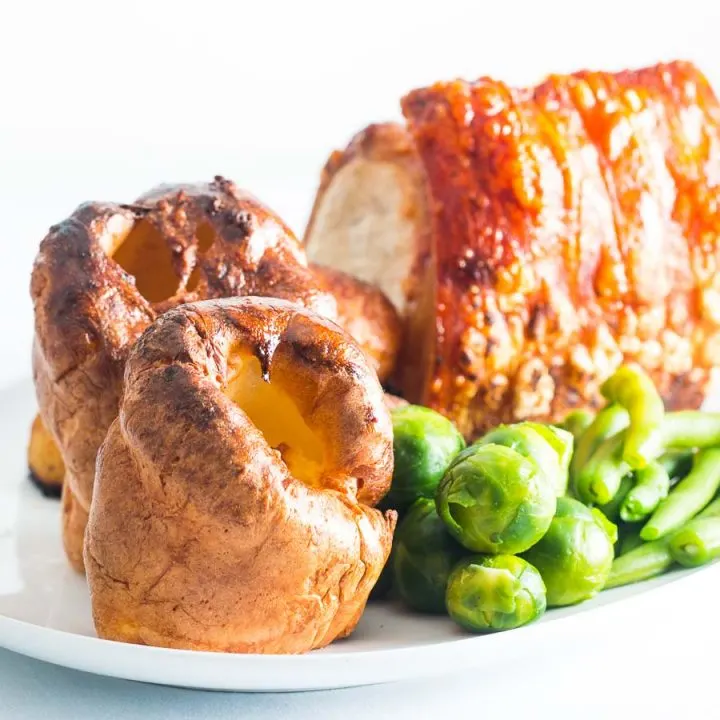 Yield:

2 Yorkshire Puddings
The Easiest Yorkshire Pudding Recipe
Total Time:
4 hours
30 minutes
This towering Yorkshire pudding recipe will produce Yorkies guaranteed to be the centre of attention at any Sunday Lunch.
Ingredients
1 Egg, Lightly 'beaten'
Plain Flour, Same volume as the egg
Milk, Same Volume as the egg
1/4 Tsp Salt
2 Tsp Lard, Sub for Beef Dripping if you can
Instructions
This recipe is all about ratios so no weighing required.
Crack the egg into the first of 3 identical 'things', jars, ramekins, use whatever you have lying around although something transparent does make it easier, beat gently.
Then add the flour into the second ensuring that it comes to the same level as the egg.
Repeat with the milk.
Now combine all the ingredients and set aside to rest, you should rest for at least 4 hours but the longer the better, go overnight if you want.
Take 2 8cm (3 1/4") dariole moulds and put a teaspoon of lard or beef dripping in the base of each and place in the oven, set the oven to 230°C and bring to temperature.
When the oven is hot and the fat is smoking pour half of the batter into each mould close the door and watch these bad boys grow.
Cook for 25 minutes and serve immediately!
Notes
Traditionally served before a main meal with gravy Yorkshire pudding is now a firm fixture on any Sunday lunch, particularly a beef one!
Nutrition Information:
Yield:
4
Serving Size:
1
Amount Per Serving:
Calories:

91
Total Fat:

4g
Saturated Fat:

1g
Trans Fat:

0g
Unsaturated Fat:

2g
Cholesterol:

50mg
Sodium:

172mg
Carbohydrates:

10g
Fiber:

0g
Sugar:

0g
Protein:

3g