This Poached Sage and Onion Stuffed Chicken Breast recipe and is a lightened up and hurried up take on a traditional British chicken dinner.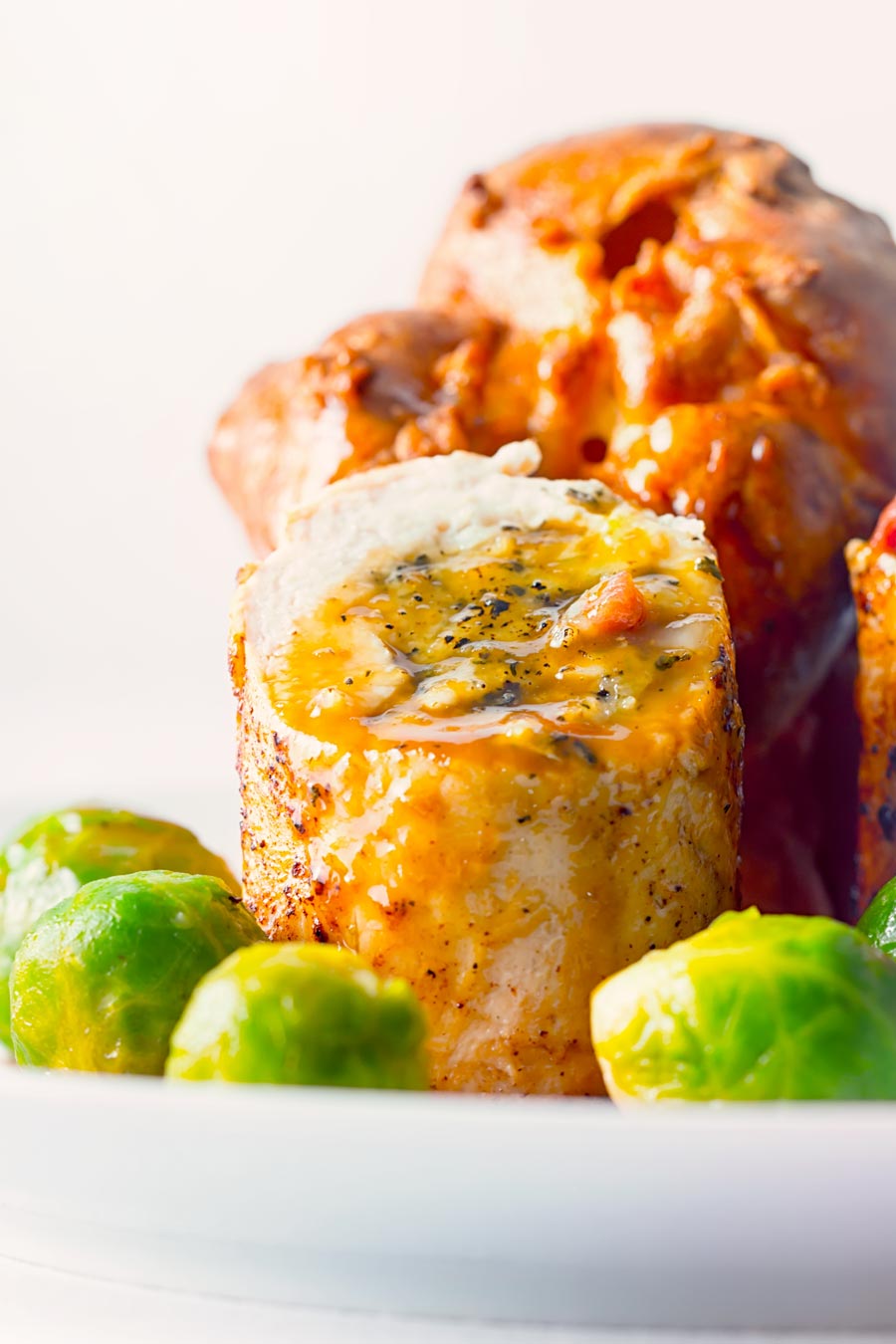 Stuffed Chicken Breast
Ho, ho, holy crap it appears to by Christmas, not sure how that happened but it kinda did! This sage and onion stuffed chicken breast is not just a fab meal for any time of the year. It is also a simple and scalable mid holiday meal you can break out to feed the masses.
It looks really rather special, it tastes amazing and is all done in less than an hour.
This sage and onion stuffed chicken breast recipe is about as British as it gets. Growing up in the UK the dish that formed Sunday lunch more than any other was roast chicken with sage and onion stuffing.
Swap the chicken for turkey and you have the base of a huge number of Christmas dinners too. Particularly with my foolproof Yorkshire puddings and some sprouts!
This recipe takes that idea and kinda 'tarts' it up a little and makes it scalable.
Whether you want this dish for 2 or 10, rolling and poaching the stuffed chicken breast makes it cook in a reliable way. If you get carried away with an extra glass of wine then your chicken will not end up looking like charcoal.
You can also poach and cool this chicken and refrigerate ready to just heat through before serving. If you are doing this reheat in the oven to 70°C or 158°F, then cook in butter to take it to 74°C or 165°F.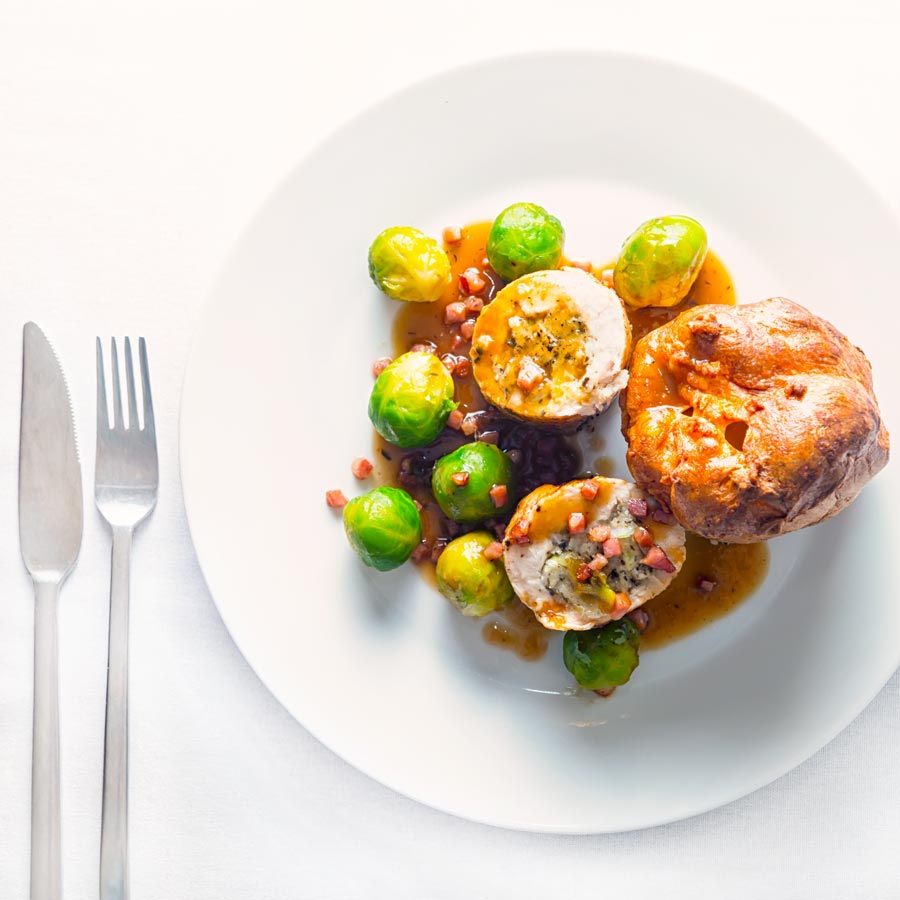 How To Stuff Chicken Breast.
There are typically two ways to stuff a chicken breast.
The first and the one I favour both here and in my Chicken Cordon Bleu recipe begins with a technique called butterflying the chicken breast.
It is simple, lay a chicken breast on your work surface, lay your hand on top. Make sure your hand is flat!
Then take a chefs knife and cut parallel with the surface of the work surface almost all the way through the chicken breast. Then open the breast like a book or butterfly and you have your starting point.
This stuffed chicken breast recipe then gets bashed flat. Filled with sage and onion stuffing and then rolled.
The second approach involves cutting a pocket with a small knife in the thick end of the chicken breast. You can do this here but you will not end up with the same even roll of chicken that cooks perfectly.
We then wrap the chicken breast in this recipe and almost poach it, poached chicken breast is beautiful. In many ways, we are using a technique similar to sous vide cooking. It is very gentle and leaves wonderfully moist and tender flesh.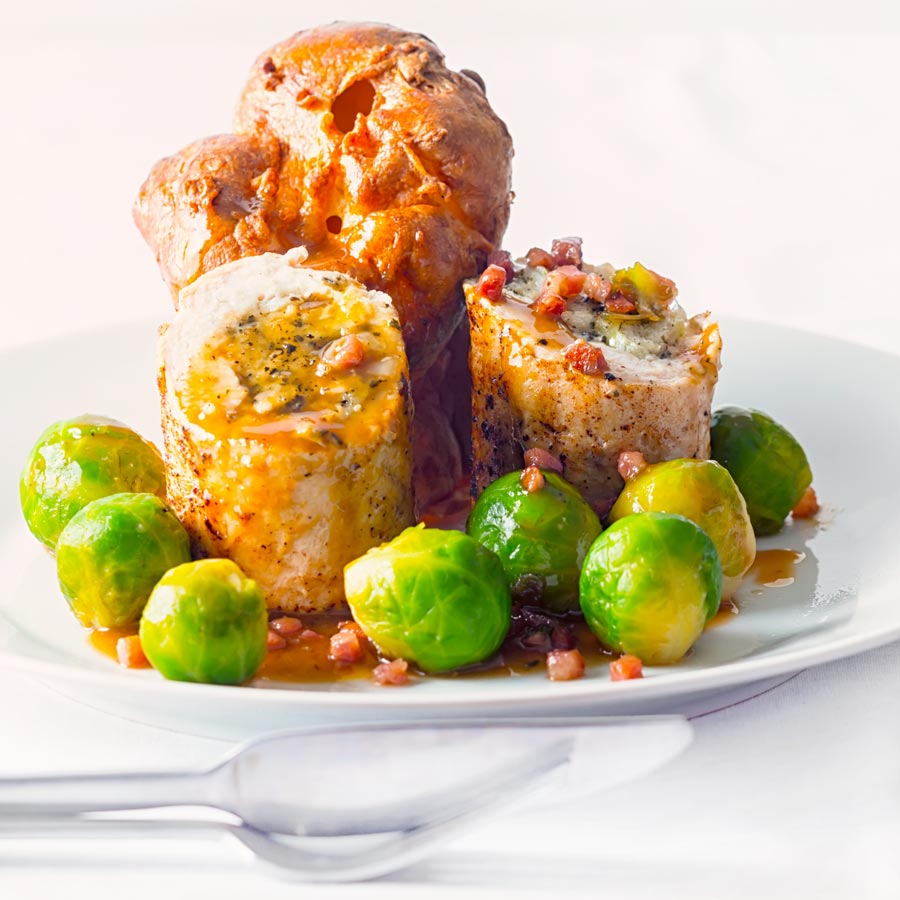 Sage and Onion Stuffing!
When it comes to defining the flavour of a chicken dinner, or even Christmas dinner then sage and onion stuffing is front and centre.
Growing up stuffing came from a box but itis very simple to make at home. It is designed to be stuffed inside a chicken breast, so I use breadcrumbs rather than chunks of bread.
You can, of course, use stale bread and bake it in a bowl and serve it as a side dish. The ratio of the ingredients remains the same and you can scale this up and down.
I make lots of different stuffing recipes but there is just something magical about sage an onion. I return to it time and time again and love it dearly!
I even use the flavours of sage an onion in this chicken pasta recipe.
In other news, we have finally been out and done our Christmas shopping over this last week. Our Christmas shopping always involves a trip to the big city, a night away from our countryside idyll in beautiful Budapest.
We are now back ready to rock and roll! Although the wee kitten we rescued earlier in the year seems to think that the gifts we have under the tree are for him. As a result, we have had to re-wrap a couple of times and have now given up.
And in that ham fisted way I am back at Christmas to wish you a very merry one! Thank you for your support this year and I'll be back on the flip side!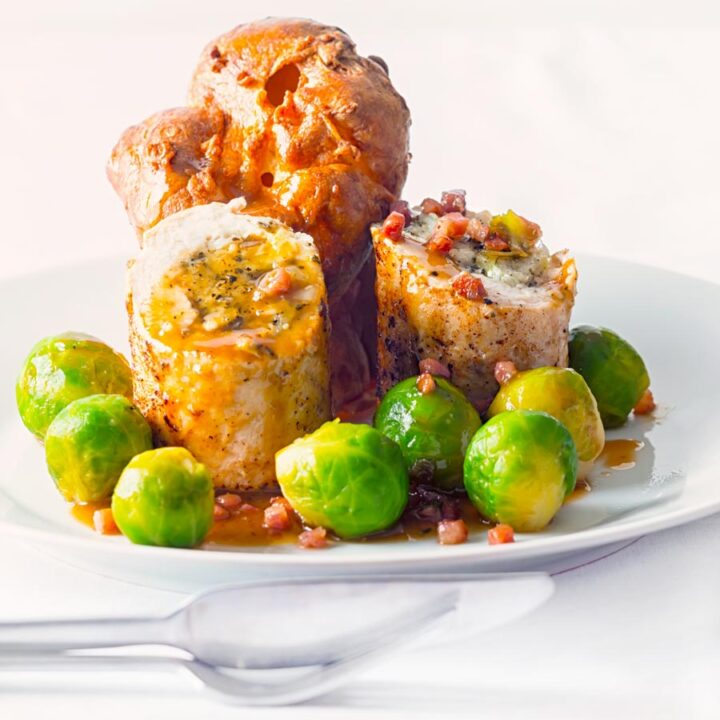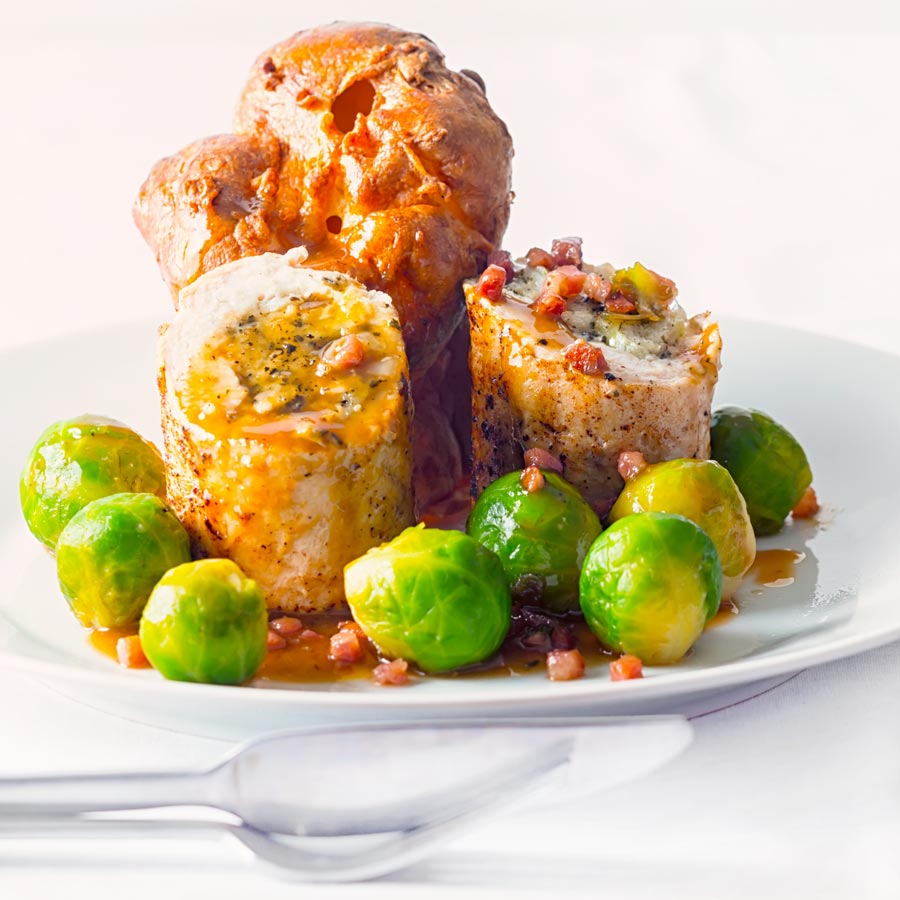 Yield:

2 Servings
Poached Sage and Onion Stuffed Chicken Breast
This Poached Sage and Onion Stuffed Chicken Breast recipe and is a lightened up and hurried up take on a traditional British chicken dinner.
Ingredients
For the Chicken
2 Chicken Breasts
100 g Onion: Grated
50 g Bread Crumbs
50 g Butter, Melted
1 Tbsp Dried Sage
Salt and Pepper
For the Gravy
400 ml Chicken Stock
1 Large Onion, Roughly Chopped
2 Garlic Cloves, Bruised
1 Tsp Dried Thyme
1 Tsp Cooking Oil, Neutral
1 Tsp Cornflour, Corn starch in the US
For the Sprouts
200 g Brussels Sprouts
50 g Bacon
1 Tsp Honey
Instructions
Start by heating some oil in a pan and frying the onions and garlic cloves over a medium heat for the gravy for 10 minutes.
Whilst the onions and garlic are browning mix together the grated onion, the melted butter & breadcrumbs, then set aside.
Bring a large pan of water to the boil and cook the sprouts for 10 minutes, after 10 minutes remove and refresh on cold water.
Now take the two chicken breasts and cut them in half along the length without going all the way through.
Open up the breasts like a book and sandwich between two sheets of cling film and bash with a rolling pin, you are looking to flatten to about 7-10mm.
You should now be ready to add in the chicken stock to the onions and garlic you have frying and reduce by half, this should take around 20 minutes.
Whilst the sprouts are blanching we are now going to stuff the chicken breasts, take a piece of cling film and place on a chopping board.
Place on the chicken breast and season with salt and pepper and then take half of the stuffing mix and form a 'sausage' and place in the centre of the chicken.
Now roll the chicken around the stuffing, gather the cling film at the edges and make like a "Christmas cracker", then keep rolling until tight.
Bring a large pan of water to a simmer and gently lower in the chicken packages and poach for 15 minutes.
5 minutes before the chicken is due to be removed heat a dry frying pan over a medium high heat, and add in the bacon lardons.
After the bacon has cooked for 2 minutes and given off some fat add in the refreshed sprouts and honey, then cook for a further 5 minutes.
Now remove the chicken from the pan and cut off the cling film, do this over the pan with gravy as it will contain some tasty liquid you want to reserve.
Heat the butter in a pan and finish the chicken sausage by frying for a couple of minutes to get a nice colour.
Meanwhile mix together the cornflour with one tablespoon of water and mix, then pour into the gravy which should be over a medium heat and stir until thickened.
Carve the chicken breast and then serve as you wish.
Nutrition Information:
Yield:
2
Serving Size:
1
Amount Per Serving:
Calories:

776
Total Fat:

40g
Saturated Fat:

18g
Trans Fat:

1g
Unsaturated Fat:

19g
Cholesterol:

187mg
Sodium:

1316mg
Carbohydrates:

45g
Fiber:

5g
Sugar:

13g
Protein:

58g