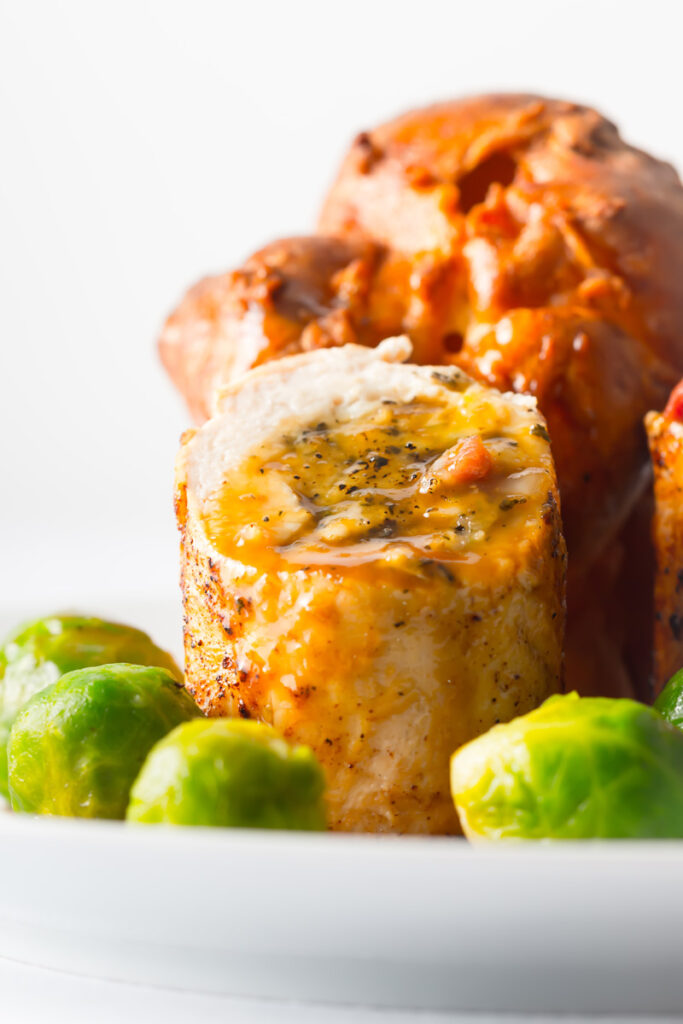 Ho, ho, holy crap it appears to by Christmas, not sure how that happened but it kinda did and my latest recipe whilst great at any time of the year is a great option for a mid Christmas special meal that can be rustled up for as many as you like. It looks really rather special, it tastes amazing and is all done in less than an hour. This sage and onion stuffed chicken breast is about as British as it gets, growing up in the UK, the dish that formed Sunday lunch more than any other was roast chicken with sage and onions stuffing. This dish takes that idea and kinda 'tarts' it up a little and makes it scalable, whether you want this dish for 2 or 10, rolling and poaching the stuffed chicken breast makes it cook in a reliable way and if you get carried away with an extra glass of wine then your chicken will not end up looking like charcoal. Of course then cooking it off in butter afterwards gives the stuffed chicken breast an incredible flavour, I've taken liberties with this recipe and suggested a whole meal idea, including my foolproof Yorkshire puddings, but serve as you like, it is such a simple recipe and idea.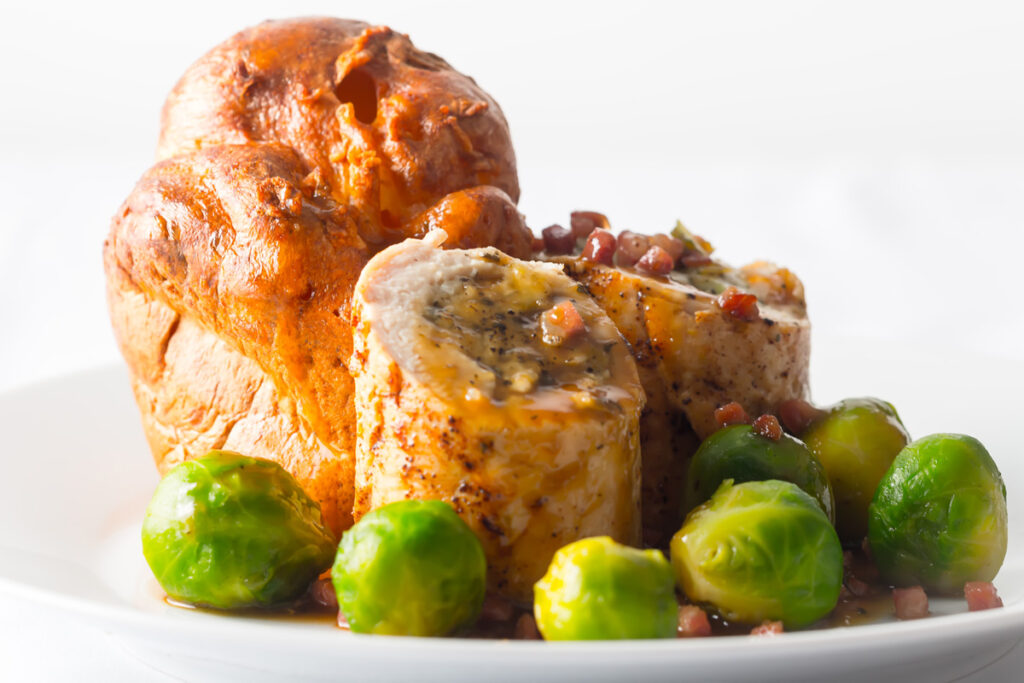 We have finally been out and done our Christmas shopping over this last week as well as squeezing in this poached stuffed chicken breast recipe for you guys. Our Christmas shopping always involves a trip to the big city, a night away from our countryside idyll in beautiful Budapest. As ever we after the hell of shopping we settled down to some incredible food in a wonderful Russian restaurant on the Castle District followed by one or two… Ok maybe more than one or two mulled wines in one of the many Christmas Markets dotted around the city, shock horror I even wore my Hexmas jumper.
We are now back ready to rock and roll, although our the wee kitten we rescued earlier in the year seems to think that the gifts we have under the tree are for him, so we have had to re-wrap a couple of times and have now given up. This stuffed chicken breast recipe is not the last you will hear from me this year, I have a couple more recipes heading your way on my usual publication days, but I have already got them ready for you. We are going to be putting our feet up and relaxing for a week, with of course an obligatory trip to a thermal spa or two between Christmas and New Year. In the meantime have a good one and I'll be 'seeing' you on the flip side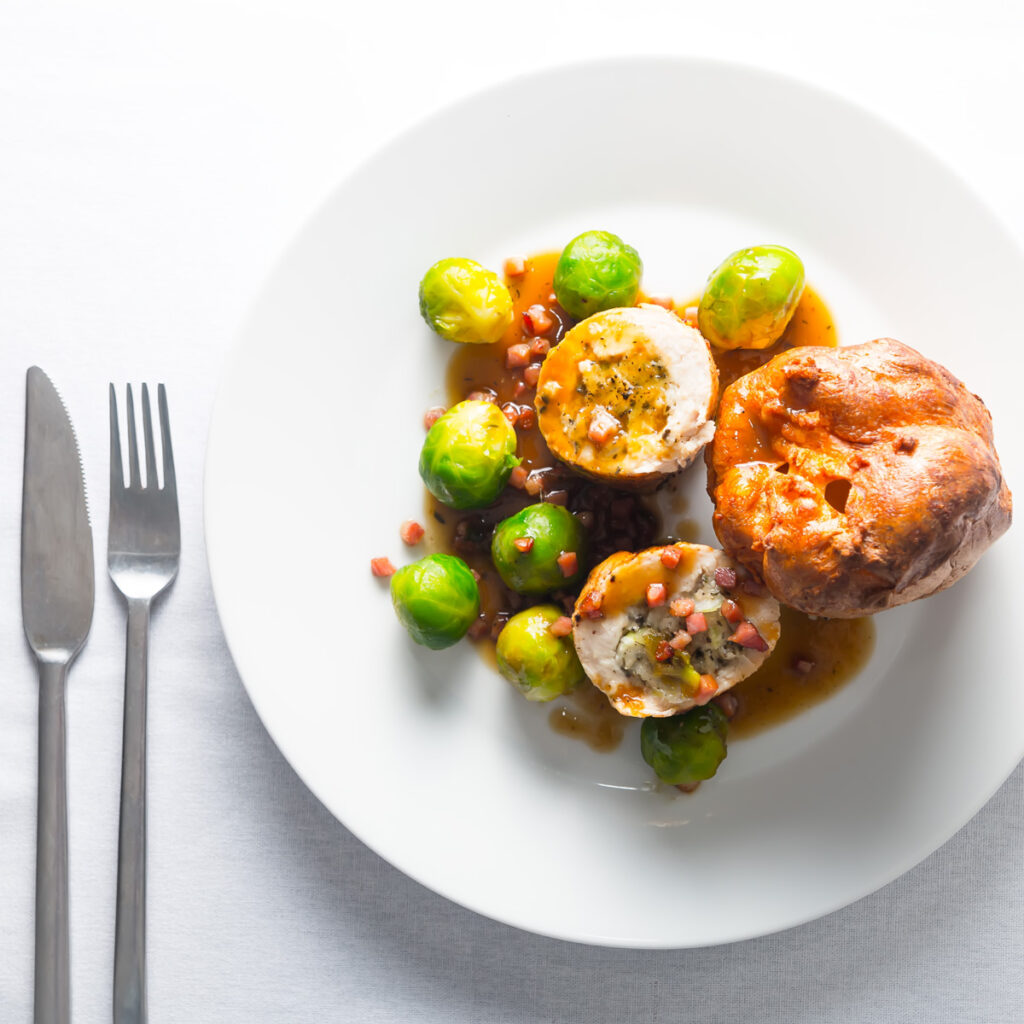 Print
Poached Sage and Onion Stuffed Chicken Breast
This Poached Sage and Onion Stuffed Chicken Breast recipe and is a lightened up and hurried up take on a traditional British chicken dinner.
Ingredients
For the Chicken
2

Chicken Breasts.

100

g

Onion: Grated.

50

g

Bread Crumbs.

50

g

Butter.

Melted

1

Tbsp

Dried Sage.

Salt and Pepper.
For the Gravy
400

ml

Chicken Stock.

1

Large Onion.

Roughly Chopped.

2

Garlic Cloves.

Bruised.

1

Tsp

Dried Thyme.

1

Tsp

Cooking Oil.

Neutral

1

Tsp

Cornflour.

Corn starch in the US.
For the Sprouts
200

g

Brussels Sprouts.

50

g

Bacon.

1

Tsp

Honey.
Instructions
Start by heating some oil in a pan and frying the onions and garlic cloves over a medium heat for the gravy for 10 minutes.

Whilst the onions and garlic is browning mix together the grated onion, the melted butter & bread crumbs and set aside.

Bring a large pan of water to the boil and cook the sprouts for 10 minutes, after 10 minutes remove and refresh on cold water.

Now take the two chicken breasts and cut them aside along the length without going all the way through.

Open up the breasts like a book and sandwich between two sheets of cling film and bash with a rolling pin, you are looking to flatten to about 7-10mm.

You should now be ready to add in the chicken stock to the onions and garlic you have frying and reduce by half, this should take around 20 minutes.

Whilst the sprouts are blanching we are now going to stuff the chicken breasts, take a piece of cling film and place on a chopping board.

Place on the chicken breast and season with salt and pepper and then take half of the stuffing mix and form a 'sausage' and place in the centre of the chicken.

Now roll up to form a sausage wrapping in the cling film, gather the cling film at the edges and make like a "Christmas cracker", then keep rolling until tight.

Bring a large pan of water to a simmer and gently lower in the chicken packages and poach for 15 minutes.

5 minutes before the chicken is due to be removed heat a dry frying pan over a medium high heat, and add in the bacon lardons.

After the bacon has cooked for 2 minutes and given off some fat add in the refreshed sprouts and honey, then cook for a further 5 minutes.

Now remove the chicken from the pan and cut off the cling film, do this over the pan with gravy as it will contain some tasty liquid you want to reserve.

Heat the butter in a pan and finish the chicken sausage by frying in the butter for a couple of minutes to get a nice colour.

Meanwhile mix together the cornflour with one tablespoon of water and mix, then pour into the gravy which should be over a medium heat and stir until thickened.

By now your gravy, your chicken and your sprouts should be ready to serve.