Fondant potatoes are like boss level spuds, seared barrels of potato are seared then gently cooked, almost confit style in butter & stock.
Despite their reputation for being difficult, taking your time and not rushing results in perfectly cooked buttery and soft potatoes every time!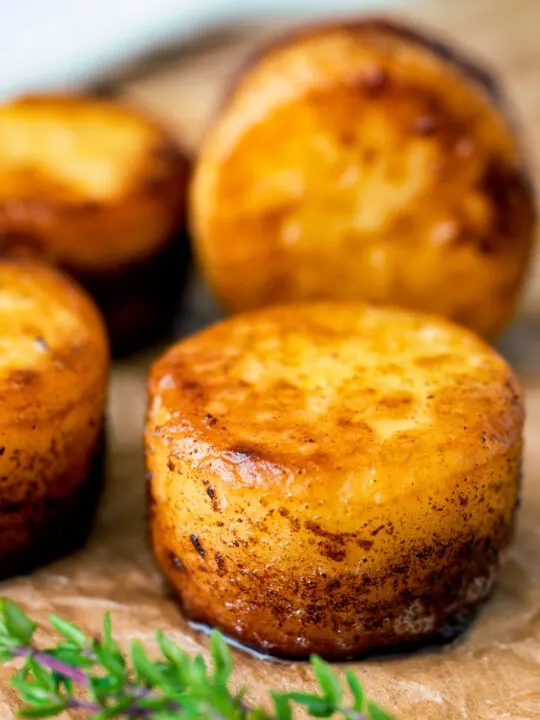 Classic French Potato Fondant
Cooking shows that play the game of food as sport are littered with failed fondant potatoes.
So much so that you would think that they are difficult to make, but they are not, they are easy, but you cannot cheat or rush.
They are for me the undisputed heavyweight champion of the potato side dish division.
Now, I love chips, I'd sell your children (I don't have my own hehe) for perfect roast potatoes and mashed potato makes my heart skip a beat.
But these luxurious buttery soft potatoes trump them all!
They are essentially nothing more than seared potatoes poached in butter and stock.
The name fondant indicates their french origin and it is a word that means melting, which tells you all that you need to know about the texture.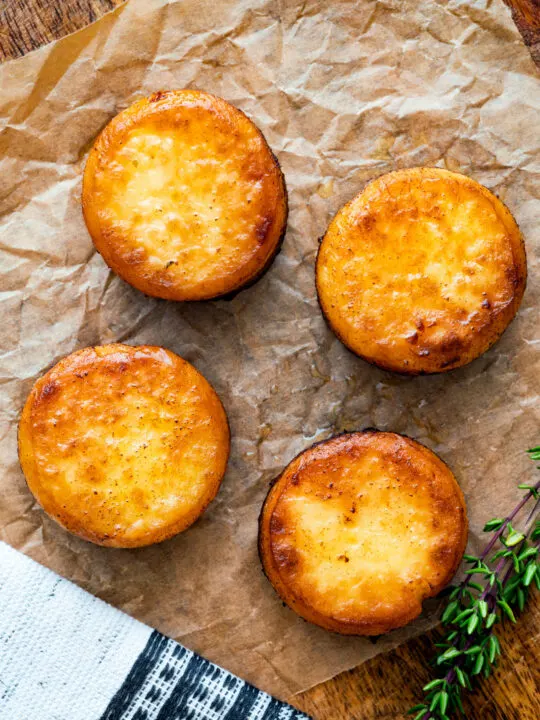 Frequently Asked Questions
Do the type of potatoes matter?
Yes, enormously! If you try and make these with waxy potatoes you will be deeply disappointed, it just does not work.

You want a floury or mealy potato, something like a King Edwards or Maris Piper. If you are in the US grab a Russet spud and off you go!
There is no salt in the recipe, is that right?
Yes, I use salted butter for practically everything and combining this with stock means that salt is not required. That of course does not mean that you cannot add more if you wish.
Can I use other herbs?
Yes, although thyme is my favourite. Rosemary or tarragon are other good options.
Can I use a lid rather than baking parchment?
No! The lid does not permit enough evaporation. You want the water to slowly evaporate allowing the bottom of the potatoes to sit in almost pure butter at the end of the cooking process.

The best way to make the paper cartouche is to cut a square of baking parchment around 50% larger than your saucepan. Then get all origami on it.

Fold it in half, to a rectangle, then in half again to form a square, then into a triangle. Then keep folding that triangle smaller by folding it in on itself making a long thing triangle.

Finally, grab some scissors, cut the tip of the triangle off (5mm or ⅕"), then cut the triangle into a length that is just over half of the diameter of the saucepan. Unfold and you have a circle (ish) with a hole in the middle.
Can I use a frying pan?
Not really, a frying pan allows the liquid to evaporate too quickly and risks not cooking the potatoes.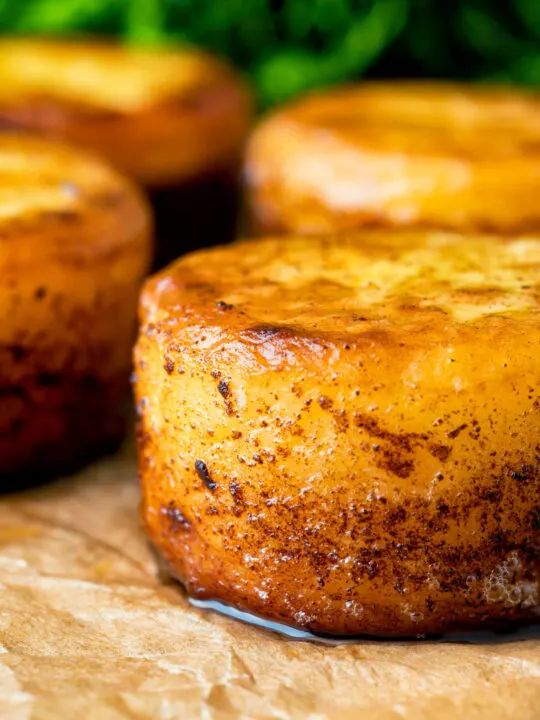 Serving Suggestions
The question is really what cant you serve fondant potatoes with and as far as I am concerned that list is short… To be fair, I'd happily eat them with my cornflakes!
Whilst they are deceptively easy to cook they are seriously indulgent, so I tend to keep them for special treat meals.
They are great for Christmas or New Year too!

I've served them with everything from roast partridge and roast guinea fowl to my roast pork fillet with apple puree and roasted chicken and chicory recipe.
It is also particularly good on a Sunday lunch. Whether it is simple perfectly roast chicken or this slow cooker roast beef these are a great addition.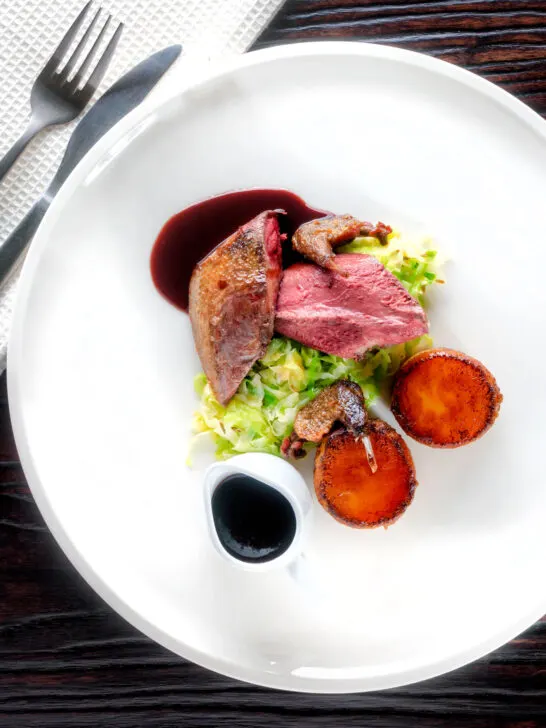 Equipment Used
I only name-check brands of equipment if I think they make a material difference to a recipe. If you have any questions feel free to ask them in the comments section below the recipe.
Stovetop.
24cm or 10″ saucepan.
50mm (2″) cookie cutter.
Paring knife.
Kitchen knife.
Chopping board.
Weighing scales and or measuring cups and spoons.
Baking parchment.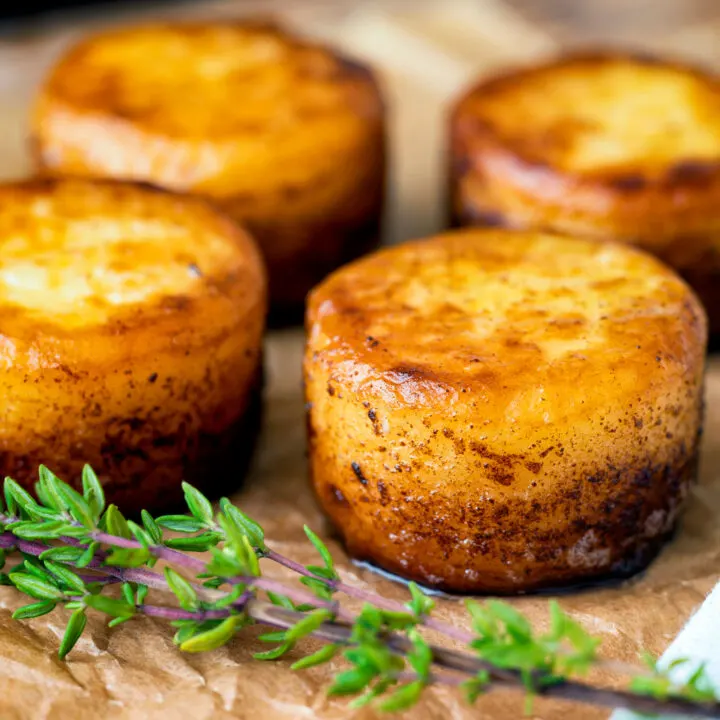 Yield:

2 Servings
Fondant Potatoes Recipe
Fondant potatoes are the most indulgent potato side dish, barrels of spud slowly poached in a brown butter and stock mix, the perfect side for a special meal.
Ingredients
2 Large Floury Potatoes
1 Tbsp Cooking Oil
125g (8 Tbsp) Butter
1 Sprig Fresh Thyme
250ml (1 Cup) Vegetable Stock
Instructions
Lay the potato on the table and cut it into a thick slice approximately 30mm (1¼-1½") thick.
Using a 50mm (2") cookie cutter or aluminium form cut out four barrels of potato, you may need to use more potatoes if yours are small.
Using a potato peeler form a 3-5mm (⅛-¼") chamfer (an angled cut) around the edge of the potato barrels both top and bottom.
Heat the cooking oil over a medium high heat in a medium (24cm 9-10") saucepan.
Sear the top of the potatoes until they are a deep golden colour in the oil, this should take between 3 and 5 minutes.
Flip over the potatoes and then add in the butter and sprig of thyme, cook the potatoes for 5 minutes in the butter. The butter should begin to brown during this period.
Remove from the heat and pour in the vegetable stock, do this carefully the butter will foam a lot when you begin.
Return to the heat and reduce it to medium-low.
Cover the potatoes with a piece of baking parchment that is wet and has a small hole cut in the middle (a cartouche).
Simmer the potatoes for 35-40 minutes.
Nutrition Information:
Yield:
2
Serving Size:
1
Amount Per Serving:
Calories:

419
Total Fat:

34g
Saturated Fat:

17g
Trans Fat:

1g
Unsaturated Fat:

14g
Cholesterol:

70mg
Sodium:

574mg
Carbohydrates:

28g
Fiber:

3g
Sugar:

2g
Protein:

4g
Calorific details are provided by a third-party application and are to be used as indicative figures only.