A Roast Guinea Fowl is the perfect bird to roast for a smaller family and it has so much more flavour than roast chicken.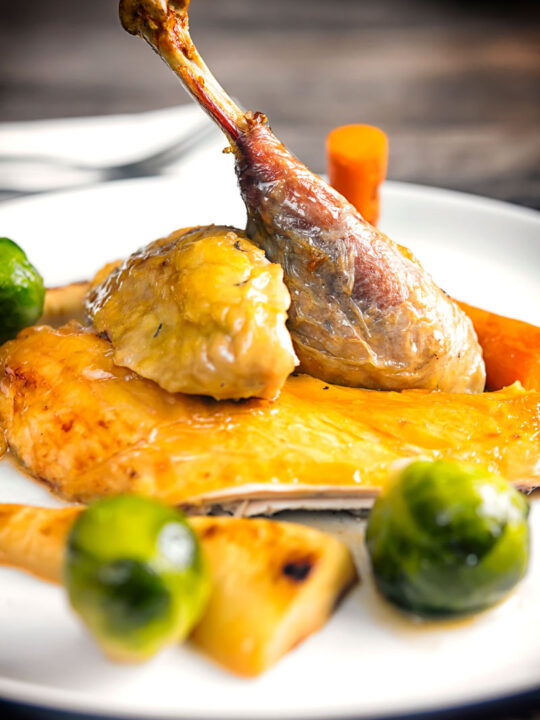 An Unsual Roast Dinner!
Here we go again with another populist recipe, I am sure there are some that have found themselves here who have no idea what a guinea fowl is.
First of all welcome, second of all you are in for a treat!
A guinea fowl is a small game bird closely related to a partridge, it has a wonderful but subtle game flavour.
If carefully cooked it is a fantastic moist and tasty meat.
Safe internal temperatures for Guinea Fowl are the same as a chicken. That is 73°C or 165°F after resting.
You can, of course, use the cook until the juices run clear approach. However, I very strongly favour the use of a meat thermometer.
Its smaller form also makes it the perfect bird for roasting for two people.
This means that like my whole roast duck and roast partridge recipes it is the perfect Christmas dinner for a smaller gathering.
The carcass and any leftovers are great for making a good stock too!
You could also braise guinea fowl in the same way as I have cooked a recent pheasant casserole.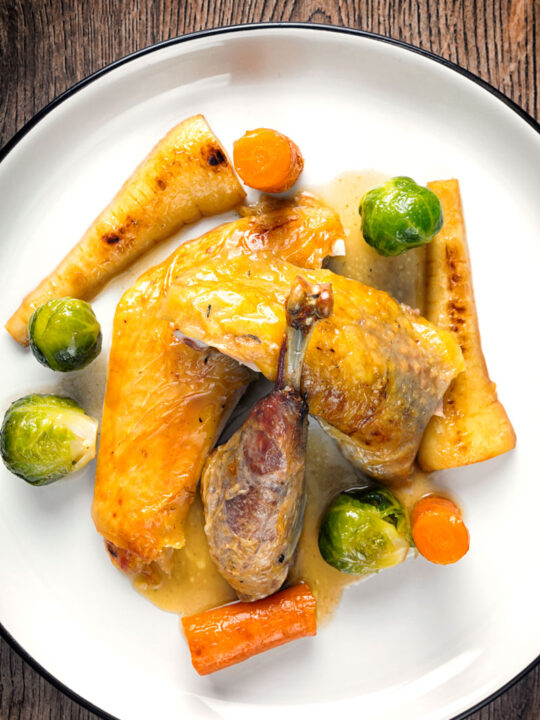 How to Cook Guinea Fowl.
The process of roasting is much the same as a chicken. However, it is a little more prone to drying but there are a couple of tips to help prevent that.
Cover the bird for all but the last 20 minutes of cooking.
Cook over a tray of water.
The first tip means that any liquid that the bird gives off drips down into the tray containing liquid.
This liquid then evaporates and helps to steam the guinea fowl as well as roasting.
The liquid beneath the bird also makes the perfect starting point for my cider sauce!
And what a sauce this is, I love using Cider or hard cider for my US readers as a base for a sauce.
It has the most wonderful flavour, I use it in recipes as diverse as my stuffed leeks to my roasted pears with blue cheese!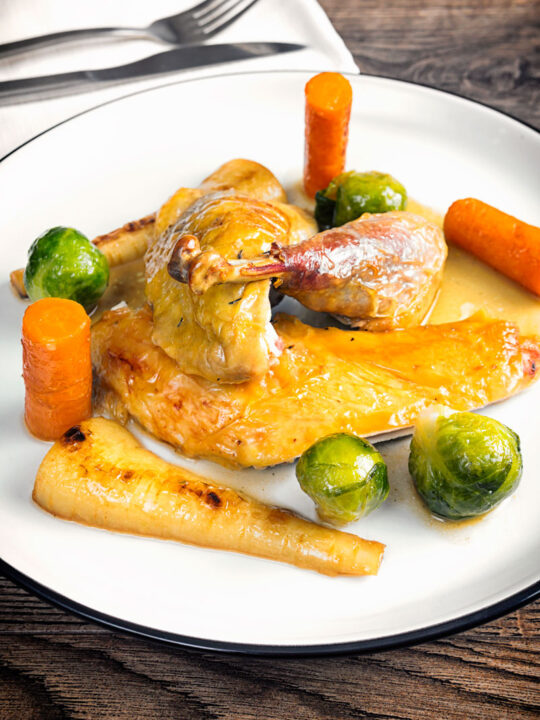 What Size Bird to Buy.
Like many game birds, a Guinea Fowl has not been bred to maximise its meat yield.
As such you will need to buy a larger bird than you would when buying a chicken.
I usually aim for around 900 grams to 1 kilo for roast guinea fowl for 2 people.
I would also avoid buying birds much larger than 1-1.5 kilos, they tend to be older and a bit stringy.
If you are cooking for more than two just buy more birds, they will roast side by side with no problems.
It also means that there is a more even break down of brown leg meat and lean breast meat.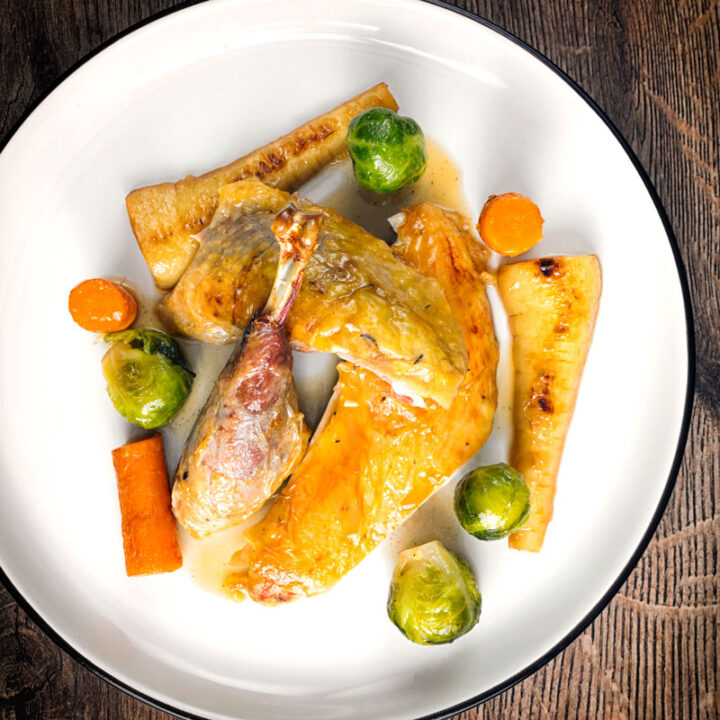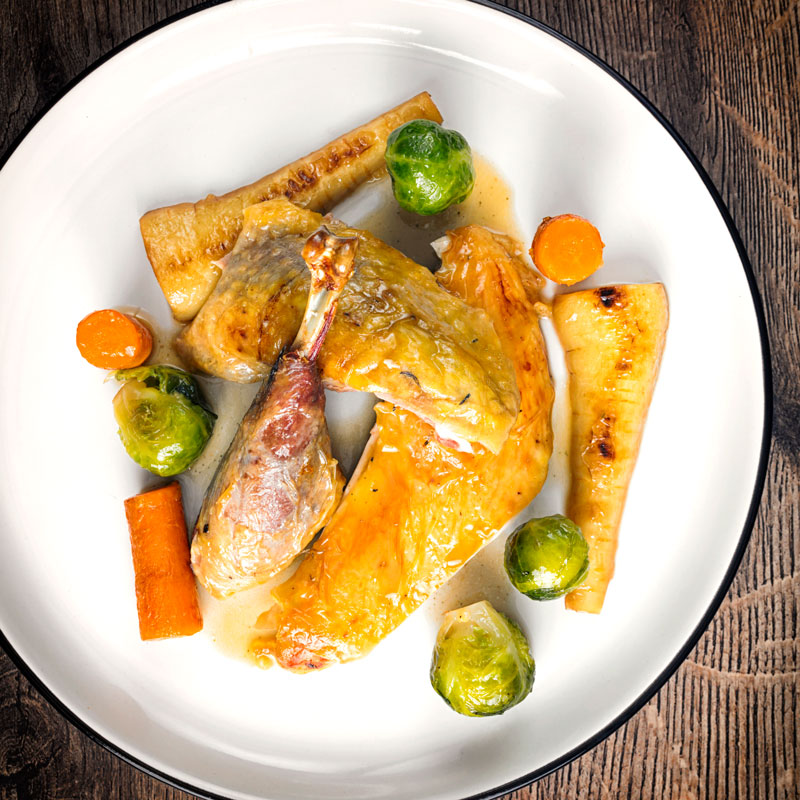 Yield:

2 Servings
Roast Guinea Fowl Recipe
Cook Time:
1 hour
30 minutes
Total Time:
1 hour
40 minutes
This Roast Guinea Fowl recipe shines a light on wonderfully tasty and underused meat. The cooking process is simple and the results are so much better than roast chicken.
Ingredients
1 Whole Guinea Fowl
1 Lemon
6 Garlic Cloves
1 Onion
1 Bay Leaf
500 ml Vegetable Stock
100 g Brussels Sprouts
100 g Carrots
100 g Parsnips
250 ml Cider
2 Tbsp Honey
30 g Butter
Instructions
Season the guinea fowl inside and out with salt an pepper.
Pierce the lemon 3 or 4 times with a fork and place in the cavity of the bird.
Cut the onion into quarters and bruise the garlic.
Add the onion, garlic, bay leaf and stock to a baking tray.
Add a trivet that is tall enough to not be submerged in the stock.
Place the bird on the trivet and cover with foil.
Place in the oven and roast for 5.5 mins per 100g and then remove the foil and roast for a further 20 mins at a temperature of 180°C or 350°F.
Scrub the carrots and cut into 5cm lengths.
Top and tail the parsnips and cut in half, scrubbing if required.
Peel the outer leaves from the Brussels sprouts.
5 minutes before you remove the foil from the guinea fowl heat a frying pan with a lid over a medium high heat.
Add the cooking oil and brown the parsnips and carrots for 5 minutes.
Then season well with salt and pepper and add 200 ml of water and a lid.
Reduce the heat to low and cook for 25 mins.
12 minutes into this cooking time add in the Brussels sprouts.
When the Guinea Fowl is cooked, remove from the oven and allow to rest for 10 minutes.
Whilst the bird is resting heat frying pan over a high heat.
Pour in the cider and reduce by two thirds, then add in 200 ml of the liquid from beneath the roasting bird. and reduce by half.
Before we finally carve the bird add the honey and butter to the vegetables and glaze.
Carve and serve!
Nutrition Information:
Yield:
2
Serving Size:
1
Amount Per Serving:
Calories:

1123
Trans Fat:

0g
Calorific details are provided by a third-party application and are to be used as indicative figures only.