Roast partridge with a red wine & red currant sauce, a wonderfully festive & special meal that will surprise in both its simplicity & speed.
Roasting of the bird takes between 15 and 20 minutes, and the sauce can be rustled up in around half an hour and can be made in advance.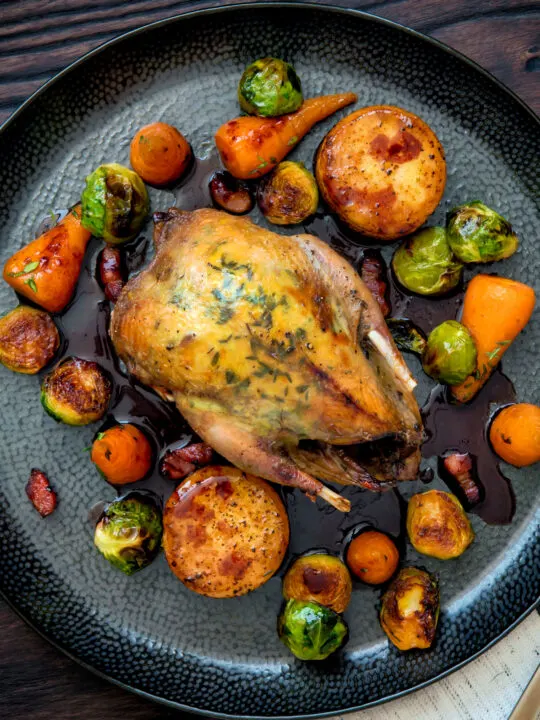 Roasted Wildfowl
Cooking a roast dinner for two can be a challenge, particularly if you are not an ardent fan of leftovers.
I usually opt for something like roast pork fillet, roast pigeon or roast guinea fowl, as they are on the smaller side.
A nice roast partridge is another perfect solution and let's be honest being served a whole roast bird per person feels special.
Many people are put off by cooking game birds as they have a reputation for being difficult to cook. But in reality, this is an easy dish and quick too.
Whilst it is not necessarily cheap in comparison to something like roast chicken, I paid less than £3 per bird and they are ready to roast.
I simply free the skin from the bird push some thyme and salt between the skin and the flesh to keep it juicy. Then roasting takes just 20 minutes, so it is stupidly quick to cook too.
I make a wonderful rich red wine and red currant sauce to serve as a gravy too.
I think this recipe is all sorts of special!
As we are cooking individual birds it is also as easy and quick to cook for one person as it is for 12!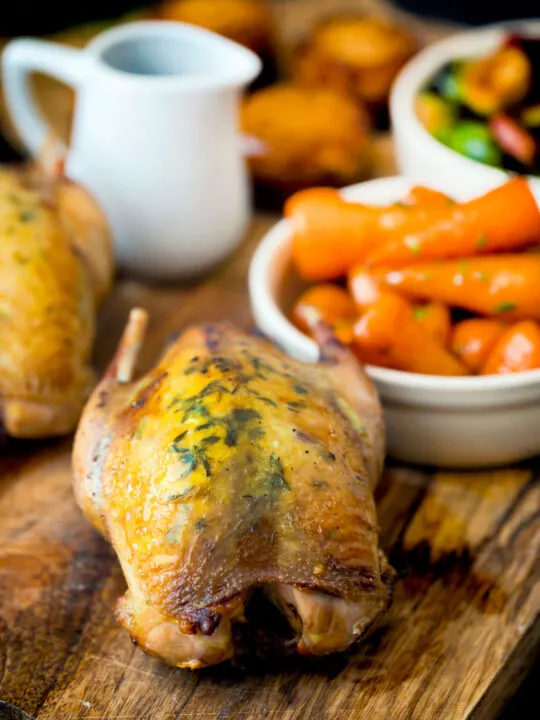 Frequently Asked Questions
Is there a technique for freeing the skin?
Carefully, sorry, I could not resist! The skin of a partridge is not as robust as chicken so you need to take care not to tear it.

I find that it is easier to start at the neck end of the bird because there is usually a small flap of skin that is easier to grip.

Then slide a little finger between the skin and breast and gently tease the skin away from the flesh.
How far can I prepare the partridge in advance?
You can make the butter and thyme mix for stuffing under the skin up to a week in advance. Be sure to ensure the butter mix is soft before sliding it under the skin.

Pushing the butter under the skin can be done up to an hour before cooking.
Why do you rest the bird upside down?
Resting is vital when roasting a piece of meat and this roasted partridge is no different.

We rest it upside down to allow the resting juices to baste the delicate breast meat as it rests. This results in a beautiful succulent bird.
How do I know when the meat is cooked?
Temperature! Honestly, the best way to check how well any meat is cooked is by measuring its internal temperature.

I have said it before and I will still keep banging this drum, buy a digital quick-read meat thermometer! It will make you a better cook from day one.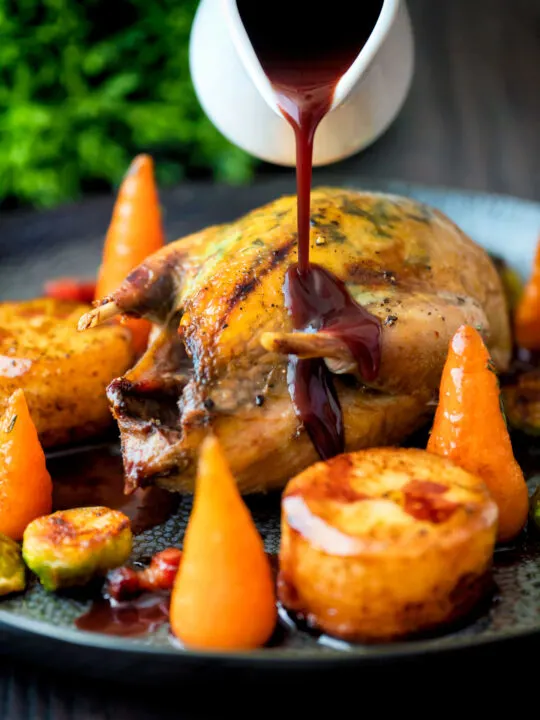 Serving Suggestions
Roast partridge is a special treat for us so I tend to pull out all of the stops and go for all my favourites.
This recipe was cooked as a dry run testing out Christmas dinner recipes. It is pictured here served with fondant potatoes, some wonderful glazed Chantenay carrots and miso roasted Brussel sprouts.
But it works wonderfully with many of the dishes associated with Sunday lunch.
You could go roast potatoes, red cabbage and Yorkshire puddings.
Another option is to go lighter and serve it with creamed leeks and celeriac mash.
If you go lighter I would change the sauce to either a cider sauce or white wine sauce.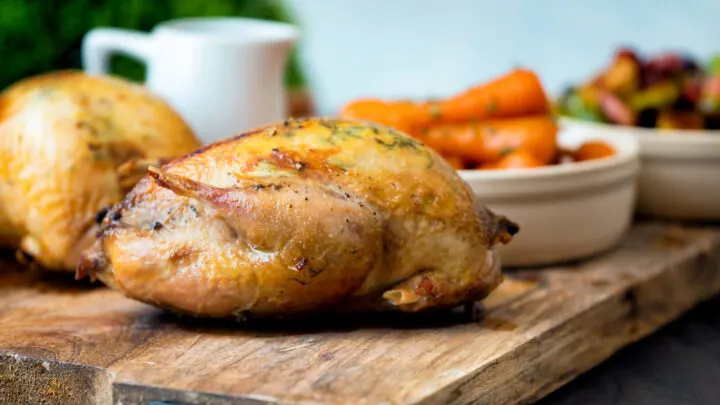 Equipment Used
I only mention specific brands of equipment if I think they make a material difference to a recipe. If you have any questions feel free to ask them in the comments section below the recipe.
Stovetop.
Oven.
Two 15cm or 6″ saucepans.
Roasting tin.
Kicthen knife.
Chopping board.
Fine mesh sieve.
Weighing scales and or measuring cups and spoons.
Quick read meat thermometer, optional but recommended.
Citrus zester.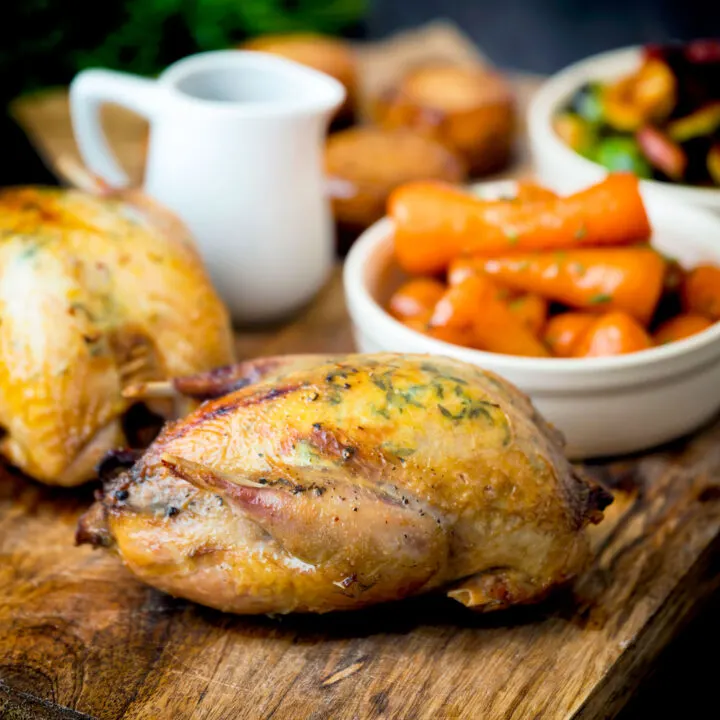 Yield:

2 Servings
Roast Partridge Recipe with Red Currant Sauce
Serving a single roast partridge for a meal always feels so special and indulgent, and I have the perfect rich and bold red wine and redcurrant jelly sauce to serve with it.
Ingredients
For the Partridge:
2 Oven Ready Partridges
2 Sprigs of Thyme
1 Lemon
½ Tsp Coarse Sea Salt
50g (3 Tbsp + 1 Tsp) Softened Butter
For the Red Currant Sauce:
500ml (2 Cups) Red Wine
2 (~70g) Shallots
1 Garlic Clove
1 Tbsp Cooking Oil
1 Sprig Fresh Thyme
1 Star Anise
1 Bay Leaf
175ml (¾ Cup) Chicken Stock
1-2 Tbsp Red Currant Jelly
1 Pinch Sugar
50g (3 Tbsp + 1 Tsp) Cold Butter
Instructions
Making the Sauce:
Reduce the red wine in a 15cm or 6" saucepan from 500ml down to 100ml, this will take around 20 minutes.
Peel the shallots, chop them in half lengthways and then slice them into half-moon shapes about 3-4mm (⅛") thick.
Bash the garlic clove with the side of a knife.
Heat a second 15cm or 6" saucepan over a medium heat and add the cooking oil when it is hot.
Add the chopped shallots, garlic clove, sprig of thyme, bay leaf and the star anise.
Cook the shallot mix for 15 minutes stirring regularly.
Pour in the reduced wine mix and cook for another 3 minutes.
Add the red currant jelly and pour in the chicken stock and reduce the liquid by two-thirds.
When reduced have a taste and add salt and a pinch of sugar as required.
Pass the sauce through a fine-mesh sieve and return it to the pan.
Just before serving whisk in the cold butter to enrich the sauce.
Roasting the Bird:
Zest the lemon.
Strip the leaves from the thyme sprigs.
Mash the Butter for the partridge with the lemon zest, coarse sea salt and thyme.
Using your fingers carefully form a cavity beneath the skin and breast of each bird, taking care not to rip the skin.
Divide the butter mix into two and then place half beneath the skin of each bird using your hands to massage it across the breast evenly.
Place the birds on a roasting tin and drop them in the oven at 200°C or 390°F and cook for 15-20 minutes. or until the leg meat reaches 67°C or 153°F on a meat thermometer.
Remove the birds from the oven and place on a board upside down and cover them with foil whilst resting for 5 minutes. The bird should increase in temperature to 70°C or 158°F during resting.

This is the perfect time to whisk the butter into the sauce.
Nutrition Information:
Yield:
2
Serving Size:
1
Amount Per Serving:
Calories:

743
Total Fat:

49g
Saturated Fat:

26g
Trans Fat:

2g
Unsaturated Fat:

19g
Cholesterol:

110mg
Sodium:

1049mg
Carbohydrates:

30g
Fiber:

3g
Sugar:

13g
Protein:

5g
Calorific details are provided by a third-party application and are to be used as indicative figures only.