Celeriac mash has the most incredible flavour and makes for a wonderful alternative mashed side dish for everything from stew to fish.
Whilst the celeriac may look like an intimidating vegetable, it is simple to deal with and this delicious side dish cooks in around 35-40 minutes.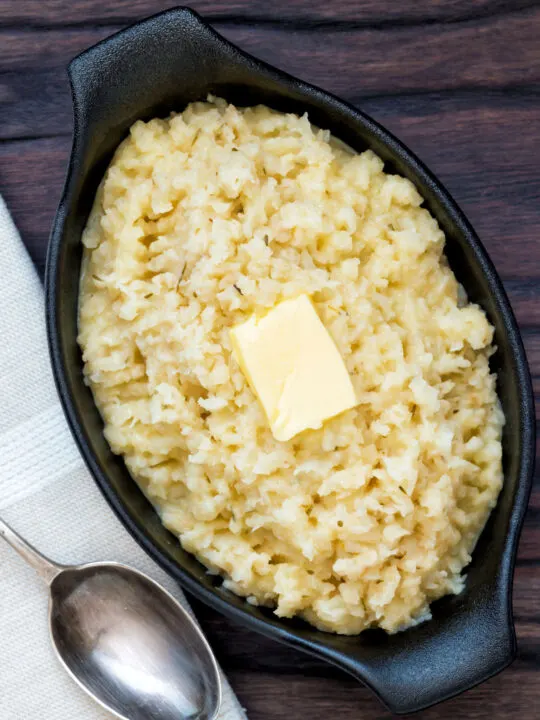 Celery Root Mash.
If we are handing out vegetable beauty awards the unassuming celeriac will likely only be eligible for a participation medal.
I suspect that this is the reason that it is sadly so often overlooked.
It is however insanely tasty, really easy to cook and celeriac makes for a great alternative to mashed potato.
Celeriac has a flavour broadly similar to celery, as you may suspect from a vegetable that is also known as celery root.
When it comes to mash, I like to change things up and both this celeriac mash and my swede and carrot mash are just as likely to feature as mashed potato on our table.
You can also roast celeriac, throw it into something like an old fashioned stew, it even makes a great cream of celeriac soup!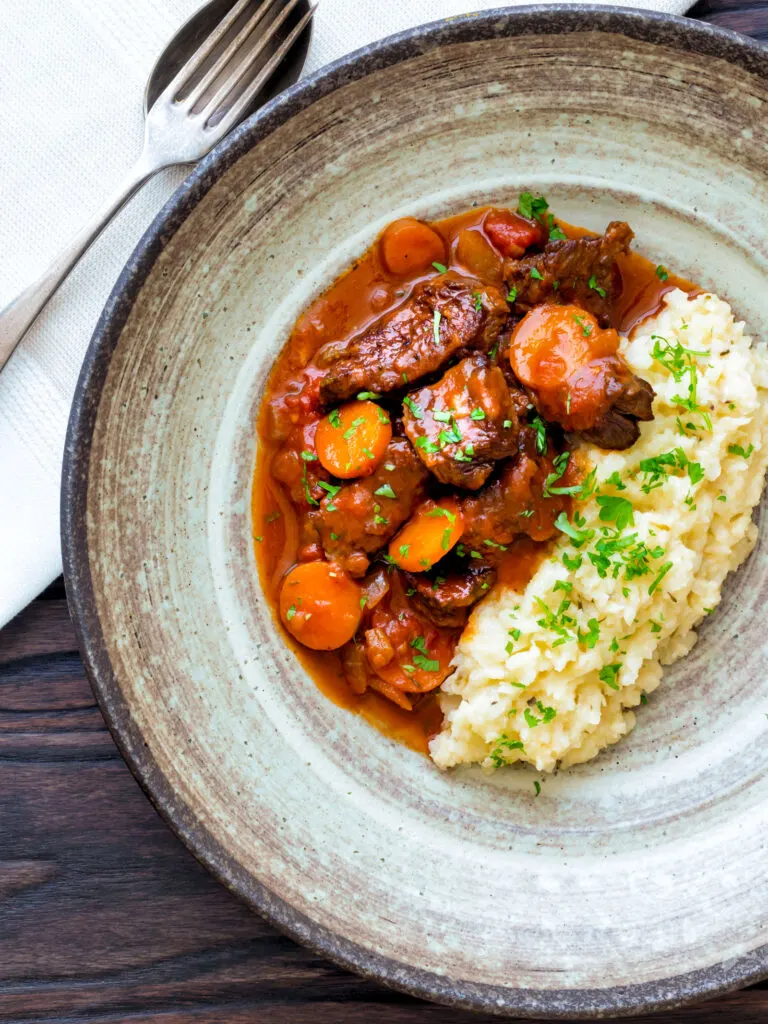 Frequently Asked Questions
How do you peel a celeriac?
Okay, so we are looking at a vegetable that is vaguely reminiscent of the face of Cthulhu, where do you start.

You will need a large knife and a good vegetable peeler.

Start at the nobbly end, the bit that looks like the aforementioned demon. Just hack that off with a sharp knife.

Then go to town with your vegetable peeler. Whilst the skin looks pretty tough, it is not! You should get through it quite easily.

You will notice that it is not starchy like a potato. Simply cut it up into evenly sized cubes and off you go.
Can I mash it with a potato ricer?
No, you should not attempt to put your celeriac through a potato ricer.

It just does not work, the cell structure of the vegetable is very different from a potato. Grab yourself an old-school potato masher and go for smashed celeriac rather than a smooth puree.

Texture-wise it results in a much wetter mash than potato which is fluffy.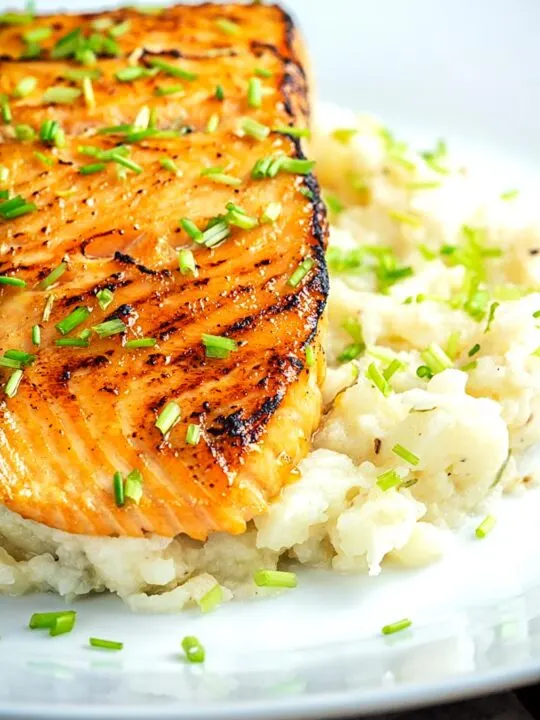 Serving Suggestions.
I love celeriac mash, it is incredibly diverse and feels lighter than mashed potato and brings additional flavour to the plate.
I use it in meals as diverse as my Greek beef kokkinisto and roasted chicken and chicory recipe to my Honey and mustard glazed salmon, braised steak and caramelised onions and classic cod mornay.
It is particularly good with pork, this Instant Pot Braised Pork Belly or my sausage and apple casserole are ideal companion dishes. In a similar vein, it works really well with my wild boar steak!
I would also recommend it with lighter stews or casseroles, and dishes with a white wine sauce.
As a result, recipes like coq au vin blanc or something like my pheasant casserole are particularly good.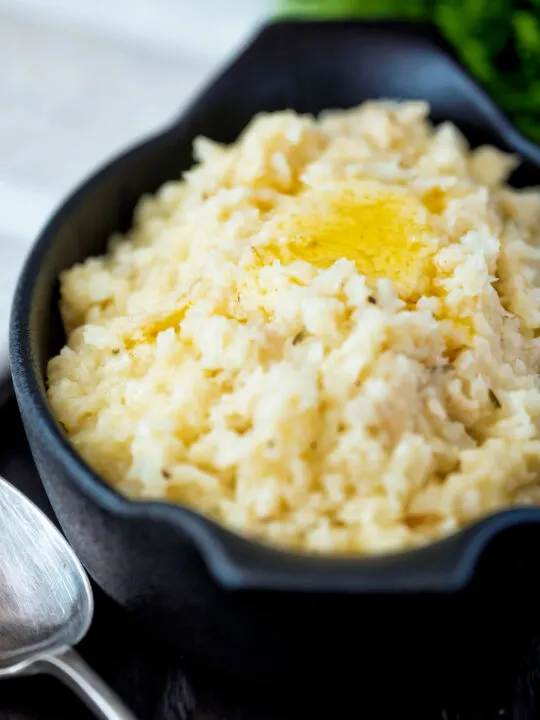 Equipment Used
I only name-check brands of equipment if I think they make a material difference to a recipe. If you have any questions feel free to ask them in the comments section below the recipe.
Stovetop.
20cm or 8″ saucepan.
Chopping board.
Vegetable peeler.
Kitchen knife.
Vegetable masher.
Colander.
Weighing scales and or measuring cups and spoons.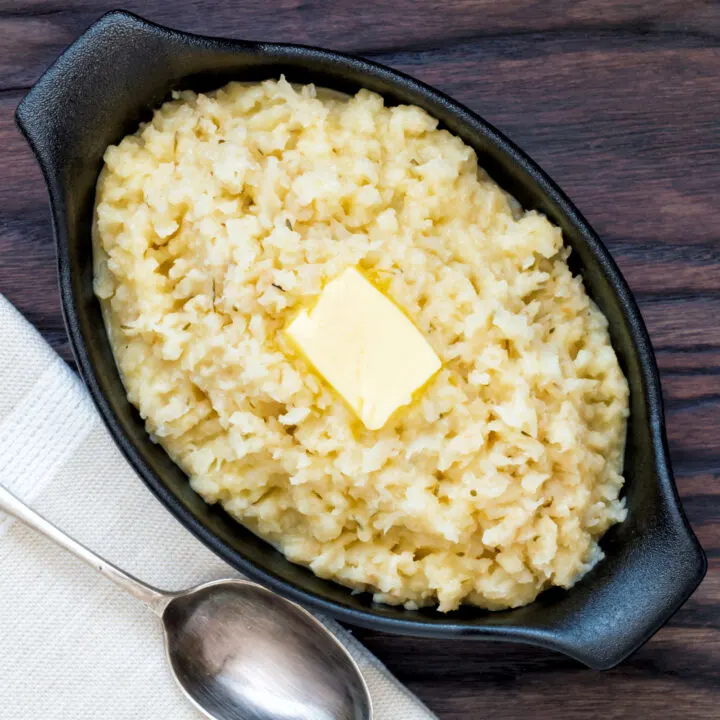 Yield:

2 Servings
Celeriac Mash Recipe
It is hard to beat mashed potato but a buttery celeriac mash does a great job of being different but also familiar, it also has a wonderful flavour!
Ingredients
450g (3-3½ Cups) Celeriac
75g (¼ Cup + 1 Tbsp) Butter
1 Sprig Rosemary
1 Sprig Thyme
½-1 Tsp Salt
Pepper to Taste
Instructions
Peel and cut the celeriac into 2cm (¾") cubes.
Place it in a 20cm or 8" saucepan with just enough water to cover and add a generous sprinkle of salt.
Add the rosemary and thyme and then bring to a boil, then reduce the temperature to low and simmer with a lid on for 20-25 minutes or so.
Drain the celeriac and discard the herbs then return to the pan.
Dice the butter and add it to the pan with the celeriac.
Give it a good mash, but do not go too far, we are not aiming for a smooth puree, there should be some texture left.
Nutrition Information:
Yield:
2
Serving Size:
1
Amount Per Serving:
Calories:

335
Total Fat:

31g
Saturated Fat:

19g
Trans Fat:

1g
Unsaturated Fat:

9g
Cholesterol:

81mg
Sodium:

670mg
Carbohydrates:

15g
Fiber:

3g
Sugar:

0g
Protein:

3g
Calorific details are provided by a third-party application and are to be used as indicative figures only.