Kokkinisto is a simple slowly cooked stew featuring large chunks of beef cooked in a red wine and tomato sauce, proper comfort food!
This recipe is best cooked on a stovetop but I have instructions for both slow cooker and Instant Pot for those that want them.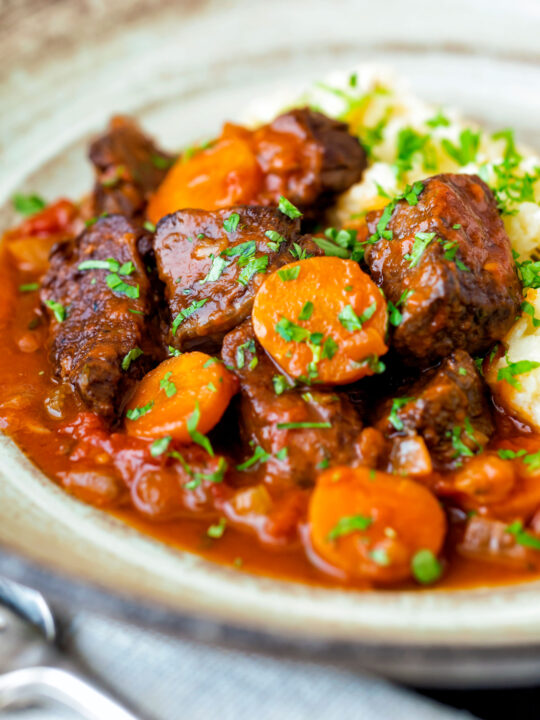 Greek Beef and Tomato Stew
I've got a thing for stews and casseroles at the moment and this greek influenced beef stew is the latest one that I have been kicking around.
It started as a bit of an obsession with stifado. Which is essentially this kokkinisto with some red wine vinegar and baby onions added.
But I love the simplicity of this recipe, sear the beef, chuck the stuff in the pan and let it slowly cook.
It joins other classic European beef stew recipes from France in the shape of beef daube, Hungarian marha porkolt and British beef stew with dumplings.
The defining feature of this stew is the tomato base. It tastes incredible and it provides something very different to my other offerings.
The techniques are incredibly simple and whilst the stew takes a while to cook, once you have seared the beef and fried the vegetables you can drink in the beautiful aroma with your feet up!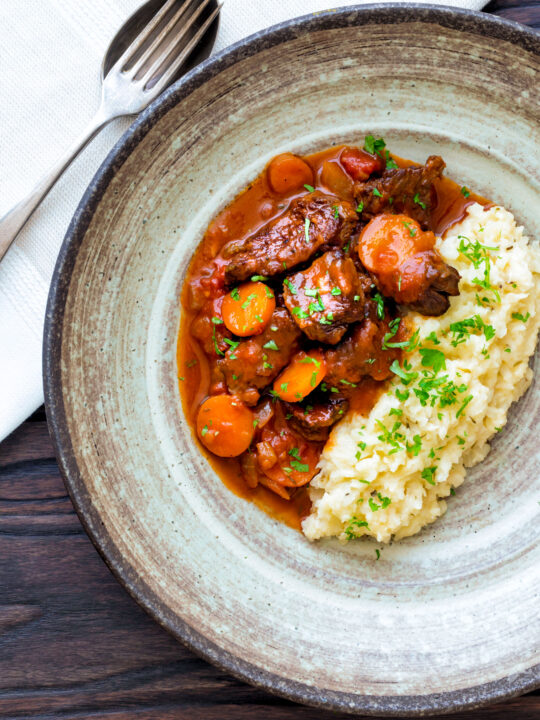 Frequently Asked Questions
What cut of beef is best?
This recipe is best-made with meat that has a reasonable fat content and a bit of sinew. As the stew slowly cooks these break down and enrich the sauce and as a result, you get a richer stew.

You could use any stewing beef, I like beef neck or shin of beef personally speaking.
Can I make this in advance?
Yes, as with many stews they taste better the day after. It will store in the fridge for a few days and can be gently reheated on the stove top.
You have three cooking methods, which is the best?
For me this recipe is best made on the stovetop. This is because the sauce tends not to have the same body but they are both really tasty.
However, neither the slow cooker or Instant Pot variants are poor relations.
Can I use fresh tomatoes?
All to often fresh tomatoes in much of Europe are disappointing, particularly in stew season.

As a result, I would stick with tinned tomatoes. I prefer whole tinned plum tomatoes because I love the way they break down.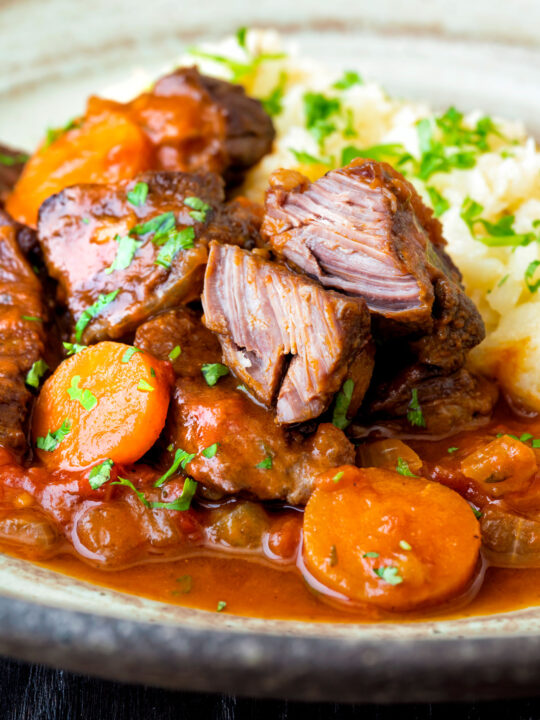 Serving Suggestions
Kokkinisto is a glorious beef stew and it absolutely rocks a good mash!
Mashed potato is a great choice, but for me, a celeriac mash is even better. The flavour of celeriac plays with the tomato sauce in a wonderful way!
Other potatoes are also great so something like potato wedges or my crispy fried potatoes are great at mopping up the rich sauce.
Polenta chips may sound like a strange choice, but they work exceptionally well with the beefy tomato sauce!
You should definitely add some crusty bread on the side too.
Something like a nice french baguette or these cheesy beer bread rolls would be perfect at cleaning the plate!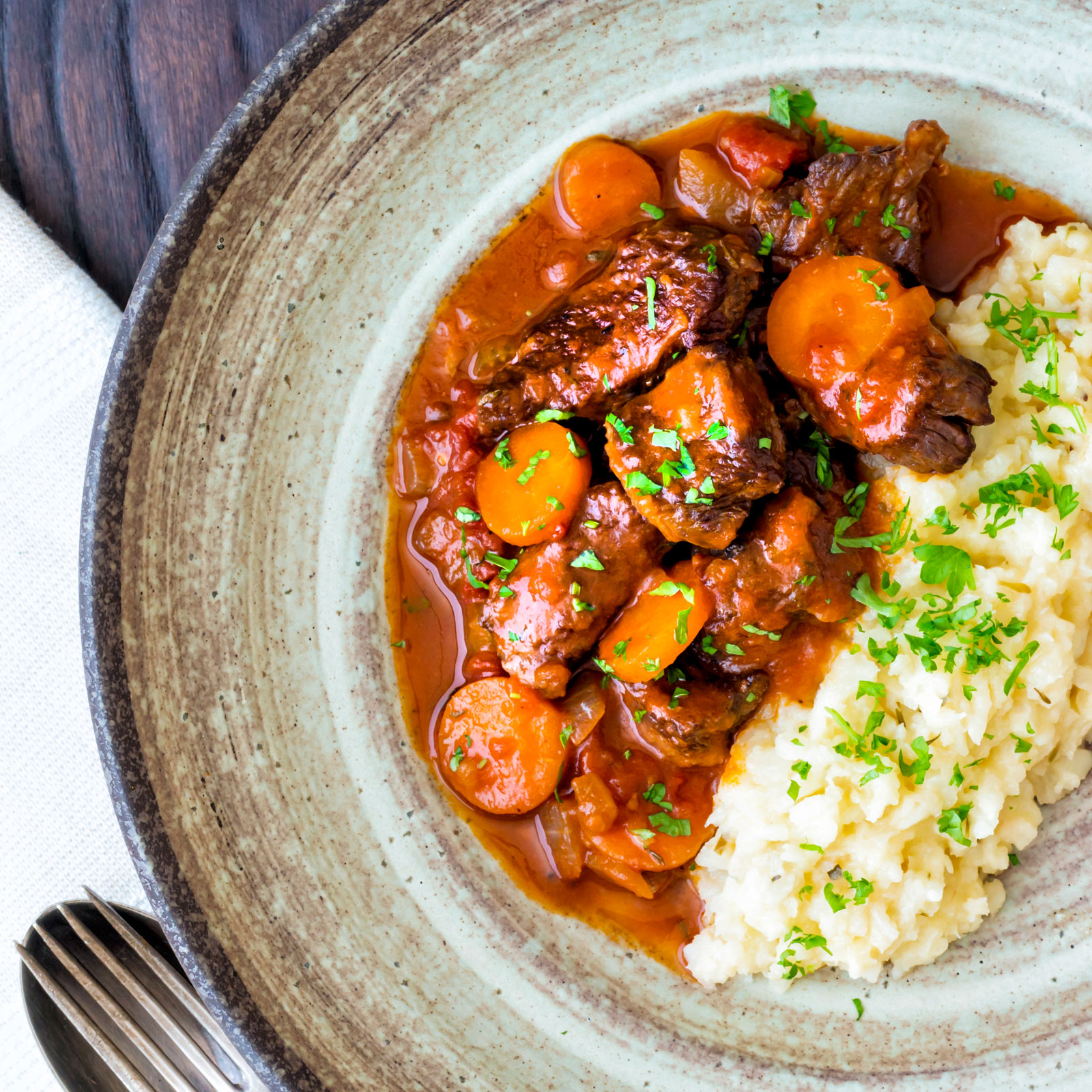 Yield:

2 Servings
Kokkinisto Greek Beef Stew Recipe
Total Time:
3 hours
10 minutes
This simple Greek beef stew with tomatoes or moshari kokkinisto cooks long and slow on the stove top and tastes fantastic!
Ingredients
400g (14oz) Stewing Beef
3 Tbsp Olive Oil
1 (50g) Celery Stick
75g (½ Cup) Carrot
150g (1 Cup) Onion
4 Garlic Cloves
1/2 Tsp Coarse Sea Salt
1/4 Tsp Black Pepper
125ml (½ Cup) Red Wine
1 Tbsp Tomato Puree
400g tin Peeled Plum Tomatoes
125ml (½ cup) Beef Stock
1 Tsp Thyme
Instructions
Stovetop Instructions:
Cut the beef into 2.5cm cubes.
Chop the celery stick into a 5mm dice.
Slice the carrots into 3mm thick coin shapes.
Cut the onion into a 5mm dice.
Slice the garlic cloves as finely as you can.
Heat a medium (28cm) heavy based saucepan over a high heat and when it is hot add the olive oil.
Season the beef with the salt and pepper and sear in the pan on all sides. Do this in two batches, remove the beef when seared and set aside.
Throw the carrot, onion and celery into the beef pan and stir for a couple of minutes, they should begin to take on some colour and soften a little.
Return the beef to the pan and add the garlic, then stir for a further minute.
Pour over the wine and boil to reduce by ¾s.
Reduce the heat to low and add tomato puree, tinned tomatoes, thyme, beef stock and sugar.
Stir and cook until it comes to a simmer, have a taste and add more salt if needed.
Add a lid and cook on low for 2 hours.
Remove the lid, stir and simmer for a final 20 minutes to thicken a little.
Slow Cooker Instructions:
Follow steps 1-5 above.
Heat a frying pan over a high heat and when it is hot add the olive oil.
Season the beef with salt and pepper and sear on all sides, do this in two batches and transfer the beef to the slow cooker in between ensuring the oil stays in the frying pan.
Add the carrot, onion and celery to the frying pan once the beef is cooked and fry for two minutes.
Add the garlic and cook for another minute before transferring to the slow cooker.
Return the pan to the heat and add the red wine and reduce by ¾s and then add to the slow cooker.
Add the tomato puree, tinned tomatoes, thyme, beef stock and sugar to the slow cooker and stir.
Cook on low for 8 hours or on high for 4-5 hours.
Remove the lid and cook for a final 30 minutes to allow the sauce to thicken a little.
Instant Pot Instructions:
Set the Instantpot to saute mode and when hot add the olive oil.
Season the beef with salt and pepper, then sear on all sides.
Add the carrot, celery and onion and cook for 3-4 minutes.
Throw in the garlic and cook for another minute.
Pour in the red wine and by reduce by ¾s.
Turn off saute mode and pour in 175ml (this is more than listed in the ingredients) of beef stock, this helps prevent the IP from flipping into burn mode.
Pour in the beef stock and add the thyme.
Roughly chop the tomatoes and mix them with the tomato puree.
Spread this tomato mix evenly over the top of the beef and do not stir.
Add a lid and cook for 30 minutes at high pressure, then allow the pressure to naturally release.
Remove the lid and set the IP to saute mode, stir and allow the sauce to thicken to the desired thickness.

Nutrition Information:
Yield:
2
Serving Size:
1
Amount Per Serving:
Calories:

835
Total Fat:

54g
Saturated Fat:

16g
Trans Fat:

1g
Unsaturated Fat:

34g
Cholesterol:

174mg
Sodium:

862mg
Carbohydrates:

24g
Fiber:

5g
Sugar:

11g
Protein:

57g
Calorific details are provided by a third-party application and are to be used as indicative figures only.