This delicious creamy cauliflower soup is enriched with a simple roux based white sauce and features hints of cumin and paprika!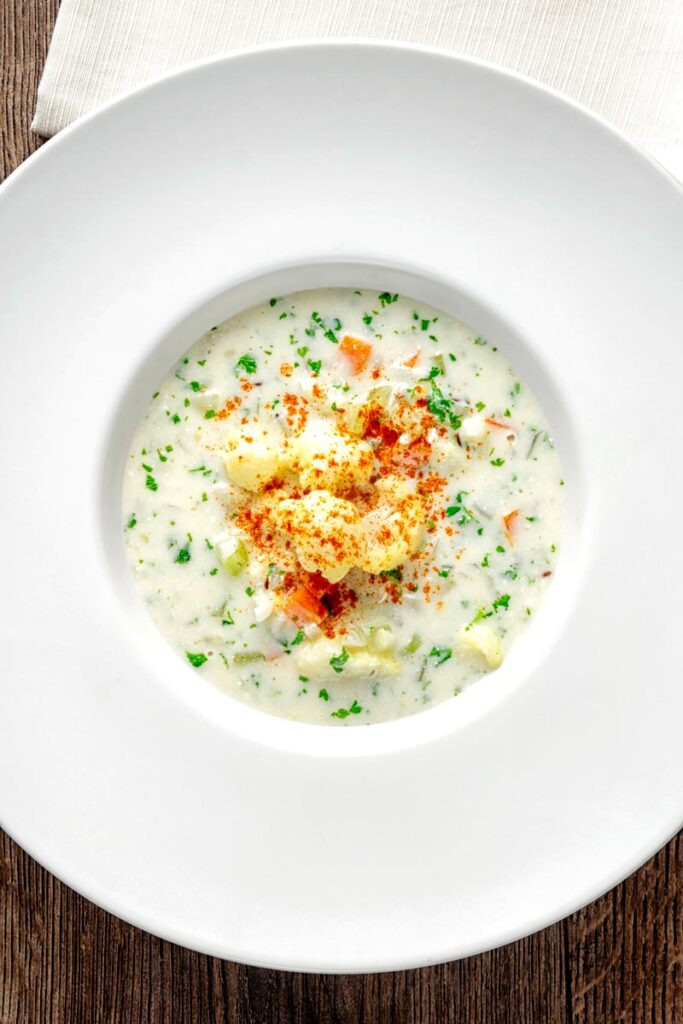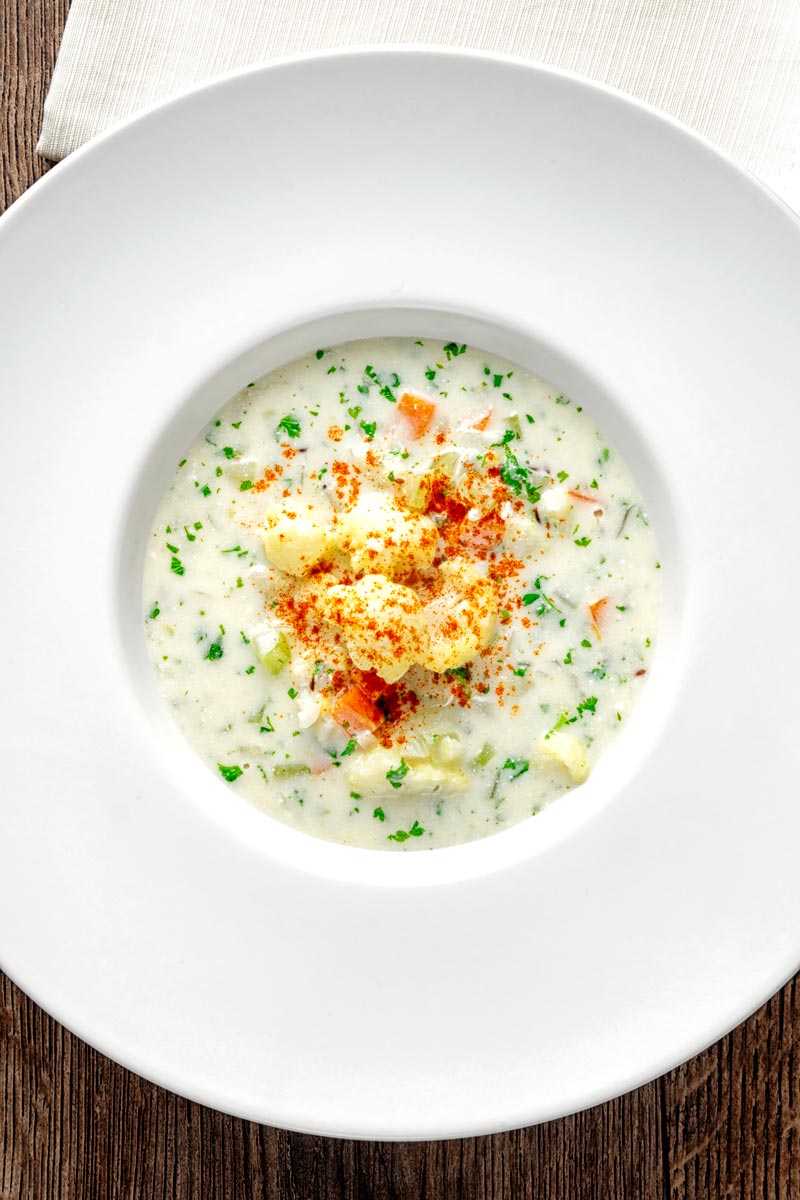 Cream of Vegetable Soups.
There are many ways to make a "cream of soup", the most common is to add some cream and blend it with vegetables.
It is that approach that I take with both my cream of asparagus soup and cream of celeriac soup.
This little cauliflower number, on the other hand, uses a roux based white sauce, or bechamel sauce to give it its proper name.
This makes the soup both lighter and in many ways feel more luxurious than your average cream based soup.
I also like to add some spices to this soup!
Cumin is simply glorious with cauliflower and my adopted nation has taught me that a sprinkle of paprika makes everything better!
If you are lover of both cauliflower and spice in your soups then you should check out my Cauliflower and Broccoli Thai Curry Soup!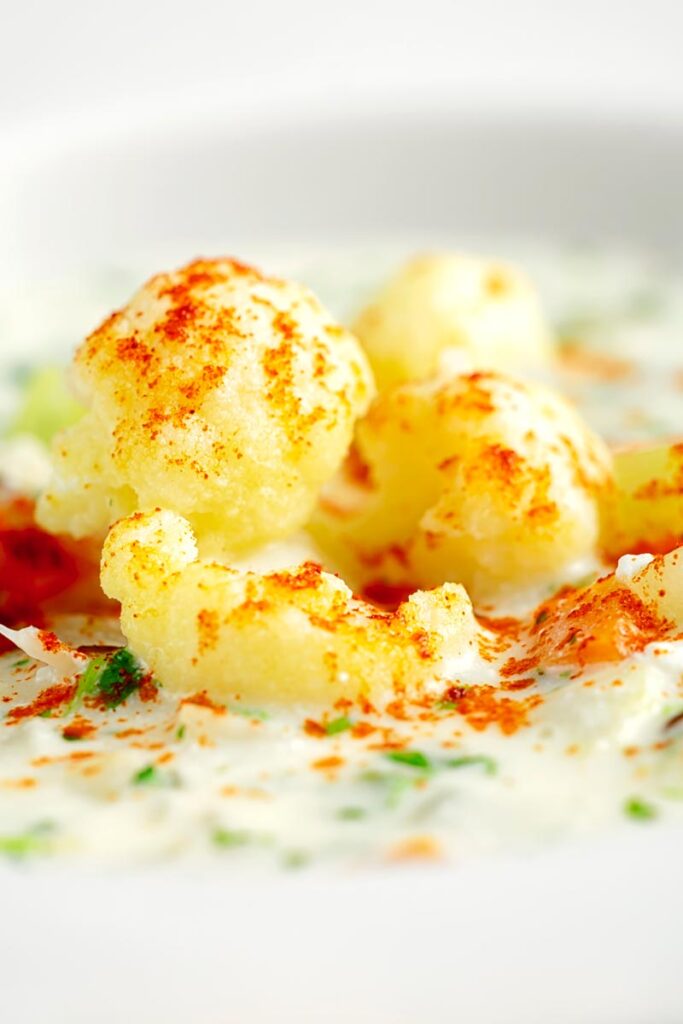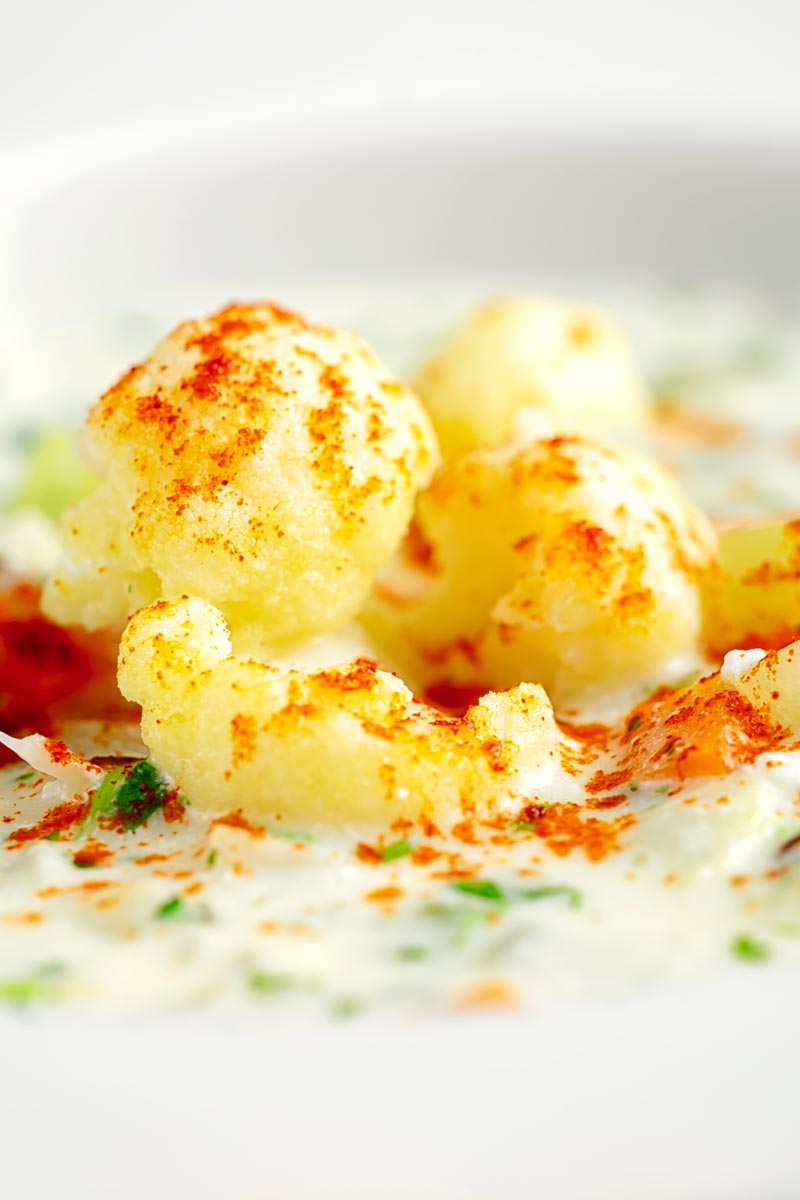 The Secret to a Perfect Bechamel Sauce.
I'm the sort of cook that believes the secret to many of the great classic techniques is patience.
Cooking the perfect bechamel requires nothing more than a bit of care and attention.
It is a great mother sauce to learn, not least because it is pretty essential to making the best lasanga bolognese.
The first thing that you must do is cook out the flour.
If you do not do this you will end up with a grainy texture and the flavour of raw flour and nobody wants that.
You need to make sure that the pan is not too hot as you also want this sauce to be white, not brown.
Then all you need to do is add the milk a little at a time, beating it until you have created a smooth paste each time.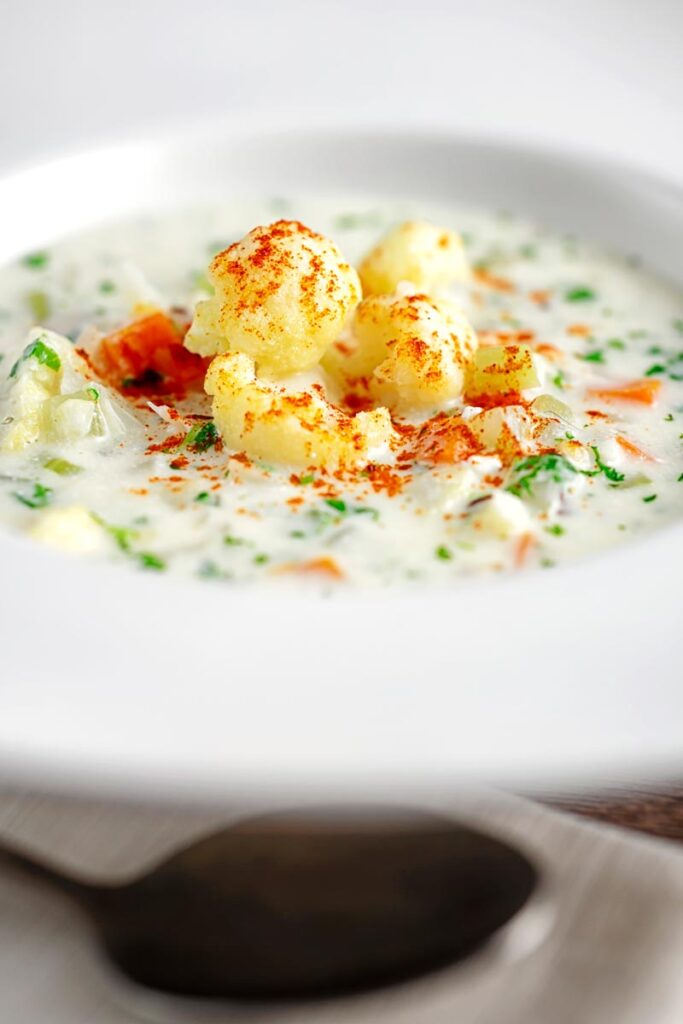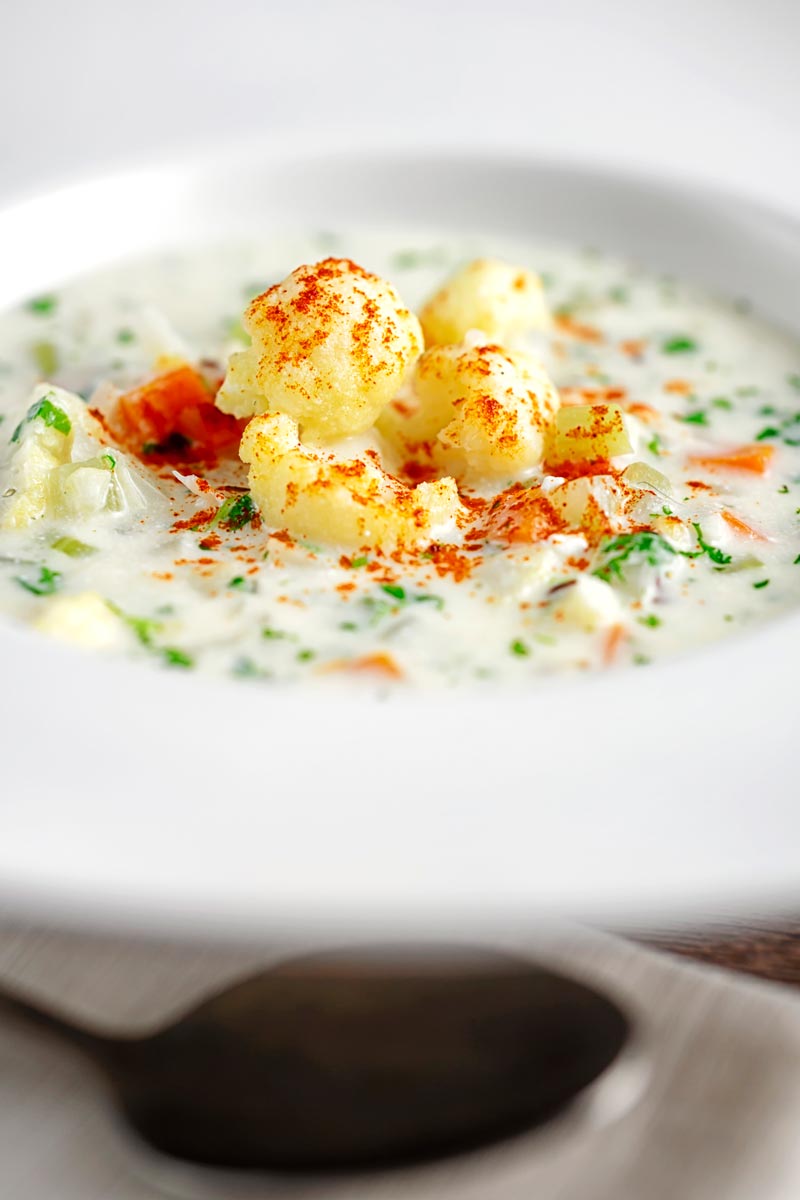 Leftovers and Recipe Scaling.
This soup will serve 4 as a starter or lunch or 2 as a greedy guts main course soup.
You can scale this soup up or down with no issues and the cooking times remain the same.
It will store for 3-4 days in the fridge but it will not stand reheating over and over again. If you do this the cauliflower will completely break down.
If like me you are cooking for a smaller family you will likely have lots of cauliflower leftover.
I ordinarily plan to make this recipe in the same week that I am making my roast cauliflower steak or aloo gobi.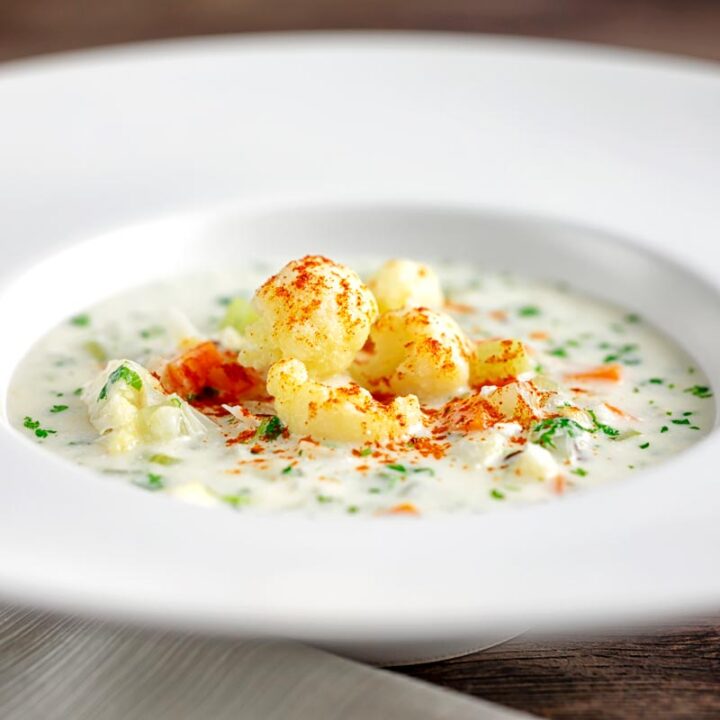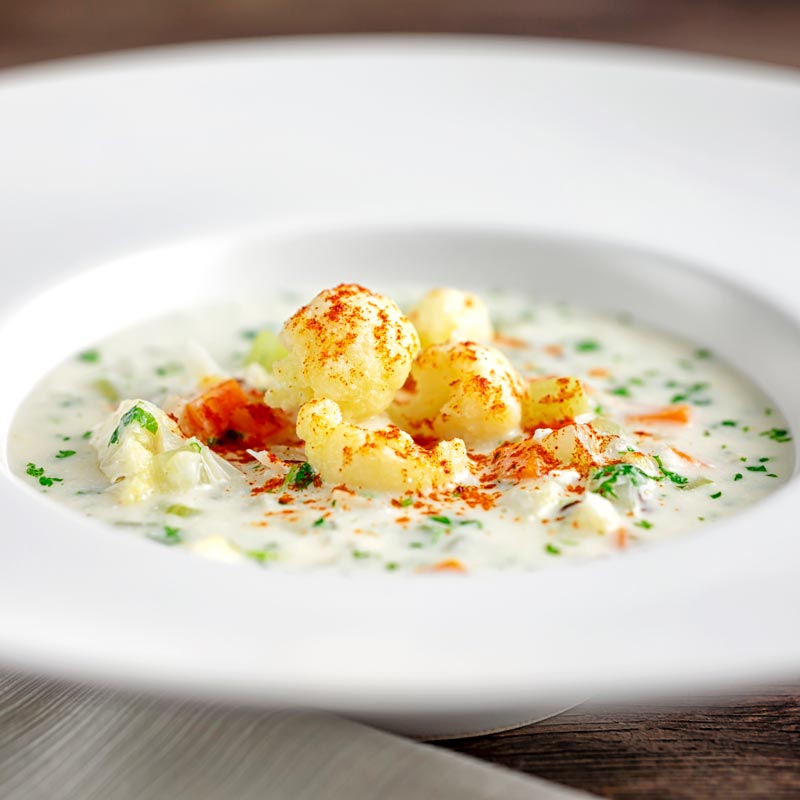 Yield:

2 Servings
Cream of Cauliflower Soup Recipe
This cream of cauliflower soup is not blitzed to a smooth soup, but is left chunky and is enriched with a roux based white sauce.
Ingredients
325 g (1 Cup) Cauliflower
75 g (1/2 Cup) Onion
100 g (1 Cup) Carrot
1 Stick Celery
2 Cloves Garlic
50 g (3 Tbsp) Butter
1 Tsp Ground Cumin
500 ml (2 Cups) Vegetable Stock
1 Bay Leaf
25 g (1/4 Cup) Flour
200 ml (3/4 Cup + 2 Tsp) Milk
2 Tbsp Sour Cream
5 g (1/4 Cup) Chopped Parsley
1 Pinch Sweet Paprika
Instructions
Cut the carrot, onion and celery into a 5mm dice.
Slice the garlic as thinly as you can.
Heat half of the butter over a medium heat.
Add the onion, garlic, carrot and celeriac and cook for 10 minutes.
Cut the cauliflower into 1-2cm florets, finely slicing any stalks.
Add the cumin to the onion mix cook for a further 1 minute.
Add the cauliflower and stir to combine.
Add in the vegetable stock and the bay leaf and allow to cook for 10 minutes.
Heat the remaining butter over a medium heat in a separate pan.
When melted add in the flour and cook out the flour for 5 minutes stirring continuously.
Add 50ml of the milk to this mix and beat until it is thoroughly combined.
Repeat this process until all of the milk has been combined and you have a thick smooth sauce.
Add this sauce to the soup mix and cook on for a further 5 minutes
Remove from the heat and stir in the sour cream and chopped parsley.
Sprinkle with sweet paprika to serve.
Nutrition Information:
Yield:
2
Serving Size:
1
Amount Per Serving:
Calories:

390
Total Fat:

26g
Saturated Fat:

16g
Trans Fat:

1g
Unsaturated Fat:

8g
Cholesterol:

69mg
Sodium:

998mg
Carbohydrates:

33g
Fiber:

6g
Sugar:

8g
Protein:

10g
Calorific details are provided by a third-party application and are to be used as indicative figures only.