Jerusalem artichoke soup or Sunchoke Soup is a wonderfully nutty creamy winter warmer from a wonderful but underused vegetable.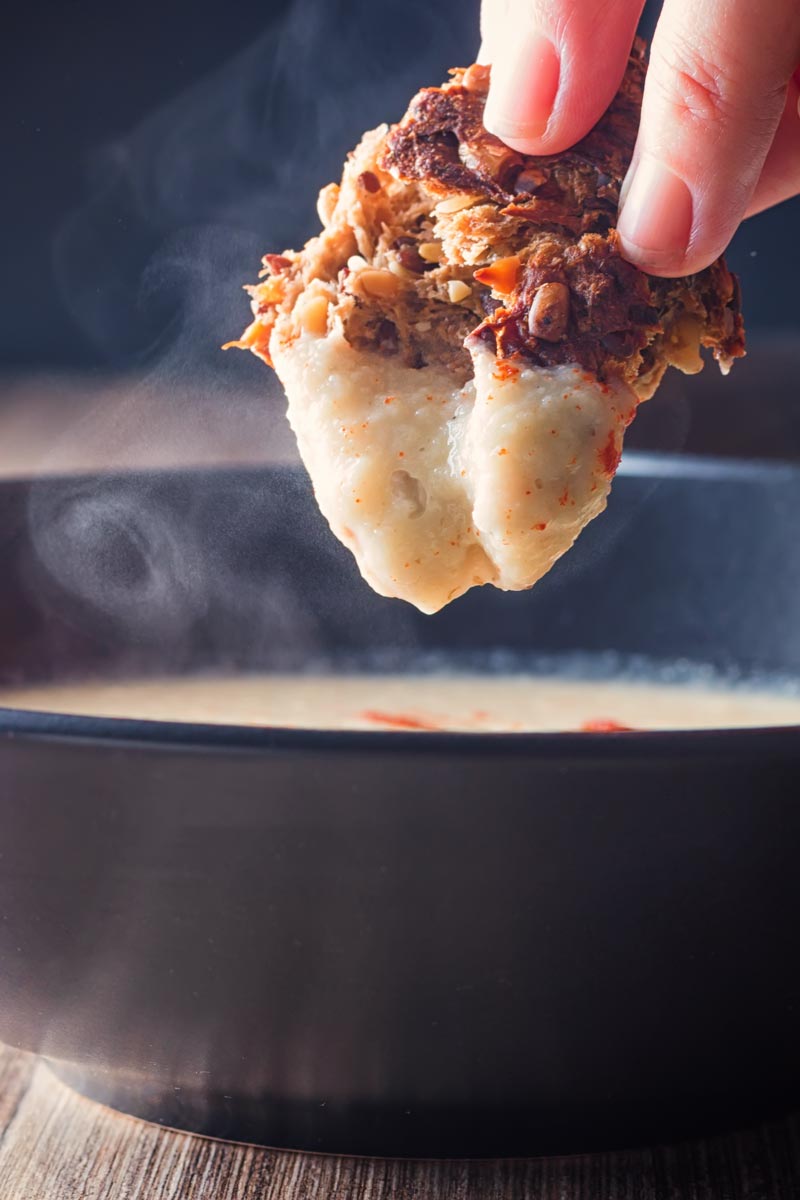 Creamy & Comforting Jerusalem Artichoke Soup.
Does anyone get the feeling that I am rather fond of soup? This one is wonderfully sweet and nutty and is made from an ingredient that think is woefully underused.
Jerusalem artichokes or Sunchokes as they are called in some parts of the world are a really versatile, if ugly vegetable.
They roast wonderfully and they were my roasted vegetable of choice this Christmas Lunch.
But they also make amazing chips, crisps, puree, mash and of course soup!
Whilst I am on the subject of Jerusalem artichoke puree you really must check out this pork chop recipe. It comes with both a Jerusalem artichoke puree and a great blackberry sauce!
I love velvety soups like this. Soups like this sunchoke soup, my broccoli and stilton soup or cream of asparagus soup are comfort food personified.
Give me a hunk of nutty bread and I am in heaven!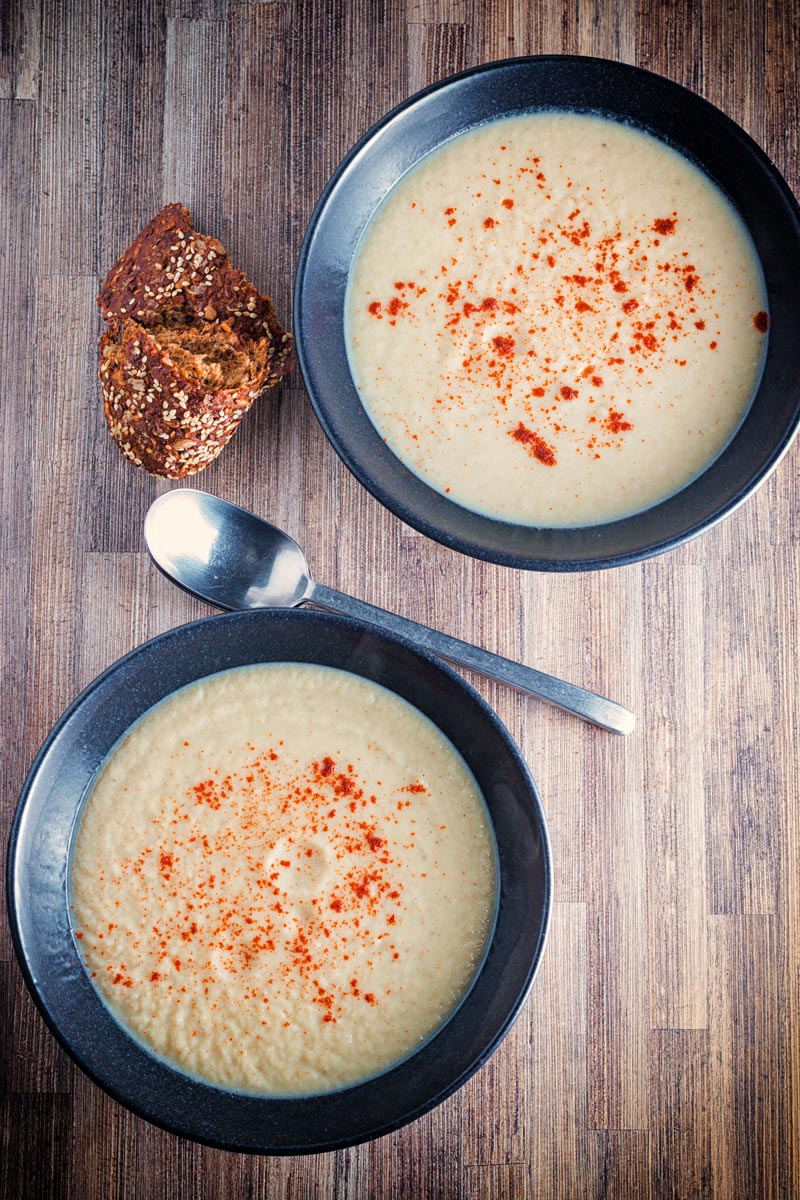 What are Sunchokes?
For those of you who have never heard of Jerusalem Artichokes, they look a little similar to lumps of ginger but they taste nothing like ginger at all.
They have a sweet nutty flavour almost like a cross between hazelnuts and chestnuts.
Texturally they are very similar to a sweet potato when cooked.
It may sound all a bit odd but they are delicious and this soup is a really simple gateway to start cooking with them.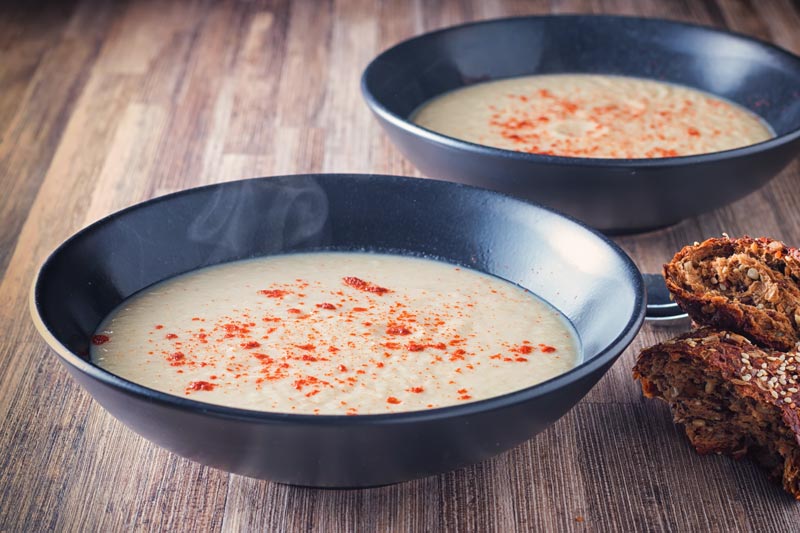 Can I Grow Them In My Garden?
One thing to note if you fancy growing them in your garden is to make sure you LOVE them!
They are easy to grow and almost impossible to stop growing them.
When I say easy to grow, they thrive in any environment, soil type, amount of sun and moisture content seem to have no bearing.
We planted some up a few years ago and it took years to be able to get rid of them. You need to remove every single solitary last tuber from the ground or they will spring up year after year.
Great you may say but we have a pretty well-organised crop rotation routine that helps us grow organically. Having a belligerent crop of Jerusalem artichokes getting in the bloody way proves to be a nightmare.
We have now taken to growing them in an old dustbin which works really well. It means I can get on with loving them and not finding them a thorn in my side!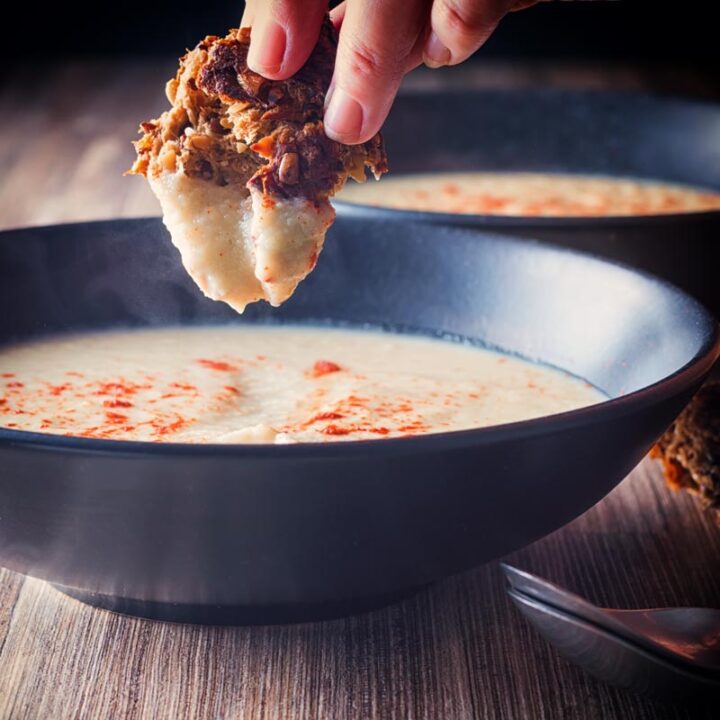 Simple Cream of Jerusalem Artichoke Soup
This nutty creamy Jerusalem artichoke soup is the perfect winter warming bowl of goodness. Break out a nice wholegrain loaf of bread and tuck in!
Ingredients
50 g Butter
75 g Onion
50 g Celery
2 Garlic Cloves
1 Tsp Cumin Seeds
500 g Jerusalem Artichokes
1 Tsp Lemon juice
250 ml Vegetable stock
100 g Sour Cream, optional
Salt and Pepper as needed
Instructions
Finely dice the onion and finely slice the garlic and celery.
Peel and finely slice the Jerusalem artichokes into 5mm thick coins.
Heat the butter over a medium heat in saucepan.
Add in the onion and celery and cook for 5 minutes, the onions should then be soft and translucent.
Add in the garlic and cumin seeds and cook for a further 2 minutes.
Stir in the Jerusalem artichokes and cook for 5 minutes.
Then add in the vegetable stock along with the lemon juice and cook until the artichokes are soft, about 15-20 minutes depending on size.
When the artichokes are soft, blend the soup until smooth and stir in the sour cream.
Check for seasoning and add salt and pepper as required and serve.
Notes
The sweet nuttiness of this soup goes really well with a dark malty bread, top it with a little paprika or some freshly grated nutmeg.
Nutrition Information:
Amount Per Serving:
Calories:

432
Calorific details are provided by a third-party application and are to be used as indicative figures only.