Coq Au Vin is a quintessentially French farmhouse recipe, chicken cooked in red wine with butter, streaky bacon and mushrooms. What is not to love?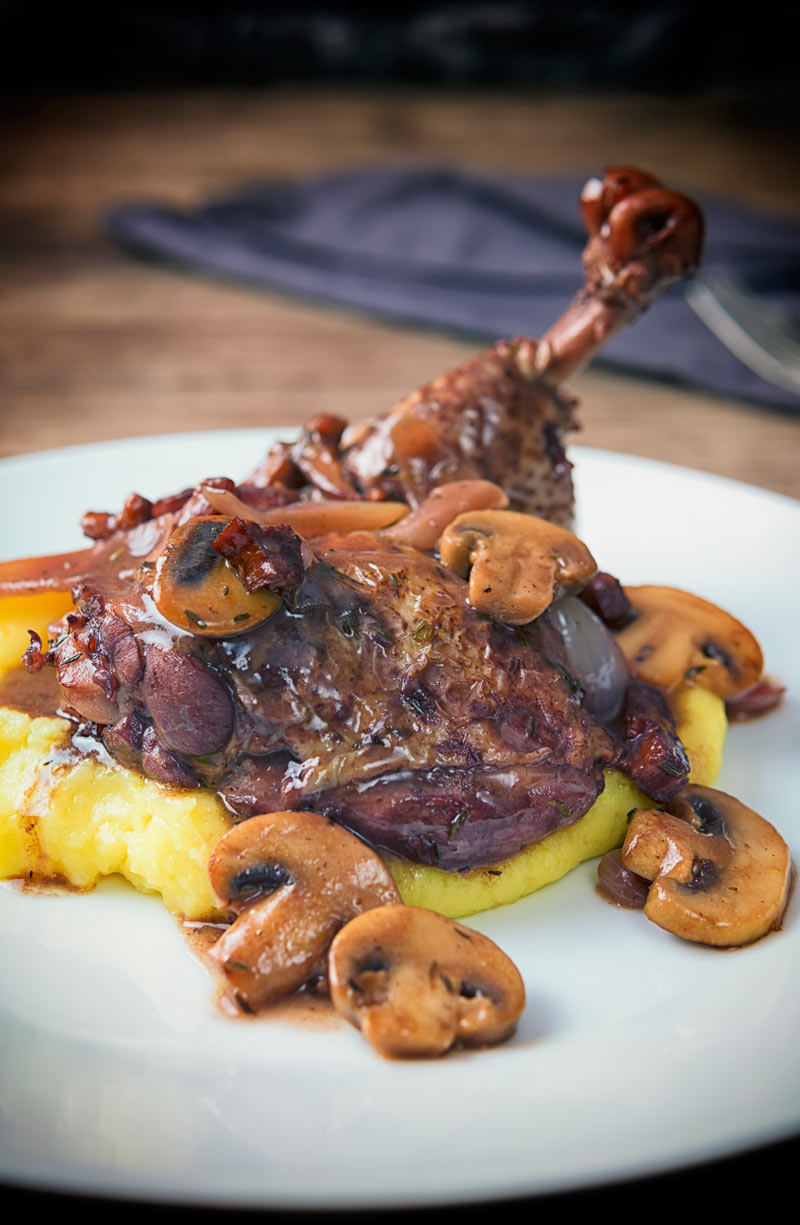 Coq Au Vin For Two.
It does seem incredibly fashionable to scoff at the superior standing of French food in culinary circles.
However, when simple rustic peasant dishes like this, Daube of Beef or Beef Bourguignon have lasted the course of time you can see where it comes from.
My version of this French classic uses chicken legs rather than the whole bird. This is because it makes it work better as a meal for two!
But you could increase the size and use chicken pieces from a whole chicken. It makes a great dinner party dish.
Whilst I love my crockpot I often find this chicken needs just a little bit more care and attention and I always make this on the stove top.
This recipe is comfort food heaven if you ask me, bacon, mushrooms and butter.
All of these wondrous ingredients are wrapped up in a silky wine based sauce.
Oh yeah, and mashed potato!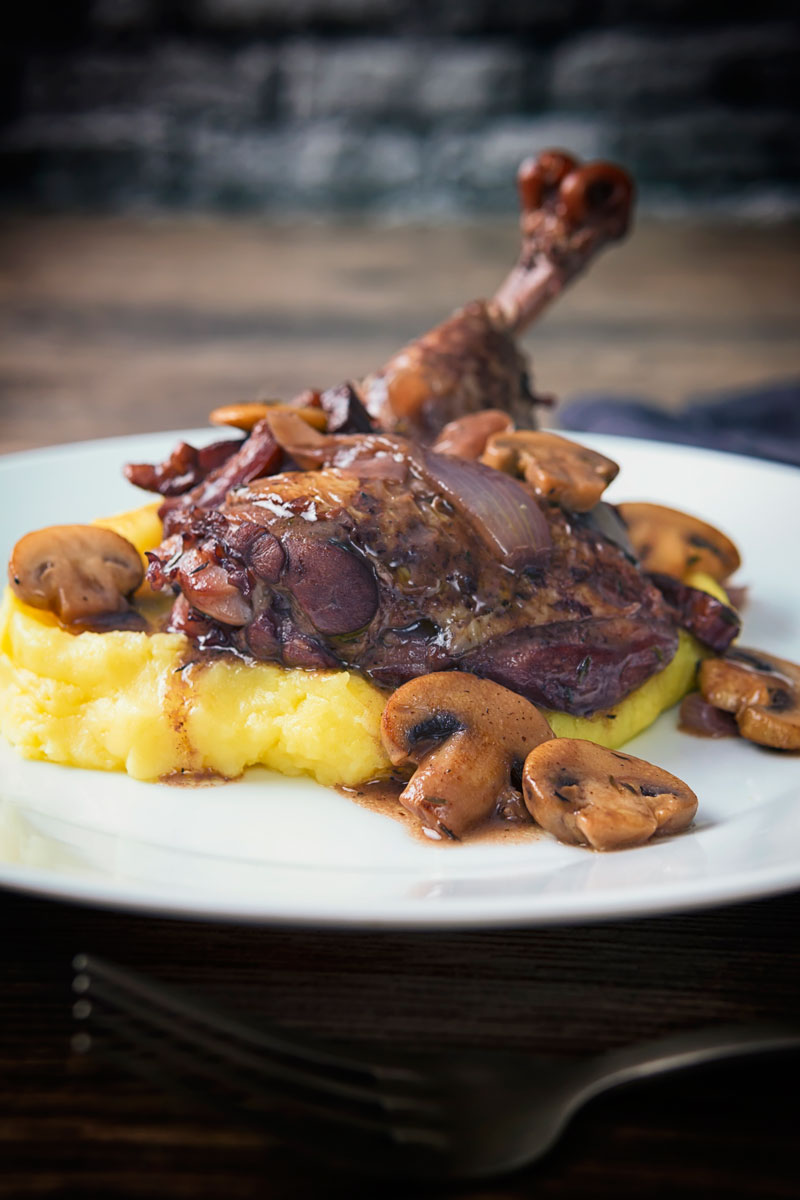 How to Thicken Sauces.
There are countless ways to thicken sauces.
My usual and preferred method is a reduction, that is simply adding heat and boiling off water.
It is the method that I use in lots of my recipes, everything from my Beef Vindaloo to the gravy for my whole roast duck.
This has the effect of intensifying the flavour.
Personally speaking, I think this intensifies the flavour too much for this recipe. Let's face it you want to taste chicken in a chicken recipe!
You also need to be careful with salt on a heavy reduction because that all stays in the pan as the water is driven off.
As a result, I opt for the old fashioned beurre manié technique. This is simply making a dough from butter and flour and whisking it into a simmering sauce.
You need to cook it long enough to get rid of the floury flavour, but that should take just 5-10 minutes.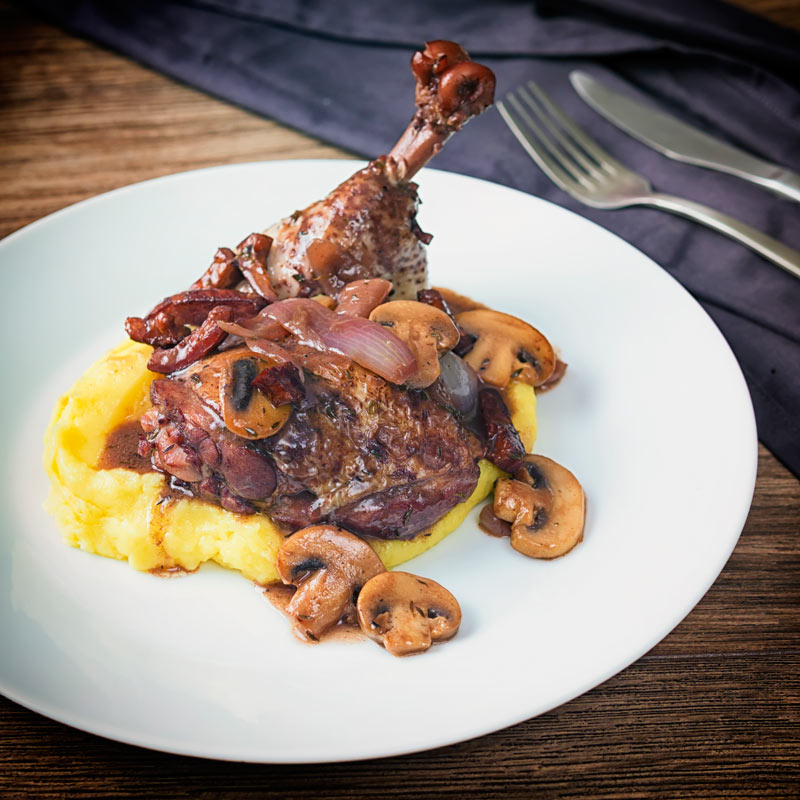 What Wine To Use.
Traditionally this recipe is made with a Burgundy. However, any fairly robust plonk works well so something like a pinot noir or merlot works wonderfully.
Hell, I have even made this dish with my homebrew and a rooster from our brood… And it tasted marvellous!
The most important thing when choosing wine for cooking this recipe is the quaff test.
Seriously if you are unwilling to drink it then don't put it in your food! And whatever you do do not use cooking wine, friends do not let friends cook with that hideous stuff!
Like most of my recipes, this delightful chicken stew is cooked with two people in mind.
Most stew or casserole recipes are a challenge to reduce in size because cooking for two is often not just a case of just dividing a recipe for four in half.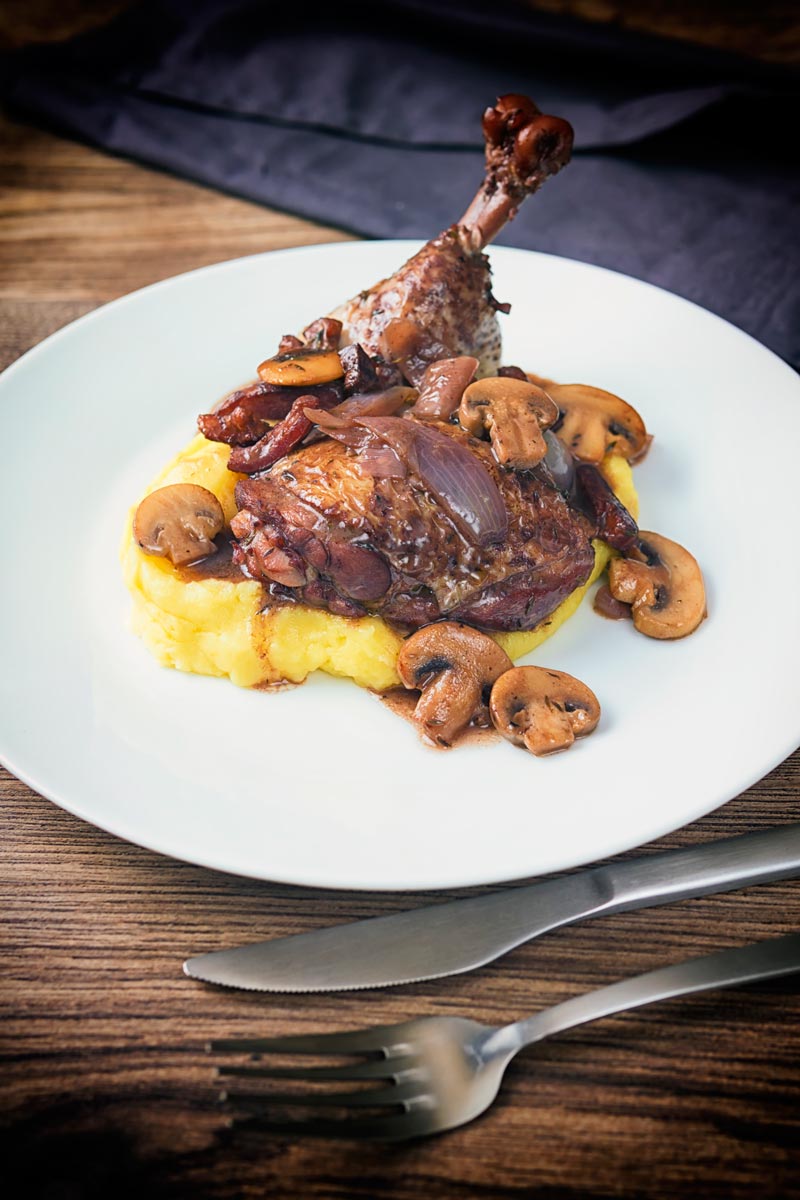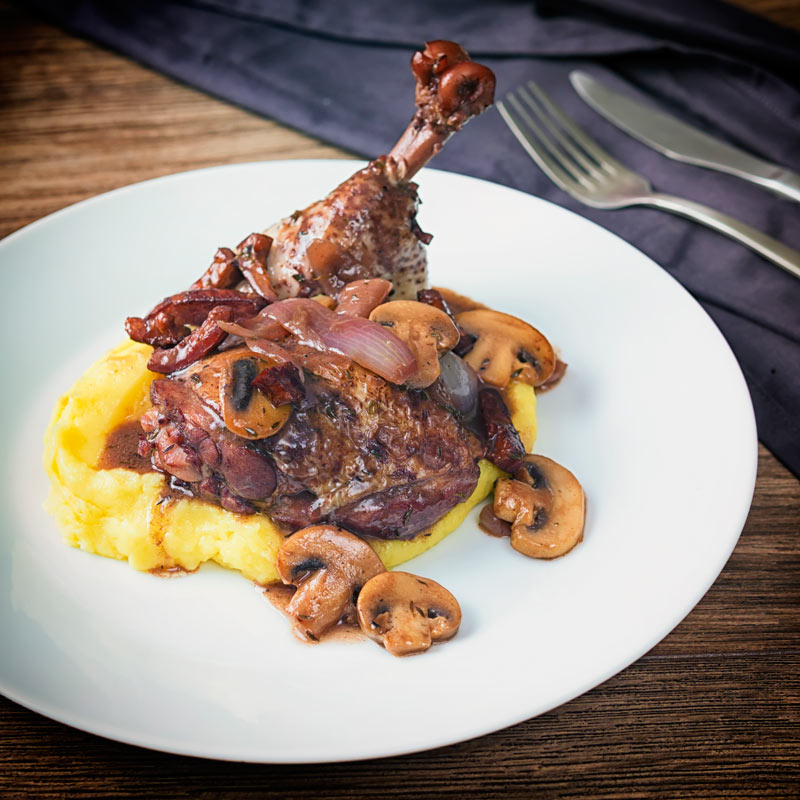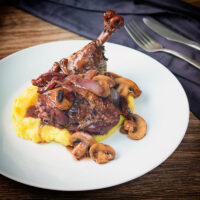 Coq Au Vin
Cook Time:
1 hour
30 minutes
Total Time:
5 hours
40 minutes
It's hard to look beyond classic recipes when you want a bit of comfort food and Coq Au Vin is, as far as I am concerned, the finest of French foodie comfort blankets!
Ingredients
2 Chicken Legs
375 ml Red wine
50 ml Cognac
200 g Onion
12 Cloves Garlic
100 g Smoked Streaky Bacon
2 Bay Leaves
1 Tsp Dried Thyme
100 ml Chicken Stock
25 g Butter
125 g Button Mushrooms
25 g Softened Butter
25 g Plain Flour
Salt To taste
Pepper To taste
For the Mashed Potato:
500 g Potato
100 g Butter
Salt, To taste
Instructions
Roughly chop half of the onion and bruise half of the garlic cloves, add to a bowl and pour over the wine.
Separate the chicken legs into thighs and drumsticks and add the chicken to the this mix and leave to sit for at least 4 hours.
Cut the bacon into large strips around 5mm in profile and 15mm long.
Heat a pan over a medium heat and add in the bacon and cook until golden, this should take about 8-10 minutes.
When it is golden brown remove from the pan with a slotted spoon and set aside.
Peel and slice the remaining onion into wedges.
Peel the remaining garlic.
Remove the chicken from the marinade and pat it dry.
Discard the garlic and onion and reserve the wine for the sauce.
Season the chicken with salt and pepper and brown over a medium heat in the residual fat.
When your chicken is browned and set aside add in the onion wedges and garlic cloves to the pan and allow to brown for 5-6 minutes.
Add in the cognac to the pan scraping the bottom to ensure you get all of the beat residues off the base.
Strain the wine we marinaded the chicken into the pan and bring to a simmer.
Add in the bay leaves, thyme and then tightly pack in the chicken drumsticks, thighs and bacon.
Pour over the chicken stock and allow to simmer over a very low heat with the lid on for 60 minutes.
When there is around 30 minutes cooking time left on the chicken peel and cut the potatoes and boil for 25 minutes in generously salted water.
When cooked remove the chicken with a slotted spoon and allow to rest for 10 minutes whilst we finish the sauce and fry the mushrooms.
Add the 25g of butter to a frying pan and when foaming add in the button mushrooms.
Season them with salt and pepper and fry until golden.
Heat a large flat frying pan over a fierce heat and strain the sauce into the frying pan boiling rapidly to reduce to an inky dark sauce.
Your potatoes should also be ready to mash, I personally prefer a potato ricer, but you can mash. Then mix in the butter!
Finally, make a Beurre manié by mixing together the 25g of softened butter and 25g of plain flour to form a 'dough' and whisk in to the sauce to thicken in the traditional French way.
Return the chicken and mushrooms to the sauce to coat and serve hot.
Notes
Make sure your bacon is good and fatty as this provides the cooking oil for the dish. You can use a splash of olive oil if you feel you need more.
Nutrition Information:
Yield:

2
Serving Size:

1
Amount Per Serving:
Calories:

1837
Total Fat:

103g
Saturated Fat:

51g
Trans Fat:

3g
Unsaturated Fat:

44g
Cholesterol:

540mg
Sodium:

2272mg
Carbohydrates:

91g
Fiber:

10g
Sugar:

11g
Protein:

93g
Calorific details are provided by a third-party application and are to be used as indicative figures only.