A Cheesy polenta porridge is a wonderfully comforting side dish that pairs beautifully with everything from Ragu to Cacciatore!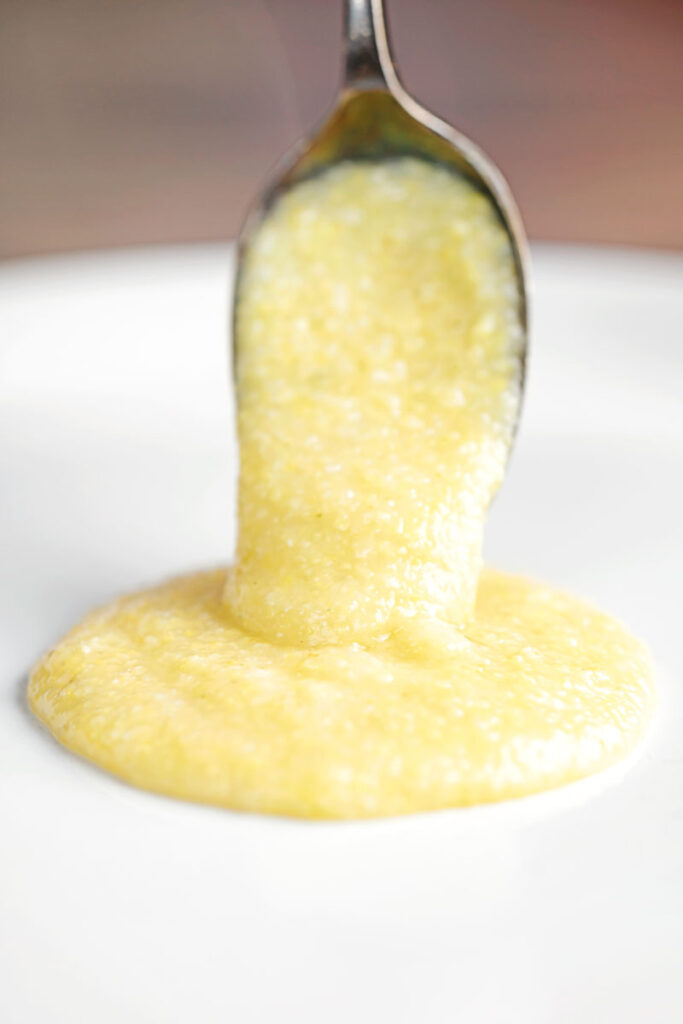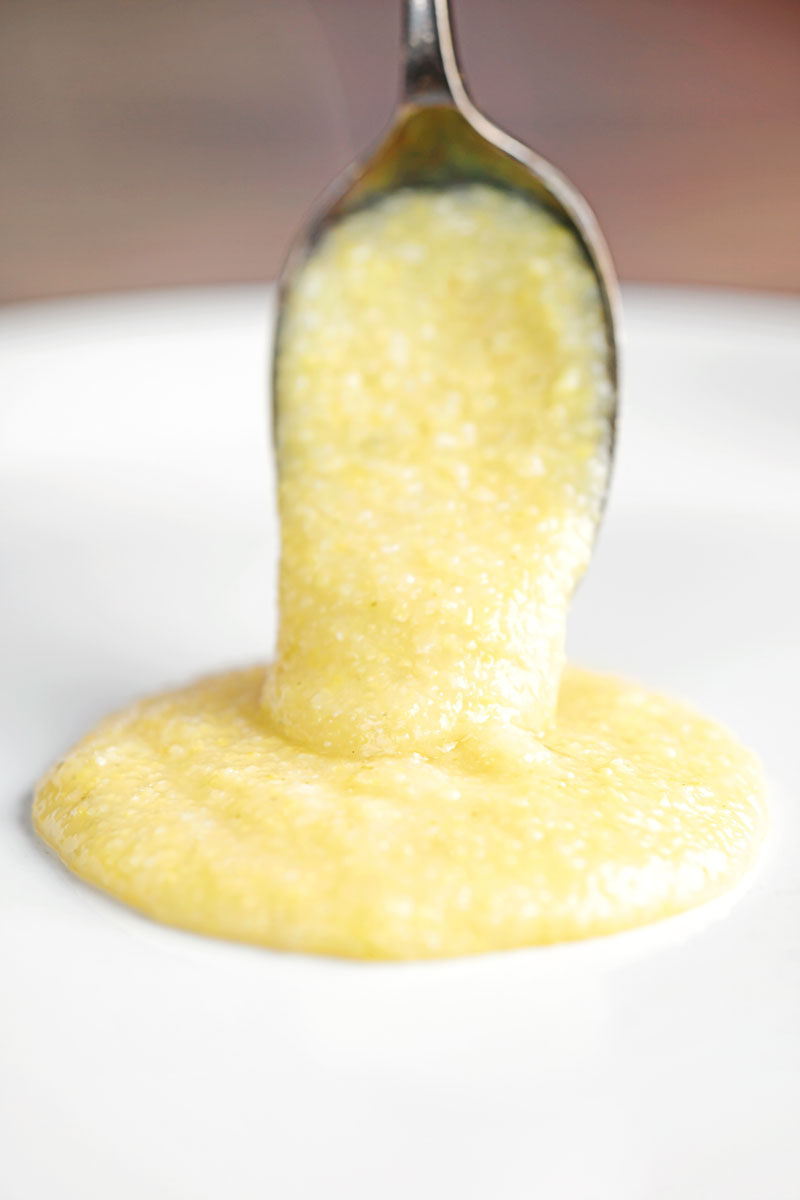 What is Polenta?
When it comes to comfort food sides dishes there are two that stand above all others as far as I am concerned, mashed potatoes and a polenta "porridge".
Polenta is essentially ground cornmeal, yup, dried sweetcorn ground up.
Slowly cooked in stock or water it forms a deliciously sweet and simple base for so many flavours.
I love the stuff, you will find it used as a side dish for many of my recipes. It is great with everything from an Italian sausage ragu to my chicken liver stew.
How to Cook Polenta.
As with most Italian food there are a million rules that surround cooking polenta.
Whether you cook it in milk, water or stock all have passionate followers and there is no right or wrong answer.
I always use water, because I always add cheese and butter at the end. Making the stock option overly salty and the milk option overly rich.
Then we have the cooking, there are some that say you must stir constantly and failure to do so means you should be shot.
There are others that say, you don't need to stir.
The truth is somewhere in the middle!
My approach involves stirring continuously for the first 3-4 minutes.
Then I'll give it a stir every 5-10 minutes ensuring that it is not sticking to the pan and adjusting the cooking temperature as needed.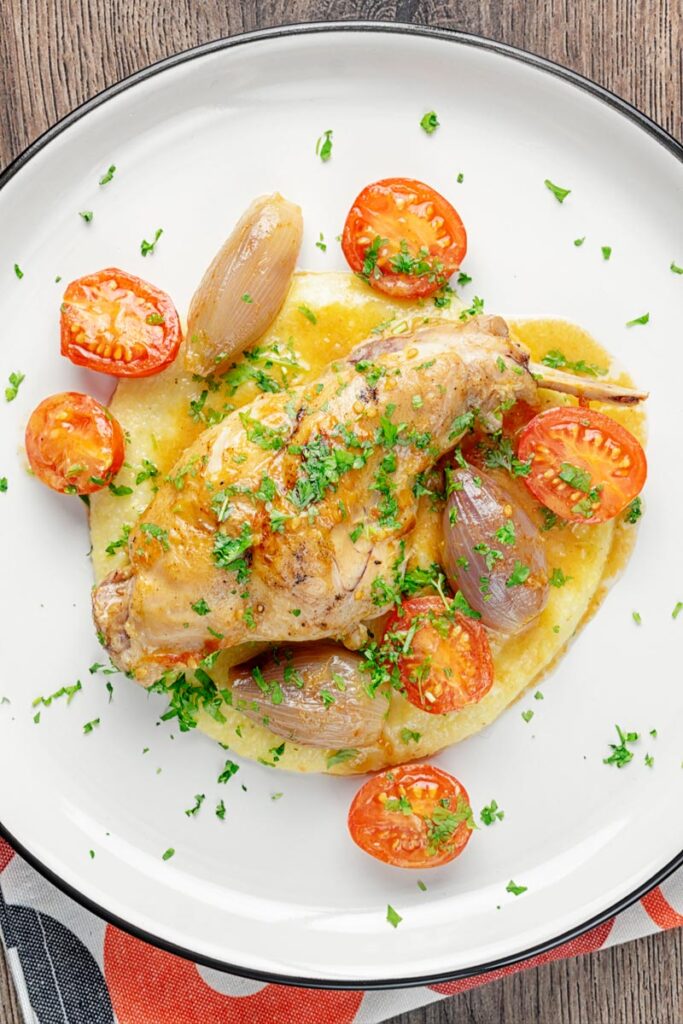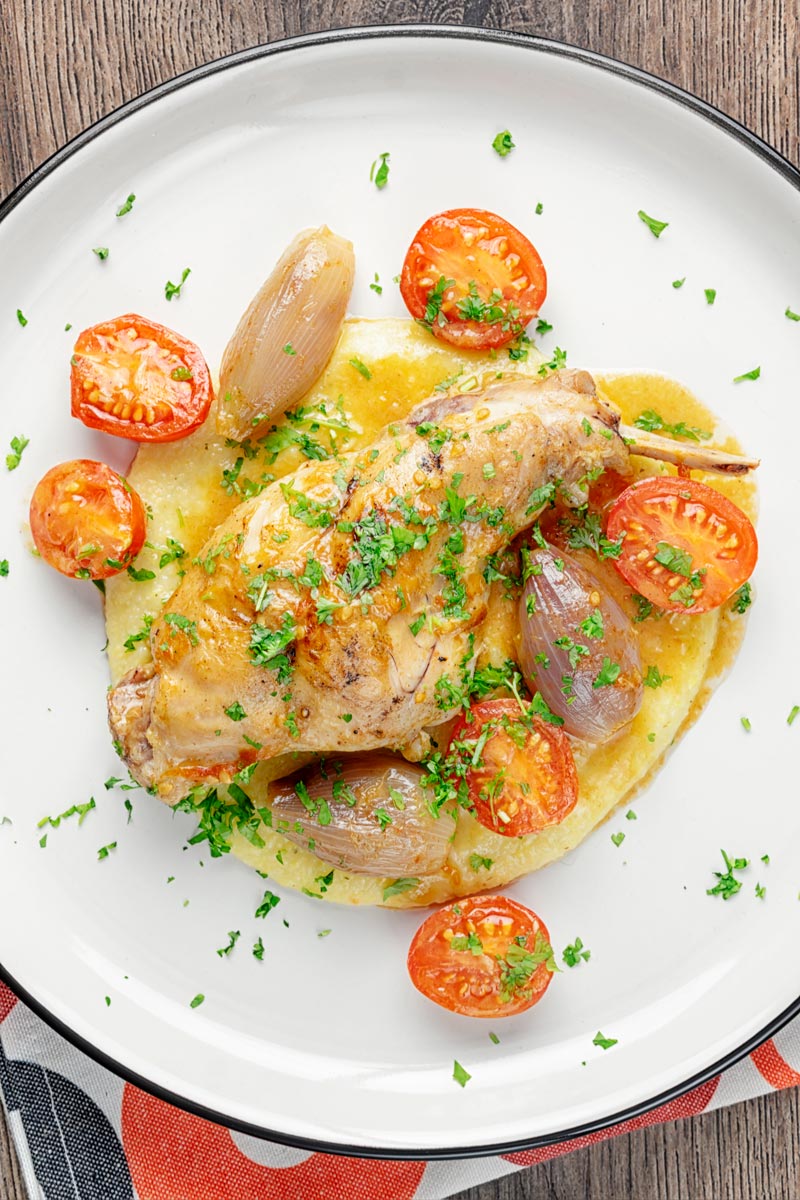 Hints and Tips.
The best start to make when cooking polenta is to avoid anything called "quick-cook polenta".
It is cooked, dried and then ground into a "flour", it is just not right. It ends up in a gloopy mess and will likely be the reason why many folk dislike polenta!
The very best advice that I have to offer is to find a brand that you like and stick with it
All polenta is ground to a slightly different size and as a result, takes different times to cook.
My brand is done after around 35-37 minutes, yours will almost certainly vary from this!
So cook it with a slow-cooked dish that is forgiving if left a little longer if this is the first time you are cooking polenta.
It is done when the grains of cornmeal are soft and cooked through but still have the slightest texture.
Another helpful hint is to buy a packet with the name cornmeal on the front rather than polenta, it will save you up to 50%.
Seriously, it is the same stuff!
Finally, the cheese… Choose something that matches the tone of the meal you are serving it with.
I will use everything from Cheddar to Gorgonzola and Gruyere to Parmesan depending on what this is partnering!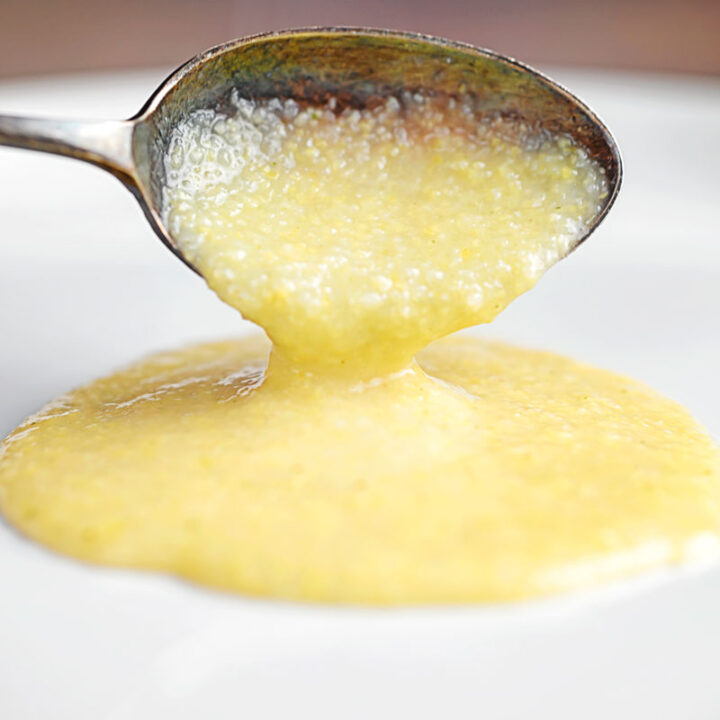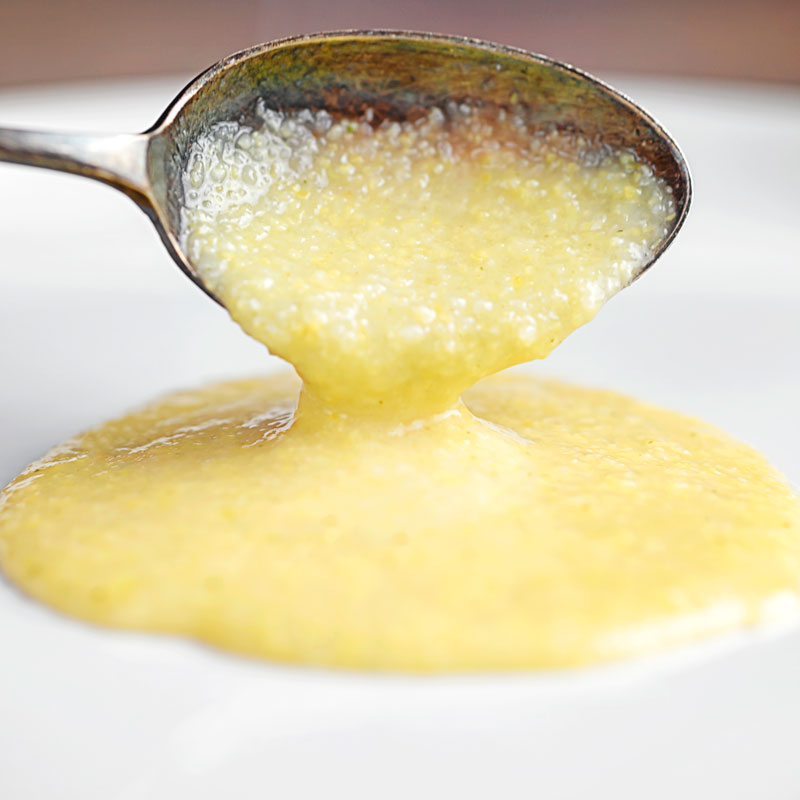 Yield:

2 Servings
Cheesy Polenta Recipe
Originally an Italian peasant dish, a cheesy polenta is the perfect side dish for anything from a ragu to cacciatore and meatballs to osso buco!
Ingredients
85 g (3 oz) Polenta
500 ml (17 floz) Water
100 g (3.5 oz) Hard Cheese
25 g (1 oz) (Butter
Salt if required
Instructions
Bring the stock to a boil.
When you have a nice boil slowly pour in the polenta whisking as you go.
Reduce the heat to a simmer and then continue to whisk every minute or so for 3-4 minutes.
Reduce the heat to low and add a lid.
Cook for 35-40 minutes stirring with a wooden spoon every 5 minutes.
When cooked remove from the heat and stir in the grated cheese and butter until it has melted.
Nutrition Information:
Yield:
2
Serving Size:
1
Amount Per Serving:
Calories:

237
Total Fat:

19g
Saturated Fat:

11g
Trans Fat:

1g
Unsaturated Fat:

6g
Cholesterol:

54mg
Sodium:

758mg
Carbohydrates:

5g
Fiber:

0g
Sugar:

0g
Protein:

12g
Calorific details are provided by a third-party application and are to be used as indicative figures only.