Instant Pot pork chops with red cabbage in a cider sauce, a simple & delicious recipe that produces beautifully juicy chops in a silky sauce.
If you get pork chops with the rind on I've also included some instructions for creating perfect crispy crackling in the oven!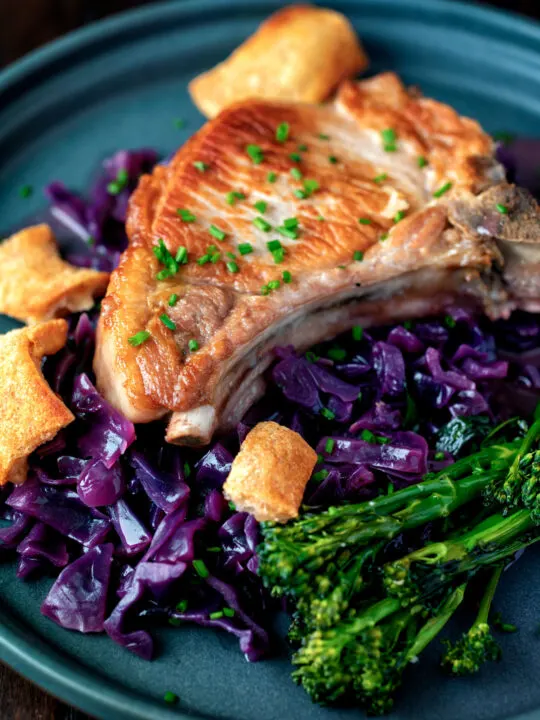 Pressure Cooker Pork Chops with Red Cabbage
It's not an overstatement to say that I have a thing for pork chops, I love them and there are more than a few recipes that demonstrate that love here!
I have everything from sweet and sour pork chops with flavours loosely based on the Chinese takeaway, Normandy pork chops with a distinctly French vibe to Harissa pork chops that play around with Moroccan flavours and a pork chop casserole built on some solid Italian flavours.
I also have some slow cooker pork chops with tomatoes and peppers for those that prefer to cook in a Crock Pot.
These Instant Pot pork chops are European in influence and are cooked in cinnamon and cider with some simply shredded red cabbage.
The nature of cooking in a pressure cooker helps keep these thick bone-in pork chops beautifully moist and juicy.
It is a simple recipe and if you have rind on pork chops then you will love my instructions for the crispy crackling!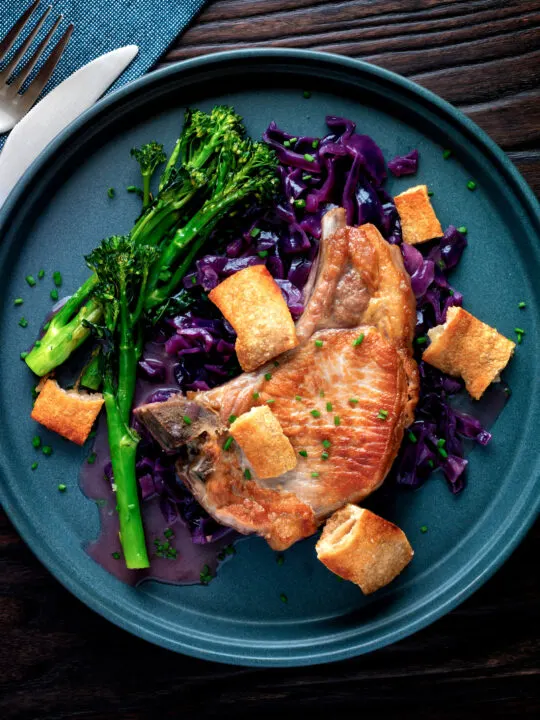 Frequently Asked Questions
Can I use thinner pork chops?
Not for this recipe no! No amount of playing with the Instant Pot timing will result in pork chops that are juicy and tender.
Can I use boneless pork chops?
Personally speaking, I would not bother! They cook really quickly on the stovetop and cooking them in the Instant Pot does not add anything.
Do I have to use cider?
No, there are a whole host of substitutes that work really quite well. You could play with a light ale, lager, white wine, sherry or even red wine at a push.

If you do not want to cook with alcohol you can just use stock or combine stock with apple or pear juice. If you are using fruit juice use just 125ml (half of a cup), and double the stock to 250ml (1cup).
Can I use white cabbage or savoy cabbage?
Yes for white cabbage, but it is not quite as good with savoy cabbage. The green leafy nature of savoy cabbage means that it cooks too quickly in the Instant pot in comparison to the pork chops.
A NOTE FOR US-BASED COOKS!
Cider here in Europe is *always* booze, which you guys refer to as hard cider.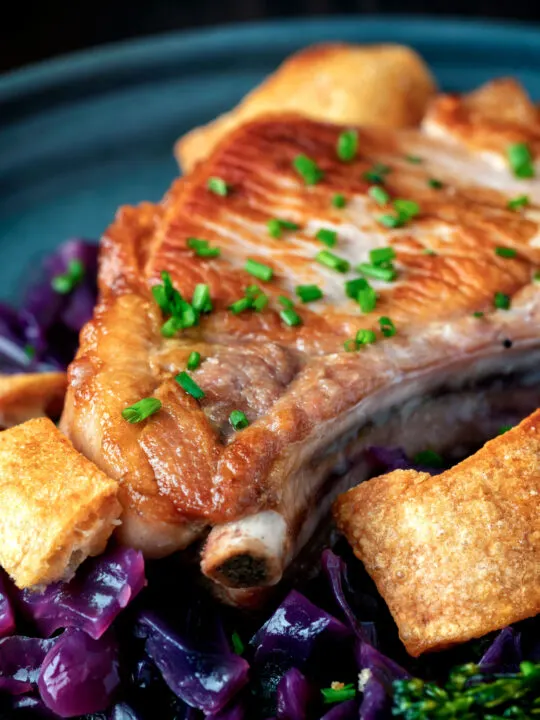 Serving Suggestions
These simple Instant Pot pork chops are crying out for some equally simple vegetables!
Now I'm a sucker for pork crackling! As a result, I always have the oven on when I am cooking these so I usually roast some vegetables in the pork fat.
This is pictured with some roast tenderstem broccoli. But they would be just as good with roast potatoes or even roast parsnips.
Mash is another great side for these chops!
However do not get tunnel-visioned, sure mashed potatoes are great but this is exceptionally good with buttery celeriac mash.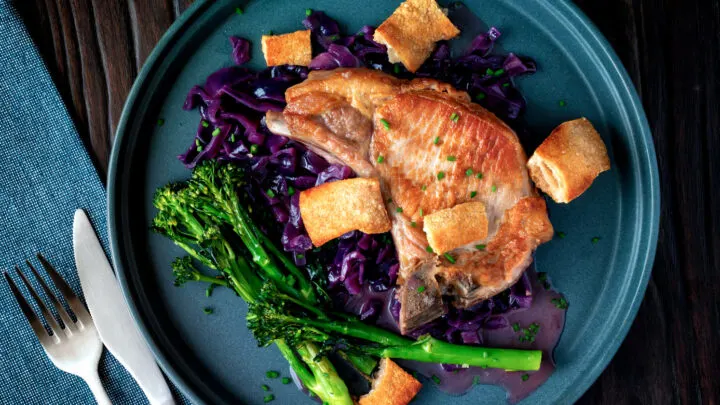 Equipment Used
I only mention specific brands of equipment if I think they make a material difference to a recipe. If you have any questions feel free to ask them in the comments section below the recipe.
Instant Pot or another pressure cooker. The timing of this recipe is optimised for the Instant Pot.
Kitchen knife.
Chopping Board.
Weighing scales and or measuring cups and spoons.
Long tongs.
Stirring and slotted spoons.
Small mixing bowl.
Oven and oven-proof frying pan if you are making the crackling.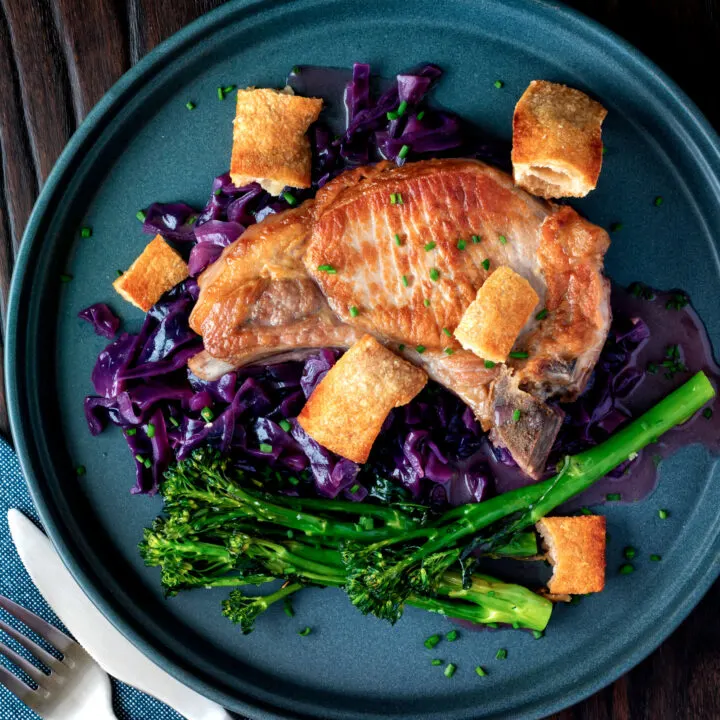 Yield:

2 Servings
Instant Pot Pork Chops Recipe with Red Cabbage and Cider
Instant pot pork chops with red cabbage, a gloriously simple dinner that delivers beautifully moist pork with an easy cider sauce.
Ingredients
2 Thick Cut Bone-in Pork Chops
2 Tbsp Cooking Oil
½ Tsp Salt
300g (3 Cups) Red Cabbage
125ml (½ Cup) Chicken Stock
250ml (1 Cup) Dry Cider or Hard Cider in the US
1 Tbsp Brown Sugar
1 Cinnamon Stick
½ Tsp Black Pepper
30g (2 Tbsp) Softened Butter
1 Tbsp Plain Flour
For the Crispy Crackling (Optional):
Rind from the Pork Chop
1 Tsp Cooking Oil
1 Tsp Salt
Instructions
If you want to make crispy crackling and you have rind on pork chops take a sharp knife and cut off the pork rind. Trim up the fat leaving around 5mm (⅕") on the pork chop and 3-5mm on the rind.
Rub the pork rind with the oil and then season generously with salt, it needs a lot of salt!
Heat a frying pan over a medium high heat and add the pork rinds, skin side down and cook for 5-7 minutes. You will need to stand there and press down the rind to stop it curling and ensure that it browns well.
Flip the pork rind and then cook the fat side for 2 minutes, then transfer to an oven and cook skin side up for 30 minutes at 200°C or 395°F.
Shred the cabbage into 5mm strips.
Season the pork chops with salt.
Set the Instant Pot to saute mode at the high setting and when it says hot add the pork chops one at a time and sear well on both sides. This will take 2-3 minutes per side per chop. Then sear off the fat by holding the chop vertically with some tongs, for another minute or two. Set aside the pork chops.
Pour the cider and chicken stock into the pot and then stir scraping the base of the pot to ensure that you are removing any crispy bits.
Turn off saute mode then stir in the brown sugar, cinnamon stick and black pepper.
Add the red cabbage, then place the pork chops on top of the cabbage.
Pop on the lid and seal it, cook on high pressure for 4 minutes, then allow the pot to rest for 5 minutes before releasing the pressure.
Whilst the pork is cooking mash the softened butter with the flour.
Remove the pork chops and set aside to rest, then remove the cabbage with a slotted spoon and place in a bowl covered with foil to keep warm.
Turn the Instant Pot to saute mode on the high setting and wait for the juices to come to a rapid boil.
Once the sauce is boiling whisk in the butter and flour mix and cook for 2-3 minutes until the sauce begins to thicken.
Notes
Timings and calorific value do not include the crispy crackling.
Nutrition Information:
Yield:
2
Serving Size:
1
Amount Per Serving:
Calories:

734
Total Fat:

45g
Saturated Fat:

14g
Trans Fat:

1g
Unsaturated Fat:

25g
Cholesterol:

166mg
Sodium:

904mg
Carbohydrates:

29g
Fiber:

5g
Sugar:

19g
Protein:

45g
Calorific details are provided by a third-party application and are to be used as indicative figures only.