Getting one pot meals in a pressure cooker right can be a challenge and this InstantPot Pork Chop with Red Cabbage and Prunes recipe is all right and some!
Pork Chop with Red Cabbage
This Instant Pot pork chop recipe became a little but of an obsession for me because I love pork which is good job really as it is the ubiquitous meat in these parts so I embarked on a few experiments working on a one pot Instant Pot Pork Chop recipe. This is the result of those experiments and it is delicious however I have to say size really matters when it comes to the pork in this dish.
Skinny ass pork chops are utterly pointless and will turn into shoe leather by the time you have got the red cabbage cooked. So get out there and buy yourself a couple of double pork chops (two bones thick), around 3-3.5 cm thick and you should be enjoying some perfectly cooked pork with your red cabbage.
I consider this recipe a personal win because when I met my wife many moons ago she was a real picky eater, in fact when I made her the first meal I cooked for her I asked what she liked and was informed 'I like spaghetti, but don't like noodles, I don't like tomatoes or onions but love garlic'.
Over the years we have eaten a whole host of foods together and now the things on her 'don't like' list are there because she genuinely does not like them not because she thinks she does not like them. However prunes were a lingering question, that I cajoled her into trying in this Instant Pot Pork Chop recipe.
It was conceived with the idea of dried fruit and nuts in mind and I was shocked when I suggested prunes and she said, go on then.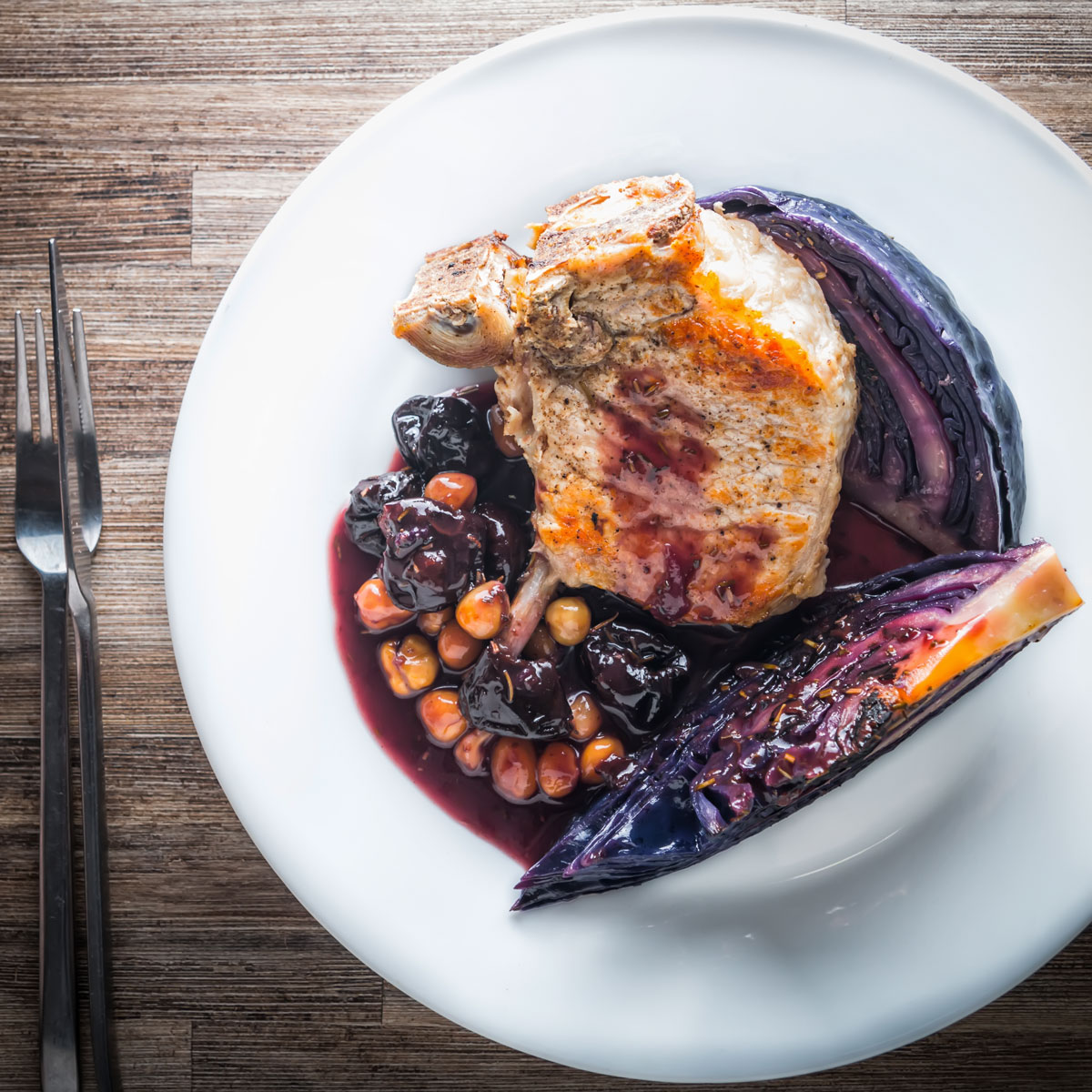 Julies dislike of prunes began after I met her and our first trip to Budapest together back in 2006, we came for a week over Valentines and I booked a fancy pants restaurant for Valentines day. So there we are in one of Budapests nicer restaurants surrounded by other couples and candles and all the other schmaltz that cherub day inspires.
The starters were delicious and out came the mains, Julie had ordered a beef ragu, in went the fork out came what she did not realise was a juicy plump prune.
Well there was a reaction a physical and verbal 'yuck' was expelled much to the shock of both the waiter and the other diners.
Now we both found it incredibly funny and giggled endlessly. Mostly it was the surprise I guess expecting slow cooked beef and getting a plump prune was a surprise, but from that day to the development of this recipe she has refused to eat prunes. I digress, in short my wife was traumatised by a prune and this InstantPot pork chop with red cabbage, prunes and hazelnut recipe fixed it.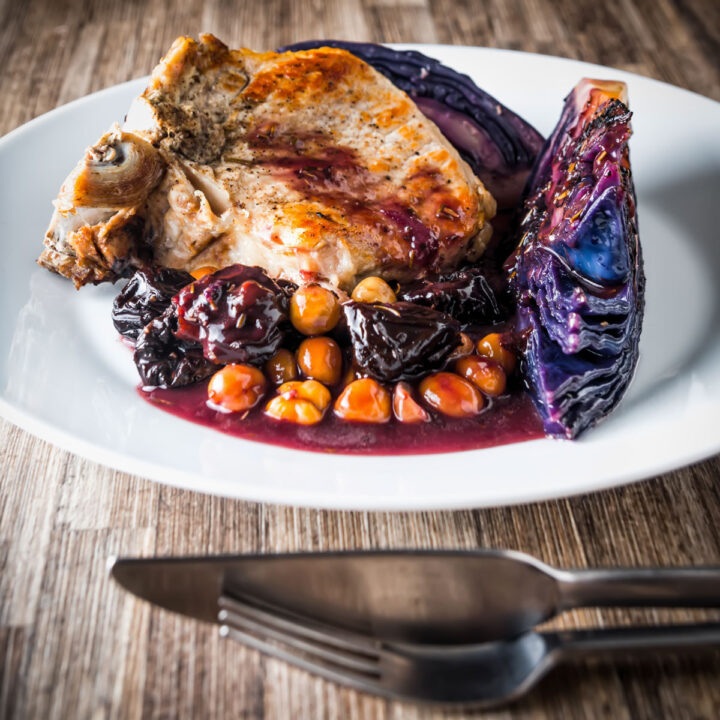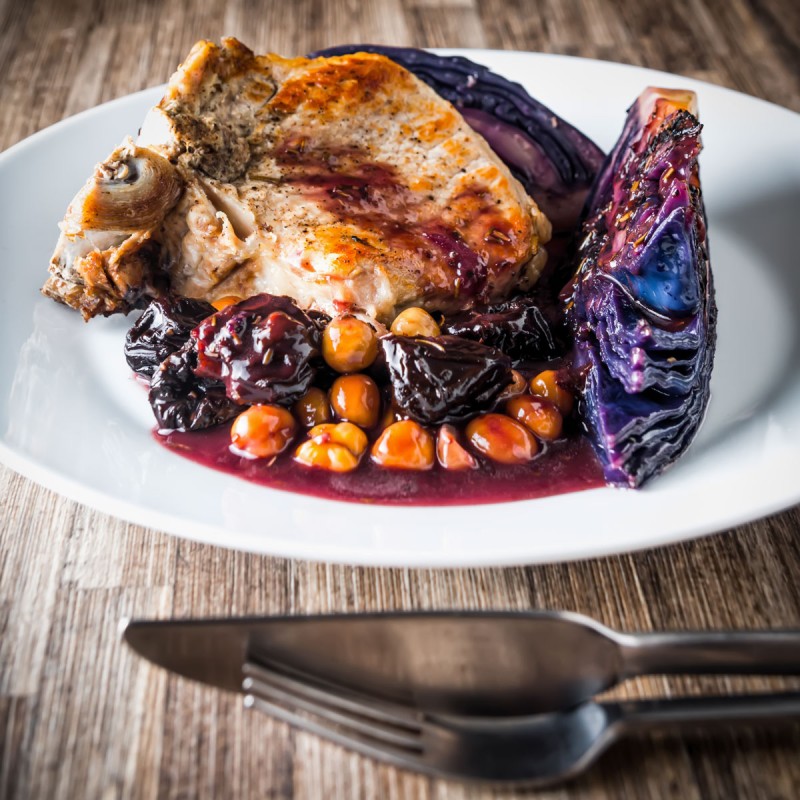 Yield:

2
InstantPot Pork Chop with Red Cabbage and Prunes
Getting one pot meals in a pressure cooker right can be a challenge and this InstantPot Pork Chop with Red Cabbage and Prunes recipe is all right and some!
Ingredients
1/2 Small Red Cabbage, Tough outer leaves removed and cut into 4 wedges
2 Double Pork Chops
30 g Hazelnuts
150 ml Cider
75 g Prunes
1 Tsp Dried Rosemary
Salt and Pepper
Cooking Oil, Neutral in flavour
50 g Butter
Instructions
Heat a frying pan over a high heat with a small drop of cooking oil, when the pan is shimmering hot add the cabbage wedges and sear on the cut sides for about 2 minutes a side.
Then transfer to the InstantPot with a trivet in the base.
Sprinkle over the rosemary, prunes and hazelnuts.
Now season your pork chops with salt and pepper and repeat the searing process again for around 2 minutes per side before placing on top of the cabbage wedges.
Now deglaze the frying pan with the cider and pour over the chops in the InstantPot, seal the lid and cook on high pressure Manual for 6 minutes with a 5 minute natural pressure release.
When released remove the cabbage and pork from the InstantPot and set them aside.
Set your instant pot to saute and allow the sauce to reduce by half before whisking in the butter and serving.
Nutrition Information:
Yield:
2
Serving Size:
1
Amount Per Serving:
Calories:

834
Total Fat:

54g
Saturated Fat:

20g
Trans Fat:

1g
Unsaturated Fat:

29g
Cholesterol:

186mg
Sodium:

437mg
Carbohydrates:

45g
Fiber:

8g
Sugar:

27g
Protein:

46g