Beef chow mein, a popular Chinese takeaway noodle dish that is really easy to cook at home & way quicker than your average delivery driver!
A little rump steak goes a long way in this vegetable-heavy Chinese noodle recipe that cooks in 10-12 minutes. Budget about the same for prep and you have a really quick and tasty fakeaway!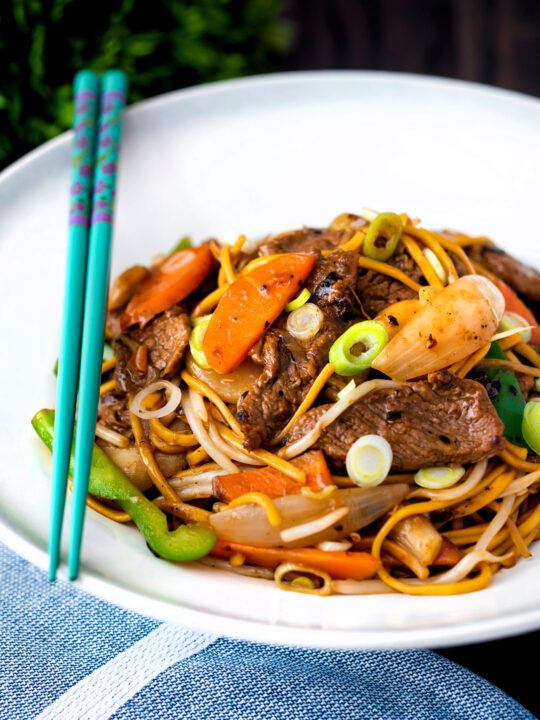 Chinese Takeaway Style Beef Noodles
I'm rather fond of a good noodle stir fry and chow mein is a long time favourite of mine.
This beef chow mein joins the likes of chicken chow mein, a vegetarian mushroom chow mein and even a hoisin duck chow mein!
At it's heart a chow mein is a noodle stir fry with egg noodles at its heart and a sauce rich with soy sauce and oyster sauce.
This beefy variant uses thinly sliced beef steak and features plenty of fresh beansprouts and water chestnuts.
Even at a leisurely pace, the ingredients take less than 15 minutes to prepare. It also cooks in a shade over 10 minutes which means that this Chinese takeaway is way quicker than the delivery driver!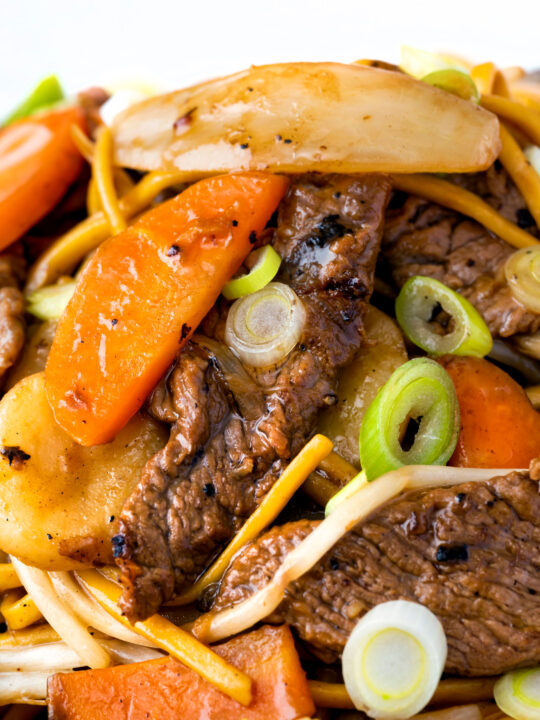 Frequently Asked Questions
What sort of beef steak should I use?
I personally favour rump steak because it has a good balance of tenderness and flavour.

But you cold use fillet, sirloin, flank or skirt. These are listed in ascending order of flavour and descending order of tenderness.
Can I use different vegetables?
Absolutely, chuck in anything that you have at home. Other options that are particularly good include, fine beans, sugar snap peas, mangetout, runner beans, cabbage, broccoli and cauliflower.
Can I use straight to wok noodles?
Yes, but I have found that these vary in quality massively. Some are nothing short of useless, others are great, if you have a brand you trust use them.

I personally favour dried egg noodles and they only add a few minutes of prep time to the dish.
Can I use rice or glass noodles?
They are not traditional in a chow mein, however, I am a pluralist when it comes to food, use what you like. They are not my "cup of tea", but they work perfectly well!
Will this save?
Not really, cooling and reheating this means that the vegetables will go soggy and the noodles will turn to mush. Definitely not a pleasant experience as far as I am concerned.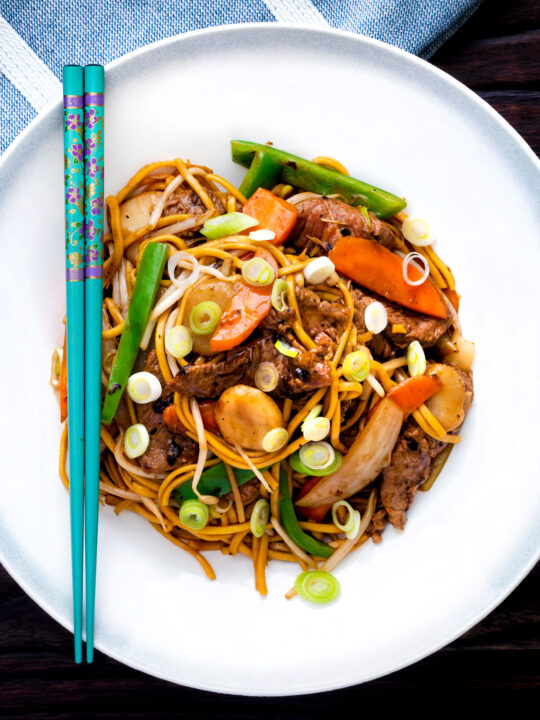 Serving Suggestions
For me, a chow mein is a complete meal in a bowl and this beef chow mein is no different.
However, that does not mean that greedy old me leaves it there!
A Chinese takeaway for me means starters, it's probably the only time I do this at home but I love em.
I tend not to go full-on glutton, but I'll often make something like hot and sour soup or my Chinese chicken and sweet corn soup.
If I am out to impress then I opt to make some Chinese spare ribs.
If it is just myself and my wife then we make some sesame prawn toast, which I adore!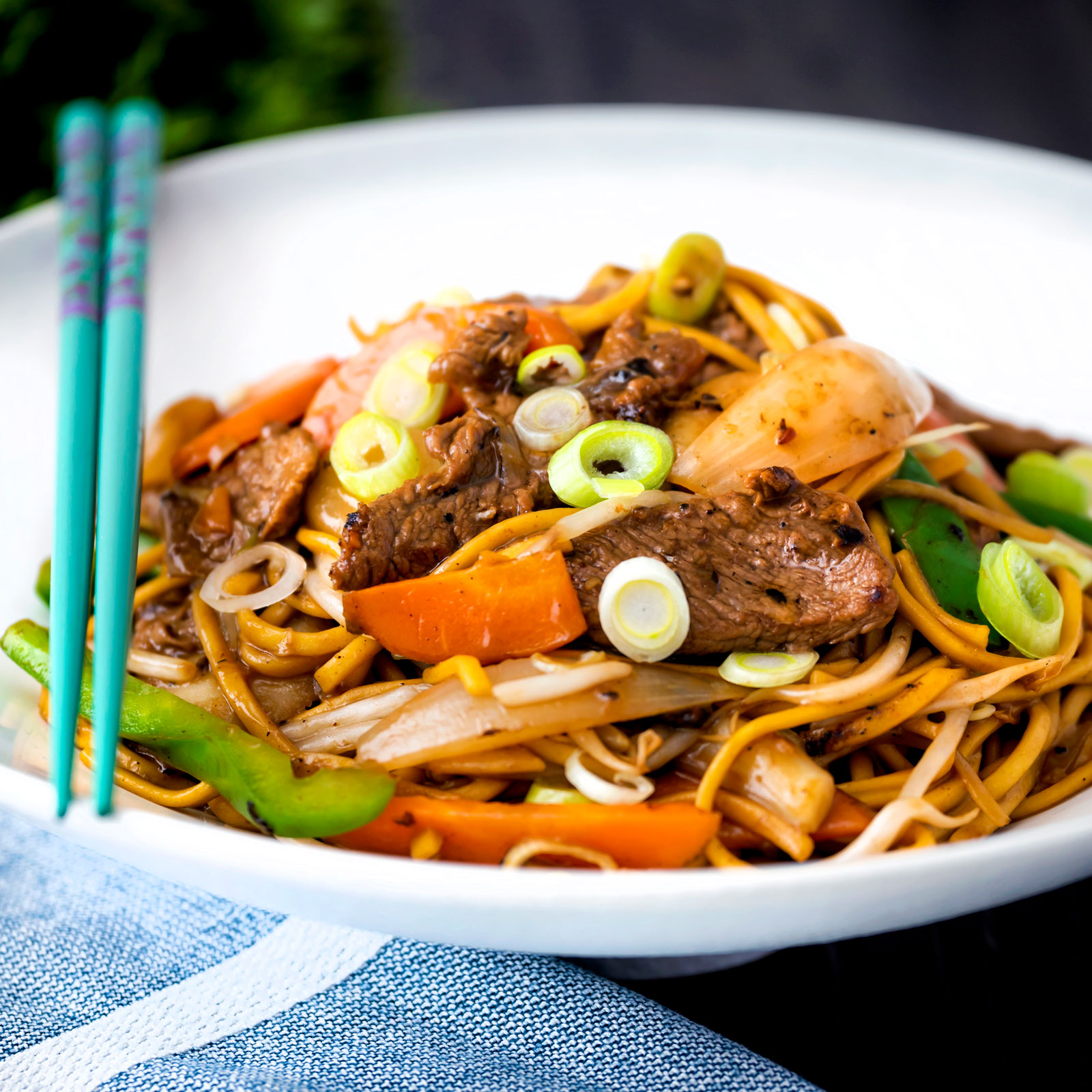 Yield:

2 Servings
Beef Chow Mein Recipe
Beef chow mein has been one of my goto dishes to order from a Chinese takeaway for as long as I can remember, my easy homemade version tastes just as good, is relatively frugal and is so quick to make!
Ingredients
250g (9oz) Beef Steak (I use Rump)
1 Tbsp Cornflour
1 Tbsp Water
1 (100g) Medium Onion
1 (100g) Medium Carrot
1 Green Pepper
2 Garlic Cloves
20g (½ Thumb sized Piece) Ginger
3 Spring Onions
70g (½ Cup) Tinned Water Chestnuts
70g (½ Cup) Tinned Bamboo Shoots
150g (1 ½ Cups) Beansprouts
2 Tbsp Oyster Sauce
2 Tbsp Dark Soy Sauce
3 Tbsp Light Soy Sauce
1 Tbsp Shaoxing Wine
1 Tsp Sesame Oil (Plus extra for drizzling)
1 Tsp Light Brown Sugar
2 Bundles (~125g) Dried Egg Noodles
2 Tbsp Cooking Oil
Instructions
Cut the steak in half lengthways then slice it into strips 2-3mm thick.
Mix together with the water and then pour it over the beef and allow it to marinate whilst you prepare the remaining ingredients.
Peel, top and tail the onion and then cut it into 8 wedges.
Cut the carrot in half lengthways and then cut it into 2-3mm thick slices at a 45 angle to the carrot.
Cut the pepper in half, remove the seeds and stalk, and then cut the flesh into 5mm thick strips.
Peel the garlic cloves an then slice them as thinly as you can.
Peel the ginger and then cut it into batons as thinly as you can.
Slice the spring onion at a 45 angle into strips 1-2mm thick.
Mix together the soy sauces, oyster sauce, shaoxing wine, brown sugar and sesame oil in a bowl.
Cook the noodles as per the instructions on the packet and then drain and refresh on cold water.
Heat a wok over a fiercely high heat.
Toss in the onion and carrot and stir fry for 1 minute.
Add the beef, garlic and ginger and stir fry for another 1 minute.
Add the green pepper, water chestnuts and bamboo shoots and stir fry for 30 seconds.
Throw in the beansprouts and drained noodles and stir fry for 1 minute.
Pour in the sauce and cook for 1 minute.
Toss through most of the spring onions keeping a few back to sprinkle on top as a garnish.
Finally, drizzle over a little more sesame oil to serve.

Nutrition Information:
Yield:
2
Serving Size:
1
Amount Per Serving:
Calories:

726
Total Fat:

41g
Saturated Fat:

11g
Trans Fat:

0g
Unsaturated Fat:

26g
Cholesterol:

139mg
Sodium:

3101mg
Carbohydrates:

46g
Fiber:

6g
Sugar:

10g
Protein:

42g
Calorific details are provided by a third-party application and are to be used as indicative figures only.