This chicken noodle stir fry is also known as "lo" or "chow mein" depending on where you are from, it takes just 20 minutes to cook & tastes fab.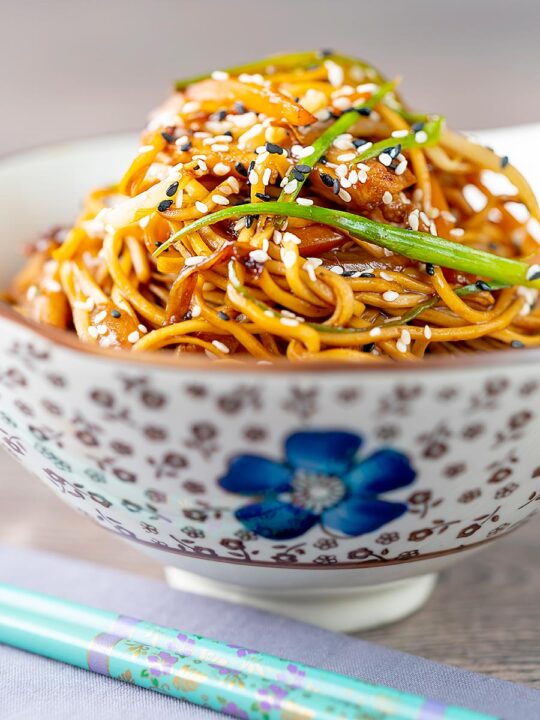 Fakeaway is Quicker than Takeaway!
I adore working on meals like this classic Chinese takeaway inspired chicken noodle stir fry.
I have lots of them ranging from the classic Kung Pao chicken, to the glorious duck breast stir fry with fresh plums or spicy salmon stir fry and a fantastic honey chilli chicken recipe.
They always taste great and cook in less time than it takes to choose and order from your favourite delivery service.
It is also a boat load cheaper! This recipe uses just 200g or 7oz of chicken thighs for a two-person serving.
Then it gets a big hit of a load of vegetables, essential in any good chow mein-inspired recipe.
Depending on where you are from you will call this a chicken chow mein or chicken lo mein.
If you are feeding vegetarians then fret not I have a mushroom chow mein that is every bit as good as this. I also have a beef chow mein and a duck duck chow mein!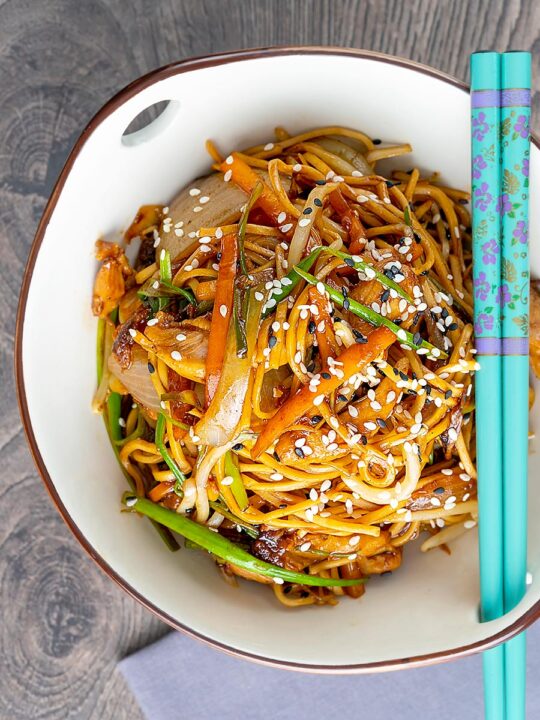 What is the Difference Between Lo Mein and Chow Mein?
Strictly speaking a chow mein has 'crispy' fried noodles whereas a lo mein has soft noodles.
But I am British and I have eaten hundreds of chow mein dishes from across the UK and indeed Europe.
Never once has my chow mein come with crispy noodles!
So as I ponder my confusion, I draw the conclusion that I really don't care and refer to this recipe as a chicken noodle stir fry…
It is just easier for us all!
This recipe classically uses egg noodles, and to be honest I usually only use egg noodles for anything.
But if glass noodles are your thing they can be used in this recipe. Just cook them so they have a slight bite, then refresh in cold water.
Finally, throw them in at the end as I do in the instructions.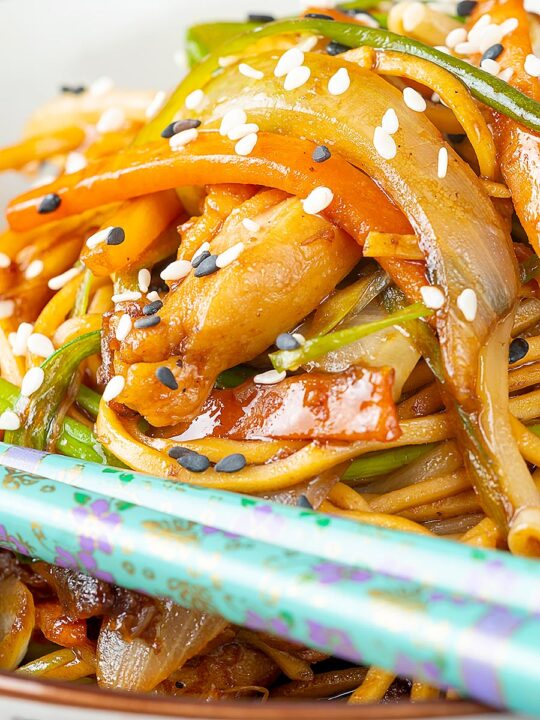 Recipe Variations and Substitutions.
This recipe is wonderfully flexible and can be shifted to whatever you have in the cupboard.
The main onion/carrot combination is a good base. But if you don't have carrots simply double the onions and add a little more (25%) sugar.
Then you can let your imagination run wild I usually go with spring onions and beansprouts.
But I avoid beansprouts that are in a jar or can, I find them too acidic. If you rinse them they get a little better but I'd still prefer fresh.
A good substitute for beansprouts are bamboo shoots which are great from a jar or tin.
Water chestnuts are terribly difficult to find here and I love them and would definitely add them if they were available.
But get creative, green beans or sugar snap peas work really well. Baby sweetcorn if that is your vibe can be thrown in at the start is also good.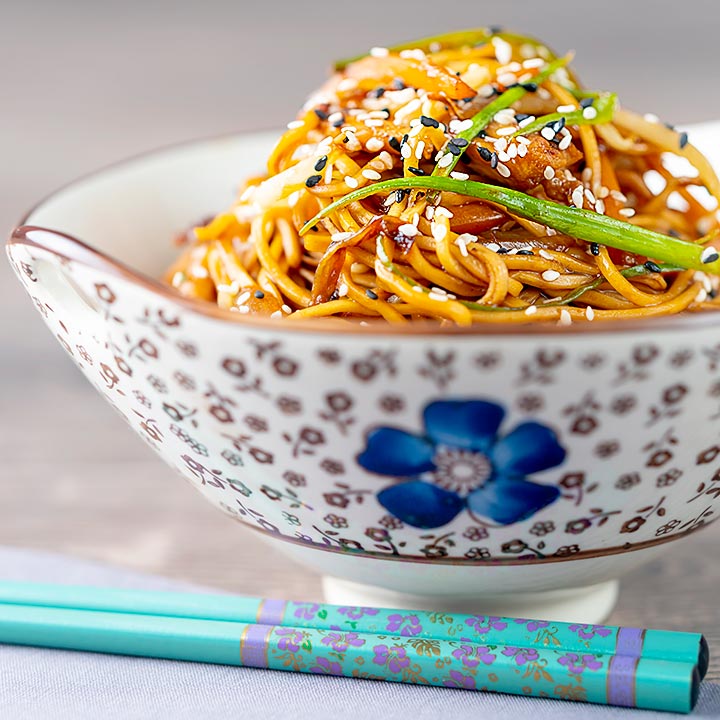 Yield:

2
Chicken Noodle Stir Fry Recipe
This chicken noodle stir fry or lo mein or chow mein recipe takes just 20 minutes from start to finish and tastes fantastic!
Ingredients
200 g Chicken Thigh
100 g Carrot
60 g Spring Onion
75 g Onion
2 Garlic Cloves
75 g Beansprouts
75 g Egg Noodles
1 Tbsp Light Soy Sauce
1 Tbsp Dark Soy Sauce
1 Tbsp Oyster Sauce
1 Tbsp Shaoxing Wine
1 Tsp Light Brown Sugar
1 Tbsp Cornflour
1 Tbsp Cooking Oil
1 Tbsp Sesame Oil
Instructions
Mix together the cornflour with 1 tablespoon of water.
Cut the chicken thighs into 5mm thick long strips and pour over the cornflour mix.
Cut the carrot and spring onions into 7.5cm lengths and then shred into batons as finely as you can cut them.
Peel then top and tail the onion and then cut it in half from root to tip.
Slice the onion halves into 5mm thick slices.
Slice the garlic cloves as finely as you can.
Cook the noodles as per the instructions on the packet and refresh in cold water.
In a separate bowl mix together the soy sauces, Shaoxing wine, oyster sauce and brown sugar and set aside.
Heat a wok over a fierce high heat and when shimmering add the cooking oil.
Add the onion and carrot and stir fry for 2 minutes.
Throw in the chicken and garlic and stir fry for 3 minutes.
Add the spring onions and beansprouts and cook for another 60 seconds.
Add the drained noodles and the sauce and stir fry for a final 60 seconds.
Remove from the heat and add the sesame oil before serving.
Nutrition Information:
Yield:
2
Serving Size:
1
Amount Per Serving:
Calories:

462
Total Fat:

29g
Saturated Fat:

6g
Trans Fat:

0g
Unsaturated Fat:

22g
Cholesterol:

139mg
Sodium:

1442mg
Carbohydrates:

24g
Fiber:

3g
Sugar:

6g
Protein:

28g
Calorific details are provided by a third-party application and are to be used as indicative figures only.