Chicken chow mein is a quick & easy Chinese fakeaway recipe that is cheaper & quicker than your favourite takeaway and it tastes glorious.
When I say quick, this dish will go from your fridge to your table in around 20 minutes, making it much quicker than those delivery apps!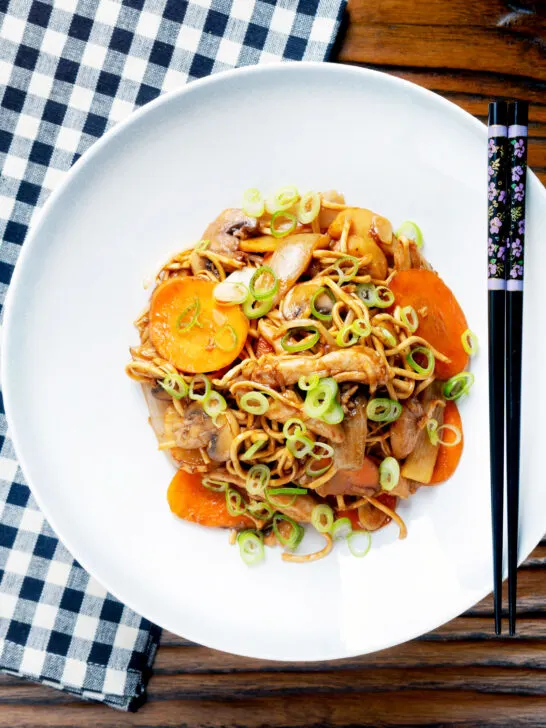 Chinese Takeaway Style Chicken Noodle Stir Fry
Chicken chow mein is arguably the UK's most popular Chinese takeaway main course and I might have a wee fondness for it myself.
When I say a fondness, I mean I love the stuff and that is reflected on my site!
I have recipes that range from beef chow mein to a vegetarian mushroom chow mein and slightly less common duck chow mein and Singapore chow mein recipes!
Like most of my stir fry recipes, this is wonderfully quick and really easy to cook at home!
All you need to do is chop a load of veggies, prepare your noodles and mix a sauce, then it over to the wok.
Get that thing as hot as you can, then throw in the ingredients keeping everything moving all of the time and 10 minutes later your chow mein is ready to eat!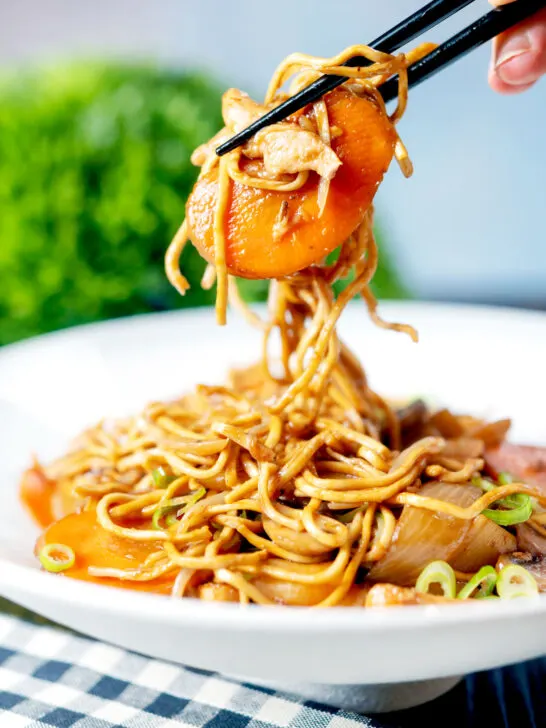 Frequently Asked Questions
Do I have to use egg noodles?
No, but they are the most common type of noodles used in British Chinese takeaway style chow mein dishes.
Can I use straight-to-wok noodles?
Yes, although choose wisely, some of them are awful, I picked up a packet to test last week and they were all chopped up to lengths around 5-7cm long. Which let's face it makes them very un-noodly!

Fresh noodles, which are usually kept near the vegetable aisle in British supermarkets are a better choice.

I usually use dried noodles because they sit in the cupboard for months and they are really convenient.
Can I change the vegetables?
Yes, throw in whatever you have in your vegetable rack or in the fridge, everything from peppers to cabbage and broccoli to sugar snap peas work well.
Can I use beansprouts in a jar?
You could, although I would personally rather leave them out than use them.

Don't skip the bamboo shoots and water chestnuts though, they make this dish as far as I am concerned!
Can I omit the MSG?
Yes, but I would urge you not to, it pushes this recipe over the top in terms of flavour.

I spent years omitting it from my Chinese takeaway inspired recipes, I was foolish and no longer make that mistake!

Grab some, keep it on the shelf and leverage its magical qualities in your food!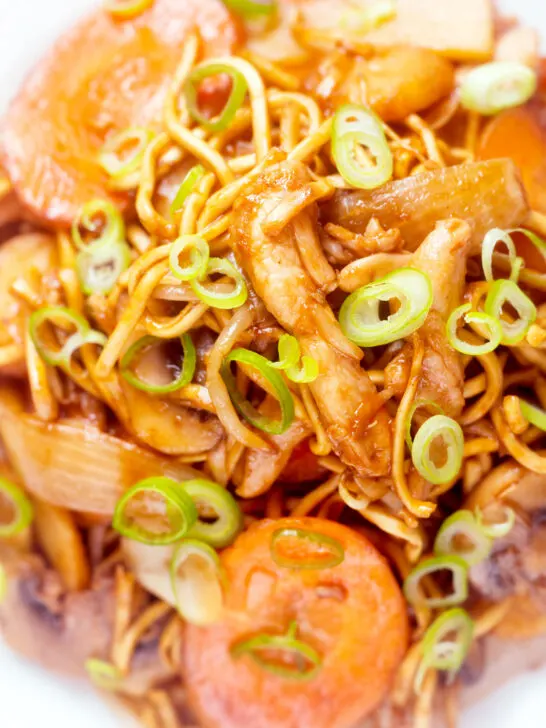 Serving Suggestions
Chicken chow mein is a complete meal on most Chinese takeaway menus and I view it the same way and don't serve it with a side.
That doesn't mean that I have no suggestions because I'm a greedy kinda chap and love serving this with starters!
Sometimes I go with soup and add either a hot and sour soup or my Chinese chicken and sweetcorn soup.
Another firm favourite, if I have planned far enough ahead, would be some Chinese spare ribs.
If I wanted to go a little lighter then I would add some prawn toast or some crispy egg rolls and of course, some prawn crackers.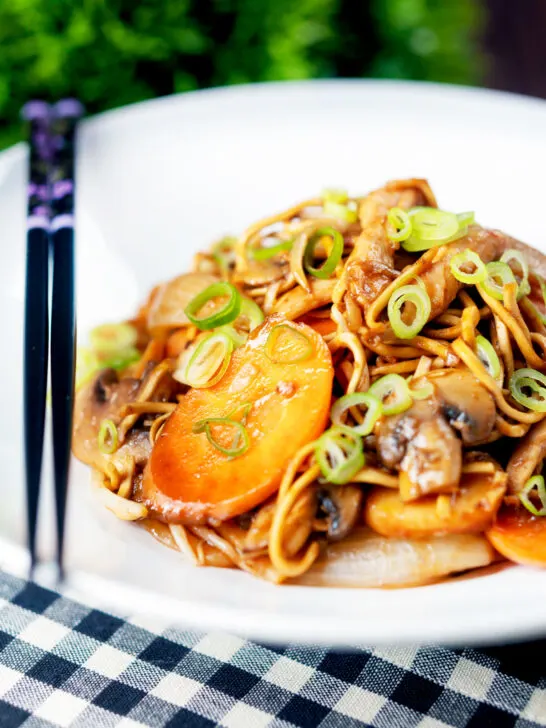 Equipment Used
I only name-check brands of equipment if I think that they make a material difference to a recipe. But if you have any questions feel free to ask them in the comments section below the recipe.
Wok
Stovetop.
Small-medium mixing bowl.
Stirring and serving spoons.
Chopping board.
Kitchen knife.
Weighing scales and or measuring cups and spoons.
Equipment to cook the noodles. This will depend on the noodles.
Sieve or colander to drain the noodles.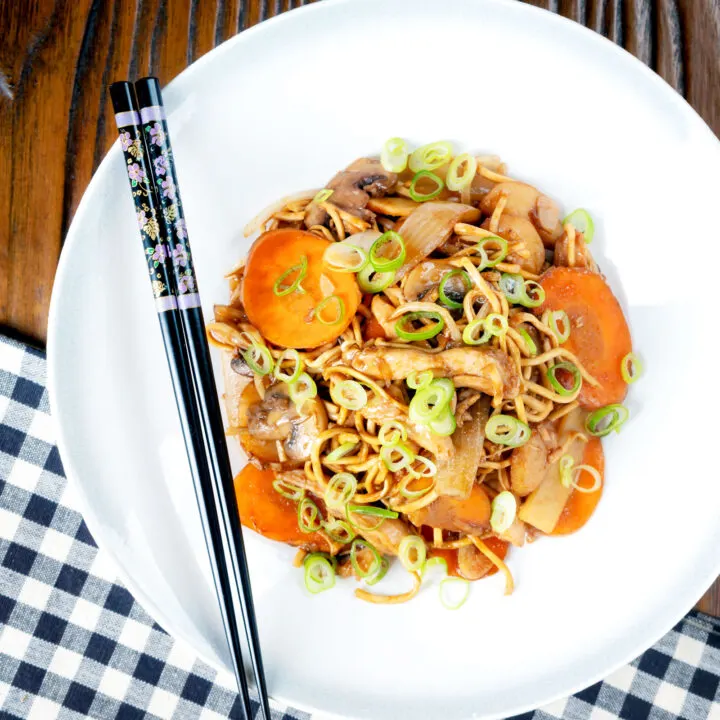 Yield:

2 Servings
Homemade Chicken Chow Mein Recipe
My take on the British Chinese takeaway classic dish chicken chow mein is supremely easy and quick to cook and it tastes just as good as your favourite takeout spot!
Ingredients
250g (9oz) Chicken Thighs (Boneless and Skinless)
1 Tbsp Cornflour
1 Tbsp Water
1 (100g) Medium Onion
1 (100g) Medium Carrot
150g (1½-2 Cups ) Mushrooms
70g (½ Cup) Tinned Water Chestnuts
70g (½ Cup) Tinned Bamboo Shoots
150g (1½ Cups) Beansprouts
2 Garlic Cloves
20g (½ Thumb sized Piece) Ginger
2 Tbsp Oyster Sauce
2 Tbsp Dark Soy Sauce
3 Tbsp Light Soy Sauce
1 Tbsp Shaoxing Wine
1 Tsp Sesame Oil
1 Tsp Light Brown Sugar
⅛ Tsp MSG
2 Bundles (~125g) Dried Egg Noodles
2 Tbsp Cooking Oil
Instructions
Prepare the noodles as per the instructions on the packet, then refresh them in cold water.
Cut the Chicken thighs into strips 3-5mm (⅛-¼") thick.
Mix together the water and cornflour in a medium bowl, add the chicken and allow it to marinate whilst you prepare the remaining ingredients.
Top and tail the onion, peel it and then cut it into 8 wedges.
Cut the carrot into 2-3mm (⅛") thick slices at a 45 angle to the carrot.
Cut the Mushrooms into 5-6mm (¼") thick slices
Peel the garlic cloves an then slice them as thinly as you can.
Peel the ginger and then cut it into batons as thinly as you can.
Mix together the oyster sauce, both types of soy sauce, Shaoxing wine, sesame oil, brown sugar and MSG.
Heat a wok over a fiercely high heat and when it is hot add the cooking oil.
Toss in the onion and carrot and stir fry for 1 minute.
Throw in the sliced mushrooms and stir fry for another minute.
Add the chicken, garlic and ginger and stir fry for another 1 minute.
Add water chestnuts and bamboo shoots and stir fry for 30 seconds.
Throw in the beansprouts and drained noodles and stir fry for 1 minute.
Pour in the sauce and cook for 1 minute.
Nutrition Information:
Yield:
2
Serving Size:
1
Amount Per Serving:
Calories:

653
Total Fat:

36g
Saturated Fat:

7g
Trans Fat:

0g
Unsaturated Fat:

28g
Cholesterol:

178mg
Sodium:

3266mg
Carbohydrates:

47g
Fiber:

7g
Sugar:

10g
Protein:

40g
Calorific details are provided by a third-party application and are to be used as indicative figures only.