Chicken Lo Mein is a perennial takeaway favourite, my fakeaway version is fit for eating well before the delivery guy can get to you!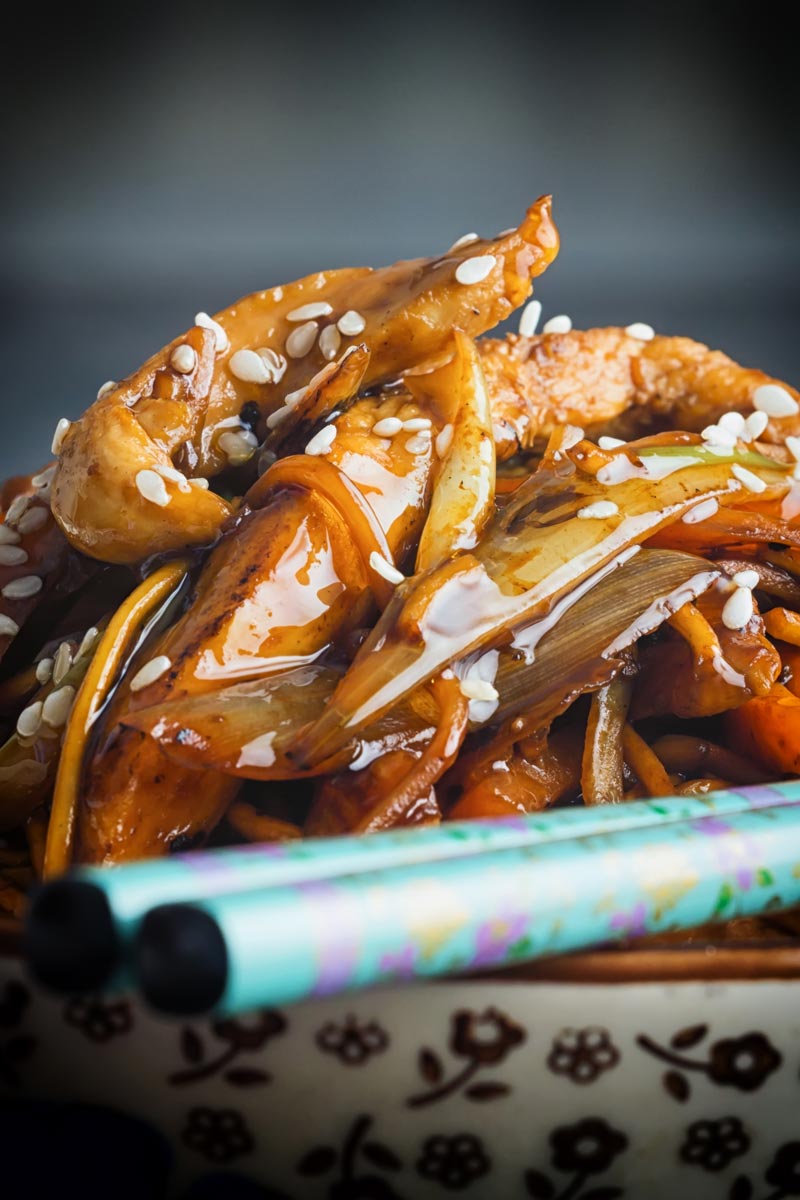 Chicken Lo Mein!
It has been an age since I did a Friday fakeway stir fry here on Krumpli… So here we are chicken lo mein!
One of the most popular Chinese takeaway recipes and just like most Chinese takeaway recipes they vary greatly.
My version goes heavy on carrots and onions to really pad out a dish that uses just a little chicken.
There is just 100g of chicken per person in this recipe. It is a technique I use in a lot of my stir fry recipes.
Lots of vegetables really help stretch meat a long old way in a stir fry. You still get all of the flavour at a fraction of the cost.
That makes them a perfect cheaper meal and let's face it, it is exactly what your local takeaway does!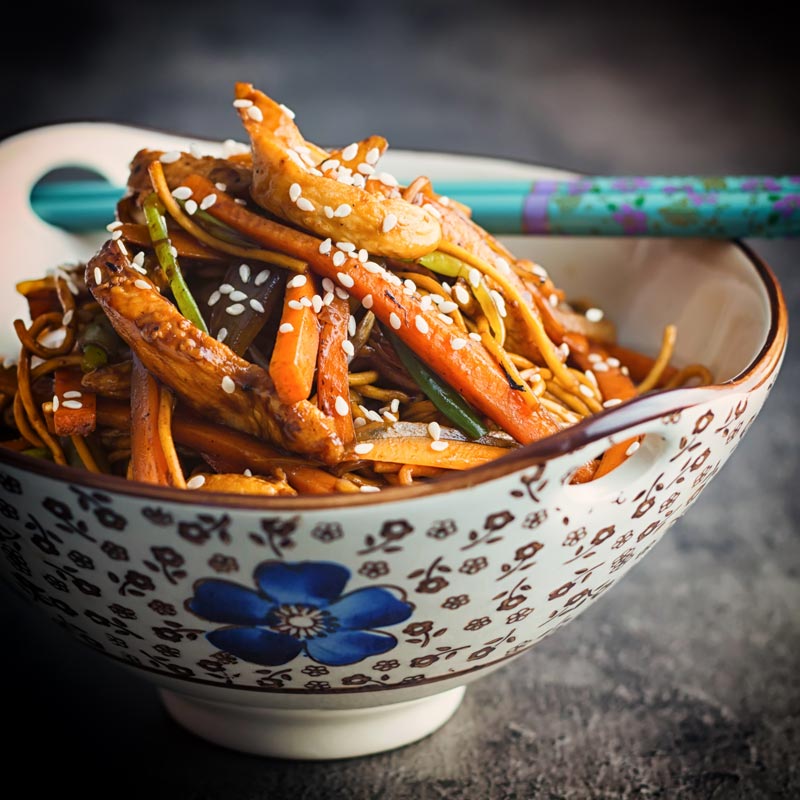 What is the Difference Between Lo Mein and Chow Mein?
I've always been a little confused about the difference between a chow mein and a lo mein.
You see I am aware that a chow mein has 'crispy' fried noodles whereas a lo mein has soft noodles. Noodles that are typically added at the end of the cooking process.
So why the confusion I hear you ponder?
Well, I have probably eaten hundreds of chow mein dishes from Chinese restaurants and takeaways across the UK and indeed Europe. Never once has my chow mein come with crispy noodles.
So as I ponder my confusion, I draw the conclusion that I really don't care!
Whether it is this chicken lo mein or my mushroom chow mein the confusion is in the name alone.
This dish is definitively not confused in flavours, and so long as you do all the prep work ahead of schedule there is definitely no confusion in the cooking.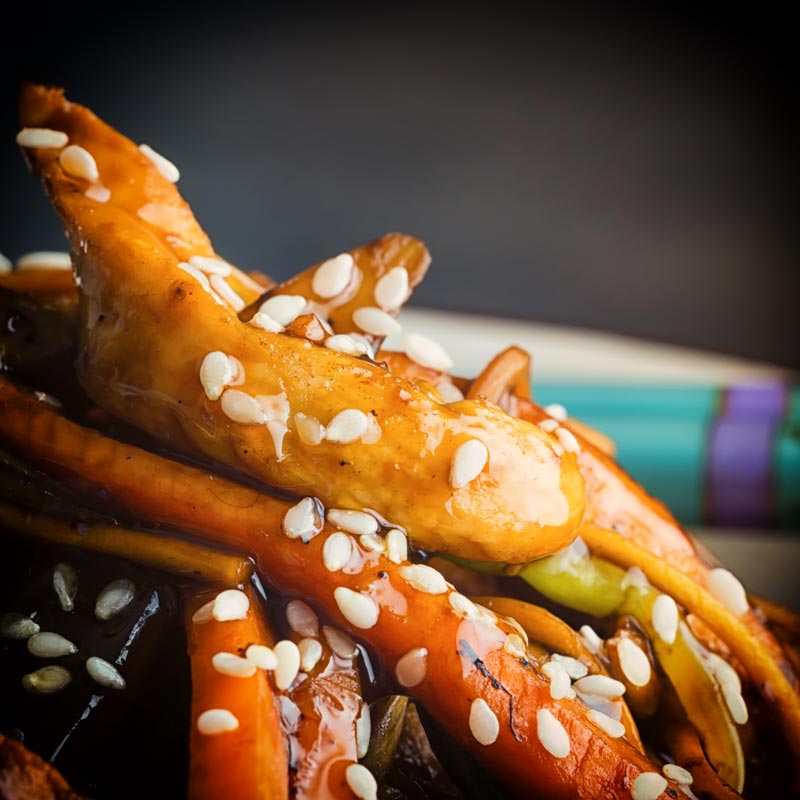 Be Prepared!
Just like my shrimp stir fry or black bean stir fry this lo mein recipe cooks in 10 minutes flat.
As a result, you should make sure you chop all the veggies before you go anywhere near the stove.
Whilst we are on the topic of chopping, I threw away my mandolin last week, a beast I have a 'complicated' relationship with!
It is a serious times saver but it is also a spitting snarling beast in the kitchen and it scares the snot out of me.
It just got a little old in the tooth. The blades on some of the plates had become dull and the safety guard really was not worth having.
So these veggies were all chopped by hand for this chicken lo mein and prep work still only took me 15 minutes!
I am however in the market for a new mandolin so any recommendations would be greatly received!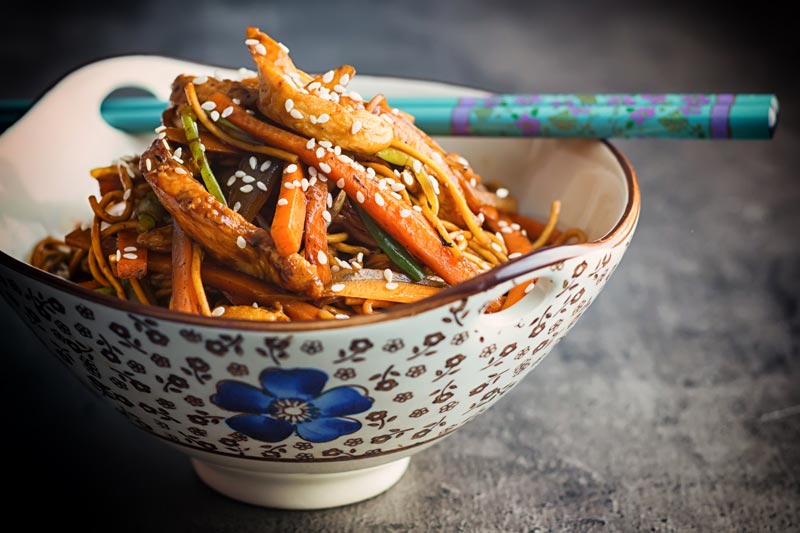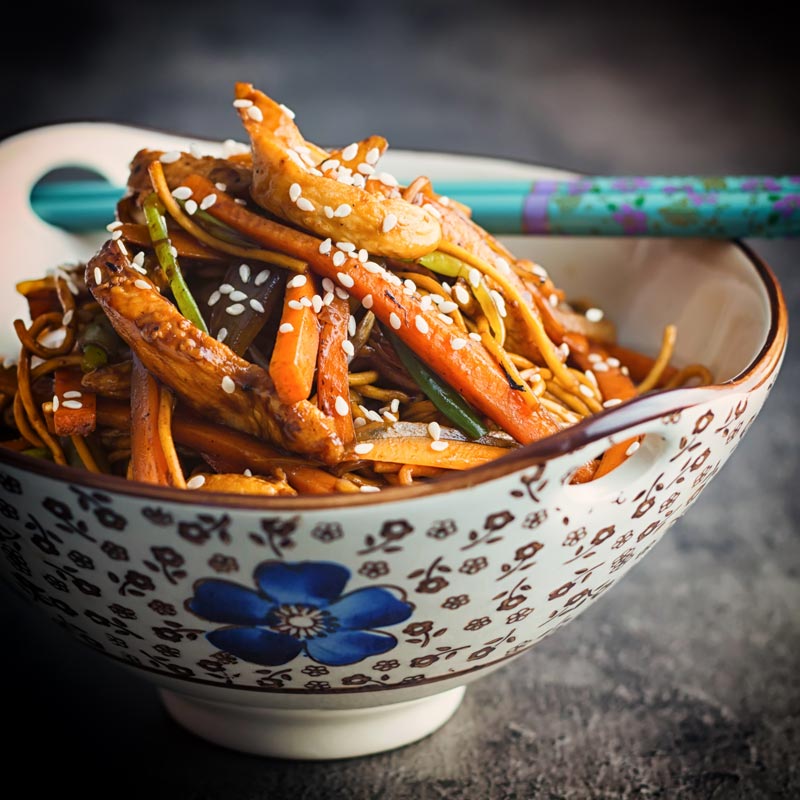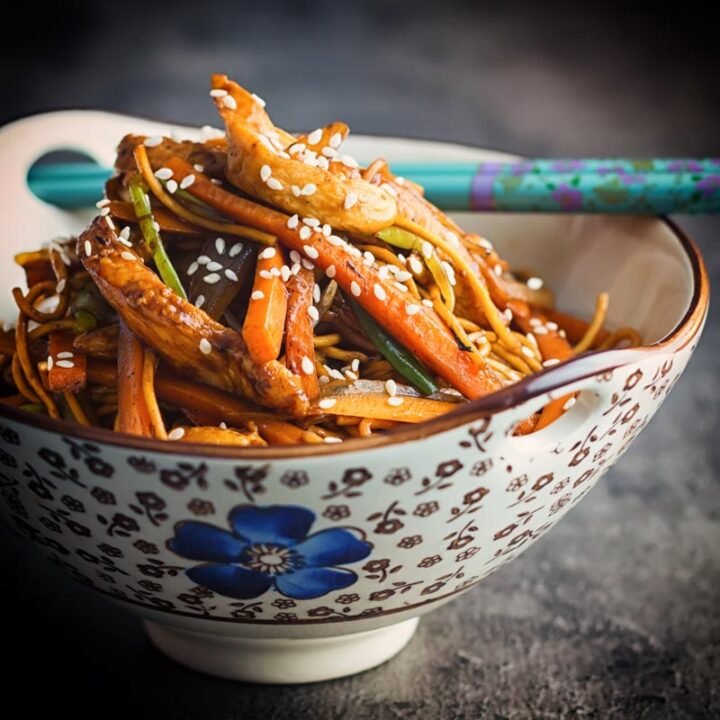 Chicken Lo Mein
When it comes to fakeaway favourites, lo mein has to be right up there... This chicken lo mein recipe takes just 25 minutes from start to finish and tastes fantastic!
Ingredients
200 g Carrot, Cut into 7.5 cm lengths and then shredded into batons as fine as you can get them
75 g Spring Onion, Cut into 7.5 cm lengths and then shredded into batons as fine as you can get them
1 Clove Garlic, Finely sliced
75 g Banana Shallot, Topped, tailed and peeled and then sliced into long strips
200 g Chicken Breast, Sliced in to thin strips
100 g Egg Noodles, Cooked as per packet instructions
1 Tbsp Light Soy Sauce
2 Tbsp Dark Soy Sauce
1 Tbsp Shaoxing Wine
1 Tsp Brown Sugar
1 Tbsp Cornflour, Corn Starch in the US
2 Tsp Cooking Oil, Neutral
1 Tbsp Sesame Oil
Instructions
Mix together the cornflour with 1 tablespoon of water and add the chicken and allow to steep whilst you chop your vegetables.
In a separate bowl mix together the soy sauces, Shaoxing wine and brown sugar and set aside.
Heat a wok over a fierce heat and when shimmering add in 1 teaspoon of the oil and fry the chicken for 2 minutes before removing and returning to the cornflour water mix.
Return the wok to the heat and add the second teaspoon of oil and fry the shallots and carrots for 2 minutes.
Add in the garlic and spring onions and fry for 60 seconds before returning the chicken and adding the soy sauce mix and noodles.
Cook for 60 seconds before removing from the heat and adding the sesame oil.
Nutrition Information:
Yield:

2
Serving Size:

1
Amount Per Serving:
Calories:

484
Total Fat:

16g
Saturated Fat:

2g
Trans Fat:

0g
Unsaturated Fat:

12g
Cholesterol:

85mg
Sodium:

1566mg
Carbohydrates:

46g
Fiber:

7g
Sugar:

13g
Protein:

38g
Calorific details are provided by a third-party application and are to be used as indicative figures only.