Using frozen mushrooms brings the wonderful autumnal flavours in this cream of wild mushroom soup within reach of every home cook!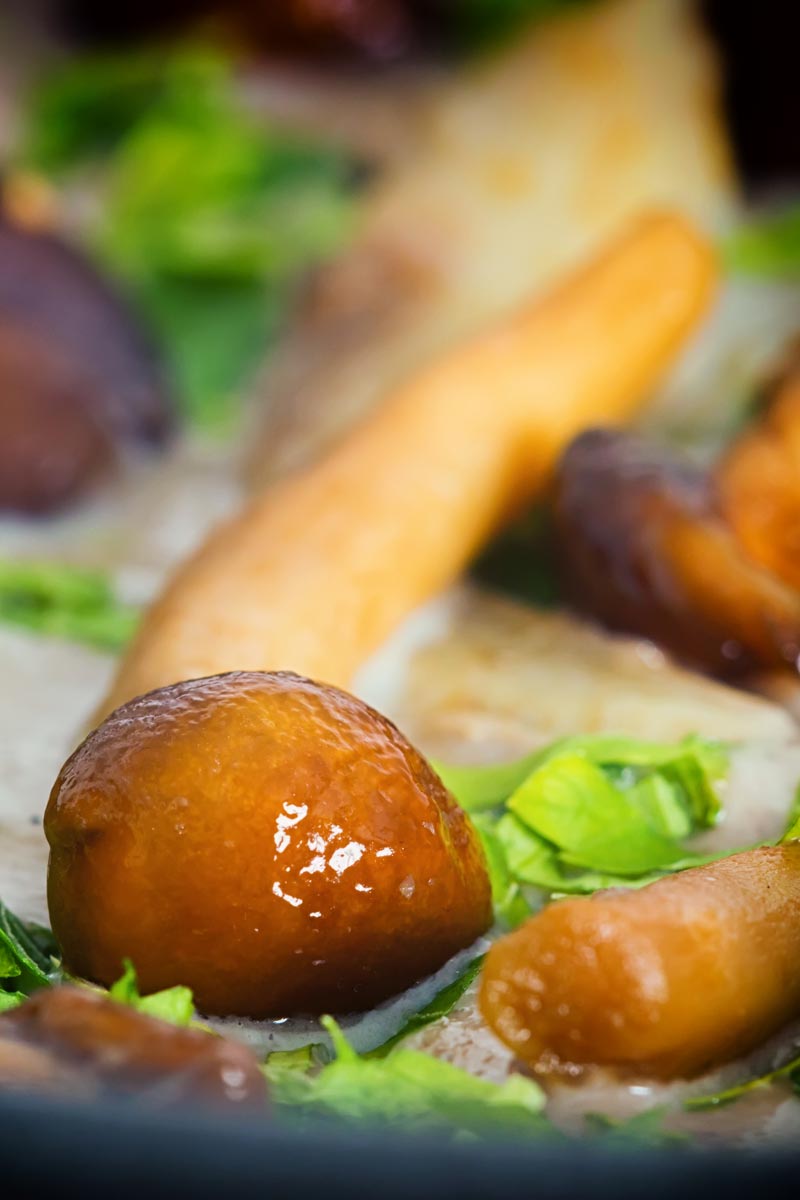 Cream of Wild Mushroom Soup.
I wish I could claim to be a super 'shroom hunter, but I ain't! This cream of wild mushroom soup involves rooting around in places no more damp and dark than the frozen aisle of your friendly local supermarket.
I've long looked at them with interest but never really got round to doing anything with them.
But wild mushrooms are devilishly difficult to hunt down and really expensive when you do find them.
However they are glorious, they have wondrous and magical flavours that your average button mushroom cannot compete with.
Flavours that all stand out in this delicious and stupidly quick soup!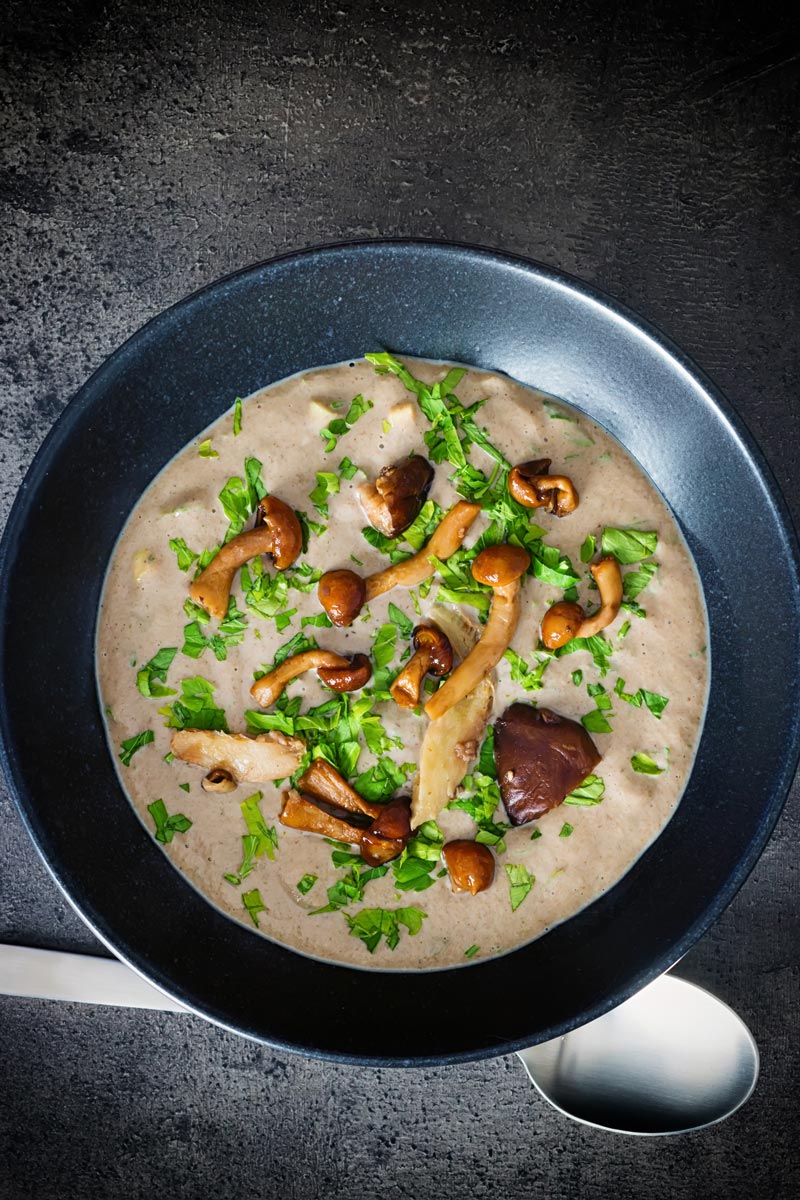 Get Rid Of The Cans!
I love soup… I have made no apologies for that here on Krumpli!
They are great to eat all year round and have not been near a can of soup since I was a kid.
When it comes to cooking soups there are no skills required. Chop stuff up, chuck it in a pan add liquid and cook. The blend or don't blend, it is up to you.
Grab some bread and meal sorted!
Seriously, most will be done in under an hour. You will make the best soup you have ever eaten from the stuff you are gonna throw out.
And soups are not just about slobbing out on a winters day either.
Of course, curling up on the sofa with this cream of mushroom soup on a cold day is comforting.
But they are easy to dress up too. I defy anyone not to look at this Cream of Asparagus Soup or this Tomato Consomme with tortellini and not be blown away.
Soup is easy and cans of soup are rubbish!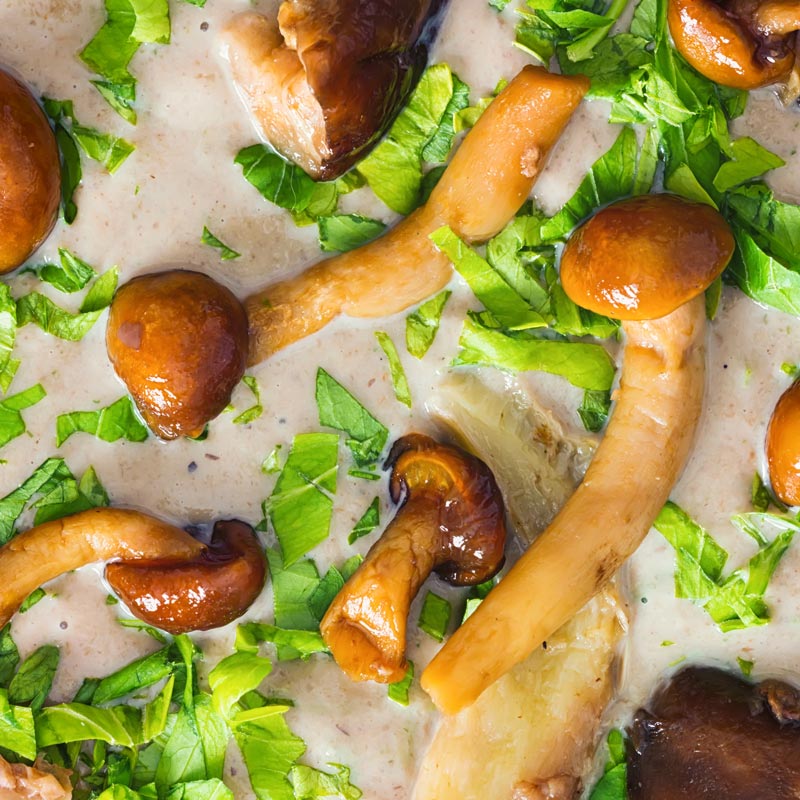 Are Frozen Mushrooms Any Good?
A few months ago I decided to take the plunge and have a play around with some frozen wild mushrooms.
There were, of course, mixed fortunes, freezing does play around with the texture a little so they aint so good sauted off. On the pl,us side they do retain much of their flavour!
A real bonus is that the ice that surrounds them holds yet more of that flavour.
The result of this experiment was me abandoning the idea of a wild mushroom risotto. I moved towards a wild mushroom soup and it works wonderfully!
No need for stock, no need for defrosting and no need for faff.
I've managed to get this recipe down to just 30 minutes whilst working at a fairly leisurely pace. I now always have a bag of frozen mushrooms in the Freezer.
Of course, I would love to be able to get fresh interesting mushrooms.
Stuff like the French Horn Mushrooms in this Mushroom Risotto or Shimeji mushrooms like in this mushroom chow mein, but sometimes thy just aint available!
Frozen wild mushrooms however can be kept around forever and provide a fab alternative mushroom option.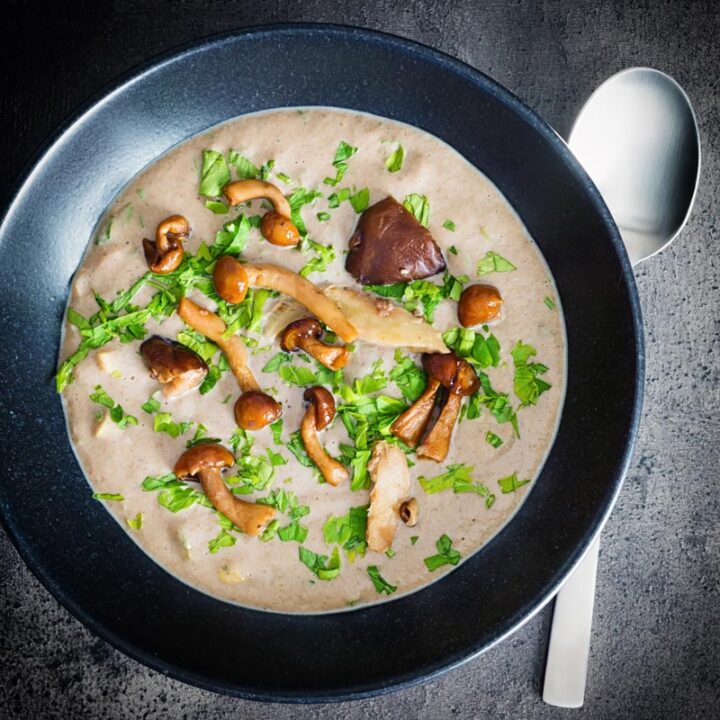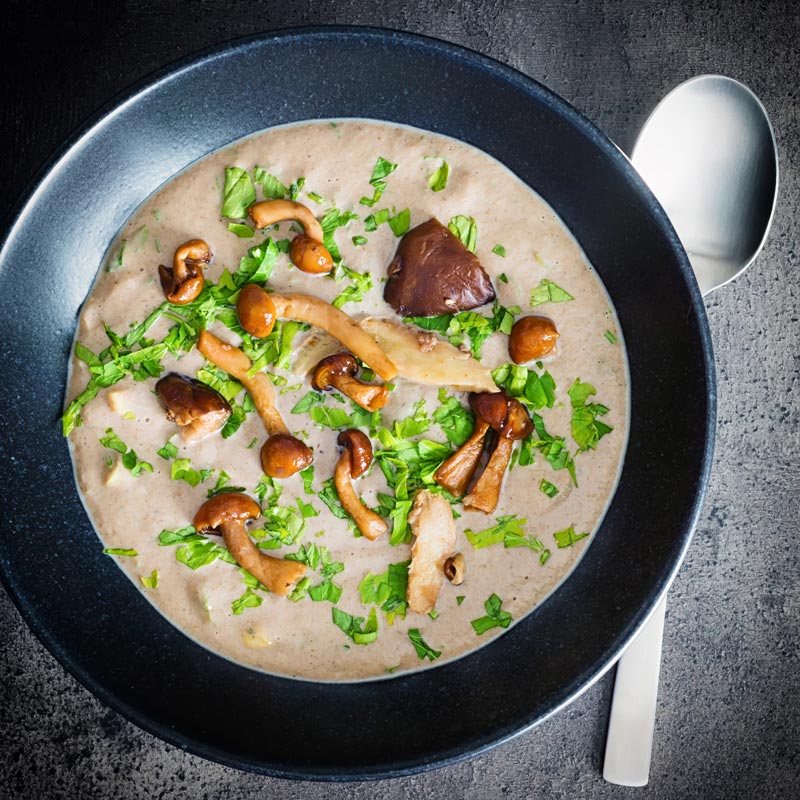 Yield:

2 Servings
Cream of Wild Mushroom Soup
Mushroom soup is a long-standing classic, this version uses frozen wild mushrooms, yes frozen, to create a luxurious silky and delicious bowl of soup... We don't need no stinkin' cans!
Ingredients
500 g Frozen Wild Mushrooms
350 g Sliced Button Mushrooms
2 Tsp Cooking Oil, Neutral
2 Cloves Garic, Skin removed but kept whole
1 Tsp Dried Tarragon
50 g Butter
200 ml Cream
100 ml Milk
30 g Parsley, Chopped.
2 Spring Onions, Chopped
Salt, To taste
Instructions
Fry off the frozen mushrooms in a pan with 1 teaspoon of the cooking oil breaking them up as required and drain off the liquid they give off reserving for later.
Remove from the pan and set aside a few nice mushrooms for garnish later.
Leave the remainder of mushrooms in a sieve over a pan to reserve any liquid.
Return the frying pan to the heat and add the remaining cooking oil and then fry off the button mushrooms with the garlic and a generous pinch of salt. over a high heat for 4-5 minutes.
Add back in the fried wild mushrooms and reserved liquid and bring to a boil before blending.
Add the cream and the milk to the blender and blitz to a smooth soup.
Return to a pan passing through a fine mesh sieve if you like.
Add the parsley and chopped spring onions to the soup and bring to temperature.
Garnish with more parsley and the reserved mushrooms.
Nutrition Information:
Yield:
2
Serving Size:
1
Amount Per Serving:
Calories:

734
Total Fat:

64g
Saturated Fat:

37g
Trans Fat:

2g
Unsaturated Fat:

22g
Cholesterol:

172mg
Sodium:

529mg
Carbohydrates:

36g
Fiber:

12g
Sugar:

13g
Protein:

15g