Loaded with balsamic and garlic these homemade Mushroom Ravioli are pretty simple to make and pack a massive punch of flavour. Go ahead, impress your dining partner with homemade ravioli, a real showstopper!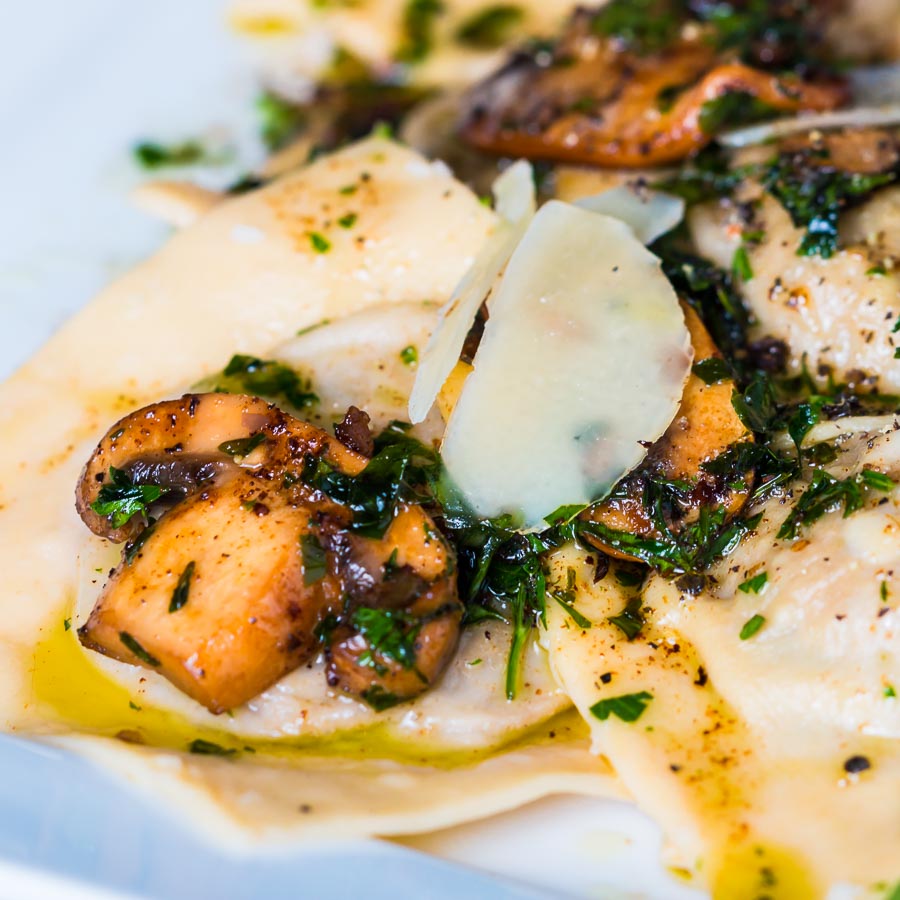 Balsamic Mushroom Ravioli.
I posted up a homemade pasta recipe not so long ago, as our chickens and ducks are pumping out eggs like nobodies business. I figured why not go all out on the pasta front and knock up some balsamic mushroom ravioli.
Naturally, it does help that we are not a slave to the garden at the moment. But Mother Nature has delivered some unseasonably wet and mild weather this summer.
We have the opportunity to spend a little time getting a production line going and have a bit of food fun.
Whilst I do love slow cooking most of my recipes are pretty simple affairs that do take a little time to make but are typically fairly low maintenance affairs. This, on the other hand, is a little different!
It is not particularly difficult. But it does require a little time and a bit of space, but we set aside an hour or so and set up 'team Krumpli'!
My wife and I had great fun working together creating these parcels of 'balsamicky' 'garlicky' treats.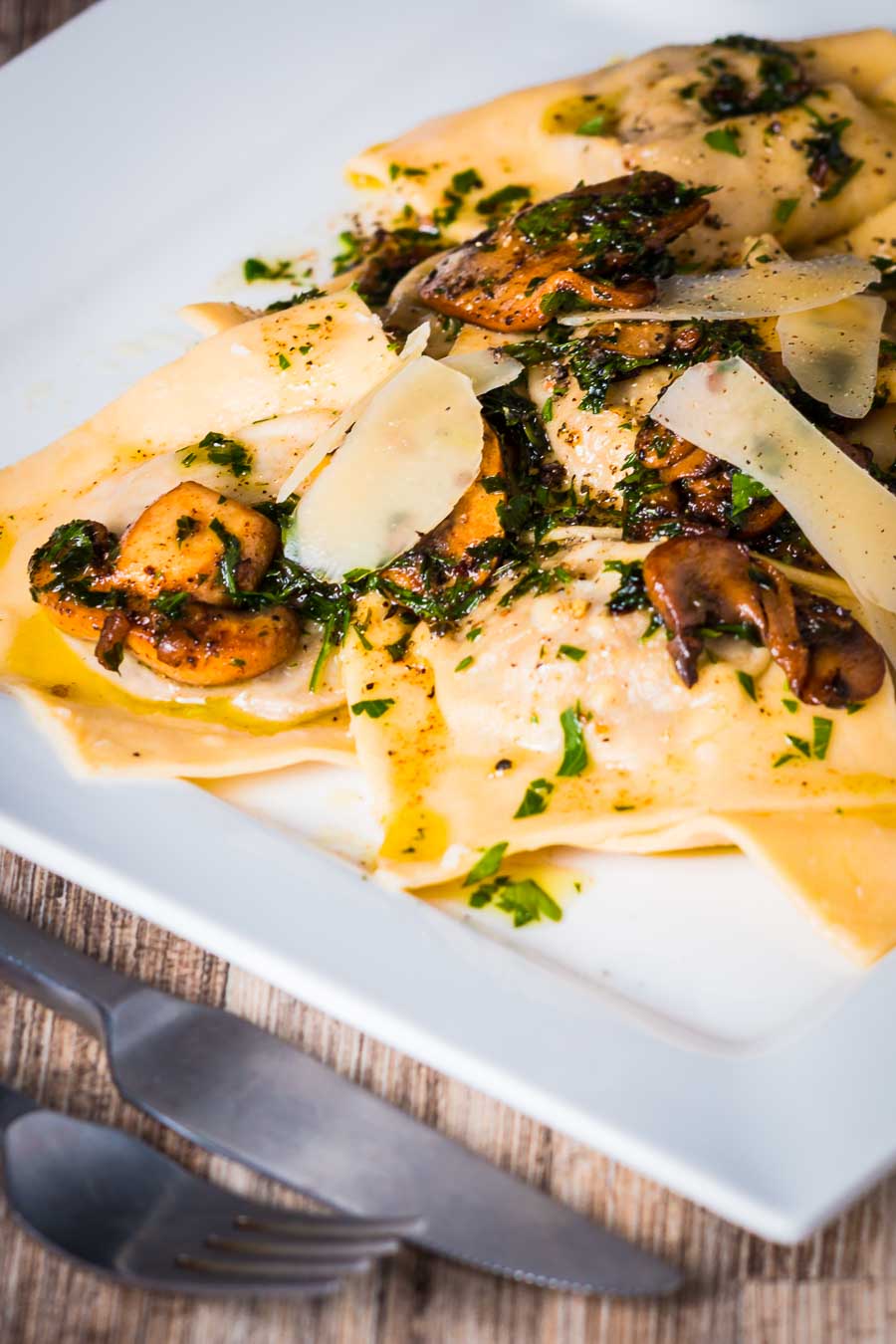 Childhood Ravioli Recipes.
I have posted quite a few recipes that were reminders of my childhood. In fact, most of my favourite recipes here are recipes that come loaded with childhood food memories.
Whether it be my traditional toad in the hole, cottage pie or liver and onions recipe. They immediately take me back to my childhood!
However, when I was growing up Ravioli came in tins. It was smothered in the same old sauce that spaghetti hoops came smothered in. Heaven knows what the insipid and mushy filling was in them!
These mushroom ravioli could not be further from those memories.
They are definitely much more grown up and definitely aimed at those that love garlic, which of course you could tone down if you wish.
You could top this dish with some truffles if you would like it to be even more indulgent. However, I am a simple chap and went for Parmesan instead. That and the fact that adding truffles to this dish would blow our monthly food budget!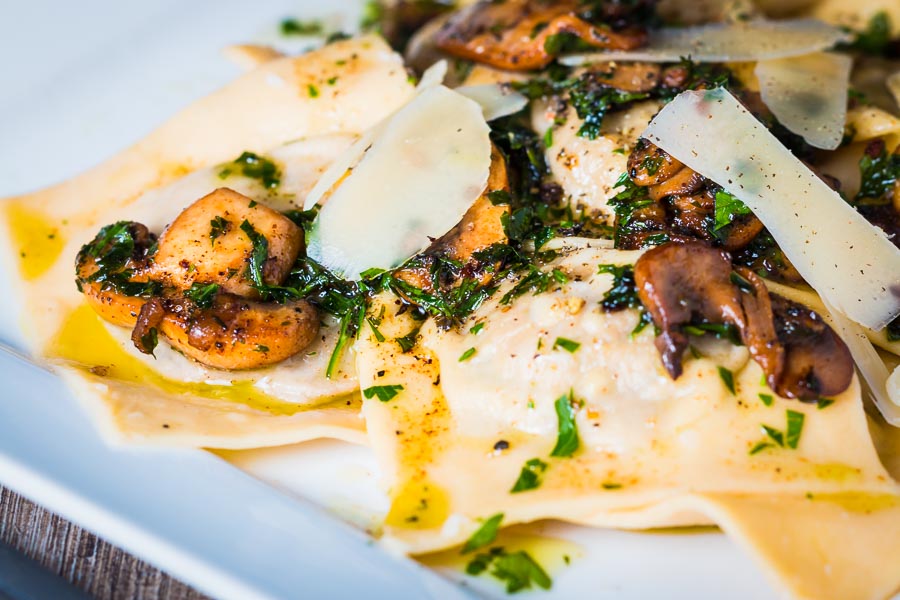 Ravioli Filling, What to Choose?
Whilst developing this recipe for mushroom ravioli it was a pretty easy decision as to what to pair up with the mushrooms for the filling.
As far as I am concerned there are two flavours that are perfect for mushrooms, Garlic and Balsamic Vinegar. Ravioli filling identified we delved into the world the world of mushroom ravioli.
Despite being a dab hand at knocking up a quick pasta recipe, this was unusual for us.
My usual pasta recipes err towards things like my Bucatini pasta with Duck Ragu or my even simpler Asparagus and Pea Casarecce Pasta.
If I were to identify a gap in my food 'knowledge' that I would like to narrow I would say that the gap is mushrooms. I love them but I really am rather unadventurous in the types of mushrooms I use.
Once I head beyond the button, portabello & chestnut variety, I have to confess, I am a little lost. I would love to be able to forage for different mushrooms and I live in the perfect place to do it.
Sadly my language skills really would not stand up to the teaching involved in ambling around the local copices and forests looking for fungal treats.
We do actually have a 'mushroom' office at a local market hall. But it is only open at stupid o' clock in the morning and mornings ar not meant for that! You can take in your foraged fungal treats and they will tell you whether they are edible or not.
I have also used frozen button mushrooms, which are great in things like this wild mushroom soup. But not so great in my experiments in ravioli recipes!
Maybe one day I will be up early enough to give it a whirl.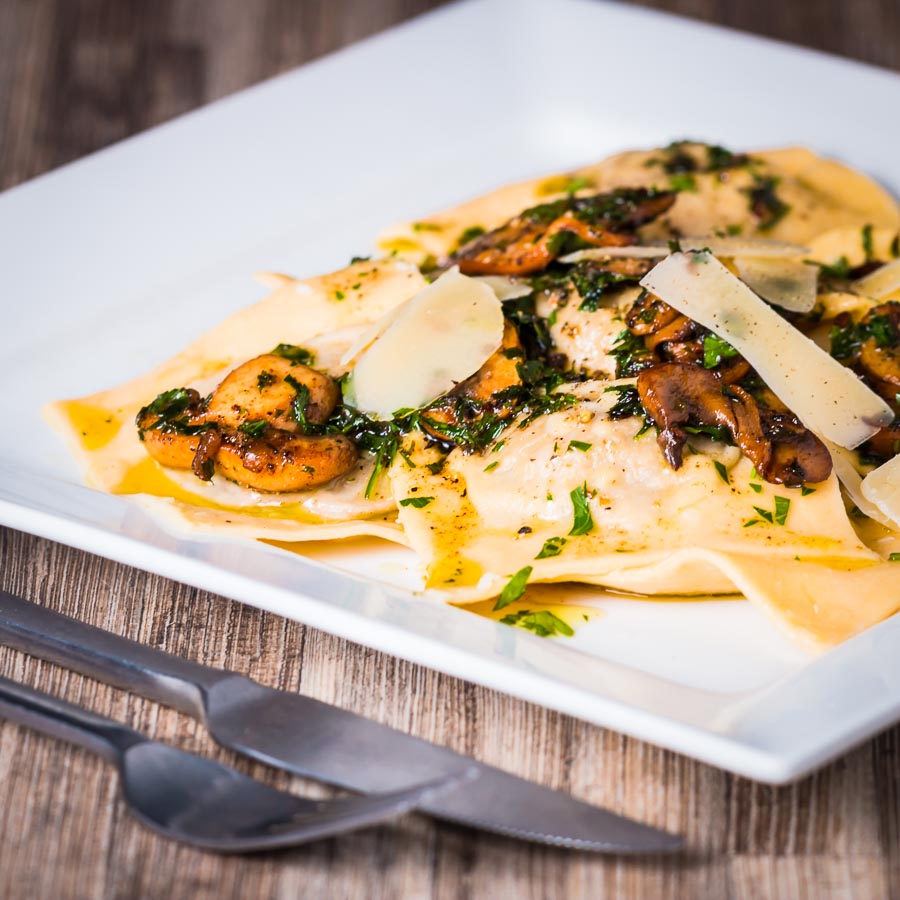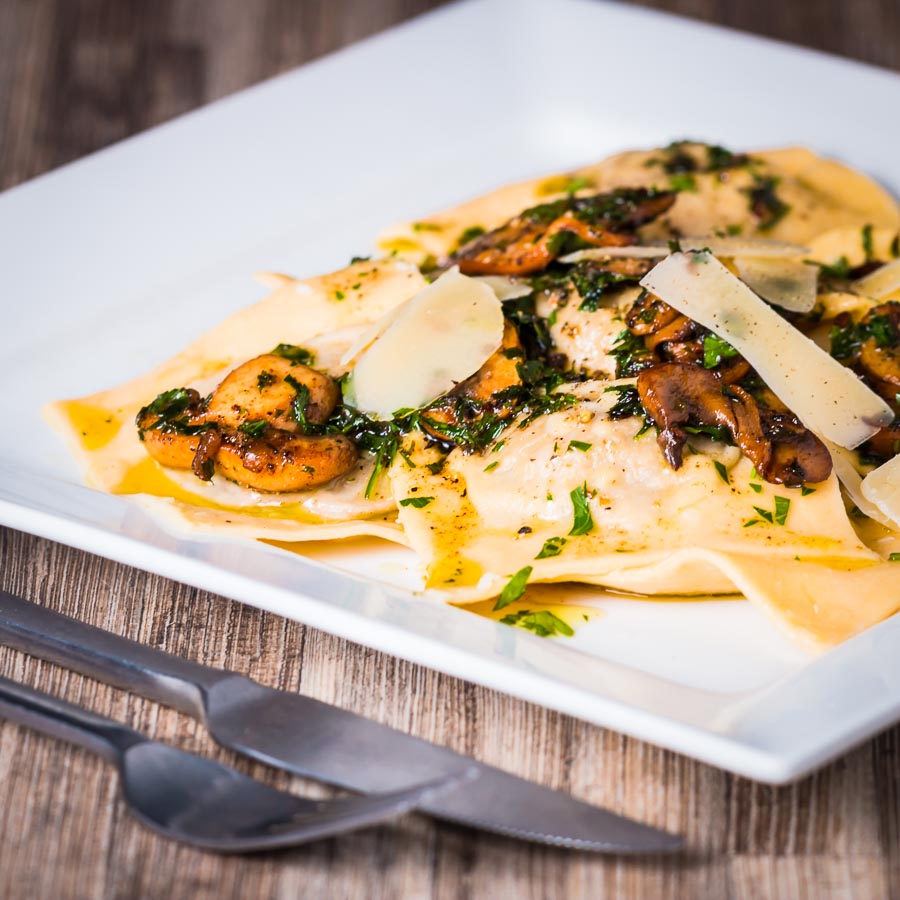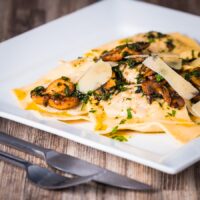 Balsamic Mushroom Ravioli
Prep Time:
1 hour
30 minutes
Total Time:
1 hour
45 minutes
A grown up Balsamic Mushroom Ravioli that is well worth the effort to make for those of you that love Garlic and Mushrooms!
Ingredients
For the filling
2 Tbsp Olive Oil
6 Garlic Cloves, Finely diced
125 g Onion, Finely diced
400 g Mushrooms, Finely Sliced
1 Sprig Fresh Thyme
2 Tbsp Balsamic Vinegar
50 g Breadcrumbs
100 g Mascarpone Cheese
15 g Parmesan Cheese
For the Pasta
3 Eggs, Crack them into a bowl and weigh them
250 g Plain Flour, 00 if possible. Multiply the weight of the eggs by 1.5 to ascertain the amount of flour required
For the Sauce
100 g Unsalted Butter
2 Cloves Garlic
1 Handful Parsley
Parmesan Shavings, For garnish
Instructions
Instructions
For the filling
Heat the oil over a medium high heat and add the onions and cook until browned, 10 minutes approx
Add the garlic and thyme and cook for 1 minute and then add the mushrooms and cook for 5-7 minutes until nicely browned. It helps to do this in two batches to prevent the pan from being over crowded
Return all of the mushrooms to the pan and add the salt and a generous twist of freshly ground black pepper and the balsamic vinegar and cook until completely reduced
Then set aside the mushrooms and allow to cool completely
When cooled set aside 125g of the mushrooms for the dressing and add the remainder to the breadcrumbs, mascarpone cheese and the parmesan cheese and blitz in a food processor into a course paste and test for seasoning adding more salt and pepper if required
For the Pasta
Bring together the eggs and flour and knead until silky, then set aside for an hour and roll into long sheets For full instructions click here
Then pipe in about a heaped teaspoon full of the filling into the centre of a square of pasta approximately 8cm by 8cm in size.
Brush the edges of the pasta with water and place a second piece of pasta over the top and seal, it is vitally important to ensure that you have left no air inside the parcel
When you have all of your pasta prepared, drop them into rapidly boiling water and they are cooked 30 seconds after they begin to float
For the Sauce
Add the butter to a pan over a medium heat and add in the two garlic cloves that you have bruised to release the flavour
Cook for 10-15 minutes skimming off any foam periodically, just before serving throw in the set aside mushrooms to warm up then add in the parsley
Nutrition Information:
Yield:

4
Serving Size:

1
Amount Per Serving:
Calories:

1461
Total Fat:

85g
Saturated Fat:

37g
Trans Fat:

1g
Unsaturated Fat:

40g
Cholesterol:

1515mg
Sodium:

1273mg
Carbohydrates:

101g
Fiber:

6g
Sugar:

8g
Protein:

72g
Calorific details are provided by a third-party application and are to be used as indicative figures only.