This balsamic mushroom ravioli recipe is a seriously indulgent vegetarian pasta dish guaranteed to impress those you are feeding!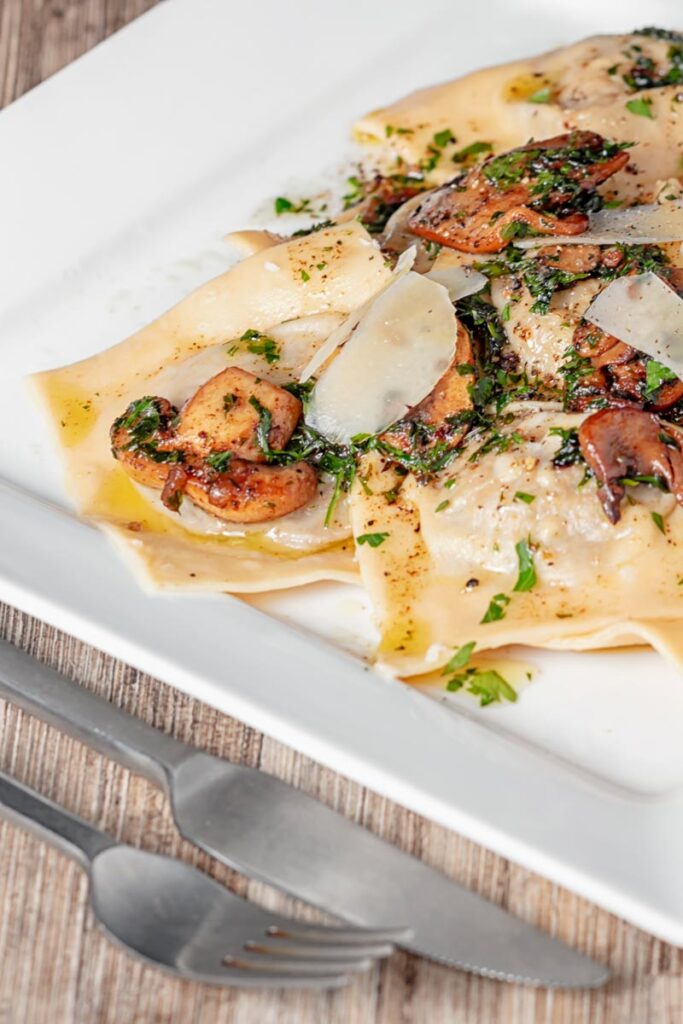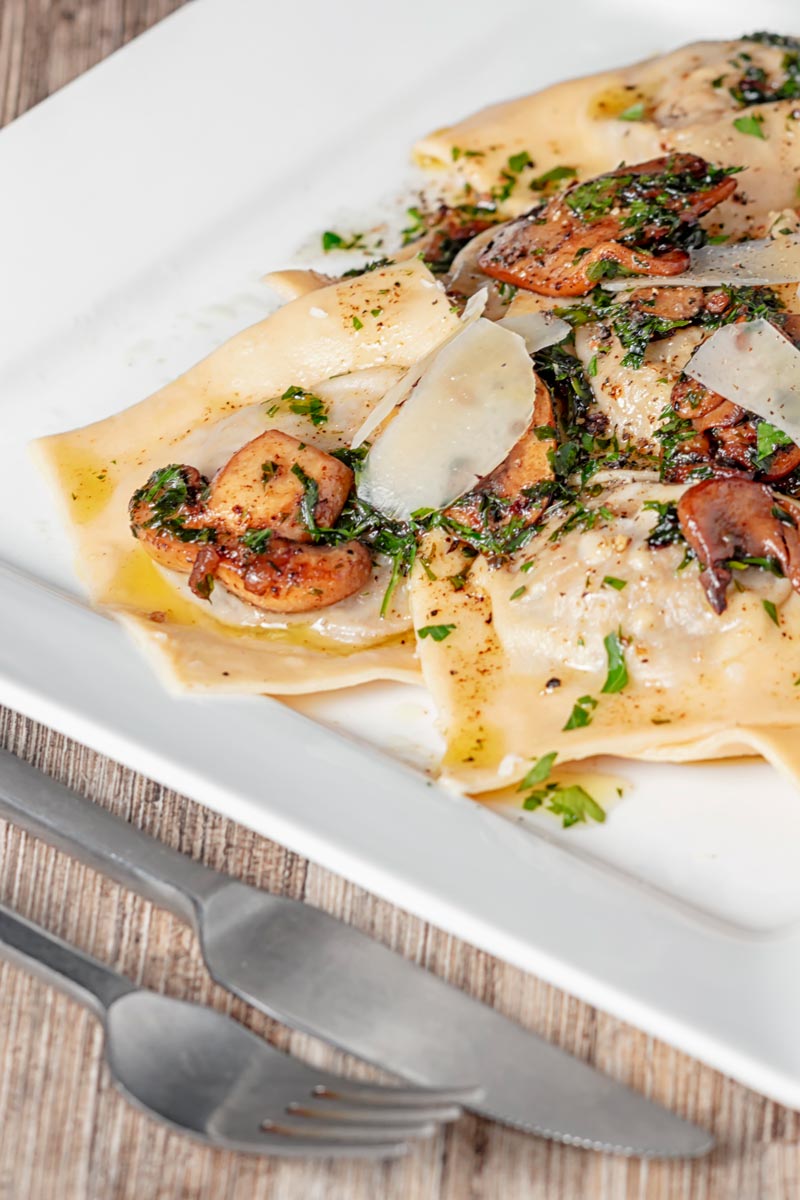 Homemade Mushroom Ravioli.
One of the rights of passage as a home cook is making your own pasta. And with that pasta the logical next step is to make your homemade ravioli.
I have yet to master the skills of making my own tortellini yet, my fat fingers do not play.
But making ravioli at home is really very simple and requires no real skill, just a bit of time.
It is a properly impressive meal to set down in front of anyone, but it still feels homely.
And the balsamic, garlic and mushroom flavours we have going on in this ravioli are pretty classic.
If you really cannot be pushed to make ravioli, the flavours all exist in my balsamic and mushroom pasta recipe!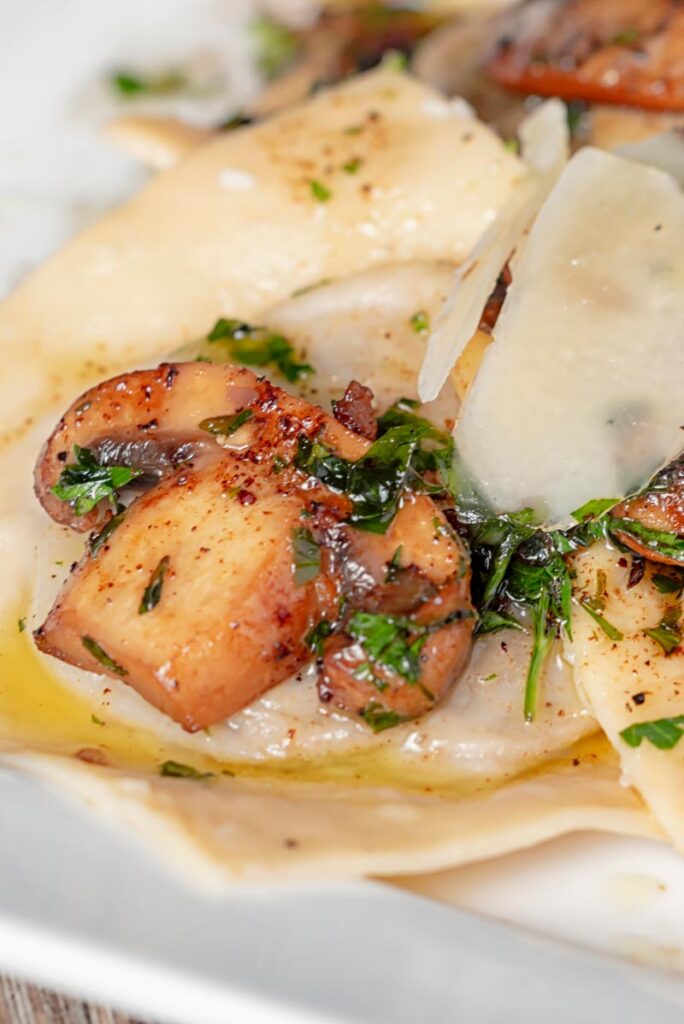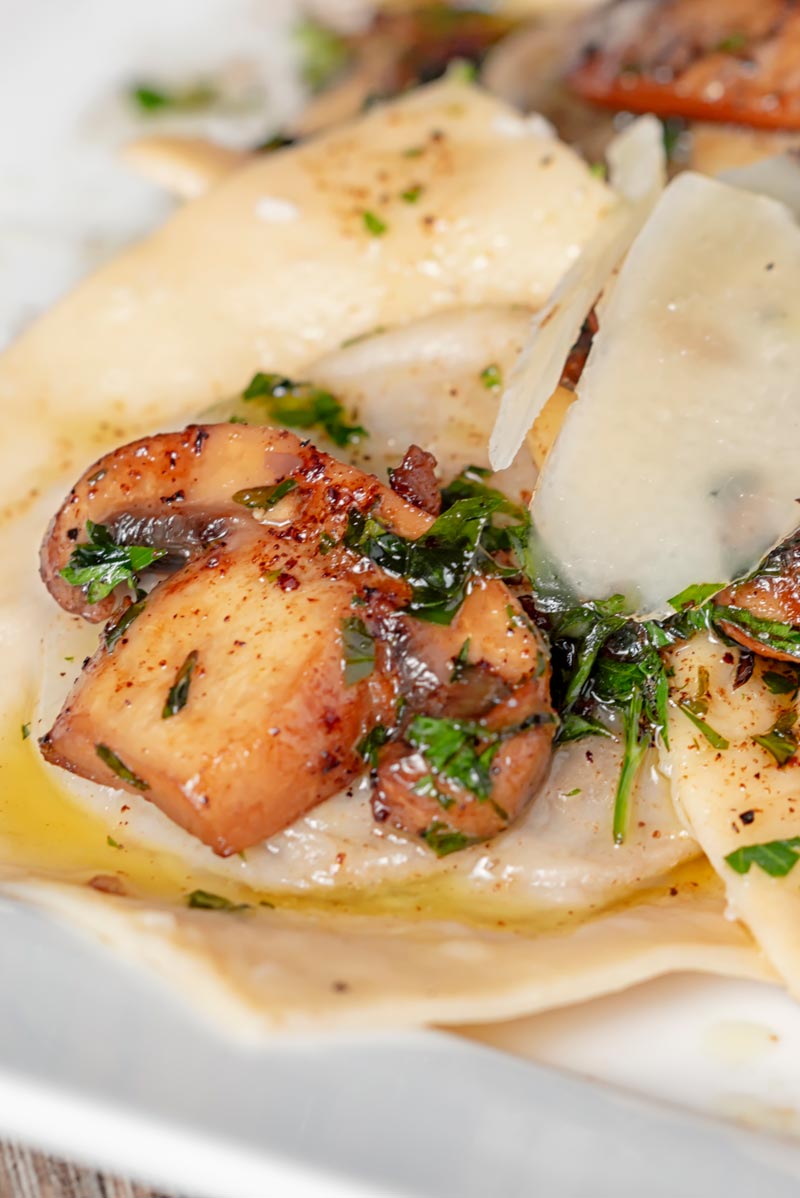 The Pasta.
It is almost impossible to avoid making pasta if you want to make ravioli at home.
It really is not that difficult, I have added a second recipe card for my pasta recipe after the instructions for my mushroom ravioli.
It should be rolled as thinly as you can get it. Fresh pasta is surprisingly robust so you should not worry about damaging it.
I have been asked a few times if you can use fresh lasagna sheets from the refrigerator section at the supermarket so I gave it a test.
The answer was a resounding no, the pasta was way too thick. It was also a long way from being really fresh!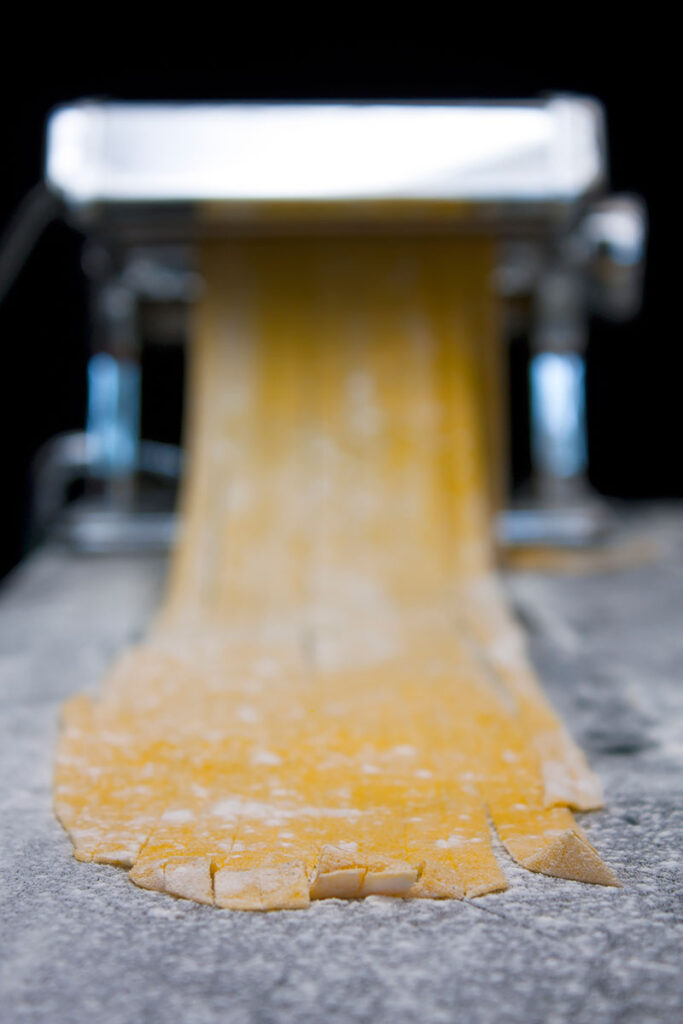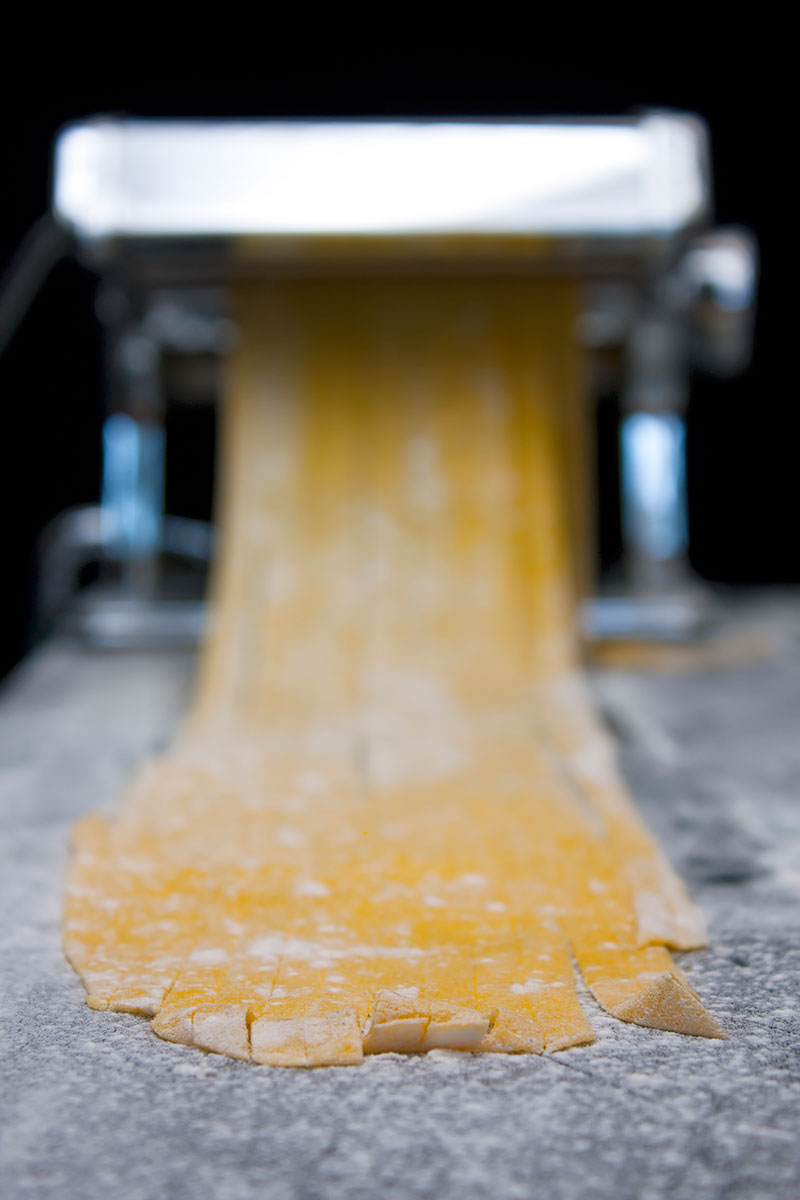 Preparing in Advance.
This is one of those special recipes that I do not make often but when I do I am always surprised at how easy it is to make.
It really is a case of 3 different processes, all of which can be made separately.
The mushroom stiffing for the ravioli can be made a day or two in advance. In fact, it is better made the day before to allow the flavours to come together.
The pasta can be made up in advance and stuffed up to a day before cooking.
In fact, you can make and freeze these mushroom ravioli and cook from frozen when you want them! Place in a single layer on baking parchment, then drop them in the freezer and bag when frozen.
And that ravioli sauce takes just 5 minutes and you can make that up a few hours in advance.
Essentially you can make this date night dinner built to impress and not ruin your date night, you can do almost all of the work well in advance!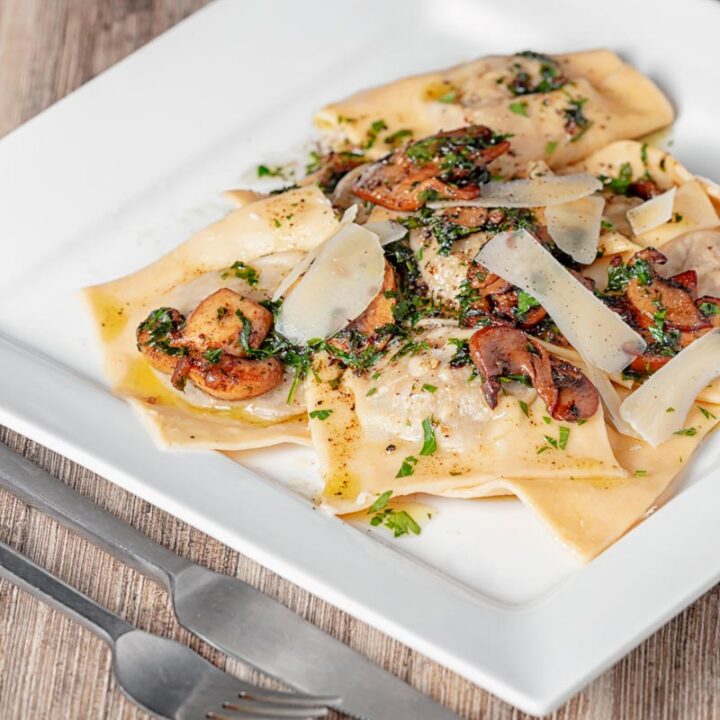 Yield:

2 Servings
Balsamic Mushroom Ravioli Recipe
Prep Time:
1 hour
30 minutes
Total Time:
1 hour
45 minutes
If you love garlic and mushroom then this impressive ravioli recipe is for you, it is also a lot more simple than you may think!
Ingredients
For the filling
1 Tbsp Olive Oil
3 Garlic Cloves
50 g Shallot
200 g Mushrooms
1 Sprig Fresh Thyme
2 Tbsp Balsamic Vinegar
50 g Ricotta Cheese
15 g Parmesan Cheese
Salt to Taste
Black Pepper to Taste
For the Sauce
50 g Unsalted Butter
2 Cloves Garlic
1 Handful Parsley
Parmesan Shavings, For garnish
200 g Fresh Pasta (SEE BELOW)
Instructions
For the filling:
Dice the garlic as finely as you can and dice the shallot into 2-3mm dice.
Cut the mushrooms into a 5mm dice.
Heat the oil over a medium heat and add the shallots and cook for 5 minutes until starting to soften.
Add the garlic and thyme and cook for 1 more minute.
Increase the heat to high and add the mushrooms.
Cook for 5-7 minutes until nicely browned.
Add salt, a generous twist of freshly ground black pepper and the balsamic vinegar, then cook until completely reduced
Then set aside the mushrooms and allow to cool completely
When cooled add the ricotta and the parmesan cheeses and mix well.
Test the seasoning one final time.
For the Sauce:
Add the butter to a pan over a medium heat.
When the butter begins to foam bash the garlic cloves with the palm of your hand and add to the butter.
Slice and add the mushrooms and a pinch of salt, then allow to cook gently for 15 minutes in the browning butter.

Fill and Cook the Ravioli.
Your pasta should be rolled as thinly as possible and then cut into 7.5cm squares.
Keep supple by placing under a lightly damp towel.
Add a tablespoon of the ravioli filling to the centre of a square of pasta and flatten a little.
Using your finger add water to the edges of the pasta and now we add a second square of pasta to the top.
It is vitally important that we eliminate air from the inside of the ravioli.
I start with a point of the square towards me and work around the side of the fillings with two hands pushing air towards the front.
We then end up hopefully with no air in the parcel!
You can trim up at this point if you like, I always do.
Drop the ravioli into a pan of salted boiling water, they will float in a couple of minutes.
They are cooked 30 seconds after they have started to float.
Drain and transfer to the brown butter sauce.
Serve with parmesan shavings and parsley.
Nutrition Information:
Yield:
2
Serving Size:
1
Amount Per Serving:
Calories:

731
Total Fat:

47g
Saturated Fat:

24g
Trans Fat:

1g
Unsaturated Fat:

19g
Cholesterol:

144mg
Sodium:

1388mg
Carbohydrates:

52g
Fiber:

4g
Sugar:

7g
Protein:

29g
Calorific details are provided by a third-party application and are to be used as indicative figures only.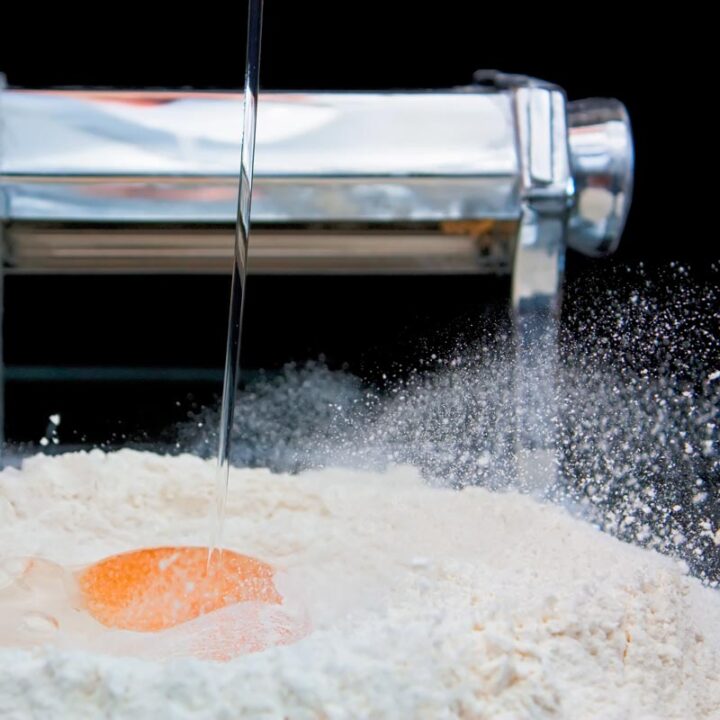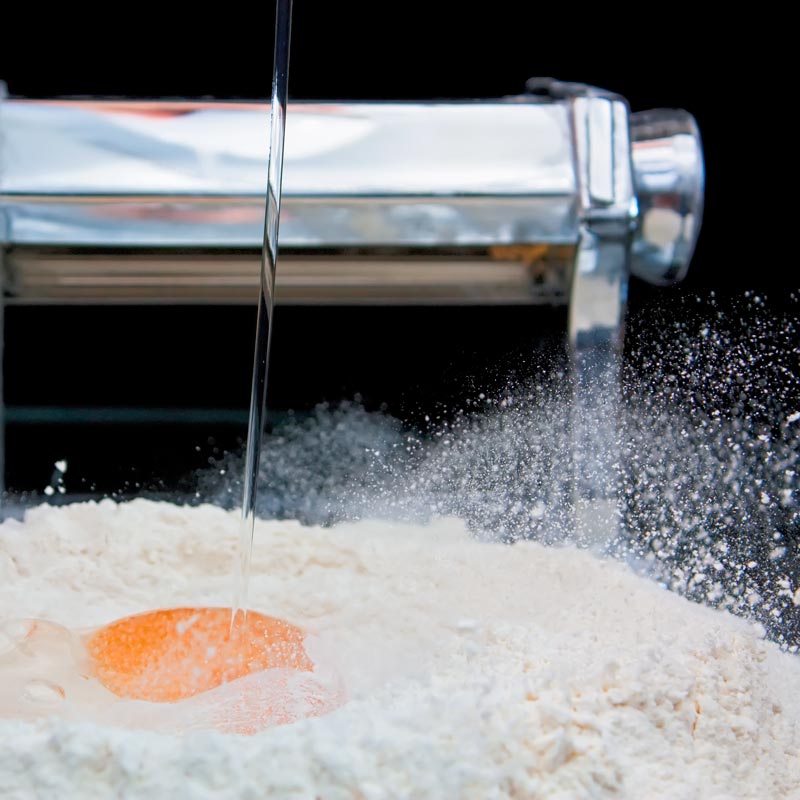 Yield:

4 Servings
Homemade Duck Egg Pasta Recipe
Prep Time:
1 hour
30 minutes
Total Time:
1 hour
30 minutes
Duck eggs really do make the most incredible pasta, the larger, richer and fattier yolk really does make a marked difference!
Ingredients
2 Duck Eggs
250 g "00" Flour or 1.5 times the weight of the eggs without the shell
Instructions
Crack the eggs into a bowl and weigh them
Add 1.5 times the weight of the eggs in plain flour and mix together.
Tip out onto a work surface and knead until the pasta dough becomes smooth and silky.
There is no secret to this just get stuck in bash, turn, twist and repeat, it should take between 8 & 15 minutes. You should really be getting a sweat on doing this and if you ain't then you ain't doing it properly.
Wrap in clingfilm and place in the fridge for an hour
Clamp your pasta machine to a sturdy surface, and set it to it's widest setting
Flour the work surface and cut off approximately 100g of pasta returning the rest to the fridge.
Press the pasta into a rough rectangle shape and roll it through the pasta machine.
Fold the pasta in on itself, in thirds.
Pass through the pasta machine again.
Set the pasta machine to the next smallest setting and repeat processes 9 & 10.
Repeat the pattern of rolling and folding and passing through the machine on the next smallest setting until your pasta reaches your desired thickness.
Nutrition Information:
Yield:
4
Serving Size:
1
Amount Per Serving:
Calories:

467
Total Fat:

11g
Saturated Fat:

3g
Trans Fat:

0g
Unsaturated Fat:

6g
Cholesterol:

557mg
Sodium:

114mg
Carbohydrates:

69g
Fiber:

3g
Sugar:

1g
Protein:

20g
Calorific details are provided by a third-party application and are to be used as indicative figures only.