This mushroom pasta is the epitome of simplicity, butter, garlic, shrooms and balsamic vinegar all cooked in the time it takes to cook pasta.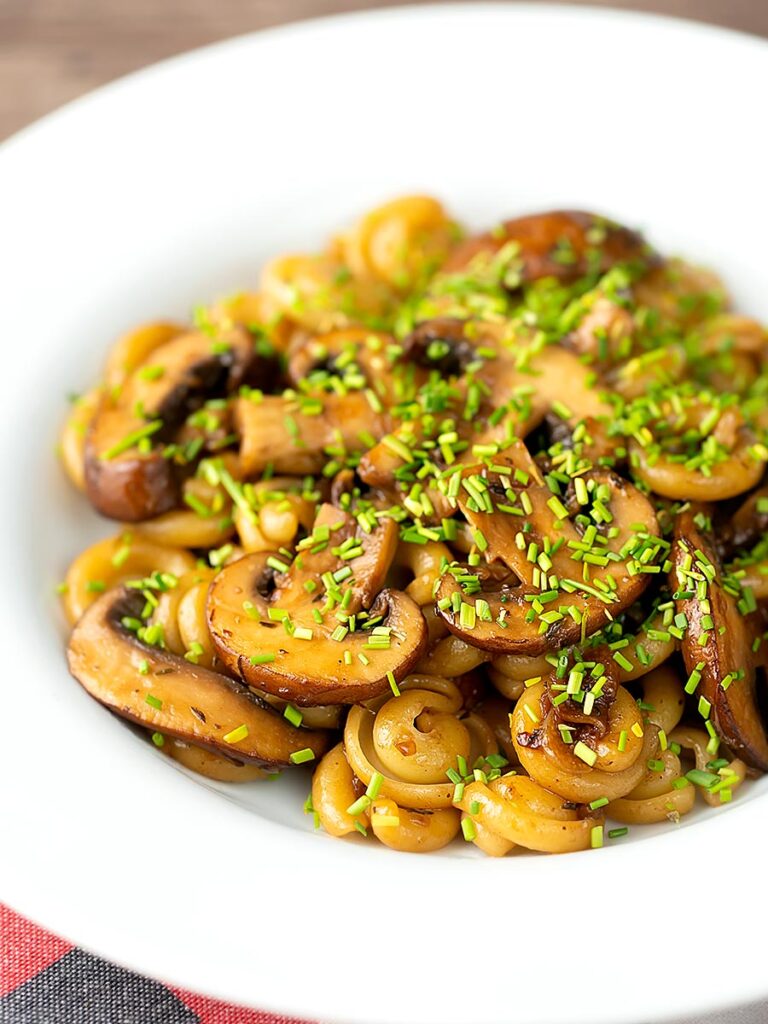 Quick & Simple Pasta Dinners.
When it comes to dinner in a hurry it is hard to see beyond pasta. Ethis recipe joins lots of quick pasta recipes here on krumpli.
Few flavours go together like balsamic and mushrooms so this easy mushroom pasta recipe is a safe bet on the flavour front.
I use it in 3 of my 4 stuffed mushroom recipes. It also gets used in both of my mushroom risotto recipes and my mushroom orzotto recipe.
This meal is very much a stripped down version of my mushroom ravioli recipe.
But let's face it making ravioli is time-consuming, time ain't an issue in this recipe though.
It pretty much all comes together in the time it takes to boils some pasta and we all have that kinda time available to us.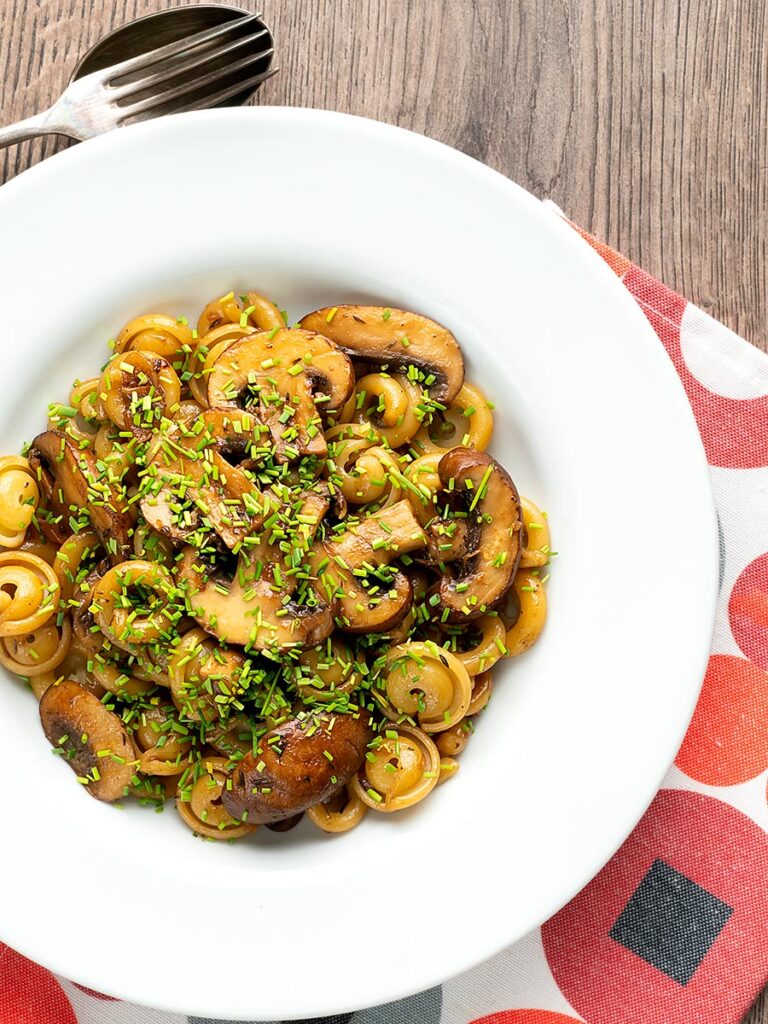 Ingredient advice.
This recipe really is a combination of 3 things, mushrooms, Balsamic vinegar and pasta.
Choose your ingredients wisely there ain't no room to hide!
For the pasta I choose some dischi volanti, they look like flying saucers and make me feel like a child, I like that!
But they serve a purpose along side this, they are flat and that is great for this recipe. Other shapes like the orecchiette I use with my pork ragu or farfalle (bow ties) would work equally well.
Next up the mushrooms, use whatever you can lay you hands on but go for something larger. You want to be able to cut into 5-6mm thick slices and get 5-6 slices per mushroom.
Finally the balsamic vinegar. DO NOT use you finest balsamic, save that for dressings, we are cooking this and reducing it down!
But likewise do not go for the cheapest bottle in the store, it will become too sharp and too sweet all at the same time.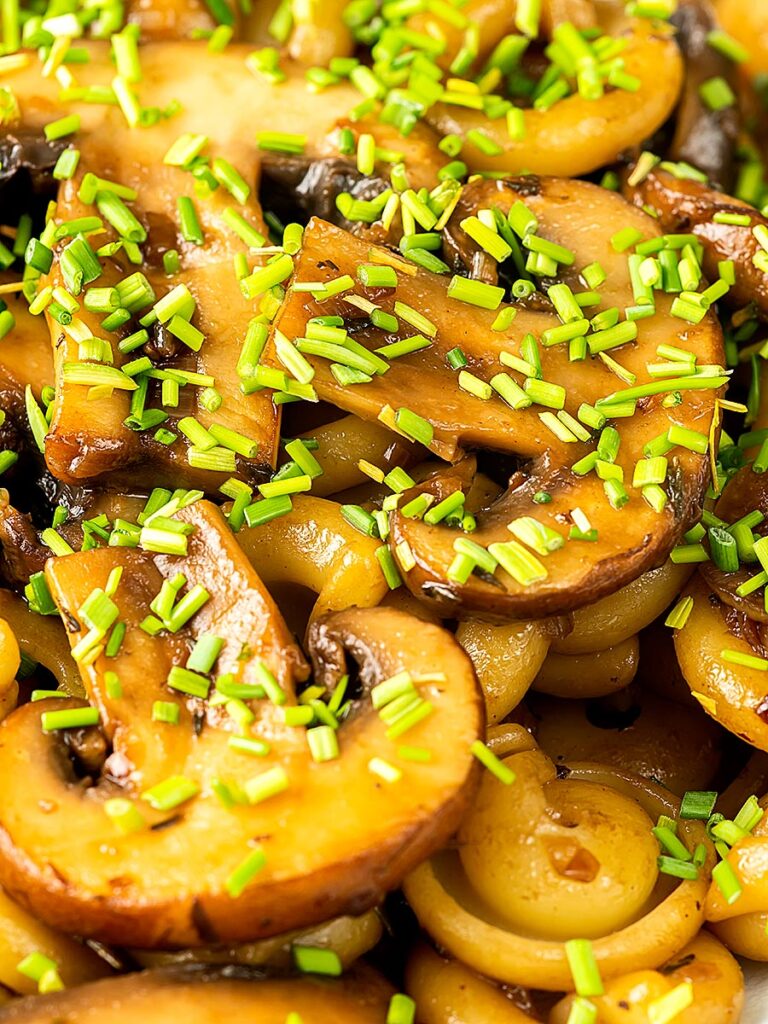 Recipe Variations.
This recipe is naturally vegetarian but it is possible to turn it vegan by choosing your pasta wisely. My friend Rosemary makes a wonderful vegan egg free pasta.
Then swap out the butter for olive oil and job done.
Adding peas to this recipe adds a lovely fresh sweetness, it also works really well with spinach.
Just toss a few handfuls in when you add the pasta, it will wilt quickly. I do something very similar with my mushroom and spinach risotto.
Searing leaks in a second pan and adding them in the same way I do with my balsamic mushroom and leek risotto would also work well.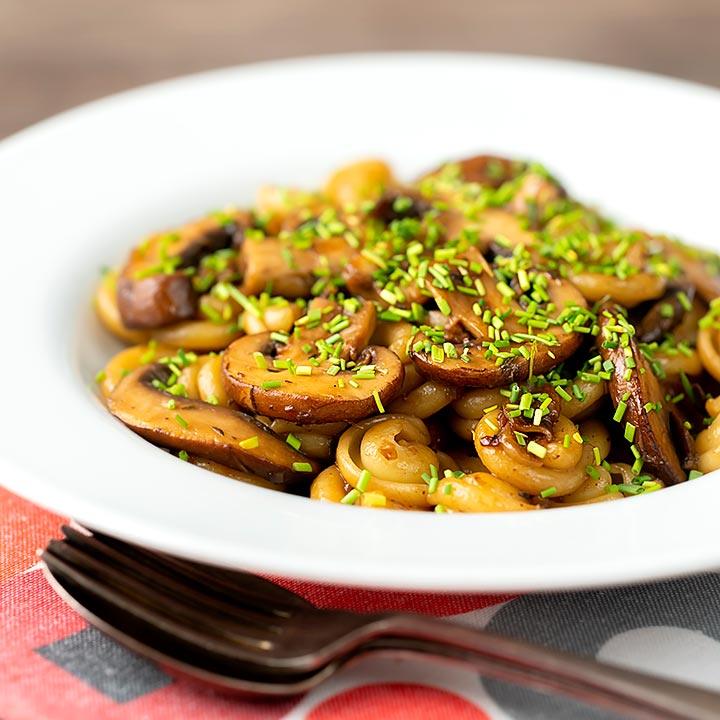 Yield:

2 Servings
Mushroom Pasta Recipe with Balsamic Vinegar
Mushrooms lend themselves so well to pasta dishes and this balsamic mushroom pasta enriches them with butter and Balsamic vinegar.
Ingredients
250 g (2 Cups) Mushrooms
50 g (1/2 Cup) Shallot
2 Cloves Garlic
50 g (3 Tbsp + 1 Tsp) Butter
50 ml (3 Tbsp + 1 Tsp) Balsamic Vinegar
1/2 Tsp Dried Thyme
1/4 Tsp Salt
1/4 Tsp Black Pepper
200 g (2 Cups) Short Pasta
Chives to serve
Instructions
Dice the shallots as finely as you can.
Slice the garlic as finely as you can.
Cut the mushrooms into 5-6mm thick slices.
Cook your pasta as per instructions in well-salted water, your mushrooms will take about 12-15 minutes to cook so time it well.
Melt the butter in a pan over a medium heat.
When the butter foams throw in the shallots, garlic and thymeand cook for 5 minutes.
Add the mushrooms and season with salt and pepper then fry for 8-10 minutes.
When the mushrooms are nicely cooked turn up the heat to high and add in the balsamic vinegar.
Cook for 2 minutes reducing almost all the way.
By now the pasta should be cooked so drain reserving a little liquid and add to the mushrooms.
Add the pasta and then a little of the cooking liquid and stir to form a silky coating.
Add snipped chives to serve.
Nutrition Information:
Yield:
2
Serving Size:
1
Amount Per Serving:
Calories:

421
Total Fat:

22g
Saturated Fat:

13g
Trans Fat:

1g
Unsaturated Fat:

7g
Cholesterol:

54mg
Sodium:

465mg
Carbohydrates:

48g
Fiber:

6g
Sugar:

10g
Protein:

10g
Calorific details are provided by a third-party application and are to be used as indicative figures only.