Pearl barley risotto is a dish from North Eastern Italy called orzotto or orzotti, this vegetarian version features mushrooms and red wine.
Cooking this dish takes longer than a traditional risotto, but there is none of that stirring malarky, pour in the stock, simmer and relax until dinner is served.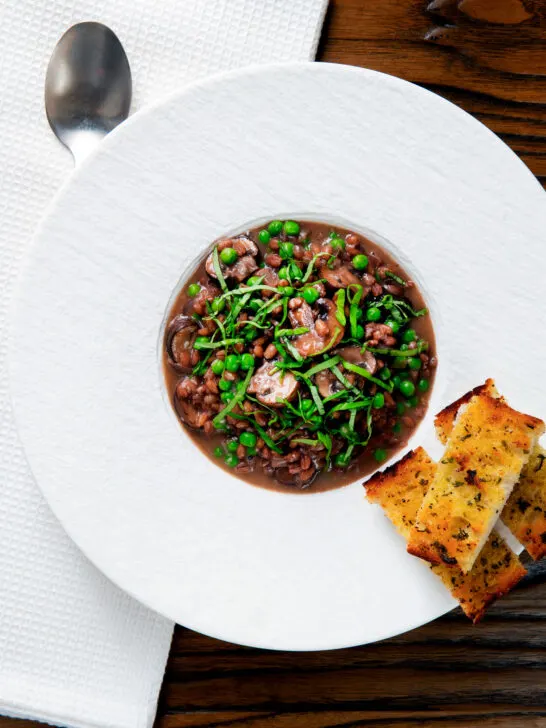 Vegetarian Mushroom Orzotto
My site is littered with risotto recipes, I have everything from smoked haddock risotto to black pudding risotto and chicken and chorizo risotto to pea and ham risotto.
This recipe is one of those "the same but different" kinda things!
In North Eastern Italy, they make a risotto from pearl barley and the name is a glorious portmanteau. A combination of the word risotto and orzo, the Italian name for barley.
There has been a trend of using orzo pasta to make a risotto-type dish using this name. It probably comes from a misunderstanding and it is pretty tasty, but it ain't what it claims to be.
This mushroom orzotto recipe is relatively classic in both its flavour and technique.
The barley itself has a wonderfully earthy flavour that I love and a really great almost chewy texture.
I cook it with red wine, mushrooms and peas and I love this recipe. I'm pretty old school when it comes to risotto, I love the whole chill out, keep stirring and drink wine approach.
But this recipe is altogether far less maintenance, add the stock and wait for dinner to be cooked. I like to serve mine quite "wet" but you can reduce the cooking liquid further if you wish.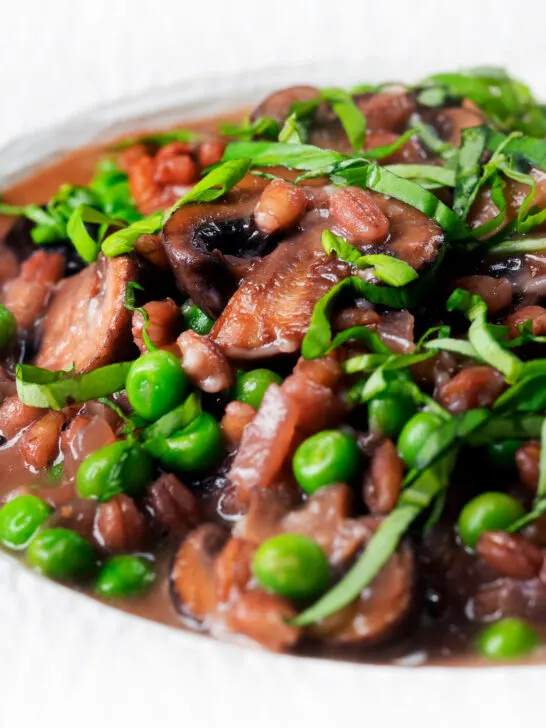 Frequently Asked Questions
What is pearl barley?
Pearl barley or pearled barley is barley grain that has had its outer husk removed.

It has been used as a food source around the world for hundreds of years and it features in both my rabbit stew and my cockaleekie soup.
Why is my Orzotto taking longer to cook?
"Pearling" barley differs from country to country and to be honest from producer to producer.

So the first time that you cook this recipe, it is important to be prepared to be flexible on the amount of stock you use.

Do not worry, you have not done anything wrong! Just taste and test for the last 5 minutes, if you need more stock then add it and give it a little longer.
Why do you defrost the peas?
I personally think that adding frozen vegetables to any hot dish is a bad idea. Mainly because it cools the dish rapidly, but it also adds a lot of water that is simply not needed!
Why isn't this going creamy like a risotto?
Unlike rice, pearled barley does not contain a lot of starch, which is what gives risotto its creamy texture.
Can I make this in advance?
Yes, unlike risotto this reheats really well and will store in the fridge for 2-3 days. To reheat place it in a saucepan and gently reheat until piping hot, you may need to add a little stock to keep it moist.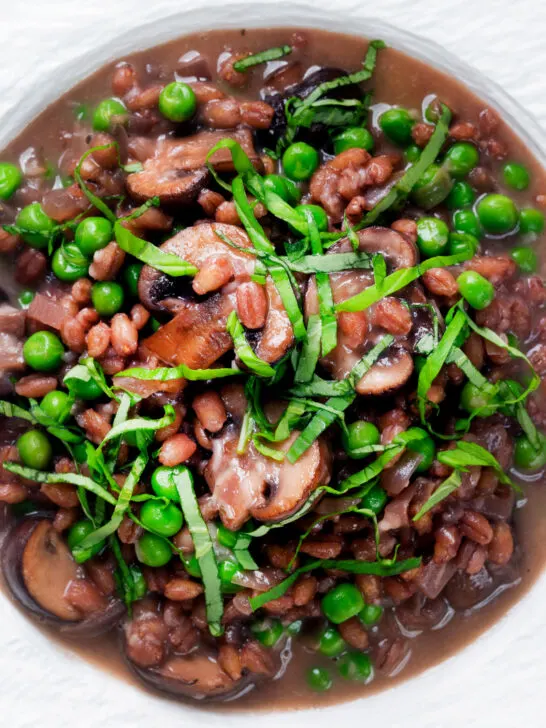 Serving Suggestions
This mushroom pearl barley risotto or orzotto is a comforting bowl of yumminess that is hearty enough to stand alone as a meal.
The only thing that I usually serve with it is bread to mop up the lovely juices.
You can go with anything from soda bread to ciabatta or focaccia.
Having said that, nine times out of ten I break out the garlic bread or cheesy garlic bread.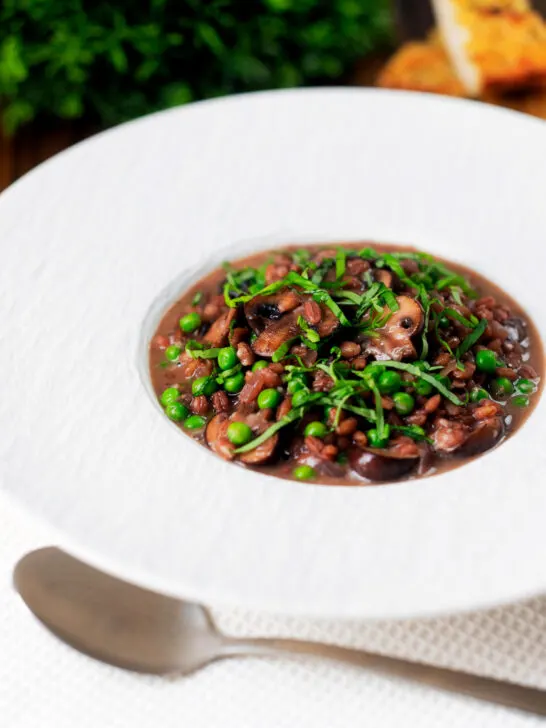 Equipment Used
I only name-check brands of equipment if I think they make a material difference to a recipe. If you have any questions feel free to ask them in the comments section below the recipe.
Stovetop.
30cm or 12″ frying pan.
Small (17cm or 7″) saucepan to heat the stock.
Chopping board.
Kitchen knife.
Weighing scales and or measuring cups and spoons.
Stirring and serving spoons.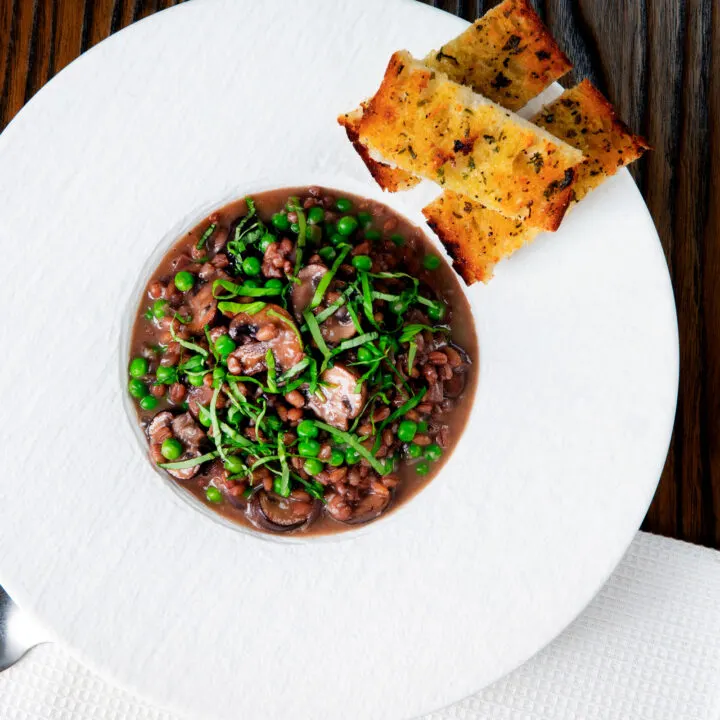 Yield:

2 Servings
Vegetarian Mushroom Pearl Barley Risotto Recipe AKA Orzotto Recipe
An Orzotto is a Northern Italian recipe that is essentially a pearl barley risotto, this is a mushroom orzotto that gets a deep flavour from the use of red wine which is balanced by sweet garden peas!
Ingredients
125g (⅔ Cup) Pearl Barley
650ml (2¾ Cups) Hot Vegetable Stock
200g (2-2½ Cups) Small Mushrooms
100g (⅔ Cup) Onion
6 Garlic Cloves
2 Tbsp Olive Oil
175 ml (¾ Cup) Red Wine
35g (2 Tbsp) Butter
50g (½ Cup) Parmesan Cheese
150g (1 Cup) Peas
Pinch Sea Salt
Instructions
Cut the mushrooms in half, if they are larger cut them into quarters.
Cut the onion in half, peel it and cut it into a 3-4mm (⅛") dice.
Peel the garlic and dice it as finely as you can.
Heat half of the olive oil in a pan over a high heat.
Heat a 30cm or 12" frying pan over a high heat and add half of the cooking oil.
Add the mushrooms and a generous pinch of sea salt and fry until golden brown, then remove the mushrooms and reduce the heat under the pan to medium.
Pour in the remaining oil.
Add the onion and cook for 5 minutes, the aim is to soften the onions but not colour them.
Throw in the garlic and cook for 1 more minute.
Add the pearl barley and toast in the oil for 2-3 minutes stirring often to prevent the garlic from burning.
Increase the heat a little and pour in the red wine and stir until it has all been absorbed/evaporated.
Return the mushrooms to the barley, along with the stock, turn the heat down to medium-low and then simmer for 35-40 minutes or until almost all of the stock has disappeared, the barley should now be cooked. If the barley is not cooked add a splash of stock if and cook for another 5 minutes.
If you are using frozen peas defrost them by running them under cold water for 3-4 minutes.
Grate the parmesan cheese.
Add in the peas, parmesan cheese and butter, then cover with a lid and allow to sit for 3-4 minutes, then stir and serve.
Nutrition Information:
Yield:
2
Serving Size:
1
Amount Per Serving:
Calories:

645
Total Fat:

36g
Saturated Fat:

15g
Trans Fat:

1g
Unsaturated Fat:

18g
Cholesterol:

59mg
Sodium:

1492mg
Carbohydrates:

52g
Fiber:

10g
Sugar:

12g
Protein:

17g
Calorific details are provided by a third-party application and are to be used as indicative figures only.