Chicken and chorizo risotto with peas and Manchego cheese, a meaty rice fest with Italian and Spanish influences that is comfort food heaven.
Cooking in around 40-45 minutes including preparation this recipe is a fantastic mid-week hearty one-pot dinner.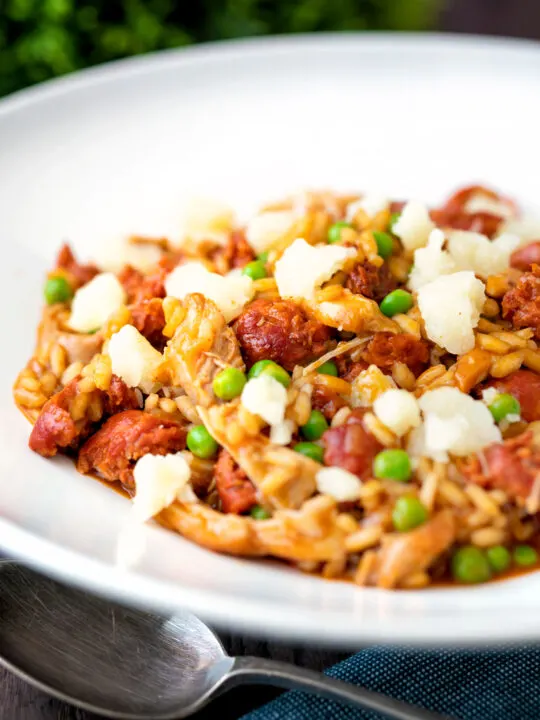 A Spanish-Italian Risotto
I am sure that there are cooking zealots that will find the idea of this recipe abhorrent and I am sure many will hop into my messages to tell me so.
Of course, I care very little, this chicken and chorizo risotto is simply delicious.
It is big and bold and hearty! Gimme a big bowl, a spoon, a glass of wine and a big comfy sofa and I'm as happy as larry.
Of course, it is very different to a classic creamy risotto, I love them too. I have many on my site everything from lemon and prawn risotto, pea and ham risotto to chicken and bacon risotto if you want to stick with the chicken theme.
This one though is very much a bit of a "meat feast". Paprika rich Spanish chorizo and chicken really are the stars of this recipe.
Sweet green peas cut through the starchy rice and bold spicing.
In echos of my chorizo gnocchi recipe it also gets a splash of sherry vinegar and a crumbling of delicious Manchego cheese.
If you like this recipe then you will love my quick chicken and chorizo pasta and prawn and chorizo paella recipes.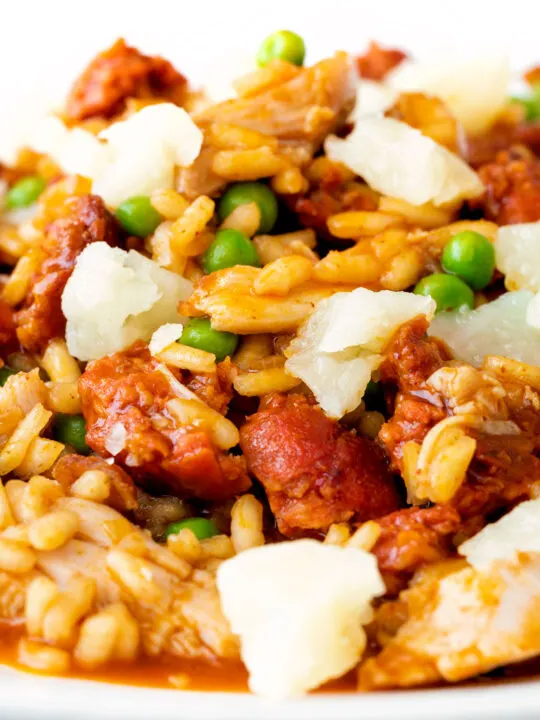 Frequently Asked Questions
What is cooking chorizo?
First of all, Chorizo has two places of Origin, the first is Spain and I use Spanish chorizo. The second is Mexico, it is very rarely seen in Europe, it is very nice but very different from Spanish Chorizo.

Spanish chorizo comes in two types, fully cured similar to salami or pepperoni and it can be eaten raw. Then cooking chorizo, this cannot be eaten raw and must be cooked.

I like it as the fat renders down quicker which reduces the chances of the paprika in the sausage of burning. This helps prevent the dish from developing a bitter edge.
What type of risotto rice should I use?
I base all of my risotto recipes on Arborio rice because it is the most commonly available.

This recipe is equally good, if not better made with carnaroli rice, rice that has a higher starch content. This leads to an even creamier mouthfeel.
Do I have to use sherry vinegar?
No not at all although the addition of some acid really does help this recipe. You could use red wine vinegar as a cheaper alternative.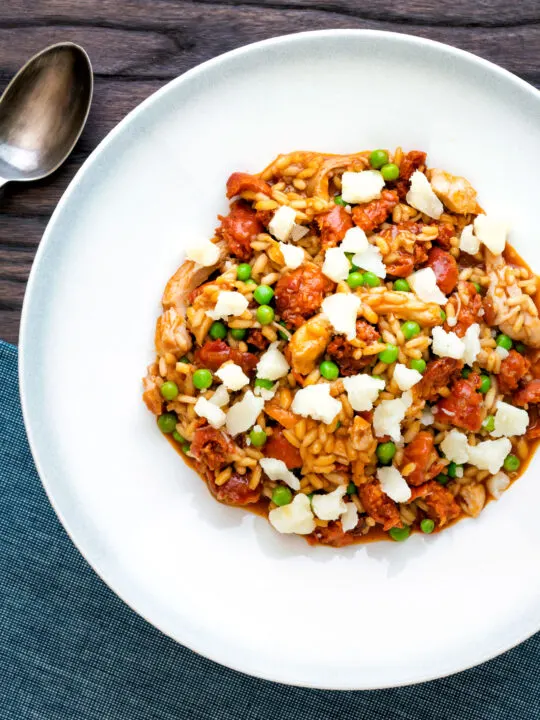 Serving Suggestions
This chicken and chorizo risotto is meant to be a one-pot complete dinner and it is generous enough to be just that.
That does not mean that the addition of a little something else hurts.
Yes, it is protein and carb-heavy but for me a nice bit of bread works a treat with this recipe.
Something like a ciabatta bread is perfect for mopping up the paprika rich oils from the bottom of the bowl.
But a nice garlic bread goes down a treat too, whether it is out of the chiller cabinet or homemade!
Equipment Used
I only name-check brands of equipment if I think they make a material difference to a recipe. If you have any questions feel free to ask them in the comments section below the recipe.
Stovetop.
28cm or 11″ frying pan or skillet.
15cm or 6″ saucepan.
Chopping board.
Kitchen knife.
Weighing scales and or measuring cups and spoons.
Ladle.
Stirring and serving spoons.
Yield:

2 Servings
Chicken and Chorizo Risotto Recipe
This chicken and chorizo risotto is a cross over dish with an Italian base but very Spanish flavours that include smoked paprika, sherry vinegar and manchego cheese alongside the spiced sausage.
Ingredients
1 (About 35g) Shallot
125g (⅔ Cup) Risotto Rice
2 Small Boneless Skinless Chicken Thighs
250g (∼9oz) Cooking Chorizo Sausage
1 Tsp Smoked Paprika
25ml (1 Tbsp + 2 Tsp) Sherry Vinegar
650ml (2¾ Cup) Chicken Stock
75g (½-⅔ Cup) Peas
1 Tsp Cooking Oil
25g (∼2 Tbsp) Butter
Generous Pinch Salt
50g (⅓-½ Cup) Manchego Cheese
Instructions
Peel and dice the shallot as finely as you can.
Slice the skin of the chorizo sausage and remove the skin, then tear apart the sausage meat into rough 1-2cm chunks.
Heat the stock in a 15cm or 6" saucepan, it does not need to boil, just keep it hot whilst you add it to the risotto.
Heat a 28cm or 11" frying pan or skillet over a medium high heat and when it is hot add the butter and oil.
Season the chicken with a generous pinch of salt and add it to the pan with the butter and oil and cook on one side for 3-4 minutes.
After 3-4 minutes add the torn-up chorizo and cook stirring occasionally whilst flipping the chicken until almost cooked through (approximately another 7-10 minutes).
Sprinkle over the smoked paprika and cook for another 60 seconds.
Transfer the chicken and chorizo to a bowl keeping as much of the oil and butter in the pan as possible.
Return the pan to a medium heat and when warm add the shallot and stir for 1-2 minutes to soften.
Add the risotto rice and stir constantly until it becomes opaque at the edges, this should take 1-2 minutes.
Pour in the sherry vinegar and stir until it has almost all disappeared.
Now add half a ladle of stock, again stir until the pan is almost dry.
Add another ladle of stock (100ml) and again stir until the pan is almost dry.
Repeat adding the stock a ladle at a time allowing the pan to become almost dry before adding more. Make sure you stir well every minute or two for 10 seconds or so.
Whilst the rice is cooking shred the chicken thighs.
The final addition of stock is complete when there is still a little stock left but the rice separates when a wooden spoon is dragged through the fills with rice and stock within a few seconds.
By the time the stock has all been added the rice should be almost cooked.
Add the rice, chorizo, resting juices and peas to the pan and stir to reheat.
Serve hot with manchego cheese crumbled over the top.
Nutrition Information:
Yield:
2
Serving Size:
1
Amount Per Serving:
Calories:

1228
Total Fat:

82g
Saturated Fat:

35g
Trans Fat:

0g
Unsaturated Fat:

43g
Cholesterol:

310mg
Sodium:

2471mg
Carbohydrates:

43g
Fiber:

3g
Sugar:

10g
Protein:

78g
Calorific details are provided by a third-party application and are to be used as indicative figures only.