Oxtail soup has many guises, this version is a classic British recipe takes time but is very easy to cook & results in THE best beef soup!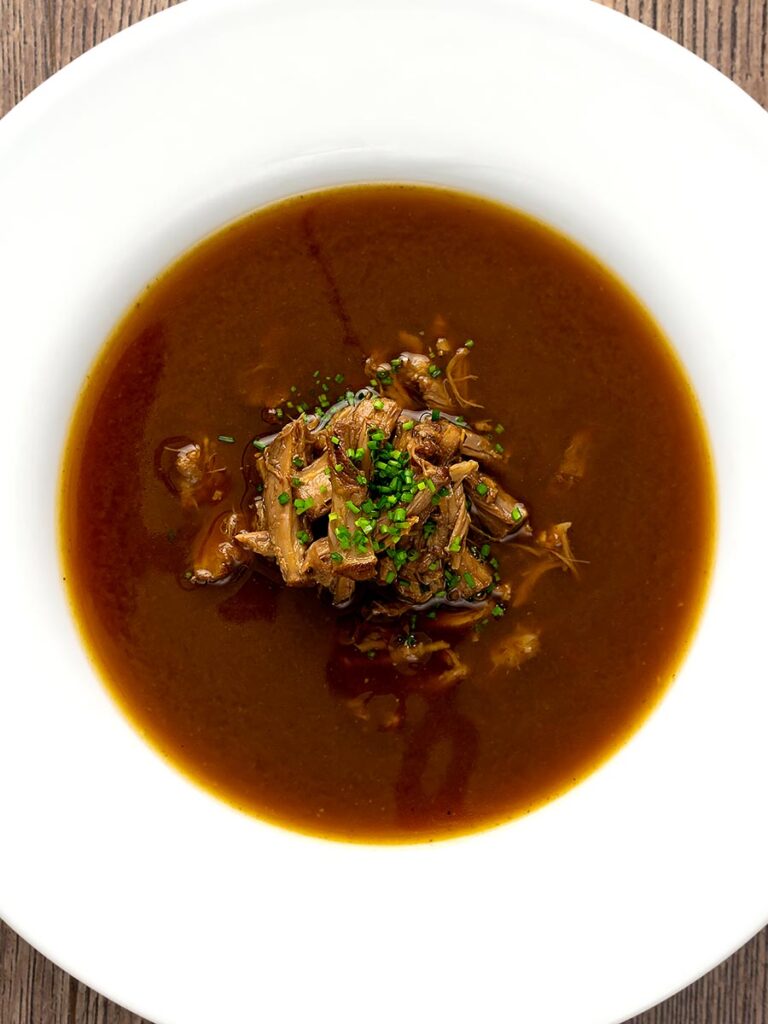 Classic Beef Soup.
There is no rushing this old fashioned British recipe, it is all about breaking down the gelatinous nature of the oxtail and extracting all of that flavour!
What was once a cheaper cut of meat is now rather more costly. For good reason too and that reason is flavour.
Now it does need careful cooking and if you rush this recipe you will end up with inedible meat.
It ain't just us British that are fond of oxtail though!
It is used around the world, famed for its flavour and the richness it lends to recipes.
Whether it be the classic Kare Kare from the Philipines or a spicy African oxtail stew it is delicious!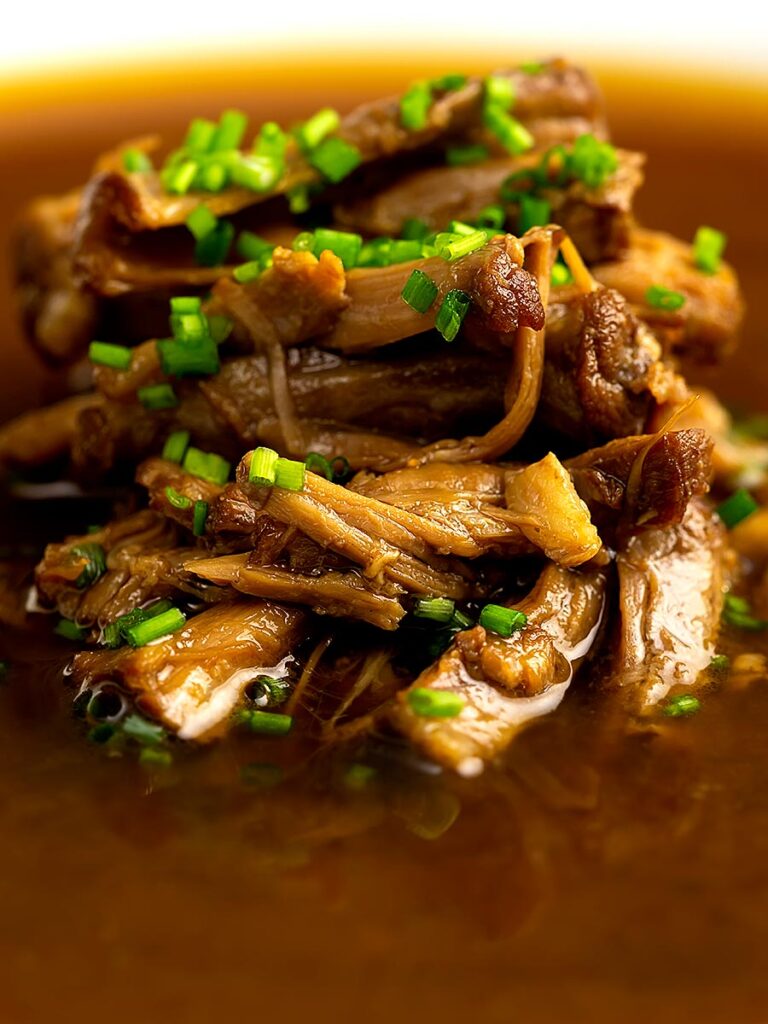 Why Chill Overnight?
Oxtail is chock a block full of fat and until you chill overnight you cannot appreciate just how much.
Now I like fat, it is where the flavour is at, but it has to be the right fat and the right amount.
When the stock has jellified overnight you will notice that it forms 3 distinct layers.
The bottom layer will be a thick, clear and jellified stock, this is where the good stuff is.
The next layer will be the impurities, you can leave these in if you like. It will make your oxtail soup a little cloudy, I usually remove around two thirds.
The final layer is fat, you will be surprised just how much there is. I get rid of all of this, there is plenty that we are returning when we shred the beef!
Now I ain't afraid of fat, I cook my Wiener Schnitzel in pure pork lard. But the aim here is flavour and not the consumption of fat.
As a result, I do not throw it away, I heat it up and pour through a muslin cloth and use it for frying.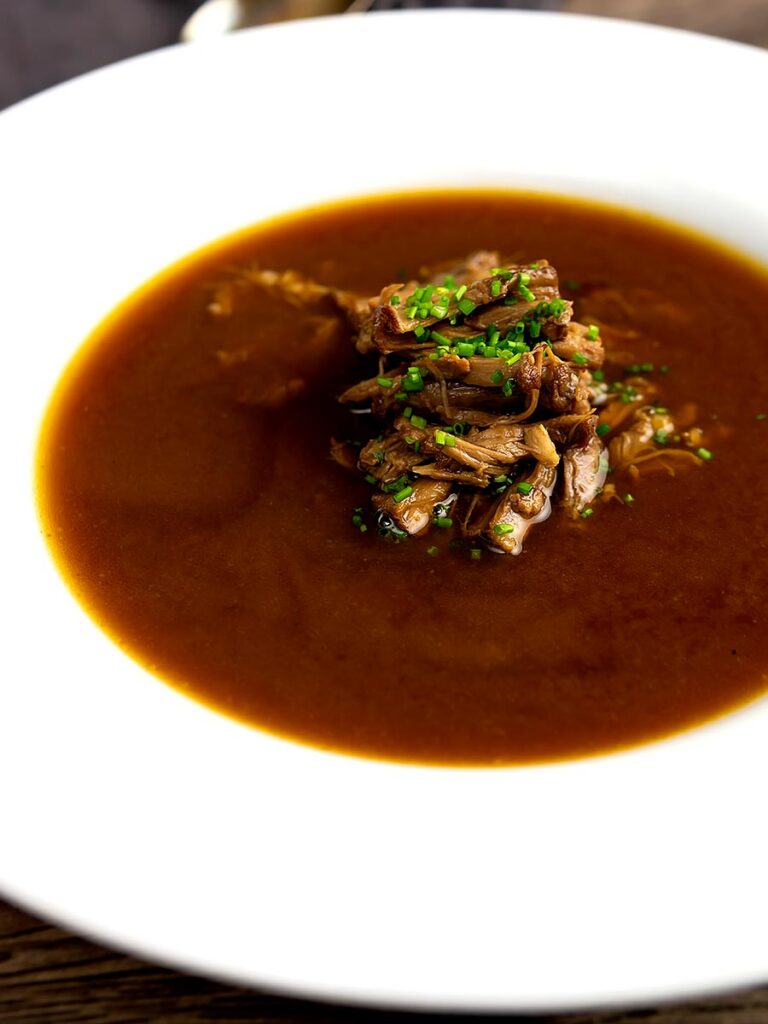 Alternative Cooking Instructions.
I usually cook this recipe in its entirety on the stove top.
However, I have done some experimenting to offer advice on adding either a slow cooker or pressure cooker into the process.
First of all, I must stress that I do this out of sacrifice not because I am greedy!
In my testing, the cooking method makes no discernable difference to this recipe. As a result, you can take your pick.
My testing also ONLY relates to the initial cooking of the oxtail. Once the meat is cooked it needs to set and rest overnight as my original recipe.
Slow Cooker or Crock Pot Instructions:
Chop the vegetables and throw them into the slow cooker.
Brown the oxtail in a hot pan in hot oil and transfer to the slow cooker.
Deglaze the pan with the red wine and reduce by half.
Pour into the slow cooker and add the remaining ingredients and cook for 8 hours on low.
Instant Pot Instructions:
Put the IP on Saute mode and when hot add the oil.
Brown the oxtail on all sides then remove from the pot.
Pour in the red wine and reduce by half.
Return the oxtail and remaining ingredients.
Add a lid and cook on high pressure for 90 minutes.
Allow the pot to naturally release pressure.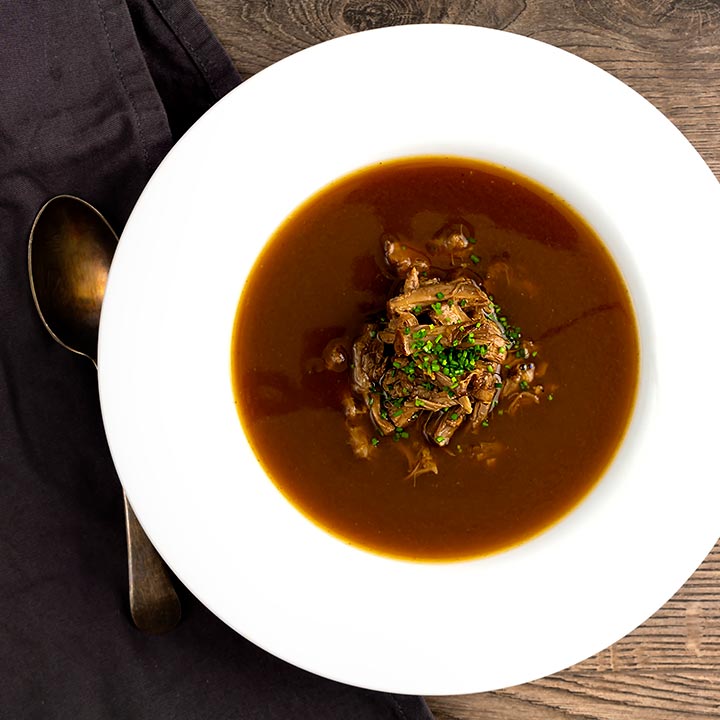 Yield:

4 Servings
British Oxtail Soup Recipe
Cook Time:
4 hours
30 minutes
Total Time:
12 hours
45 minutes
Classic British Oxtail soup is a beautifully dark, meaty, beefy treat, this recipe is rich, delicious and massively flavoured!
Ingredients
1 Kg (35 oz) Oxtail
1 Tbsp Cooking Oil
200 g (1 Cup) Onion
100 g (1/2 Cup) Carrot
50 g (1/2 Cup) Celery
3 Sprigs Thyme
2 Bay Leaves
1 Tbsp Tomato Ketchup
1 Tbsp Worcestershire Sauce
300 ml (1 1/4 Cup) Red Wine
1.5 Litres (1.5 Quarts) Beef Stock
10 Whole Pepper Corns
Salt and Pepper to taste
1.5 Tbsp Plain Flour
Instructions
Season the oxtail with salt and pepper.
Heat the oil in a pan and when hot fry the oxtail to get a nice colour on all sides.
Remove and set aside.
Roughly chop the onion, carrot and celery into a 1cm dice.
Add the vegetables and cook for 5 minutes scraping the bottom of the pan occasionally.
Add in the bay leaves, thyme, red wine, tomato ketchup, peppercorns and Worcestershire sauce.
Bring to the boil and reduce by half, this should take 4 or 5 minutes.
Return the oxtail to the pan along with any resting juices.
Add the beef stock and simmer on low for 3-4 hours.
After 10 minutes have a taste and add salt as required.
When the soup has simmered and the beef for tender strain the soup.
Separate the oxtail from the vegetables and discard the veggies and cover the liquid and meat then cool.
When cool, refrigerate overnight.
Around 20 minutes before you are ready to serve skim any fatty deposits from the top of the soup. Your soup should be set like a jelly!
Gently warm the skimmed, jellified broth over a medium heat.
When this is hot and liquid remove around 250ml and add it to the flour.
Pull the meat from the bone and then shred with your fingers.
Whisk until you get a smooth slurry.
Pour into the soup whilst whisking.
When the soup has thickened add in the shredded beef and allow to gently cook out for 4 or 5 minutes.
Serve hot with snipped chives.
Nutrition Information:
Yield:
4
Serving Size:
1
Amount Per Serving:
Calories:

843
Total Fat:

40g
Saturated Fat:

15g
Trans Fat:

0g
Unsaturated Fat:

20g
Cholesterol:

230mg
Sodium:

1079mg
Carbohydrates:

28g
Fiber:

4g
Sugar:

9g
Protein:

78g
Calorific details are provided by a third-party application and are to be used as indicative figures only.