Rabo de toro or Spanish oxtail cooked in red wine & sherry until it is almost falling off the bone, I blend the sauce to create a thick gravy.
I have instructions to cook this on the stovetop, in the oven and even in a slow cooker so you can take your choice!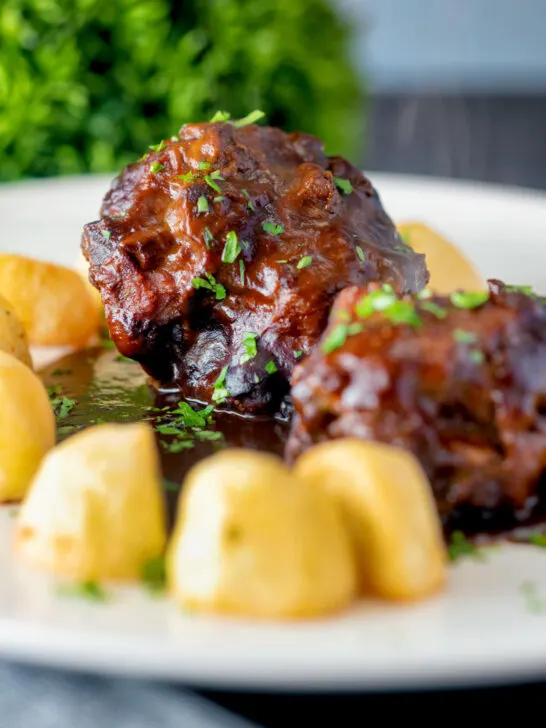 Spanish Stewed Oxtail in Red Wine
Like many cooks, I have a thing for what are often thought of as tougher and gnarly pieces of meat. Treat them well and cook them slowly and you will be rewarded with a ridiculous amount of flavour.
The two pieces of beef that stand out for me are the ox cheek that I use in this beef cheek ragu and oxtail.
Oxtail has appeared here before in the form of my very British oxtail soup.
But this oxtail recipe hails from Spain and is called rabo de toro and it is magic. Its traditional home is Cordoba in Andalusia, it is a relatively simple dish of oxtail cooked in red wine and sherry.
Whilst it takes a long time to cook the only work you have is nicely browning the oxtail.
After that, you get to sit back and drink in that aroma, it's up to you whether you blend the sauce at the end.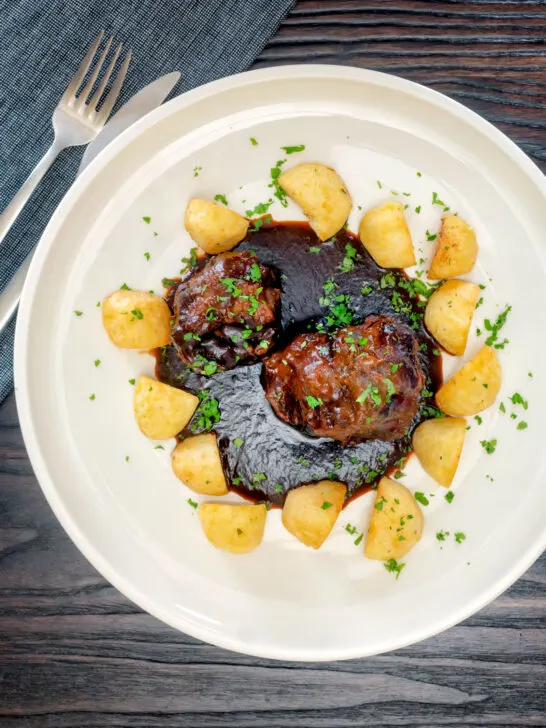 Frequently Asked Questions
What sort of red wine should I use?
The obvious suggestion would be a nice Spanish Crianza Rioja, but Cabernet Sauvignon would work well too.

I actually used a Grenache called Sangre De Toro (blood of the bull) as it's a tipple I'm fond of at the moment.
Do I have to use sherry?
No, you can omit the sherry and split the total volume 50/50 between beef stock and more red wine.
Which is the best cooking method?
Given a choice, I would usually opt to throw rabo de toro in the oven on low because I find it simple and easy.

Naturally, the slow cooker is by far the cheapest way to cook this, but I find that the sauce is a little "light" when the dish is finished.
Do I have to blend the sauce?
No, it is delicious left chunky and "rustic" but I love a rich and slightly thickened gravy. But that is a personal thing, but be sure to try and fish out the bay leaves and juniper berries.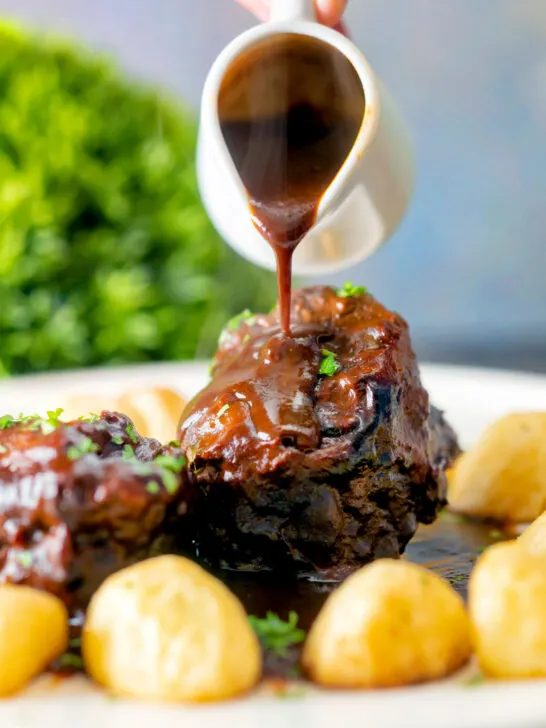 Serving Suggestions
I have served my rabo de toro here with some Parmentier potatoes that I cooked in the air fryer. They come out a little more blonde than they do when they are cooked in the oven, but are still delicious.
In many informal restaurants in Spain this oxtail recipe is often served with French fries. I'd typically cook frozen French fries in an air fryer, it's not the same as frying but it works perfectly well.
Sticking with the potato theme you could serve this with anything from straw potatoes to fried new potatoes. If I were to go all in on potatoes and treat myself I would make some fondant potatoes because they are absolutely wonderful!
Mash makes another wonderful side dish, mashed potatoes are a solid choice, but celeriac mash would be better.
Finally, if you want some greens then consider some roasted tenderstem broccoli or garlic green beans.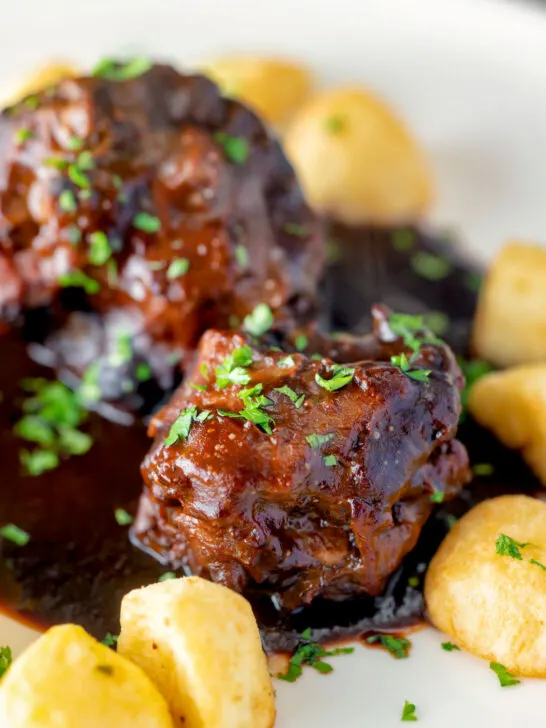 Equipment Used
I only recommend brands of equipment if I think that they make a material difference to a recipe. If you have any questions feel free to ask them in the comments section below the recipe.
Stovetop.
OPTIONAL: Oven or slow cooker. If you are using a slow cooker this recipe is designed for a 3-3.5 litre slow cooker.
24cm or 10″ Dutch oven or heavy-based saucepan with a lid.
Frying pan if you are using a slow cooker.
Sharp Kitchen knife.
Chopping board.
Weighing scales and or measuring cups and spoons.
Blender or stick blender (OPTIONAL).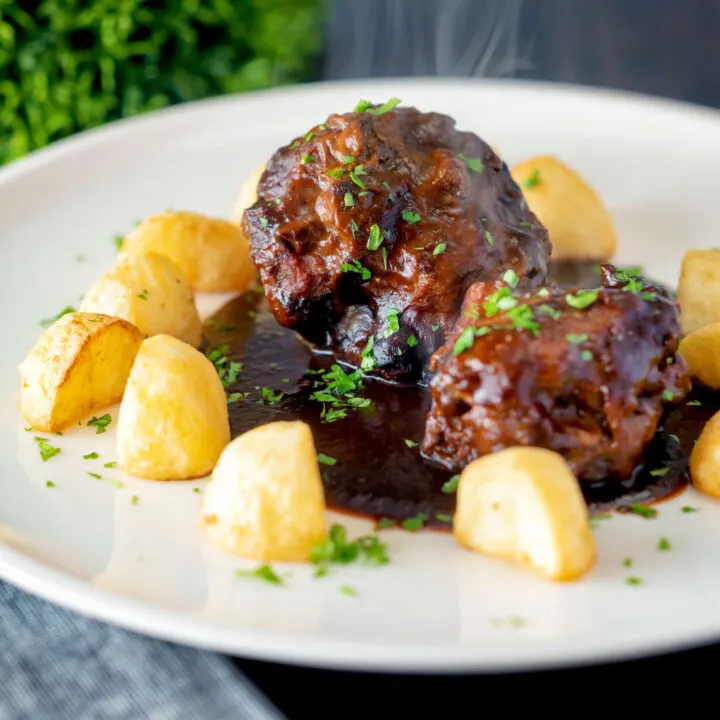 Yield:

2 Servings
Rabo De Toro Recipe or Spanish Oxtail
Cook Time:
4 hours
15 minutes
Total Time:
4 hours
25 minutes
Rabo de toro translates to tail of the bull and it is essentially a Spanish oxtail originating in Cordoba, my versions adds a couple of items but stays relatively true to the original.
Ingredients
800g-1kg Oxtail
¼ Tsp Salt
¼ Tsp Black Pepper
1 Tbsp Flour
2 Tbsp Olive Oil
300g (2 Cups) Onions
75g (½ Cup) Carrot
75g (⅓-½ Cup) Celery
6 Garlic Cloves
150g (1 Large) Tomato
18 Juniper Berries
2 Bay Leaves
375ml (½ Bottle) Red Wine
125ml (½ Cup) Spanish Sherry
250ml (1 Cup) Beef Stock
Instructions
Trim the oxtail of any excess fat, then season it with the salt and pepper.
Heat a 24cm dutch oven over a medium high heat and when it is hot add the oil. If you are cooking this in a slow cooker you can use a 28cm or 11" skillet or frying pan.
Dust the oxtail with the flour and remove any excess, then brown the meat on all sides, then set aside.
Peel the onions and cut them into a 2cm dice.
Cut the celery and carrot into a 2cm dice.
Peel the garlic cloves and bash them with the side of a knife.
Cut the tomato into a 2cm dice.
Add the onions, celery and carrot to the pan you cooked the oxtail in and cook for 10 minutes, it should soften and begin to colour.
Throw in the garlic and tomato and cook for another 2 minutes.
Add the juniper berries and bay leaves.
To Cook on a Stovetop:
Return the oxtail to the pan and pour over the red wine, sherry and beef stock.
Add a lid and cook for 3-4 hours over a very low heat. The meat is cooked when it is almost falling away from the bone.
To Cook in the oven:
Return the oxtail to the pan and pour over the red wine, sherry and beef stock.
Add a lid and transfer to the oven and cook for 3 hours at 150° or 300°F. The meat is cooked when it is almost falling away from the bone.
To Cook in a slow cooker:
Transfer the vegetables to the base of the slow cooker and add the oxtail.
Pour over the red wine, sherry and beef stock and add a lid, cook on low for 6-7 hours or on high for 3-4 hours. The meat is cooked when it is almost falling away from the bone.
To Finish the Dish:
Carefully remove the meat and set it aside.
Blend the sauce in either a blender or with a stick blender (optional), then return it to the cooking pan.
Return the oxtail and cook for a final 15-20 minutes.

Nutrition Information:
Yield:
2
Serving Size:
1
Amount Per Serving:
Calories:

1477
Total Fat:

72g
Saturated Fat:

25g
Trans Fat:

0g
Unsaturated Fat:

38g
Cholesterol:

368mg
Sodium:

1225mg
Carbohydrates:

52g
Fiber:

10g
Sugar:

14g
Protein:

117g
Calorific details are provided by a third-party application and are to be used as indicative figures only.