A good Wiener Schnitzel is typified by its simplicity, I love this type of food!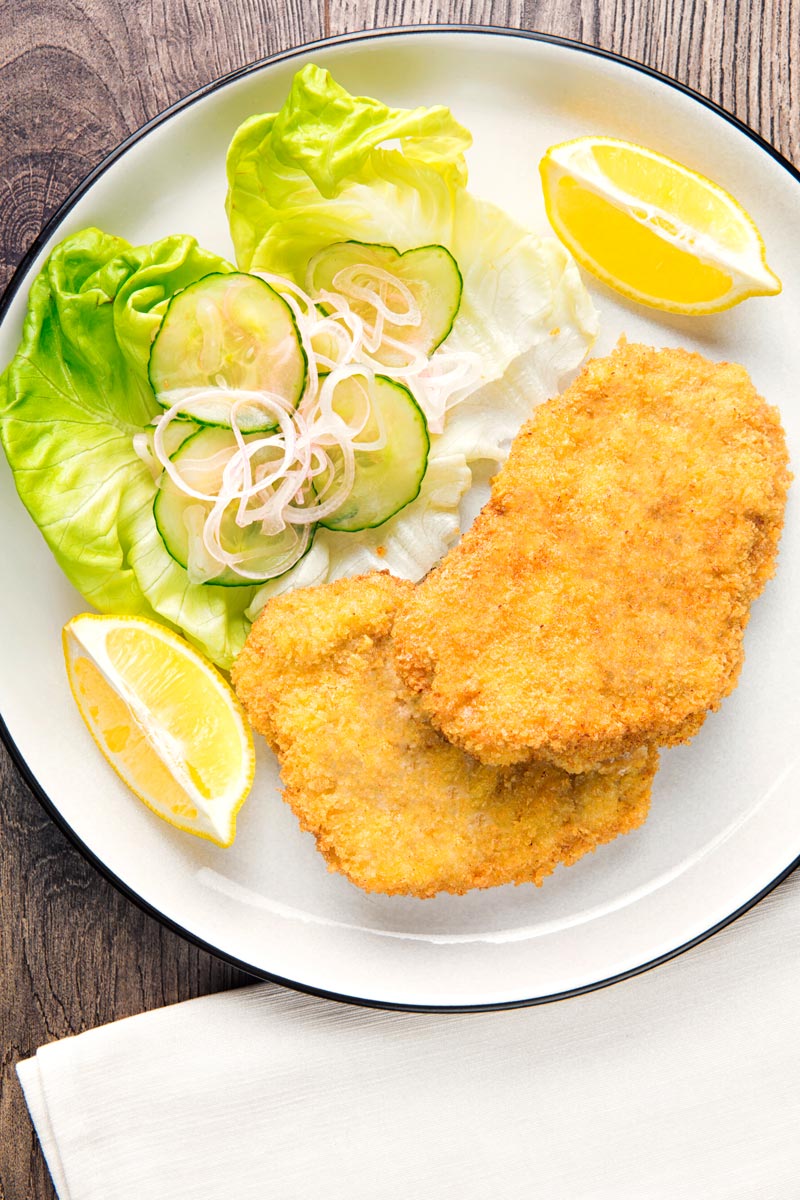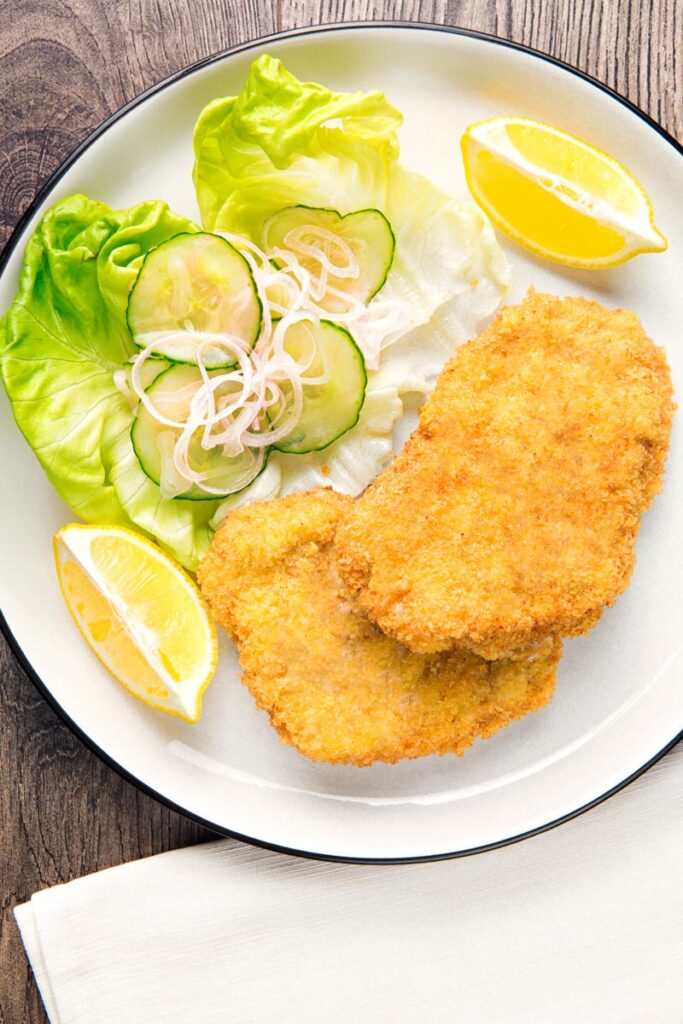 What is a Wiener Schnitzel?
Cutting through all the crap it is simply a flattened veal cutlet that has been breaded and fried.
There are all sorts of "modern" ideas floating around about how to cook this dish. To be honest none of them stand up to a good old pan of fat.
This is a recipe that is very easy to get right but even easier to make a real mess out of.
It is a dish of techniques, simple techniques but if you get any of them wrong then your dinner will be disappointing.
The first choice you have to make is the meat, for me that means veal!
There are many that struggle with the idea of eating veal, I do not if it is sourced responsibly.
I will not re-hash my thoughts on veal, I cover them comprehensively in my veal burger recipe.
You can use pork although I am always disappointed every time I order a Wiener schnitzel and it ends up being pork… And I am a pork lover!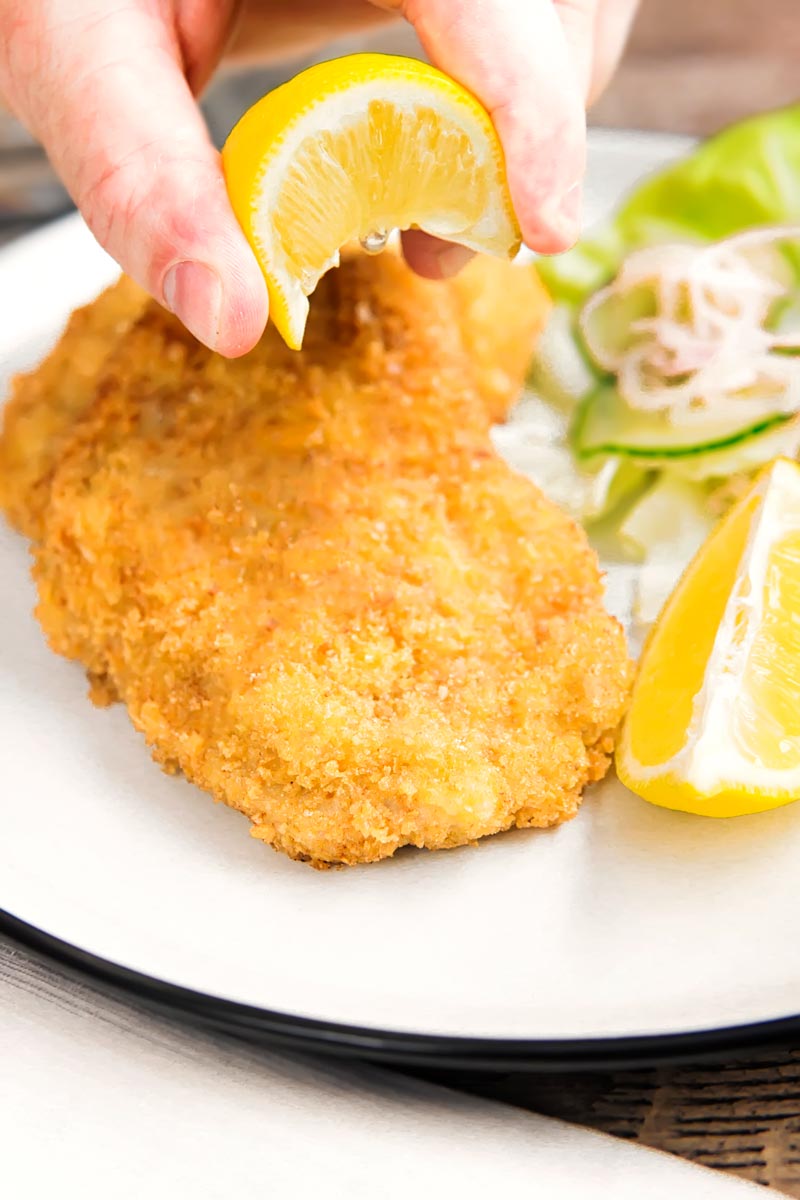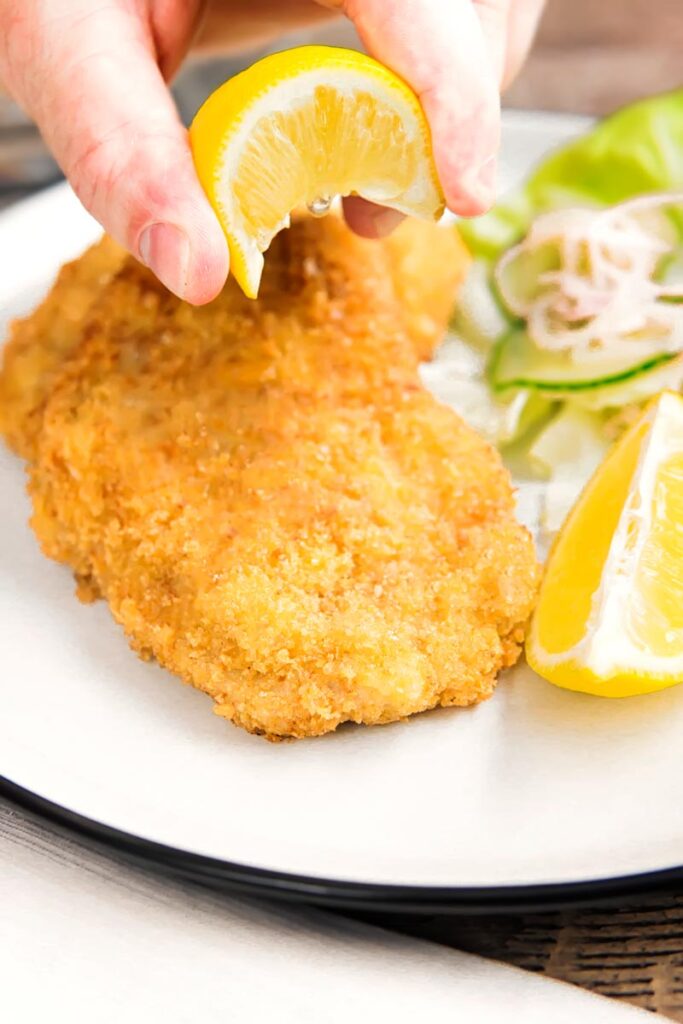 How to Choose and Prepare the Meat.
For this recipe you want a nice piece of loin, or even better fillet of veal.
The same goes for pork if you are subbing it out, you want something lean and tender.
Then you need to slice the meat across the grain so that it is around 2.5-3cm thick.
Once you have done that all you need to do is sandwich between two pieces of cling film and let out that tension.
Beat the snot out of it with a rolling pin until it is around 5mm thick!
Then all you need to do is coat with breadcrumbs, season well with salt and pepper. Then into flour, egg and breadcrumbs, just like my Chicken Kiev or Chicken Cordon Bleu recipes.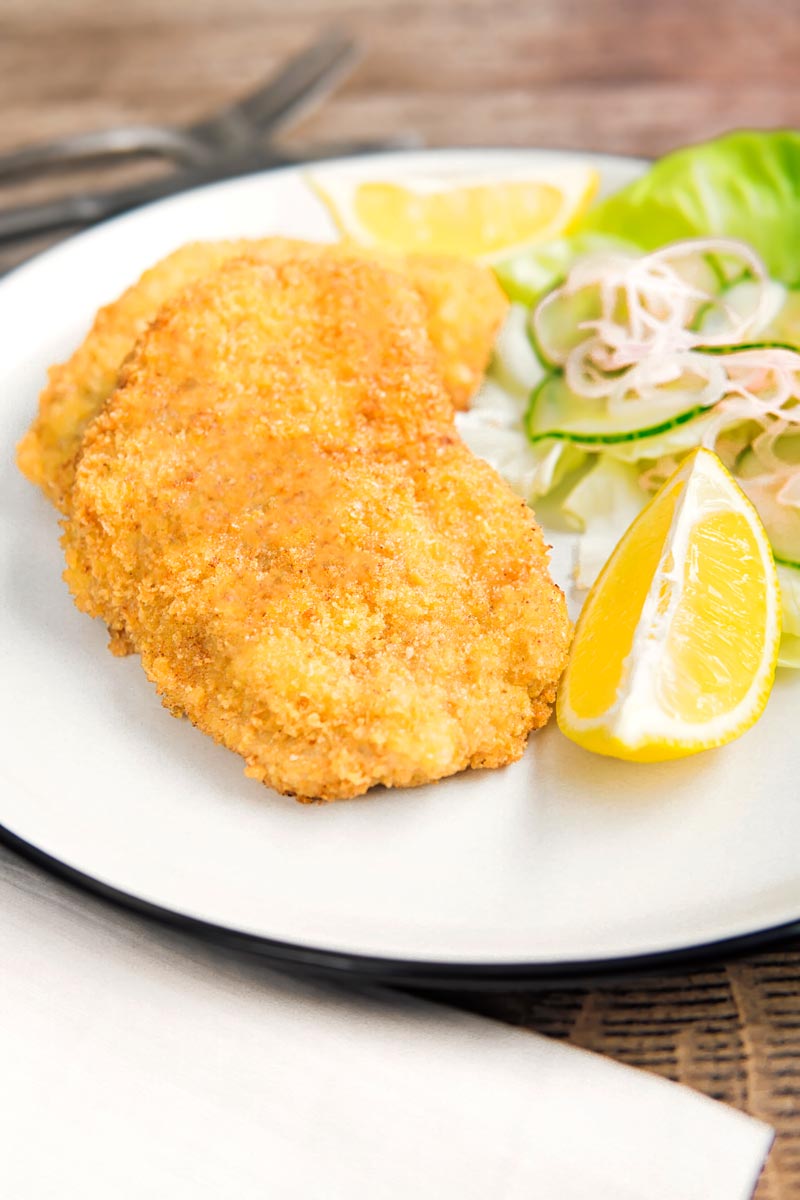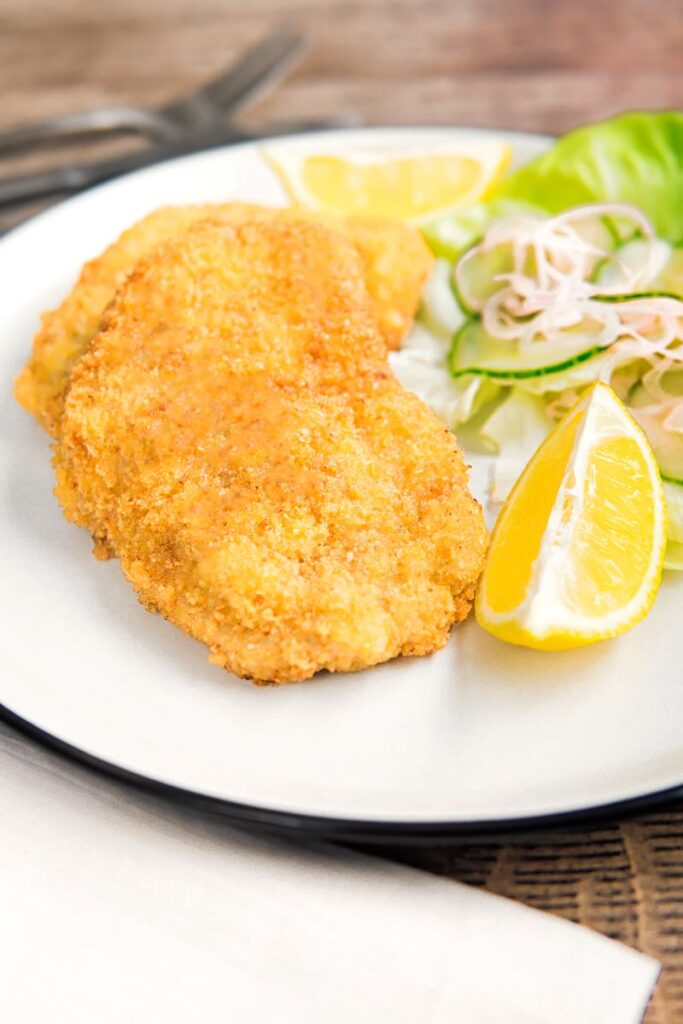 What Oil or Fat to Use?
The next choice you have to make is your cooking oil. I personally prefer good quality lard, or shortening for my US readers.
Here in Hungary that is easy to lay your hands on, elsewhere that may be more of a challenge. In that case, I would choose clarified butter!
The next thing you need is enough of it, you need the cutlet to "swim" in the fat. That means 2-3cm of oil, don't worry it can be reused.
Then you need the right temperature, go for 165°C or 330°F, any lower your schnitzel will be greasy and no one like a greasy schnitzel!
Any higher and your breadcrumbs will be burnt before the veal is cooked.
Then it is a case of cooking, 3 minutes a side does nicely.
But batch cook your cutlets being careful not to overcrowd the pan. Most importantly let the fat come back to temperature before cooking a subsequent batch!
So what to serve with Wiener Schnitzel?
Traditionally it would be served with a salad and wedge of lemon, I have added my favourite take on this.
However today it is often served with fries which I find too dry but a nice potato salad would work well.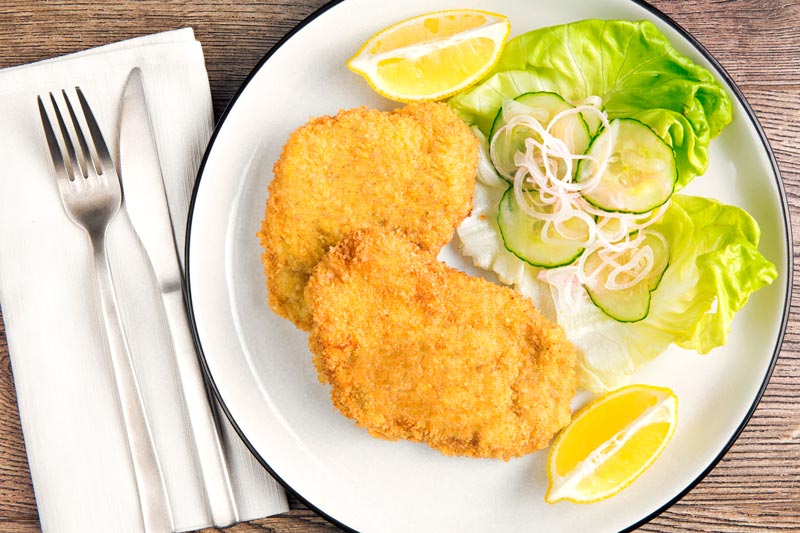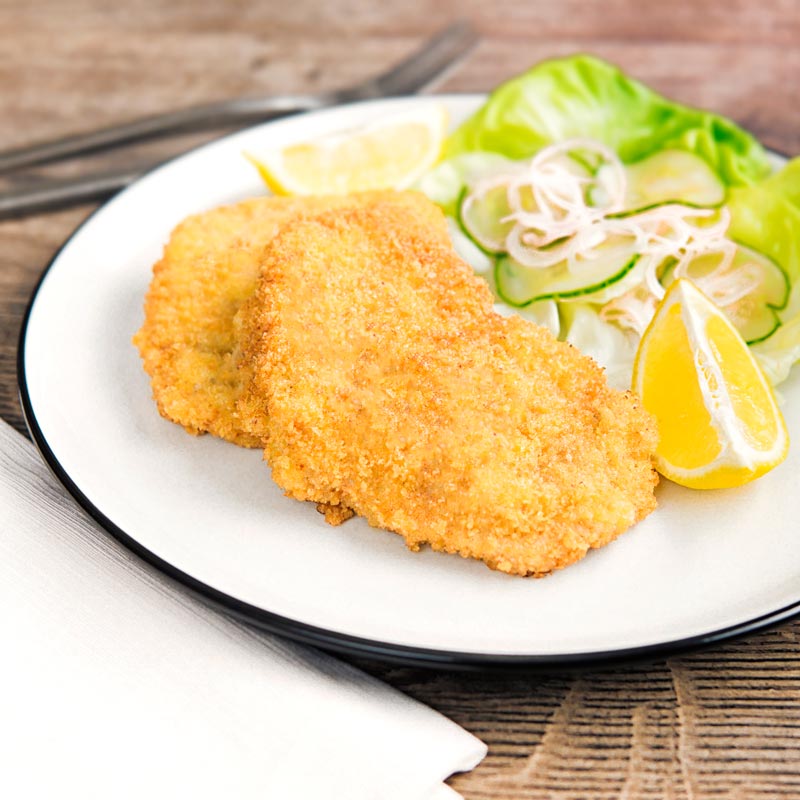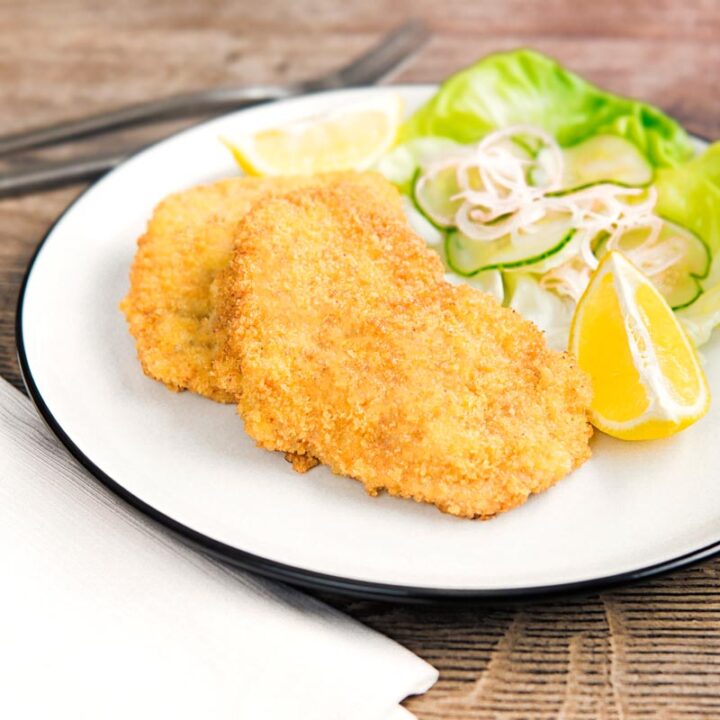 The Perfect Viennese Wiener Schnitzel Recipe
This classic Veal Wiener Schnitzel features a bashed out veal cutlet and is coated in breadcrumbs and fried until golden brown... Just the way it should be!
Ingredients
For the Cutlet:
400 g Veal Cutlets
4 Tbsp lour
2 Eggs
50 g Breadcrumbs
Salt to taste
Pepper to taste
Lard or Clarified Butter for frying
1 Lemon
For the Salad:
6 Lettuce Leaves
1/2 Cucumber
1 Shallot
1 Tsp Sugar
3 Tsp White Wine Vinegar
Pinch of Salt
Instructions
Begin by cutting the veal against the grain into slices 2.5cm to 3cm thick.
Sandwich between two pieces of cling film and beat until 5mm thick with a rolling pin and set aside.
Thinly slice the cucumber and the shallot for the salad as finely as you can.
Mix together the sugar, vinegar and salt for the salad until the sugar and salt completely dissolves.
Melt the lard or clarified butter and heat to 165°C or 330°F.
Whilst the fat is melting season the veal with salt and pepper.
The dip into the flour, followed by the egg and finally into the breadcrumbs.*
Just before you begin frying add the shallot and cucumber to the vinegar and mix.
Now fry the schnitzel for 3 minutes a side, flipping with a spatula taking care not to pierce the breadcrumbs.
Make sure you do not overcrowd the pan and transfer cooked cutlets to a warm oven to keep warm.
Finally, toss the lettuce in with the cucumber and plate with some lemon wedges,
Notes
*Do not double dip the cutlet and do not press the breadcrumbs into the cutlet.
Nutrition Information:
Yield:

2
Serving Size:

1
Amount Per Serving:
Calories:

1090
Total Fat:

59g
Saturated Fat:

20g
Trans Fat:

0g
Unsaturated Fat:

34g
Cholesterol:

406mg
Sodium:

1181mg
Carbohydrates:

89g
Fiber:

7g
Sugar:

10g
Protein:

48g
Calorific details are provided by a third-party application and are to be used as indicative figures only.