Tonkatsu is a modern day classic Japanese recipe of crispy fried pork cutlet this recipe features my homemade simple katsu sauce.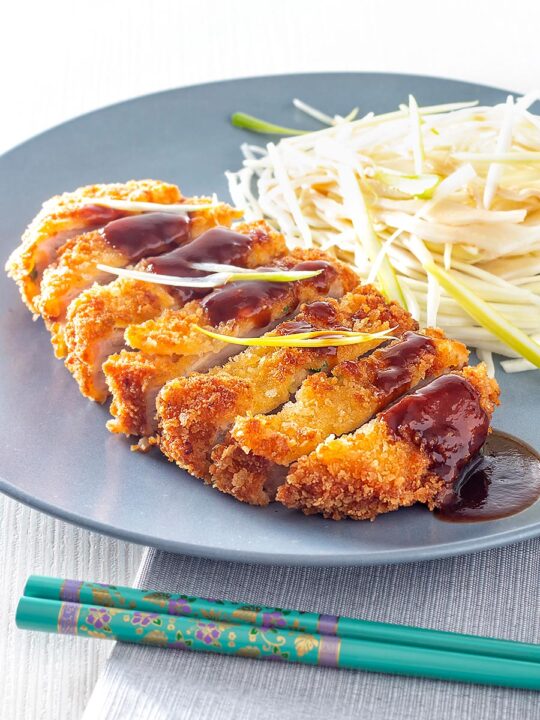 Japanese Pork Cutlets!
It is hard to believe that this dish is Japanese because Tonkatsu has definite European leanings.
It feels as familiar to me as a European and pasta or roast meat!
Essentially it is a pork schnitzel in all but name and it is hard to not see the link with a classic Wiener Schnitzel.
It was first seen in 1899 in a recognisable form in a restaurant called Rengatei in Tokyo.
The name is a compound of 2 words Ton, which means pork and Katsu which is a Japanese derivation of the French word cotelette.
We are essentially looking at a simply fried pork cutlet that is coated with breadcrumbs.
All you need to do is nap over the simple katsu sauce and bosh, quick delicious Japanese fast food.
Tonkatsu has a 'sister' dish, katsu curry or katsu kare and is often served as chicken katsu curry. Most definitely well worth checking out!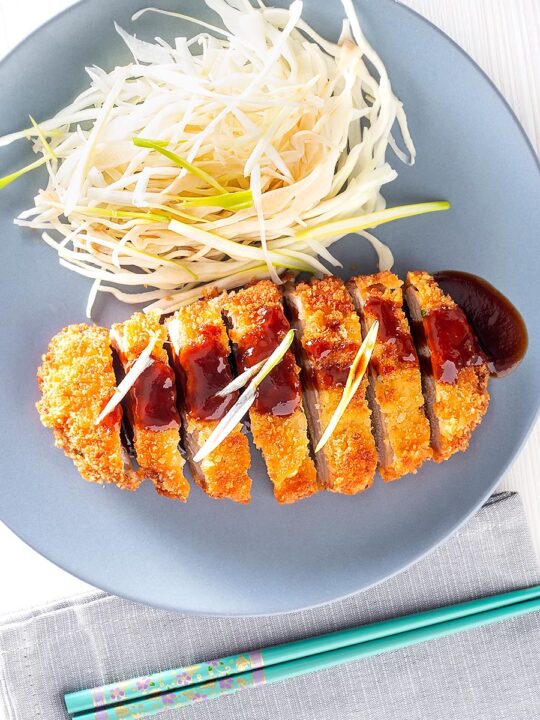 What Is In Katsu Sauce?
I wish I could remember where I got my Tonkatsu sauce recipe from so that I could it name check.
It is delicious and so simple and if I was honest gets a run out on many more things than tonkatsu.
You can scale up this sauce and it will last for weeks in the refrigerator.
It works wonderfully on a sandwich or burger and I have even added it to my Welsh Rarebit. My grandad will be turning in his grave!
A traditional tonkatsu sauce is incredibly complex and takes many hours to make.
It features everything from malt vinegar to fruit and vegetable purees.
My version takes minutes and is delicious and contains Worcestershire sauce, oyster sauce, tomato ketchup and a bit of sugar.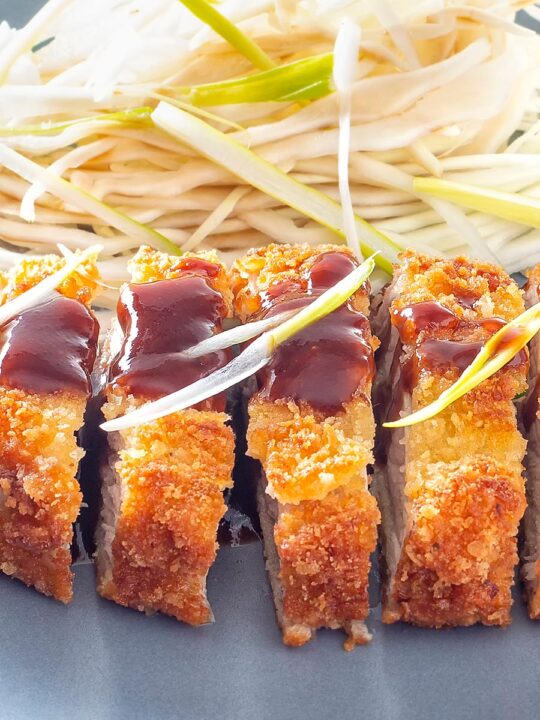 Serving Suggestions.
Tonkatsu is traditionally served with a lightly soused cabbage salad but it is a very versatile dish.
As with lots of Japanese food it is often served as part of a multi-course meal featuring things like miso soup and rice.
It also works really well with plain rice, but it is completely "over the top good" with fried potatoes!
I cook this all of the time and will often serve my tonkatsu with an asparagus stir fry or even some stir fried broccoli.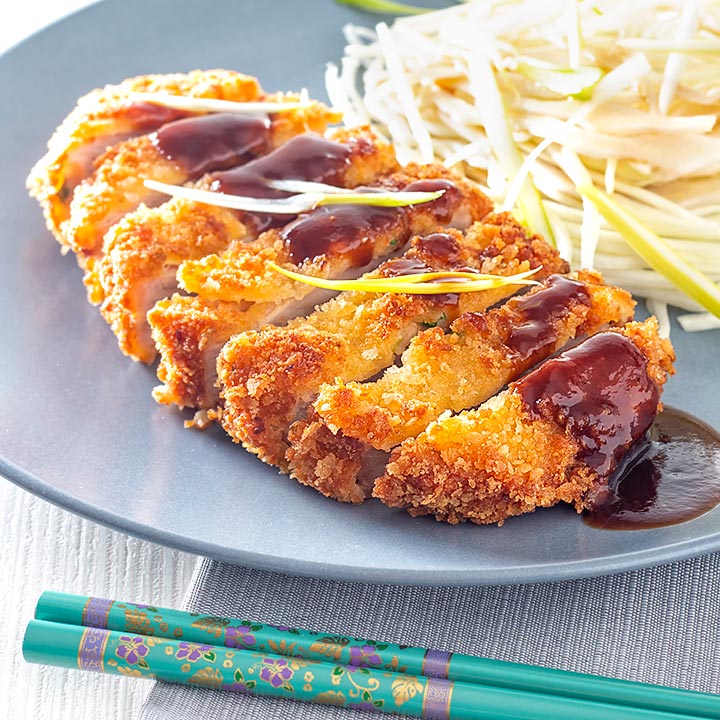 Yield:

2 Servings
Tonkatsu Recipe with Homemade Katsu Sauce
Total Time:
1 hour
10 minutes
Tonkatsu may have an exotic name but it will be a familiar concept to most people, it is essentially a breaded pork schnitzel served with cabbage salad.
Ingredients
For the Pork Steak
350 g (12.3 oz )Pork Loin
50ml (1.7 fl oz) Light Soy Sauce
50ml (1.7 fl oz) Mirin
1 Garlic Clove
1 Beaten Egg
1 Tbsp Spring Onion
Cooking Oil
30 g (1 oz) Panko Breadcrumbs
Black Pepper
Salt to Taste
For the Katsu Sauce.
1 Tbsp Tomato Ketchup
1 Tbsp Worcestershire Sauce
1 1/2 Tsp Oyster Sauce
1 Tsp Sugar
Instructions
For the Tonkatsu.
Cut the Pork Cutlet into two slices cut approximately 1.5 cm thick on the diagonal across the loin.
Mix the soy, mirin, garlic and black pepper in a bowl and add the pork, allow to marinade for 30 minutes.
Finely chop the spring onion and garlic.
Mix together the egg, garlic, salt and pepper and spring onion.
Thoroughly dry the pork then dip into the egg this mix and then into the panko breadcrumbs to coat.
Refrigerate and allow to firm up for at least 30 minutes.
Heat the cooking oil around 1cm to 1.5cm deep in a pan big enough to hold the tonkatsu to 170° or 340°F and shallow fry on both sides until golden. This should take no more than 4 minutes per side.
Transfer to some kitchen roll to remove excess oil.
For the Tonkatsu Sauce.
Simply mix together all of the ingredients and serve over the pork when cooked.
Notes
Whilst this recipe says it takes an hour and 10 minutes, an hour of that is marinading and resting... So you will spend maybe 20 minutes in the kitchen in total.
Nutrition Information:
Yield:
2
Serving Size:
1
Amount Per Serving:
Calories:

610
Total Fat:

26g
Saturated Fat:

6g
Trans Fat:

0g
Unsaturated Fat:

16g
Cholesterol:

233mg
Sodium:

2660mg
Carbohydrates:

34g
Fiber:

1g
Sugar:

17g
Protein:

54g
Calorific details are provided by a third-party application and are to be used as indicative figures only.