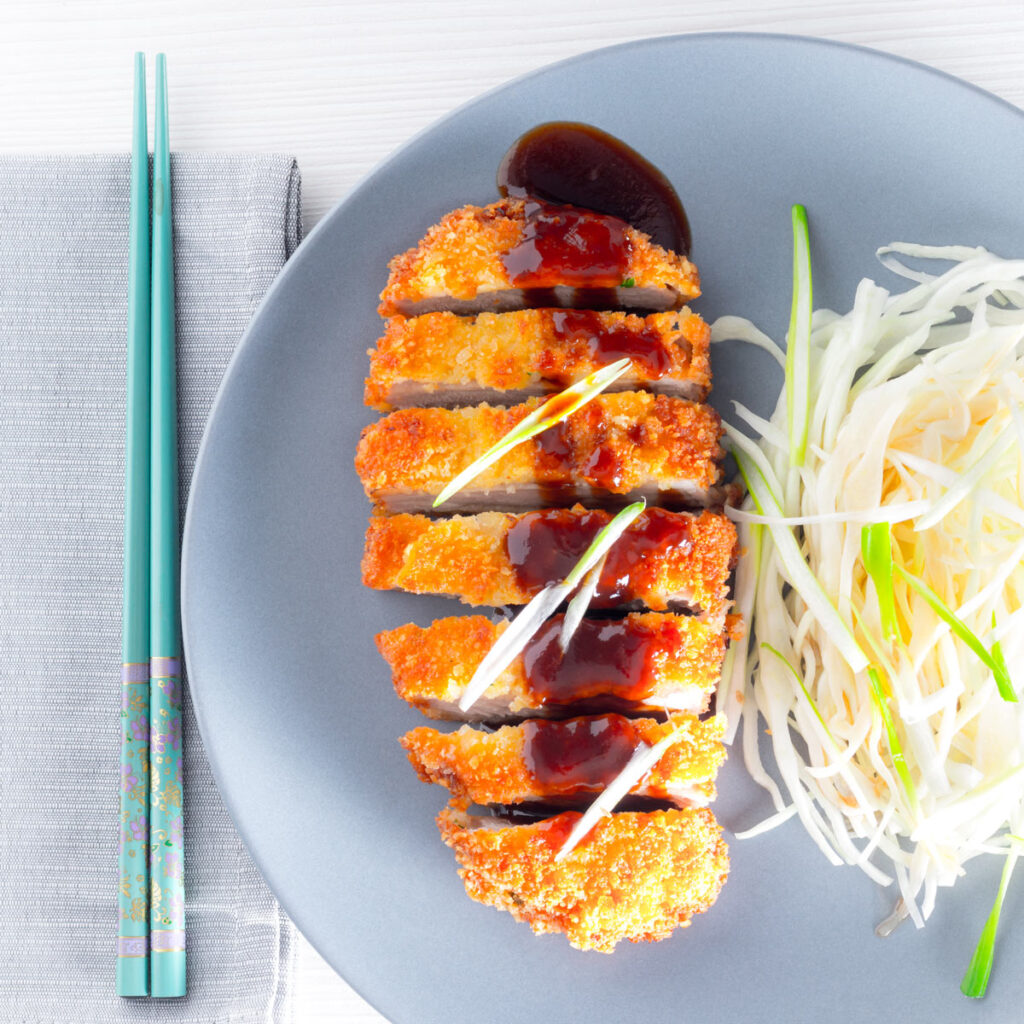 It is hard to believe that this dish is Japanese, in fact Tonkatsu has definite European leanings and lets face it, it is a pork schnitzel in all but name, but a schnitzel with the glorious flavours of Japan. Come to think of it this is the first Japanese recipe I have put up on Krumpli which is odd because I love Japanese food but I have to admit I find it very intimidating, you see I believe that the Japanese make the most beautiful food that anyone  ever puts on a plate. Of course it tastes wonderful and I am fairly confident with my flavours for traditional Japanese food (of which of course this is not), but the thought of putting Japanese food on a plate and have it not look like a work of art would be doing it a disservice.
I wish I could remember where I got my Tonkatsu sauce recipe from and give it name check as it is delicious and so simple and if I was honest gets a run out on many more things than my Japanese pork schnitzel, a traditional sauce is incredibly complex and takes many hours to make, this take minutes and is delicious. I did float around on the web to try and find my original source and fell short however it would seem that this recipe or fairly similar versions of this are pretty par for the course.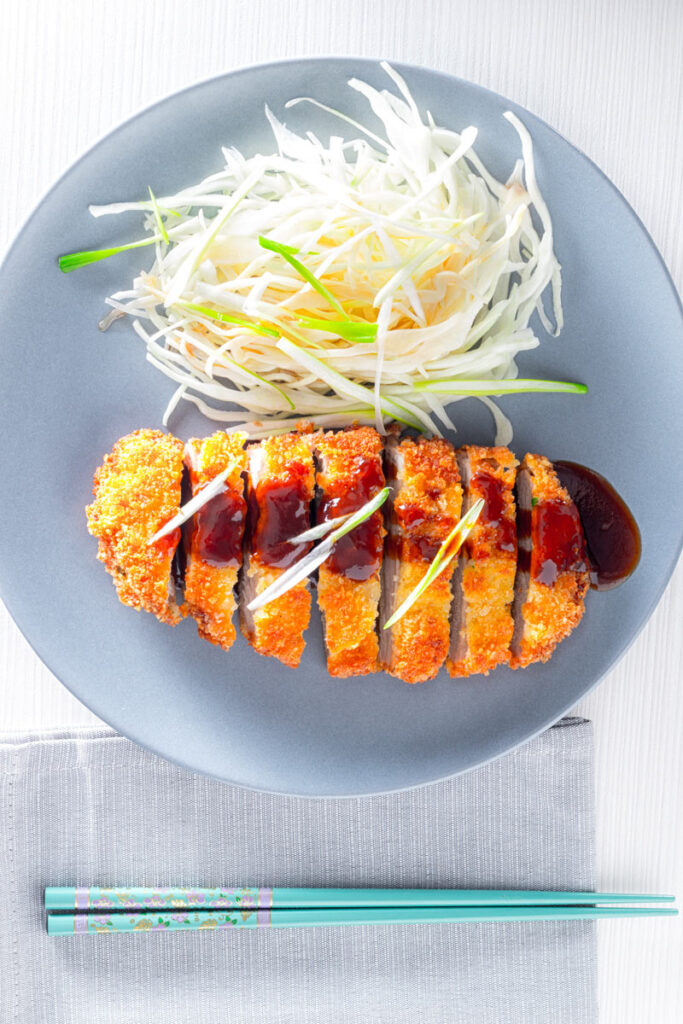 Print
Tonkatsu or Japanese Pork Schnitzel
Tonkatsu may have an exotic name but it will be a familiar concept to most people, it is essentially a breaded pork schnitzel served with cabbage salad.
Total Time
1
hour
10
minutes
Ingredients
For the Tonkatsu
350

g

Pork Loin.

This should be two slices cut approximately 1.5 cm thick on the diagonal across the loin.

50ml

Light Soy Sauce.

50ml

Mirin.

1

Garlic Clove.

Crushed.

1

Egg.

Lightly beaten.

1

Tbsp

Spring Onion.

Finely Chopped.

Cooking Oil.

For shallow frying.

Black Pepper.

Good grind.

35

g

Bread Crumbs.

Approximate weight, but you need enough to coat.
For the Cabbage Salad
250

g

White Cabbage.

Sliced as fine as you can, I use a 1.5mm attachment on a mandolin.

1

Tbsp

Rice Wine Vinegar.

2

Tsp

Light Soy Sauce.

2

Tsp

Sugar.

1

Tsp

Sesame Oil.
For the Tonkatsu Sauce.
1

Tbsp

Tomato Ketchup.

1

Tbsp

Worcestershire Sauce.

1 1/2

Tsp

Oyster Sauce.

1

Tsp

Sugar.
Instructions
For the Tonkatsu
Mix the soy, mirin, garlic and black pepper in a bowl and add the pork, allow to marinade for 30 minutes.

Mix together the egg spring onion and then dip the pork loin in to this mix and then into the bread crumbs to coat. Refrigerate and allow to firm up for at least 30 minutes.

Heat the cooking oil around 1cm to 1.5cm deep in a pan big enough to hold the tonkatsu to 170° and shallow fry on both sides until golden, this should take no more than 4 minutes per side. Transfer to some kitchen roll to remove excess oil.
For the Cabbage Salad.
Mix together the rice wine vinegar, soy sauce, sugar and sesame oil.

When the cabbage is freshly shredded plunge in ice cold water to preserve the crunch before draining and drying as much as possible.

Dress the cabbage no more than 2 minutes before serving.
For the Tonkatsu Sauce
Simply mix together all of the ingredients and serve over the pork when cooked.
Recipe Notes
Whilst this recipe says it takes an hour and 10 minutes, an hour of that is marinading and resting... So you will spend maybe 20 minutes in the kitchen in total.