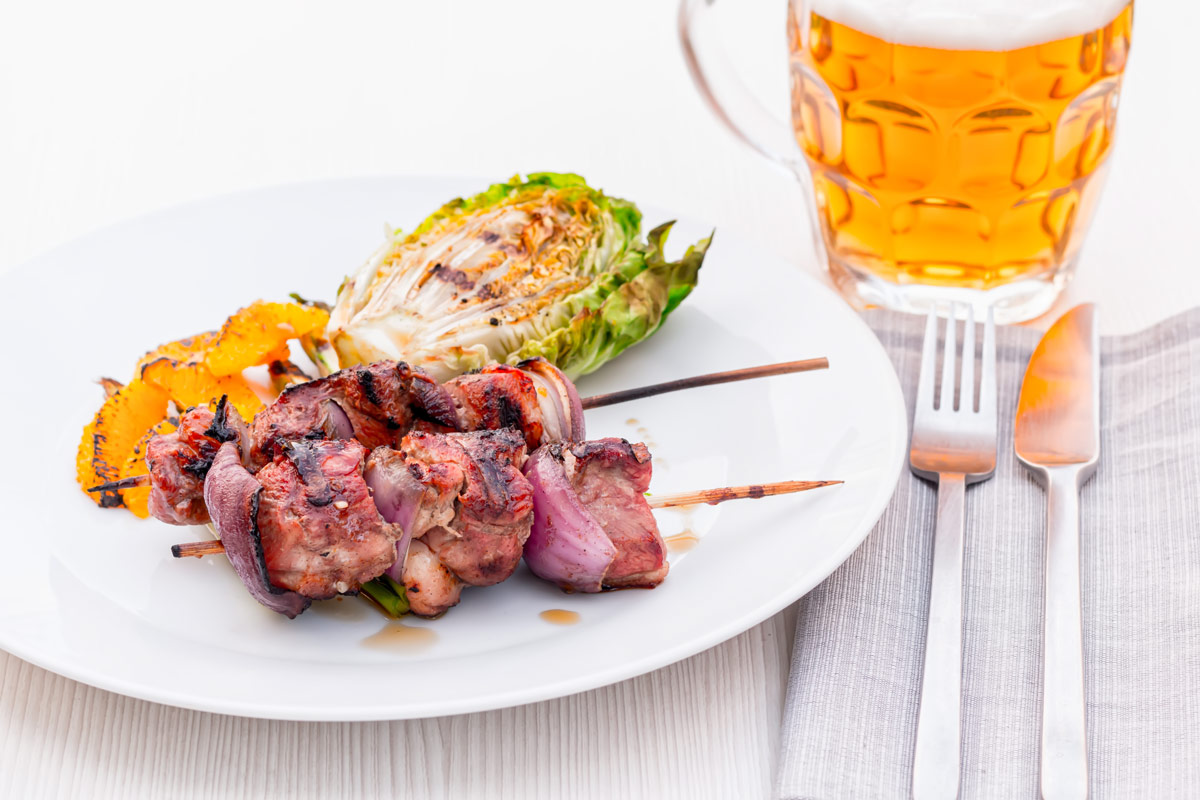 BBQ Duck Kebab in just 77 seconds, click play!
My BBQ duck kebabs see the return of a couple of things that have been missing here on Krumpli for a while, the first being video, what you mean you never noticed? Go on click play, you are not to read on until you have watched… You have watched right? Promise? Good! And the second being BBQ food, I had loads of fun last summer doing stuff like this but never started until late so this year I am getting in early and have loads of ideas and recipes lined up for similar treatment. I just had to kick of this years BBQ fun with these BBQ duck kebabs, simple classical flavours that work really well together in a recipe that has a little Asian leaning but perfect for early summer and late spring. And yes I am cooking lettuce again, I will keep flogging this horse until people pick up on it, lettuce is not just something to throw in a side salad, it is a viable real ingredient that we should take as much care of as any other ingredient.
I'm still trying to work out what I want to do with video, they are loads of fun to make (kinda), but really time consuming and despite the seeming chaos they take loads of planning, something I am pretty damn poor at to be honest. So you may notice the recipe of assistance as well as the video, I would love to do video all year round. However my house, that I love dearly really is not built for that stuff and neither is the Hungarian winter, our kitchen is tiny and only has a small window on the Eastern aspect. In fact our house sticks to a really traditional design that has been around for hundreds of years, it is made of mud and straw, yes really! Lies on a north south line and only has windows, and small ones at that on the east and south facing walls, sure it can get a little dark in winter but from an efficiency point of view it is genius. We will work outside during the day all summer so inside stay gloriously cool despite temps of 40°C  not being un-heard of yet in winter our single wood burner with wa water boiler keeps the house warm despite temperatures dropping below -30°C. Where was I, oh yes, my house, as much as I love it just aint made for making video, so you only have to indulge my video fun in summer and this bbq duck recipe is just the start of much more to come.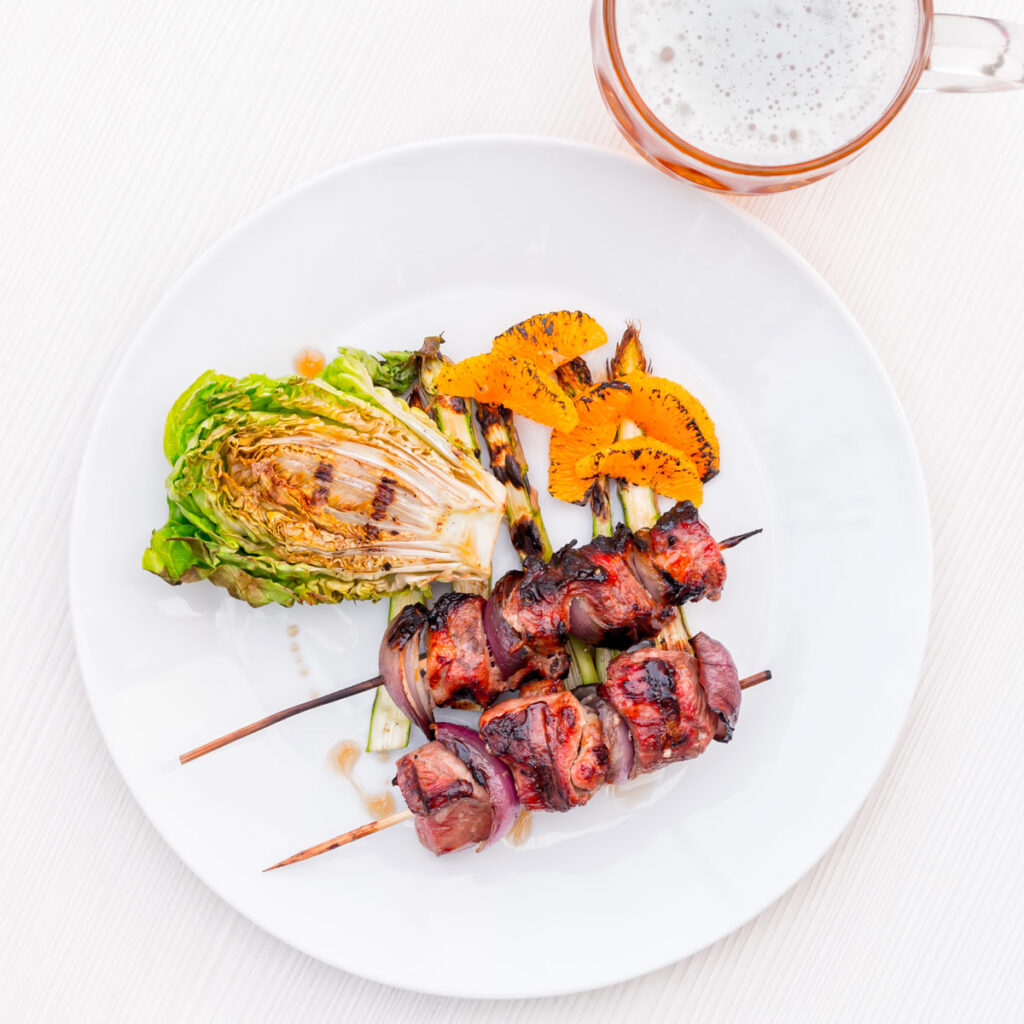 Print
BBQ Duck Kebab with Orange and Asparagus
Classic flavours dominate this BBQ Duck Kebab recipe but raises the BBQ bar and adds a little luxury to your grilling!
Ingredients
2

Duck Breasts.

75

g

Red Onion.

Cut into quarters and broken into leaves.

1

Tsp

Chinese Five Spice.

1

Pinch

Coarse Sea Salt.

1

Orange.

Zested, segmented and the remainder juiced.

1

Lettuce Heart.

Cut in half.

1

Tbsp

Honey.

5

Asparagus Spears.

Cut in half.

Sesame Oil.

For dressing.
Instructions
You should begin by putting 6 small bamboo skewers on to soak if you are using them over metal and starting your BBQ.

Take your orange and as mentioned in the ingredient list, first zest, then peel the outside with a sharp knife and segment and finally juice the remaining flesh.

Score the skin of your duck breasts in a cross hatch pattern about 1cm apart and then cut into 2-3cm cubes.

Take the duck and thread onto the kebab sticks alternating with red onion leaves.

Sprinkle the sea salt, five spice and orange juice over the duck and set aside whilst we prepare the other parts of the dish.

Cut the lettuce and asparagus in half.

Now drop the kebabs on a hot bbq, they should sizzle right away and cook for 3-4 minutes, they should not stick if your grill is seasoned well. If not rub the kebabs in a little oil.

Just before flipping over drizzle with half of the honey, then flip and drizzle over the remaining honey and cook for a further 3-4 minutes.

Remove from the grill and rest for a while whilst you grill the asparagus and lettuce for 2 minutes. Season the lettuce with a little salt on the cut side before grilling.

Sear the orange with a blow torch or under a broiler, it is a little difficult to do on a BBQ.

Plate up and add a drizzle of toasted sesame oil to serve.
Recipe Notes
You can cook this dish under a grill or broiler in the same way I did my duck tikka masala.