A quickly cured Mackerel Fillet is teamed up with some honey pomelo and asparagus in this delightful spring dish that uses a fun 'cooking' implement!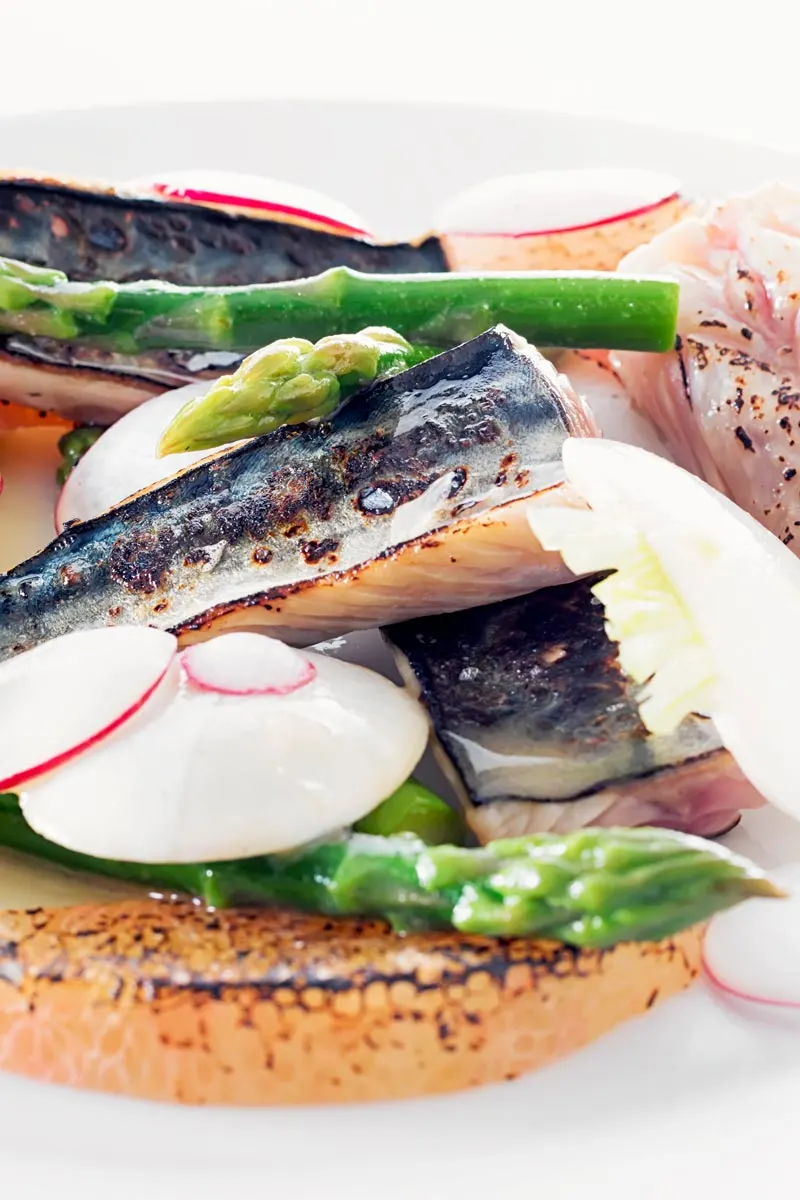 Blow Torched Cured Mackerel Fillet With Asparagus.
I have eluded to the fact that I love mackerel a lot here on Krumpli. I often lament the fact that good fresh mackerel fillet is so hard to get my hands on.
This cured mackerel fillet salad represents part of the spectrum of my food heaven. I don't really care what my last meal is so long as it has glorious fresh mackerel on it!
Most of my mackerel recipes here on Krumpli feature smoked mackerel. They are pretty diverse and range from a mackerel kedgeree to this smoked mackerel salad with apple and bacon.
I'm serious! Give me all of the ingredients in the world to choose from and I'm making a beeline any mackerel recipe.
I'm sure the queue will be fairly short with everyone making a move towards steaks and lobster and maybe even turbot. But for me you can not beat the humble cured mackerel!
So imagine my joy at finding fresh mackerel for this lightly cured and blow torched mackerel recipe.
You don't even need to do a lot with it. This beautiful plate of fresh food takes 30 minutes to put together and tastes a million dollars.
To be perfectly honest drive a stick through it, add salt & lemon and cook in front of an open fire and I'm good!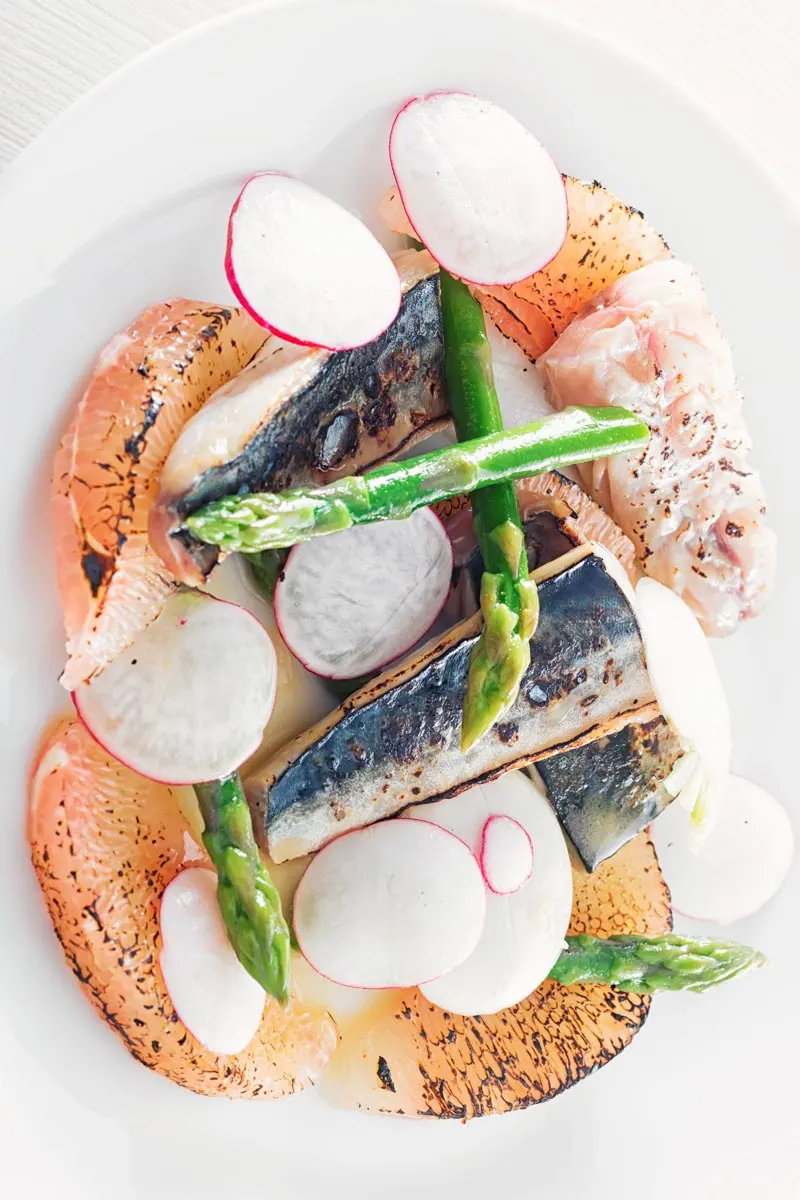 The Kitchen Blowtorch!
Seriously, get one. Not one of the lame 'creme brulee' blowtorches from Amazon. Get a big ass blow torch from your local DIY superstore, the type that a plumber uses.
I use mine all the time, gives a perfect glaze and is awesome for cooking small fillets of fish.
They essentially do the same thing as a broiler. You can cook this under a grill/broiler but you don't have quite as much control. Your blowtorch allows you to get things perfectly blistered.
These mackerel fillets took seconds to crisp up and were cured and cooked perfectly.
But it is not just fish, I cook with a blowtorch in the kitchen a lot, take a look at this rice pudding brulee!
They also come into their own when adding flourishes to dishes too, so the pomelo gets a flash from the blowtorch in this cured mackerel fillet recipe.
Oh yeah, a blowtorch is also the very best way to start a grill!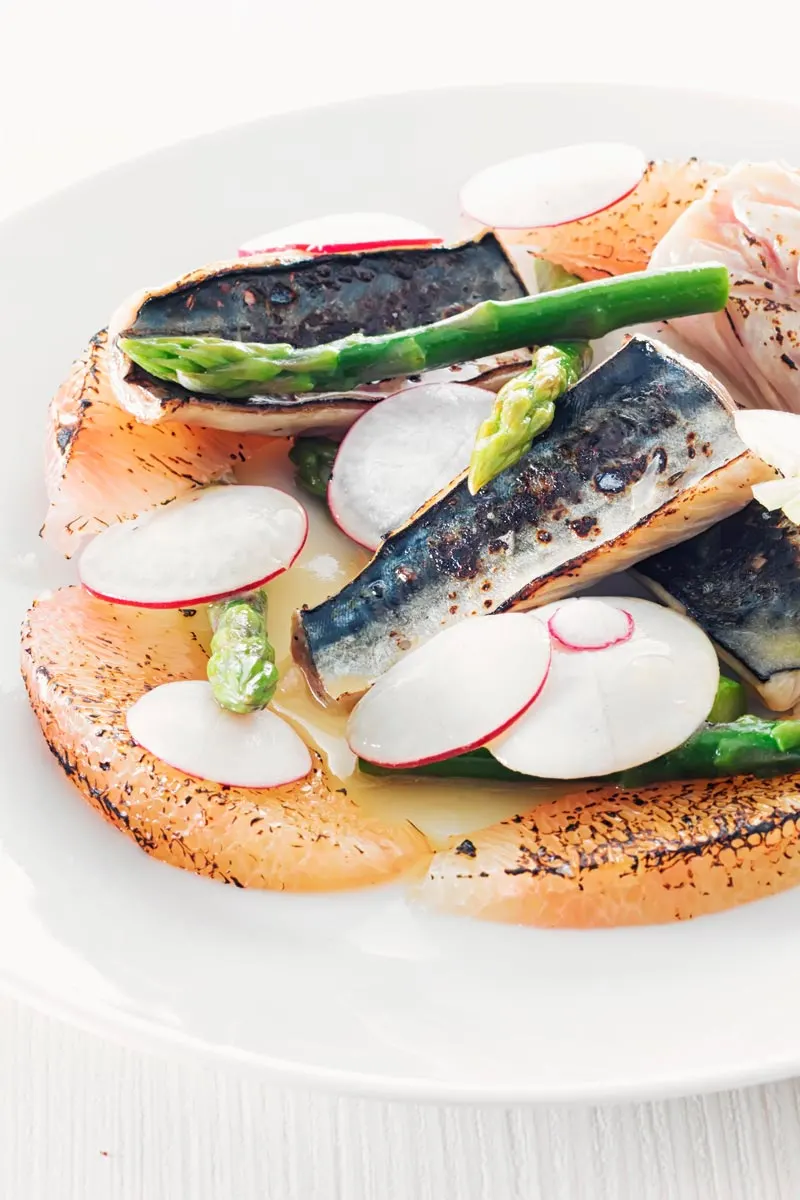 What Is A Pomelo Fruit?
The pomelo side for this dish is a but of an indulgence. It is a really ancient citrus fruit from South and South East Asia.
If you can get your hands on please do it is kind of like a melon. In fact, the flavour is very similar to melon but with far less of the bitter sour taste.
It is altogether a bit more refined and less shouty, which is perfect for this mackerel recipe!
However, substitute it for melon or orange it will be awesome. You could even use watermelon, because that stuff is wonderful grilled. Check out the grilled watermelon side with these prawns.
Apart from that the asparagus and radish comes from my garden, picked fresh and washed of dirt half an hour before this picture was taken. Zero food miles!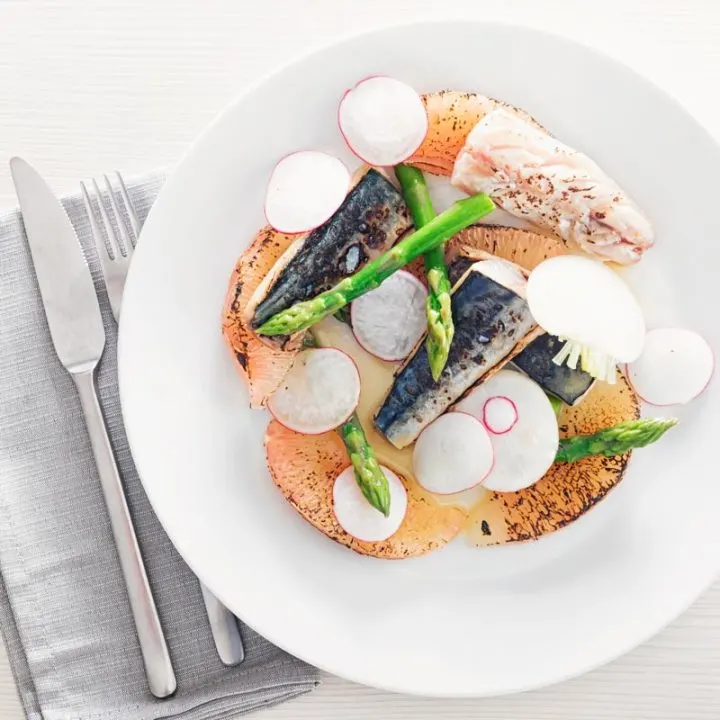 Yield:

2 Servings
Blow Torched and Cured Mackerel With Asparagus and Pomelo
This simple midweek salad features quick home cured mackerel fillets which are seared with a blow torch, some honey pomelo and asparagus spears. The whole thing takes just 20 minutes and tastes sublime!
Ingredients
For the Mackerel:
2 Whole Mackerel, Filleted, pin boned and each fillet cut in half.
100 g Coarse Sea Salt
100 g Sugar
For the Salad:
1 Pomelo
10 Asparagus Spear
1 White Radish
2 Red Radish
4 Tbsp Olive Oil
2 Tbsp Pomelo Juice
1 Tsp Sugar
1/4 Tsp Salt
1/2 Tsp Dijon Mustard
Instructions
Begin by zesting the pomelo, these are big beasts so I use a potato peeler and then finely shred with a knife.
Mix together the salt, sugar and pomelo zest for the mackerel and use it to thoroughly cover the mackerel and leave to cure whislt you prepare everything else (10-12 minutes).
Now segment the pomelo, you are looking for 10 segments and then juice the remaining flesh.
NOTE: If you are using a broiler and not a blow torch you will want to pre heat your broiler roughly about now.
Slice the radish as thinly as possible.
Mix together 2 tablespoons of remaining juice from the pomelo with the olive oil, sugar, salt and dijon mustard to form a vinaigrette and set aside.
Bring a large pan of salted water to the boil and cook the asparagus for 2 minutes and then transfer to the vinaigrette.
After 15 minutes wash the cure from the mackerel which should have firmed up a little.
Now for the fun part, if you are using a blow torch char off the mackerel and pomelo segments. If you are doing this under a grill you will need a couple of minutes each side, a blow torch will be just 60 seconds.
Get creative on the plate and then finish with the vinaigrette.
Notes
If you are cooking this under a grill be careful flipping the fish.
If you are filleting your own mackerel fillet around 15 minutes if you are newbie.
Nutrition Information:
Yield:
2
Serving Size:
1
Amount Per Serving:
Calories:

811
Total Fat:

43g
Saturated Fat:

7g
Trans Fat:

0g
Unsaturated Fat:

33g
Cholesterol:

66mg
Sodium:

19794mg
Carbohydrates:

86g
Fiber:

5g
Sugar:

53g
Protein:

25g