This fried goats cheese recipe with pea puree may look all delicate and pretty but it is sheer indulgence all ways around and it is remarkably easy to make!
Deep Fried Goats Cheese with Pea Puree.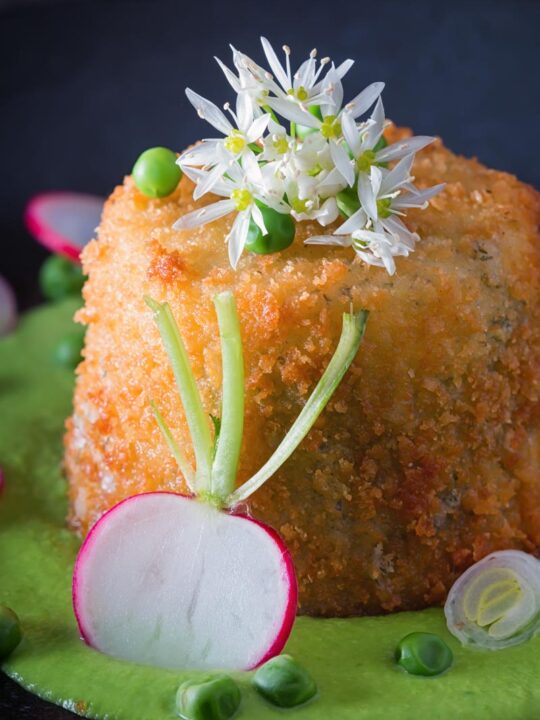 Goulash is definitely the Hungarian national dish, however crispy cheese, often fried (rántott sajt) is just as ubiquitous.
Although I have to confess it usually does not look like my ode to what is often times one of maybe 4 vegetarian recipes on a typical Hungarian menu.
Now I love fried cheese, but it is not something I eat on a regular basis!
It is one of a' few' *cough cough* recipes on my site that fall into the category of treats!
In many ways, it is similar to my fried Camembert recipe.
That one paired the salty warm, melted cheese with a sweet and sour pear and balsamic mix.
This plays with the same idea, but we have soft goats cheese which has an almost chalky acidic flavour and texture.
To that, we add sweet peas as the counterpoint to the sourness, the creaminess of the puree counteracts the almost 'chalky' texture.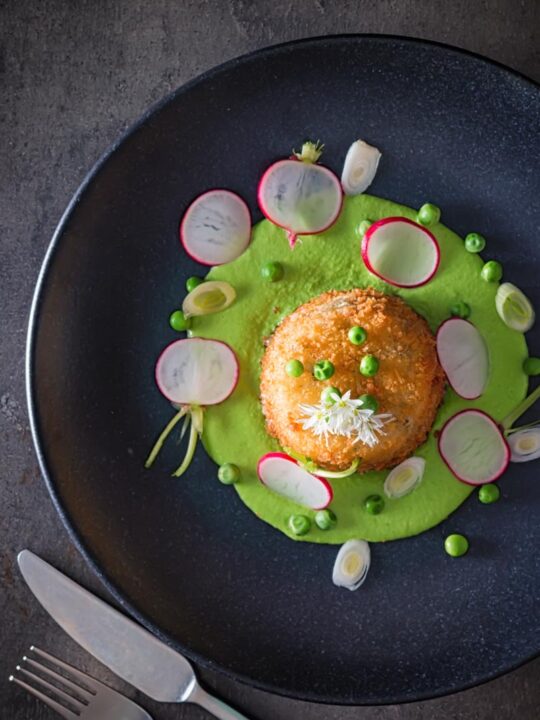 How to Make Pea Puree.
The puree in this recipe really simple.
You need to do nothing more than gently cook some shallots and garlic in butter.
Throw in some peas and it does not matter if they are fresh or frozen, then bring to temperature, add some cream and blend.
The secret to getting it just right is passing the blended puree through a fine sieve.
Yup the secret is really that simple, just as it was in this pea and ham pasta recipe!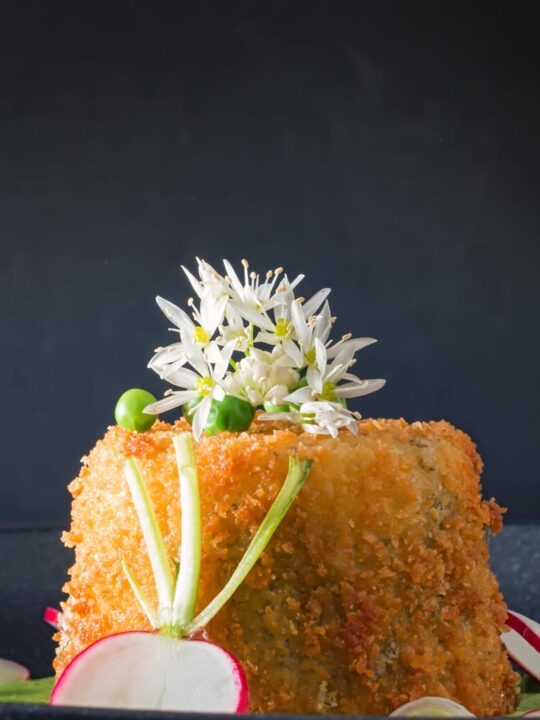 Frying Cheese.
As with all deep frying, there are some simple guidelines to follow.
First of all, to stay safe do not overfill the pan with the oil in.
I personally prefer to use a deep fat fryer and fill to the max line, but if you are using a pan then do not fill much beyond a third full.
Secondly, we need to get our temperatures right!
Fried food is not really greasy, this deep fried goats cheese is crispy on the outside and gooey inside.
That is because we fry at a high temperature and we do not overload the oil.
Keeping your oil up at a high temperature means that your food fries.
If you overload your pan or have your oil at too low a temperature your food poaches in oil.

Now that is great if it is a duck leg, it is the foundation of confit duck leg, but when it is something coated in breadcrumbs it is as nasty as it sounds!
So keep that temperature up high and your fried cheese will be a tad healthier and not at all greasy!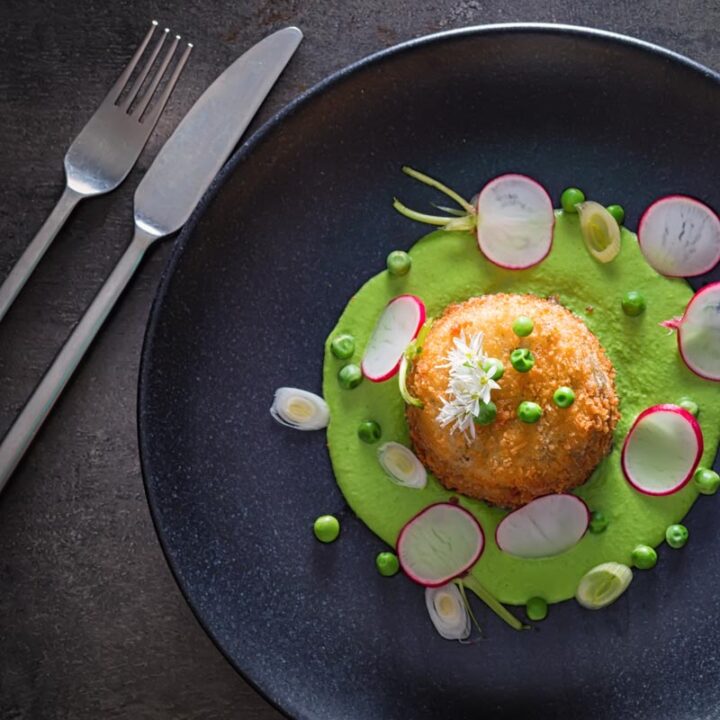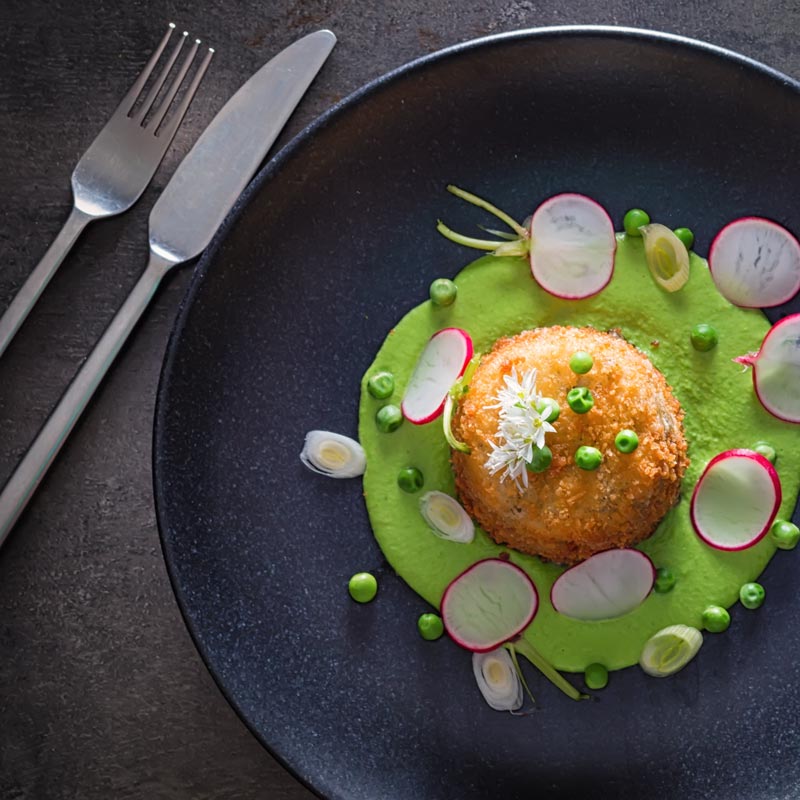 Yield:

2 Servings
Deep Fried Goats Cheese with Pea Puree
I defy anyone not to look at this deep fried goats cheese and be impressed, yet despite its prettiness it is hearty and quite simple being ready in just 30 minutes.
Ingredients
300 g Soft Goats Cheese
1 Egg
1 Tbsp Plain Flour
50 g Breadcrumbs
3 Radishes
1 Spring Onion
1 Shallot
25 g Butter
200 g Frozen Peas
2 Tbsp Double Cream
Salt to taste
Wild Garlic Flowers (Optional)
Instructions
Look for goats cheese that comes as a single sized portion with a weight of approximately 150g.
Take the goats cheese and roll in first the flour, then onto the beaten egg and finally into the bread crumbs ensuring you get a good coating all over.
Return to the fridge to firm up whilst preparing the pea puree and the radishes.
Finely slice the radishes and spring onion, then finely dice the shallot.
Heat the butter over a medium heat and add in the finely diced shallot and garlic clove and cook for 10 minutes without adding any colour.
Meanwhile heat your oil for deep frying to 170°C or 340°F.
Add the peas to the garlic and shallot and continually stir until defrosted then stir in the double cream and blend to form a smooth puree.
Pass this puree through a fine mesh sieve and season with salt as required.
Now add the peas you are going to garnish the plate with to a pan of boiling water and cook for two minutes.
Finally deep fry your cheese for 4-5 minutes in the hot oil removing when they are a beautiful golden colour.
Plate with a round of the pea puree on your warmed plate and top with your cheese, then sprinkle over the remaining ingredients and serve hot.
Notes
You can work this dish and keep elements warm whilst plating if you like, so you can prepare your puree in advance and cool as quickly as possible to retain the colour and then just reheat before plating.
Likewise if you preheat your oven to 100°C 210°F you can place your fried cheese in there to keep warm whilst you re warm your puree, it also helps with warming the plates 😉
Nutrition Information:
Yield:
2
Serving Size:
1
Amount Per Serving:
Calories:

1049
Total Fat:

55g
Saturated Fat:

35g
Trans Fat:

1g
Unsaturated Fat:

16g
Cholesterol:

212mg
Sodium:

1427mg
Carbohydrates:

88g
Fiber:

8g
Sugar:

9g
Protein:

50g