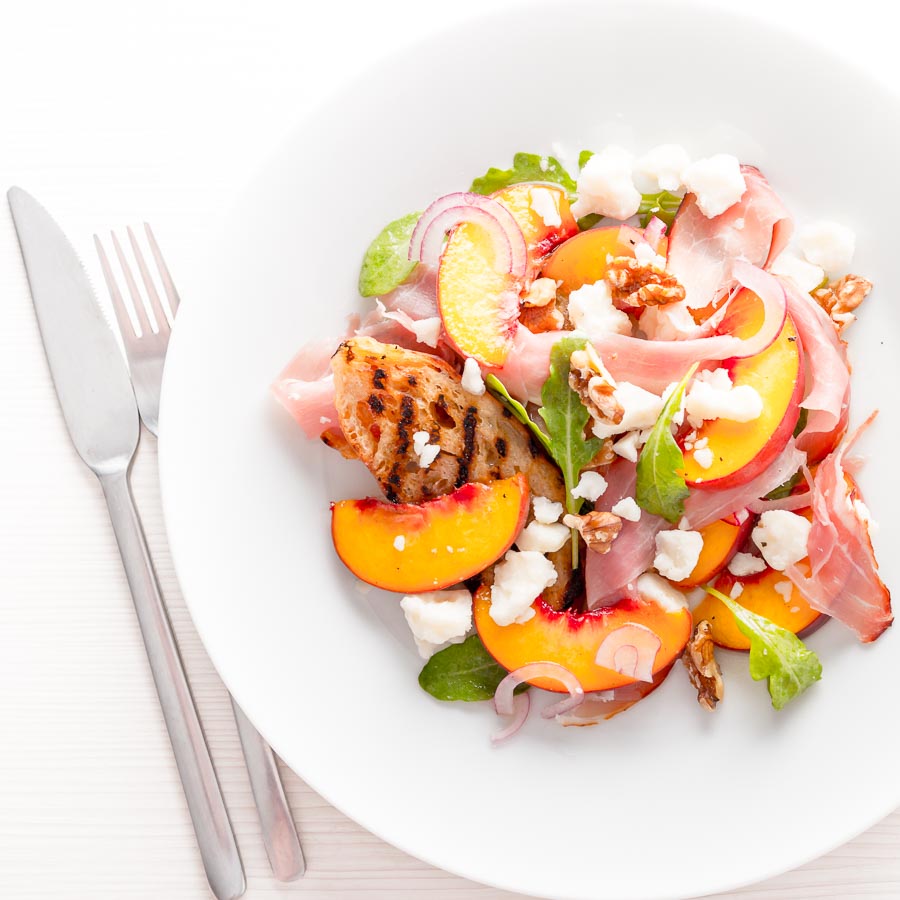 Ham and Cheese Salad with Pickled Peaches.
If adventures in North African/Persian food defined my winter. Then my summer has been all about pickles and salads.
This ham and cheese salad with pickled peaches follows on from the likes of my Panzanella and Thai Beef Salad in this seasons culinary ramblings. I'm certainly not on a diet, I'm just eating a little lighter.
I'm also on a bit of a mission to break out of the nightmare salads I grew up with. Salads that I always inevitably turned into some form of sandwich.
My latest adventures in salad making are certainly not boring and hope that the inspire you to play around a little.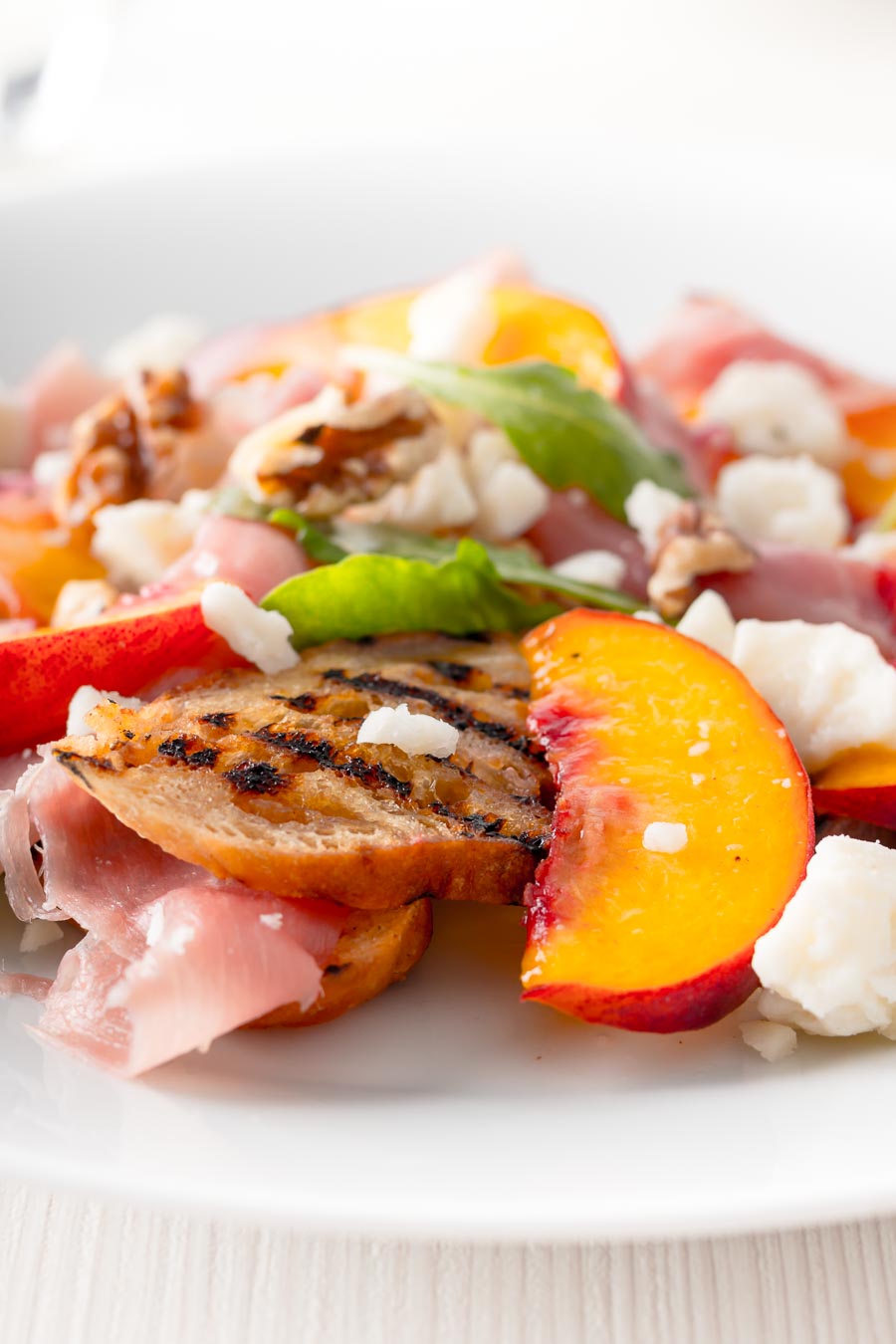 Pickling Fruit!
For some strange reason I find pickling fruit does not happen very often. Although pickled cherries are very popular here in Hungary.
It would also seem in my travels this summer that pickled green strawberries are gaining more prevalence but pickled peaches are a little unusual.
As with most of my inspirations I can't remember where I saw the idea for pickled peaches the first time. However, it works and it works really well, that mellow sweetness begs for a sharpness to cut through it.
Let's face it ham, cheese and pickles are just made to be together. They are the basis of so many great salads around the world. The salty, sweet and sour combination really is the bedrock of so many great recipes.
Peaches and ham is definitely a classic pairing so whilst it may sound a little out of left field the combinations are all pretty classical.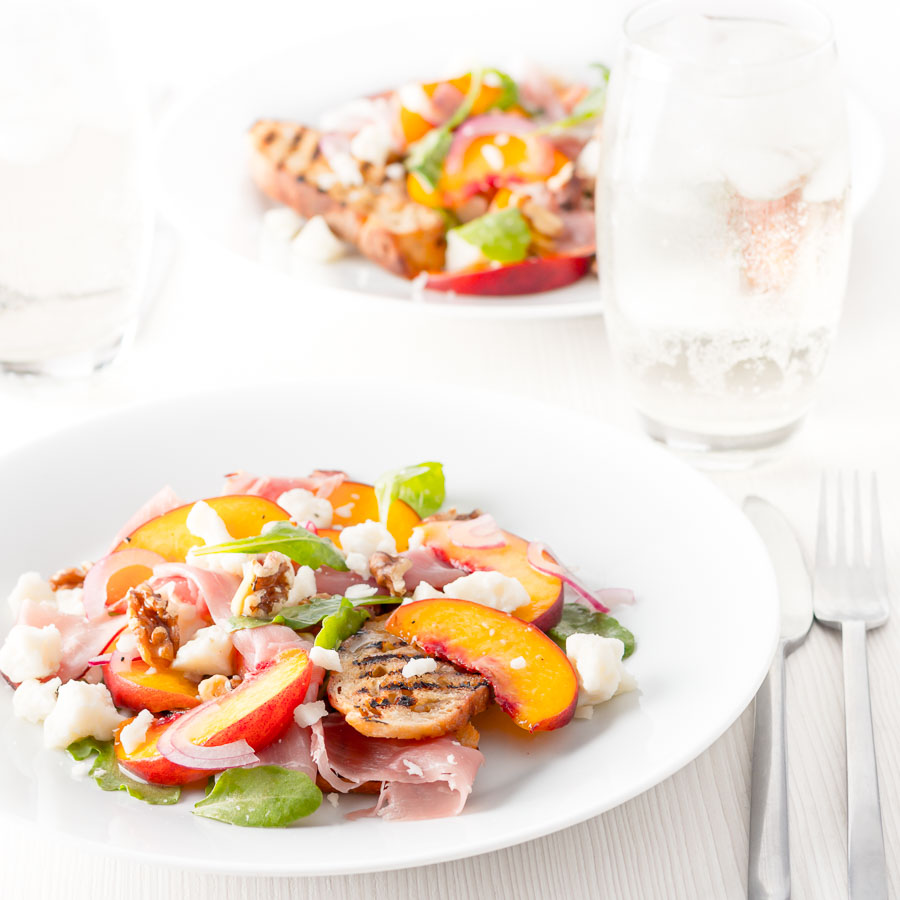 Playing With Friends.
This peach recipe is also the latest iteration of the ingredient challenge with some fellow food bloggers.
As you can see below we have some super looking recipes down there. In fact if you are that way inclined you can go full on, all day peach if you are that way inclined.
Breakfast, lunch, dinner & dessert all catered for. Don't forget to call by and say 'Hi' from Brian 🙂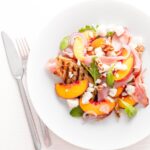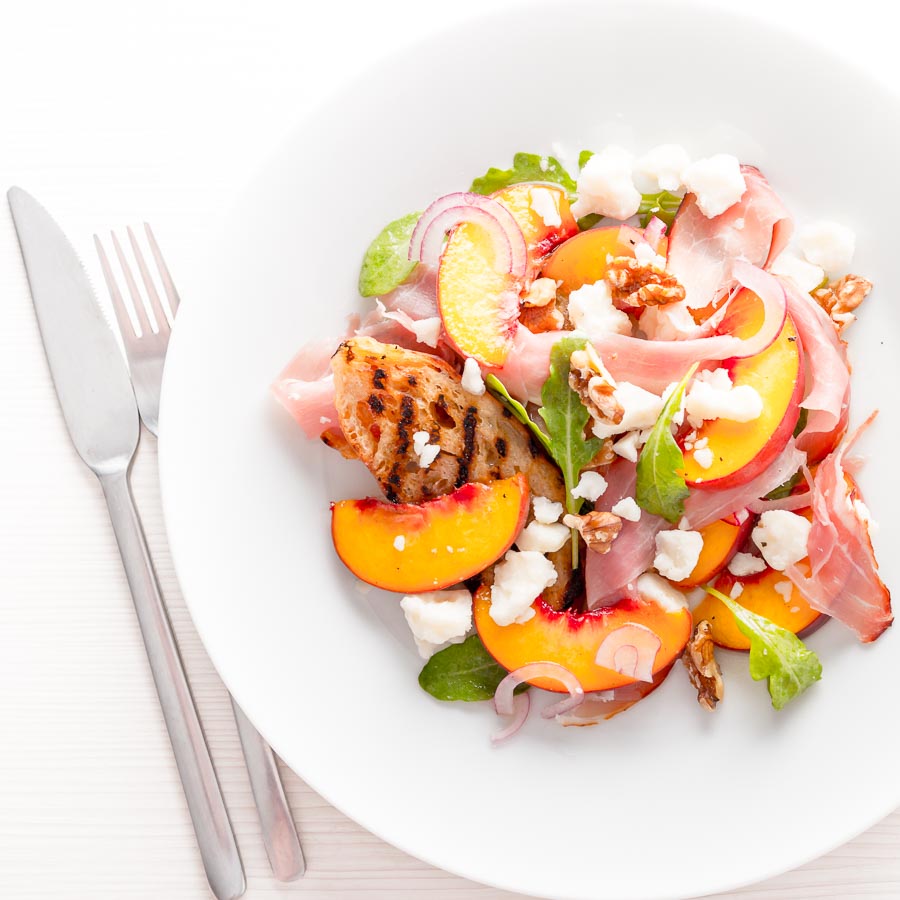 Ham and Cheese Salad with Pickled Peaches
Ham, cheese and pickles are a well-trodden path for a salad the pickled peaches in this salad really sets it apart from the rest and they are borderline genius!
Course:
Main Course, Salad
Ingredients
100

ml

Apple Cider Vinegar

65

g

Sugar

1

Peach

50

g

Red Onion

30

ml

Olive Oil

Plus extra to rub bread

30

ml

Peach Juice

15

ml

Apple Cider Vinegar

1/4

Tsp

Coarse Sea Salt

80

g

Mature Goats Cheese

75

g

Ham

Get good quality thin ham

30

g

Walnuts

Roughly chopped

1

Handful

Rocket

4

Slices

Ciabbata Bread

Around 5mm thick
Instructions
Place the sugar and apple cider vinegar in a pan and heat slowly cooking below boiling temperature for 10 minutes.

Whilst the pickling liquid is coming to the boil split your peaches in half and remove the stone.

Then the peach into 16 wedges and lay in a single layer in a shallow bowl.

Now slice the onion in to very fine half moons and layer over the peach.

Pour over the pickling liquid and allow to sit until cooled, meanwhile prepare the rest of the salad.

Prepare the dressing by mixing together the olive oil, peach juice, extra apple cider vinegar 1/4 teaspoon of salt and set aside.

Crumble your goats cheese.

Tear the ham into ribbons.

Brush the bread with a little olive oil and sear on a griddle pan or place under a broiler to get a little colour.

Now build your salad, dress the rocket leaves with a little of the dressing then, fill the plate and enjoy!