Ham, cheese and pickles are a well-trodden path for a salad the pickled peaches in this salad really sets it apart from the rest and they are borderline genius!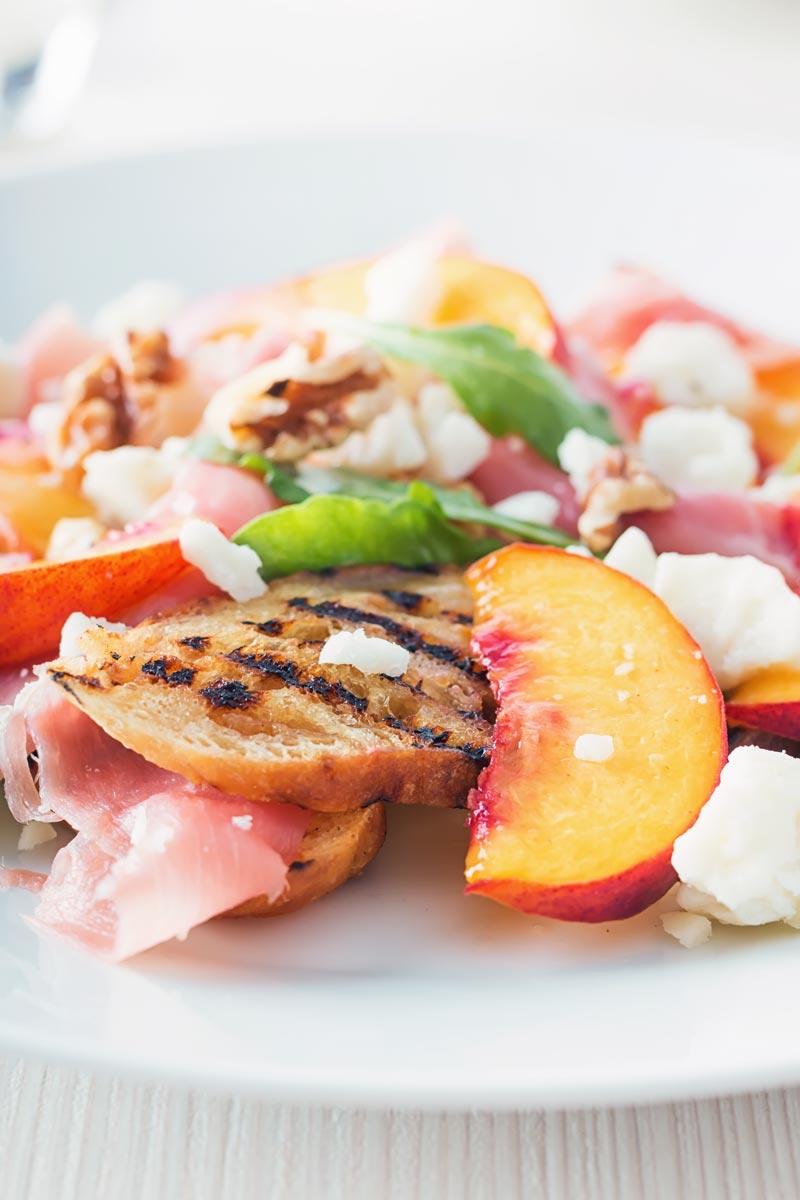 Ham and Cheese Salad with Pickled Peaches.
If adventures in North African/Persian food defined my winter. Then my summer has been all about pickles and salads.
This ham and cheese salad with pickled peaches follows on from the likes of my Panzanella salad and Thai Beef Salad in this season's culinary ramblings.
I'm certainly not on a diet, I'm just eating a little lighter. A good salad recipe is a perfect way to do that.
Growing up salads always seemed to be a series of incoherent ingredients that were just thrown together. Maybe if you were lucky they were dressed in some form of unrelated dressing.
This ham and cheese salad recipe is definitely not that salad! This is the perfect summer salad recipe!
Everything here is meant to go together, the salty ham and acidic goats cheese are all about complementing those pickled peaches.
The earthy walnuts and grilled bread add both texture and substance to the meal. It is all rounded out with the wonderfully peppery rocket or arugula.
How To Pickle Peaches.
For some strange reason I find pickling fruit does not happen very often. Although pickled cherries are very popular here in Hungary.
It would also seem in my travels this summer that pickled green strawberries are gaining more prevalence but pickled peaches are a little unusual.
The process is incredibly simple and pretty much like all other pickles. You need some sugar and some vinegar and then some herbs or spices. For this pickled peaches recipe, I went with apple cider vinegar and plain old sugar. You could use honey, maple syrup, brown sugar, anything you like.
For recipes like this ham and cheese salad I like quick pickles, so heat up your liquid and then pour it over. It is a process I use in both my Zander fillet with Confit egg yolk and Pork Tenderloin with pickled fennel recipes.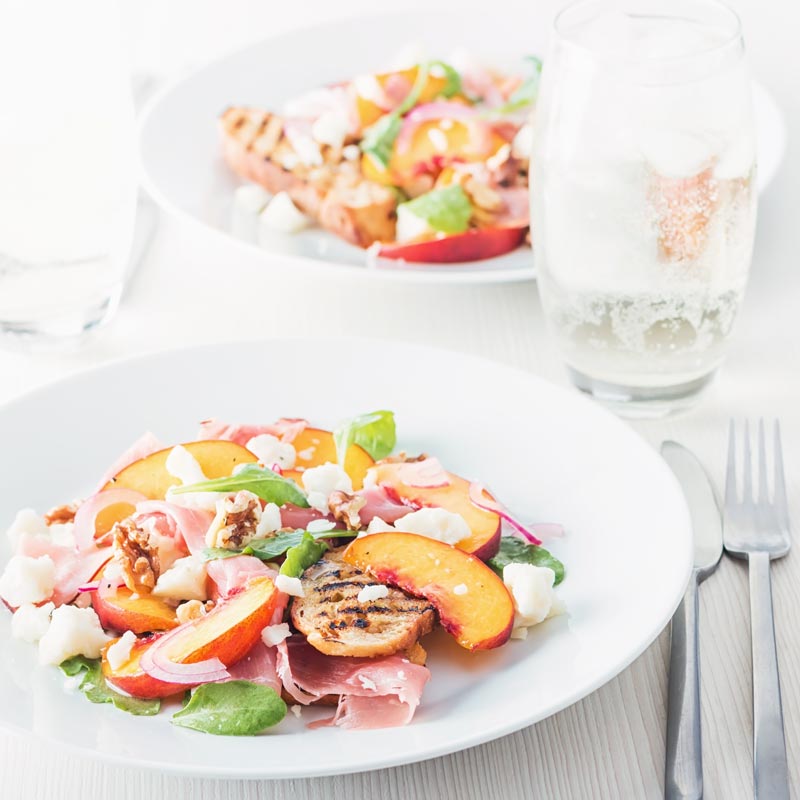 Ham, Cheese and Pickles!
As with most of my inspirations I can't remember where I saw the idea for pickled peaches the first time. However, it works and it works really well, that mellow sweetness begs for a sharpness to cut through it.
Let's face it a ham and cheese salad with pickles are just made to be together. They are the basis of so many great salads around the world.
The salty, sweet and sour combination really is the bedrock of so many great recipes. They are the perfect combination of flavour sensations I am to tick as often as possible.
Peaches and ham are also a classic pairing so whilst it may sound a little out of left field the combinations are all pretty classical.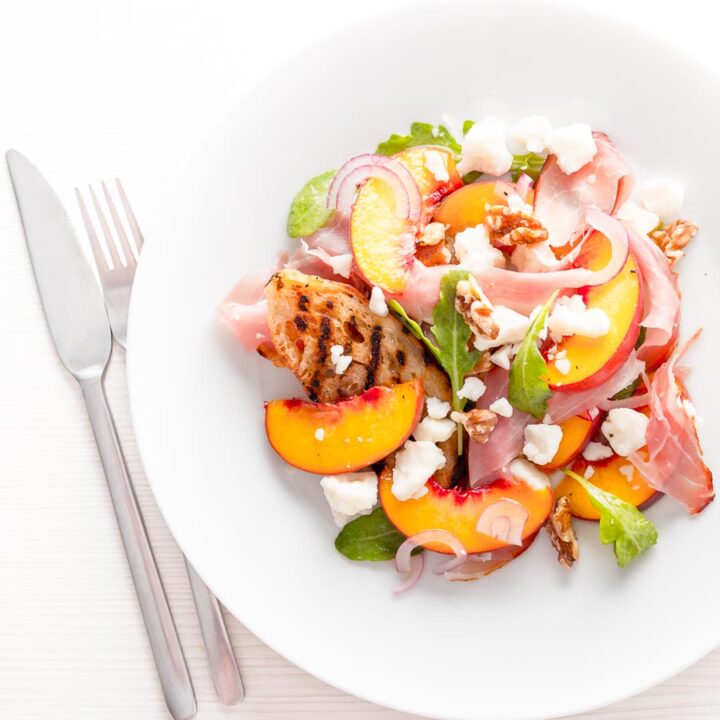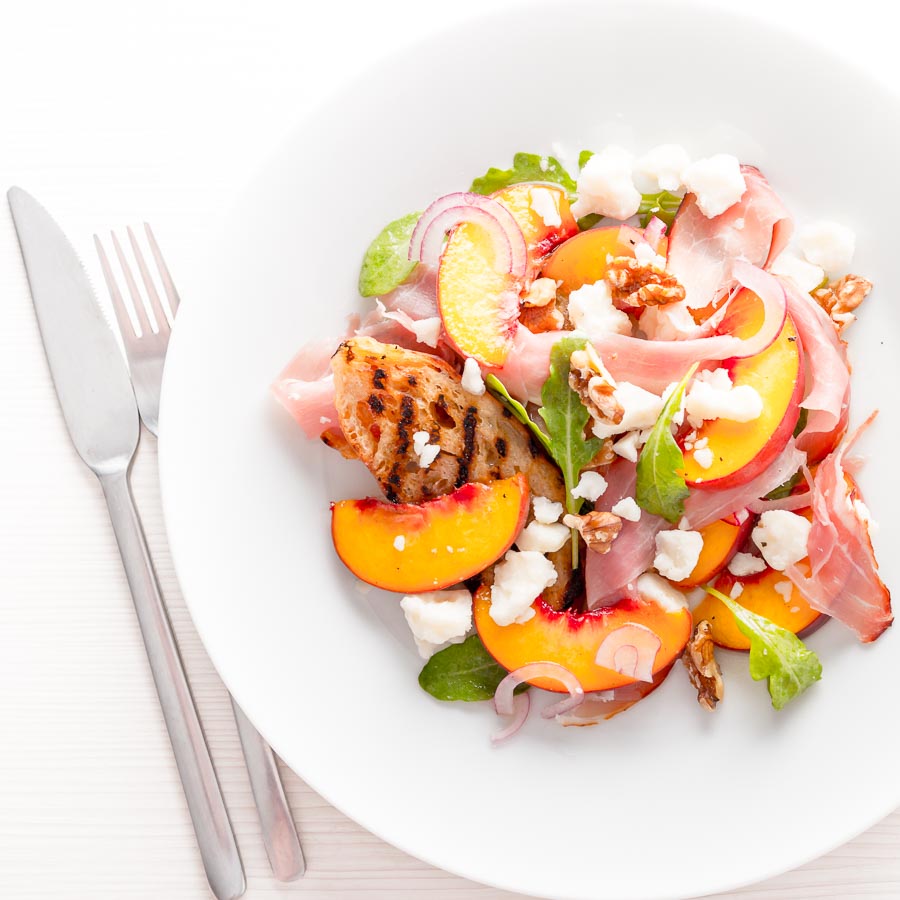 Yield:

2 Servings
Ham and Cheese Salad with Pickled Peaches
Ham, cheese and pickles make for a classic salad and this ham and cheese salad is joined by pickled peaches and walnuts for a delicious and innovative light treat!
Ingredients
100 ml Apple Cider Vinegar
65 g Sugar
1 Peach
50 g Red Onion
30 ml Olive Oil, Plus extra to rub bread
30 ml Peach Juice
15 ml Apple Cider Vinegar
1/4 Tsp Coarse Sea Salt
80 g Mature Goats Cheese
75 g Ham, Get good quality thin ham
30 g Walnuts, Roughly chopped
1 Handful Rocket
4 Slices Ciabbata Bread, Around 5mm thick
Instructions
Place the sugar and apple cider vinegar in a pan and heat slowly cooking below boiling temperature for 10 minutes.
Whilst the pickling liquid is coming to the boil split your peaches in half and remove the stone.
Then the peach into 16 wedges and lay in a single layer in a shallow bowl.
Now slice the onion in to very fine half moons and layer over the peach.
Pour over the pickling liquid and allow to sit until cooled, meanwhile prepare the rest of the salad.
Prepare the dressing by mixing together the olive oil, peach juice, extra apple cider vinegar 1/4 teaspoon of salt and set aside.
Crumble your goats cheese.
Tear the ham into ribbons.
Brush the bread with a little olive oil and sear on a griddle pan or place under a broiler to get a little colour.
Now build your salad, dress the rocket leaves with a little of the dressing then, fill the plate and enjoy!
Nutrition Information:
Yield:
2
Serving Size:
1
Amount Per Serving:
Calories:

876
Total Fat:

40g
Saturated Fat:

10g
Trans Fat:

0g
Unsaturated Fat:

27g
Cholesterol:

85mg
Sodium:

1895mg
Carbohydrates:

89g
Fiber:

5g
Sugar:

49g
Protein:

41g