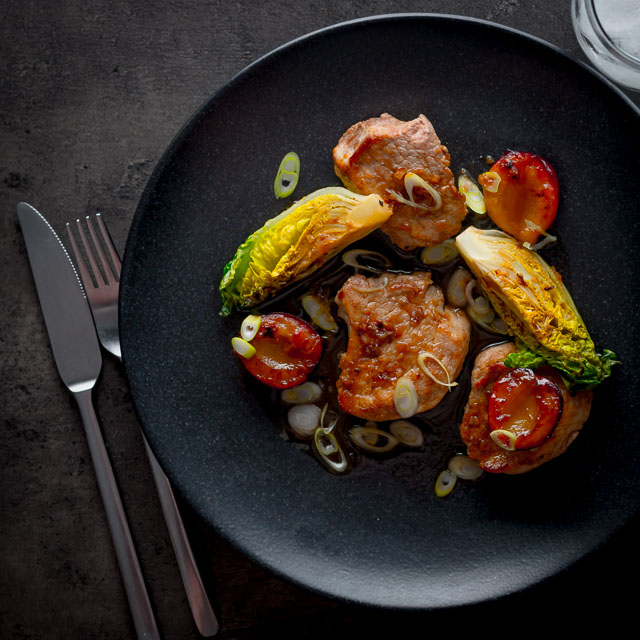 This Chinese pork tenderloin (yes I know it is not authentic Chinese, you all know my views on authenticity) is a super quick and simple play on the idea of a piece of meat with plum sauce but deconstructing the plum sauce using all of the ingredients associated with plum sauce without turning them into a sauce. I love plum sauce and have a fab slow cooker plum sauce recipe here in Krumpli already but have been using the plums on our trees (half a dozen of them) in a slightly different way this year. Fruit and meat is something I love and something that appears here really quite a lot yet not something I do a lot with plums despite them being both ubiquitous and free. Yeah ok, I am not the sharpest tool in the box!
My Chinese pork tenderloin relies on the quick cooking of pork tenderloin, it essentially comes from exactly the same place on the 'beast' as beef fillet does on the cow and like beef fillet it is not blessed with the most flavour. This means if you still want to taste the lovely porkiness you need to keep your flavouring subtle and unless you like chewing on rubber your cooking times quick. But that means that the Chinese influences on these dishes are more elegant and refined than the typical big bold flavours you expect with a piece of meat and plum sauce, if you want that then you really want a much more robust flavoured piece of meat like the duck breast in this stonkingly good duck with plum sauce recipe. This tenderloin cooks quickly and I make no apologies for the  traces of pink in the meat when cooked to these timings, pink pork is fine but for me if you cook tenderloin all the way through the texture to me is pretty awful and the flavour almost non existent. I'm a great advocate of not telling people what not to eat but if you like your pork more on the 'well done' side I would personally avoid tenderloin and run with a piece of loin instead, sear it off in the pan and then roast off in a medium oven for a while and then rest before carrying on with the recipe as I have outlined here.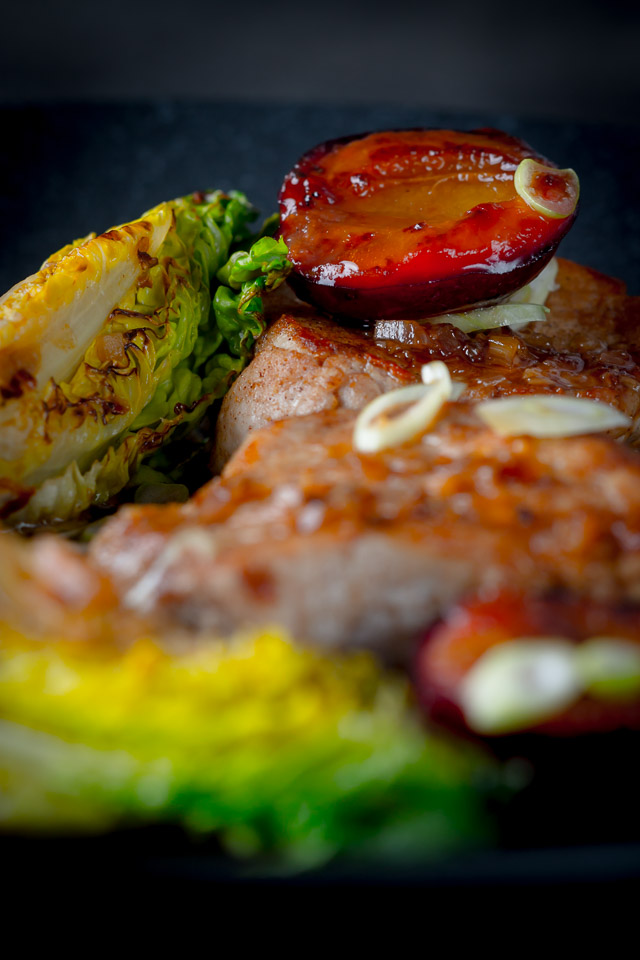 Print
Chinese Pork Tenderloin with Plums
This Chinese pork tenderloin is a sideways glance at the idea of pork and plum sauce but we play with some seared plums and Chinese five spice.
Ingredients
350

g

Pork Tenderloin:

Cut into 6 medalions around 2cm thick.

1

Tsp

Chinese Five Spice.

1

Tbsp

Cooking Oil:

Neutral.

3

Plums:

Cut in half, stone removed.

1

Baby Gem Lettuce:

Cut into four.

1

Tsp

Light Soy Sauce.

2

Tsp

Rice Wine Vinegar.

1

Tsp

Mirin.

1

Tsp

Honey.

15

g

Banana Shallot:

Finely diced.

1

Clove

Garlic:

Mashed.

1

Spring Onion:

Finely sliced.

Salt

To taste.

Toasted Sesame Oil.
Instructions
Mix together the soy sauce, rice wine vinegar, mirin and honey and set aside.

Sprinkle your pork medallions with your five spice and salt.

Heat the cooking oil over a medium high heat in a pan, when hot add the pork and cook for 3.5 minutes per side before removing and allowing to rest.

Drain out most of the oil then in the same pan add the shallot and garlic and cook for 30 seconds.

Now turn up the heat to high and add in the plums and lettuce and cook for 90 seconds.

Finally add the sauce and add 50ml of cold water cover with a lid for 90 seconds before serving.

Just before you add the sauce to the plate add the meat resting juices and heat through.

Drizzle with a little toasted sesame oil when plated.
Recipe Notes
This is designed to be a light meal but if you wanted more substance serving this over rice will work wonderfully.