Pork loin steaks are a great midweek meal option, these are pan-fried for just 6-7 minutes and come with a simple & delicious cider sauce!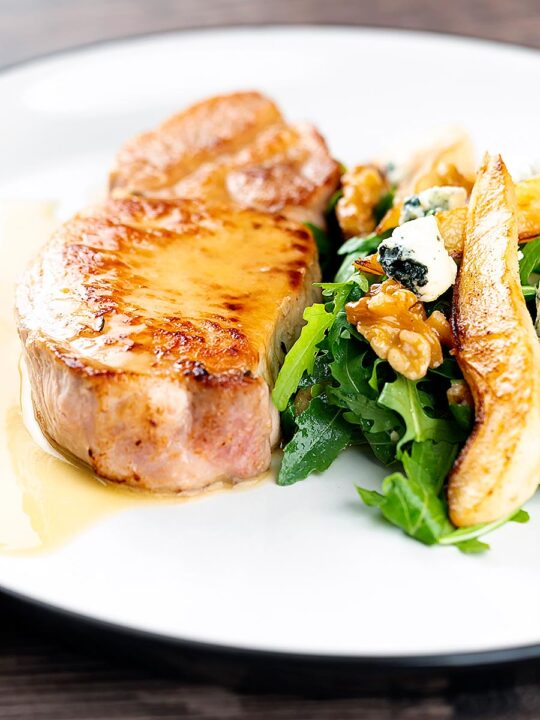 Boneless Pork Chops.
I love cooking with and eating pork, it is my favourite meat. You'll find everything here from braised pork liver with onions through Chinese Char Siu pork tenderloin.
But pork chops are my usual munch. These pork loin steaks are essentially boneless pork chops taken from the loin. The same place that these harissa pork chops come from.
They are delicious, simple and quick to cook and for me make the perfect midweek meal.
This recipe cooks them in a skillet of frying pan in a splash of oil that is flavoured with thyme and garlic.
Whilst they are resting you have the perfect amount of time to reduce some cider and enrich it with butter to make the perfect pan sauce!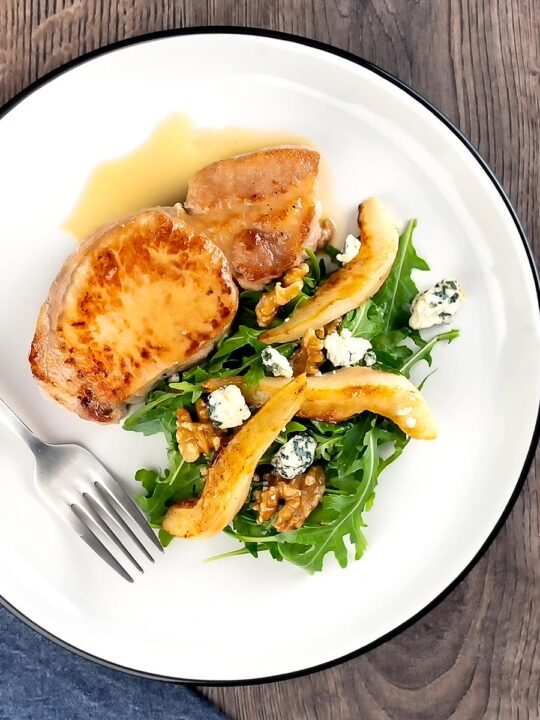 Keeping it Moist!
When it comes to pork loin steaks or indeed many cuts of pork the question moist asked is how to cook it without it drying out?
The short answer is not to cook it too long.
The long answer to this is to cook the pork properly!
The first thing is to find a good butcher, almost all pre-sliced pork chops or loin steaks are cut way too thinly.
By the time you have a nice colour on them on one side they are almost cooked through.
I aim to have boneless cuts of pork that are around 3-4cm thick.
Then do not cook them for too long.
You want a hot to medium-hot pan and then cook for just 3-4 minutes per side. Even if you want your pork well done, no more than 5 minutes.
I swear by using meat thermometers, pork is safe anywhere from 63°C 145°F. I aim for around 65°C (149°F) for these loin steaks after resting, as a result, I remove them from the pan at around 60-61°C (140°F).
As you can see from the image below there is just the slightest tinge of pink. Most importantly no sign of stringiness!
Finally rest to pork! Create a foil tent and allow it to sit for 4-5 minutes. This also gives you the perfect time to make a pan sauce.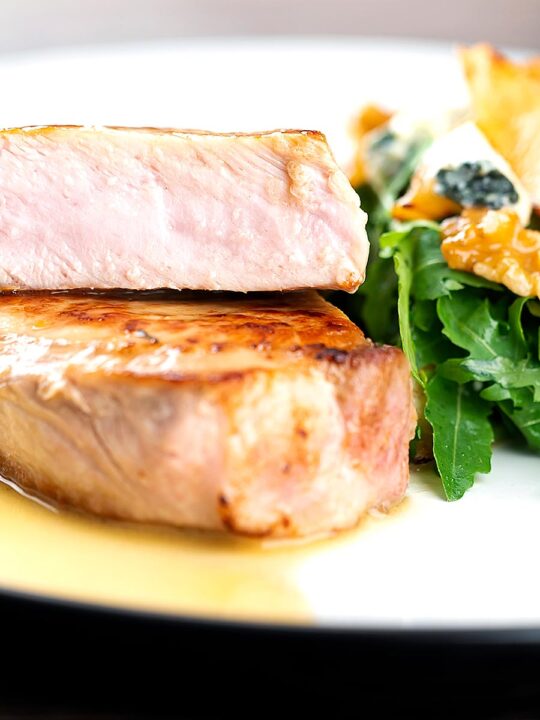 Serving Suggestions.
I love these things, they are so versatile, I serve this recipe with a pear and blue cheese salad. Although they would work just as well with my baked pears with blue cheese.
They are great with a host of different side dishes, particularly with some salty fried potatoes.
They also work with mash too, whether it be mashed potato, celeriac mash or a carrot and swede mash.
Throw some green beans, sweet glazed Chantenay carrots, roasted savoy cabbage or asparagus on the side and dinner is served!
You could even serve it with some braised cavolo nero kale.
If you want a sauce then a classic parsley sauce would be a great call.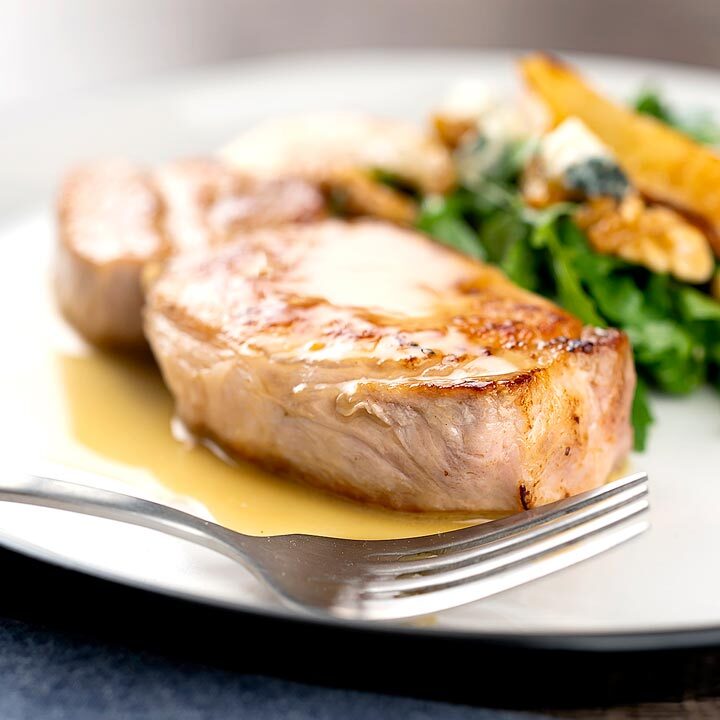 Yield:

2 Servings
Pork Loin Steak in a Cider Sauce
These simple pork loin steaks are essentially boneless pork chops and they cook in mere minutes and rest whilst you make a simple cider pan sauce.
Ingredients
2 (3.5cm or 1.25" thick) Pork Loin Steaks
1 Tbsp Oil
1 Garlic Clove
15 g (1 Tbsp) Butter
250 ml (1 Cup) Dry Cider
2 Sprigs Thyme
1 Tbsp Honey
Salt to Taste
Instructions
Heat a pan over a medium high heat.
When hot add the oil.
Crush a garlic clove with the heel of your hand and add to the oil with the thyme.
Season the pork chops generously with salt.
Add to the pan and cook for 3-4 minutes per side.
Remove from the pan and set aside to rest for 3-4 minutes under a foil "tent".
Return the pan to a very high heat and add the cider and reduce by 3/4s.
Add the honey and whisk through the butter.
Taste and add salt as required.
Return the pork to the pan with any resting juices and nap with the sauce before serving.
Notes
A note for my American readers, cider here refers to hard cider.
Nutrition Information:
Yield:
2
Serving Size:
1
Amount Per Serving:
Calories:

374
Total Fat:

21g
Saturated Fat:

7g
Trans Fat:

0g
Unsaturated Fat:

12g
Cholesterol:

84mg
Sodium:

384mg
Carbohydrates:

24g
Fiber:

0g
Sugar:

21g
Protein:

23g
Calorific details are provided by a third-party application and are to be used as indicative figures only.