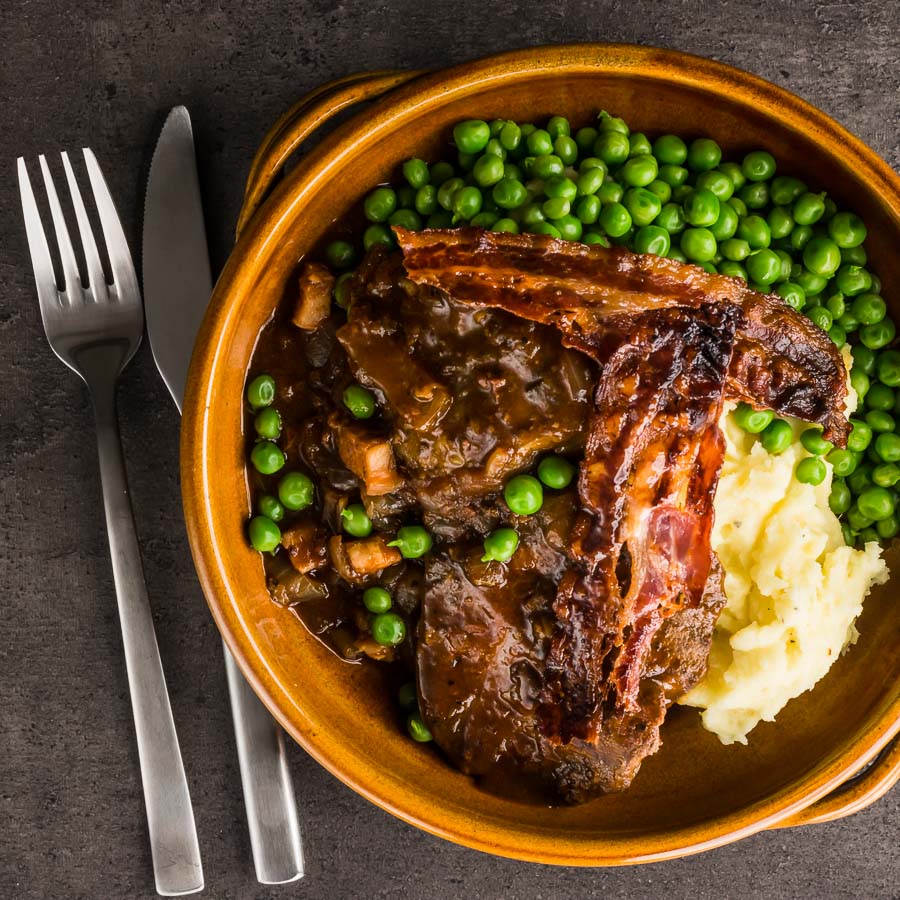 Instant Pot Liver and Onions With Bacon and Mash
You know me and my approach to populist food, for the most part this live and onions recipe perfectly represents that approach! Offal has most definitely fallen out of favour and because of that I have delayed putting up one of my favourite recipes here on krumpli.
But hey, this site is meant to represent me, what I cook and how I cook, not what is popular on instagram. As a result of this I am delighted to offer you what I think is one of the tastiest meals you can eat and let's face it, one that is extremely frugal.
I have always loved liver and onions and I emphatically believe that if you are going to take the life of an animal use all of the beast, apart from the lining of the stomach of course, I hate tripe.
Anyway I digress, This live and onions recipe is not the first here on krumpli to feature offal and it certainly will not be the last, primarily because I am busy working on a 'brain ravioli dish' and for those of you craving an immediate fix check out my faggots and mash recipe.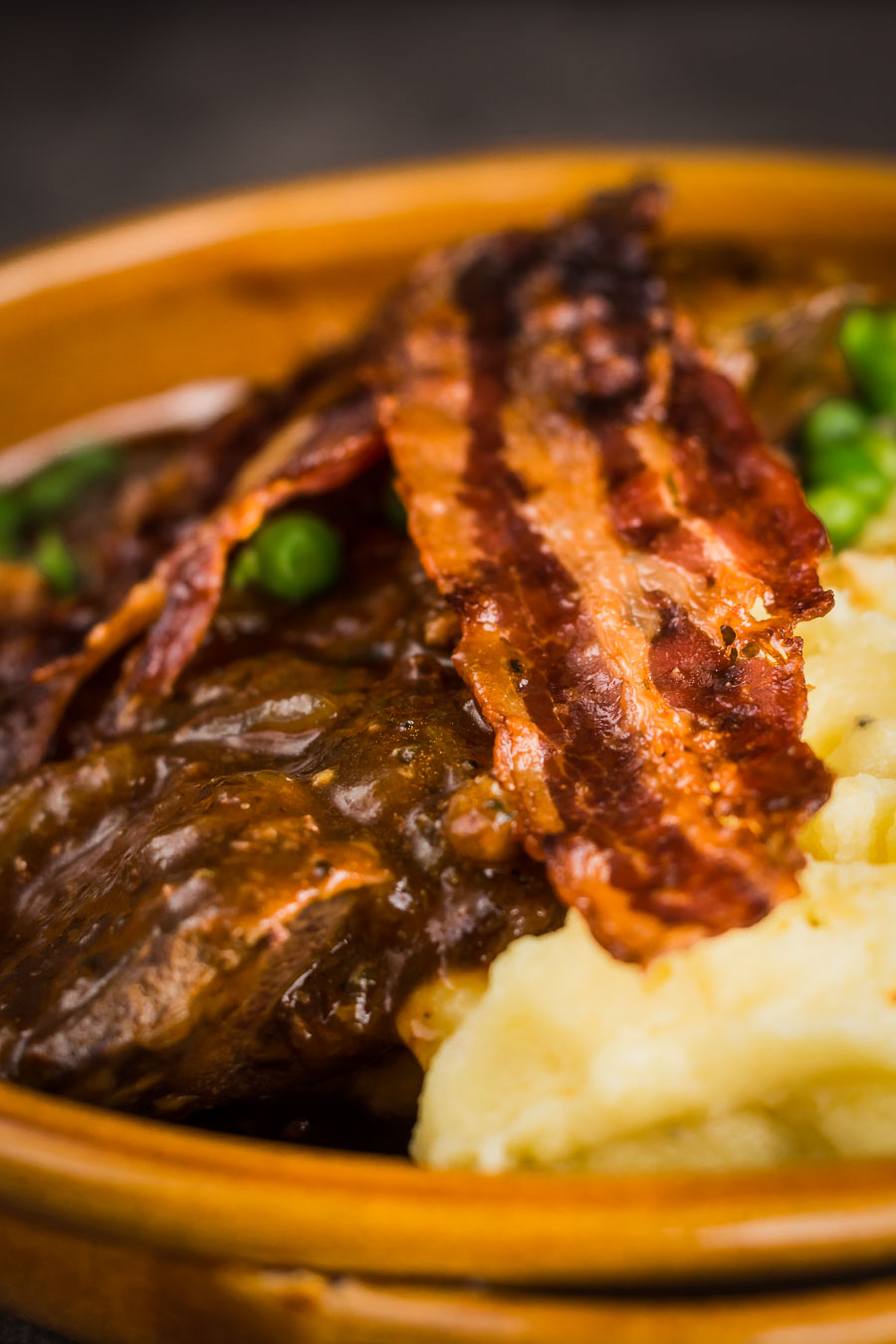 Liver in the Instant Pot.
I chose to take my old slow braised liver and onion dish and update it for the Instant pot for this recipe because it is the sort of dish that the Instant pot just does so very well.
Overall I have not been as enamoured with my instant pot as many hardcore advocates, but what it does do well it does very well indeed and braising cheaper cuts of meat is really in its wheel arch.
As a result you can forget about boot leather tough liver and enjoy this soft and tender beautifully cooked liver instead. Notwithstanding this you can of course cook this in the oven just follow the rough outline of steps and then cook in the oven at 160°C or 320°C for 30-40 minutes.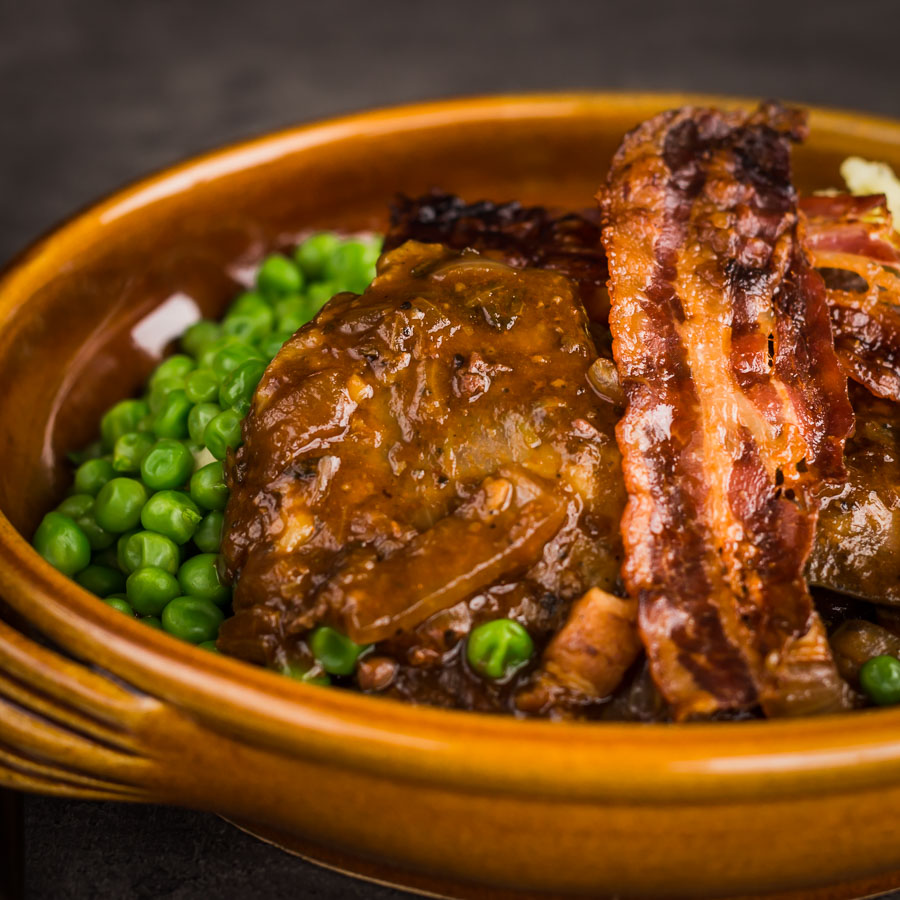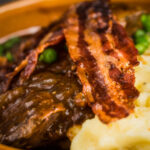 Instant Pot Liver and Onions With Bacon and Mash
Offal may have fallen out of favour with many but my Liver and Onions recipe is a glorious nod back at the wonder of simple frugal cooking and of course comes bundled with bacon and mash.
Ingredients
For the Liver and Onions:
500

g

Pork Liver:

Sliced and cleaned of sinew and connective tissue.

150

ml

Milk.

250

g

Onion:

Sliced.

250

ml

Beef Stock.

1

Tbsp

Tomato Puree.

4

Slices

Streaky Bacon.

100

g

Pancetta:

5mm dice.

30

g

Butter.

3

Tbsp

Flour.

1

Tsp

Dried Sage.

1

Tsp

Cooking Oil:

Neutral.

Salt and Pepper.
For the Mash:
450

g

Potatoes:

Peeled.

75

g

Butter:

Diced.

50

ml

Milk:

Warmed.

Salt and Pepper.
Instructions
Take the trimmed and sliced liver and soak in the 150ml of milk for an hour before cooking.

Sandwich the slices of bacon between two naking trays and bake in the oven at 180°C 350°F for 35 minutes.

Bring a large pan of salted water to the boil and then cook the potatoes until cooked. This will take between 20 and 30 minutes depending on how your potatoes are cooked.

Remove the liver from milk and pat dry.

Generously season with salt and pepper and then dredge in the flour.

Set your instant pot to saute mode and when hot add the cooking oil and butter.

Sear the liver in this butter and then remove and set aside.

Now throw in the diced Pancetta and Cook for 5 minutes.

Add in the onions and cook on for a further 10 minutes.

Pour over the stock then add the tomato puree and dried sage before returning the liver with any juices.

Seal the instant pot and cook on manual mode, high pressure for 5 minutes with a 10 minute natural release.

By now your potatoes should be cooked so drain and allow to sit for a couple of minutes before passing through a potato ricer.

Drop in the butter, milk, salt and pepper and mix to form a smooth mash.

Start with a bed of mash, followed by some onions and then add your liver, a little gravy and the slices of bacon.
Recipe Notes
I like to add garden peas to this recipe for the ultimate nod to my childhood memories.