Liver and onions with crispy bacon and a rich gravy is a gloriously old fashioned meal that just begs for some buttery mashed potatoes.
This version contains recipes for cooking in an an Instant Pot and braising in the oven.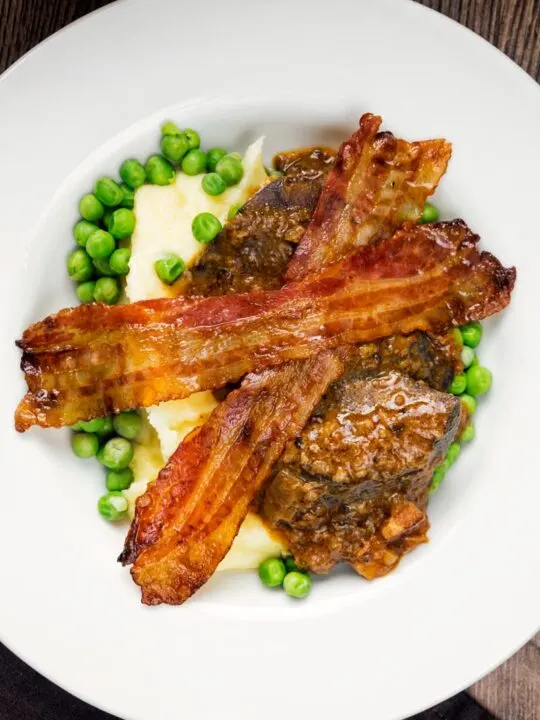 How to Cook Braised Liver and Onions
Offal has most definitely fallen out of favour and possibly because of that I have delayed putting one of my favourite recipes here on krumpli.
As a result, I am delighted to offer you what I think is one of the tastiest meals you can eat and let's face it… One that is extremely frugal.
I have always this meal and now I emphatically believe that if you are going to take the life of an animal use all of the beast!
This recipe takes me back to my childhood, it was everywhere from school dinners to my Grans dinner table.
My favourite way of doing that is in a pressure cooker, but this can be cooked in the oven.
For those of you who love this type of food, you really must check out my faggots and mash, pan-fried lambs liver & port onions, devilled kidneys, kaleji masala or liver curry and chicken balmoral recipes.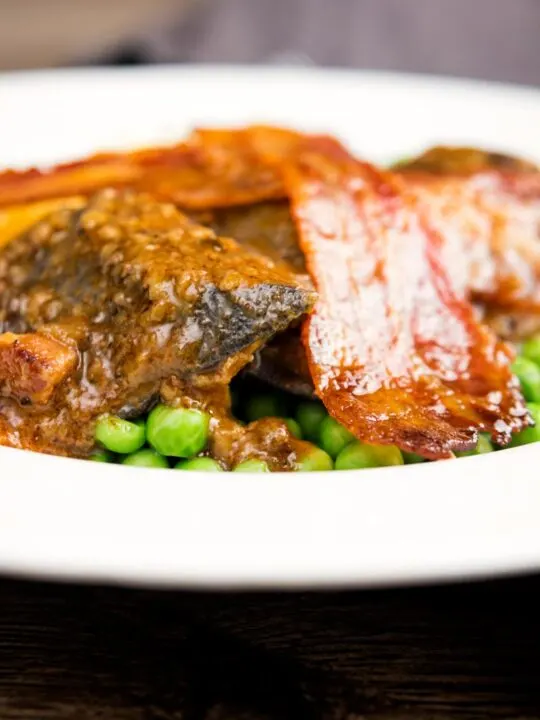 What Does Liver Taste Like?
As far as I am concerned pork liver works best for this recipe.
I personally think that beef liver has a sweeter flavour that I am less keen on when braised. Lambs or calves liver works better flash fried and served with a little pinkness to me.
Pork liver is much bolder in flavour than beef liver. It is also much cheaper, here in Europe anyway.
But you can make this recipe with beef liver with no alterations!
The liver is a hard-working organ and just like all hard-working parts of an animal, it has a big flavour.
It tastes of liver, it has a slight bitterness and an almost metallic flavour.
Soaking the liver in milk mellows out some of the really hefty front end flavour.
You also need to remove any sinew and fat, this has a terrible flavour and awful texture. Just remove it as you slice, a good butcher will do this for you.
If you want a slightly less intimidating and bold introduction to liver you should try my chicken liver ragu!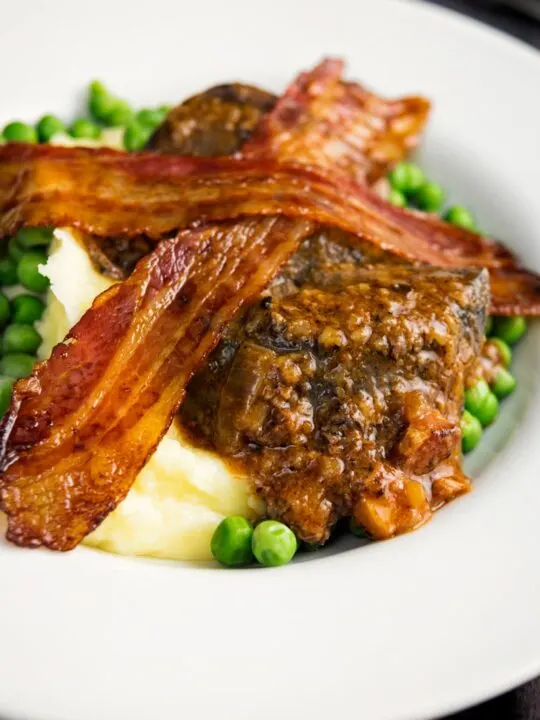 The Best Cooking Method?
This is probably the most comprehensive recipe on my site because it is possibly my favourite thing to eat!
I have taken great joy in testing the three cooing methods I have here, but I usually choose to take my old braised bacon, liver and onion casserole in my instant pot.
It is the sort of dish that a pressure cooker does so well.
Overall I have not been as enamoured with my instant pot as many hardcore advocates.
But what it does do well it does very well indeed and braising cheaper cuts of meat is really in its wheel arch.
I cook it like this for convenience, I have a very small kitchen and my oven is being used to cook the bacon.
I have however given 3 cooking options in the recipe so you can cook this however you wish.
In the oven, in the slow cooker or in an Instant Pot.
The processes are largely the same, all you need to do is change the timing.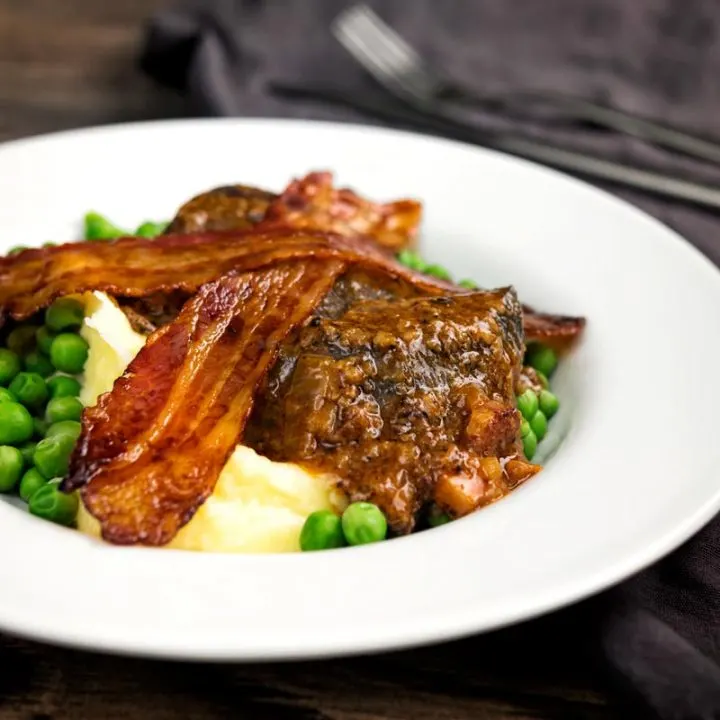 Yield:

2 Servings
Liver and Onions Recipe With Bacon
Total Time:
1 hour
50 minutes
Liver Bacon and Onions may not be everyone's idea of a perfect last meal, but it is definitely in my shortlist. I ADORE this recipe, it is gloriously old fashioned and is loaded with flavour!
Ingredients
350 g (12 oz) Pork Liver
150 ml (2/3 Cup) Milk
250 g (1 2/3 Cup) Onion
250 ml (1 Cup) Beef Stock
1 Tbsp Tomato Puree
4 Slices Streaky Bacon
100 g (3.5 oz) Unsliced Bacon
30 g (2 Tbsp) Butter
3 Tbsp Flour
1 Tsp Dried Sage
1 Tsp Cooking Oil
Salt and Pepper
Instructions
Oven Braising Instructions:
Slice the liver and trim of any fat or sinew.
Take the trimmed and sliced liver slices and soak in the 150ml of milk for an hour before cooking.
Dice the unsliced bacon and slice the onion.
Remove the liver from milk and pat dry.
Generously season the liver with salt and pepper and then dredge in the flour.
Add the cooking oil and butter to a pan over a medium high heat.
Sear the liver in this mix and then remove and set aside.
Now throw in the diced bacon and Cook for 5 minutes.
Add in the onions and cook on for a further 10 minutes.
Pour over the stock then add the tomato puree and dried sage before returning the liver with any juices.
Add a lid and cook in the oven 160°C or 320°C for 60 minutes.
Sandwich the slices of bacon between two baking trays and bake in the oven with the liver for 45 minutes.

Instant Pot Instructions (See Video):
Follow the instructions for step 1-5 above.
Set your instant pot to saute mode and when hot add the cooking oil and butter.
Sear the liver on both sides and then remove.
Add in the diced bacon and cook for 5 minutes, then throw in the onion and cook for another 10 minutes.
Sandwich the slices of bacon between two baking trays and bake in the oven with at 180°C or 350°C for 30-35 minutes.
Return the liver to the pan and add the stock, tomato puree and sage along with any resting juices.
Seal the instant pot and cook on manual mode, high pressure for 5 minutes with a 10 minute natural release.

Slow Cooker Instructions:
Follow the instructions for step 1-9 from the oven braised instructions.
Transfer all of the seared ingredients to a slow cooker.
Deglaze the pan with the stock and pour it into the slow cooker.
Add the sage and tomato puree and cook on low for 4 hours or high for 2 hours.
This method results in a fairly thin gravy, you can thicken with a cornflower and water mix if you wish.
Notes
I like to add garden peas to this recipe for the ultimate nod to my childhood memories.
Nutrition Information:
Yield:
2
Serving Size:
1
Amount Per Serving:
Calories:

917
Total Fat:

50g
Saturated Fat:

20g
Trans Fat:

1g
Unsaturated Fat:

25g
Cholesterol:

732mg
Sodium:

1857mg
Carbohydrates:

36g
Fiber:

2g
Sugar:

7g
Protein:

79g
Calorific details are provided by a third-party application and are to be used as indicative figures only.