Faggots and Mash were the meatballs I grew up with a staple of the Midlands in the UK have sadly fallen out of favour but these old skool classics are still my favourite!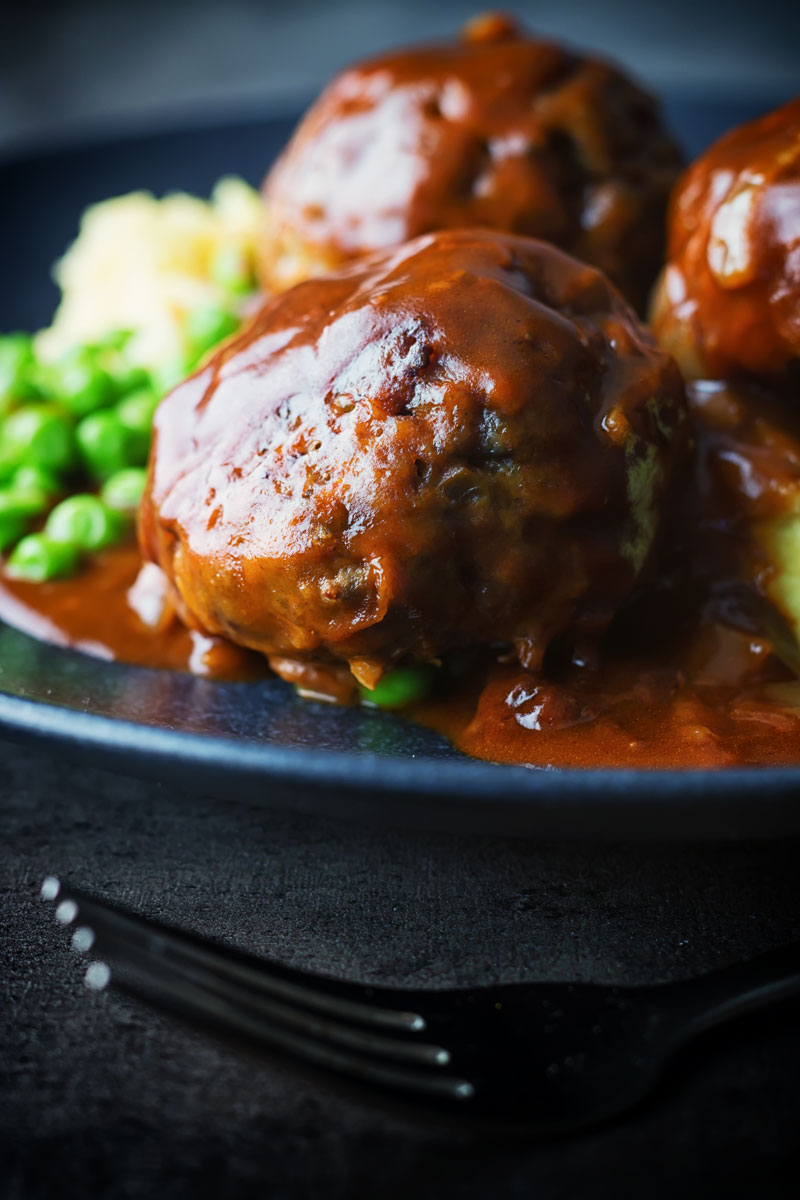 Faggots and Mash with Peas
Here I go being all populist again. I don't care how popular rabbit or venison or wild boar are, this is just the food I love and this one is that to the power of a dozen or so!
This one is an old friend of a recipe from my childhood, faggots and mash… Yes, it really is called that and has been called that for a very long time. The oldest reference in writing dates back to 1851.
Now I have heard of people getting their faggots and mash posts deleted from Facebook. Why? Because a section of society decided to turn the name of a dearly held meatball recipe into a homophobic slur.
I'll not be dissuaded! These are the unequivocal king and queen of the meatball world. None of your soft and gentle here, big strong iron-rich flavours.
But they are still a meatball at heart! sharing much of the same techniques and ideas behind my honey and mustard chicken meatballs or those in my spaghetti and meatballs recipe.
Yes, folks if you don't like offal you should probably move on! Faggots get their magic from liver, heart, kidney and even lungs if you wish. They are traditionally wrapped in caul fat or crepinette.
Crepinette is the web like fat that holds the kidney and liver all in place. As a result, it makes it the perfect way of holding together these soft meatballs.
Sadly I can not get caul fat here no matter how hard I try so I have adapted the offal levels to keep my faggots and mash on point without the need to be held together.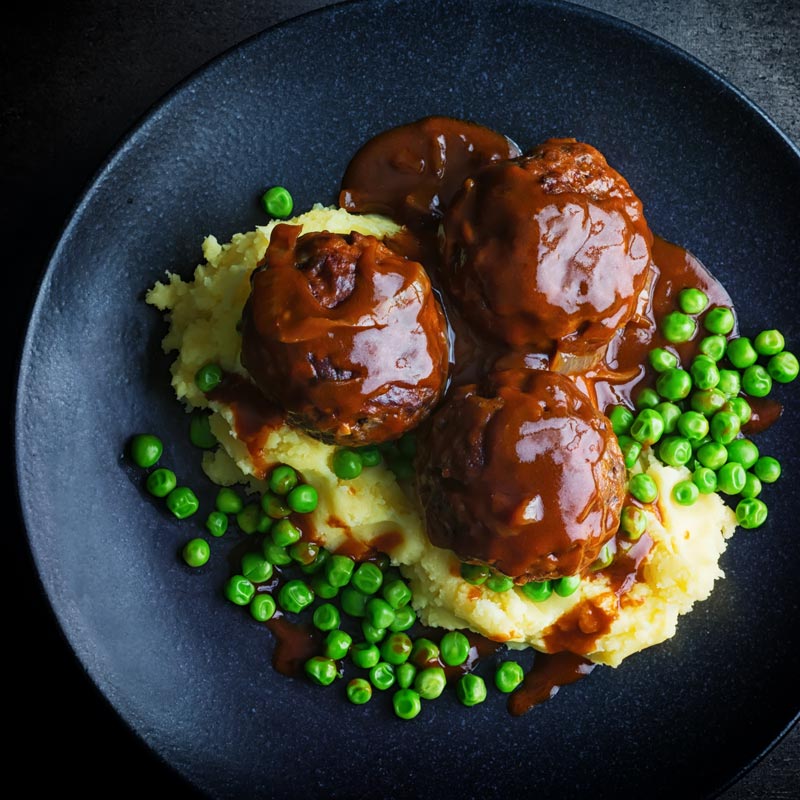 Mr Brians Faggots!
Growing up faggots and mash always came from the freezer, well the faggots anyway… And the brand name was Mr Brains faggots, so here you go Mr Brians faggots for you!
The dish is very much a regionally influenced. I'm from the Midlands pretty much the heartland of these wonderful meatballs.
However, if you head a little bit further north, not to far maybe a hundred miles or so they are called ducks.
There is also something fairly similar in Hungary. They are larger and called a cipő, which means shoe or slipper.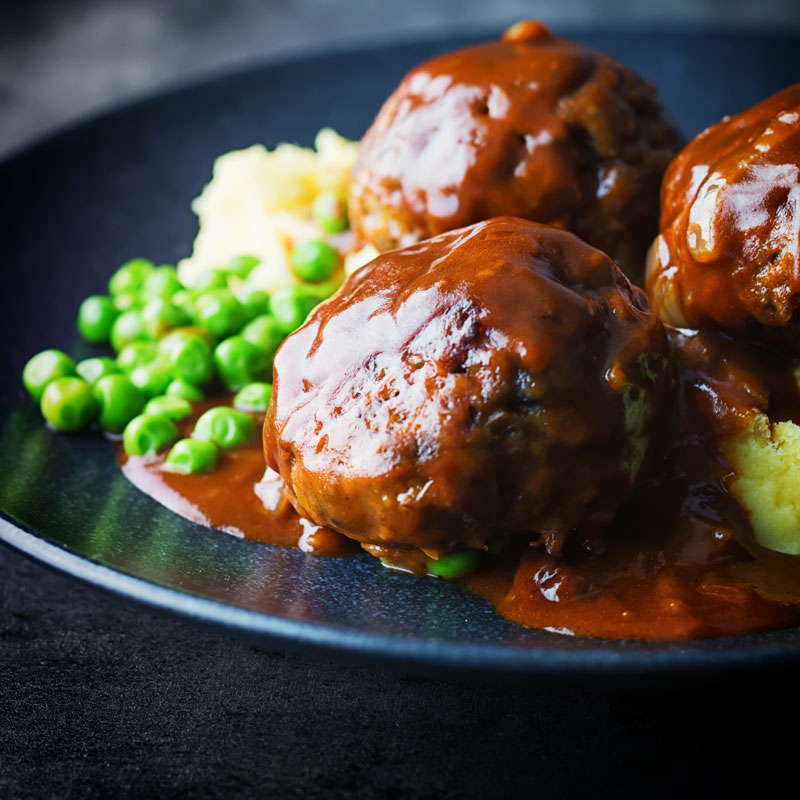 Don't Forget The Gravy.
Anyway, I digress, the other thing that faggots and mash need are a kick-ass gravy. And this gravy really does kick ass and is heady with the flavour of Worcestershire sauce and sweet from the onions.
Of course, the potatoes should be mashed, not pureed, stick as much butter and cream in there as you can but do not turn it into a puree!
They should remain fluffy, otherwise mashing all that rich gravy in just does not work. For more on mash, you should check out my guide to mashed potatoes.
I'm sure purists will be along soon to say that the peas should be mushy peas. But I disagree mushy peas are for fish and chips and I am always right so there!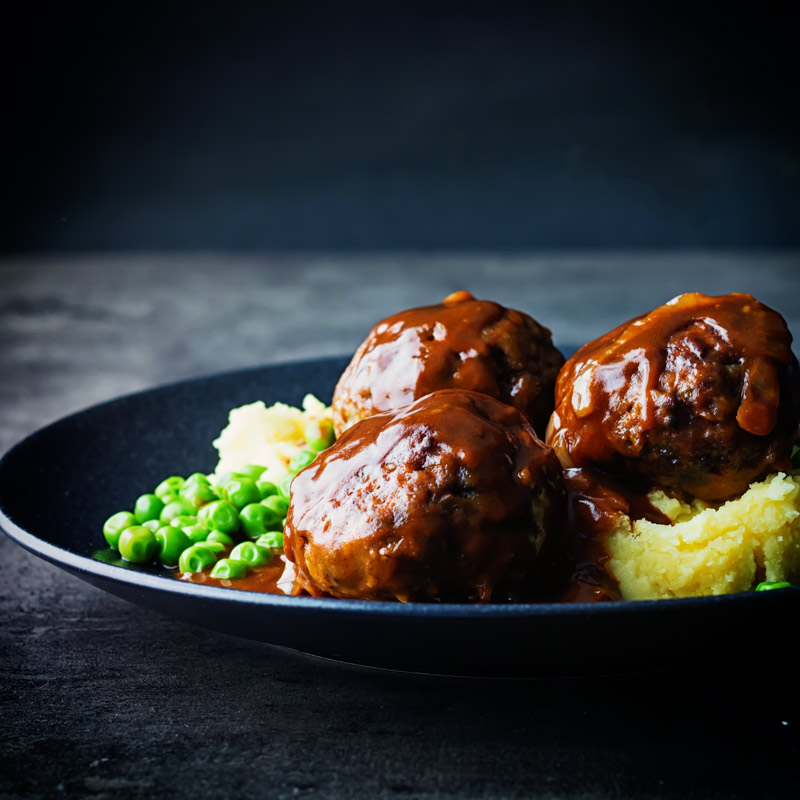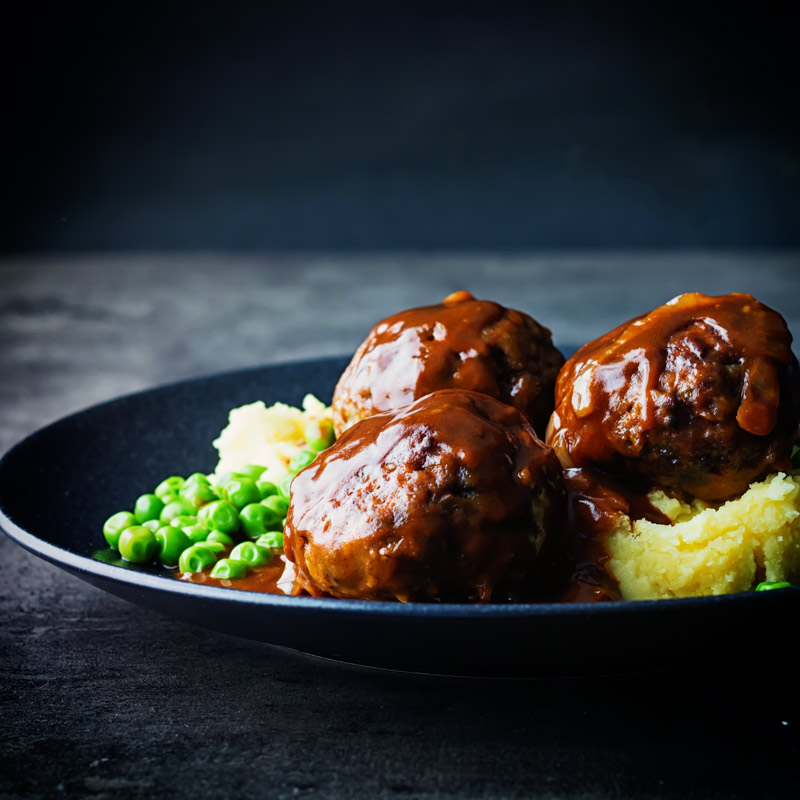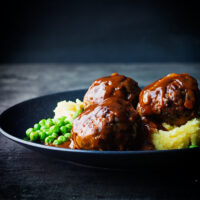 Faggots and Mash with Peas
Cook Time:
2 hours
5 minutes
Total Time:
2 hours
20 minutes
Faggots and Mash were the meatballs I grew up with a staple of the Midlands in the UK have sadly fallen out of favour but these old skool classics are still my favourite!
Ingredients
For the Mash:
500 g Potatoes, Something floury is good
75 g Butter
75 g Heavy Cream
For the Faggots:
400 g Pork Belly
150 g Pork Shoulder
400 g Pork Liver, Swap out for 200g liver and 200g of heart if you like
250 g Onion, Finely diced
2 Cloves Garlic, Mashed
1 Tbsb Oil
1 Tsp Dried Thyme
1 Tsp Dried Sage
1 Tsp Celery Salt
1/2 Nutmeg, Grated
150 g Breadcrumbs
3 Tbsp Flour
For the Gravy:
1 Tbsp Cooking Oil, Neutral
50 g Butter
100 g Onion, Sliced into 5mm half moons
2 Tbsp Flour
500 ml Beef Stock
1 Tbsp Tomato Puree
2 Tbsp Worcestershire Sauce
Instructions
For the Faggots (Time: 125 minutes):
Heat the oil in a pan and fry off the onion, garlic, sage and thyme and fry on a low-medium heat for 10 minutes to soften but not colour.
Get your butcher to grind the meat and offal for you or do it yourself and mix it together with all of the ingredients apart from the flour and form into 100g faggots.
Heat your oven to 200°C with a heavy based skillet or frying pan.
Roll the faggots in the flour.
Add 1 Tbsp of oil to the pan and add faggots and cook for 25 minutes turning 2 or 3 times.
Now make the gravy, heat a pan over a medium high heat and add the oil and butter.
Add in the sliced onion and cook for 10 minutes.
Sprinkle over the flour and stir and cook for 2-3 minutes.
Pour in the beef stock, Worcestershire sauce and the tomato puree stirring all the while.
Reduce the heat to low and cook for 10 minutes.
Taste your gravy and add salt and pepper as required, now pour over your faggots and cover the pan with tin foil.
Reduce the heat to 160°C and cook for an hour and a half.
For the Mash and Peas (Time: 40 minutes):
Peel the potatoes and cut into evenly sized pieces and boil in salted water until cooked.
When the potatoes are almost cooked heat the cream.
Either mash the potatoes or put them through a potato ricer and then stir in the butter and warmed cream.
Finally boil some peas and serve.
Notes
This serves 4, they freeze really well like any other meatball. I usually freeze with some of the gravy and then defrost before reheating in the oven in a foil 'container'.
Nutrition Information:
Yield:

4
Serving Size:

1
Amount Per Serving:
Calories:

1369
Total Fat:

79g
Saturated Fat:

35g
Trans Fat:

2g
Unsaturated Fat:

38g
Cholesterol:

843mg
Sodium:

1345mg
Carbohydrates:

79g
Fiber:

6g
Sugar:

10g
Protein:

84g
Calorific details are provided by a third-party application and are to be used as indicative figures only.