These simple honey and mustard chicken meatballs are cooked in a fully flavoured creamy sauce and served on a supremely indulgent mashed potato!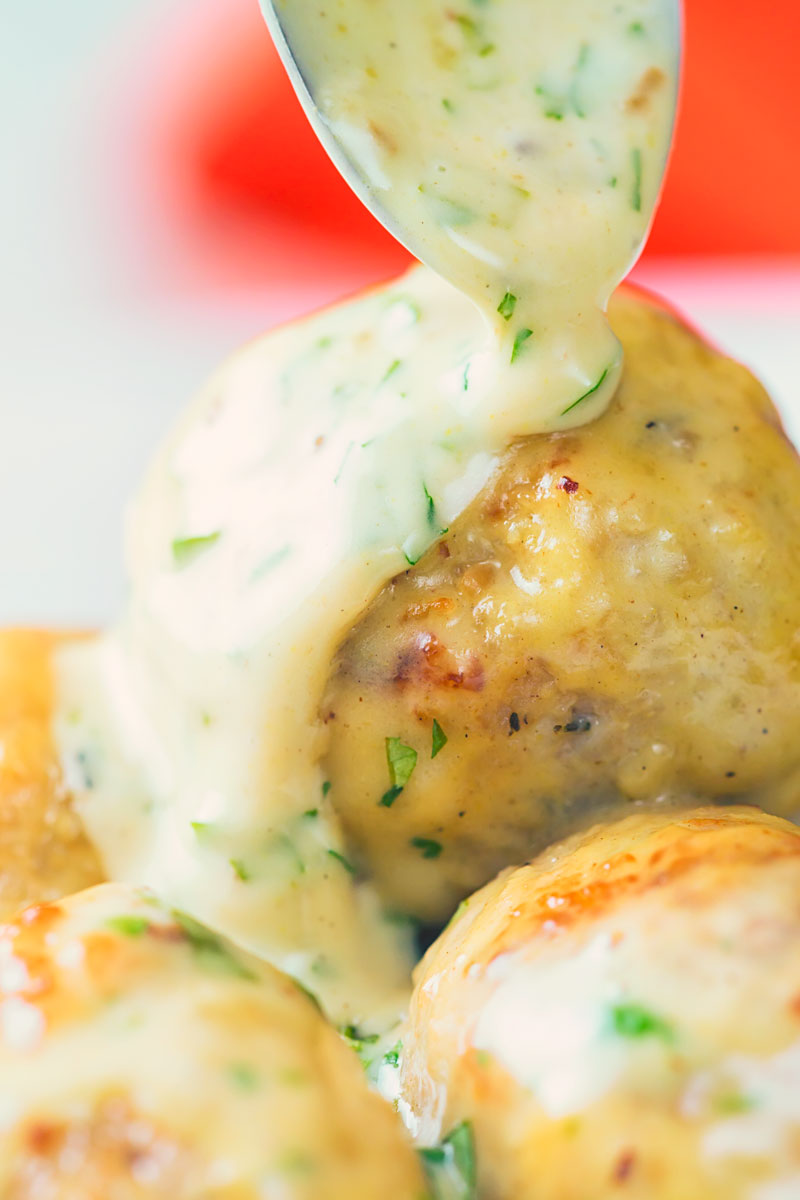 Simple Indulgent Chicken Meatballs.
I love these super simple honey and mustard chicken meatballs… They take 30 minutes to cook and feel proper indulgent.
Poultry is not an unusual ingredient for me to turn into a meatball. In fact, the much more common ground beef meatball recipe is a rarity in my house.
I have both an Indian Chicken Kofta which is a meatball in all but name and a turkey meatball pasta bake. You could of course change out the chicken for ground turkey if you wish.
You could even use minced chicken in this mini meatball soup if you wanted!
But this recipe feels 'special', even though it is incredibly simple.
Probably because it is properly indulgent. There are no substitutes for cream and butter, no matter what the latest fad diet says!
Of course, this is not the sort of meal that I eat every night, but on occasions, we all deserve a naughty treat.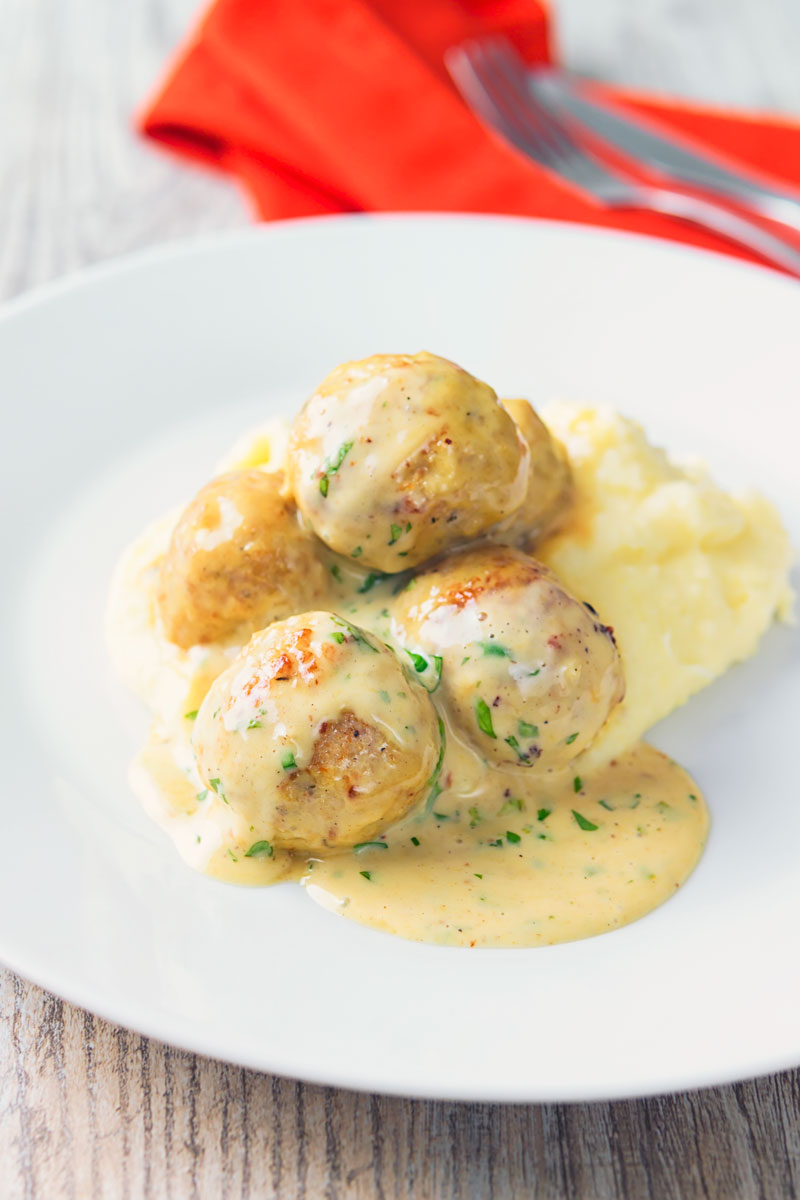 The Secret to Moist Meatballs.
The trick to making moist meatballs is usually in the inclusion of fat.
But chicken is incredibly lean, even if you use the thighs as I do for the chicken ground chicken in this recipe.
I ensure that these meatballs stay moist by freeing up the moisture content in the onions I flavour them with.
Onions contain a boatload of liquid, usually that liquid stays locked inside the structure of the onion. Grating the onion frees up that liquid and helps to add both flavour and moisture to the meatballs.
After that, all you need do is not overcook your meatballs.
They do not take long to cook, only a matter of 15 minutes. A meat thermometer will help you ensure perfection.
Look for an internal temperature of 73°C or 165°F!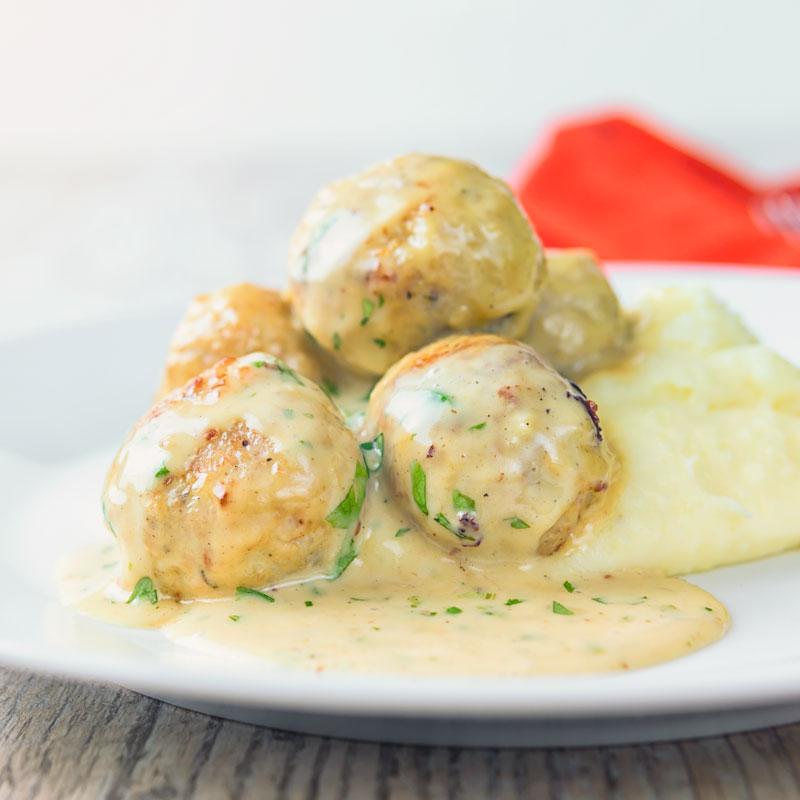 The Honey and Mustard Sauce!
Honey and mustard is a classic combination and one I use all the time, most recently in my honey mustard pork chop recipe. It even works with fish as this honey and mustard salmon recipe demonstrates.
This recipe does something a little different with that sauce. The addition of cream makes it silky smooth and mellows the mustard.
I personally use English mustard in this recipe. If you find that a little "pokey" then moving to Dijon mustard is a perfectly acceptable substitute.
You could even use wholegrain mustard, although that will make the sauce less silky.
I'll not go into length on the mash in this recipe and point you towards my guide to mashed potatoes instead…

Needless to say, I add 25% in a combination of cream and butter to the weight of the potatoes.
You can read yet more of my musings on mashed potato on my recent Pork With Prunes Recipe!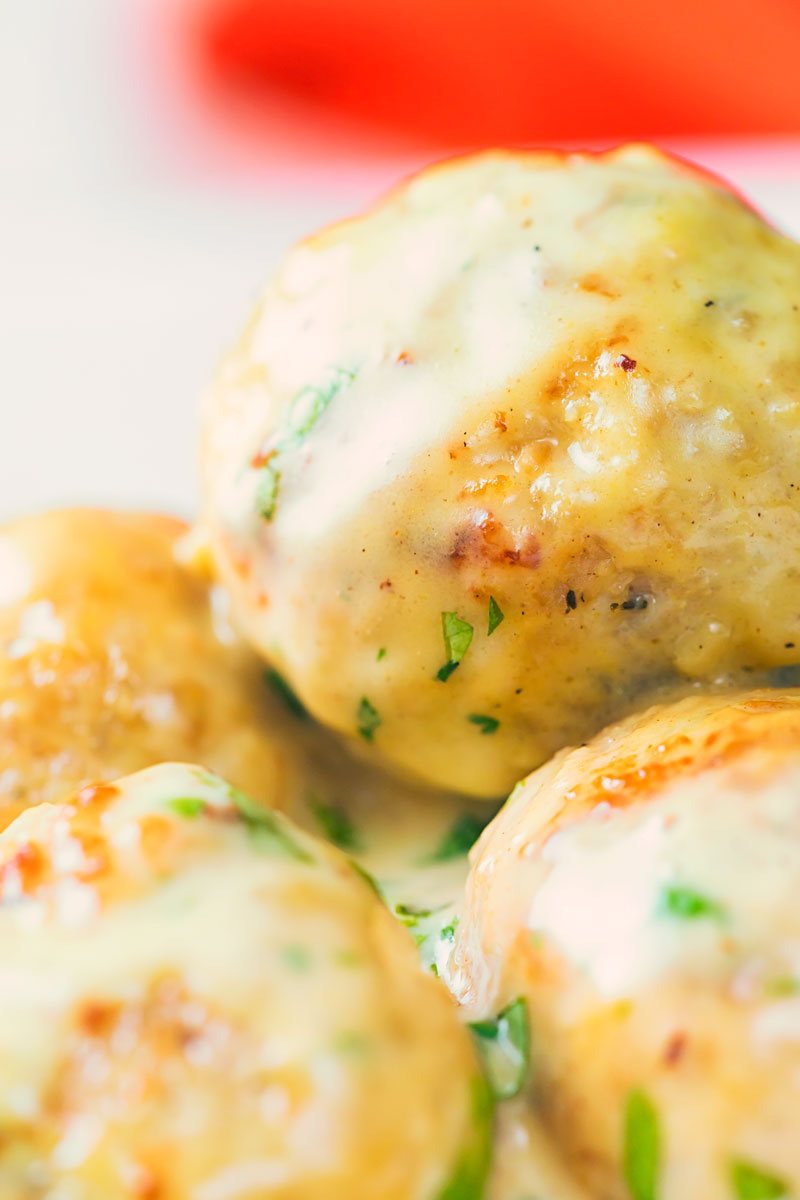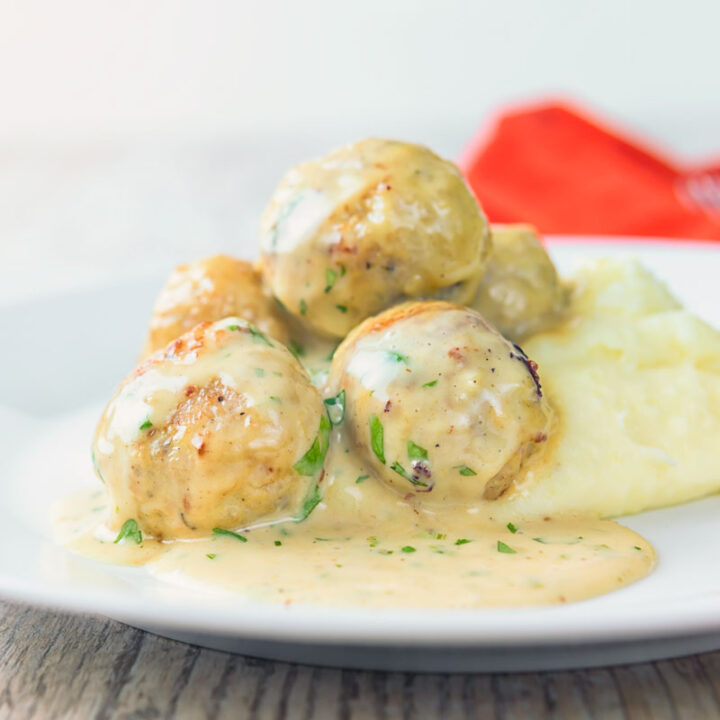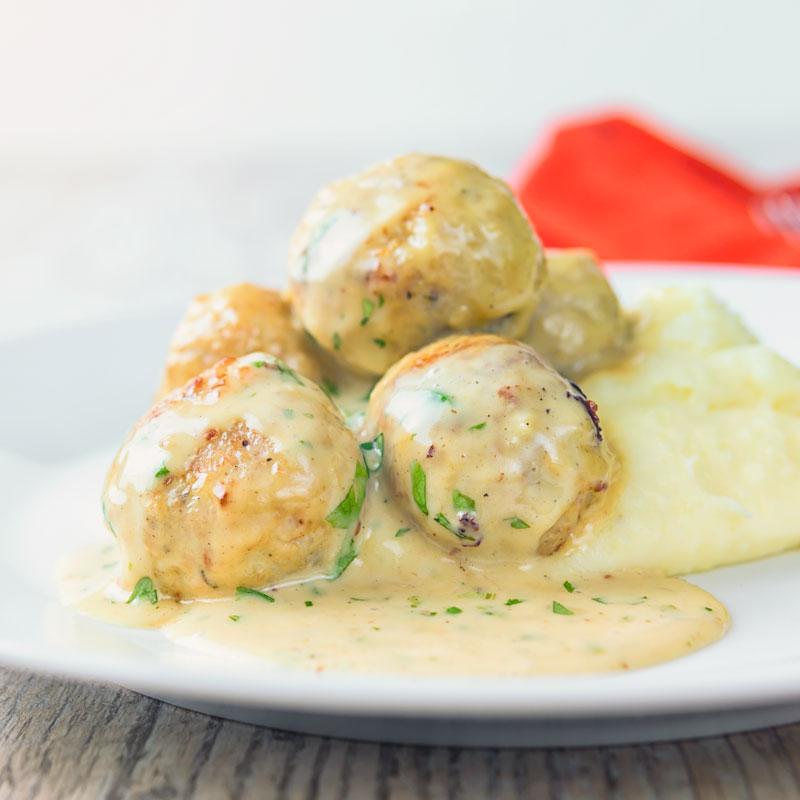 Yield:

2 Servings
Honey & Mustard Chicken Meatballs with Mashed Potato
These simple honey and mustard chicken meatballs are cooked in a fully flavoured creamy sauce and served on a supremely indulgent mashed potato!
Ingredients
For the Honey and Mustard Meatballs
300g (10.5 oz) Ground Chicken
75g (2.5 oz) Onion
2 Garlic Cloves
40g (1.5 oz) Breadcrumbs
1/2 Tsp Dried Thyme
Fresh Nutmeg to taste
Salt and Pepper to taste
2 Tbsp Cooking Oil
1 Tbsp Honey
1 Tbsp Mustard
75ml (2.5 fl oz) Heavy Cream
10g (0.35 oz) Chopped Parsley
For the Mashed Potato
350g (12 oz) Potato
50g (1.75 oz) Butter
50ml (1.75 fl oz) Cream
Salt to taste
Instructions
Peel and cut the potatoes into 2-2.5cm cubes.
Boil the potatoes in boiling water for 25 minutes.
Grate the onion and mince the garlic and then add to the minced chicken.
Grate in a generous helping of fresh nutmeg and add the breadcrumbs and the thyme then season with salt and pepper.
Using wet hands form into 10 meatballs.
After the potatoes have been cooking for 10 minutes heat the oil in a heavy based pan.
Brown the meatballs on all sides for 5 minutes or so.
Reduces the heat and add a lid and cook for a further 5 minutes.
Remove the lid and add in the honey and mustard followed by the cream and simmer for 5 minutes.
Heat the cream for the mashed potatoes but do not boil.
Put the potatoes through a potato ricer and mix in the butter and the warmed cream and serve.
Finally mix the parsley through the sauce before serving.
Notes
I usually add some green beans on the side of this recipe.
Nutrition Information:
Yield:
2
Serving Size:
1
Amount Per Serving:
Calories:

1109
Total Fat:

76g
Saturated Fat:

34g
Trans Fat:

2g
Unsaturated Fat:

37g
Cholesterol:

286mg
Sodium:

982mg
Carbohydrates:

68g
Fiber:

6g
Sugar:

16g
Protein:

45g