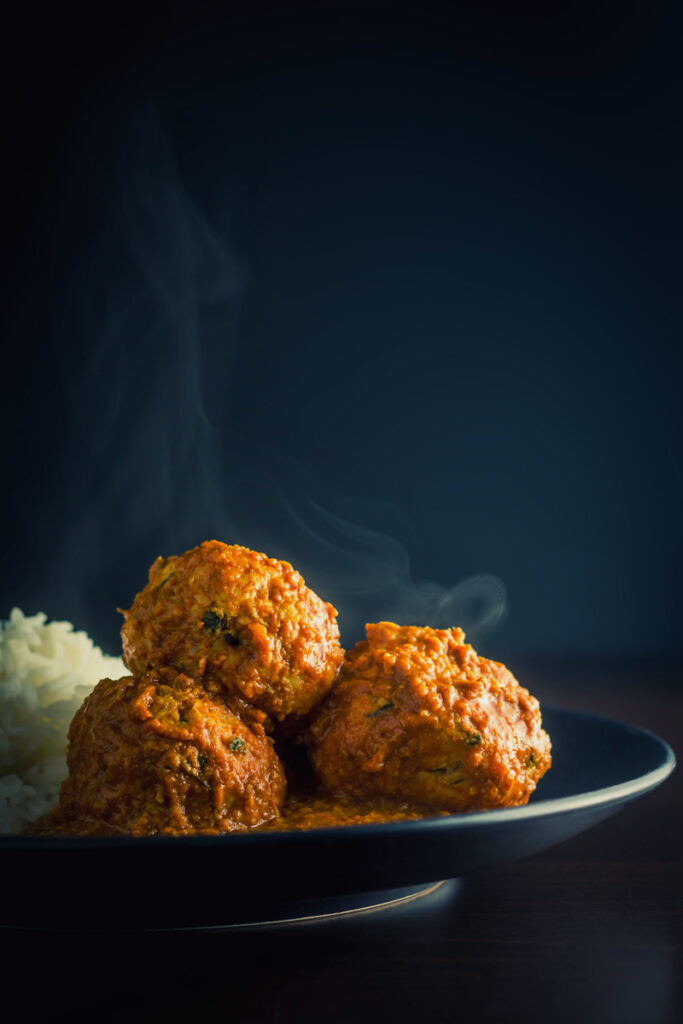 My love of Indian flavours is well documented here on Krumpli and these chicken kofta poached in a masala style sauce or 'gravy' is definitely a nod to the flavours I love so much. In reality it is meatballs and gravy, but meatballs and gravy that has had the flavour dial definitely turned up to 11, the meatballs themselves sing of fenugreek one of the real evocative flavours of Indian food and the gravy rounds it out with garlic, ginger, cumin, coriander, turmeric and of course chili. These chicken kofta are a great staple for a curry but also make the most incredible spin on a 'meatball sub' if you feel so inclined and the recipe from the masala sauce or gravy works really well with whole cuts of meat, it works wonders with left over roast lamb! As with all of my spicy dishes you can make this chicken kofta masala as hot or mild as you like, I personally like this one really quiet fiery so break out the lip balm if you need to.
This recipe is hitting you up just as we return from a weekend away to celebrate my wifes Birthday, we took a trip to Debrecen, the second city of Hungary and a fabulously understated city that we can visit without being overwhelmed by the noise and bustle. Hungarian food is great but it is all very one dimensional and massive when it comes to portion size so we booked to head to a fabulous restaurant that serves the rarest of things in Hungarian restaurtants, modern European food… And it was glorious, portion sizes that permitted us to eat two whole courses without feeling as though we needed to be pushed home in a hand cart. We also stayed in a pretty famous Hungarian hotel, the Arany Bika (Golden Bull), is much famed in Hungary and is a wonderful testament to the grandeur of the past, if now a little faded but a fabulous weekend was had by both of us. Although the thermal spa we stopped at on the way home on Sunday was much needed to shake off the funk from the booze we consumed on a wee pub crawl around the city on Saturday night… Go figure, a Saturday night on the tiles, now that does not happen very often any more!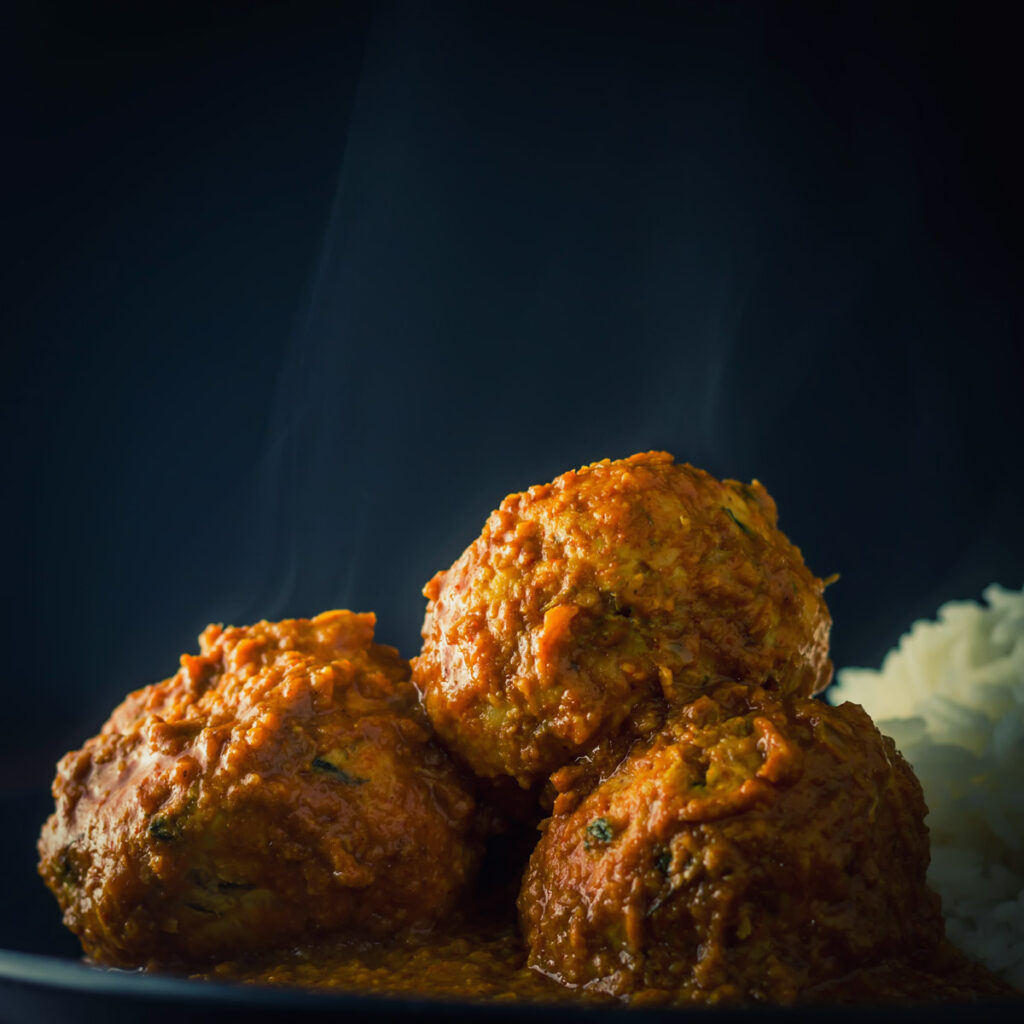 Print
Chicken Kofta Masala
Chicken Kofta Masala, soft Indian chicken meatballs poached in a hot and spicy yet aromatic Indian gravy, fakeaway heaven.
Ingredients
For the Kofta
100

g

Onion.

Finely diced.

350

g

Chicken.

Minced.

2

Garlic Cloves.

Minced.

25

g

Fresh Ginger.

Grated.

1/2

Tsp

Kashmiri Chili Powder.

2

Tbsp

Dried Fenugreek Leaves.

1

Tsp

Ground Cumin.

1

tsp

Coarse Sea Salt.

1

Egg.

Lightly beaten.

50

g

Breadcrumbs.
For the Masala Sauce
100

g

Onion.

Roughly chopped.

2

Garlic Cloves:.

Peeled

15

g

Ginger.

Peeled.

2

Tbsp

Ghee.

2

Tbsp

Tomato Puree.

1

Tbsp

Ground Coriander.

1

Tsp

Ground Cumin.

1

Tsp

Ground Turmeric.

1

Tsp

Kashmiri Chili Pepper.

1/2

Tsp

Ground Fenugreek.

150

g

Natural Yoghurt.

1/2

Tsp

Coarse Sea Salt.
Instructions
Mix together the ingredients for the kofta, wet your hands with warm water and roll into 2.5 cm balls and set aside, you should have 10 kofta.

Place the garlic, ginger and onion for the sauce in a small blender with 2 tablespoons of water and blend to form a paste.

Heat the ghee over a medium high heat in a large frying pan and add the onion, garlic and ginger paste and fry until golden, stirring occasionally, about 5-10 minutes..

Now add the ground spices and fry for a further minute before adding in the tomato puree and frying for a further minute, stirring continuously to prevent burning.

Add in the yoghurt and salt, stir to combine then turn the heat down to low and allow to cook covered for 10 minutes.

Now add in 150-200ml water, you are looking to make a sauce akin to a relatively thick soup and stir until boiling.

Finally add in the meatballs and allow to poach in the thick sauce for 30 minutes basting with the sauce every 10 minutes.
Recipe Notes
Serve with plain rice.