Canned tuna forms the foundation of these Spicy Tuna Fish Cakes leaning heavily on the flavours of Thailand and they make a perfect light meal or snack.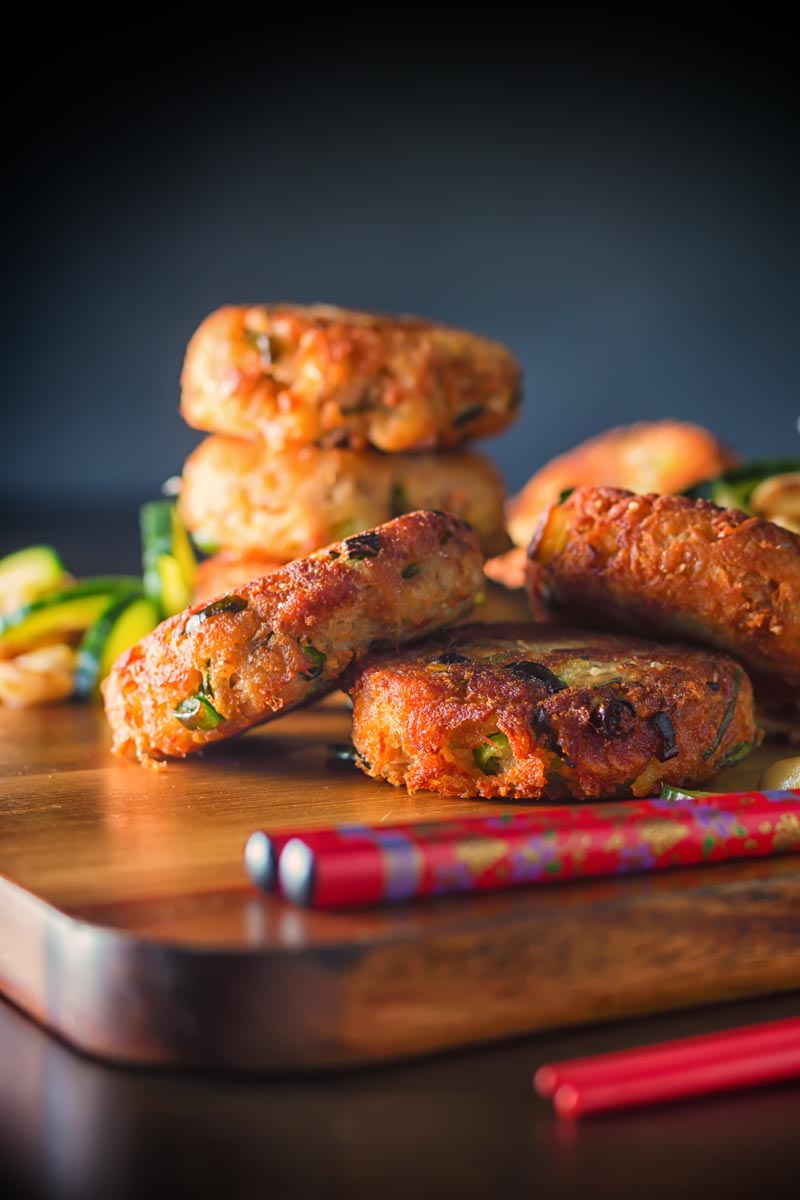 Spicy Tuna Fish Cakes With Cucumber Salad.
I love a good fish cake and for these spicy tuna fish cakes, I went rummaging through the flavours of Thailand.
The last mackerel fishcakes I did here were really popular. They were a bit of a grown-up take on the fishcakes I grew up with as a child.
They pack a mighty punch something that would have been unheard of in the school dinner queue when I was a child.
School dinners were a very bland affair when I was growing up. In all fairness, there was not a mass of junk food until I hit my mid-teens and it was all pretty nutritious up until then.
But if my memory serves me correctly all horrifically overcooked. Lacking in any flavour and about as exotic as a pair of plaid slippers.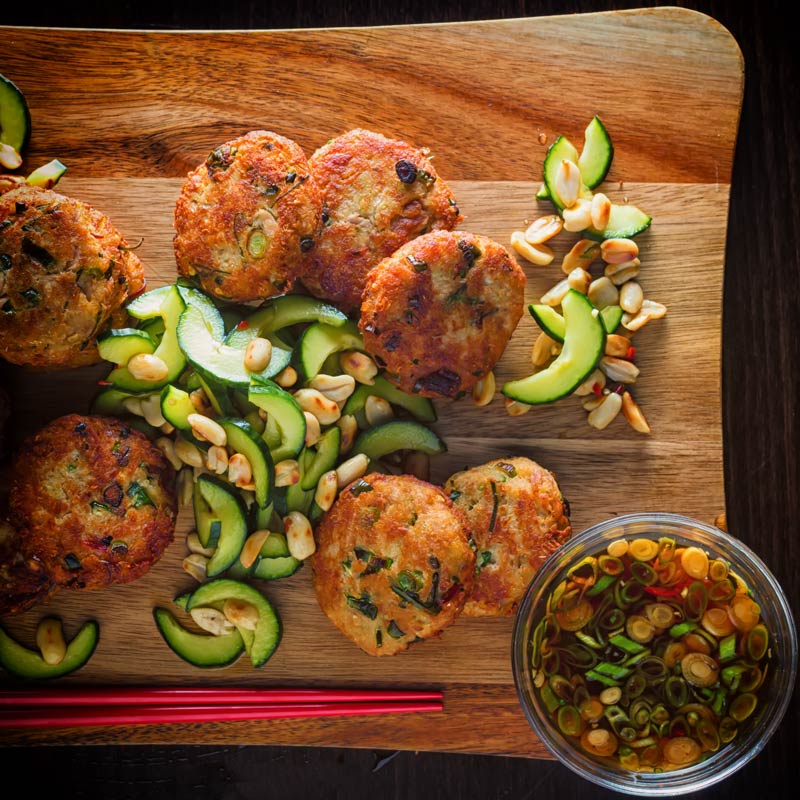 Canned Fish Recipes.
Once again these tuna fish cakes use canned fish, something I am learning to love.
As I have mentioned before I would have turned my nose up at canned fish when I lived in the UK, but now I am embracing it for what it is.
But as this salmon fish cake recipe demonstrates it is perfectly possible to make a great fish cake from fresh fish.
There are so many great and simple ways to cook with tuna. Canned tuna recipes typically involve some form of pasta bake.
However, I have a slightly different approach, imagine that! How about this tuna pasta salad that invokes the flavours of a classic Nicoise salad.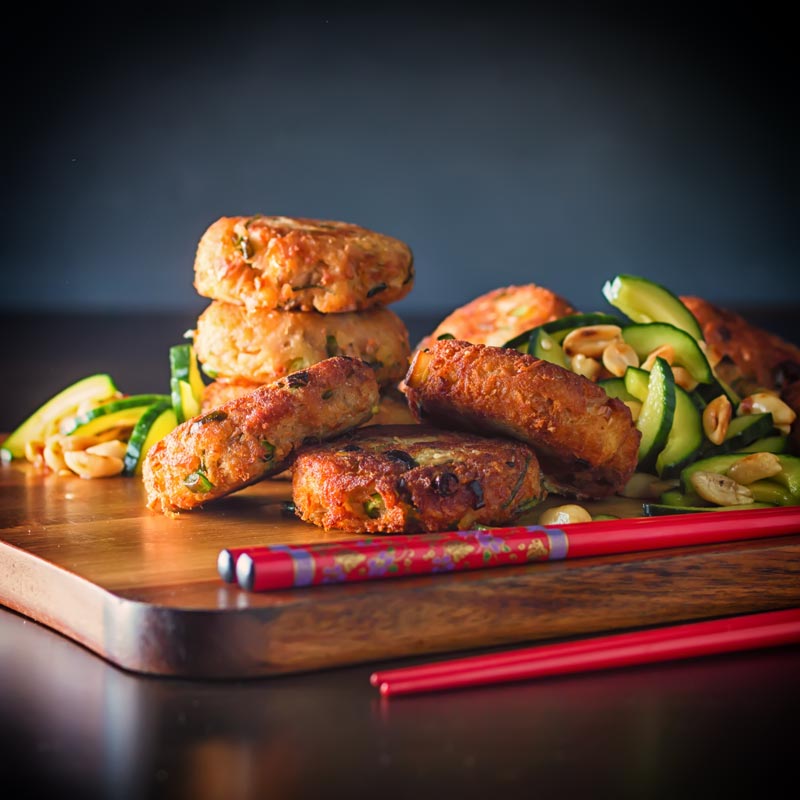 Great Tuna Recipes!
Tuna is the perfect fish for these tuna fish cakes. It stands up really well against the big flavours of the lemongrass, ginger and of coarse the chili.
A word of caution the dipping sauce for these fiery treats are really integral to them. The seasoning in them is geared for them to be dipped in the salty and really pokey fish sauce.
If you want to skip the dipping sauce you will need to add more salt. You could do this with salt although I would personally add more fish sauce to the fish cake mix.
Of course, canned tuna is not the only 'fruit'. The tuna motherload as far as I am concerned is great quality fresh tuna.
I have a couple of seared Tuna recipes that really are a treat, stupidly easy and quick to make too! The first is an Asian honey and soy seared tuna. The second a European seared tuna with a lemon caper sauce.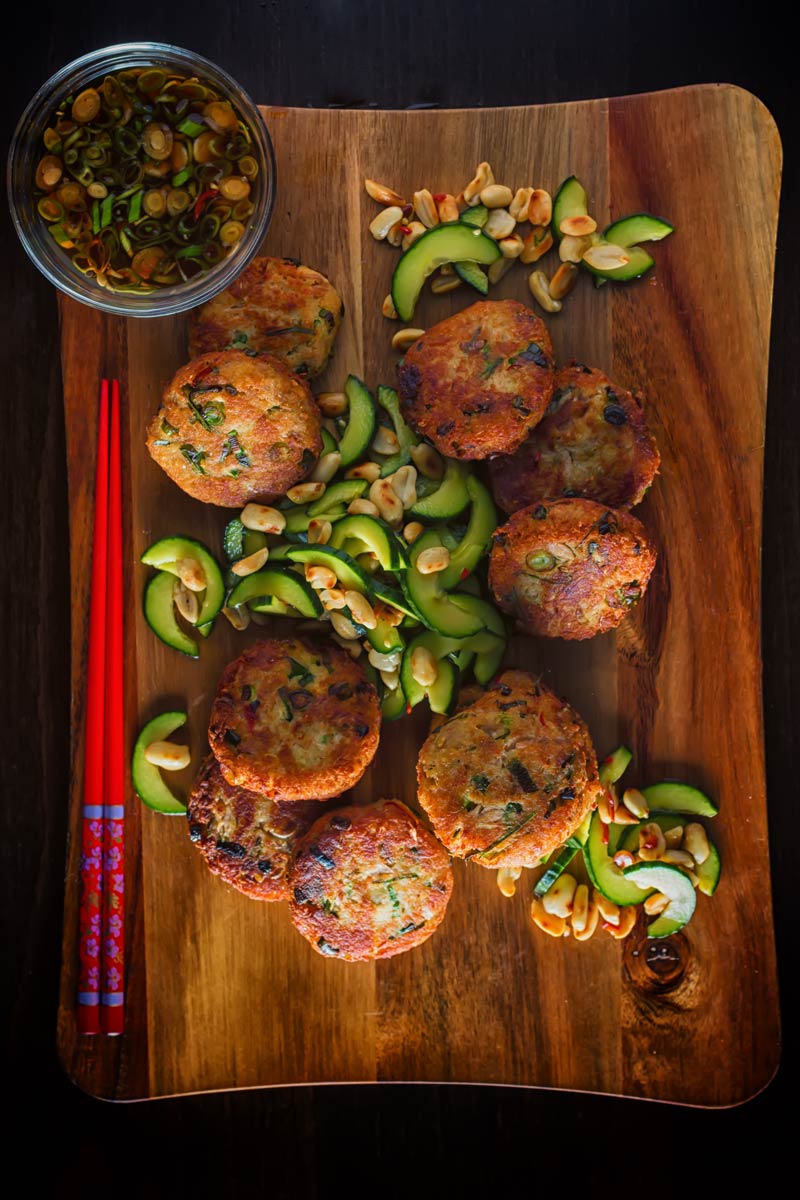 Changing Seasons In The Kitchen.
In other news, it is full on Autumn here in my corner of Hungary. Not that nice Autumn where it is a little breezy but the trees are beautifully coloured.
The Autumn where there is a bitter north wind blowing biting rain into your face. You also need wellington boots to go out as it has been raining for 6 hours and the dry dust that was there is now a sea of mud.
However, that is not a reason to be sad. Cooking at the change of seasons is the most exciting time in the kitchen.
Be prepared for lots of warm and comforting stews, curries and soups heading your way really soon! I'll help you warn off the winter blues.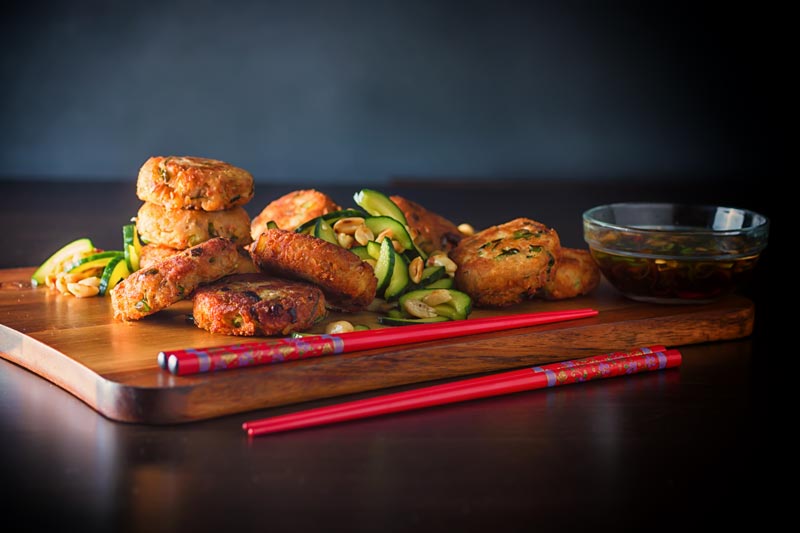 But for now, these Thai tuna fish cakes are a nod to somewhere warm and exotic. Whilst I am actually looking out the window thinking, 'not long before I have to start the log burner again'!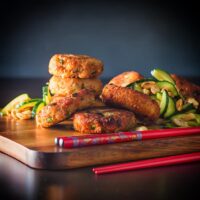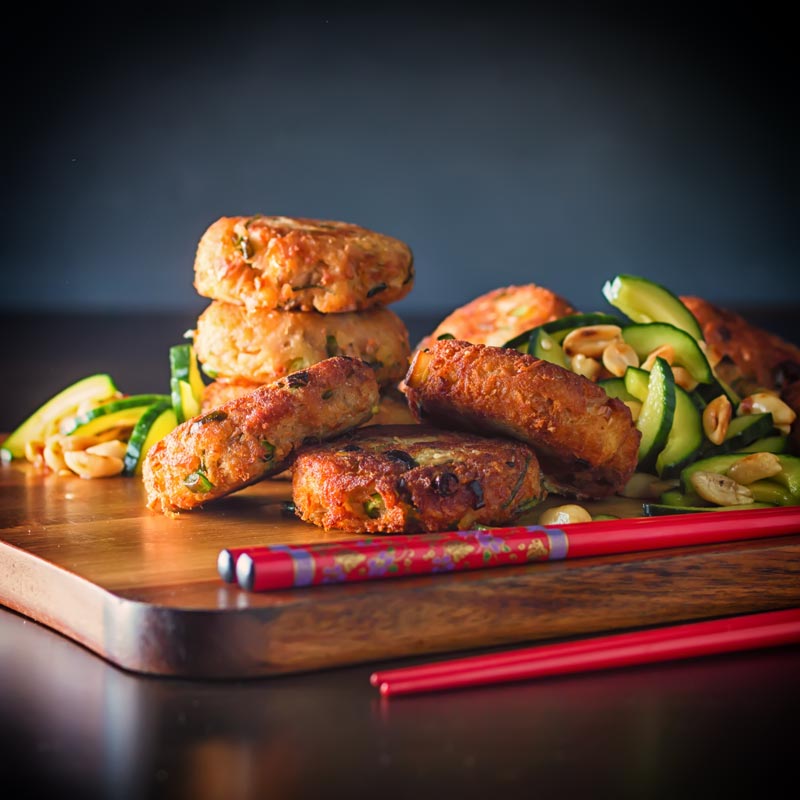 Spicy Tuna Fishcake With Cucumber Salad
Canned tuna forms the foundation of these Spicy Tuna Fish Cakes leaning heavily on the flavours of Thailand and they make a perfect light meal or snack.
Ingredients
For the Fishcakes
150 g Potato, Peeled and cut into 1cm dice, choose a floury variety
250 g Canned Tuna, Use Tuna in water rather than oil
1 Thai Birds Eye Chile, Finely sliced use other types of chili if you like
1 Stick Lemon Grass, Outer leaves removed bashed and finely chopped
25 g Ginger, Grated
2 Kaffir Lime Leaves, Re hydrated in boiling water for 2 minutes if dried then finely shredded
50 g Spring Onion, Finely sliced
1 Tbsp Fish Sauce
1 Egg, Lightly beaten
35 g Breadcrumbs
For the Dipping Sauce
1/4 Tsp Brown Sugar
2 Tbsp Thai Fish Sauce
1 Tbsp Rice Wine Vinegar
1/2 Tsp Lime Juice
1/2 Thai Birds Eye Chile, Finely Sliced
1 Spring Onion, Finely Sliced
For the Cucumber Salad
1/2 Cucumber, Deseeded and cut into half moon shapes about 2-3mm wide
50 g Unsalted Peanuts, Toasted
1/2 Thai Birds Eye Chile, Finely Sliced
1 Tsp Fish Sauce
1/2 Tsp Brown Sugar
1 Tsp Sesame Oil
Instructions
Cook the potato in a pan of salted water until soft, this should take 10 minutes.
When cooked mash or pass through a potato ricer and allow to cool.
Mix together all of the ingredients for the fishcakes and then form into balls roughly the size of golf balls, then lightly press out to form a small patty, set them aside in the fridge whilst you prepare the dipping sauce and salad.
Mix together all of the ingredients for the dipping sauce, then check for balance and set aside.
Heat 1 cm of oil in a frying pan over a medium high heat and fry the cakes until crisp and golden.
Finally make the salad, mix together the fish sauce, sesame oil, brown sugar and chili and then dress the cucumber before sprinkling in the toasted peanuts.
Nutrition Information:
Yield:

2
Serving Size:

1
Amount Per Serving:
Calories:

1062
Total Fat:

49g
Saturated Fat:

11g
Trans Fat:

0g
Unsaturated Fat:

31g
Cholesterol:

232mg
Sodium:

4331mg
Carbohydrates:

72g
Fiber:

8g
Sugar:

14g
Protein:

86g