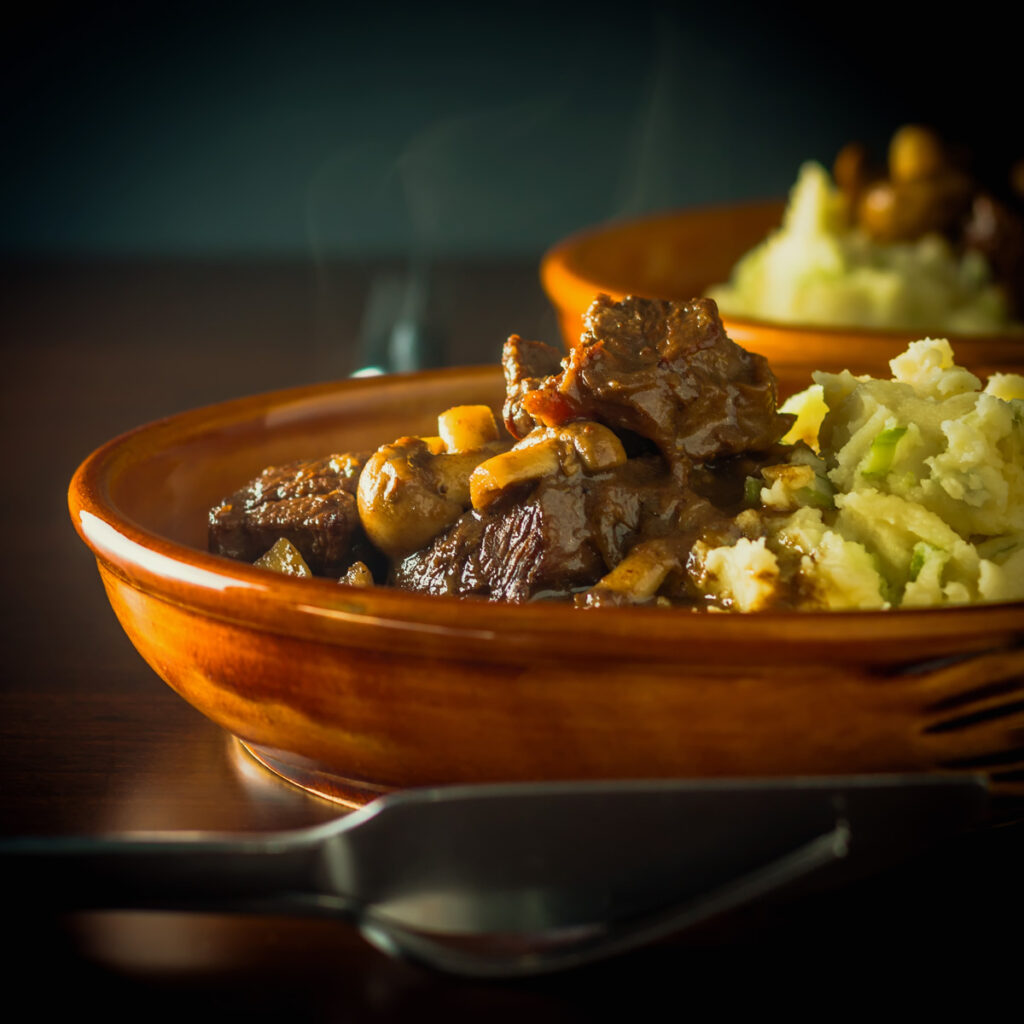 I'm back pushing the wild meat again today and this venison stew really is a wonderfully simple dish that tastes a million dollars. Just like my recent wild boar stew I am not aiming to convert people to using wild meats all the time, I'm just saying they are out there, they taste great and really they are not difficult to cook with at all. For us at this time of year wild meats are relatively easy to get our hands on with it even being available in major supermarkets and not just from the hunter or butcher and I find that incredibly exciting. Growing up in the UK I rarely saw venison on a menu and even now it only seems to appear on very 'chefy' menus, but what could be more homely than a stew? Venison is an incredibly lean meat so if roasting needs to be cooked carefully so it does not dry out, but this venison stew has much more leeway as it simmers away in a beautiful red wine sauce with loads of black pepper and the fragrant aroma of juniper berries and it feels very 'regal' for such a humble dish.
As for the side, there aint really a lot to say, mashed potato and spring onions or champ as the Irish would call it, in the modern food world of low carb, paleo, gluten free, trendy ingredient bullshit we often forget the most magical of ingredients. I doubt that the humble 'spud' would ever be referred to as a super food but as far as I am concerned any vegetable that is as diverse as the potato aint just super it is positively bloody magical! So for this venison stew a nice helping of buttery mashed potato with some fresh spring onions from the garden and don't skimp with the butter, it is good for your 'soul'. I always bake my potatoes for mash, it keeps the moisture content in the potatoes low which means I can put in more butter, but it also means I get the potato skins to freeze or save for another day stuffed with whatever is good in the fridge. Think bacon, cheese & spring onions, or even left overs of this stew put back through the oven to bake, don't throw them away by peeling potatoes and boiling them, you are binning one of the best parts!
I am definitely feeling a bit photo'd out at the moment, this Venison stew is the fourth recipe I have cooked and photographed this week, I try and keep between 3-4 recipes ahead of my Tuesday, Friday posting schedule… It means I have a little leeway just in case a photo shoot does not go to plan or if something comes up I had not thought of. The visit of my mother in law meant that I used up all of my 'bank' recipes and am starting from scratch, which aint a problem in itself as everything has gone remarkably well, and my self imposed 5 minute photography rule has not been stretched at all. It does of course help that these recipes are ones I have cooked dozens of times and recipes I love so the only question I have is that of presentation as opposed to flavours. I guess this is a little insight as to how I work and produce my images, a photoshoot for me takes no longer than 5 minutes at the very most. That is of course after the food has been plated, before that I spend a while setting up my lighting and taking test shots to make sure I am pretty much where I want to be and then it is as quick as possible. You see I cook stuff like this venison stew because I want to eat it and nothing would horrify me more than allowing a meal I have lovingly prepared for myself and my wife going past it's best just for the sake of a picture. My food is to be enjoyed not primped and poked 😉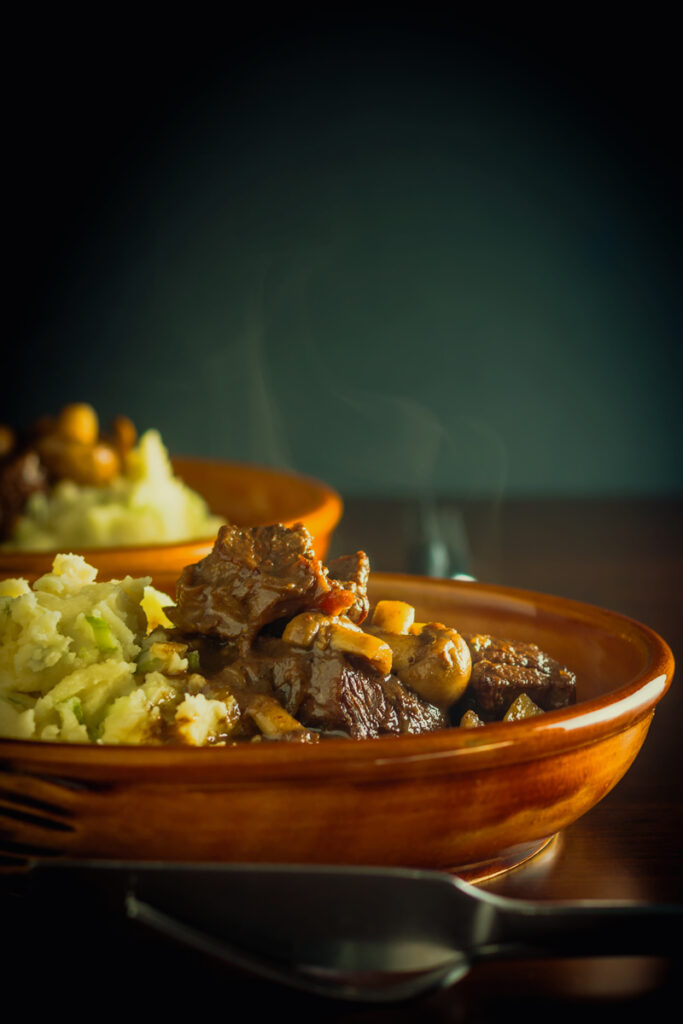 Print
Venison Stew With Champ
Wild meat is a real treat and this warming venison stew with mushrooms matched with an Irish champ is an Autumnal treat to keep you warm.
Cook Time
1
hour
30
minutes
Ingredients
For the Stew
500

g

Venison Shoulder.

Cut into large 3-4cm chunks.

300

ml

Red Wine.

I use Egri Bikavér but something like a Syrah would be ideal.

1/2

Tsp

Juniper Berries.

Lightly Crushed.

1/2

Tsp

Black Pepper Corns.

1/2

Tsp

Dried Thyme.

2

Tbsp

Worcestershire Sauce.

1

Tsp

Dried Rosemary.

1

Tbsp

Plain Flour.

1/4

Tsp

Salt.

Good Grind of Black Pepper.

Oil for Frying.

200

g

Onions.

Peeled sliced in half and then into half moons about 5mm wide.

300

ml

Beef Stock.

250

g

Button Mushrooms.

Cut in half.
For the Champ
1.2

kg

Large Baking Potatoes.

6-8

Spring Onions.

Sliced.

50

ml

Milk.

150

g

Butter.
Instructions
For the Stew
Marinade the venison in the red wine, juniper, thyme, rosemary and pepper mix over night (optional).

If you are marinading the meat remove from the marinade (reserving for later) and dry thoroughly.

Now season the meat with a salt and pepper and sprinkle over the plain flour and fry it off in batches until nicely coloured. Do this in the pan you are going to cook the stew in and use any flavourless cooking oil for this purpose (enough to just coat the bottom of the pan).

When the venison is seared add the onions into the pan and cook until nicely coloured, about 10 minutes or so, stirring occasionally.

Once the onions are coloured up, turn up the heat to high and add the Worcestershire sauce and marinade and reduce this mix by 2/3rds scraping the bottom of the pan to get all the goodness from the meat we fried earlier.

Return the venison to the pan and add in the beef stock and reduce the heat to as low as possible, partially cover the pan and cook for 90 minutes or until the meat is just soft, check for seasoning before leaving to cook.

After 70 minutes fry up the button mushrooms in a little oil and then add to the stew and cook for the remainder of the cooking time.
For the Champ
Preheat your oven to 200°C

Bake the potatoes in the oven for an hour and a half.

About 10 minutes before the potatoes are cooked melt together the milk and butter and gently poach the sliced spring onions.

Scoop out the centre of the potatoes freezing the skins to stuff with other goodies later and put through a potato ricer, you can of course mash my hand if you wish.

Mix in the milk, butter and spring onion mix and check for seasoning before serving.
Recipe Notes
I say this is for 4 as it will serve four easily, however as with all stews they are better re-heated so this 4 consists of myself and my wife over two days 😉