My honey roast pork loin is joined by a a chorizo studded bean and roasted red pepper side for a fab Spanish influenced meal!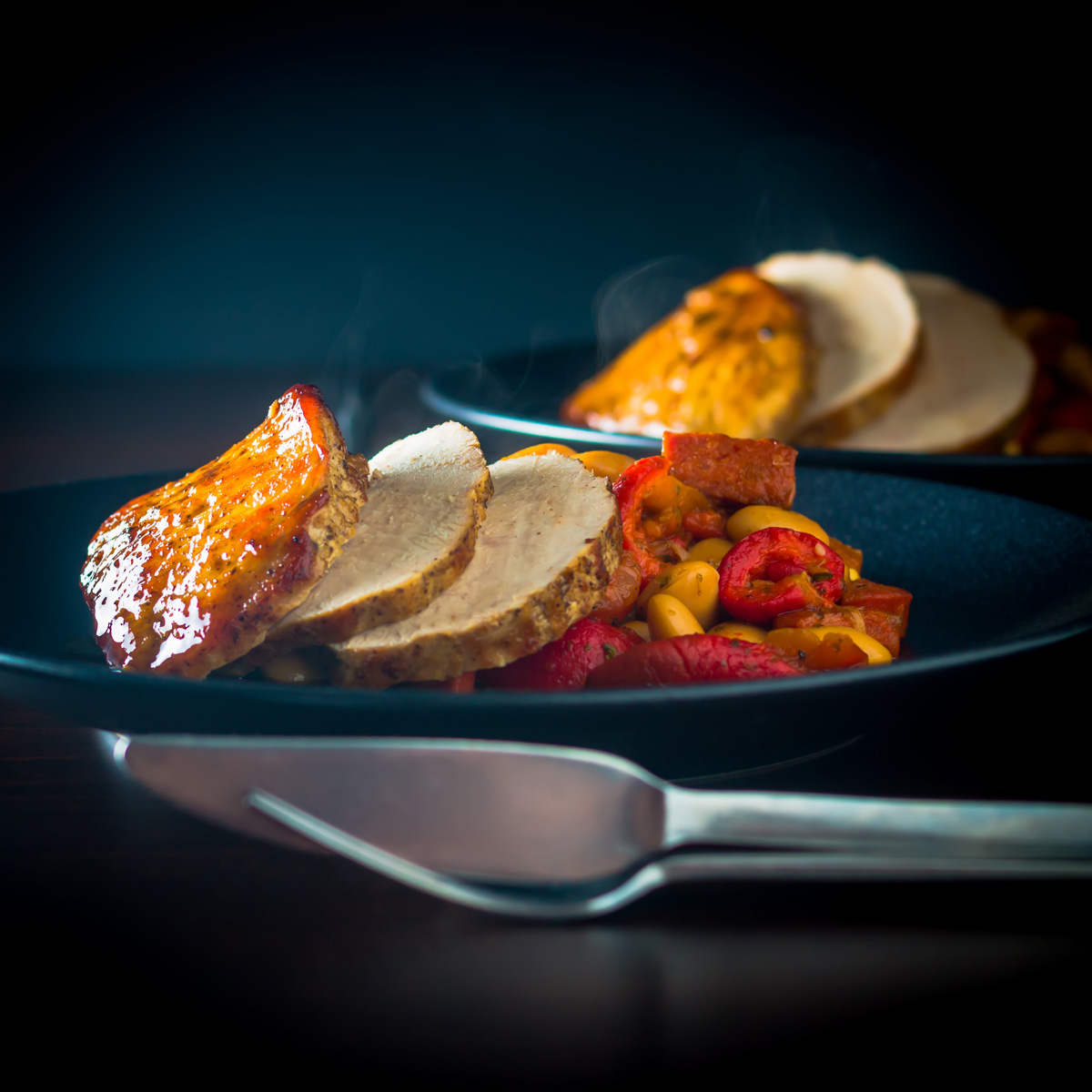 Pork Loin with Chorizo & Red Pepper
I am loving having more time to spend in the kitchen and this Honey Roast Pork Loin with Chorizo and Red Pepper recipe is a celebration for that. Cooking for me is a passion and have been writing a lot of really quick recipes of recent and the slow recipes I have been making have only been slow in the sense of cooking, preparation has been typically quick.
Here I am returning to my first love here, standing in the kitchen listening to loud music with lots of profanity, a spoon for tasting, glass or two of something red and some glorious ingredients.
Cooking for me is a pleasure I never resent spending time at the stove, I love it and hopefully this honey roast pork loin reflects that.
Whilst I was walking around one of our local stores I noticed some Chorizo, I rarely by food from big supermarkets and typically go to small local producers but could not resist buying some as I remembered a dish that we loved eating last summer using lots of paprika rich Hungarian Kolbasz. Consequently here it is and the move to Chorizo works wonderfully.
Honey roast pork is, let's face, pure food filth in the very best way possible. This is very definitely a Spanish influenced dish and certainly adds to the globe trotting I have been doing of late, whilst of course not leaving my kitchen.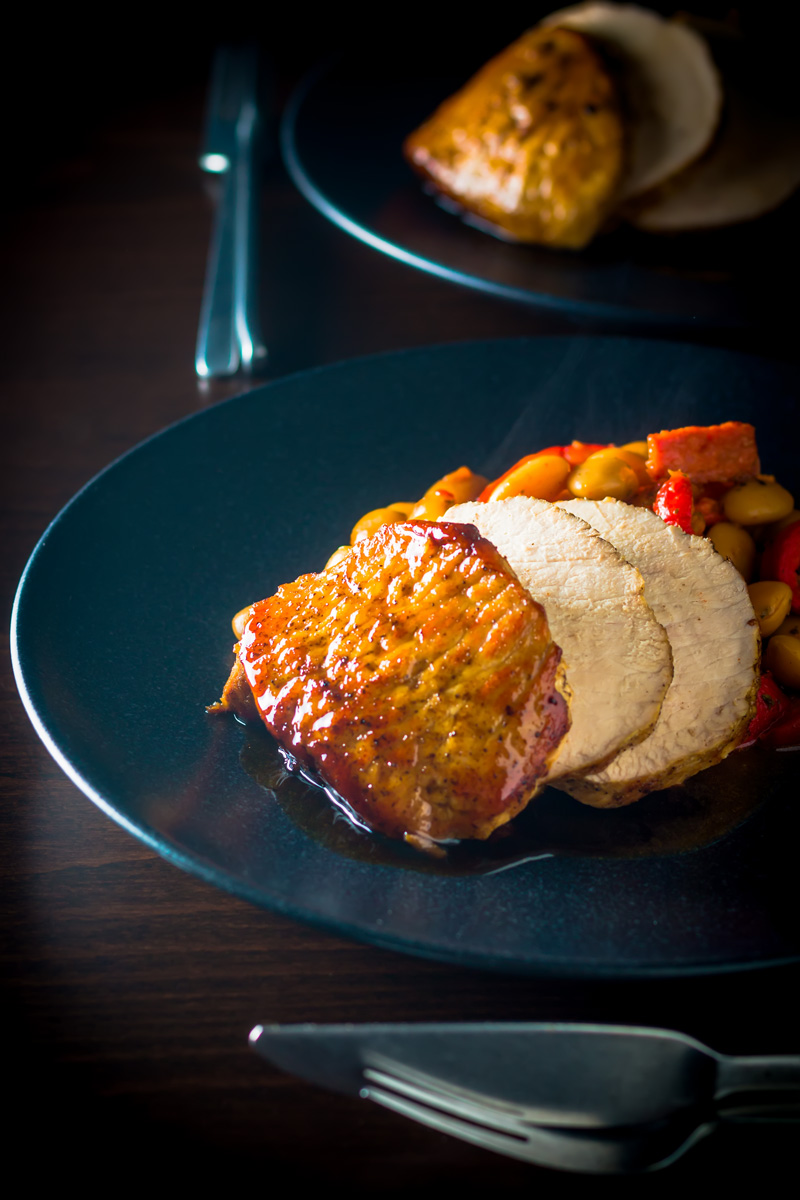 My last 6 recipes (not counting this one) have, in reverse order, their influences in Italy, the USA, Hungary, India, France and the Middle East, never let it be said I am a little Englander!
Bizarrely enough the one food I cook less than all other is British food, supposedly the food I was bought up with, I have no idea, why. I guess in many ways I don't really find it that exciting and in the main it lends itself much more to Autumn and Winter dishes to me. Having said that I do have a few in mind heading your way including a rather lovely stew and hopefully a couple of pies if I can improve my pastry making abilities.
Autumn has certainly hit here in our corner of Hungary and it seems to have done it in two very distinct ways, when Julies Mum arrived for her visit in the middle of September we still had temperatures of 30°C, which in her second week dropped, pretty much overnight to early 20's.
Well yesterday we had another of those drops and we are now sitting at just 14°C. It always seems to happen this way, my wifes Birthday is next weekend and whilst I have a fabulously indulgent treat planned for her (an my by proxy) it would have been nice to have some warmer weather.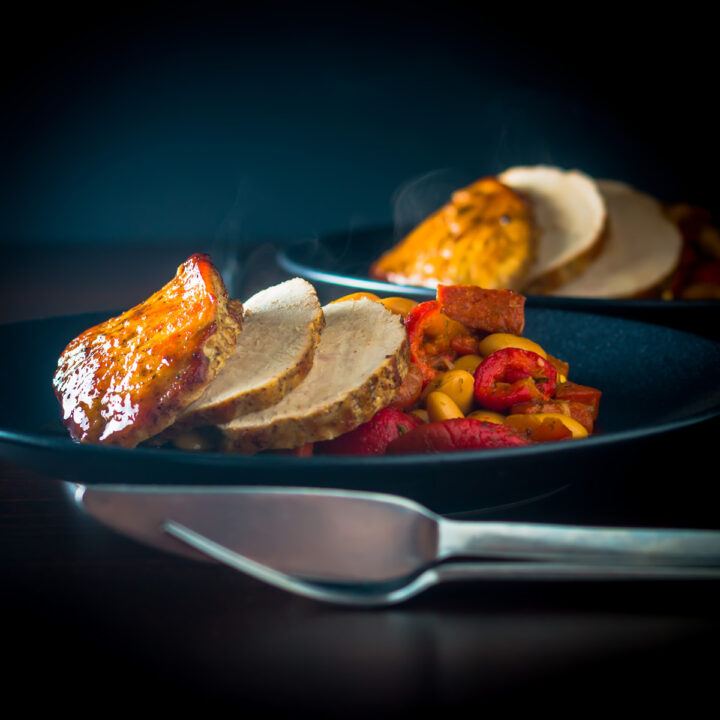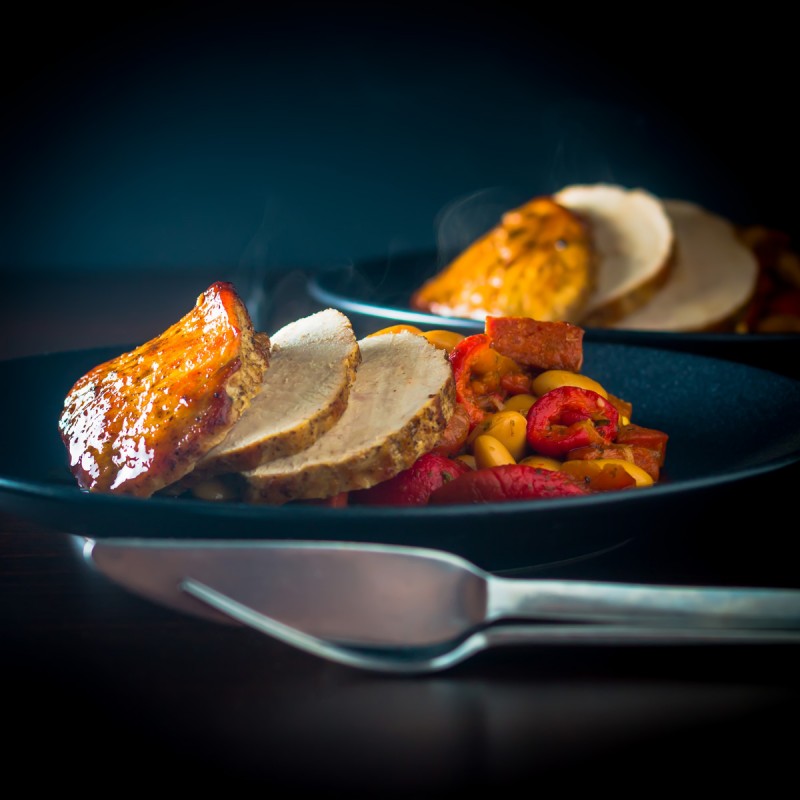 Yield:

2 Servings
Honey Roast Pork Loin with Chorizo and Red Pepper
Cook Time:
1 hour
10 minutes
Total Time:
1 hour
20 minutes
My honey roast pork loin is joined by a a chorizo studded bean and roasted red pepper side for a fab Spanish influenced meal!
Ingredients
For the Red Pepper and Chorizo
2 Red Peppers
6 Garlic Cloves, Whole and unpeeled
1 Tbsp Cooking Oil, Neutral
200 g White Beans, Cooked, I flip between dried and canned freely so use what ever suits you time wise
75 g Spanish Chorizo, Use the chorizo that does not need cooking even though we will be cooking a little. Cut the chorizo in half length ways and then into 5-7mm segments
1/2 Tsp Dried Marjoram
For the Honey Roast Pork Loin
500 g Pork Loin
Salt and Pepper for Seasoning
4 Tbsp Honey
4 Tbsp Red Wine Vinegar
1/4 Tsp Hot Paprika
1 Tsp Cooking Oil, Neutral
Instructions
Preheat your oven to 230°C.
Place the peppers and garlic on a baking tray and coat with the cooking oil and roast for 40 minutes.
When the peppers are cooked turn down the oven to 200°C and move the peppers to a bowl and cover with cling film and allow to sit for 5 minutes.
Now heat a pan that can be transferred to the oven and add in the cooking oil.
Season the pork loin with salt and pepper and roast off in the pan to get a nice golden colour all over and transfer to the oven and cook through to 62°C. I am one of those people that is more than happy with pork cooked a little less than others although for those more worried cook through to 70°C.
Mix together the honey, red wine vinegar and hot paprika and set aside.
By now you should be able to peel the red peppers really easily and avoid burning your fingers, taking care to reserve the juices they give off, discard the skin and seeds and tear the flesh into strips.
Take the roasted garlic cloves, nip off the top and squeeze out the garlic which should by now be like a paste.
When the pork is cooked remove from the oven and pour off the cooking juices into a second pan and for a brief period remove the pork.
Place this pan over a high heat and pour in the vinegar and honey mix and when it begins to boil add in the pork and roll around to coat in the glaze. When it is sticky remove the pork and set aside to rest.
Take the pan that we have poured the pork cooking juices and place over a high heat and sear off the chorizo and cook for 4-5 minutes until it forms a crust.
Add in the beans, peppers, garlic paste, marjoram and juices from the peppers and cook until it comes to temperature.
Now slice the pork and serve on a bed of the beans and peppers, spooning over a little of the glaze if you wish.
Notes
I usually make this dish with a dried Hungarian Chorizo style sausage so don't worry about getting creative with your choice of paprika based sausage.
Nutrition Information:
Yield:
2
Serving Size:
1
Amount Per Serving:
Calories:

1188
Total Fat:

57g
Saturated Fat:

17g
Trans Fat:

0g
Unsaturated Fat:

34g
Cholesterol:

258mg
Sodium:

1281mg
Carbohydrates:

73g
Fiber:

8g
Sugar:

41g
Protein:

94g