These pomegranate chicken thighs make for a truly delightful, exotic but simple meal all thanks to the majesty of the mighty pomegranate. We use both Pomegranate molasses and pomegranate seeds and serve with a simple couscous salad.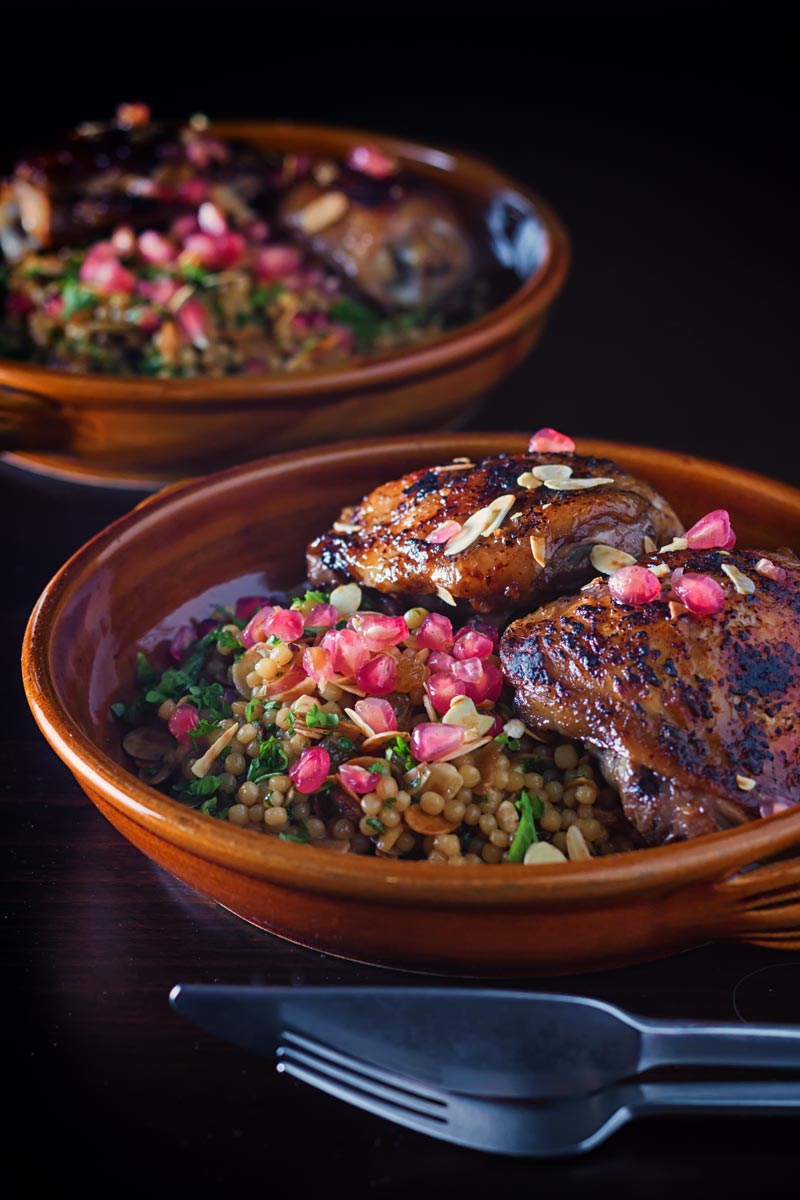 Pomegranate Chicken Thighs with Israeli Couscous.
This pomegranate chicken thigh recipe is a strange one for me.
It is one I can definitely say I know where my inspiration came from.
Aside from my obvious, inspired by "another blogger recipes" that I do every now and then most of my dishes are a mish mash of inspiration.
This chicken thigh recipe however in the this book are an idea from a cookbook I picked up a while ago. Honey and Co, a book I have used a fair bit but this idea became one of my favourite recipes really quickly.
I have only kept the idea of using pomegranate chicken thighs and I have used bone in and skin on.
The side dish has been changed to use some Israeli couscous and it really rocks.
I love this dish, not just a little it is insanely tasty and a real show stopper.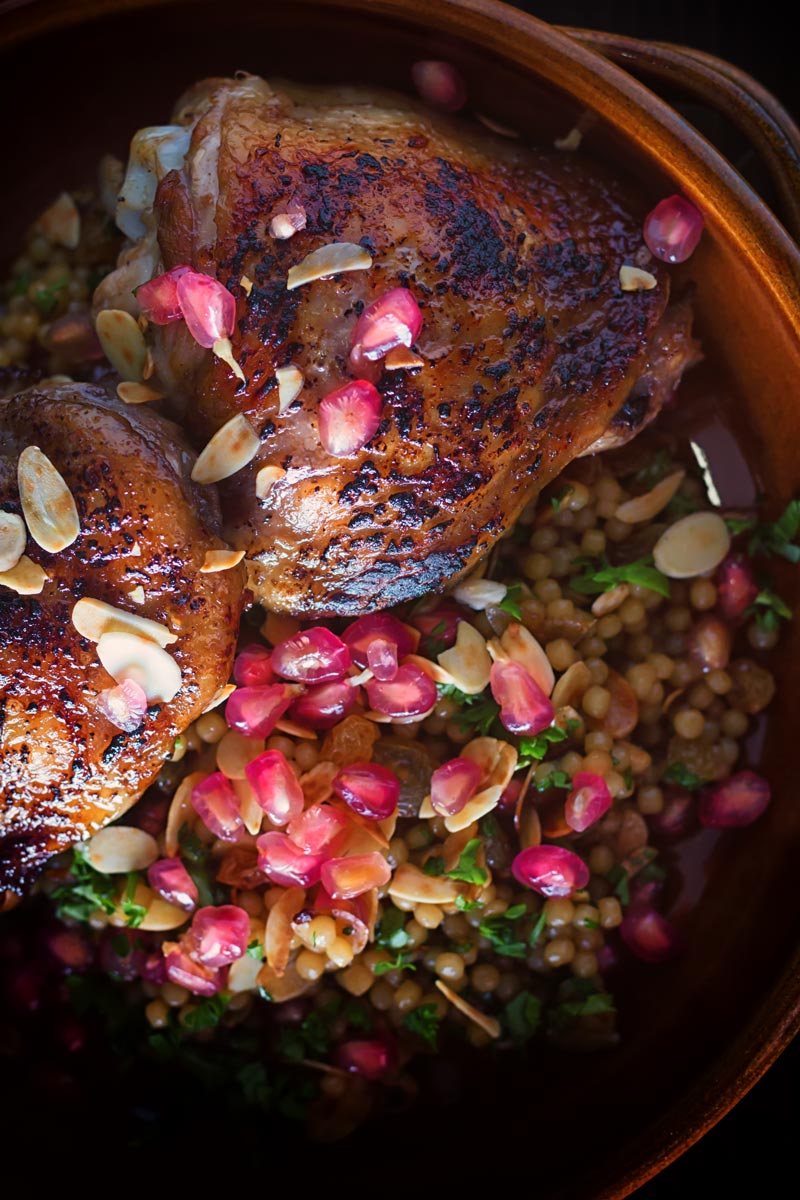 Cooking with Pomegranate Molasses.
I guess for many people pomegranate molasses could seem like an ingredient too far.
Perhaps one of those ingredients you buy for a recipe and it sits in your cupboard for so long that you don't know what it is!
Anyway, you must not think like that. I use it all of the time, it has a sticky sweet and sour flavour without being too sweet.
It is a fantastic addition to salad dressing and have even heard of it stirred through fruit teas.
But for me it shines in cooking!
It forms the base of the sauce of a Fesenjan, a mind-blowing Iranian chicken stew made with ground walnuts!
I also use it as the base of a paste that I use in this zaatar chicken legs dish.
In another completely different direction, I drizzle it over seared Halloumi cheese to add a sweet and sour edge.
It is definitely not a one trick one dish pony and you should definitely add some to your store cupboard!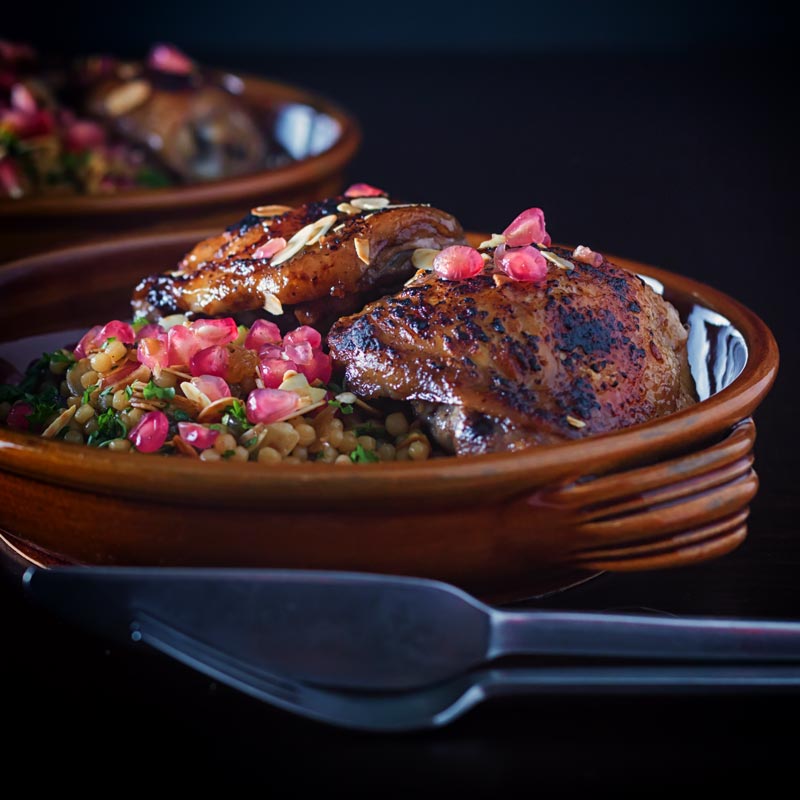 Can I Scale Up this Recipe?
Most of my recipes are developed with two in mind and this recipe is no different.
However, this recipe, in particular, would be fantastic scaled up for a larger gathering.
You could even swap out for whole roast chickens with the same marinade. Or just lots of chicken thighs, chicken drumsticks or whole chicken legs.
The pile that wonderful jewelled Israeli couscous salad onto a huge serving plate. Simply top with the chicken and stick it in the middle of the table!
The recipe is familiar enough to not alienate those who like their food traditional and the flavours are strong but not challenging.
But it is exotic enough to feel special and a little different to the day to day.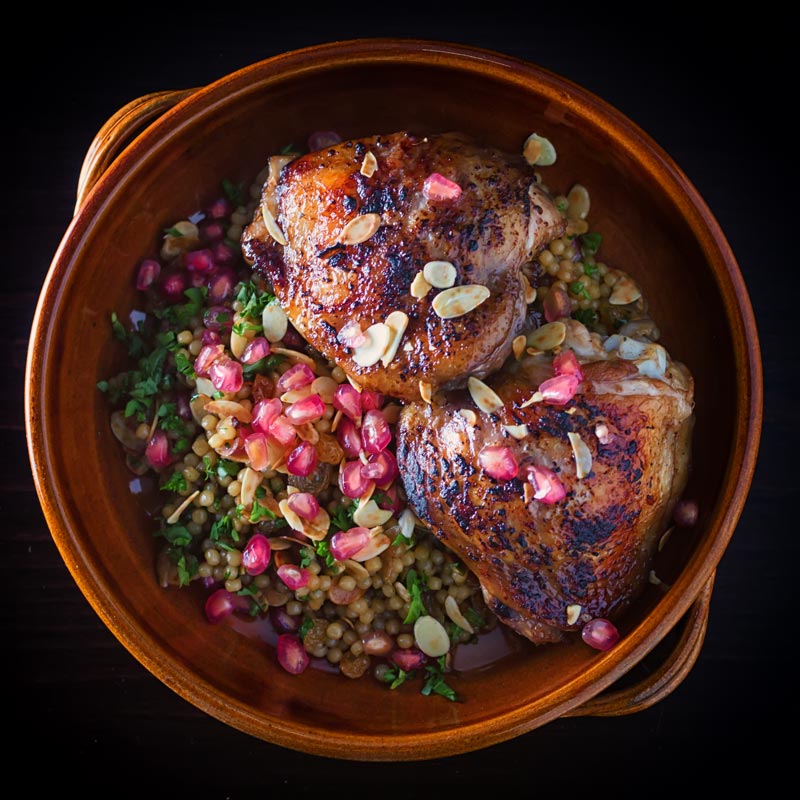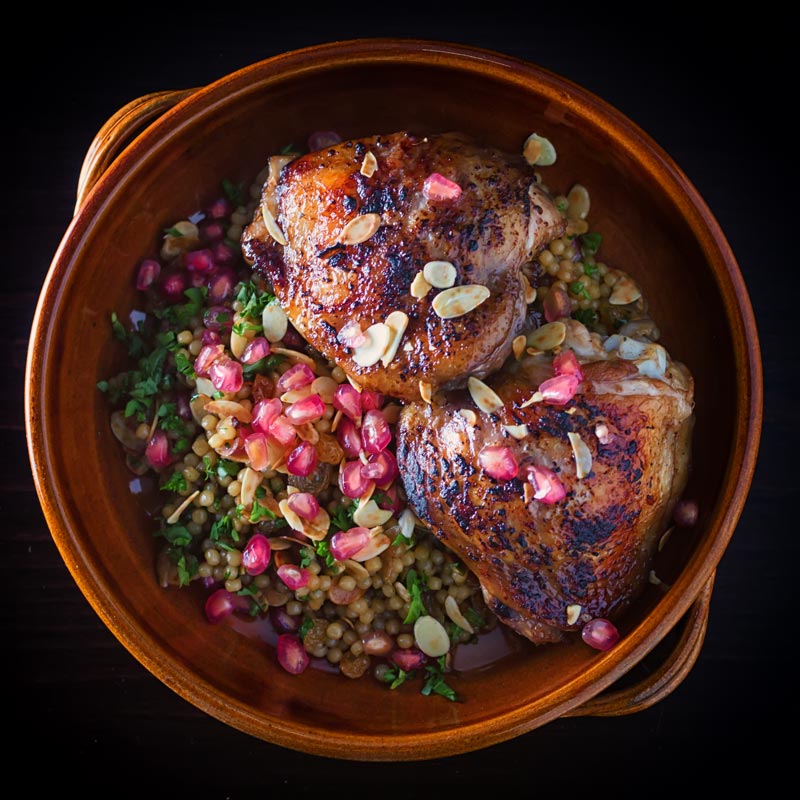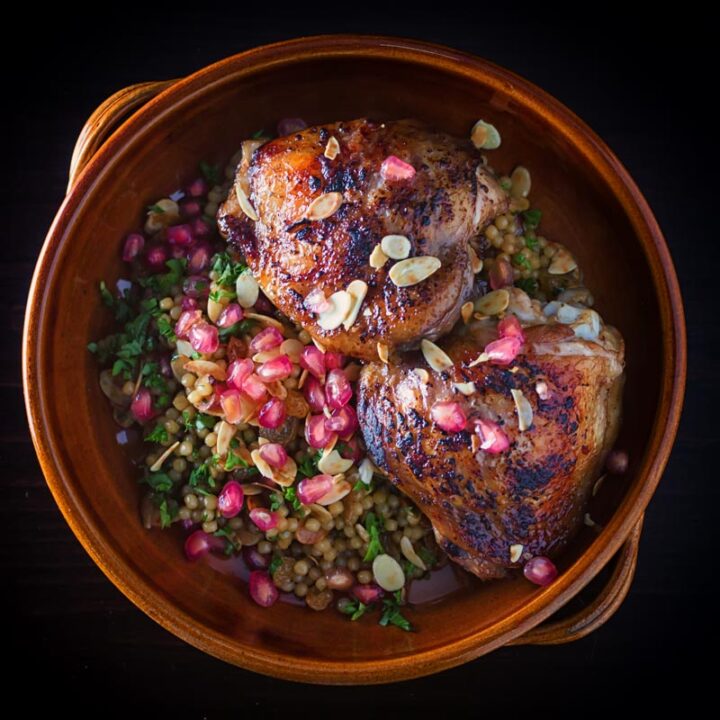 Pomegranate Chicken Thighs with Israeli Couscous
Pomegranate chicken thighs, a truly delightful, exotic but simple meal all thanks to the majesty of the mighty pomegranate and chicken thighs!
Ingredients
400 g Chicken Thighs
2 Tbsp Pomegranate Molasses
2 Garlic Cloves
1 Tbsp Olive Oil
1/2 Tsp Black Pepper
150 g Israeli Couscous
25 g Flaked Almonds
1 Tbsp Pomegranate Molasses
1 Small Pomegranate
30 g Golden Raisins
15 g Fresh Parsley
1 Tbsp Cooking Oil
Instructions
Mix together the pomegranate molasses, sliced garlic cloves, olive oil and black pepper then allow to marinade for at least 4 hours, I typically leave over night.
Preheat your oven to 200°C or 400°F.
Heat a dry frying pan over a medium heat and toast of your almonds and set aside.
Remove the chicken from the marinade and season with salt, setting aside the marinade for later.
Now heat the tablespoon of cooking oil in your dry pan and place the chicken thighs in the hot oil, skin side down and cook until you have a nice colour, then flip over and transfer to the oven and cook for 20 minutes or until the internal temperature reaches 73°C.
Now cook your couscous in salted boiling water as per the instructions on the packet and set aside.
This is the ideal time to prepare the remainder of the ingredients for the couscous salad.
When the chicken is cooked set aside to rest for at least 5 minutes.
Pour off all of the cooking oils and liquid that the chicken was cooked in with the exception of a scant table spoon and return to a medium high heat.
Now add in the marinade we reserved from the chicken earlier and cook out for 2 minutes then add in the couscous and coat and bring back to temperature.
Finally remove from the heat add in the raisins, extra table spoon of pomegranate molasses and most of the pomegranate seeds, almonds and parsley reserving a little to garnish with afterwards.
Nutrition Information:
Yield:

2
Serving Size:

1
Amount Per Serving:
Calories:

1001
Total Fat:

51g
Saturated Fat:

11g
Trans Fat:

0g
Unsaturated Fat:

38g
Cholesterol:

256mg
Sodium:

431mg
Carbohydrates:

88g
Fiber:

10g
Sugar:

50g
Protein:

57g
Calorific details are provided by a third-party application and are to be used as indicative figures only.