Pomegranate chicken thighs, a truly delightful, exotic but simple meal all thanks to the majesty of the mighty pomegranate and humility of chicken thighs!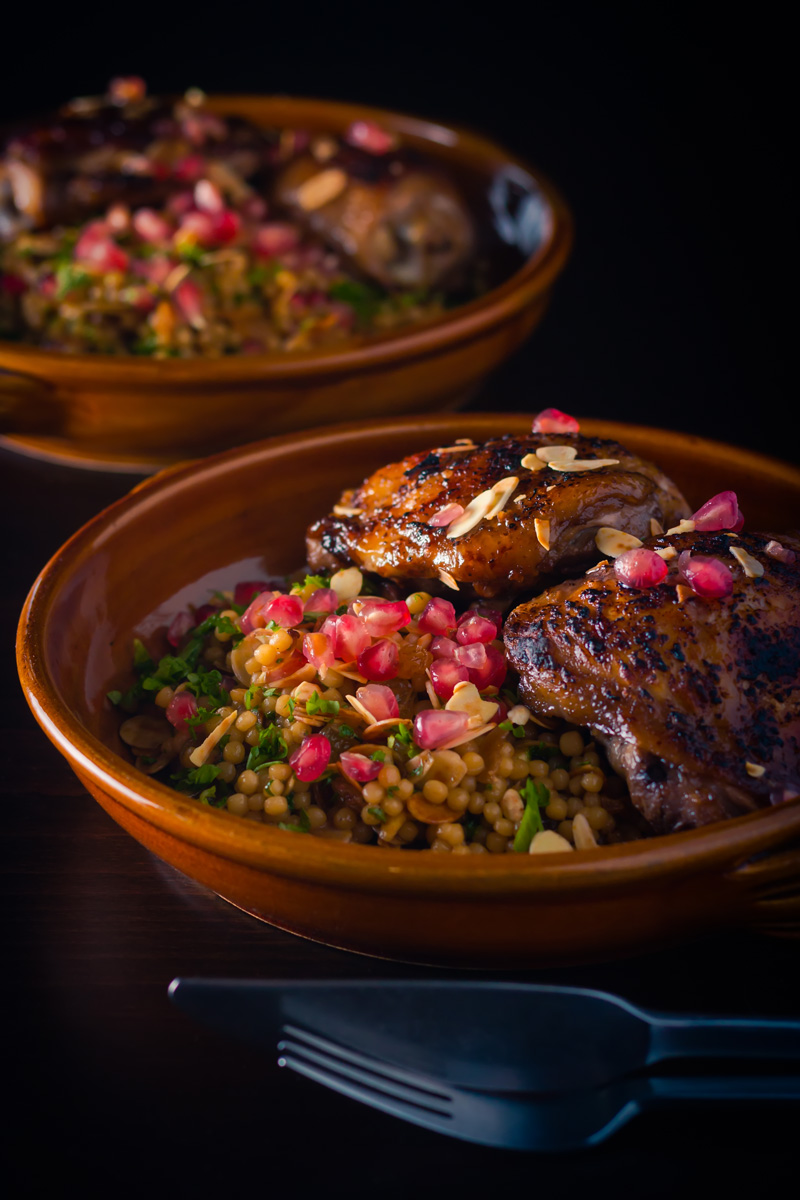 This pomegranate chicken thigh recipe is a strange one for me, it is one I can definitely say I know where my inspiration came from. Aside from my obvious, inspired by another blogger post that I do every now and then most of my dishes are a mish mash of inspiration. The chicken thighs in the this book are an idea from a cook book I picked up a while ago, Honey and Co a Cook Book, a book I have used a fair bit but this idea became one of my favourite recipes really quickly.
I have only kept the idea of using pomegranate chicken thighs and I have used bone in and skin on and reworked the side to use some Israeli cous cous and it rocks.
I love this dish, not just a little it is insanely tasty and a real show stopper, you can scale this recipe as much as you want and bring it out on a big platter for an autumn dinner party and watch people fight for the left overs!
Regular readers may pick up on the fact that these lovely plates are the second part of my purchase that I was waxing lyrical about in my recent Soupe au Pistou recipe, they are perfect for a dish like this and I am loving eating out of them and photographing them.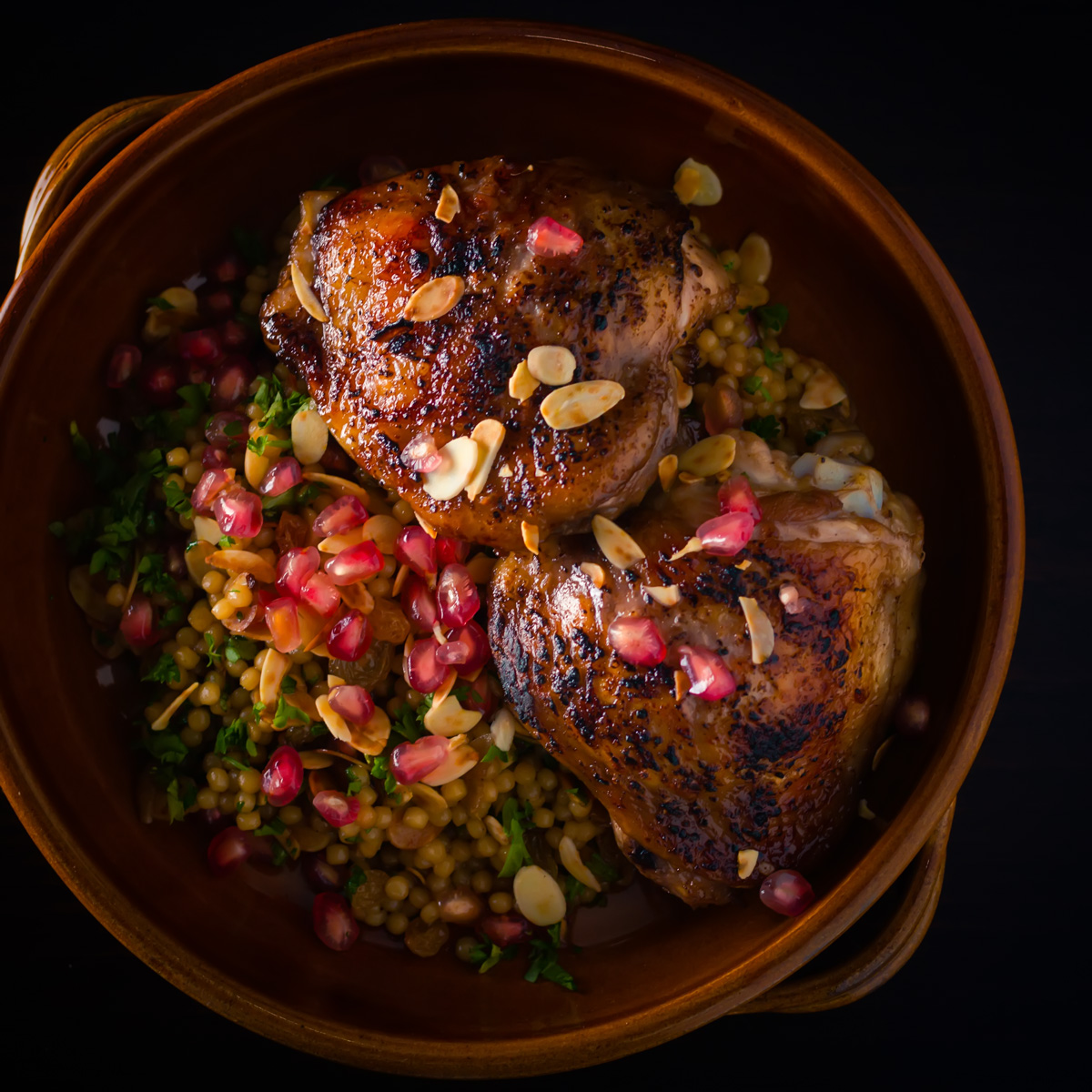 We are rapidly approaching the arrival of lazy time for us, our garden is very nearly all put away with just late crops like brassicas and roots left in the ground. So in theory I should have much more time to spend developing recipes and photographing them although myself and my wife are committed to improving our technical understanding of the Hungarian language this winter.
Whilst my 'pub Hungarian' is pretty good my technical understanding of the language is pretty poor so we are strapping on our student boots for the first time in a real long time! It should be worth a giggle as I am pretty much convinced I have lost the ability to write, it's just something I never do.
I keep to do lists digitally the same goes for shopping lists, I think the last time wrote anything was on some sticks to identify seedlings a few years ago and to be honest I couldn't read what I had written just a few minutes later… So much for the endless hours, nay days at school learning to write neatly and all proper like, it seems to be a skill I scarcely need, although making note in my new Hungarian Grammar book will be interesting!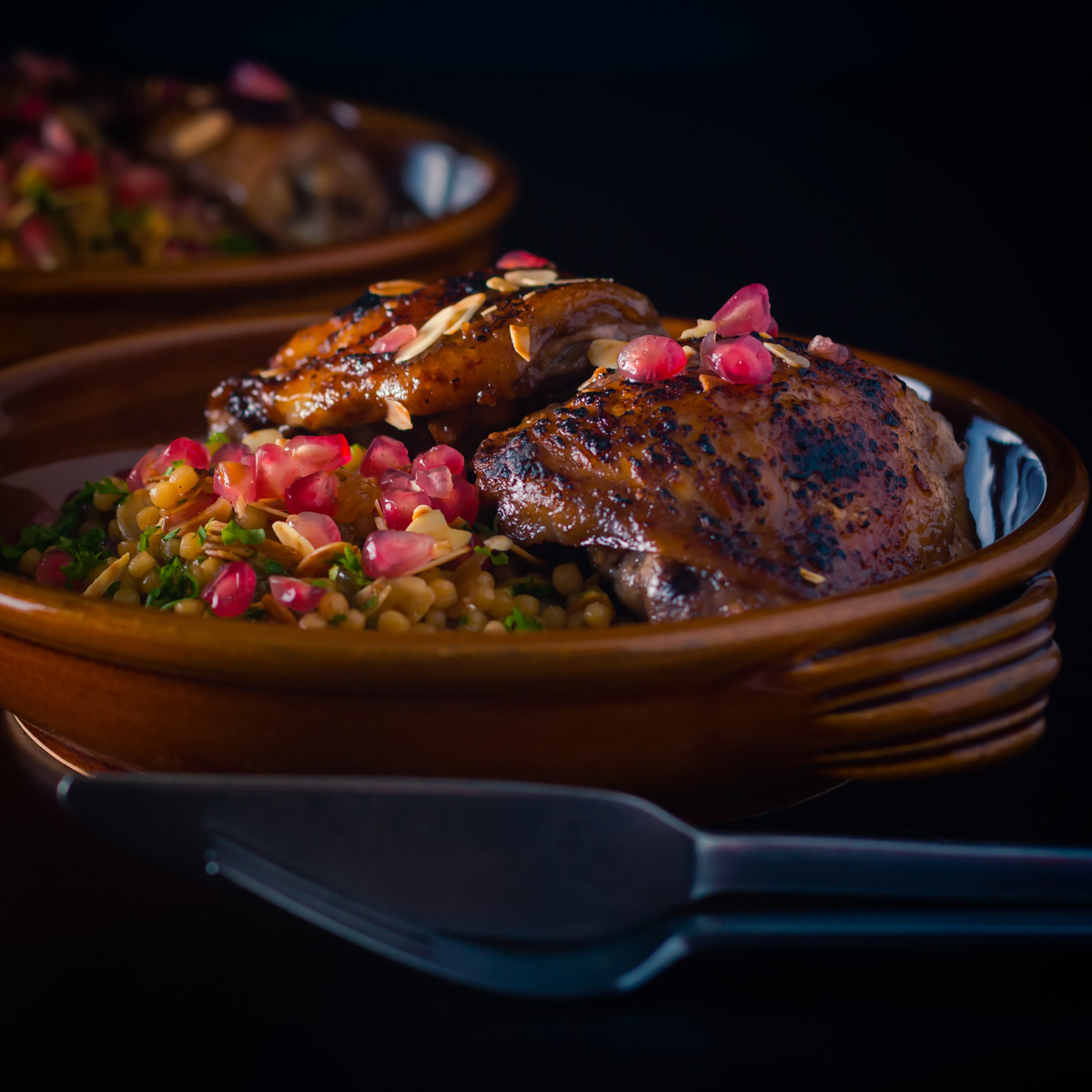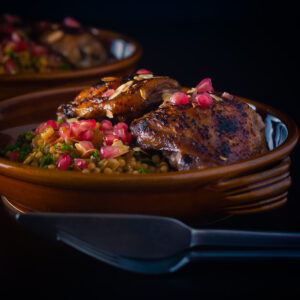 Pomegranate Chicken Thighs with Israeli Cous Cous
Pomegranate chicken thighs, a truly delightful, exotic but simple meal all thanks to the majesty of the mighty pomegranate and humility of chicken thighs!
Ingredients
4

Chicken Thighs

Bone in Skin on

2

Tbsp

Pomegranate Molasses

2

Garlic Cloves

Finely Sliced

1

Tbsp

Olive Oil

1/2

Tsp

Black Pepper

150

g

Israeli Cous Cous

25

g

Flaked Almonds

1

Tbsp

Pomegranate Molasses

Seeds from 1 Small Pomegranate

30

g

Golden Raisins

15

g

Fresh Parsley

Coarsely chopped

1

Tbsp

Cooking Oil
Instructions
Mix together the pomegranate molasses, sliced garlic cloves, olive oil and black pepper then allow to marinade for at least 4 hours, I typically leave over night.

Preheat your oven to 200°C.

Heat a dry frying pan over a medium heat and toast of your almonds and set aside.

Remove the chicken from the marinade and season with salt, setting aside the marinade for later.

Now heat the tablespoon of cooking oil in your dry pan and place the chicken thighs in the hot oil, skin side down and cook until you have a nice colour, then flip over and transfer to the oven and cook for 20 minutes or until the internal temperature reaches 73°C.

Now cook your cous cous in salted boiling water as per the instructions on the packet and set aside.

This is the ideal time to prepare the remainder of the ingredients for the cous cous salad.

When the chicken is cooked set aside to rest for at least 5 minutes.

Pour off all of the cooking oils and liquid that the chicken was cooked in with the exception of a scant table spoon and return to a medium high heat.

Now add in the marinade we reserved from the chicken earlier and cook out for 2 minutes then add in the cous cous and coat and bring back to temperature.

Finally remove from the heat add in the raisins, extra table spoon of pomegranate molasses and most of the pomegranate seeds, almonds and parsley reserving a little to garnish with afterwards.