This Zaatar Halloumi Cheese With Couscous combines zaatar marinated and sautéd halloumi cheese with a fresh spring like jeweled couscous salad!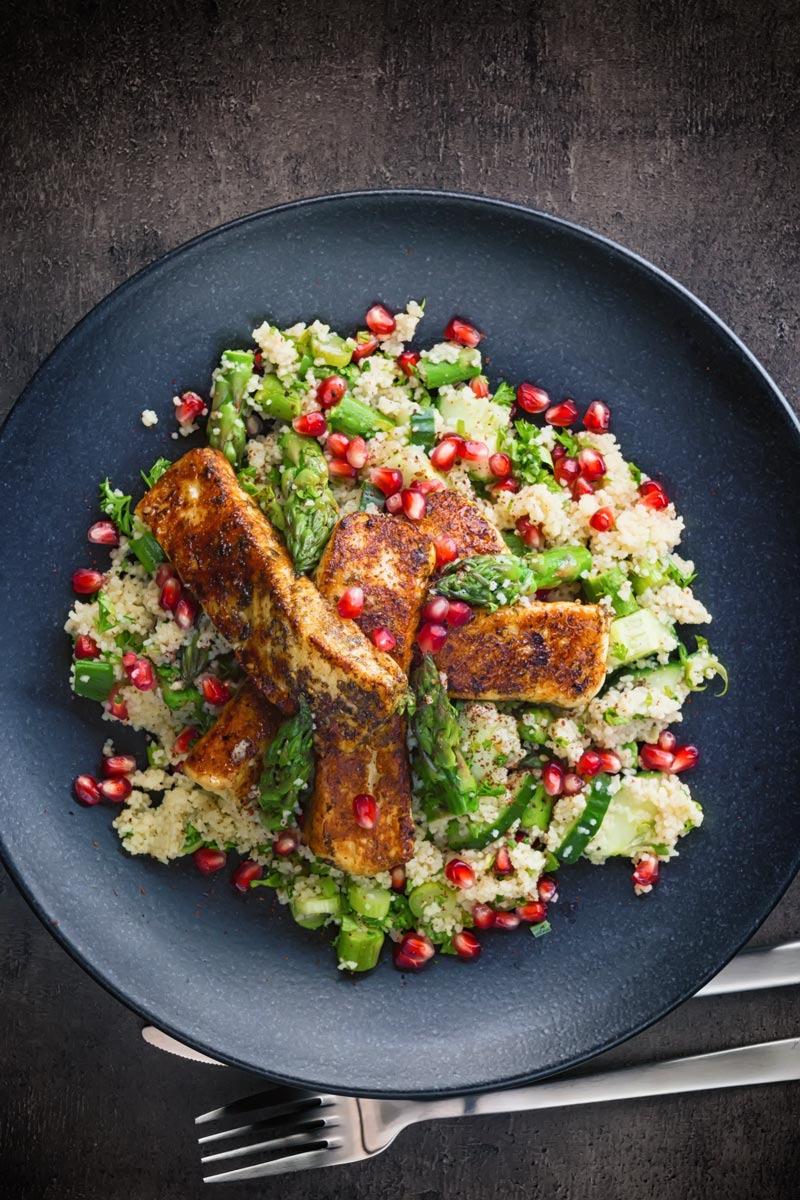 Zaatar Halloumi Cheese With Couscous.
This zaatar marinated halloumi cheese recipe is served with a great spring influenced couscous salad. It is unashamedly influenced by the flavours of North Africa and the Middle East. It is the latest in my burgeoning collection of vegetarian recipes.
My love of North African flavours really took off last summer and I find them irresistible. I typically use them with white meats, like these zaatar chicken legs or this spiced rabbit tagine. But the work so well with the salty acidity of the brined halloumi cheese.
This is the first halloumi cheese recipe here on Krumpli and I have to confess struggling to find a way to use it. Most halloumi recipes refer to gilled halloumi and I have yet to get it to work for me in that way.
However, I do find that sautéing offers a much more predictable and satisfying result. The almost squeaky firm texture is perfect alongside this bright and vibrant couscous salad. Particularly with the sweet explosions of pomegranate seeds.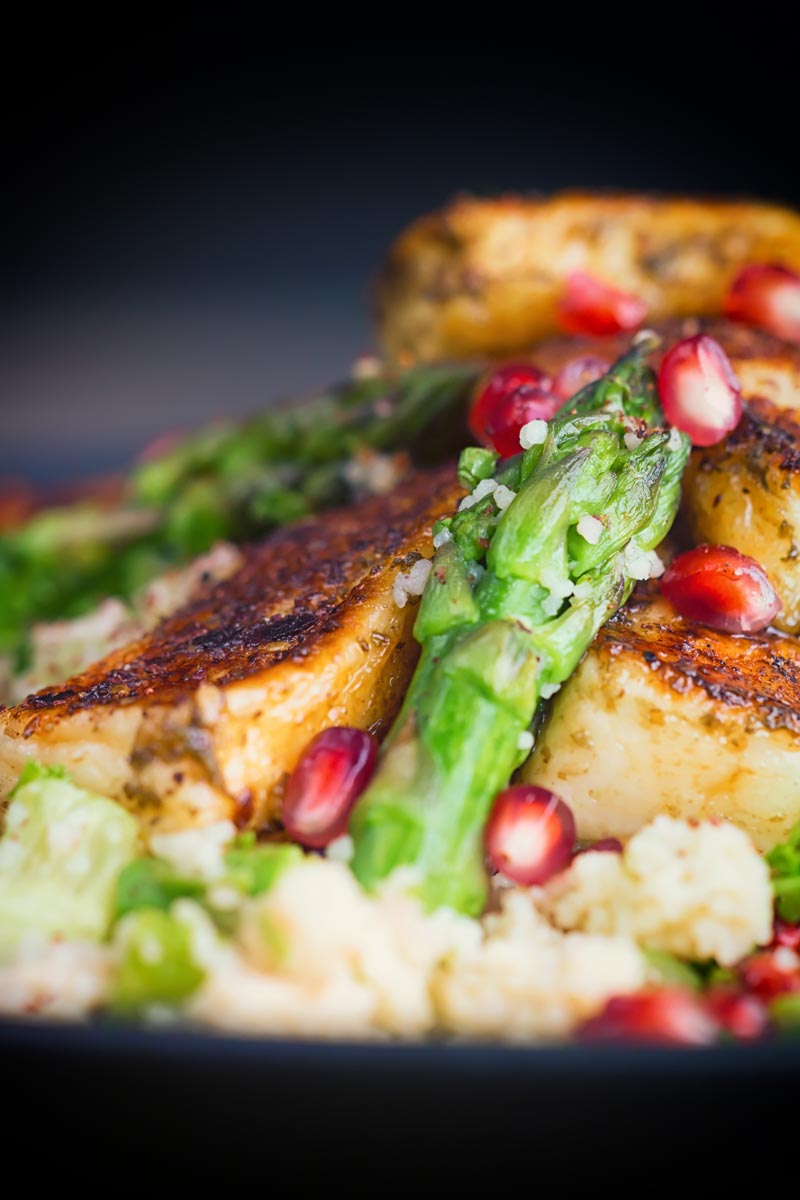 What is Halloumi Cheese?
Halloumi is a Greek/Turkish brined, semi-hard cheese. Typically made from either ewes milk or goats milk its most defining feature is a high melting point. This makes it the perfect cheese to cook. Sorry folks no melty cheese shots here.
The texture is pretty unusual compared to traditional European cheeses, it has a very pronounced squeaky texture. It is one I love but it is an acquired taste I am lead to believe.
Just like most cheeses, Halloumi has a great affinity with fruit and other sweet things. In fact, a classic Cypriot dish is to eat grilled halloumi with watermelon, definitely a recipe I intend working on over the summer.
Naturally I will be adding my own spin, as grilled watermelon is truly remarkable. Something I have done here before in this grilled watermelon with shrimp recipe.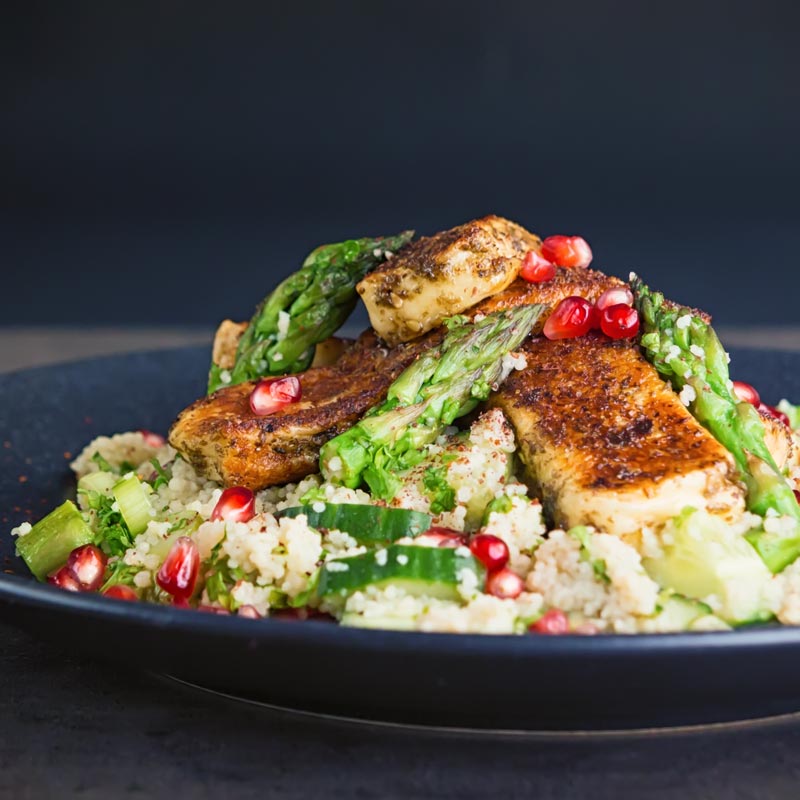 Zaatar, Sumac and Pomegranate Molasses.
These three ingredients may be a little unfamiliar to some of you. However, I am sure that if I can find them in rural Hungary then you should be able to hunt some down.
Begining with Zaatar, which is a spice blend in much the same way Garam Masala or Ras Al Hanout are. It typically contains oregano, thyme and savoury along with salt, sesame seeds and sumac. Every single Zaatar you buy will taste slightly different, but every one you buy will taste wonderful. It makes a great paste when mixed with olive oil and cooked in the same way we do in this zaatar halloumi cheese recipe.
Sumac is the dried and ground berry from a from a Middle Eastern shrub. It is incredibly versatile in its use, everything from the aforementioned zaatar to marinades and sauces. Although most commonly it is used to sprinkle over food as a 'condiment'. It has a wonderfully citric flavour and was often used to add tartness to foods before lemons were introduced to the Middle East by the Romans.
Finally, we have pomegranate molasses which as you may guess is a reduction of pomegranate juice. I love this stuff and it is a great base for a glaze, as in these pomegranate chicken thighs. Fear not if you cannot find it though as it is super simple to make at home if you can get pomegranate juice. This is a great post describing how to make your own pomegranate molasses.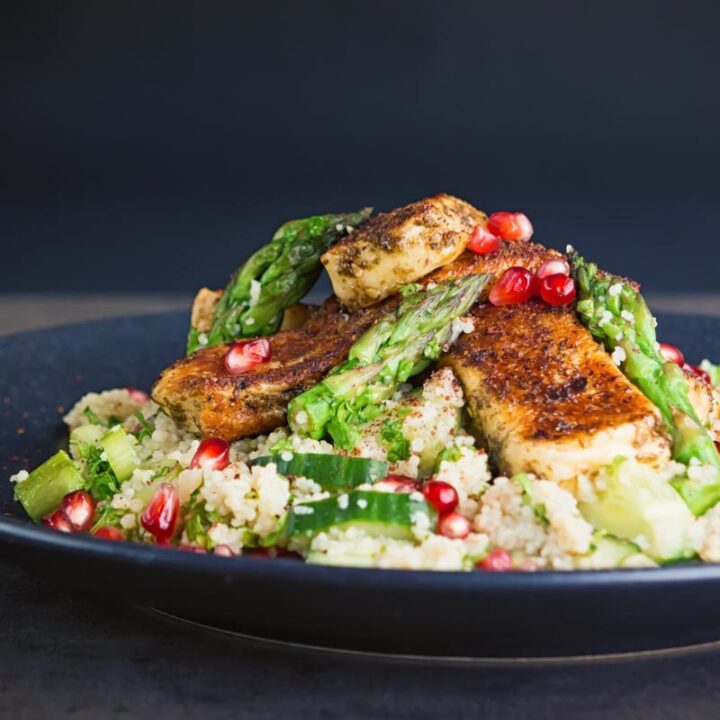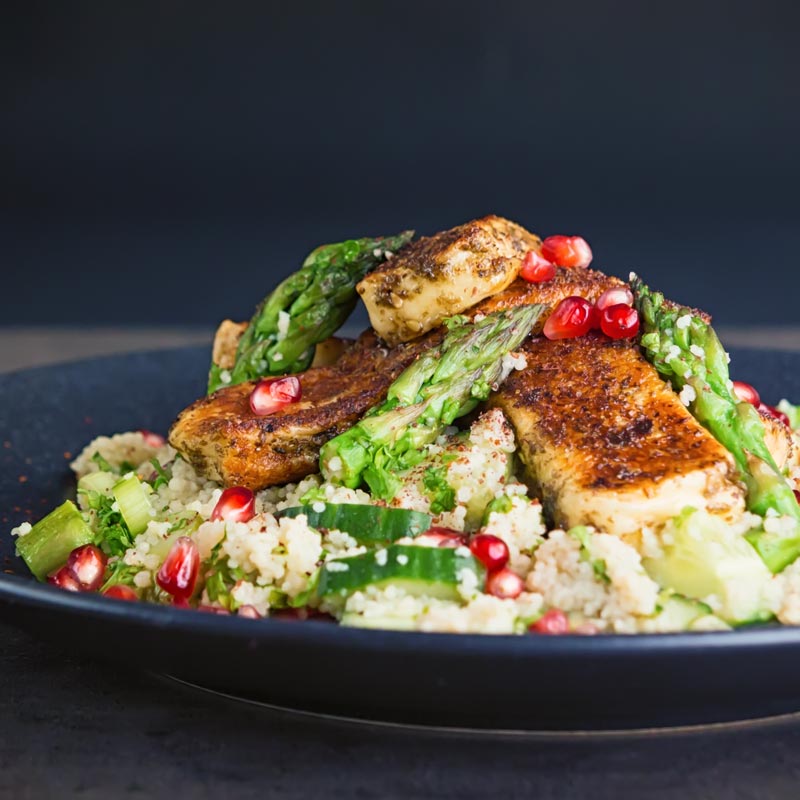 Yield:

2 Servings
Zaatar Halloumi Cheese With Couscous
Zaatar Halloumi Cheese forms the centrepiece of this fantastic complete vegetarian meal. Served with a pomegranate couscous, asparagus spears and cucumber it is a fantastic spring/summer meal.
Ingredients
200 g Halloumi Cheese
25 ml Olive Oil
1 Tbsp Zaatar
1 Pinch Sumac
1 Tbsp Pomegranate Molasses
100 g Couscous
225 ml Vegetable Stock
150 g Asparagus
1 Pomegranate
120 g Cucumber
10 g Chopped Parsley
1 Green Chili
30 g Spring Onion
1/2 Lemon, Juice only
Instructions
Cut your halloumi cheese into fingers and add 50ml of olive oil and zaatar and allow to marinade for 30 minutes.
Whilst this is marinading prepare your vegetables, chop your asparagus into 1cm lengths reserving the spears.
Remove the seeds of a small pomegranate.
Cut your cucumber into quarters lengthways and then into wedges around 5mm thick.
Finely dice your chili, go for something fairly mild like a jalapeno.
Heat 15ml of olive oil in a pan over a medium heat and when hot add the chili and asparagus and cook for 3-4 minutes.
Take off the heat and add the couscous and then the stock, add a lid and allow to sit for 5-6 minutes.
Heat a second frying pan over a medium high heat and when hot add in your fingers of halloumi cheese cooking for a minute on each of the four sides.
Throw in the reserved asparagus spears for the final 2-3 minutes.
Place the spring onions and cucumber into a bowl with the remaining marinade from the hallloumi.
Whilst the halloumi is finishing off, add the cooked couscous to the onions and cucumber and combine.
Then add in the pomegranate and parsley and serve onto a plate.
Just before you serve the halloumi cheese remove from the heat and add in the pomegranate molasses and flip to coat.
Serve sprinkled with a pinch of sumac and the lemon juice.
Notes
Between the stock and the halloumi cheese you should not need much if any salt in this recipe, but tase your couscous salad and add salt as required.
Nutrition Information:
Yield:
2
Serving Size:
1
Amount Per Serving:
Calories:

1396
Total Fat:

54g
Saturated Fat:

21g
Trans Fat:

0g
Unsaturated Fat:

25g
Cholesterol:

129mg
Sodium:

2107mg
Carbohydrates:

190g
Fiber:

11g
Sugar:

153g
Protein:

48g