Halloumi salad featuring seared cheese marinated pomegranate molasses, zaatar & sumac, served on parsley couscous with pomegranate arils.
Taking around half an hour to make, this meal is light but still filling making it the perfect vegetarian lunch or light dinner.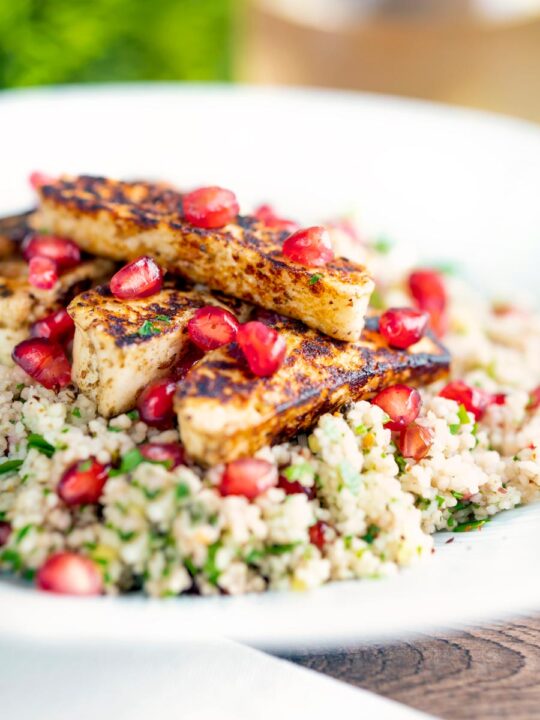 Fried Halloumi Cheese with Pomegranate Couscous.
My love of North African flavours really took off last summer and I find them irresistible.
I typically use them with white meats, like these zaatar chicken legs or this spiced rabbit tagine. But they also work so well with the salty acidity of the brined halloumi cheese.
This zaatar and sumac marinated halloumi cheese salad recipe is unashamedly influenced by the flavours of North Africa and the Middle East.
Like many cheeses, Halloumi has a great affinity with fruit and I love it with pomegranate.
This recipe doubles down on pomegranate by adding pomegranate molasses to the marinade for the cheese.
It is a great technique that moves on from plain seared halloumi that I use in my halloumi pasta recipe.
This not only adds a great flavour but the sugars in the molasses caramelise when the halloumi gets fried. This gives a wonderful bitter sweet edge that matches so well with the lemon.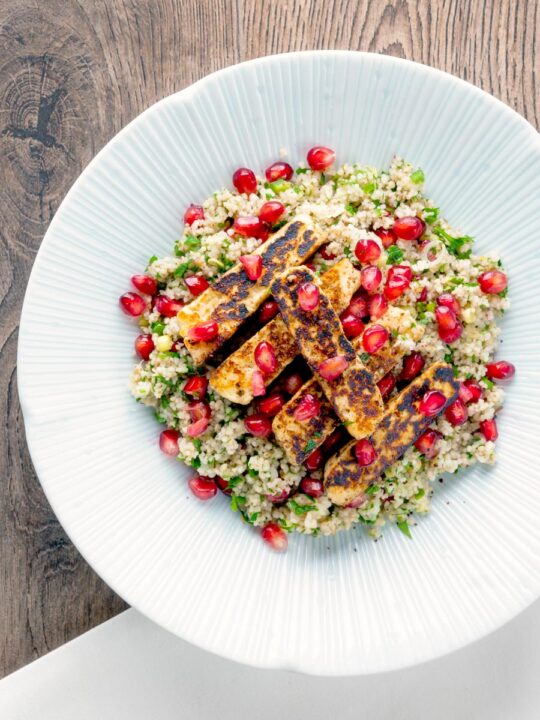 Frequently Asked Questions.
What is pomegranate molasses?
Pomegranate molasses is a reduction of pomegranate juice. It will be carried by many high street supermarkets and if you are struggling any Arabic or North African store should have some.

I love this stuff and it is often used as part of a dressing. But I love using it as a glaze just as I do on these pomegranate chicken thighs.

It also forms the base for the sauce of a stunning Iranian chicken stew called fesenjan, so don't worry about having it hanging around in the cupboard.

Fear not if you cannot find it though as you can make homemade pomegranate molasses.
What is zaatar?
Here I am referring to zaatar or za'atar as it is often written as a herb/spice blend. It typically contains oregano, thyme and savoury along with salt, sesame seeds and sumac.

It also refers to a group of herbs from the same "family" that includes thyme, oregano and savoury.

Every single Zaatar you buy will taste slightly different, but everyone you buy will taste wonderful. It makes a great paste when mixed with olive oil and cooked in the same way we do in this halloumi salad recipe. It should be readily available in most large supermarkets.
What is sumac?
Sumac is the dried and ground berry from a from a Middle Eastern shrub.
It is incredibly versatile in its use, everything from the aforementioned zaatar to marinades and sauces. Although most commonly it is used to sprinkle over food as a 'condiment'.

It has a wonderful citrus flavour and was often used to add tartness to foods before lemons were introduced to the Middle East by the Romans.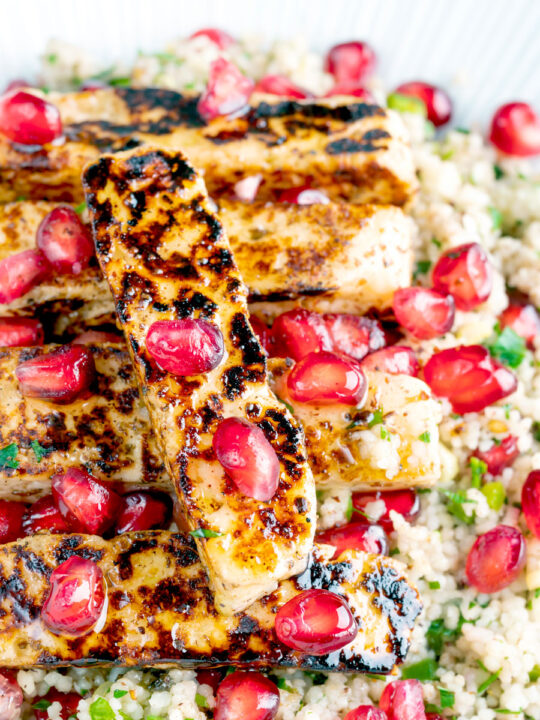 Serving Suggestions.
I love serving this dish with pita bread, simply split them down the middle pile in some of the couscous and top with some of the fried halloumi cheese.
I often also add an extra drizzle of either pomegranate molasses or tahini.
This fried halloumi salad also works really well as a lunch box meal if you like cold halloumi cheese, which isn't for everyone.
If you are planning on using it as a lunchbox or picnic meal it is better to cut the halloumi into 1.5-2cm cubes rather than fingers.
This recipe also works really well as a side dish for 3-4. It is particularly good with my harissa pork chops!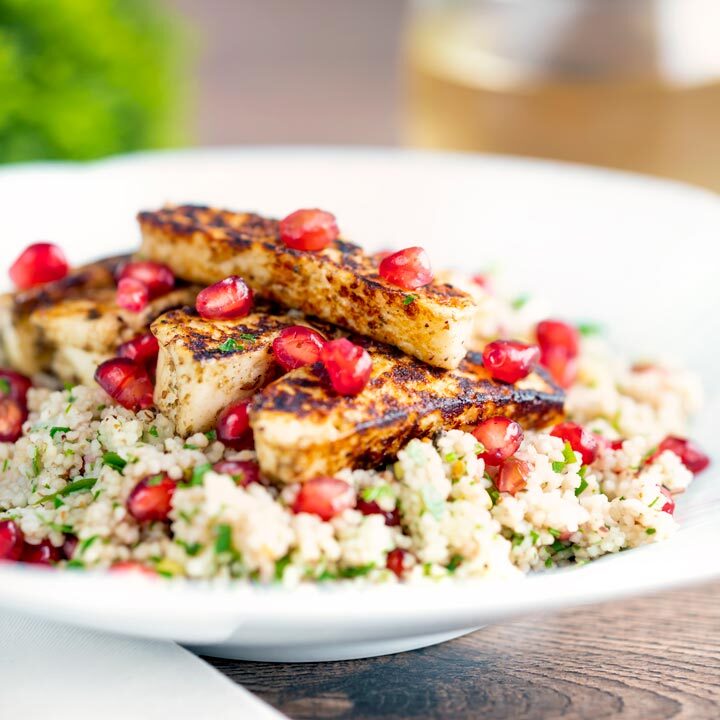 Yield:

2 Servings
Halloumi Salad with Couscous Recipe.
Seared Zaatar Halloumi Cheese salad featuring halloumi marinated in olive oil and pomegranate molasses and a simple parsley couscous that uses up all of the remaining marinade.
Ingredients
240g (8½oz) Halloumi Cheese
3 Tbsp Olive Oil
1 Tbsp Pomegranate Molasses
1 Tbsp Zaatar
1/2 Tsp Sumac
100g (1/2 Cup) Couscous
1/2 Tsp Coarse Sea Salt
125ml (1/2 Cup) Boiling Water
2 Spring Onions
1 Jalapeno Chili
1 Pomegranate
50g (3/4 Packed Cup) Chopped Parsley
1/2 Lemon
Instructions
Cut your halloumi cheese into fingers around 1-1.5cm in profile and 6-7cm long.
Mix together the olive oil, pomegranate molasses, zaatar and sumac in a bowl.
Add the halloumi cheese and mix well and set aside.
Place the couscous in a bowl and season with the sea salt.
Slice the spring onions into rings as thinly as you can and add them to the couscous and stir well.
Pour over the boiling water and cover with a scrunched up piece of wet baking parchment and set aside for 10 minutes.
Remove the seeds from the jalapeno chilli and chop into a dice as finely as you can
Remove the arils from the pomegranate.
Chop the parsley as finely as you can.
Heat a non-stick frying pan over a medium high heat and add the halloumi cheese for 1-2 minutes on each side.
By not the couscous should be ready, add the pomegranate, parsley and jalapeno chilli then stir through the remaining marinade from the halloumi cheese.
Taste and add salt and lemon juice as required.
Serve the couscous with the halloumi cheese served on top.
Nutrition Information:
Yield:
2
Serving Size:
1
Amount Per Serving:
Calories:

781
Total Fat:

50g
Saturated Fat:

19g
Trans Fat:

0g
Unsaturated Fat:

27g
Cholesterol:

95mg
Sodium:

1473mg
Carbohydrates:

56g
Fiber:

9g
Sugar:

30g
Protein:

33g
Calorific details are provided by a third-party application and are to be used as indicative figures only.