Harissa lamb chops marinated in rose harissa, cumin, honey and dried mint and quickly seared before being finished in a hot oven.
Whilst these lamb chops take time to marinate they cook in well under 20 minutes and you can increase or decrease the recipe with no real impact on cooking time.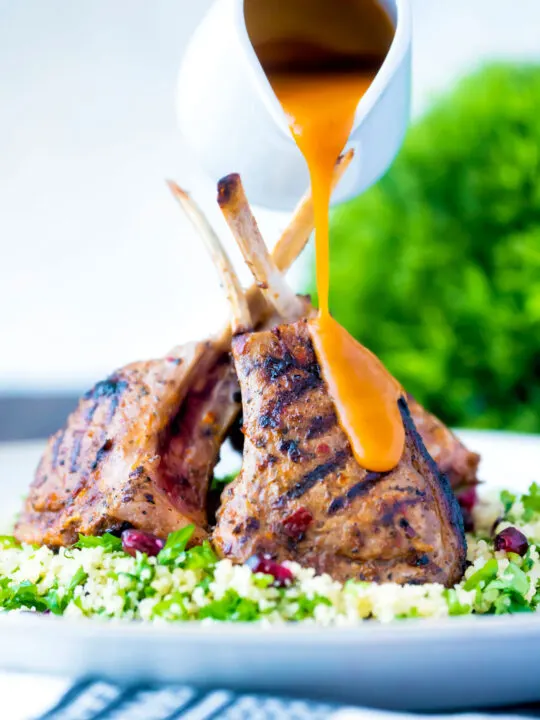 Spicy Lamb Cutlets
My love of lamb is hardly hidden here on my website. However, spending 13 years in a country where it was difficult to find and really rather expensive made my forrays into lamb cooking a rarity.
This recipe though is a celebration of being able to find wonderful lamb at a much more palatable price.
It features the wonderful loin of lamb something that has only appeared here once before in my lamb tikka kebabs.
This time I use it on the bone in the form of lamb cutlets, the same cut used in my lamb chop curry. I French trim them before marinating in rose harissa, cumin and dried mint.
Lamb and mint are a match made in heaven! It is a combination that I use in both my minted lamb shanks, minted lamb chops and minted lamb meatballs.
The offcuts from the French trimming is used to make a wonderful sweet and sour sauce that also gets a whack of harissa.
Preparation is key for this recipe but you can do it all in advance and cooking takes no more than 20 minutes!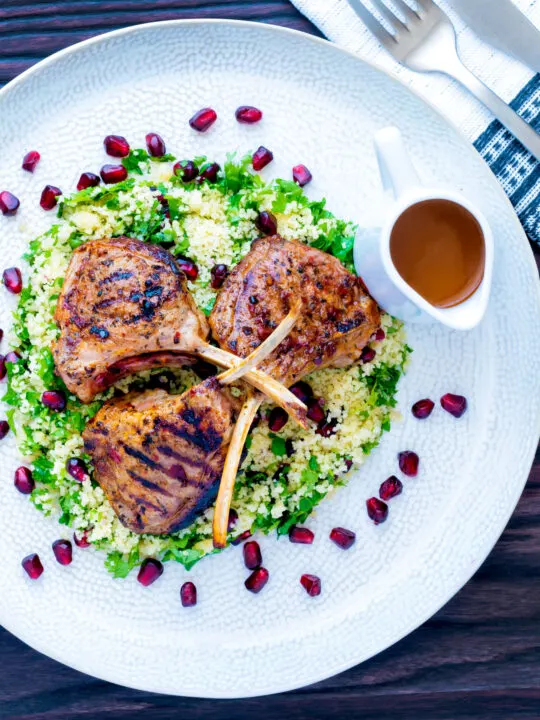 Frequently Asked Questions
Do I have to French trim my own lamb?
No, not at all! Your butcher will do it for you, ask him for the trimmings though so that you can make the sauce.

But if not do not worry, I have included some instructions for making a similar sauce with lamb stock.
Can I use lamb chops that are not French trimmed?
Yes! This recipe will work with any old lamb chops with the same timings. You could also use leg of lamb steaks but you will need to adjust the timing.
It is also awesome with Barnsley chops and lamb shoulder chops.
What is rose harissa?
Rose harissa is flavoured with roses, either in the form of petals or rose water. It adds a delicious floral vibe to the spicy chilli paste. I use Belazu brand.

You can use regular harissa in this recipe if you wish. I have plenty of recipes using harissa ranging from harissa pasta and lamb stuffed peppers to harissa prawns so you will not be left with a jar in the fridge!
Do I have to cook lamb pink?
Absolutely not! It is your dinner cook your harissa lamb chops however you want them.

My timings give a lamb chop that is cooked medium rare with an internal temperature of 57°C-60°C. If you want it cooked well done all the way through aim for 70°C-71°C.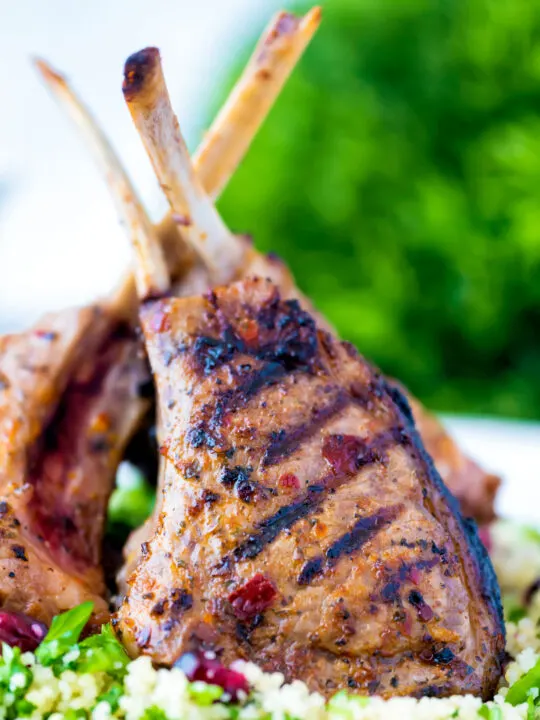 Serving Suggestions
I like to serve these harissa lamb chops with some simple buttered couscous that I add some pomegranate and coriander to.
It would be just as good with bulgur wheat too!
The sauce also lends itself to potatoes really well and both my potato wedges and fried potatoes make a great side. If you want to keep the "North African" influences going try serving this with batata harra!
Other honourable mentions go to polenta chips or even sweet potato fries.
If you want a lighter salad then check out my samphire salad, the salty-sweet freshness is genius with spiced lamb.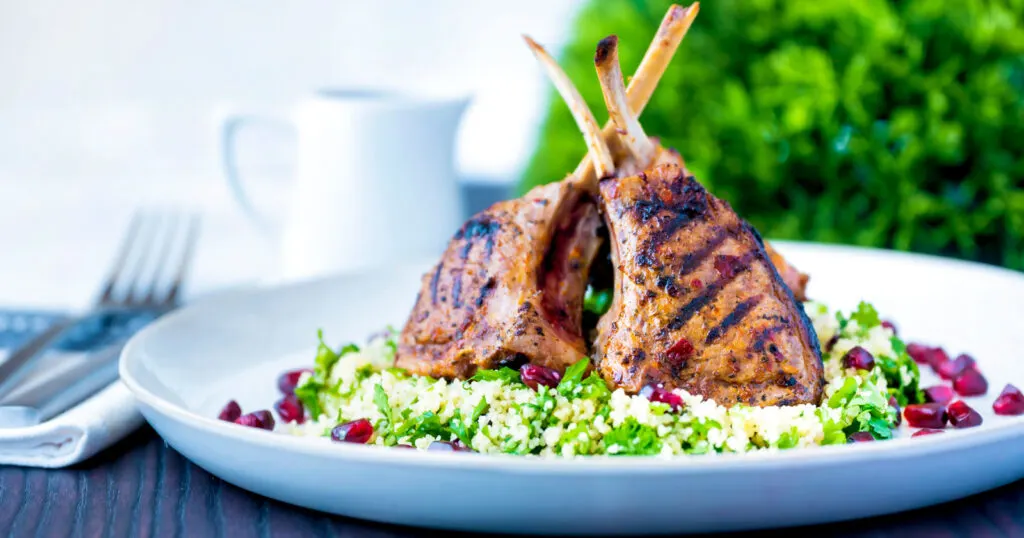 Equipment Used
I only mention brands of equipment if I think they make a material difference to a recipe. If you have any questions feel free to ask them in the comments section below the recipe.
Stovetop.
Oven.
17-18cm or 7″ saucepan.
Griddle pan.
Chopping board.
Kitchen knife.
Fine mesh sieve.
Kitchen tongs.
Stirring spoons.
Mixing bowl.
Quick read meat thermometer. Optional but I swear by mine.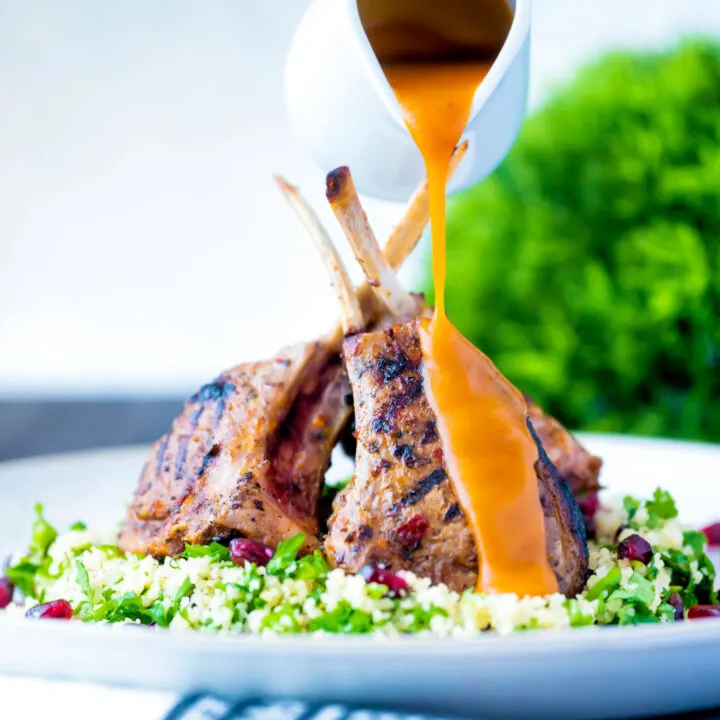 Yield:

2 Servings
Harissa Lamb Chops Recipe
Juicy and succulent harissa marinated French trimmed lamb chops featuring a delicious and buttery harissa sauce made with the trimmings.
Ingredients
6 Lamb Chops
2 Tbsp Olive Oil
3 Tbsp Rose Harissa Paste
1 Tsp Dried Mint
1 Tsp Honey
½ Tsp Ground Cumin
For the Sauce made with trimmings:
1 (~35g) Shallot
Trimmings from the lamb cutlets
1 Tbsp Cooking Oil
2 Garlic Cloves
500ml (2 Cups) Water
2 Tbsp Red Wine Vinegar
1 Tbsp Honey
1 Tbsp Rose Harissa
50g (3 Tbsp + 1 Tsp) Butter
1 Tsp Plain Flour
Salt to taste
For the Sauce made with lamb stock:
250ml (1 Cup) Good Quality Lamb Stock
2 Garlic Cloves
1 (~35g) Shallot
1 Tbsp Olive Oil
2 Tbsp Red Wine Vinegar
1 Tbsp Honey
1 Tbsp Rose Harissa
50g (3 Tbsp + 1 Tsp) Butter
1 Tsp Plain Flour
Salt to Taste
Instructions
Begin by french trimming your lamb cutlets. Your butcher can do this but you want the trimmings for the sauce, I have included instructions to make a sauce with stock if you do not want to bother with trimming the meat.
With a sharp paring knife slice the lamb cutlet at the end of the eye of meat that is the loin making sure that you cut all the way to the bone.
Cut off the thick part of the meat above the bone and set aside.
Now using the knife scrape the remaining meat and sinew away from the bone until the bone section is clean. Set aside all of the trimmings for the sauce.
Mix together the olive oil, rose harissa, honey, dried mint, and cumin for the cutlets in a large bowl.
Add the french trimmed lamb cutlets to a bowl and coat the lamb with the marinade and refrigerate for up to 12 hours.
Remove the lamb from the fridge an hour before cooking.
Dice the shallot for the sauce as finely as you can.
Bash the garlic cloves with the blunt edge of the knife.
Heat a small (17-18cm saucepan or 7") over a medium high heat and when hot add the cooking oil.
Throw in the trimmings from the lamb chop, a pinch of salt, and bruised garlic and cook for 15 minutes stirring regularly.
Add the finely diced shallot and cook for another 2 minutes.
Drain off all but two tablespoons of lamb fat from the pan then return it to the heat.
Add the red wine vinegar and cook for a minute before pouring in the water and adding the honey and rose harissa for the sauce.
Turn the heat up to high and cook until the sauce has been reduced by ⅔rds, this will take around 30 minutes.
Strain the sauce through a fine-mesh sieve and return to the pan, now is a good time to taste and add salt to taste.
Mash the butter for the sauce with the flour.
Just before serving whisk in the butter and flour mix and cook whisking regularly for 2 minutes until thickened slightly.
Heat a griddle pan over a high heat.
When the pan is hot sear the lamb cutlets in the skin side for a minute or two or until the fat begins to render out.
Then flip the lamb cutlets onto a side and sear for 2 minutes, then flip and cook the other side for 2 miniutes.
Transfer the chops to the oven and cook at 180°C or 350°F and cook for 5-10 minutes depending on how you want them cooked.

Medium Rare 57°C or 135°F
Well Done 71°C or 159°F
Be sure to rest the lamb for 3-4 minutes before serving.
To make a Sauce with Stock:
Bash the garlic cloves with the blunt edge of the knife.
Dice the shallot for the sauce as finely as you can.
Mash the butter for the sauce with the flour.
Heat the olive oil for the sauce in a small pan (17-18cm or 7").
Add the shallot and garlic cloves and cook for 5 minutes stirring regularly.
Pour in the red wine vinegar and reduce almost completely.
Add the rose harissa and lamb stock, reduce the temperature to low, have a taste and add salt as required.
Add a lid and simmer for 15 minutes.
Pass the sauce through a fine mesh sieve and return to the pan, just before serving whisk in the butter and flour mix.
Nutrition Information:
Yield:
2
Serving Size:
1
Amount Per Serving:
Calories:

956
Total Fat:

77g
Saturated Fat:

33g
Trans Fat:

3g
Unsaturated Fat:

40g
Cholesterol:

201mg
Sodium:

708mg
Carbohydrates:

17g
Fiber:

1g
Sugar:

13g
Protein:

47g
Calorific details are provided by a third-party application and are to be used as indicative figures only.