BBQ Chicken Wings are always a thing of great beauty, but the Mango Glaze on these bad boys push them right over the top and are the perfect kick-off to the BBQ Season!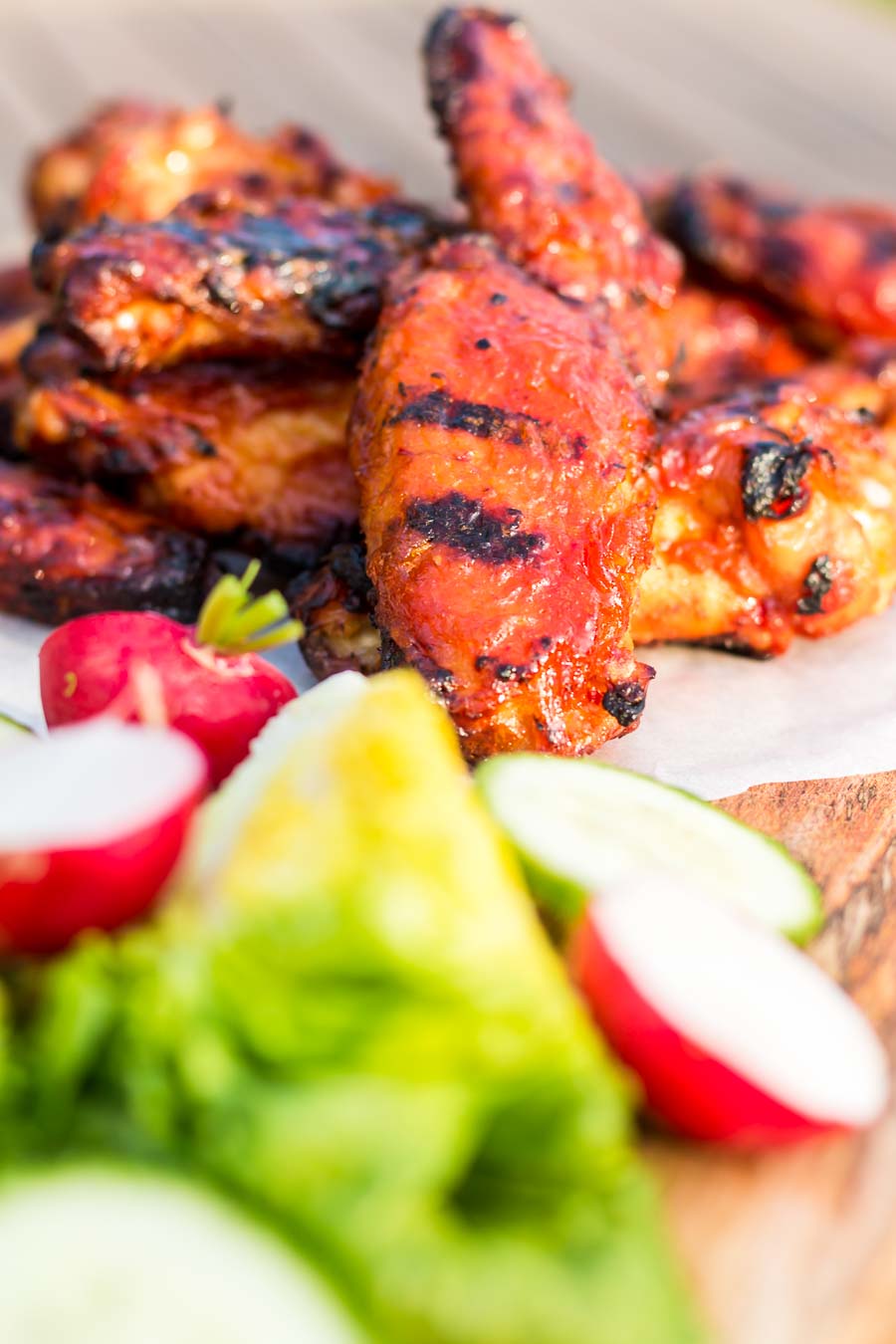 BBQ Chicken Wings With A Mango Glaze.
I make no apologies about posting two wing recipes so close to each other. These BBQ Chicken Wings with a Mango Glaze are my celebration of the opening of grilling season for us!
They are super simple and contain far fewer ingredients than many of my wing recipes. Whether that is a good or bad thing is neither here nor there because they are quite simply divine!
Grilled chicken wings are an ever-present summer dish for us that often sneak into winter too. It is very simple to change up this recipe and cook them in a fiercely hot oven and eat them all year round!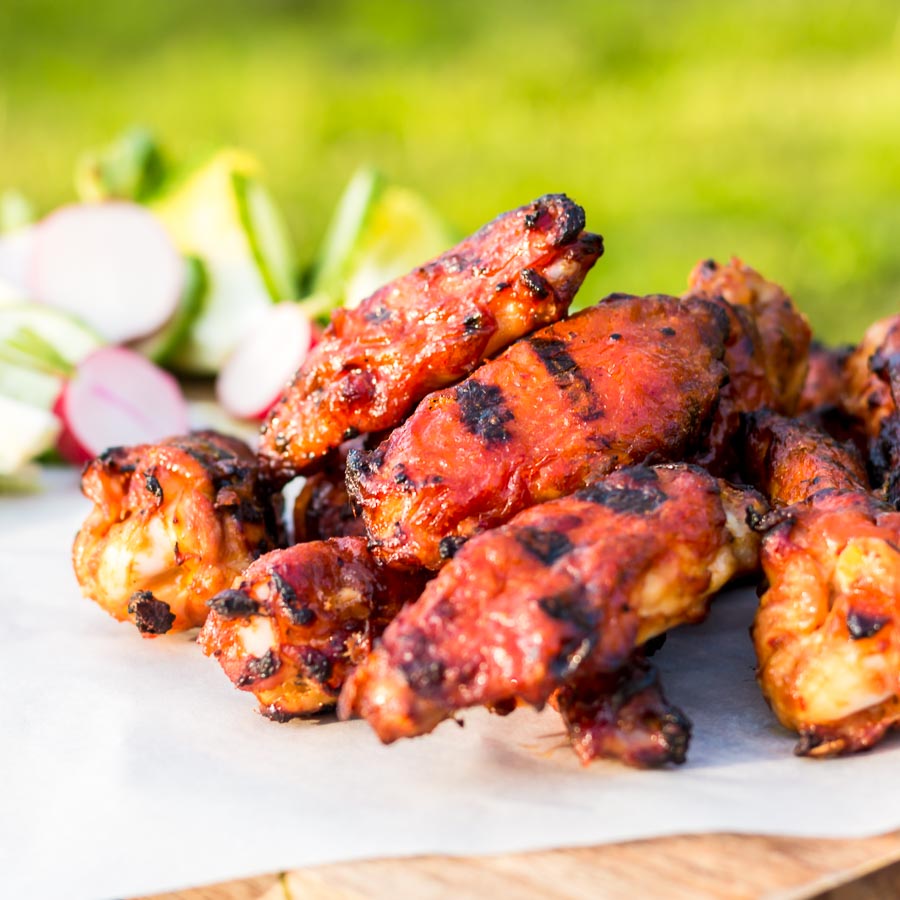 That Mango Glaze!
The glaze on these BBQ chicken wings is a simple mango sauce if you like. It is made with gloriously fresh mango mixed with some of the Asian flavours I love. Fish sauce for that 'umami' salty punch and mirin for all of the magic.
It is so simple to knock up and you can simply stick a pan on the grill and allow the flavours to marry and cook up. All this can happen whilst you are sipping a beer and waiting for the coals to get nice and white.
Unusually this glaze contains no added sugars. I typically add honey or brown sugar to many of my glazes, like on these Sriracha glazed wings or my oven baked hot wings.
However, the natural sugars in the ripe mango make that notion redundant. They go wonderfully sticky and sweet under the intense heat from the grill.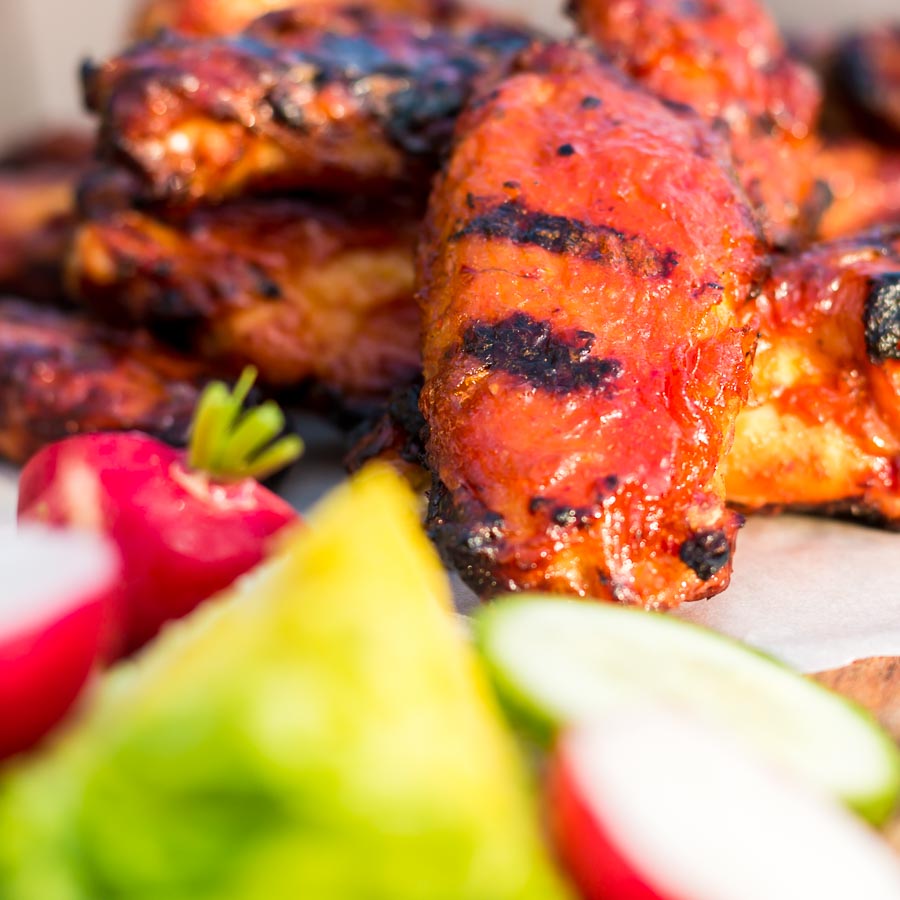 The Glory Of Fire!
I love cooking on the grill, there is just something simple about cooking over hot coals. There is far less control and that simplicity seems to add so much to a recipe.
These BBQ wings have that wonderful 'sticky edge' thing going on and charred bits that you just don't get in the oven. Whilst that means that they are indeed less than 'perfectly' cooked that imperfection is where the magic lies.
Some of the wings will be cooked more than others, some of the wings will be a little more charred than others. But it is all good, because if you don't like those ones rest assured someone at the party certainly will.
However as with all chicken you need to make sure it is cooked through so make sure you stick the biggest one with a meat thermometer. You are looking for an internal temperature of 73°C.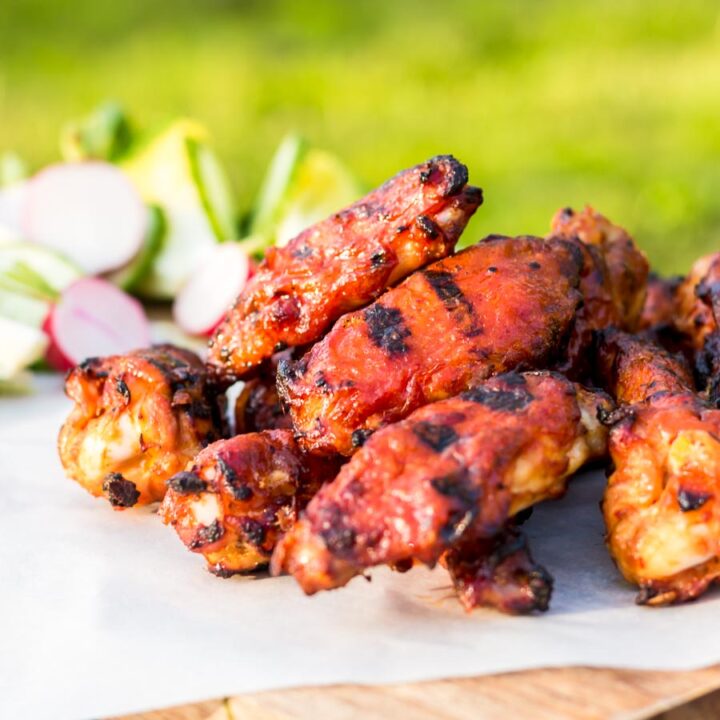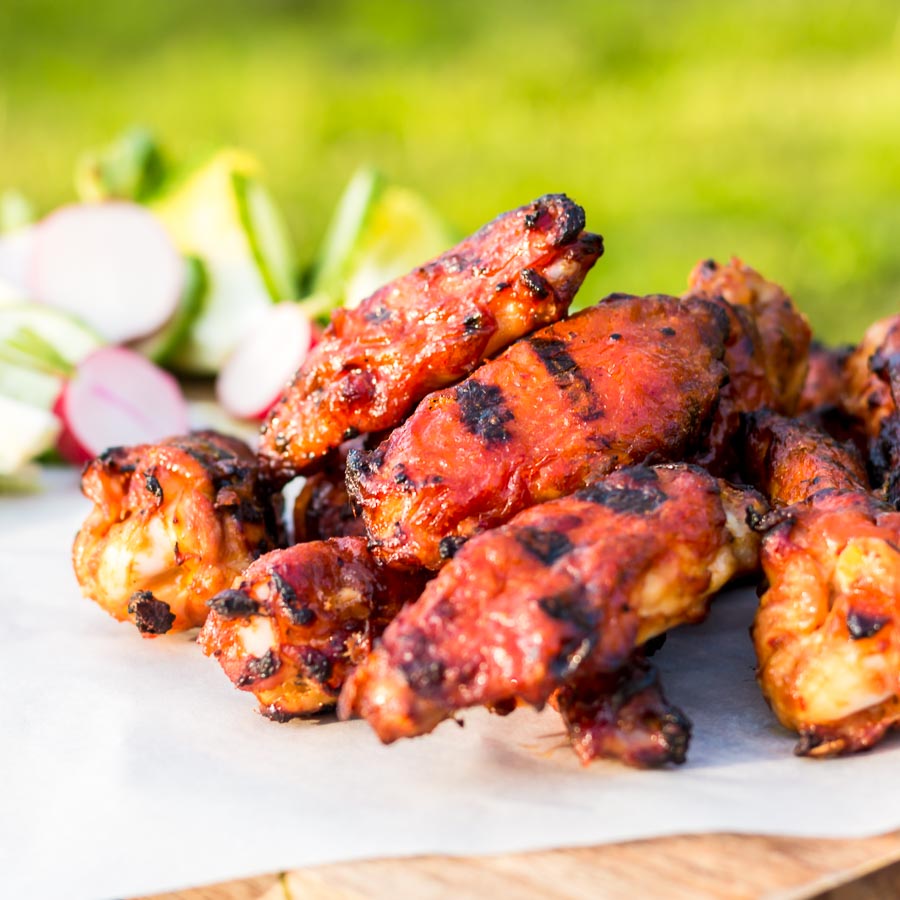 Yield:

4 Servings
BBQ Chicken Wings with a Mango Glaze
Total Time:
1 hour
5 minutes
BBQ Chicken Wings are always a thing of great beauty, but the Mango Glaze on these bad boys push them right over the top and are the perfect kick-off to the BBQ Season!
Ingredients
1 Kg Chicken Wings
1 Mango
1 Red Onion
60 ml Mirin
1 Tbsp Fish Sauce
1 Tsp Chili Flakes
Salt and Pepper
Instructions
Light your coals for the BBQ before you begin.
Chop your red onion and the flesh from a ripe mango.
Place in a saucepan with the mirin, fish sauce and chili flakes.
Cover with a lid and cook for 15 minutes as your BBQ come to temperature of the direct heat.
When everything is softened blend to a smooth paste.
Season your chicken lightly with salt and pepper, you will not need much salt as that will be provided by the fish sauce.
Separate out a quarter of the glaze to brush on the wings as they cook.
Coat your chicken wings with the glaze and place over the direct heat turning to prevent from burning.
When the chicken is nicely coloured on all sides move to the indirect heat, close the lid and cook for 40 minutes.
Turn the chicken as required and brush on more glaze.
Nutrition Information:
Yield:
4
Serving Size:
1
Amount Per Serving:
Calories:

735
Total Fat:

43g
Saturated Fat:

13g
Trans Fat:

0g
Unsaturated Fat:

28g
Cholesterol:

353mg
Sodium:

679mg
Carbohydrates:

22g
Fiber:

2g
Sugar:

19g
Protein:

61g