Mango habanero wings, a really easy hot wings recipe featuring a sweet & sour glaze loaded with sweet fruit, spicy chilli and sour coriander.
This recipe contains instructions for baked, air fried and even grilled wings on the BBQ.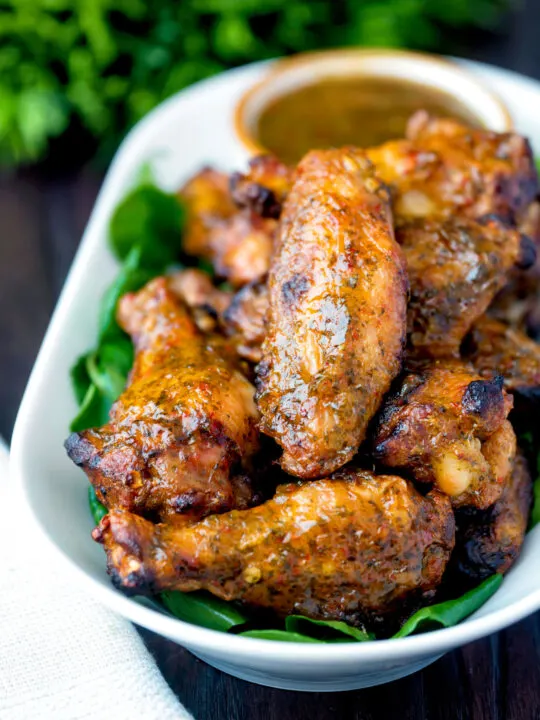 Baked Hot Chicken Wings
I am a bit of a wing fiend, I love them, whether they are sticky and hot like these mango habanero wings or sour and crispy like my lemon pepper wings.
I don't care if they are fried like my crispy fried chicken wings or grilled on the BBQ like my sriracha glazed wings. They just need to get in my belly!
This recipe combines a similar cooking technique to my Thai chicken wings, peri peri chicken wings and Korean chicken wings, to get crispy perfectly cooked wings.
Then I make a quick mango glaze featuring the fierce heat of habanero peppers and loads of coriander. Finally we some honey to help it go all sticky.
The wings are then coated in the glazed and given a few more minutes to go sticky and unctuous.
I've provided instructions to cook them in the oven, air fryer and on the BBQ, so take your pick!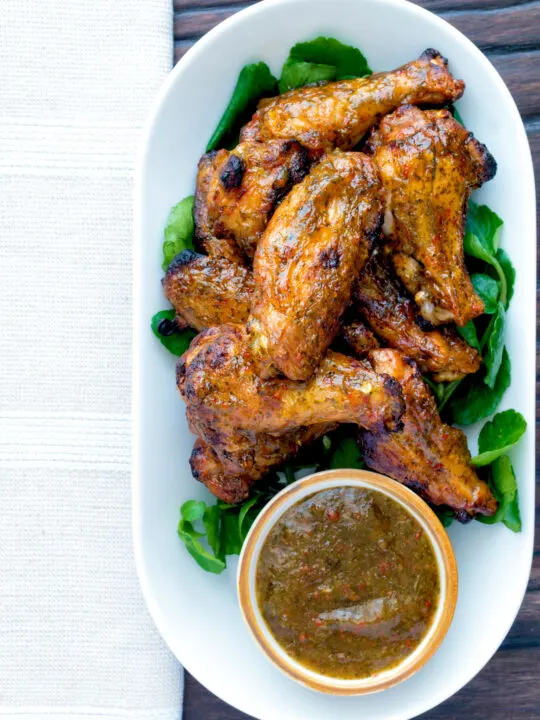 Frequently Asked Questions
How do I prepare a mango?
The simplest way to prepare a mango is to remove the two cheeks on either side of the wide and narrow stone.

Then slice the mango in the skin or leave it whole before using a spoon to scoop out the flesh.

I have a video below or in the recipe card that hopefully demonstrates this well.
How hot are these habanero and mango wings?
There's the million-dollar question, they are fiercely hot. But that is based on my tolerance levels of chilli everyone has a different level.

To give these some context a habanero chilli is 100-150 times hotter than a jalapeno pepper. It would be around 5-6 times hotter than cayenne pepper and 3 times hotter than Thai birds eye pepper.
What cooking method is best?
With no other considerations but flavour then I would grill these on the BBQ every time.

However, practicality, weather and all-around simplicity means that I cook these most often in the oven. The Air fryer gives marginally better results, But I ain't batch cooking dinner for no one!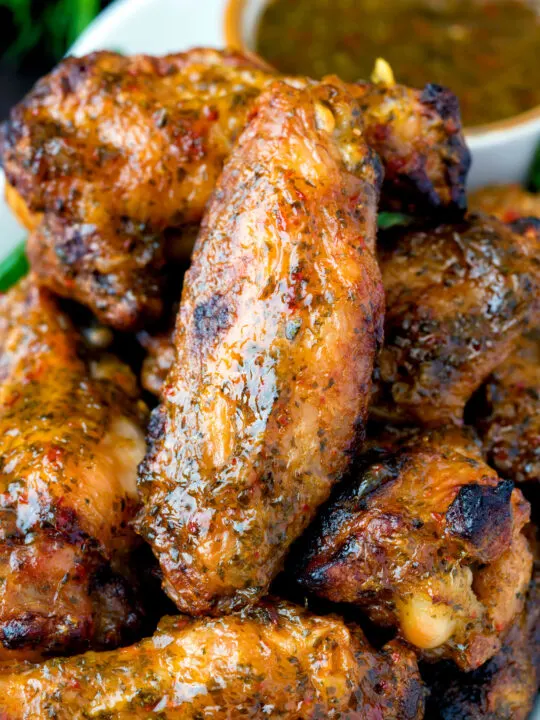 Serving Suggestions
I'm happy to eat these mango habanero wings on their own for dinner. Sure it is a meat feast but hey, these, an ice cold beer and some wet wipes and I'm happy.
I would usually serve them on some peppery leaves though, rocket (arugula) or watercress are perfect. The leaves wilt under the heat of the wings and some of the glaze transfers and I love the flavour.
When it comes to wings, I'm as greedy as a greedy thing, 16-18 whole wings is a portion for two!
But you could easily serve these for 3 or four people and pair them with a side.
Wedges or fries are the obvious choices, I usually cook my wedges in an air fryer.
When it comes to fries, don't be afraid to change it up, these sweet potato fries and even carrot fries would be perfect. Or how about really changing things up and serving them with polenta chips?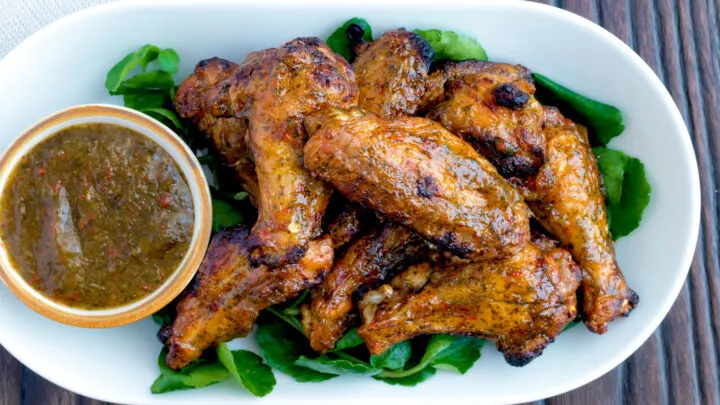 Equipment Used
I only name-check brands of equipment if I think they make a material difference to a recipe. If you have any questions feel free to ask them in the comments section below the recipe.
Oven, BBQ or Air Fryer.
Kitchen knife.
Chopping board.
Mini blender.
Weighing scales and or measuring cups and spoons.
Kitchen tongs.
Large mixing bowl.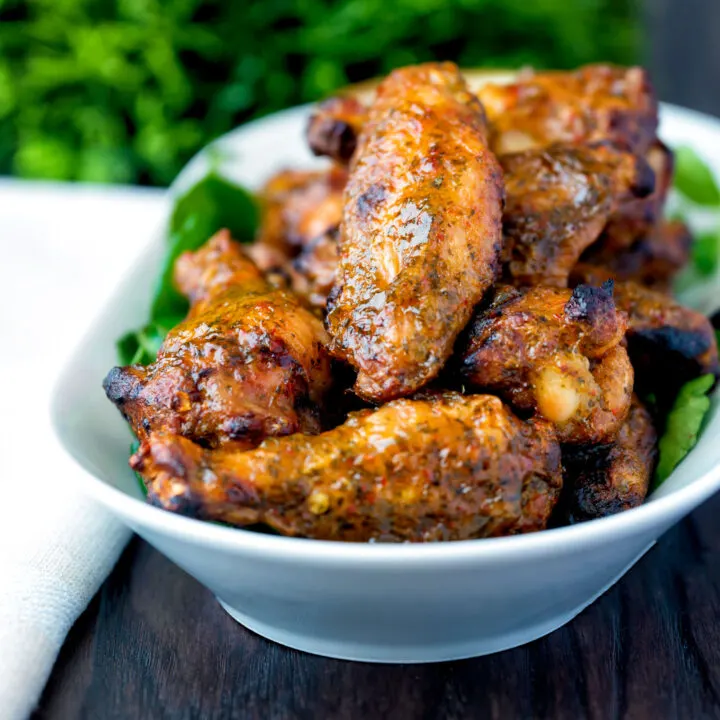 Yield:

2-4 Servings
Mango Habanero Hot Wings Recipe
Cook Time:
1 hour
10 minutes
Total Time:
1 hour
20 minutes
Mango and habanero glazed chicken wings, whether you grill them, bake them or even cook them in the air fryer these hot wings will have you reaching for just one more again and again.
Ingredients
16-18 Chicken Wings
½ Tsp Baking Powder
½ Tsp Salt
1 Tsp Ground Cumin
1 Mango
1-2 Habanero Chilli Peppers
30g (~½ Cup) Coriander
1 Tbsp Lime Juice
1 Tbsp Fish Sauce
80g (¼ Cup) Honey
Instructions
Cut the chicken wings into winglets and drummettes.
Place season the chicken with the salt, baking powder, and cumin and toss to coat well.
For Oven Baked Wings:
Place the chicken skin-side down on a baking rack placed on top of a baking tray.
Drop the baking tray in the oven and cook for 30 minutes at 130ºC or 250ºF.
Remove the chicken wings from the oven, turn up the heat to 200ºC or 400ºF.
Flip the wings over on the rack and return them to the oven for another 20 minutes.
Remove the flesh from the mango (see video below) and place it in a mini blender.
Add the coriander (leave the stems on) to the blender.
Remove the stem from the chilli pepper and add the lime juice and fish sauce.
Blend this mix and transfer it to a small saucepan (15cm).
Pour in the honey and cook out the glaze for 10 minutes.
After the wings have had the extra 20 minutes remove them from the oven and place them in a bowl.
Pour over 125ml (½ Cup) of the glaze and using a spoon toss them around to coat.
Return them to the grid and give them another 7-10 minutes in the oven at 200ºC or 400ºF to go sticky.
Serve the rest of the glaze as a dipping sauce or keep it for later, it is great with everything from pork to burgers.
For Air Fried Wings:
NB: You may need to batch cook the wings if using an air fryer.
Spray the air fryer basket with oil and add the seasoned wings.
Cook for 20 minutes at 160°C or 320°F giving them a good shake halfway through.
Turn up the heat to 200°C or 400°F and cook for a further 10 minutes.
Place the wings in a bowl and add 125ml (½ Cup) of the glaze and toss to coat.
Return to the air fryer and cook for another 5 minutes at 200°C or 400°F.
For BBQ Grilled Wings:
Have your BBQ set up with both a direct and indirect heating section with a temperature of around 250°C or 485°F.
Place the wings on the indirect heat section of the BBQ, presentation side up, close the lid and cook for 25-30 minutes.
Open the BBQ and check that the internal temperature of the chicken has reached 70°C or 158°F, if not give it a little more cooking time.
Remove the chicken and place it in a bowl.
Add 125ml (½ Cup) of the glaze to the wings and using a spoon toss them around to coat.
Return the chicken to the direct heat side of the BBQ and give them a minute or two on each side to go sticky and caramelise.
Nutrition Information:
Yield:
2
Serving Size:
1
Amount Per Serving:
Calories:

994
Total Fat:

54g
Saturated Fat:

19g
Trans Fat:

1g
Unsaturated Fat:

30g
Cholesterol:

176mg
Sodium:

2293mg
Carbohydrates:

93g
Fiber:

6g
Sugar:

60g
Protein:

43g
Calorific details are provided by a third-party application and are to be used as indicative figures only.